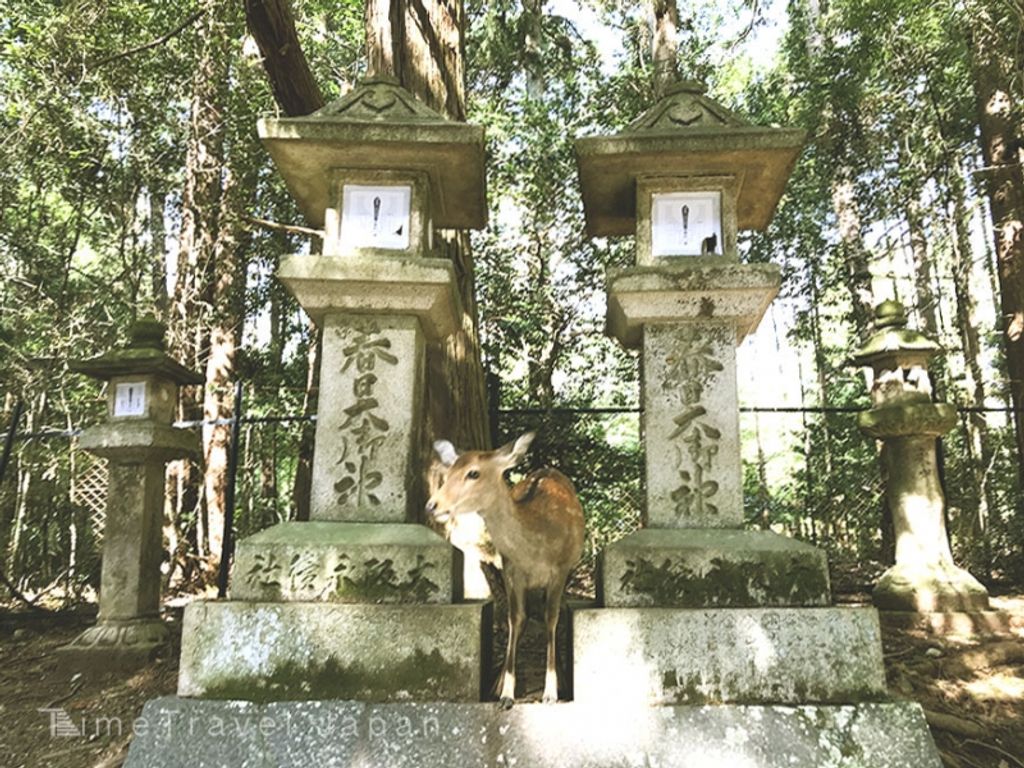 For those people who are staying at Kyoto for a couple of days, I recommend to have a day trip to Nara.
Here are the reasons why Nara is special.
Nara was established in 710 as Japan's capital called Heijo-Kyo before a capital was moved to Kyoto. So its history is older than Kyoto.
The Emperor Shomu who was in Heijo-Kyo tried to utilise the influence of Buddhism which had been imported in the 6th century, to unite the country and secure his position. Nara is a site to see the early relationship between early Japan's politics and Buddhism.
One of the biggest wooden architectures in Japan can be seen in Nara along with a 15-meter (49-foot) statue of the Buddha sitting inside.
As Nara's deer has been considered as an sacred animal, you will see a hundreds of wild deer nibbling the grass or eating the deer-crackers fed by humans in the Nara park.
Please take a look at the tour itinerary below and let me know your thoughts so that I can arrange more for you!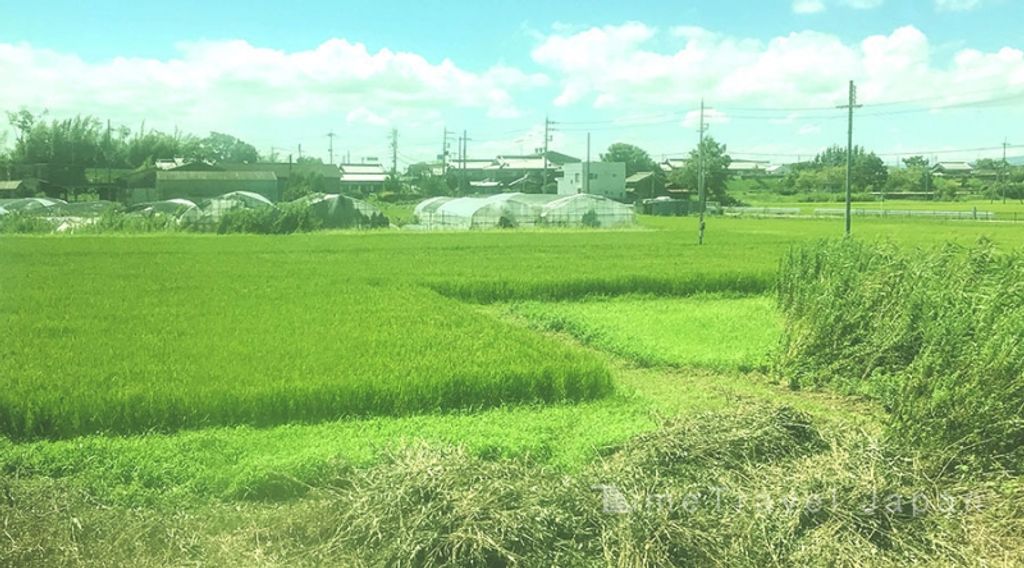 1.Transportation 9:10am - 10:10am
We will take either JR train or Kintetsu train from Kyoto staiton to Nara station.
Soon after we leave Kyoto station, you will find a country side of Japan such as mountains, rivers, rice fields, greenhouses and so on.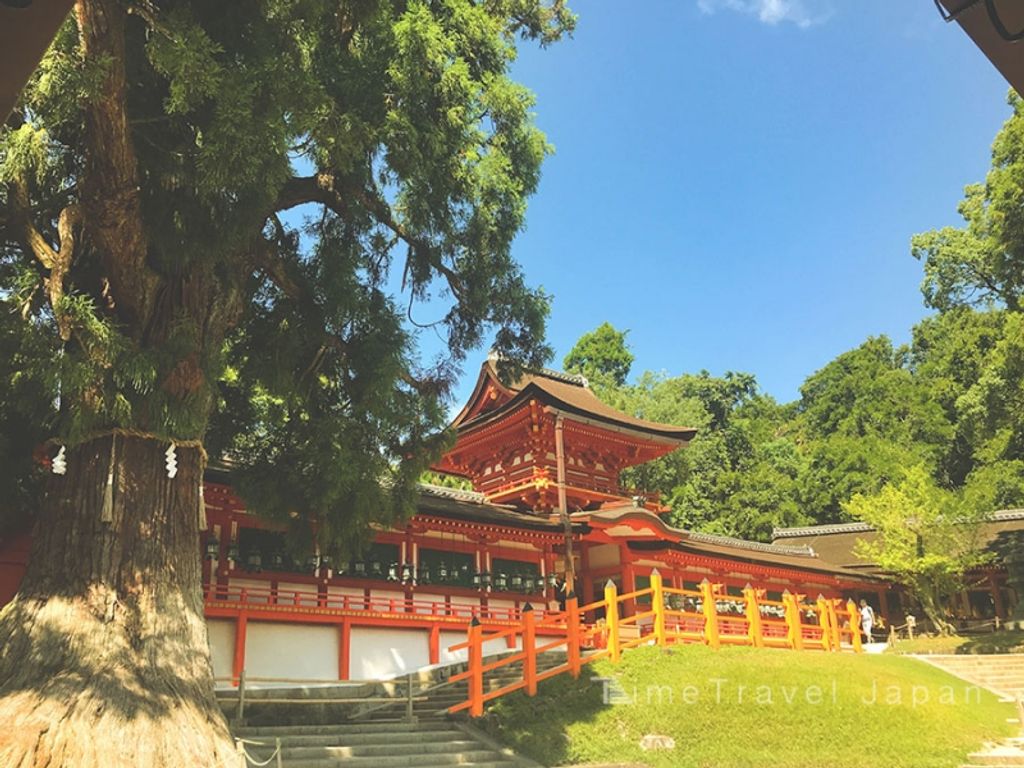 2.Kasuga Taisha Shrine 10:30am -11:30am
Kasuga Taisha was founded in 768 to wish a long prosperity of the Japan's capital, Heijo-kyo. It enshrines a ancestor spirits of Fujiwara family, whose one of the family members, Fushiwara-Fuhito is a significant politician who had had a strong influence for forming the capital.
The main buildings are composed of four buildings that are approximately the same magnitude standing in a row. This architectural style is called Kasuga-Zukuri which named after Kasuga Taisha shrine.
The main area is surrounded by a beautiful vermillion colored corridor.
Along the corridor we see the 1000 peaces of hunging lanterns that are light-up on only three days of a year (February 3rd, August 14th and 15th).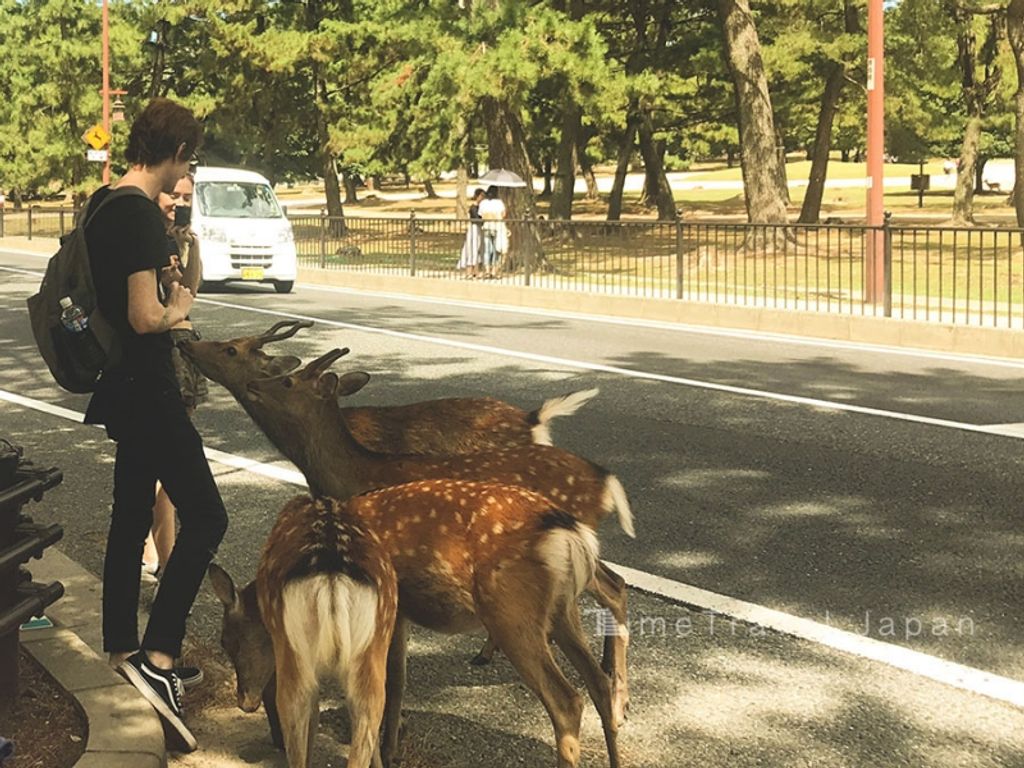 3.Nara park 11:30am - 12:00pm
We will walk through the Nara park where you will see more than 1,000 deer freely roaming around.
Some deer might come to you to ask for deer clackers which you can purchase at the park to feed them.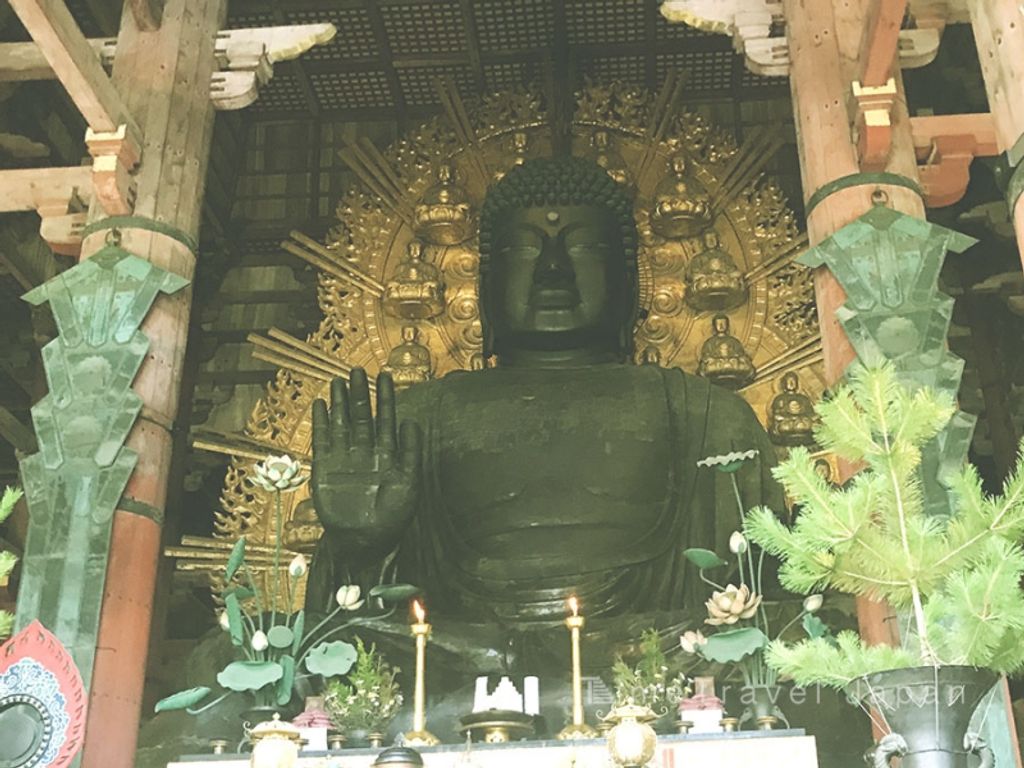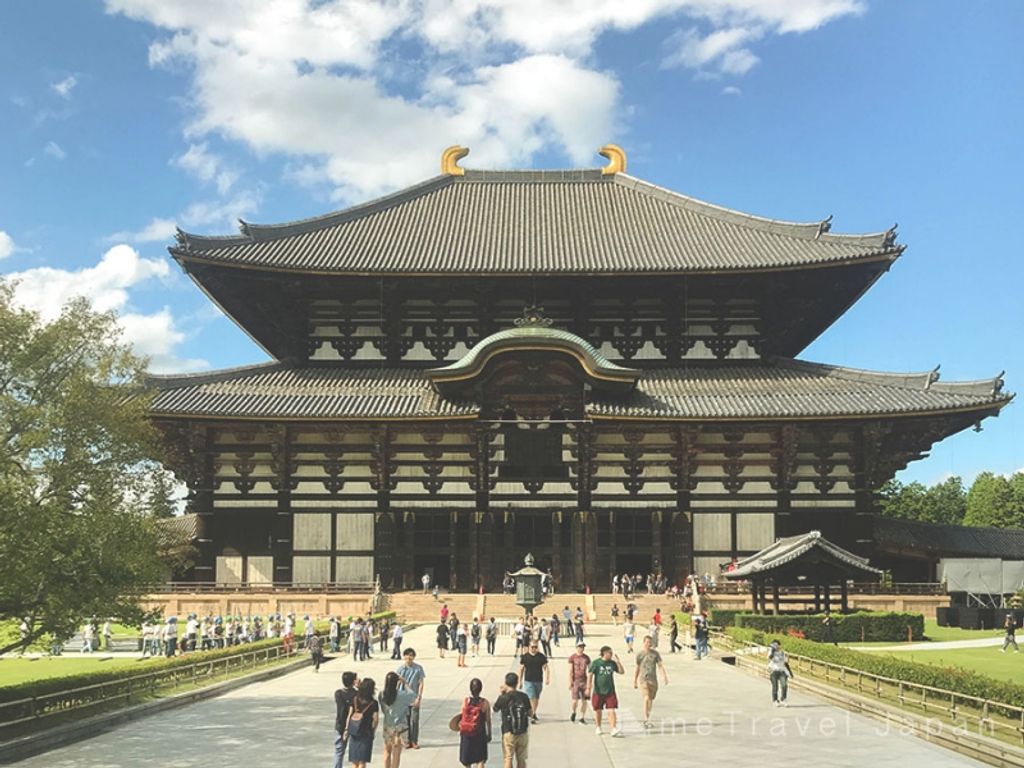 4.Todaiji Daibutsu Hall 12:00pm-1:00pm
Todaiji temple was originally founded in 743 by the Emperor Shomu under the hard circumstances of social unrest due to the spread of infection disease as well as natural disasters such as drought and earthquakes.
Emperor Shomu made decision to build a 15-meter (a 49-foot) bronze statue of the Buddha hoping to heal the people who were suffered from disease and hunger, and also hoping a recovery of social situation.
The construction of the Buddha statue had become a big national project that many citizens participated. To make up the shortage of material the government ask citizens to make donations.
Eventually a lot of lumbers, copper, gold were donated by people all over Japan. Also more than 500,000 regular people had participated for the construction of Buddha statue.
Another significant thing is the main building called Daibutsu Hall which was built to enshrine the great Buddha statue known as one of the biggest pieces of wooden architecture in the world.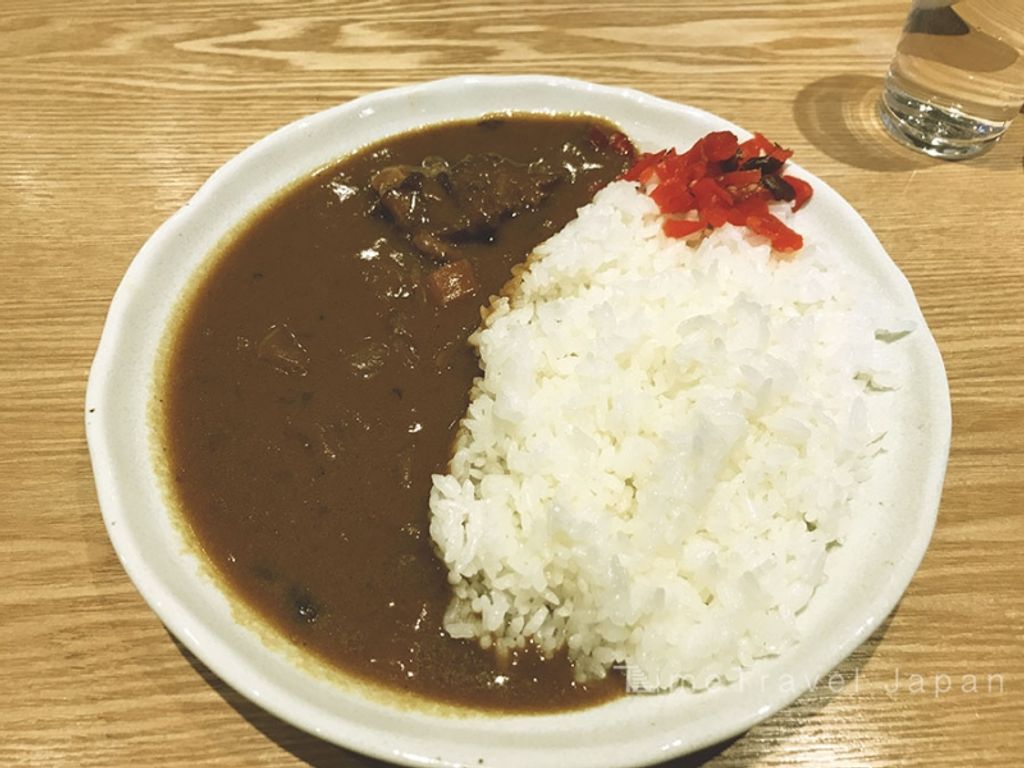 5.Lunch 1:00pm – 2:00pm
Curry is one of the most popular dishes in Japan.
Unlike the popularly known Indian curry, Japanese curry are usually served with the Japanese white rice and pickled daikon radish called fukujinzuke on the side.
In front of the Todaiji temple, there is a restaurant that serves a delicious Japanese beef curry as well as delicious Chiken Udon and ShrimpTempura soba.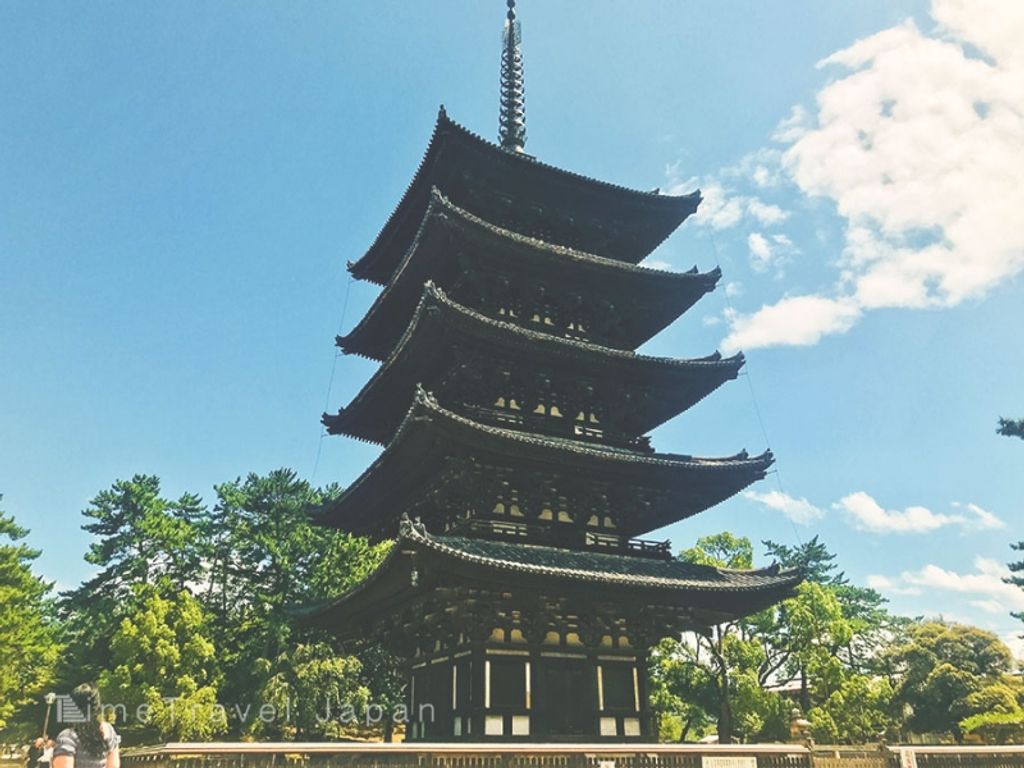 6.Kofukuji Temple 2:00pm – 3:00pm
The Five story pagoda in Kofukuji temple is land mark tower in Nara city which is the second highest pagoda in Japan after one in Toji temple, Kyoto.
Since it was originally built in 730, the pagoda repeatedly burned down and current building was built in 1426 representing the original architecture.
Next to the five story pagoda, there is one of the main buildings at Kofukuji, the Great Eastern Hall which is designated as a national treasure.
The Great Eastern Hall was founded by Emperor Shomu hoping Buddha would help his aunt who was suffering from disease.
It is relatively small hall, however you will see a great collections of Buddha statues such as Yakushi Nyorai, the Buddha of medicine, the Four Heavenly Kings and the Twelve Heavenly Generals.
It is a special place where you can see some of the statues very closely that can date back to 10th century.
7. Transportation 3:00pm - 4:00pm
We will take either JR train or Kintetsu train from Nara staiton to Kyoto station.
How did you like Nara? If you have any questions about your Nara trip please feel free to contact me.
I hope you have a wonderful time in Nara!