Osaka Dotonbori is a place that is always lively with the local people and tourists. It's an iconic symbol of Osaka, full of energy, with lots of places to see and things to do. You can find tons of places to eat, good places to shop for souvenirs, and is of course a great place to go sightseeing. Below are 11 things to do while you're in Dotonbori.
How to get to Dotonbori, Osaka
Dotonbori is an area in central Osaka. It gets its name from the Dotonbori river running on it's north side. It's a quick walk from either of the 4 stations below, so it's in a very convenient place.
Website: http://www.dotonbori.or.jp/en/


11 Things to do in Dotonbori, Osaka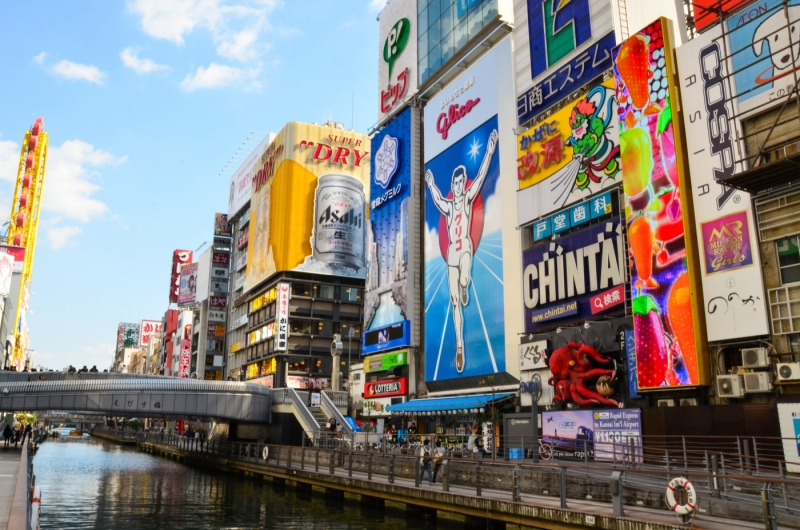 Takoyaki
Have you ever heard of Takoyaki? It's one of the delicious fast foods that Osaka is famous for. They are little balls of baked batter with boiled octopus inside and eaten with a sauce spread on top. It may not sound too tasty when described in words but you'll find it's quite delectable. It is popular with foreign tourists as well as the locals. There are many stores in Dotonbori that sell Takoyaki. Usually they're sold by a set of eight or ten Takoyaki balls, but some sell them in smaller quantities sandwiched between two rice crackers so that you can eat it while walking around. Below are some Takoyaki stores you can try.
Kani Doraku Osaka Main Shop
Kani Doraku is a restaurant where you can eat crab cuisine. There are different types of menus you can choose from, but you'll be able to eat fresh crab, fried crab, steamed crab, baked crab, boiled crab, etc. The price starts around a minimum of 5,000 yen so it's a bit expensive, but worth it if you want to eat your fill of delicious crab. It's a popular restaurant so you should try to make a reservation through the website or by calling beforehand. They have branches all over Japan, so if you're not able to go in Dotonbori, you can try go in another area.
Address: 1-6-18 Dotonbori, Chuo-ku, Osaka (map)
Website: https://douraku.co.jp/multilingual/#en
Dotonbori Kukuru Konamon Museum
"Konamon" is a unique food culture of the Kansai region of Japan. "Kona" means flour and "mon" means things, so "konamon" means food made out of flour. There are many things made out of a flour based batter like "takoyaki" (explained above) or "okonomiyaki" which is cabbage mixed in with batter and topped with slices of pork or seafood, then fried on a hot plate. At this museum, you'll be able to learn about the history of this food culture and also eat "takoyaki". You can choose the ingredients and try make your own unique "takoyaki" too so this could be a fun thing to do for kids.
Address: 1-6-12 Dotonbori, Chuo-ku, Osaka (map)
Website (Japanese only): https://www.shirohato.com/konamon-m/
Glico Billboard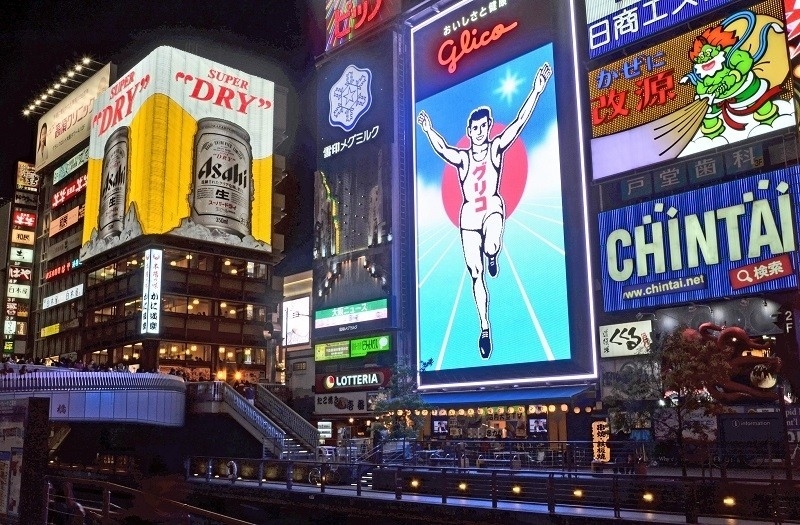 This billboard is one of the most symbolic things of Osaka. Tourists flock to the Ebisu Bridge in Dotonbori to take a picture with this billboard. The billboard itself was first put up in 1935. Now, the 6th version of the ad is made out of LED lights, so the background of the marathon runner in the ad changes after sunset. If you do go take a picture of this billboard, don't forget to pose in the same position as the marathon runner in the ad with both your hands and your left leg up. The nearby Ebisu Bridge serves as a good photo-spot for this iconic sign.
Address: 1-10-2 Dotonbori, Chuo-ku, Osaka (map)
Tombori Cruise
Another way to see the Dotonbori area is from the canal. There is a 20 minute cruise through the area and it'll give you a unique view of the area, one which is different from just walking around. It's not too expensive and there is a cruise departing every hour and half hour during the business hours, so it's very convenient time-wise. You can get on from the dock in front of the Don Quixote store. It's the building with a small Ferris Wheel attached to its side.
Fees: 900 yen / adults , 400 yen / children
Business hours: 1pm to 9 pm on weekdays and 11 am to 9 pm on weekends, holidays (departures every hour and half hour)
Closed: July 13, 24&25, first Saturday of August
Address: 7-13 Souemoncho, Chuo-ku, Osaka
Website: https://osaka-info.jp/en/page/tombori-river-cruise
Tombori river walk
The Tombori River Walk is a deck along both sides of the canal between Sakaisuji and Midosuji Avenues. You can enjoy a cool walk along the river while enjoying the sights of Dotonbori. You can watch as the river cruise glides by and stroll along while eating some of the delicious fast foods that the Dotonbori area has to offer. The view of the neon lights that adorn all the buildings at night is also an amazing sight to see.
Website (Japanese only): http://www.tonbori.jp/
Recommended Tours: Dotombori and Osaka Highlights
Kuidaore Taro
"Kuidaore Taro" is the name of a doll in a clown suit. This is another famous sightseeing spot that symbolizes Osaka. It's a not quite life sized doll, but it's not the actual doll that's famous, but the concept it symbolizes. It was a mascot for a now gone restaurant called Kuidaore, and had become famous bit by bit since around the early 1990s. Now it stands in the entrance of the new Nakaza Kuidaore building. "Kuidaore" means to eat till you drop and that's the spirit the city of Osaka embodies. The food culture of this unique city is something you won't find anywhere else in Japan, so make sure you try eating this and that when visiting.
Address: Nakaza Kuidaore Bldg., 1-8-22 Dotonbori, Chuo-ku, Tokyo (map)
Website: http://nakaza-cuidaore.com/en/
Nanba Grand Kagetsu
This is a theater created for laughter. The Yoshimoto Kogyo company holds performances everyday of Japanese comedy. There are modern performances like stand-up comedy and there are more traditional performances called "rakugo", where people in kimonos tell entertaining stories. It's an unique cultural experience that you can't have anywhere but in Japan. So try it if you're interested even if you can't understand Japanese.
Tickets: 4,200 - 4,700 yen
Address: 11-6 Nambasennichimaecho, Chuo-ku, Osaka (map)
Website: https://osaka-info.jp/en/page/namba-grand-kagetsu
Osaka Shochukiza
This is a western style theater where plays and kabuki performances are held. It is managed by the same company as the Kabukiza theater in Tokyo, so you'll be able to see the same performances as in Tokyo, as the Kabuki theater actors travel around the country holding performances. Kabuki is one of Japan's three major traditional theater and is a UNESCO intangible cultural heritage. So, if you have the chance, make sure you try and catch a performance. It's quite interesting as you get to see actors in traditional kimono costumes and it's pretty different from western theater.
Ticket fees: depends on the performance
Address: 1-9-9 Dotonbori, Chuo-ku, Osaka (map)
Website: https://www.shochiku.com/
Ichibiri-an (souvenirs)
If you want to buy souvenirs from Osaka, this is one of the shops you can visit in the Osaka area. They have about 4,000 choices to choose from so it should take you some time to look through it all. And they're open until 11 pm, so you'll still have time to visit the store even after you've had dinner. Sometimes you're so busy sightseeing during the day, night time is the only time you have to do some shopping so the late closing time is a lifesaver.
Business hours: 10:30 am - 11 pm
Address: 1-7-21 Dotonbori, Chuo-ku, Osaka (map)
Little Osaka (souvenirs)
This store is located in the Nakaza Kuidaore building where the aforementioned "Kuidaore Taro" doll is. So you can do some shopping for souvenirs along with taking a picture of the famous doll. You'll also find a small version of the Glico billboard next to the store entrance so you can take a picture of that too. It's like a one shop stop to the two of the most famous sightseeing spots in Osaka, so if you don't have a lot of time to spend in Osaka, this is the place to go.
Business hours: 10 am - 10 pm
Address: Nakaza Kuidaore Bldg. 1F, 1-7-21 Dotonbori, Chuo-ku, Osaka (map)
Website (Japanese only): https://www.glico.com/jp/enjoy/shop/glicoya/dotonbori/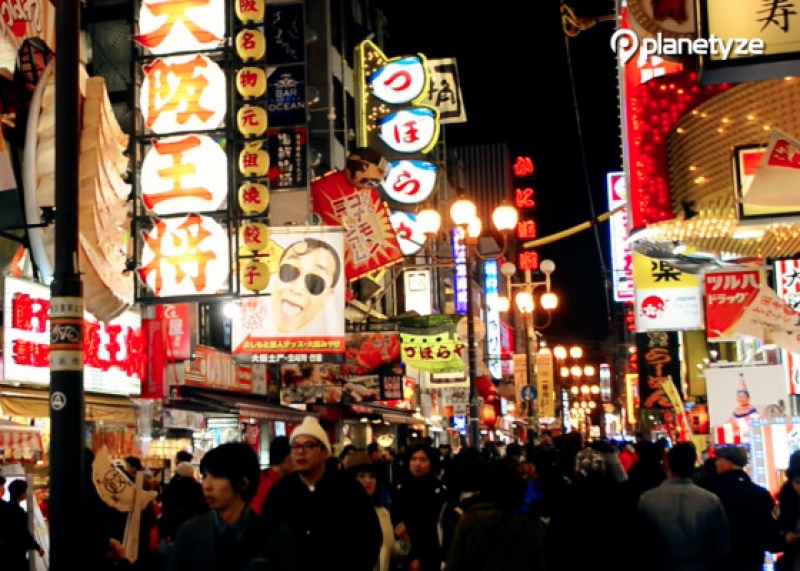 Osaka is a busy city with lots to offer besides what you'll find in the Dotonbori area. A tour of this city is a great way to spend your time. GoWithGuide provides a service of matching customers with the best tour and guide for them. It's like a marketplace of guides where you are able to choose the guide and tour that you really want.
All of the guides create their own tours so all of the tours in this city are unique. You can also communicate directly with the guide to ask questions or about your requests, for example the length of a tour, what sightseeing spots you'll see, etc., before actually booking a tour.
And if you don't find the perfect tour on the list of tours, you can request a tour by send a request listing what you'd like to see, eat, do, and so on. All of the guides will be able to see the request and the guides that are available during your requested dates will recommend a tour itinerary just for you. You'll be able to compare what several guides suggest and see which one looks to be the best choice. This way you can create your own customized tour.
Most of the tours are walking tours. They are created so that you can use the public transportation system while sightseeing and get a feel the transportation system around the city. It's also an experience that will give you insight on how the local people move around. However, there is also an option of hiring a private car and driver for your tour or just to get around. This option is helpful or necessary for people with disabilities or elderly people who aren't able to walk for long distances. Catching a taxi is also an option, but sometimes it becomes more expensive, so hiring a car is convenient and cost efficient.
You can also take a look at the profile videos of the guide's available in Osaka, to see what kind of person they are and to see the reviews they received from previous customers. At most places, you aren't able to choose your guide or see what they look or sound like before the day of your tour. Having a pleasant tour guide during your tour is an important aspect in enjoying your trip. So choose the perfect guide and tour and make the most of your time in the city of Osaka.
Recommended Blogs:
9 Top Osaka Castle Tours by Local Guides: Complete Guide
Shinkansen Tickets, Prices, Speed & Travel Tips
How Much Does a Trip to Japan Cost?
Japan Rail Pass (JR Pass): Is It Worth It?