Someone who is interested in Japanese history or culture should visit Izumo in Shimane prefecture. There 's the famous Izumo Grand Shrine along with many related shines surrounded by beautiful nature. It's about 800 km from Tokyo. It's an hour and half flight. But this time, I decided to use an limitted express train named Sunrise Izumo.
It leaves Tokyo station at 10:00 pm and arrives at Izumoshi station at about 10:00 am. I got a private conpartment of Type B that costs JPY 22790. Actually I tried to take a ticket of the best room of the train, but I couldn't. The staff who failed to take the ticket for me said that it's so difficut to take the ticket of Type A room because it's too popular.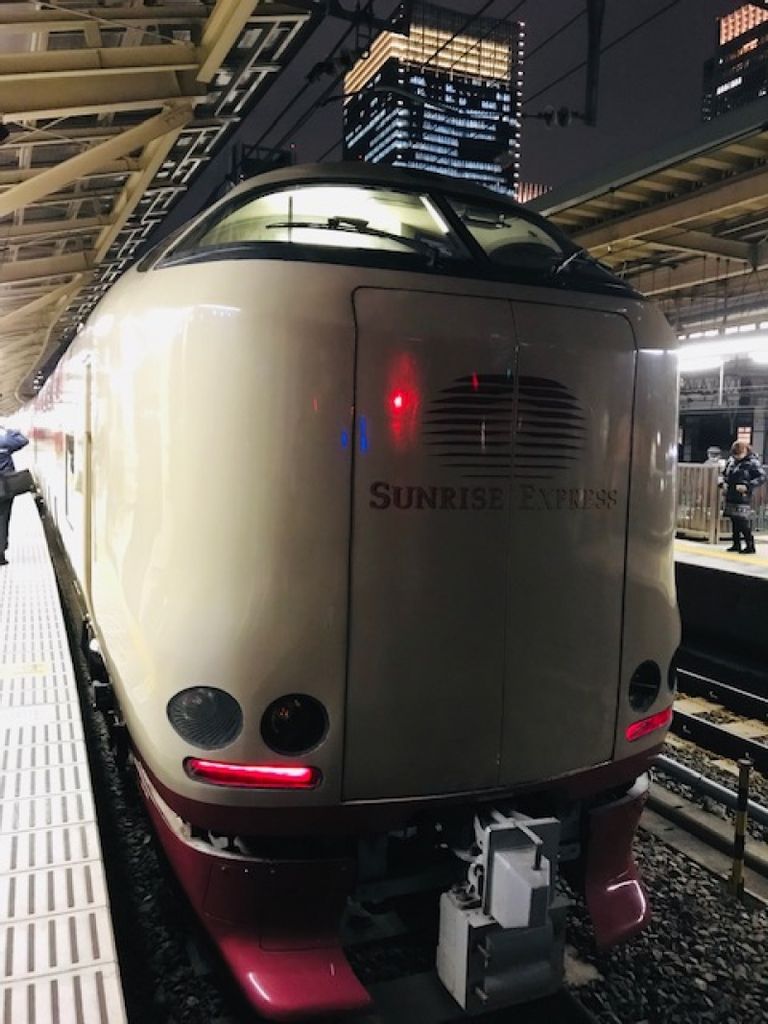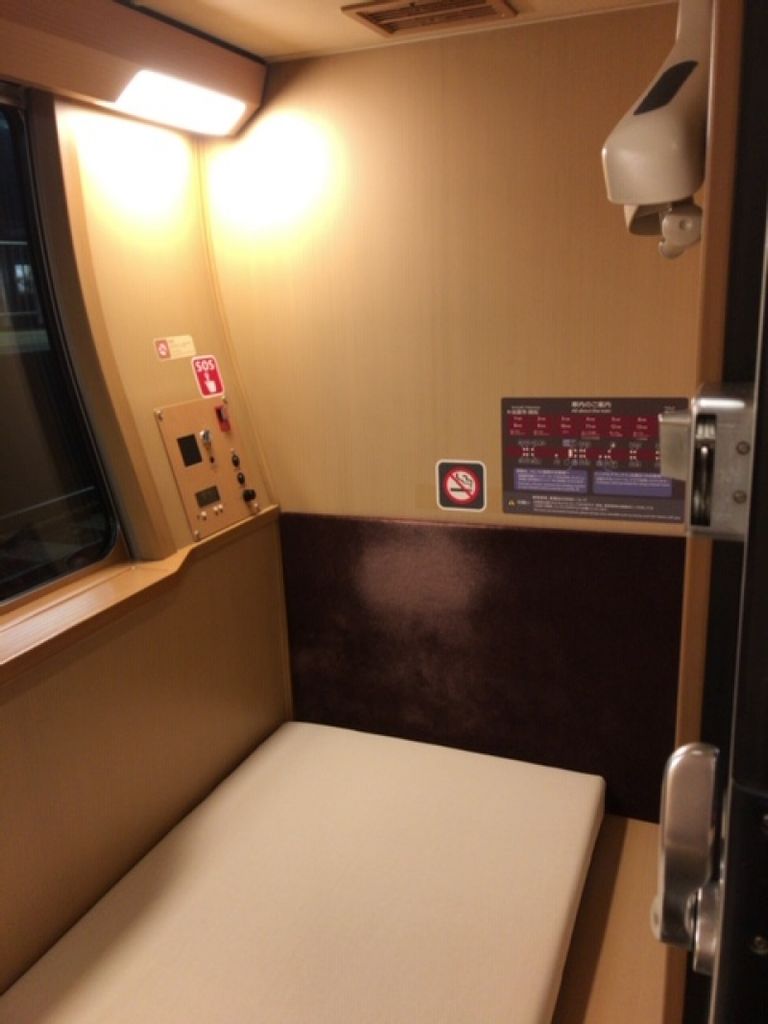 Still I could fully enjoy the long travel in my room. Early in the morning, half of the train is cut off so as to head for Shikoku, and we keep on going west. After that, you can see beautiful landscape of rural areas in Japan until reaching Izumo-shi station.
You know, the name of this region is Izumo, which literary means "Advent of Clouds". I see beautiful clouds whenever I come here.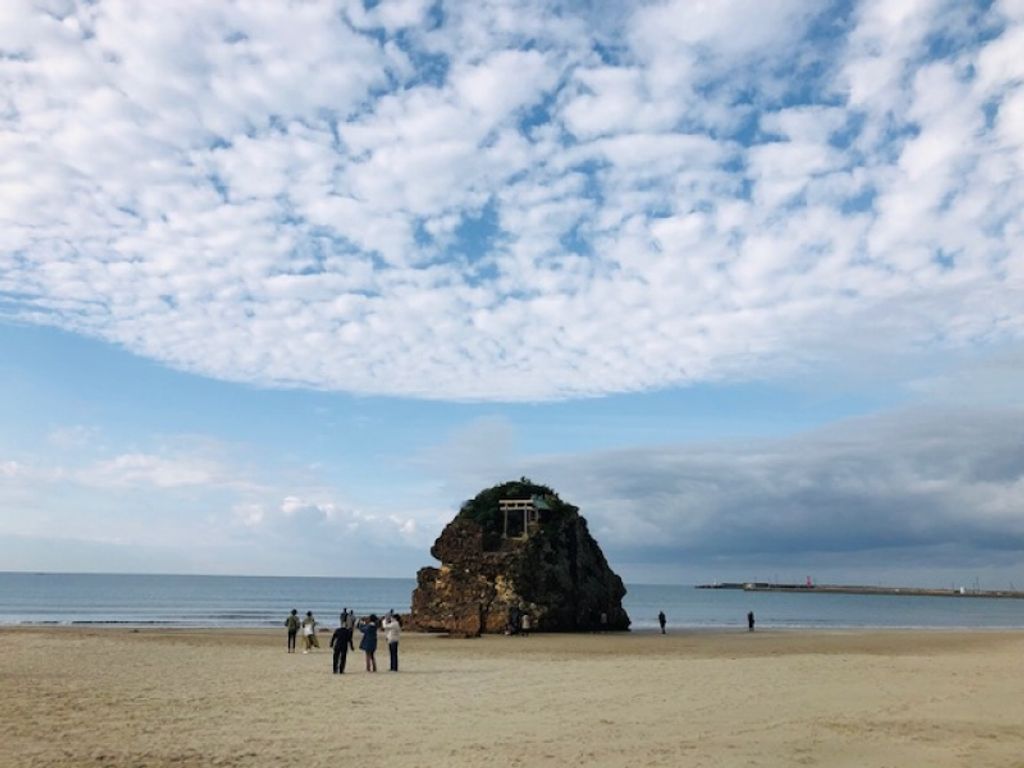 Let's drop by Inasa-no-hama beach before visiting Izumo Grand Shrine. It's 15-minute walk from the shrine. People get some sand from the beach in order to donate it to Sogano-yashiro in Izumo Grand Shrine.
This is where Takemikazuchi, who was sent by the sun goddess, Amaterasu, met Okuninushi in order to force him to give up his country to the imperial decendants. Okuninushi, which literally means "Master of the Great Land" finally decided to offer his country as long as they build a super tall shrine for him in exchange for accepting his demand. That's the origine of Izumo Grand Shrine.
On october 10 in the lunar calendar, when all deities throughout Japan gather here in Izumo, they land from this beach. They have a conference where they discuss matchings between people.
The small isle is called Benten-san by local people because it was dedicated to Benzaiten before the period of the Separation of Buddhism from Shinto. After that, Toyotamahiko, sea god is enshrined there.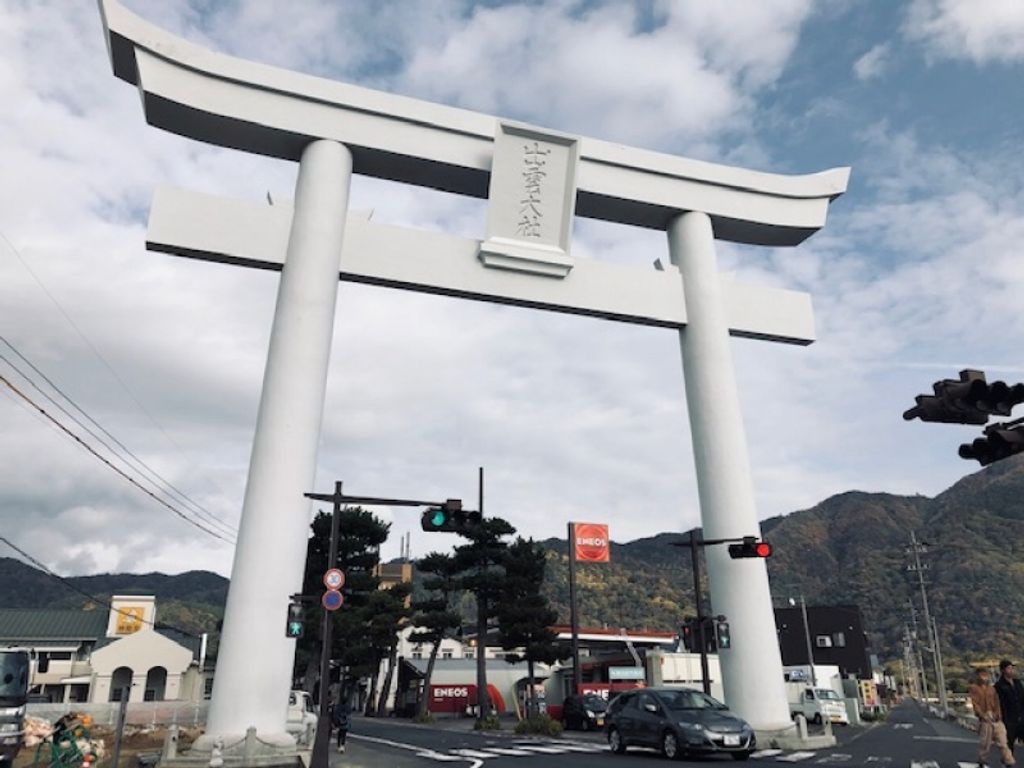 This is the first torii, or shrine gate. This is one of the the biggest shrine gates in Japan. 23-meter high. The circumference of the pillar is 6 m. The size of the square board is as large as 6 tatami mats ( about 10 ㎡)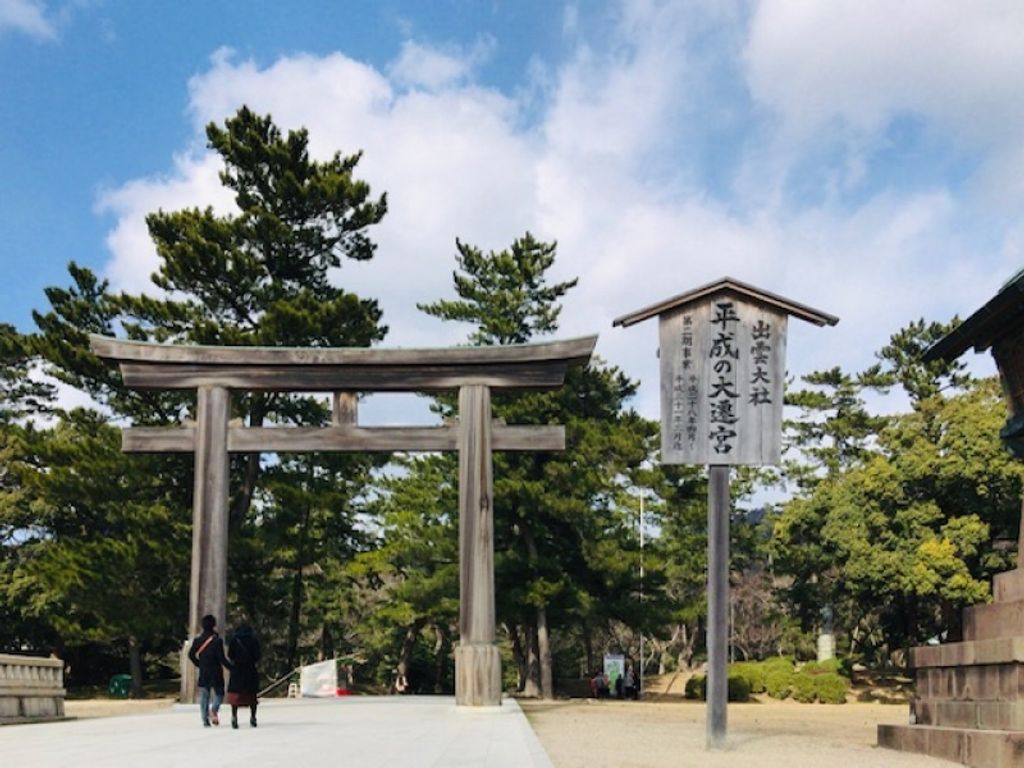 The second torii, which marks the entrance of the actual shrine grounds. Continuing north after this gate, the approach uniquely leads downhill for a few dozens meters, leading to Matsu-no-sando where the trail is divided into three lanes by two rows of pine trees.
Before reaching here, you should pray at a small shrine on the right, which stands soon after the second gate to purify yourself. As you go forward, you are getting to be ready to meet god.
Now I made it to the last gate. This is the oldest torii in Japan as bronze shrine gate and an Important Cultural Property of Japan. It was donated by a grandson of the powerful fudal lord, Mori Terumoto in 1666.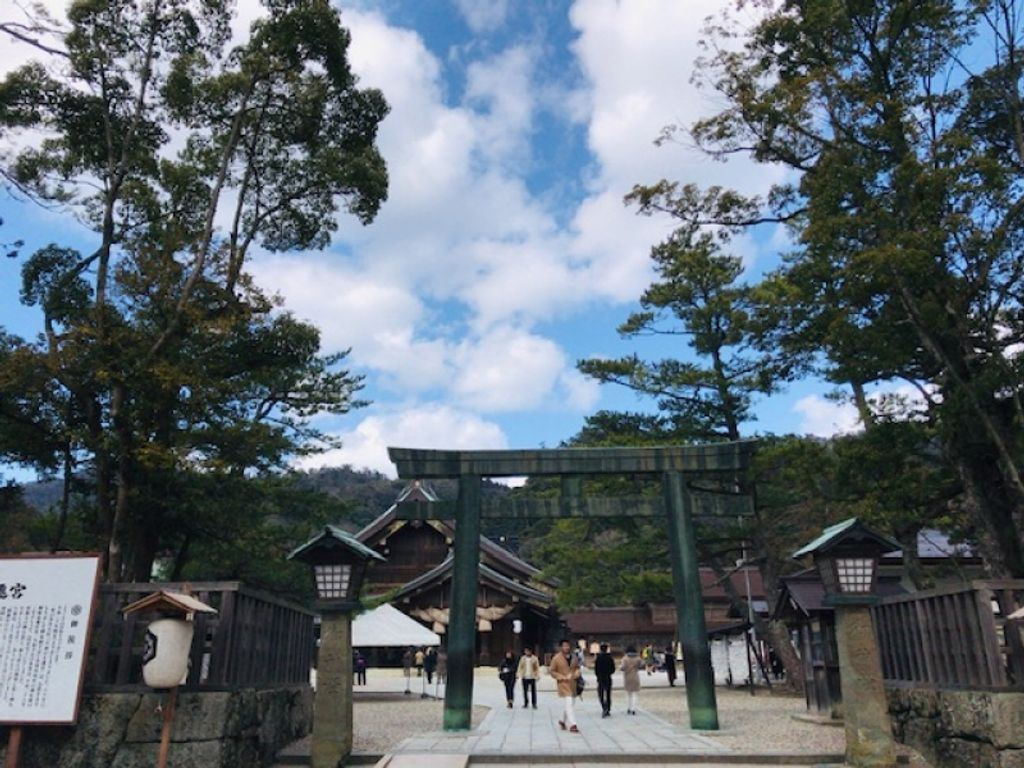 Worship Hall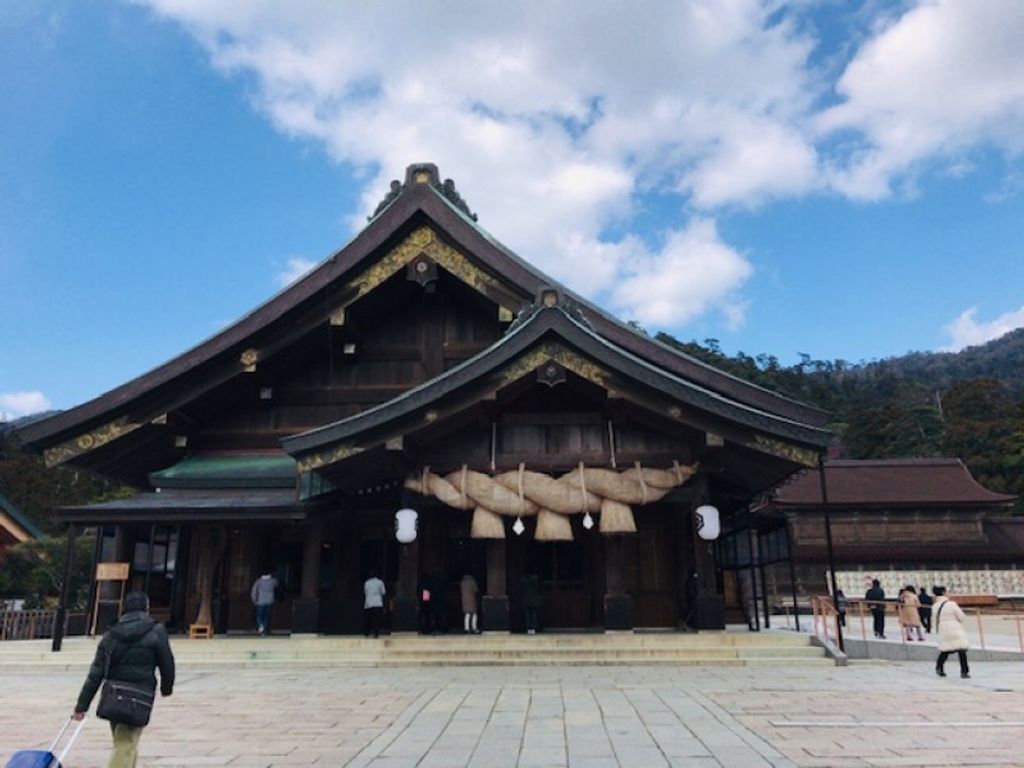 Shimenawa, or sacred rope indicates the presence of god and separates divine space from the normal realm. Large simenawa are a characteristic of the Izumo region, found also at other shrines in the area.
Here in Izumo Grand Shrine, the way to pay a prayer is a bit different from other shrines in Japan. Fiirst, bow twice, then, clap your hands 4 times, and lastly bow once again. I usually show my gratitude for being healthy enough to visit here first, and say my wishes next.
Yatsuashi-mon Gate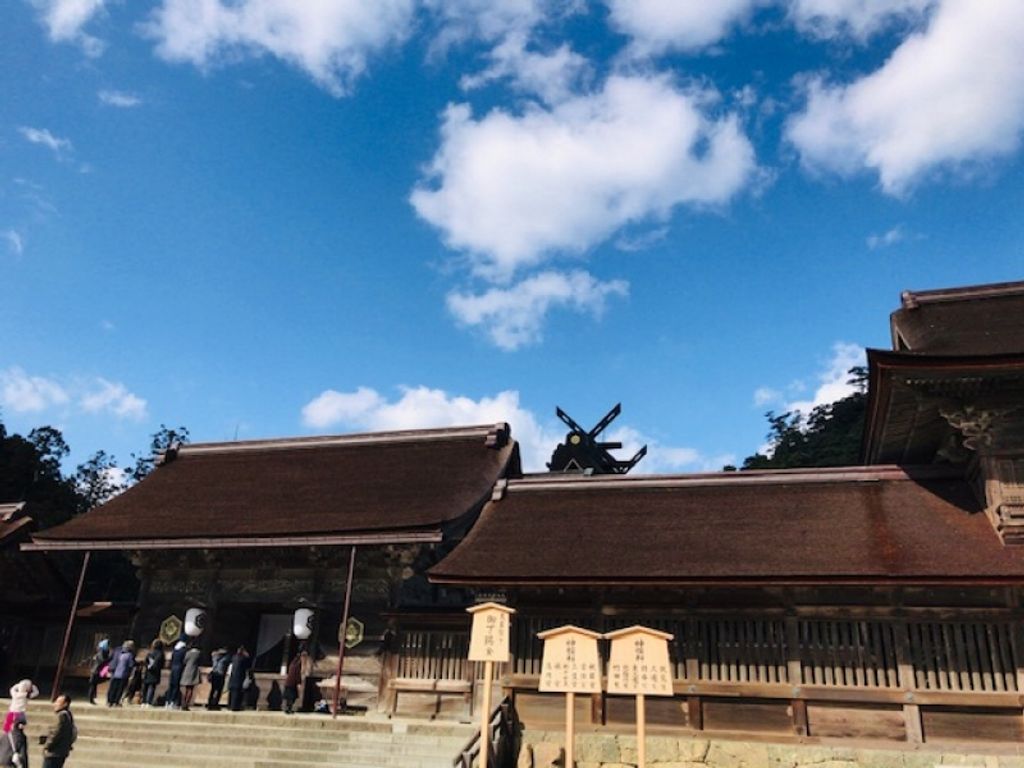 This is the eight-columned gate in front of the inner shrine. It was built in 1667. This gate is not opened. But over New Year's Days, you can go through a little closer to the inner shrine. You can see the top of the inner shrine where Okuninushi is enshrined together with other very important deities who are the origin of the world.
The remains of a pillar of the ancient shrine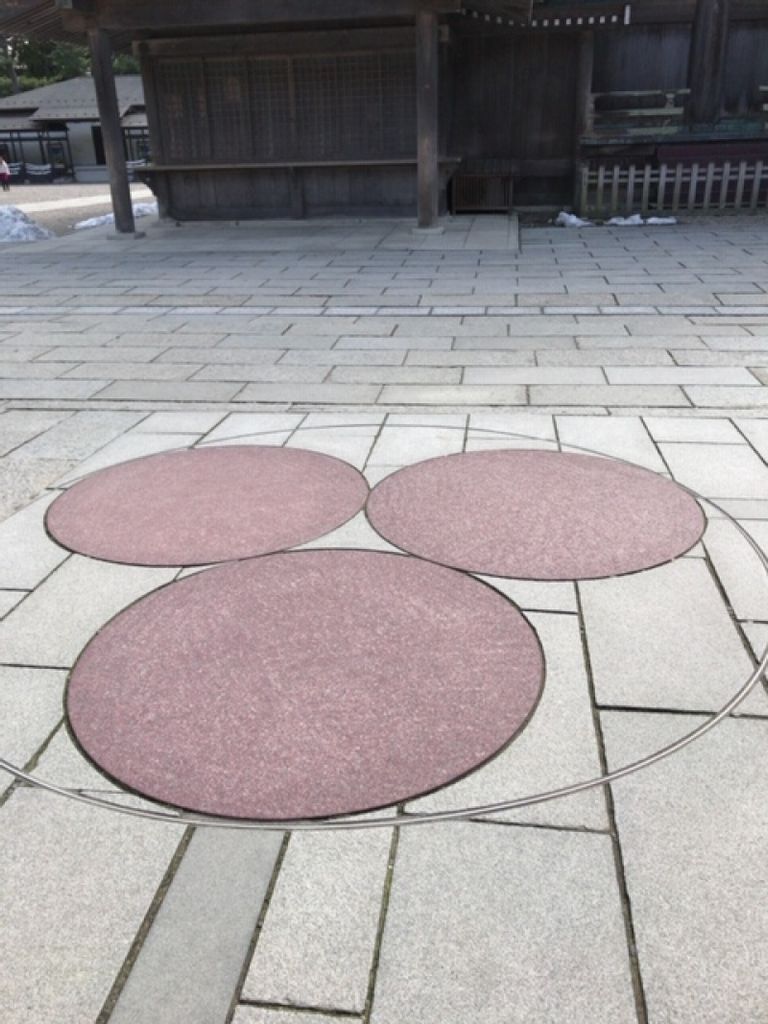 Just in front of the gate is the remains of a pillar that supported the ancient shrine. Three giant tranks are bound together with iron rings to make it a huge pillar. Due to this discovery in 2000, it's prooved that the ancient shrine could be 48 meters as the legend says.
Back of the inner shrine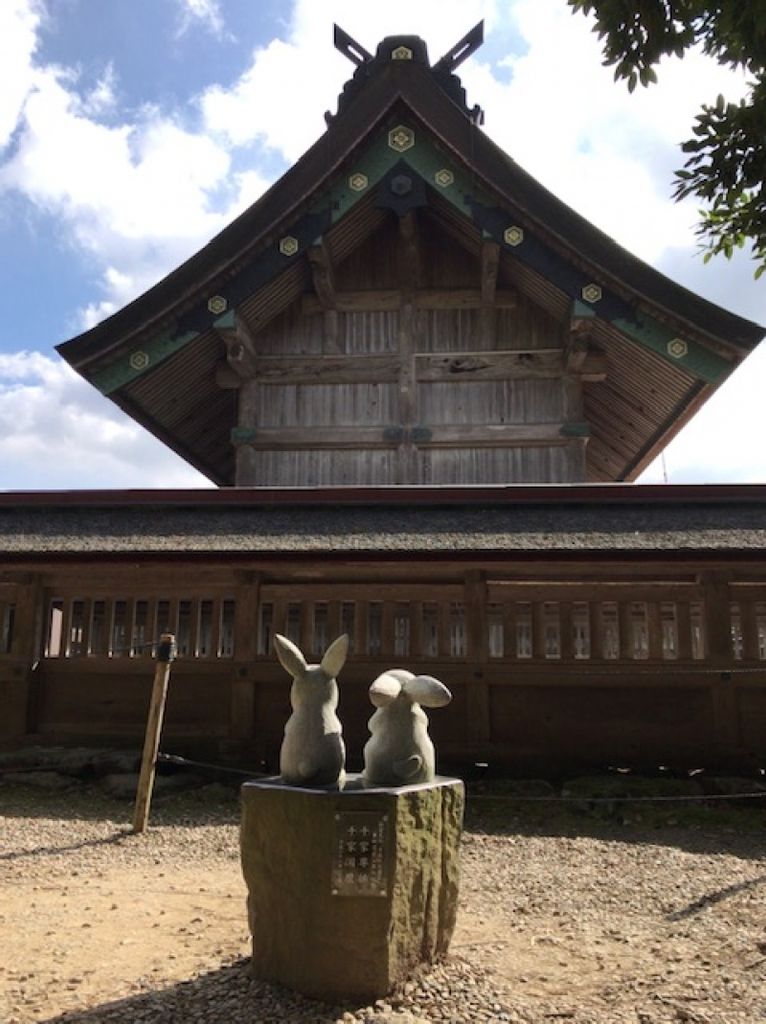 This is where you can get closest to the main hall. The Main Hall is 24 meters tall, making it the tallest shrine building in Japan. The current structure was built in 1744 in a purely Japanese architectural style called Taisha-zukuri, which predates the arrival of Buddhism to Japan.
Because Okuninushi saved a rabbit in the story of "White Rabbit of Inaba", there are 46 rabbit statues all over the shrine ground.
Sogano-yashiro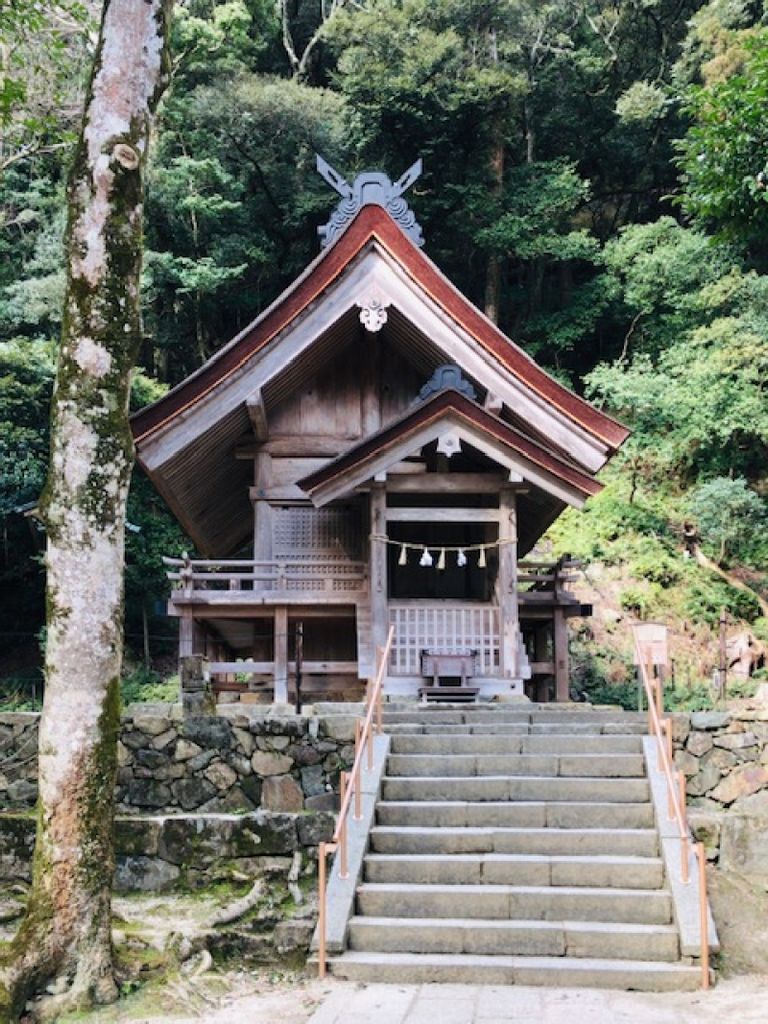 There's a small shrine just behind the Main Hall. Sogano-yashiro is dedicated to Susanoo, who is Okuninushi's father in law.
It the story of "White rabbit of Inaba", the kind Okuninushi got married to a beautiful princess Yakamihime after saving the rabbit. But his mean brothers were jealous that non of them were chosen to be her husband. When Okuninushi was killed by his mean brothers, he went to the realm of the dead and met Susanoo. He fell in love with Susanoo's daughter. Susanoo got angry at first and gave him several deadly ordeal, but he was saved by the help of the daughter, Suseribime. Finally, Okuninushi and Suserubime ran way from Susanoo. When they were about to get back to the world, susanoo said to him, "I give you the name Okuninushi (literally means Master of the Great Land). Use my sword and arrow to conquer other gods who don't follow you and make my daughter your wife and be a king." Before that, his name was O-munaji. After getting back to the world from the realn of the dead, he became Okuninushi and started to build his country.
As Yakamihime was afraid of Suseribime, she hid her baby in the crotch of a tree and went back to her parents' home.
This is where you donate the sand you got from Inasanohama beach and take some sacred sand full of Susanoo's power instead.
Main Hall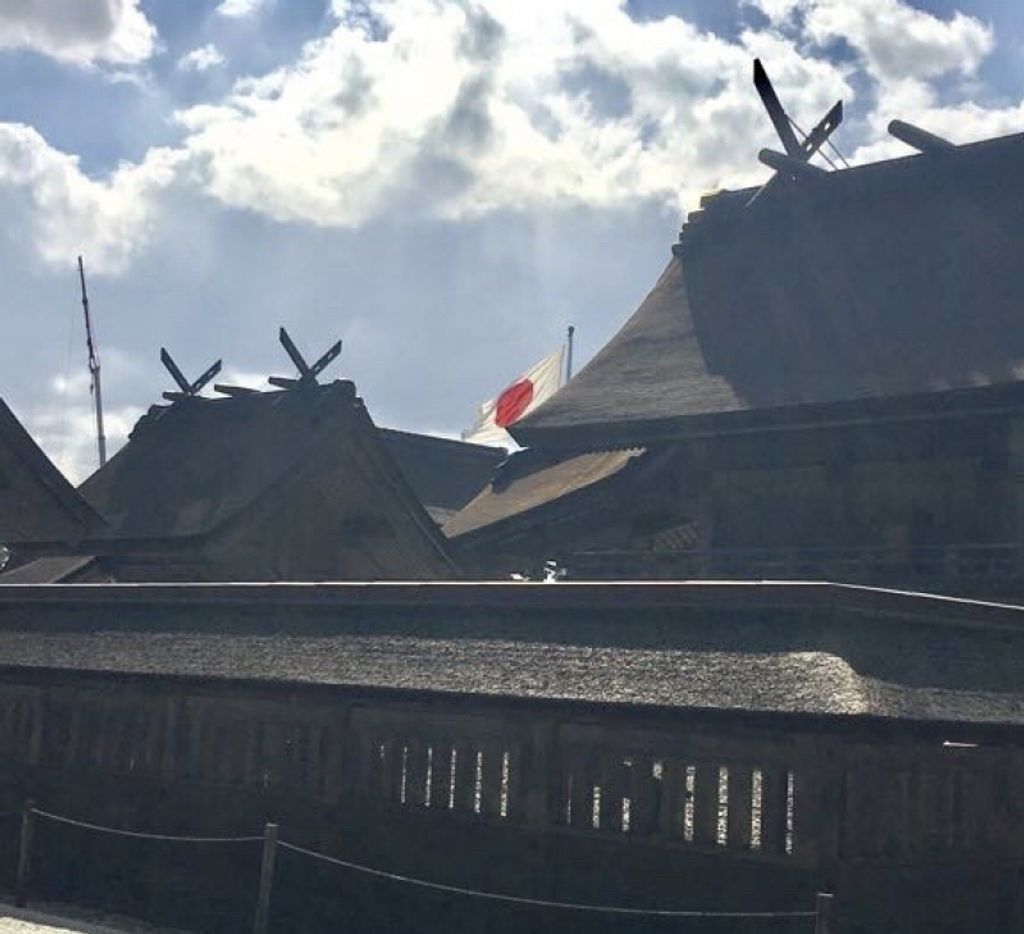 The main hall together with a few smaller shrine buildings are sorrounded by two sets of fences which demarcate inner sanctuaries not accessible to general visitors. While standing here, I can well understand why this region is calld Izumo, which reffers to the advent of clouds.
Kagura-den Hall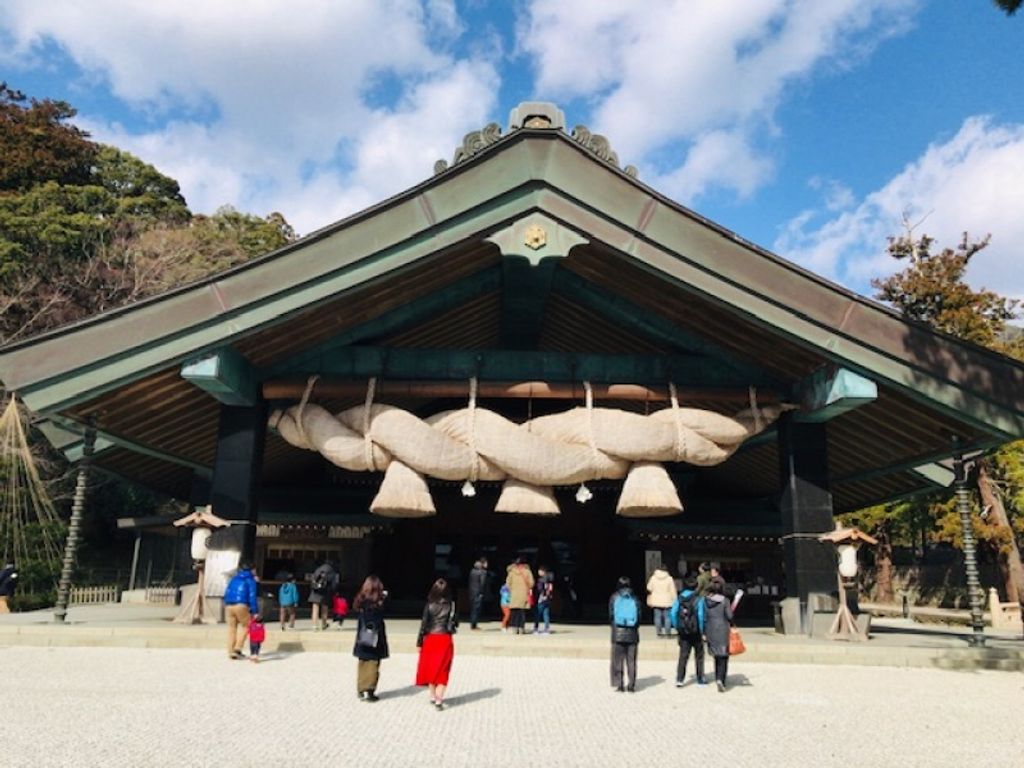 This building is famous for its huge shimenawa. It's 13.5 m long and weighs 4.5 t. Usually, shimenawa is twisted to make it thicker as it goes to the right, but that of Izumo is opposite. That's because in Izumo, left is higher than right toward god, though the right is supposed to be higher in other regions.
There are a lot more places in Izumo that help learn about Japanese mythology. And of course, you can also enjoy local cuisine. Izumo soba is one of the three most famous buckwheet noodle dishes in Japan, for example. Izumo is one of the best places in Japan that offers historical places, beautiful nature, and fresh and delicious food! I highly recommend exploring this beautiful country side.
If you'd like to see more about this article, please visit my youtube below.