The Gion District in Kyoto is a famous sightseeing spot. As you know, Kyoto is a city of ancient and traditional temples and shrines. Many people probably also have the impression of "Geisha" and tea houses when they hear the word Kyoto.
For those of you that don't know what a "Geisha" is, they are a Japanese hostess who entertains guests with conversation, dance, and song. You may have heard of them in the movie "Memoirs of a Geisha" in 2005. They usually entertain guests in tea houses or "Ochaya" in Japanese, and Gion is well known as an area where many of these tea houses are located.
Gion Kyoto, What to do and how to access the Geisha District.
Gion Access
The Gion District is an area around Shijo Avenue, from Yasaka Shrine in the east to Kamogawa River in the west. It's easier to understand if you see the Gion district on a map of Kyoto. You can get there by bus or train from Kyoto Station. The best way is by bus since it's a direct route.
By bus, you need to go to the D2 bus stop at the bus terminal outside the Kyoto station. Get on the #100 bus bound for Kiyomizu Gion and Ginkakuji Temple. Get off at the 6th bus stop for Gion. Or get on the #206 bus bound for Higashiyama Dori and Kitaoji bus terminal, and get off at the 10th bus stop. Both routes take about 20 minutes more or less and cost 230 yen. But if you get caught in a traffic jam, it could take much more time.
By train from JR Kyoto station, get on the Nara line to JR Tofukuji Station. It's only one station away. Then change trains to the Keihan Main line bound for Demachi-Yanagi Station and get off at Keihan Gion Shijo Station. This takes about 11 minutes and costs 270 yen.
You can also take a taxi to Gion if you feel like you might get lost. If there is no traffic, it'll take about 10 minutes and cost less than 1,500 yen. But just like the bus route, if you get caught in traffic, it'll take much more time and of course become much more expensive.
Gion Sightseeing
The most famous sightseeing area in Gion is Hanami Koji Street. This is the street stretching from Shijo Avenue down to Kenninji Temple. The traditional "Machiya" houses survive here and line both sides of the street. These wooden merchant houses are built very long and narrow. This is because in the olden days taxes were calculated according to the width of a building's facade. So, in an ingenious effort to evade being taxed a large amount for a large house, they made the facades very narrow, and the length of the house maybe 3 or 4 times the width. Nowadays, these old wooden buildings have been transformed on the inside into shops and nice restaurants. You should also be aware that these restaurants are expensive.
The Shirakawa area along the Shirakawa canal is also a beautiful area. There are willow trees growing along the canal and high end restaurants and "Ochaya" tea houses lining the street. This area is a little less popular as a sightseeing spot so you'll be able to take a leisurely walk along the canal that runs parallel to Shijo Avenue.
Geisha / Maiko
As explained at the beginning, a "Geisha" is a Japanese hostess who entertains guests with conversation, traditional Japanese dancing, singing, and games. A "Maiko" is a younger girl who is still an apprentice. She will become a "Geisha" when she gets older and gains more experience through her training. You can often see the "Geisha" walking down the streets of Gion in the evening toward an engagement at one of the "Ochaya". Or you may see some "Maiko" running errands during the day. I know this is probably a scene you want to get a picture of, but remember to respect their privacy and to not become like paparazzi running after movie stars.
The "Ochaya" tea houses are very expensive and also exclusive. You cannot just walk in. You need to have an introduction by one of the resident clients in order to dine in the company of the "Geisha". Though recently there are some tour companies offering lunch packages with the "Maiko", of course at a high price.
For the ordinary people who cannot afford the high prices like myself, there are shows held at Gion Corner Yasaka Hall. The shows are about 1 hour long and the fee is about 3,000 yen. They also have shows of other traditional Japanese performing arts, so make sure the show you want to see is on before you go there.
Gion Festival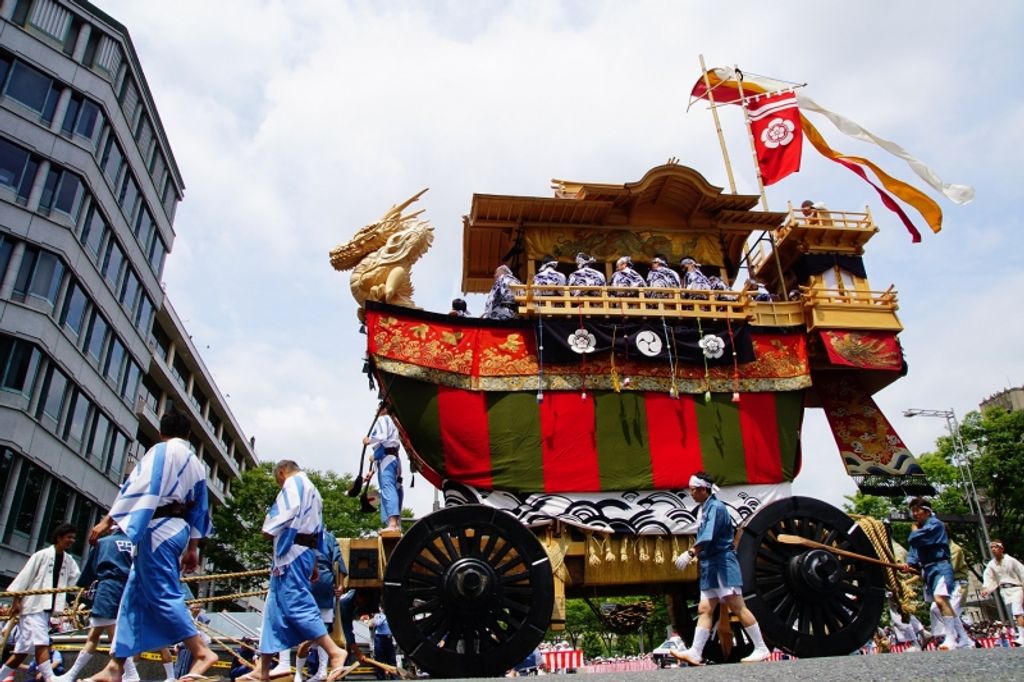 Gion Matsuri or Gion Festival is a famous festival in Japan. It is the festival of Yasaka Shrine with a history of over a thousand years. It was originally held as an offering to the gods during an epidemic in the year 869. A local boy is chosen to act as a divine messenger to the gods even today, and he is not allowed to touch the ground from 4 days before he participates in the parade held on July 17th.
The festival itself is held all through the month of July. There are many events held during this month, but the most impressive is the Yamaboko parade held on July 17th. The pre-parade celebrations called "Yoiyama" are held on the 3 evenings preceding the day of the parade and are very fun and exciting. There is also another parade held on July 24th, though it has fewer and smaller floats. And there are also 3 nights of pre-parade celebrations for this as well on a smaller scale.
The main Yamaboko parade on July 17th is an amazing sight. There are 23 floats that parade through the city on this day while the remaining 10 smaller floats are paraded on the 24th. The word Yamaboko comes from the name of the two types of floats, "Yama" and "Hoko". Both types of floats are beautifully and elaborately decorated. But the "Hoko", standing 25 meters high and weighing about 12 tons is a sight to see. The amazing sight of these enormous floats being pulled through the city is what makes this festival so famous and popular.
The floats are made every year from scratch without utilizing a single nail. You can watch the craftsman assembling the floats for the main parade, from July 10th to the 14th. Then, during the 3 days of pre-parade festivities, they are displayed throughout an area of a half kilometer from the intersection of Shijo Avenue and Karasuma Street where the actual parade starts. This is the same for the smaller parade. The floats are assembled from the 18th to the 21st, and displayed from the 21st to the 23rd before the parade on the 24th.
The main event of the Gion Matsuri is actually held not in Gion but on the other side of the nearby Kamo River. It is held from 9:00 to 11:30 on July 17th and July 24th. The parade starts from the intersection of Shijo Avenue and Karasuma Street. It travels toward the river and makes a left at Kawaramachi Street. After going straight for a bit, it makes another left on Oike Street and heads back toward Shijo Avenue. And it ends at the intersection of Oike Street and Shijo Avenue. The parade on July 24th follows the same 3 km path but in the other direction. So if you want to see the parade, make sure to place yourself somewhere along this course. It will, of course, be very crowded, but since the floats are so tall, you're sure to be able to have a good view of them.
Blogs about Kyoto
Kyoto 1 Day Guide - The Best Full Day Tour For Your Trip to Kyoto
How to Go From Tokyo to Kyoto - Bus, Trains, JR Pass, Shinkansen and more
To find more Blogs with Tips and Information about Kyoto and across all Japan click here.
Want to make your Kyoto trip more Interesting? Here's how!
TripleLights the Best Private Tours and Locals Guides across Japan.
If you are interested to know more and save your time during your trip to Kyoto, you can Send a Message to our local guides to get a customized itinerary and quotation for an unforgettable experience.
You also can Request a Tour just for You. Just type what you would like to see and guides all over Tokyo will send you quotes and their recommendations according to your interested and budget.
TripleLights website you can find the best professional Local Guides all across Japan to help you plan your trip. Check our Private Tours for Kyoto.