When we visited Nikko in April, it was snowing. But snow made Nikko more fantastic!
Statue of Saint Shodo
The statue of Saint Shodo welcomed us. He opened Mt. Nikko in the middle of the 8th century. Since then many priests came here for training, and Mt. Nikko had flourished as a major sacred sites in the Kanto region.
Rinnoji Temple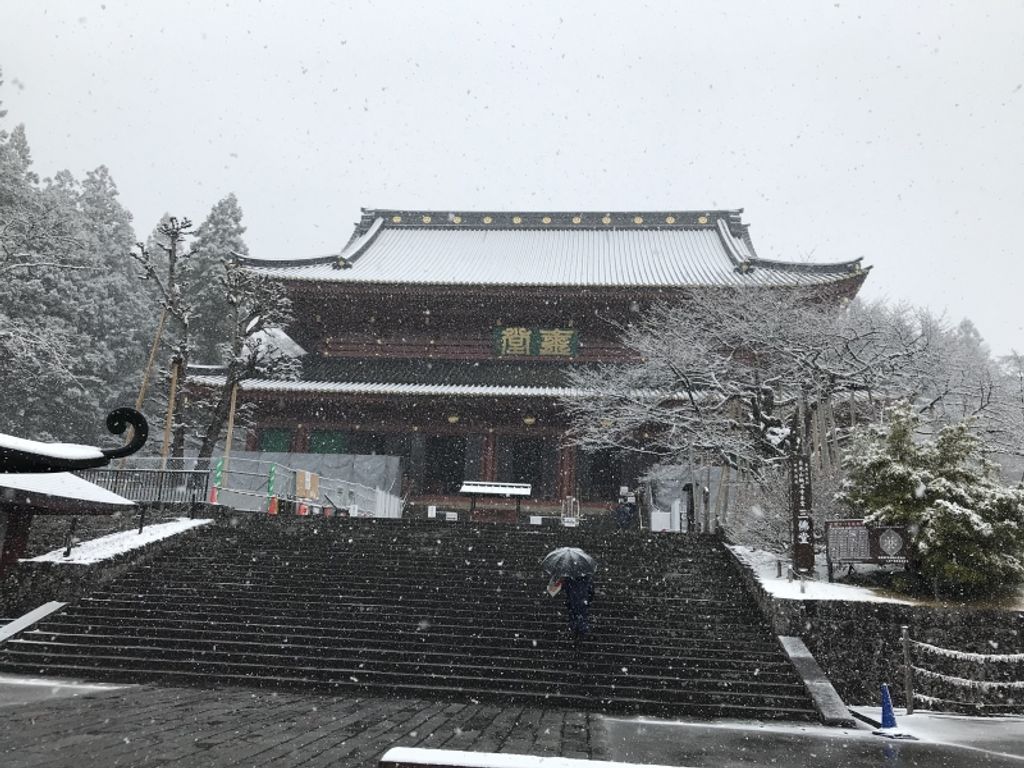 Rinnoji was established by Saint Shodo in the middle of the 8th century.
In Rinnoji, based on the belief to mountains, they have worshipped three Buddhas in Sanbutsudo hall. Thousand-armed Kannon representing Mt. Nantai, Amida Buddha representing Mt. Nyohou, and Kannon with a horse's head representing Mt. Taro. Sorry for no pictures because taking pictures is prohibited inside the hall.
Toshogu Shrine
Three Wise Monkeys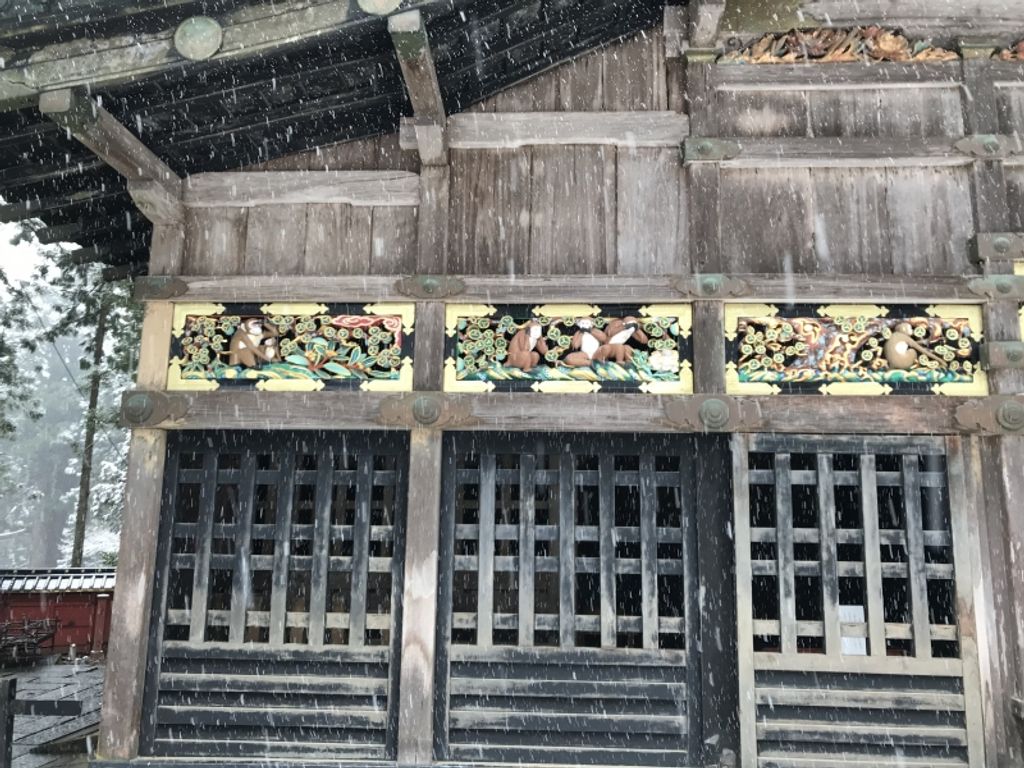 This building used to be a stable to keep sacred horses in Toshogu.
From the ancient times monkeys have been believed to protect horses. So on the wall of this building you can see the eight carvings of monkeys which represent a life of people.
Most famous carving is the second one, "three wise monkeys", "see no evil, hear no evil, and say no evil". The carving of this "three wise monkeys" has the educational meaning that you should not see, hear, and say evil things, and be brought up to behave politely. It is said this came from the Analects of Confucious.
Yomeimon Gate
It is said that Yomeimon Gate is so beautiful that you never get tired of looking at this gate even in a whole day.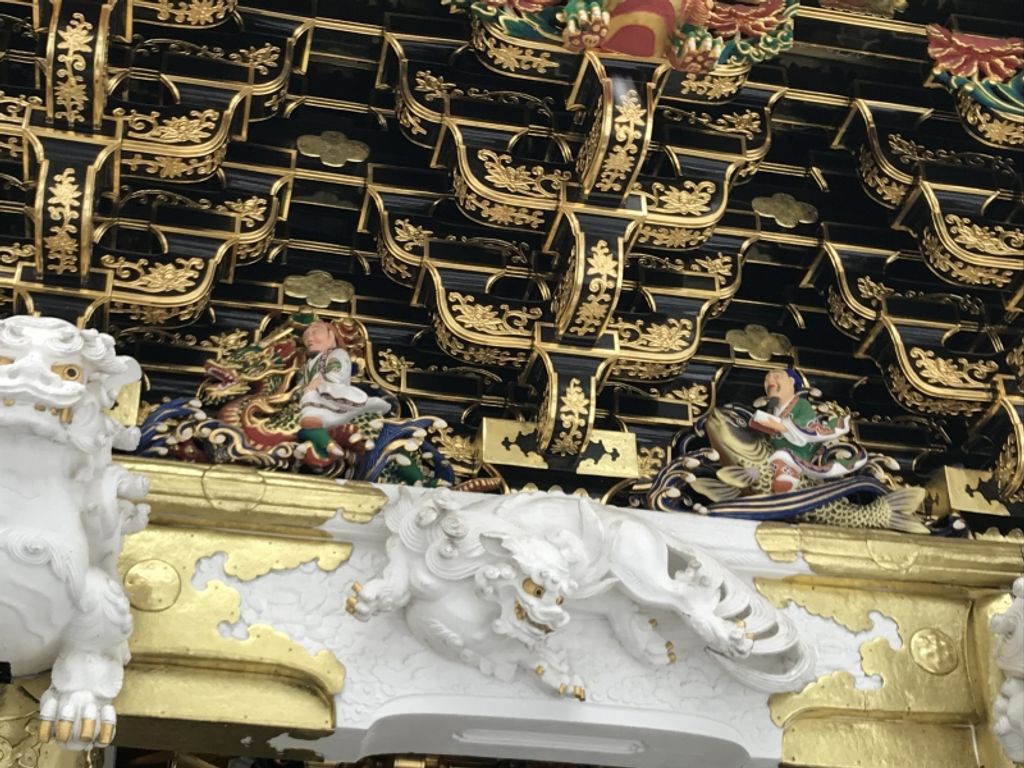 This gate has over 500 carvings based on old stories, children's play, saints, and sages in China.

In addition to the beautiful carvings, don't miss the upside-down pillar located at the backside of Yomeimon.
There are 12 pillars supporting Yomeimon, but only one pillar, the left one, has an upside-down pattern. This has a reason. It is believed that a building would start collapsing from the moment it was completed. Therefore, if only one part of the building is considered to be unfinished, it is believed that the building would not collapse. This pillar shows Yomeion Gate is not completed.
Sleeping Cat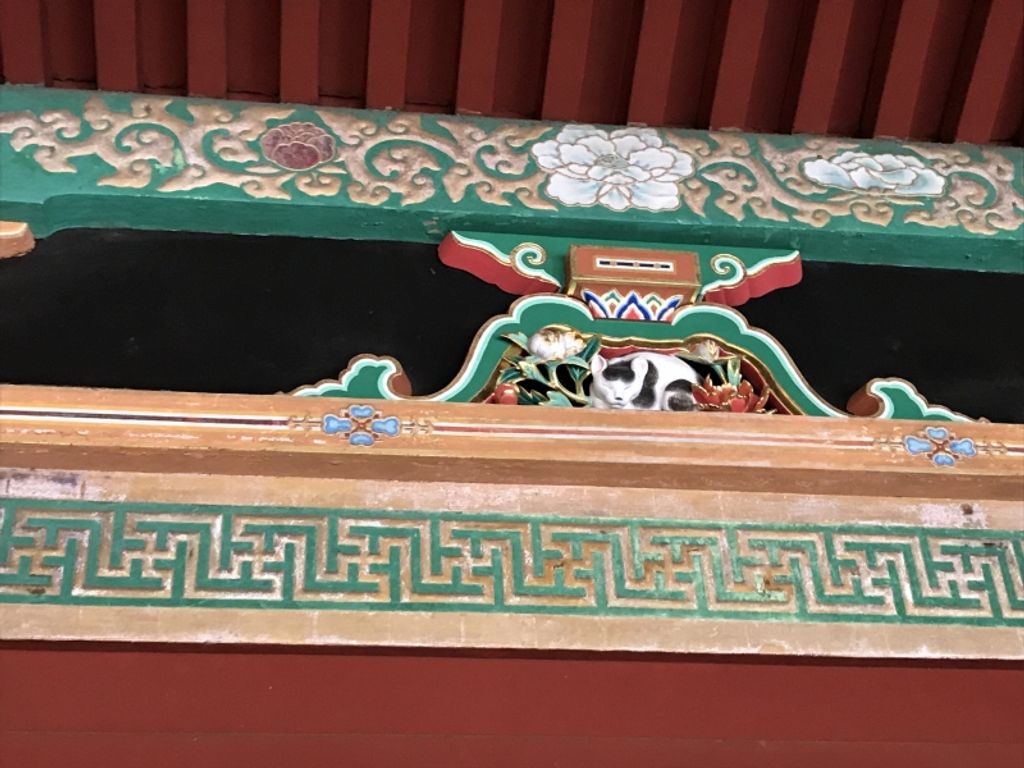 The caving of a sleeping cat was made by Hidari Jingoro who was a carver in Edo period. It is said that it was carved after the name of Nikko, which means sunlight, because it is sleeping bathed in the sunlight and surrounded by flowers of a peony.
Hidari Jingoro was a legendary carver and it is said his sculpture has a soul. So it is also said that this cat walks around inside the precincts at night. If you stay at Toshogu until night, you might see this cat walking around.
Futarasan Shrine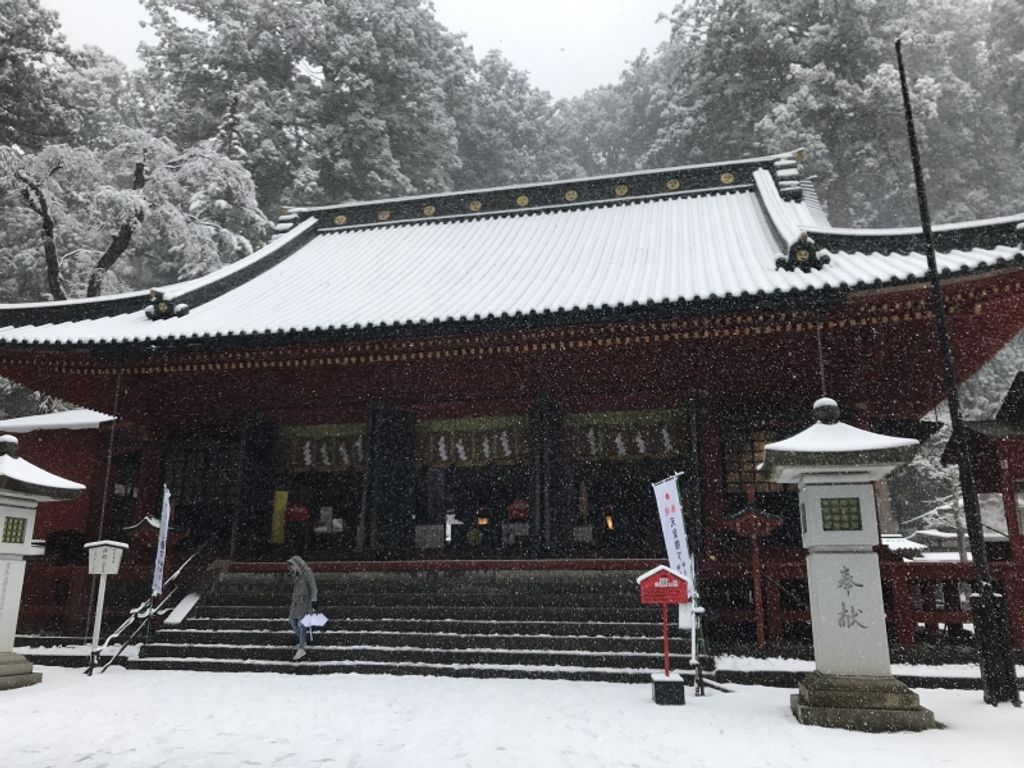 Futarasan Shrine was established in the middle of the 8th century by Saint Shodo. This shrine is famous for the benefit of good marriage and inviting good luck.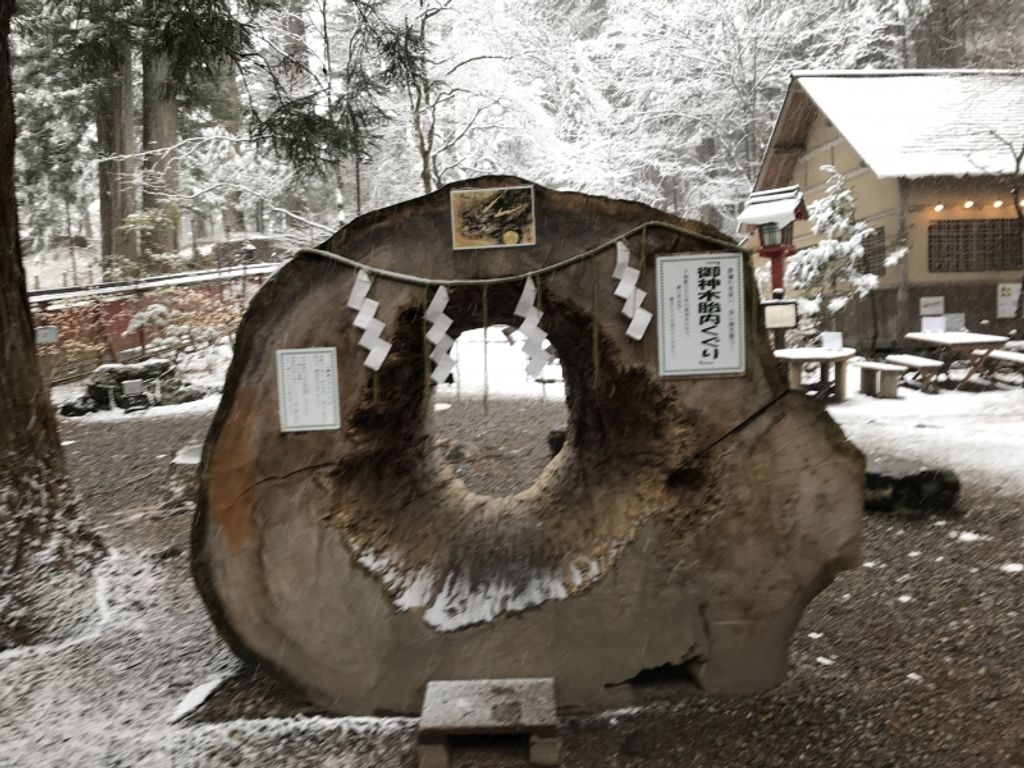 This is a big trunk of a cedar tree which was located on the east side of the precinct. After felling, it became possible for worshipers to go through the trunk. It is said that you can ward off evil and get a good marriage if you go through it.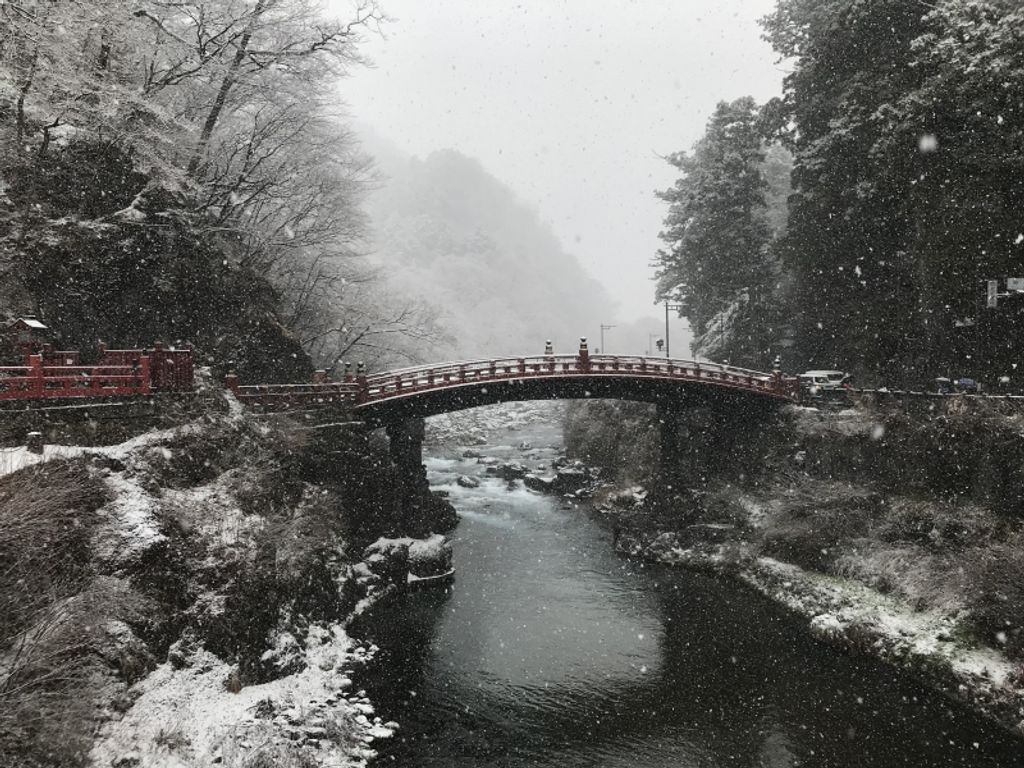 The beautiful Shinkyo Bridge, which is an entrance of Mt. Nikko, is a property of Futarasan-jinja.
Taiyuin Mausoleum
Taiyuin is a mausoleum which is located inside the precincts of Rinnoji Temple. It enshrines Tokugawa third Shogun Iemitsu.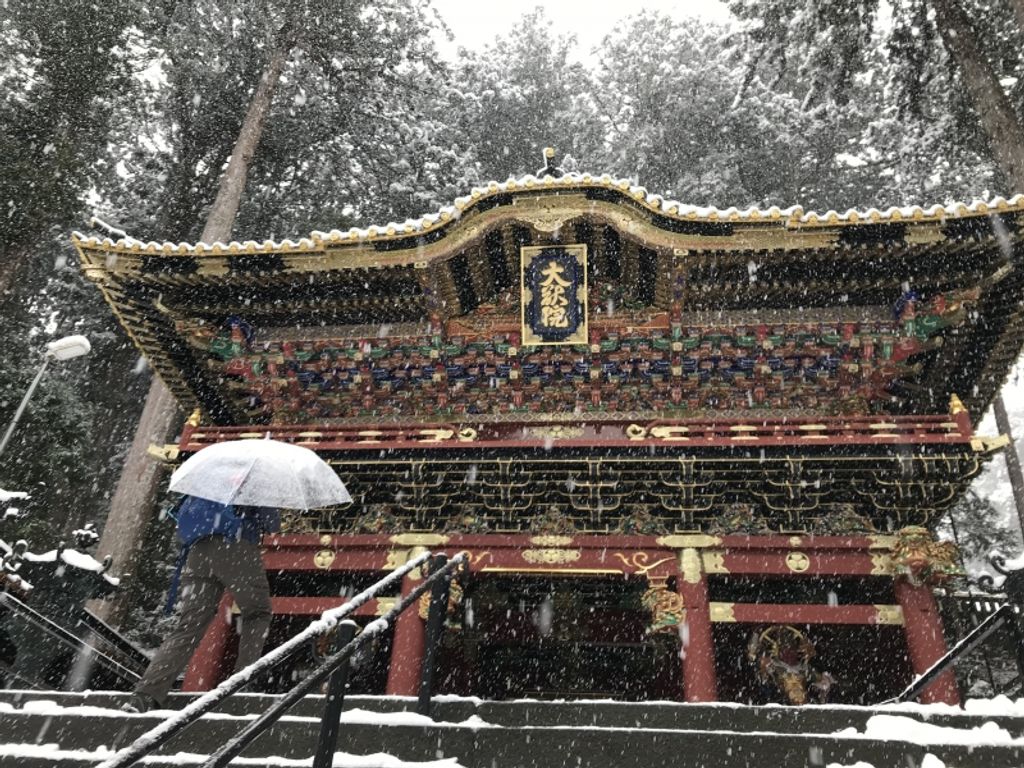 Taiyuin is very famous for its beautiful gates. They have five gates, but I like Nitenmon Gate the most. This is the biggest gate in Nikko, and has two deities in the front, and the gods of wind and thunder in the back. This gate is very beautiful and impressive.
Let's explore together the fantastic city Nikko!!