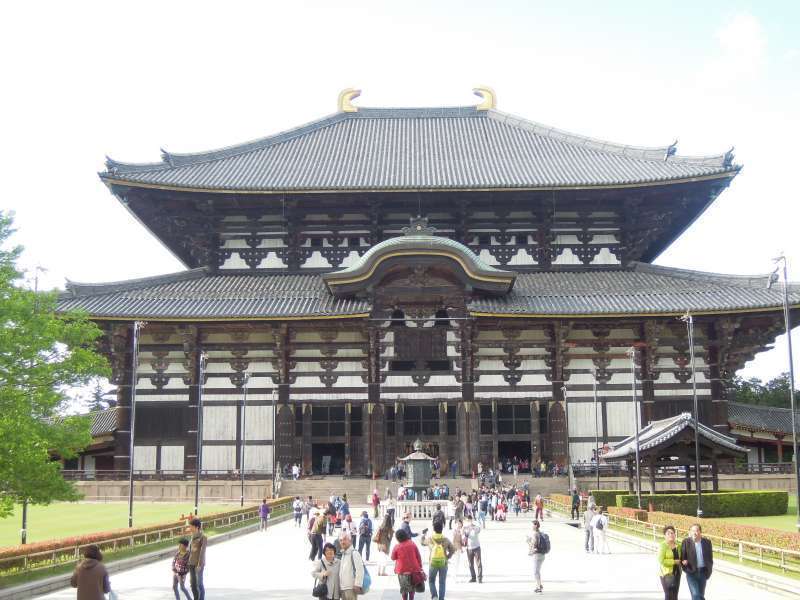 This is the last section about Buddhist statuary. This time let's learn about ten-bu ( Deva ) deities that have a role of guarding Buddha's Law. Most of the ten-bu were originally deities of Brahmanism and Hinduism and were incorporated into Buddhism. They are ranked below myo-oh, but were established long before myo-oh statues were made. There are two types of ten-bu: Goho-shin, who protects Buddha's Law and faithful followers of Buddhism, and Fukutoku-shin, who brings us happiness and worldly benefits.
Statues of ten-bu group excel nyorai, bosatsu and myo-oh statues in number and have different historical backgrounds. For this reason, ten-bu statues have various characters and appearances. They represent deities of high birth, warriors clad in armor, half-human and half-animal bodies and demonic spirits. In this section, allow me to choose some of the ten-bu statues you might encounter at famous temples in Kyoto and Nara.
Bon-ten was originally the Creator of Universe in Brahmanism and Hinduism and was incorporated into Buddhism. He is usually dressed in Chinese clothes of noble class. He is often paired with Taishaku-ten, who was a guardian deity of warriors clad in armor with a kongosho weapon in a hand. The oldest pair of Bon-ten and Taishaku-ten in Japan are housed in Tohji Temple, Kyoto, along with Godai Myo-oh statues introduced in the former section. Taishaku-ten in Tohji Temple sits on a white elephant.
Kongo Rikishi ( Deva King ) statues usually welcome visitors at temple gates in pairs. They are supposed to protect temples from outside enemies. They look like sumo wrestlers with a scowling face and a kongosho in a hand. The statue with an open mouth is called Agyo, and the one with a closed mouth is Umgyo. A (あ) is the first letter in Sanskrit and also the first kana letter in Japanese, and Um (ん) is the last letter in Sanskrit and the last kana letter just like alphabetical A and Z. This represents that they see and know everything from the beginning to the end. The most famous Kongo Rikishi statues are found at Nandaimon ( South Great Gate ) of Todaiji Temple, Nara. The statues ( about 8 meters tall ) are said to have been sculpted by Unkei, Kaikei and their 20 followers in only 69 days in 1203.
Shitenno are Four Heavenly Kings, who are said to provide protection in four directions; Jikoku-ten ( east ), Zocho-ten ( south ), Koumoku-ten ( west ) and Tammon-ten ( north ). They are placed in four directions in a worship hall with a role of protecting nyorai or bosatsu statues. All of the four statues stomp demon monsters symbolizing evil spirits. One of the most famous groups of Shitenno statues is housed in Kondo Hall, Horyuji Temple, Nara.
Hachibu-shu is the general term for eight guardian deities who specially pledged loyalty to Shaka Nyorai among the deities of other ancient religions who gave devotion to Buddha. Hachibu literally means eight tribes and shu is a collective term for a group of people. Each statue of Hachibu-shu has its own name and character. For example, Kendappa is a music deity, Yasha a flying demon deity and Karura a deity with a bird head that eats evil dragons. Of the eight deities, the most famous and popular is Ashura, a deity of wars. You can see an excellent display of Hachibu-shu statues in the National Treasure Hall of Kohfukuji Temple, Nara. In this hall I strongly recommend you have a close look at Tentoki ( open mouth ) and Ryutoki ( closed mouth ) statues with lanterns. Before they were converted to Buddhism, they were demon monsters stomped by Shitenno. Now they stand shedding lantern light to the feet of Shaka Nyorai with their noses stuck up in the air. What a humorous look!
Juni-shinsho ( Twelve Heavenly Generals ) are twelve guardian deities that protect Yakushi Nyorai. Each deity is clad in armor holding a weapon. The number twelve is very important in that they provide protection for the twelve directions, twelve periods of time and twelve eto ( the twelve zodiac signs in Chinese astrology ). The oldest Juni-shinsho statues in Japan, made of clay in Nara period ( 710-784 ), are housed in the main hall of Shin-Yakushi-ji Temple, a short walk from Kasuga Grand Shrine, Nara. Of the twelve statues, the most appealing is General Bazara standing in the right front with a furious look and ruffled hair. In contrast with Bazara stands General Indara in the left front with a self-possessed look.
In additon to the ten-bu statues, there are many other Buddhist statues which do not belong to the four groups of statues, but it must be remembered that the wishes and devotion of the people are curved into every and each Buddhist statue and each statue has its own social and historical background.
This concludes the tips for the appreciation of Buddhist statuary. Lastly I would like to extend my sincere gratitude to those who have kindly read my passages to the end.