When it comes to travel around Japan, many people think of the western part of Honshu main island, which has a lot of famous places like Kyoto, Osaka, and Hiroshima. Though I like those places so much, I love the eastern part of Japan as well. You can come across beautiful nature and kind people there. Today, I'd like to show you some interesting spots in the southern part of Miyagi prefecture. Sendai is the political and economic center of Japan's Tohoku(northeast)Region. It takes about 1 hour and 40 minutes to reach Sendai from Tokyo on the Tohoku Bullet Train(Tohoku Shinkansen).Sendai also has regular flights to and from major domestic and international cities.
Tohoku Shinkansen "HAYABUSA"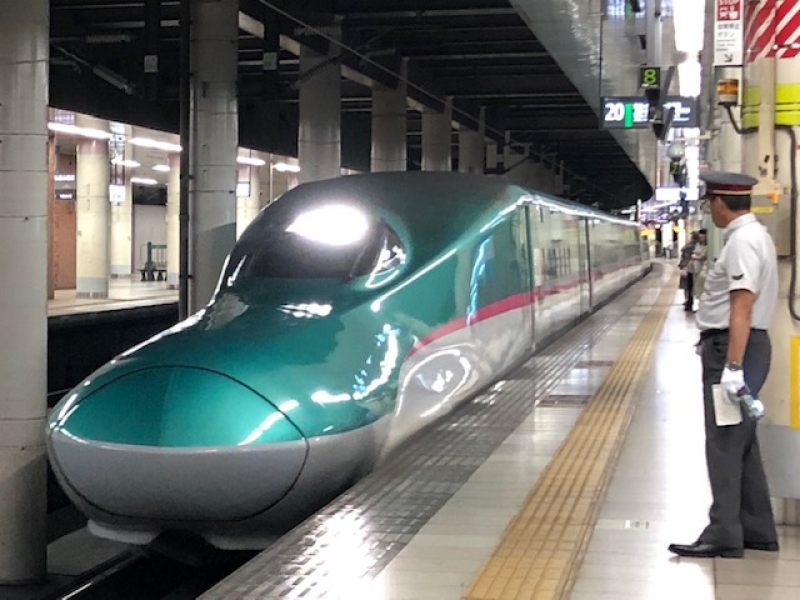 Let's explore the area around Mt Zao first. Mt Zao is a popular ski resort in winter, but there are lots of good spots to visit in summer too. A one-hour drive from Sendai takes you to Mt. Zao, a collection of several age-old volcanoes. Near its summit, you can enjoy a pleasant walk around the Okama, a crater lake known for its ephemeral colors. When I went there last year, it was slightly raining, unfortunately. But it was still beautiful and I enjoyed walking around.
OKAMA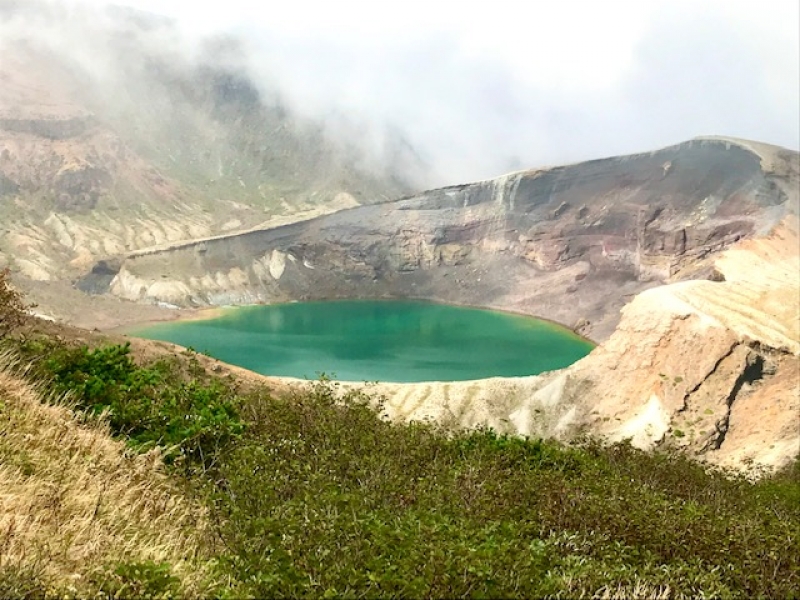 Another popular spot in this area is Zao Fox Village. Zao Fox Village is Japan's largest fox-themed zoo. More than 100 foxes live free-range in a garden surrounded by nature, and you can watch foxes without a fence in between. In addition, there are a lot of small animals such as rabbits and goats. I've seen more and more foreign people visit this unique attraction recently. In spring, a hug a baby fox experience is available, which is a world-exclusive to Zao Fox Villege. All the foxes are checked for Echinococcus disease (a parasite common to foxes), so you can enjoy contacting with foxes safely. When I was there in September, I was able to hug an adorable fox.
Zao Fox Villege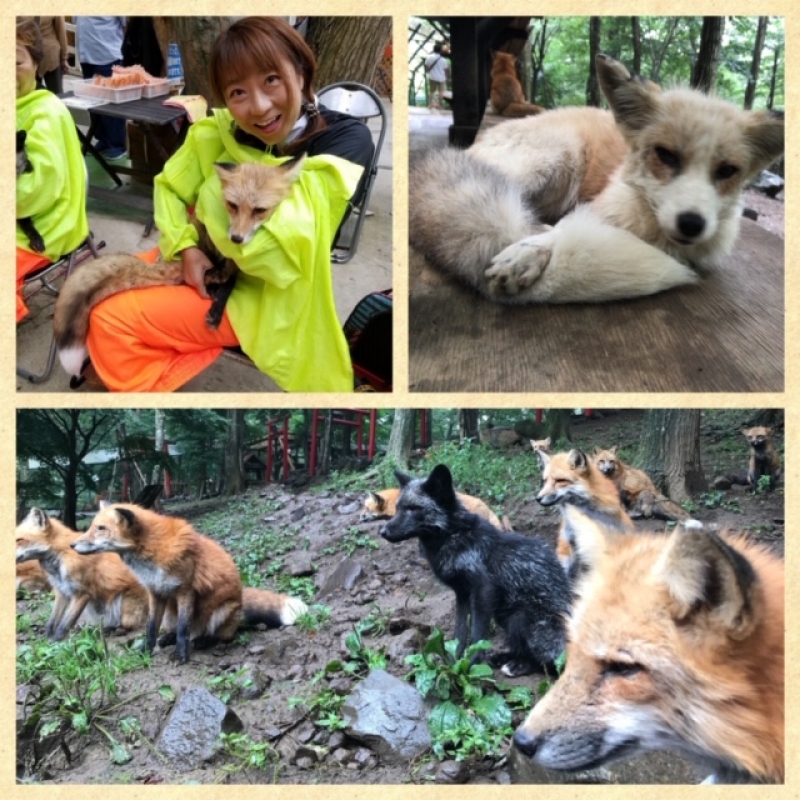 Getting hungry, I wanted to eat some specialty of this region. I found a good local restaurant that offers a specialty of Shiraishi city, called "U-men" that looks like so-men. Noodles made of flour are classified into three kinds, So-men, Hiyamugi, and udon, according to its thickness. Needless to say, udon is the thickest of all. U-men is similar to so-men in terms of its thinness. But the difference is that oil is not used when u-men is made, while they use oil to make so-men. U-men was originated 400 years ago by a son who took good care of his sick father. Since the father was gastrointestinal weak, he started to make soft and digestible noodle. His father was really pleased with it and gradually got healthy. Some people say that the father ate u-men, saying, "U-me, u-me", so the noodle was called "u-men". ("u-me" is a colloquial expression for "delicious")
U-men restaurant, "Hikari-an": Three kinds of dipping soup are served. The flavors are sesame, soy sauce, and walnut. My favorite is walnut soup in the center of the picture.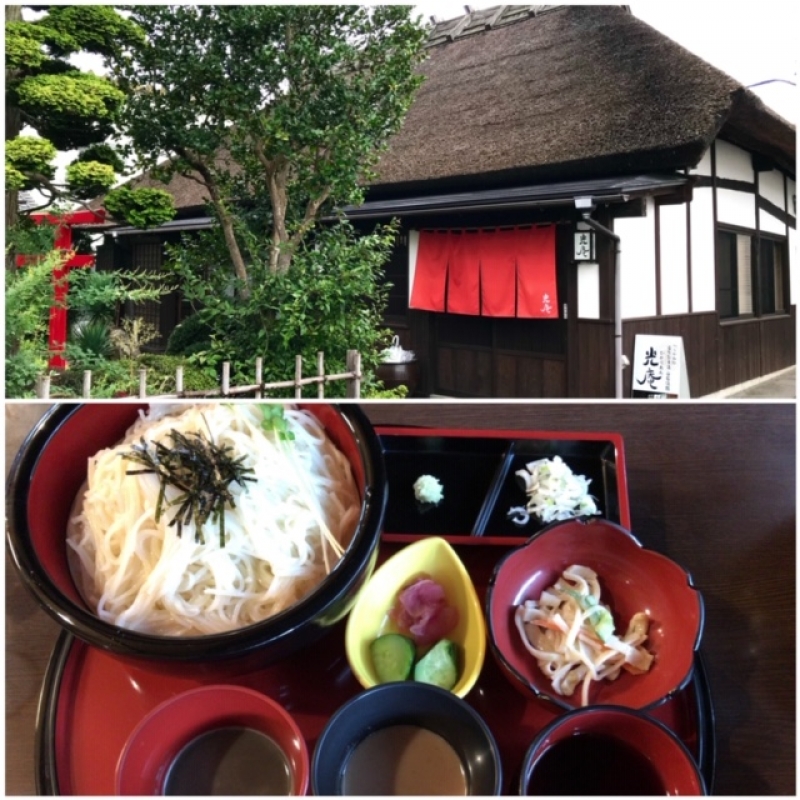 After the healthy lunch, it's time to heal my body and mind in onsen, or hot spring. There are lots of hot spring resorts around the area near Mt Zao, which boast many hotels and traditional Japanese inns(ryokan) that offer comfortable big baths among the beauty and tranquility of the mountains. But I dropped by a day-trip hot spring named Kami-no- you. This place is popular among local people for the quality hot spring water. The entrance fee is just 300 JPY.
Kami-no-yu, which literally means "hot spring for god"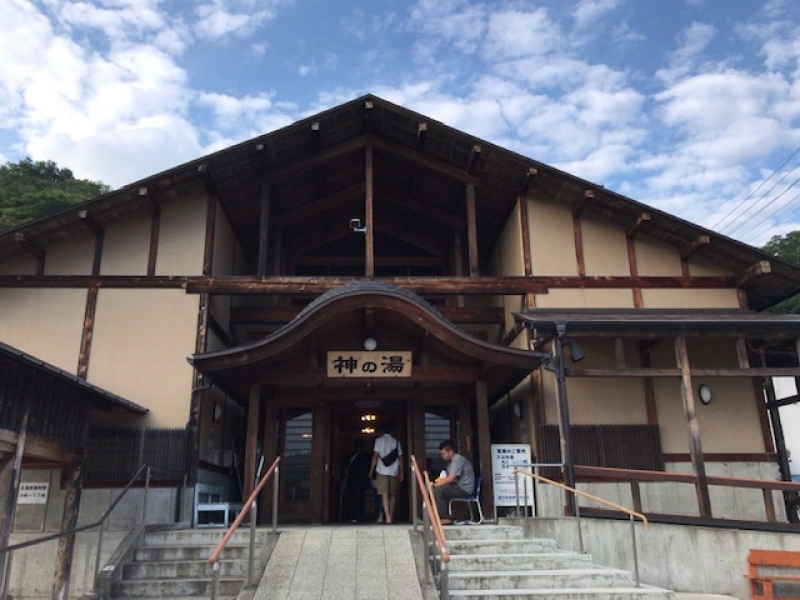 Then I got back to Sendai for the next day. There are many facilities where you can stay in Sendai because it's a big city. Sendai was a castle town of the famous warlord, Date family known for Date Masamune, the legendary "One Eyed Dragon". People have traveled to Tohoku region through Sendai from Edo (Tokyo) since ancient times. I was excited about the next day that started with the city!
On my way to Sendai from Mt Zao: There are agricultural areas that produce some of Japan's best rice across Tohoku region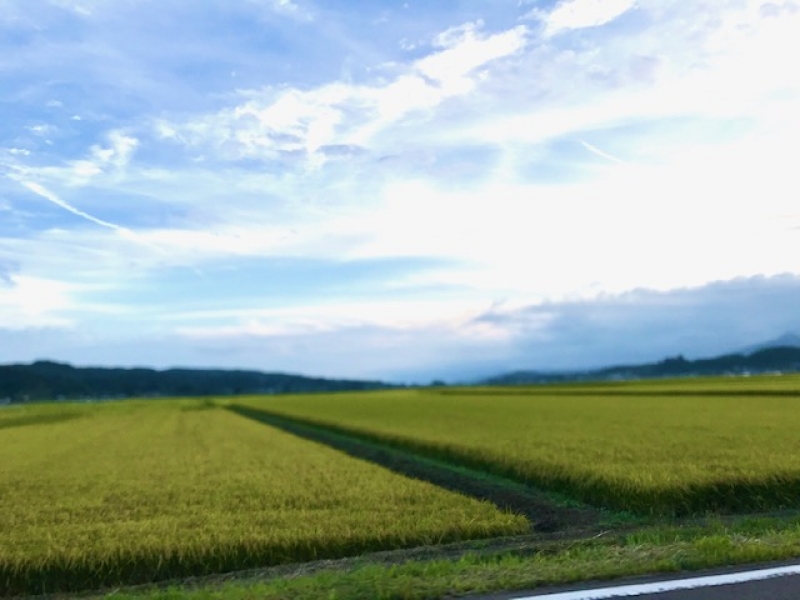 It's truly amazing to see such spacious rice fields for those who come from Tokyo. People who want to relax and be healed by nature should go to Tohoku. I'll introduce more attractions in Miyagi prefecture in the next blog. Thank you for visiting my blog.