Kumano is a spiritual area of Japan, hidden away in the mountains. A popular pilgrimage destination, with isolated hot springs, and an array of traditional culture, Kumano is an excellent location for an off the beaten track adventure. Here are our four highlights:
Kumano Kodo Path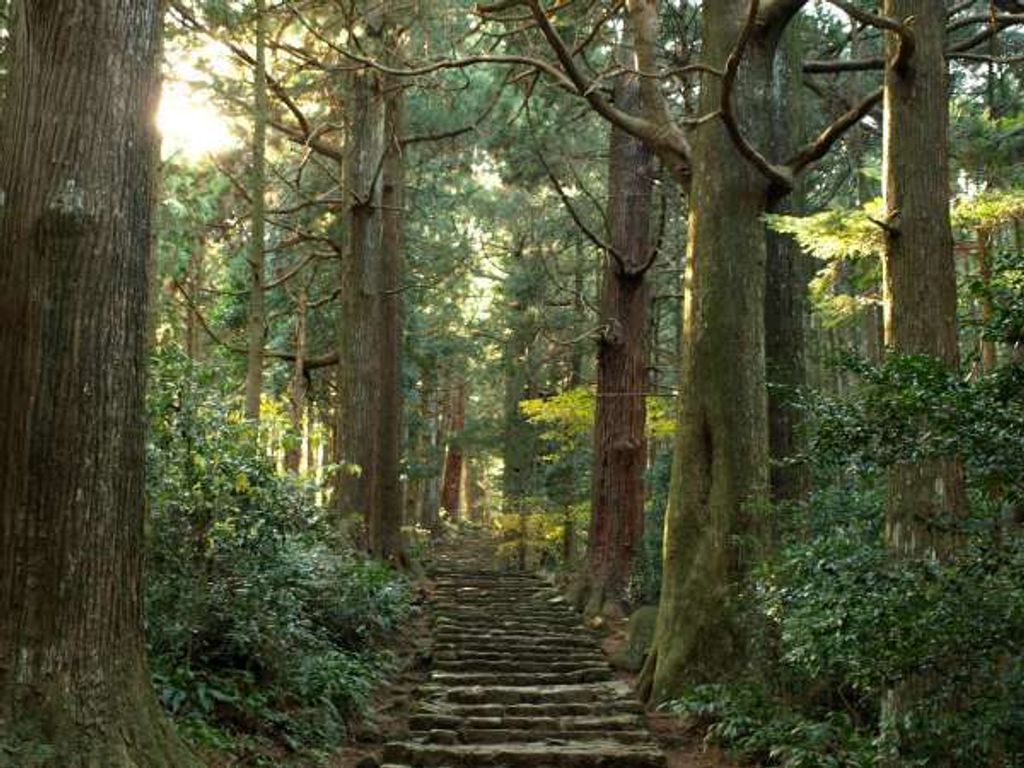 (image by flickr.com)
During the medieval period of Japan, people used to walk through Kumano Kodo path to get to the sacred site, Kumano Hongu Taisha shrine. This gorgeous trail through the forest still retains the atmosphere of those days and has been listed as a World Heritage site. Hiking through Kumano Kodo path is a truly special experience.
Since about 2,000 years ago, the Kumano region has been considered as the Pure Land. The Kumano Kodo path is known as a place where people of all social classes, from commoners to aristocrats, walked to reach the remote land of Kumano in the mountainous area in hopes to be reborn in heaven while still living on earth. The three paths, Nakahechi, Ohhechi, and Kohechi, are collectively listed as a World Heritage site under the name "Kumano Sankeimichi" path. It is said that the Nakahechi path (also known by the name Kiiji) was traveled the most. The trip back and forth between the imperial capital Kyoto and Kumano meant walking about 600km. It is said that people traveled by foot to worship at Kumano Hongu Taisha in spite of all the hardships they had to endure during the nearly one month trip.
For beginners who want to experience the climax of the Kumano Kodo path leading up to the Kumano Hongu Taisha, there is an approx. 4km route that can be hiked in about 2 and a half hours. The trail starts from the easily accessible OkuKumano Kodo Hongu Roadside Station. You will pass by Fushiogami-ohji and will ultimately reach the Kumano Hongu Taisha. Ohji is a place for performing a ritual on the way to a shrine. Because there are a great number of ohji along Kumano Kodo, they are collectively called the 99 ohji (regardless of the actual number). It takes about 30 minutes to walk from the Roadside Station to Fushiogami-ohji; this portion includes uphill roads and stairs. From here, you will be walking on the Kumano Kodo path destined to the Kumano Hongu Taisha. Along the beautiful path from Fushiogami-ohji to the Hongu Taisha, cobbled pathways still remain in some parts and you will be walking through a village with terraced rice paddies and tea fields. This path is established relatively well with rest stops and guiding signs, making it a beginner-friendly route. From the observation platform, you can see the grand torii gate of Ohyunohara. It is an exceptional experience to walk along this path through beautiful woods, just like the people of the medieval period, to visit the Kumano Hongu Taisha.
Admission: Free
- Guidebook from Planetyze about Kumano Kodo Path
- Reviews from TripAdvisor about Kumano Kodo Path
- Tours of Kumano Kodo Path
Kumano Hayatama Taisha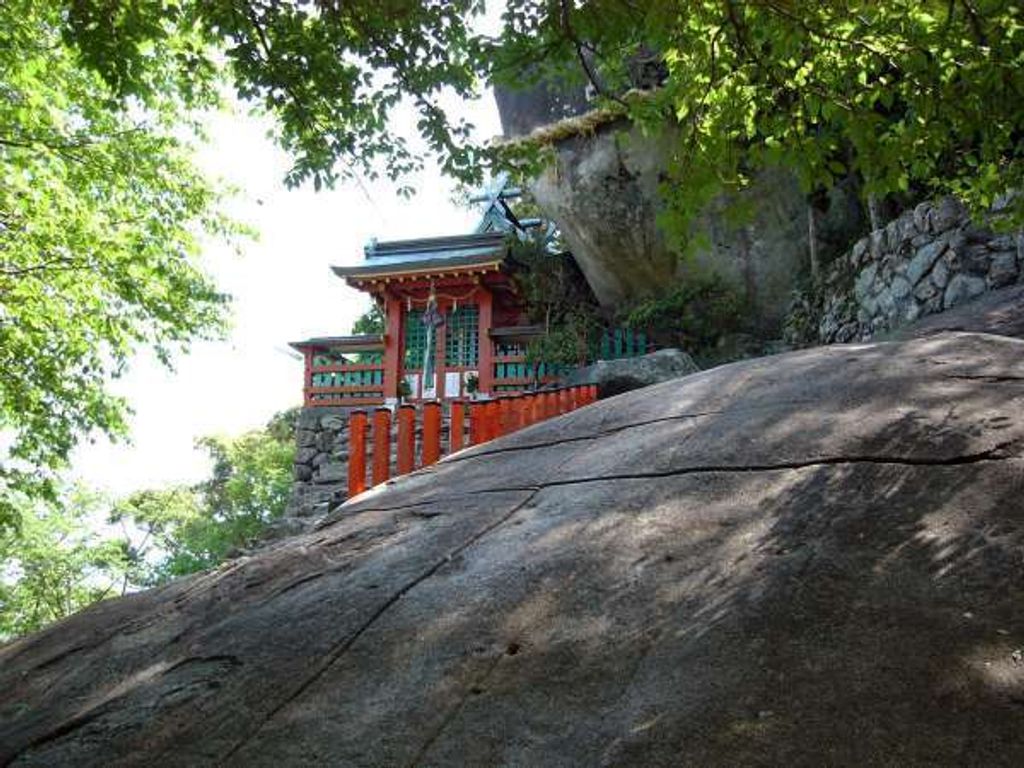 (image by upload.wikimedia.org)
Kumano Hayatama Taisha is one of the Kumano Sanzan shrines, and the head shrine of the many thousands of Kumano shrines throughout the country. The highlights include massive nagi evergreen trees and sacred National Treasures. We recommend visiting Kamikura Jinja, which is a detached precinct of the main temple and is located on a steep cliff.
Kumano Hayatama Taisha is one of the three Kumano Sanzan shrines. Only 15 minutes walk from Shingu Station, it is the most easily-accessible of the Kumano Sanzan shrines. The air is noticeably holy in this beautiful red-lacquered shrine, which is covered in greenery despite being an inner-city shrine. One of the largest trees in Japan, the sacred nagi tree, is located on the temple grounds, and is more than 1000 years old. It is a designated National Natural Moment. Since ancient times, Kumano pilgrims have prayed for a safe journey by wearing nagi leaves on their sleeves and hats as talismans and amulets, as they believe that the Kumano gods reside within the leaves. It is also a symbol of matrimony, as the veins of the leaf only run vertically, and it is difficult to tear the leaf horizontally. In the past, people used to put nagi leaves under their mirrors so that the link with their marriage partner would not come to an end. The marriage charms made from the seeds of the nagi trees at Hayatama Taisha are popular. At the sacred treasure house on the temple grounds, you can see the Koshinhorui, which is a National Treasure. Also on display are saiehiougi, which are fans sprinkled with gold and silver leaf and treated with the naturally beautiful skin of Japanese cypress that were used in the imperial court, and kirikarakusa makie-tebako, containers for cosmetic implements.
Admission: Free
- Guidebook from Planetyze about Kumano Hayatama Taisha
- Reviews from TripAdvisor about Kumano Hayatama Taisha
- Tours of Kumano Hayatama Taisha
Kumano Nachi Taisha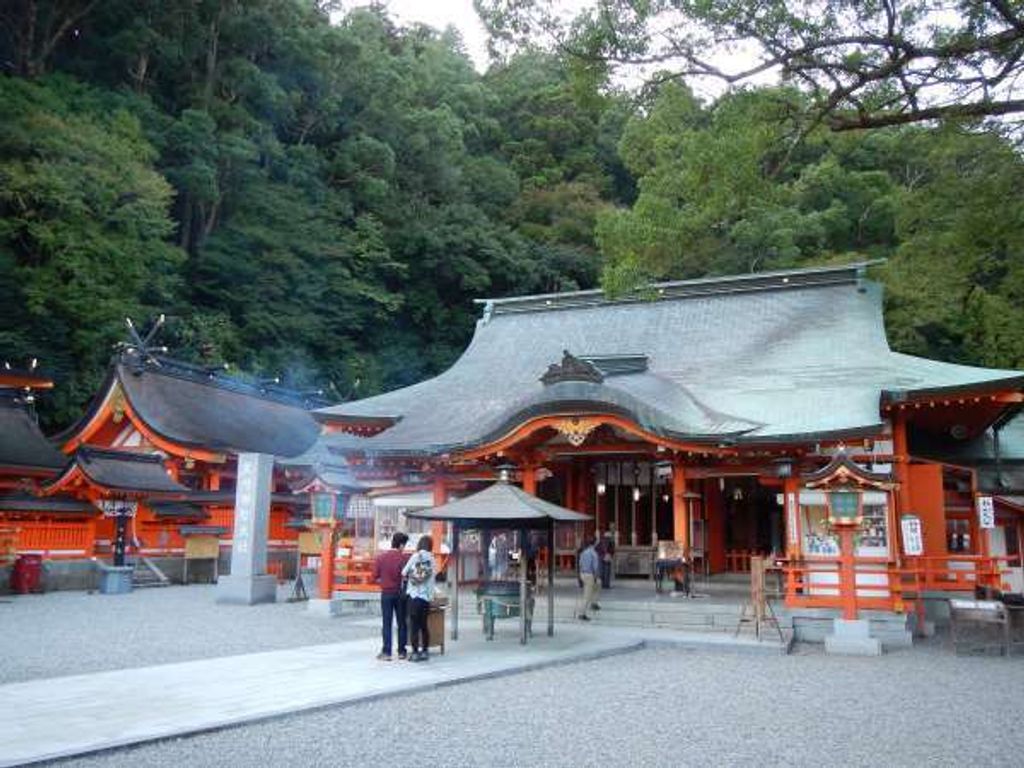 (image by upload.wikimedia.org)
Nachi Taisha is one of the Kumano Sanzan (three sacred shrines), and both the shrine and the grounds are designated World Heritage sites. The shrine, consisting of six buildings at the top of 467 stone steps, is situated in the Nachi mountains at a height of approximately 500m. From the temple grounds, you can see Nachi Falls, which is a designated National Place of Scenic Beauty. The beautiful red-lacquer shrine also features Bird Rock (karasu-ishi), which is said to be the petrified form of Yatagarasu (a legendary raven), and the Sacred Camphor Tree (Okusu), which is 850 years old. In spring, the mountain cherry trees (yamazakura) bloom profusely, and the weeping cherry trees (shidare-zakura)are also magnificent. The Nachi-no-hi Matsuri Fire Festival takes place every year on July 14, when the god of the waterfalls is said to make an annual return to Hiro shrine (Nachi Falls). In this amazing religious spectacle, 12 portable shrines decorated with fans are purified by the flames of massive torches that weigh 50kg or more.
In terms of hot springs, Nachi Taisha is famous for Katsuura Onsen, which is 10 to 20 minutes from Nachi Station by car. We recommend walking the 2.5km from Daimonzaka, which is a route along the Kumano Kodo route that takes in Nachi Taisha and Nachi Falls. From the entrance to Daimonzaka, you can walk to Kumano Nachi Taisha along the Kumano Kodo route, where you will find beautiful stone steps covered in moss and groves of cedar trees. It takes about 40 minutes to reach Nachi Taisha. It takes 15 minutes to walk to Nachi Falls from Taisha. Nachi Falls, which is the home of a deity that has long been an object of reverence, is well known as one Japan's three great waterfalls. At a height of 133m, it is taller and has a greater volume of water than any other waterfall in Japan. The sight as it drops from the Kumano mountains is spectacular. On New Year's Eve, an illumination event is held. On the right of the waterfall is the Nachi Primeval Forest, which is a dedicated National Natural Monument where you will find 60 more waterfalls.
Admission: Free
- Guidebook from Planetyze about Kumano Nachi Taisha
- Reviews from TripAdvisor about Kumano Nachi Taisha
- Tours of Kumano Nachi Taisha
Kumano Hongu Taisha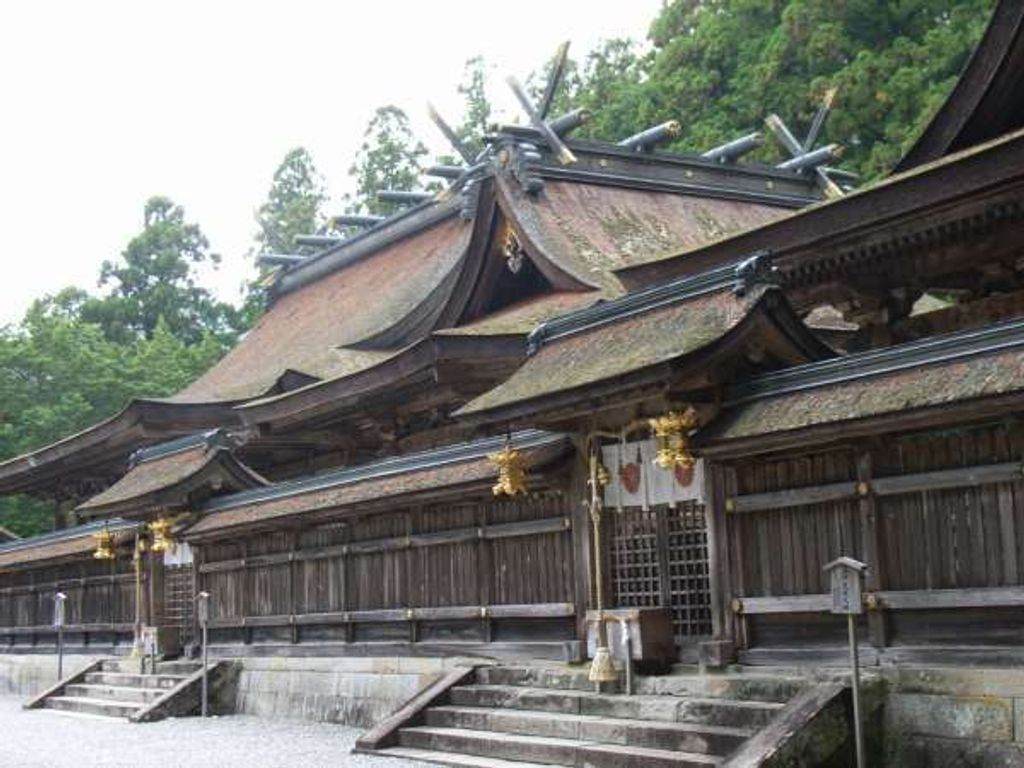 (image by upload.wikimedia.org)
Kumano Hongu Taisha is a gracious shrine with hinoki bark thatching. The shrine possesses the largest torii gate in Japan. Also, located near the shrine is a hot springs area listed as a World Heritage site and a river hot springs bath which is one of Japan's largest open-air baths.
The three sacred areas of Kumano in southern Kii Peninsula, Hongu, Niimiya, and Nachi, are collectively called the Three Mountains of Kumano. Kumano Hongu Taisha is the headquarters of all Kumano shrines across Japan, and has the most traditional atmosphere among the three mountain shrines. In the back of the torii gate of Hongu Taisha's main path is a stone stairway of 158 steps lined with dedication flags and surrounded by thickly grown cedar trees, speaking of the shrine's history. After passing through the gate, you will see a shrine with an impressive hinoki (Japanese cypress) bark thatching, exuding a solemn, majestic atmosphere. From here, walk for 10 minutes or so to reach Ohyunohara–where the main sanctuary had been located until 1889 when it was damaged by a flood–to see the grand, 34 meters high torii gate.
Located only 3.4km away (10-minute drive) from Hongu Taisha, we recommend visiting Yunomine hot springs as well. It is known as Japan's oldest hot springs with a history of 1,800 years. Yunomine retains the atmosphere of a traditional hot springs area. In spite of being listed as a World Heritage site, you can still take a bath at the rock bath Tsuboyu. It is said that the color of this natural hot springs bath changes seven times a day.
Admission: Free
- Guidebook from Planetyze about Kumano Hongu Taisha
- Reviews from TripAdvisor about Kumano Hongu Taisha
- Tours of Kumano Hongu Taisha