Kyoto is one of the most popular travel destinations in Japan, most famous for its numerous shrines and temples. But, if you are looking for something a little different on your trip to the old capital, or just want to enjoy relaxing in nature, then we have selected four alternative attractions for your Kyoto trip:
Arashiyama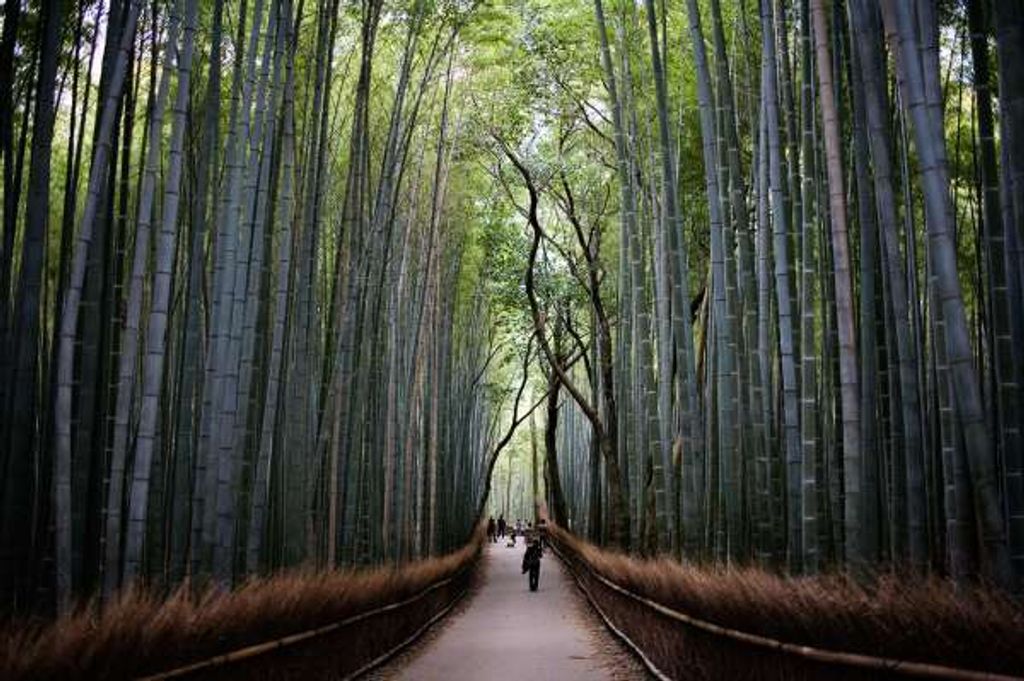 (image by flickr.com)
Arashiyama is an area that includes Tougetsukyo Bridge which spans Katsura River and the mountain that soars up to command a view of the area. This is a quiet place that is surrounded by mountains which have had classic Japanese poems recited about them from long ago, and there are many various shrines and temples. Recently, along with the famous well-established dining establishments, there have also been Japanese-style cafes, souvenir shops selling miscellaneous goods from Kyoto, trolley trains, and river cruises down Hozu River, etc. so that Arashiyama is a popular tourist area where you can enjoy yourself in many ways.
Fully experiencing the great outdoors through the trolley trains and cruises down Hozu River is recommended. Tickets can be purchased on that day, and we recommend going from Arashiyama to Kameyama by trolley train and then making the return trip by Hozu River cruise. While the trolley trains run slowly and elegantly through the mountain valley, you can enjoy the seasonal scenery of the cherry blossoms in spring, the new green leaves in summer, the changing leaves in fall and snow in winter on a one-way trip that will take 25 minutes (not in service in January and February). And then you can take the tourist boat cruise down the 16 km of mountain streams as you go down Hozu River over the next 2 hours. This is a popular ride down the river as the traditional boatmen row and you can get a taste of both the seasonal beauty of nature and some thrills. The ride down Hozu River is in operation all year, and in winter, there are boats with heated tatami mats. Walking around Arashiyama Station is another attraction. Around Tougetsukyo Bridge, you can rent rowboats and enjoy the scenery of Arashiyama nearby. A must-see place is Tenryu-ji Temple. Founded by Ashikaga Takauji in 1339, it has a beauty that is like a Japanese painting which takes advantage of the Arashiyama scenery. The Unryu-zu that measures 9 meters in diameter and is painted on the ceiling of the Hatto (Lecture Hall) is truly spectacular with its image of a dragon that no matter from where you see it, it seems to glare at you. On the north side of Tenryu-ji, a walking path extends out for 100 meters with the elegance of a bamboo forest.
Admission: Various
- Guidebook from Planetyze about Arashiyama
- Reviews from TripAdvisor about Arashiyama
- Tours of Arashiyama
Katsura Imperial Villa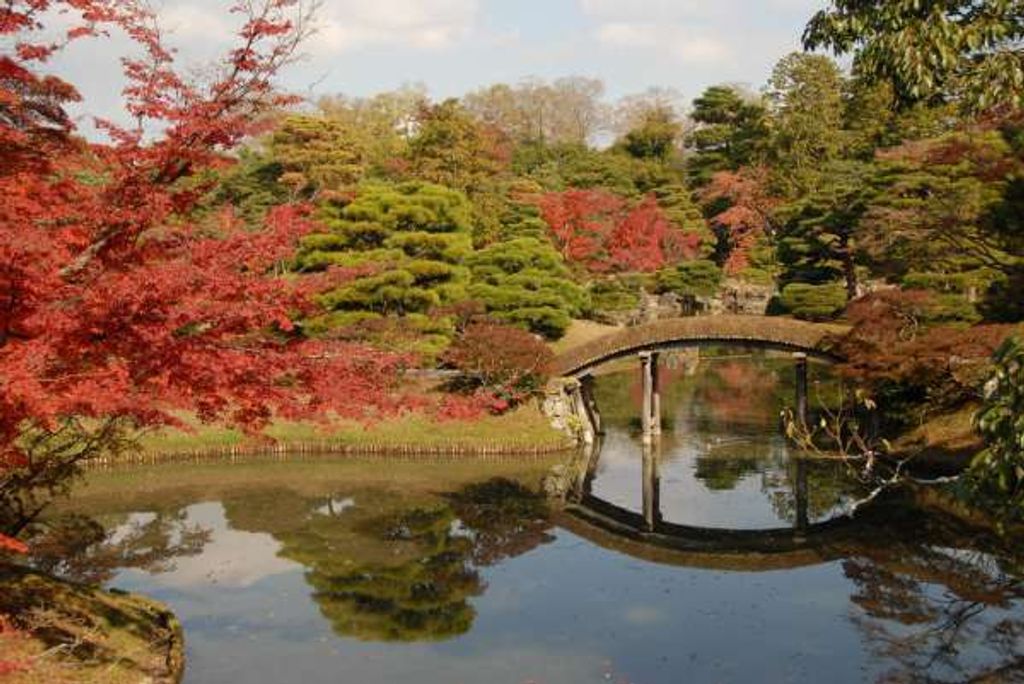 (image by flickr.com)
Construction was initiated in 1615 by Prince Tomohito, after which this Imperial villa was completed in 47 years. With an area of 69400㎡, you can see structures such as the Old Shoin (Drawing Room), the Middle Shoin and the New Palace, and there are other drawing rooms and tea rooms surrounding the Japanese garden pond where you can stroll around, a magnificent combination of garden and architecture. It can also be said to be the culmination of Japanese garden beauty. Under administration by the Imperial Household Agency, visits are appointment only from the 1st day of the 3rd month before the visit via return postcard or Internet to the Kyoto Imperial Palace from which people are selected by lottery and then can visit for free. Open only on weekdays, visits are only possible with an Imperial Household Agency official leading a 1-hour tour.
Since the number of visitors is restricted, the garden is well-preserved and it is maintained daily by gardeners. It is a strolling garden where bridges, each with their own distinctive character, connect to 5 pond islands of varying sizes. You can enjoy the expression of the four seasons via the condensed beauty of nature. There is also the thatched-roof Miyuki Gate which is the entrance used by the Imperial Family, the tea room Gaikoshikake waiting area where you can see over the entire garden, and the Suhama beach which evokes images of a cape and a lighthouse. In the villa, there is the most formal tea room, Shokin-tei, whose external appearance from the 3 directions of east, north and west each provide different impressions. You can see over the villa from the Shoka-tei tea room on a slightly elevated hill. Also, the Onrin-do was a place to lay ashes of the dead, but currently only the building remains. And through your guided tour, you can visit Shoiken, a tea room whose moon-shaped windows are impressive, and Geppa-ro, a tea room which has been designed so that the moon can shine in through the front.
Admission: Free
- Guidebook from Planetyze about Katsura Imperial Villa
- Reviews from TripAdvisor about Katsura Imperial Villa
- Tours of Katsura Imperial Villa
Maruyama Park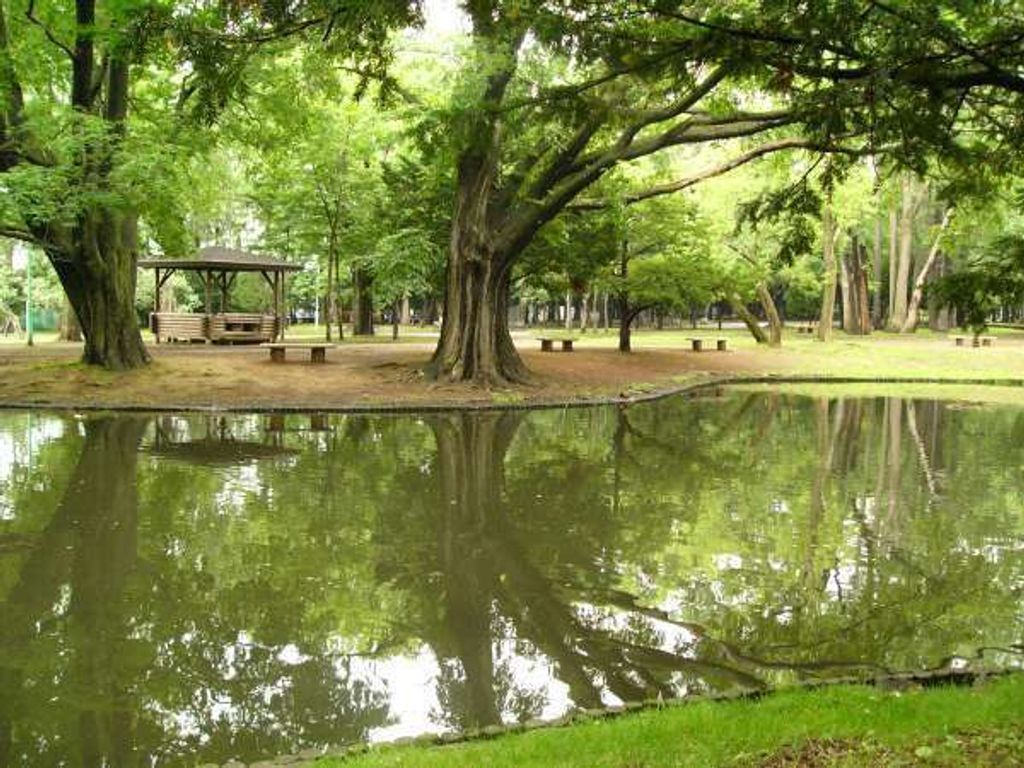 (image by flickr.com)
Opened in 1886, it is the oldest park in Kyoto. In 1912, Jihei Ogawa created a garden centering on a pond making use of the natural hills which has contributed to its current appearance. The park has Yasaka Shrine to the west, Kodai-ji Temple to the south and Chion-in Temple to the north. You can enjoy the park's beauty only found in Kyoto amid the temple roofs among the greenery of Higashiyama in the background. Within a garden that boasts an area of about 90,000㎡, you can find the storehouses for the floats used in the Gion Festival and statues of Ryoma Sakamoto and Shintaro Nakaoka along with old relics such as the Saigyo-an Hermitage and the Basho-an Hermitage. There is also a ryotei restaurant and teahouses where you can enjoy matcha tea and the local cuisine of Kyo-ryori.
About 680 cherry trees blossom from late March to early April, and Maruyama Park comes alive with cherry blossom-viewing visitors who come out in great numbers, day or night. The weeping cherry tree next to the central pond of the park is famously known as "Gion no Yozakura" or The Night Cherry Blossoms of Gion. During the viewing season, there is illumination which lends to a spread of a mystical atmosphere. Also, many food stalls open up so it's great to sample some of the Japanese comfort food here and there. The peak to catch the weeping cherry tree is up to early April during an average year but for the double-flowered cherry tree (Yaezakura), you can enjoy its blossoms past mid-April.
There are a number of teahouses in the park along with a shop selling a Kyoto delicacy just a bit off the main path. It is Hiranoya Honke which sells the famous imabou. Imabou is a famous example of Kyoto cuisine in which shrimp-shaped taro potatoes known as ebi-imo are cooked together with dried Pacific cod. The peeled potatoes and the dried cod softened over a week are stewed for an entire day. This unique way of cooking is called fuufu taki which has been passed down over the generations for 300 years. You can really taste the characteristic savory and sweet flavors of the ingredients.
Admission: Free
- Guidebook from Planetyze about Maruyama Park
- Reviews from TripAdvisor about Maruyama Park
- Tours of Maruyama Park
Philosopher's Walk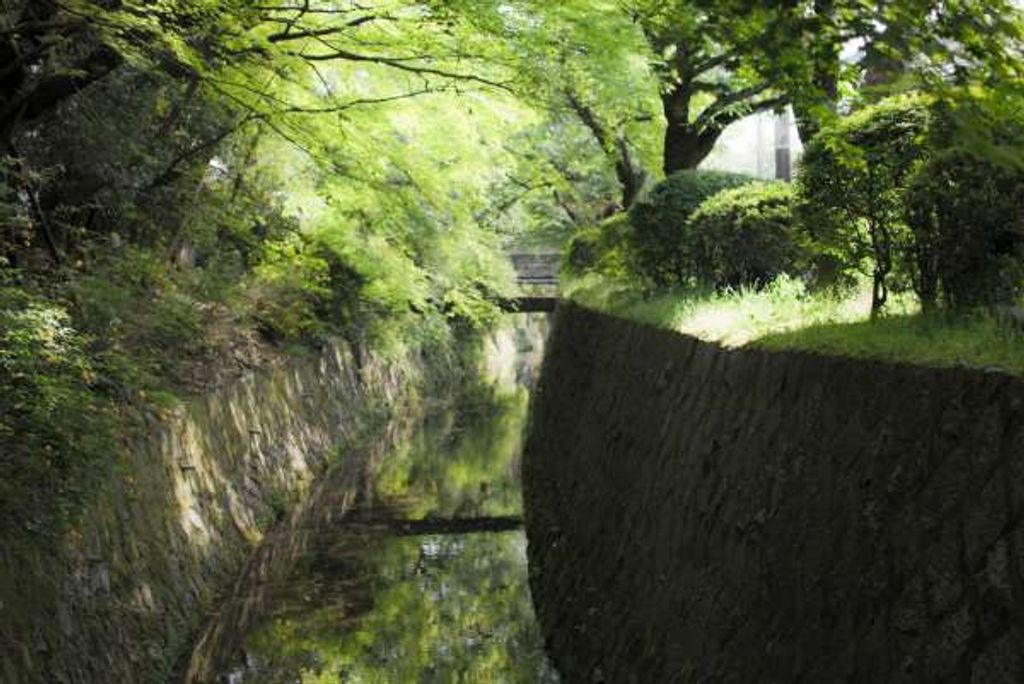 (image by flickr.com)
Philosopher's Walk is a short path which starts from Nyakuouji Shrine and passes Honen-in Shrine heading for Ginkaku-ji Temple along the canal. Philosopher Kitaro Nishida walked along this path while meditating which gave it its name. About 450 cherry trees are planted along the 1.5 km path, and it's famous as a place for sakura. The cherries along either side of the canal are known as kansetsu-zakura, and they proudly bloom into a tunnel of cherry blossoms. The path is also beautiful during the other seasons. You can enjoy nature throughout the four seasons with fireflies in summer and the colors of autumn.
Philosopher's Walk is located midway through the royal route of Kyoto tourism heading from Nanzen-ji Temple to Ginkaku-ji Temple (and vice versa) which spans about 3km. If you go straight, it will take 30 minutes on foot. However, there are a number of cafes and places serving Japanese sweets along the walk that you will want to stop at. There is nothing better than having a cup of coffee while appreciating the beautiful scenery. The jizo statues at Miroku-in Temple near Ginkaku-ji are also not be missed. These statues are called the jizo of happiness and one feature of these is their cradling of children. Many people come by to pray for happiness.
It's a bit off the beaten path from Philosopher's Walk, but you will want to drop by a temple that has been called a mystery spot even within Kyoto. Familiarly known as Kurodani-san, this is the Kurotani Konkai-Komyoji Temple, a head temple for the Jodo sect. This is also the temple where the paramilitary force, Shinsengumi, was formed. Here, you can encounter a slightly eccentric Buddhist statue. The Gogo-Shiyui Amida Butsu is different from other Buddhist statues in that it has the peculiar characteristic of a lot of hair that resembles an afro. As a result of his long meditation, his hair grew into that shape. This is an unusual statue for which only 16 exist nationwide. If you come to Philosopher's Walk, come over by all means.
Admission: Free
- Guidebook from Planetyze about Philosopher's Walk
- Reviews from TripAdvisor about Philosopher's Walk
- Tours of Philosopher's Walk