FUJI EXCURSION is direct train to Mt.Fuji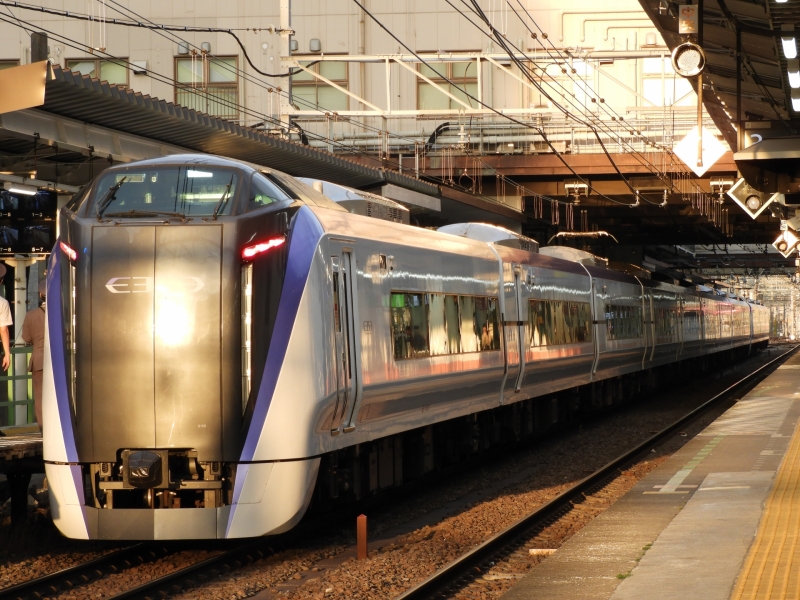 FUJI EXCURSION is Limited Express train to Mt.Fuji area. This is only direct train to Mt.Fuji at the present (Feb 2020). It takes 1H52min from Shinjuku to Kawaguchi-ko Lake, 4130JPY one way.
It's operated by two railways companies, JR (Japan Railways) and Fujikyu Railways, a local railway company.
As being shared by 2 different companies, plus JR Chuo Line uses special express seat ticket system, there seems to be confusion to secure the seats for FUJI EXCURSION, especially with JR-pass users. I often see travelers with JR-pass standing on the car deck or sometimes on the aisle on the car. I really feel sorry about this. To avoide this tough situation, I'd like to explain the dtails of train and how to get seat ticket for this train.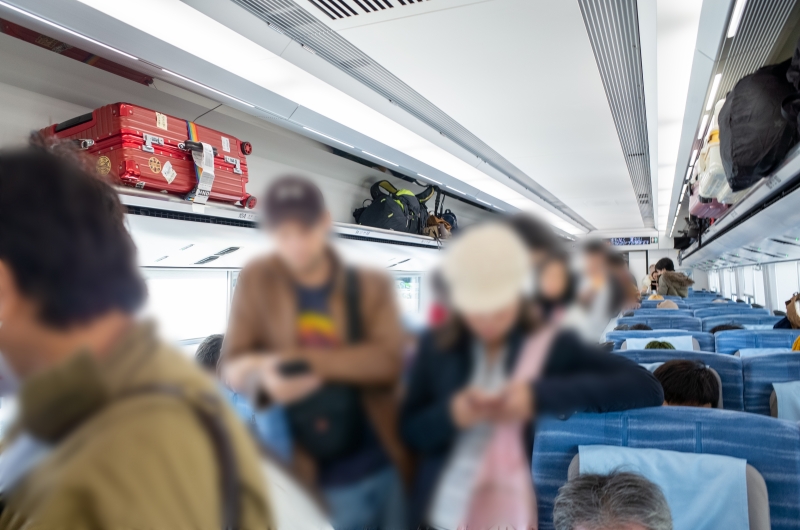 From Shinjuku station - JR Chuo Express platform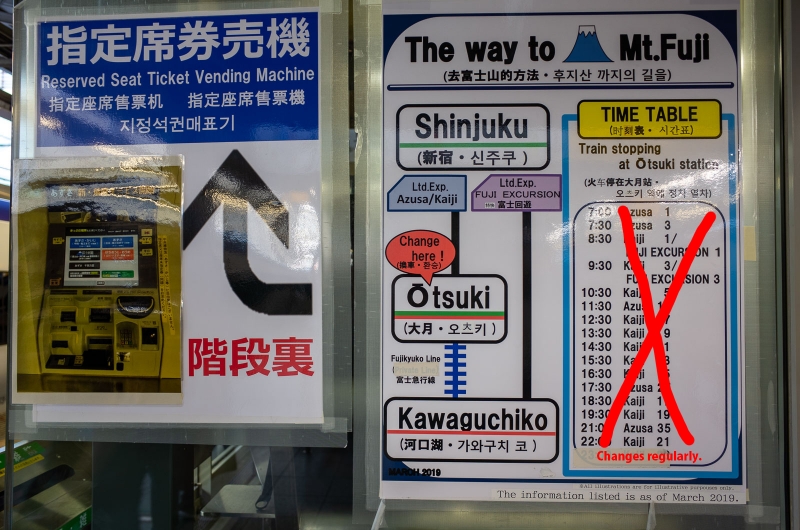 You can take FUJI EXCURSION at platform of JR Chuo Express at Shinjuku station. (NOT Chuo Line (local) nor (rapid). 3 times round trip on weekdays, 4 times on weekends and holidays, with rescheduled in Mar 2020.
Only 3 cars go to Mt.Fuji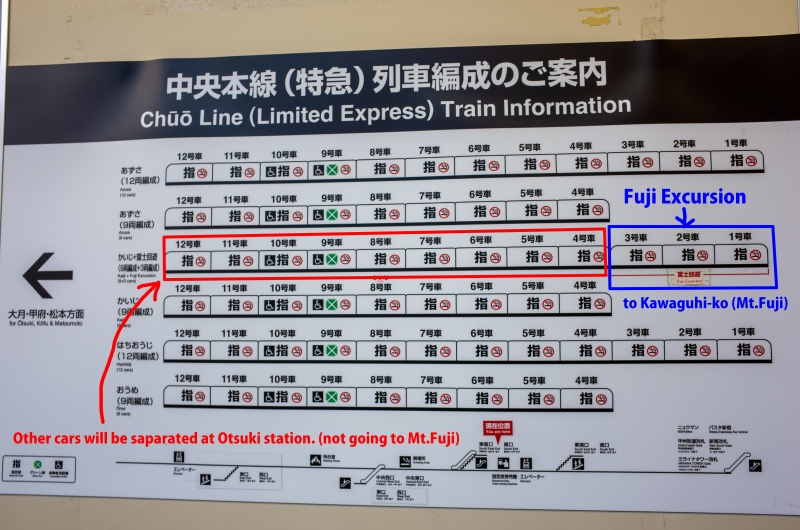 It's 12 cars train at Shinjuku Station. However, only 3 cars (Car 1 to Car 3) go to Kawaguchi-ko station. Others will be disconnected at Otsuki station for different direction. Some extra trains might have more cars for FUJI EXCURSION.
How to book FUJI EXCURSION (without JR-pass)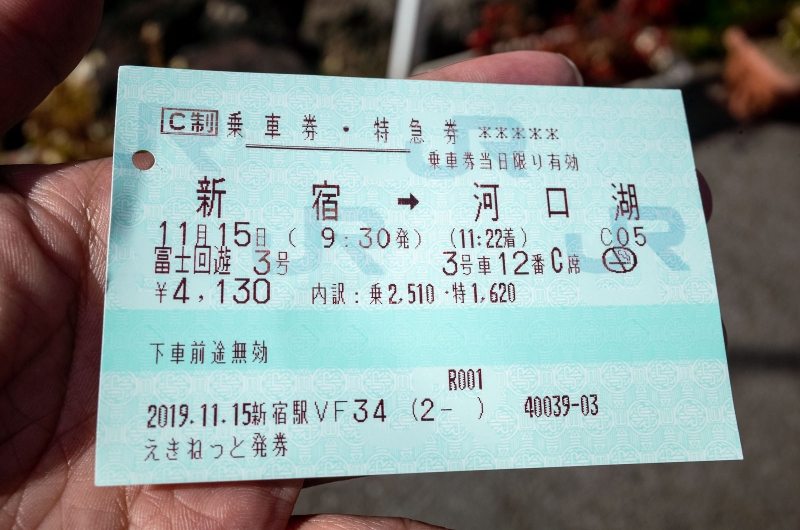 Reserved seat ticket for FUJI EXURSION goes on sale from one month before the depature day. Seats are quite limited, and will be fully booked by the time of departure in most cases. If you're late to ask, you'll find no more availability, or even if some left, just separated seats you can get for your group.
Tickets can be purchased at any JR-east ticket office (Midori-no-madoguchi, Green ticket office of JR) after one month prior to the ride. In this case, you can purchase ticket for a whole travel (between Shinjuku and Kawaguchi-ko Lake) with seat reservation. So, you don't need to worry about the seats to the end.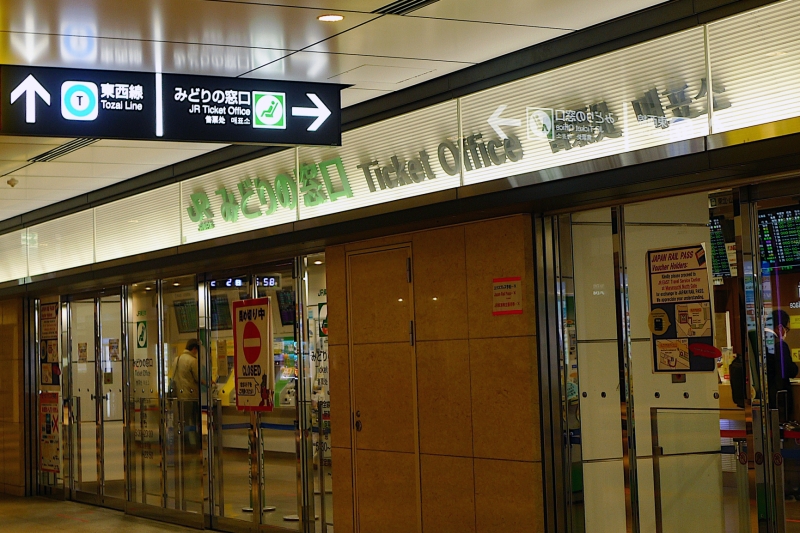 I uaually use on-line reservation system of JR. Unfortunately only in Japanese. I want to see at least 2 weeks in advance to get seats for sure.
With JR-pass
With use of JR-pass, system becomes more complicated, because it's not only JR operation.
You can get on FUJI EXCURSION with JR-pass without any booking and sit on vacant seat shown with red lump. However, in reality, seats are fully booked in most cases. You might find vacant seats on 9 cars of Kaiji beween Shinjuku and Otsuki, but hard to find between Otsuki and Kawaguchi-ko (50min), as it has only 3 cars in this section.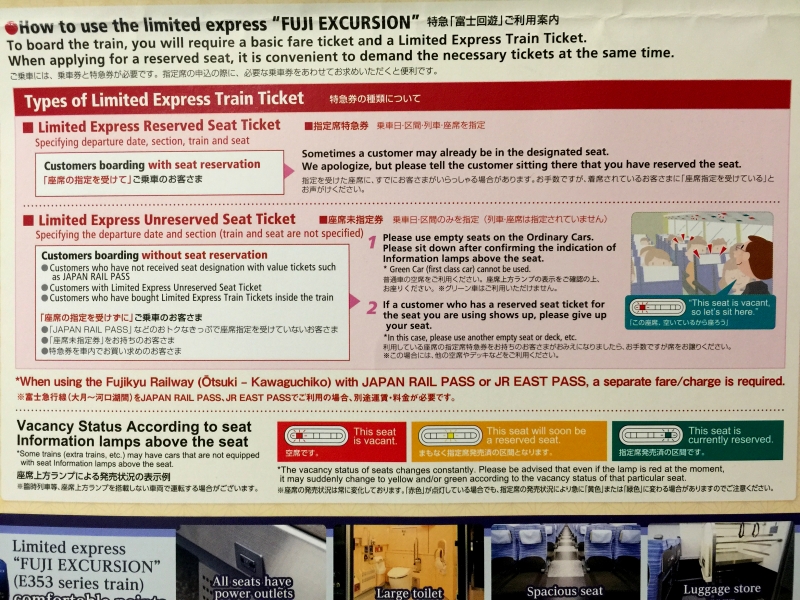 Getting FUJI EXCURSION reserved seat ticket with JR-pass is a kind of tricky. Please understand the following system well, otherwise you need to stand on the car.
Where and how to get seat ticket with JR-pass
You can get seat ticket at the same place above, any JR-east ticket office. Problem is, it's often too late when JR-pass holders ask for seat ticket after they arrive in Japan and activate it in Japan.
To solve this problem, I suggest to use on-line reservation system in English for JR-pass users.
JR-EAST train Reservation
You can reserve FUJI EXCURSION seat ticket on line from one month before the train departure. Then, please collect your seat ticket before 9pm of the day before departure after you arrive in Japan and activate JR-pass. Without collecting the seat ticket at proper ticket office, your seat reservation will be autmatically cancelled.
Only for JR-section with JR-pass.
One more problem is that you can get seat ticket only for JR-section (only between Shinjuku and Otsuki) , NOT for Fujikyu Railway section with JR-pass.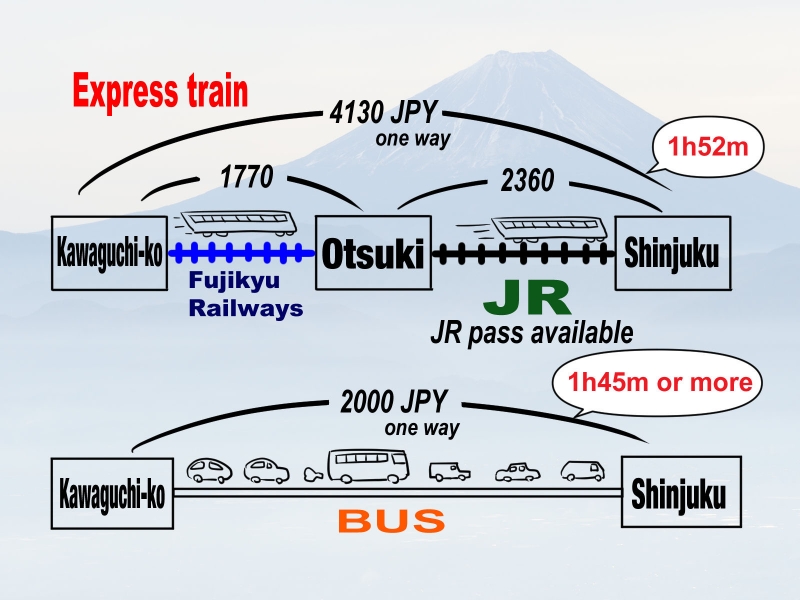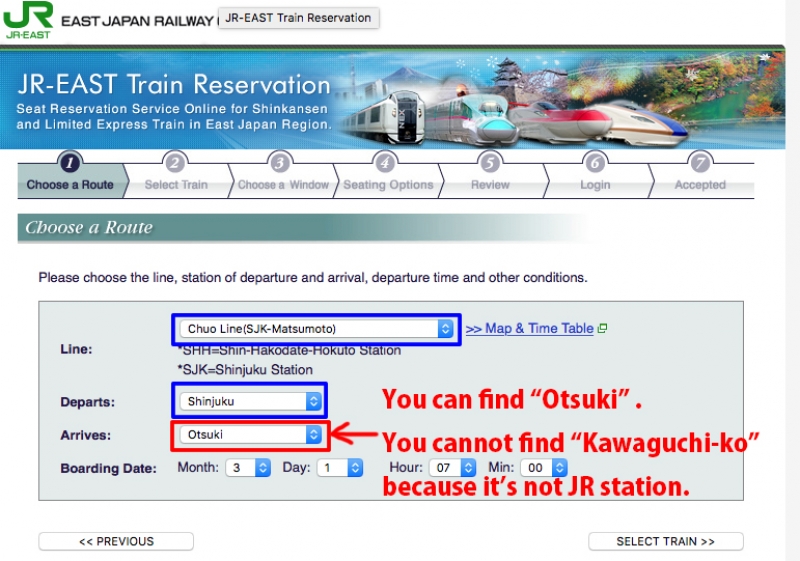 How to do with Fujikyu section with JR-pass?
So, what can you do with Fujikyu section's seat (between Otsuki and Kawaguchi-ko) with JR-pass?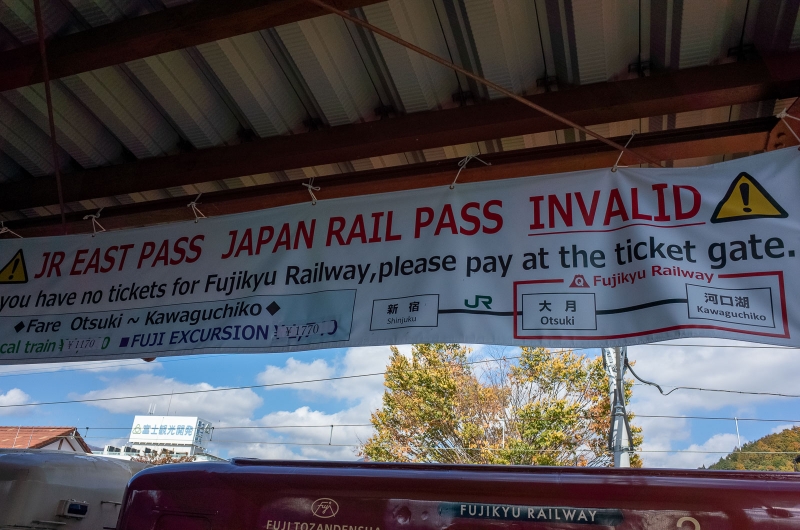 To go, no problem.
You can just keep sitting on the same seat. After passing Otsuki station, train conductor will come and ask for the Fujikyu ticket. Then you can just pay Fujikyu fare (1770JPY) . No worries for other passenger coming with your seat reservation, because purchasing reserved seat ticket for only Fujikyu section is not possible as system.
To back, take the seat before someone else takes.
Be noted, you have reserved seat ticket only from Otsuki to Shinjuku with JR-pass . Your seat from Kawaguchi-ko to Otsuki is NOT secured. It's considered as vacant seat on Fujikyu Railway secion (Red lump on = Anybody can sit.) To get seat on the same seat which you reserve from Otsuki at Kawaguchi-ko station, you need to take seat before someone else takes. Better to line up in the first position, and go directly to your numbered seat.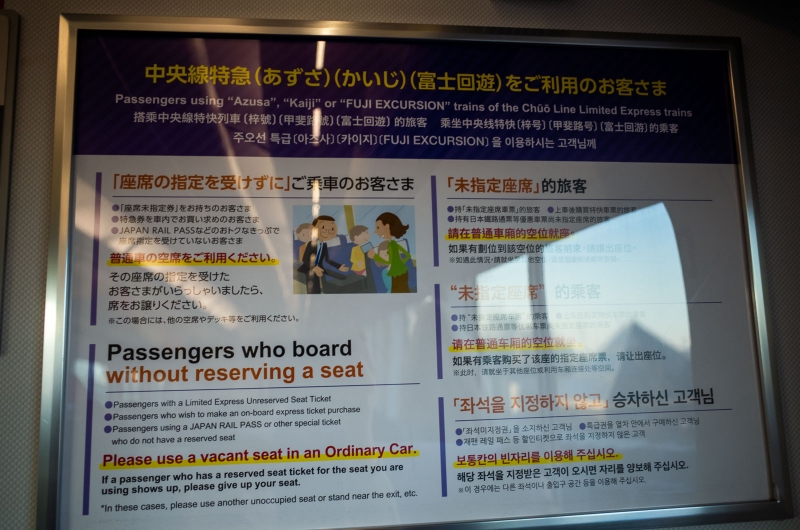 I hope this article helps you understand FUJI EXCURSION better and avoid trouble caused from puzzling complexity.
Refer to my other blogs.
Other transportation infomation to Mt.Fuji → How to get to Mt.Fuji?
About bullet train to Mt.Fuji → No easy access between Mt.Fuji and Hakone
My Mt.Fuji tour from Tokyo has diffetent transportation options.
Thank you for taking the time to read this article!