Have you ever heard about Toyotomi Hideyoshi before?
He unified Japan about 400 years ago (before 'Tokugawa'). He was born in a very poor farmer family and became the leader of Japan thanks to his talent. He served his master, Oda Nobunaga and won his favor. There is a famous story. He warmed Nobunaga's sandals putting them under his kimono while waiting for him. He warmed them with his body temperature. In his time, nobody wore socks in their everyday life...
After Nobunaga died, he fought and won his rivals. He used anything he could use for him. Finally he became 'Kanpaku' (chief adviser of the Emperor). He got everything he wanted, except for his own son who will succeed him.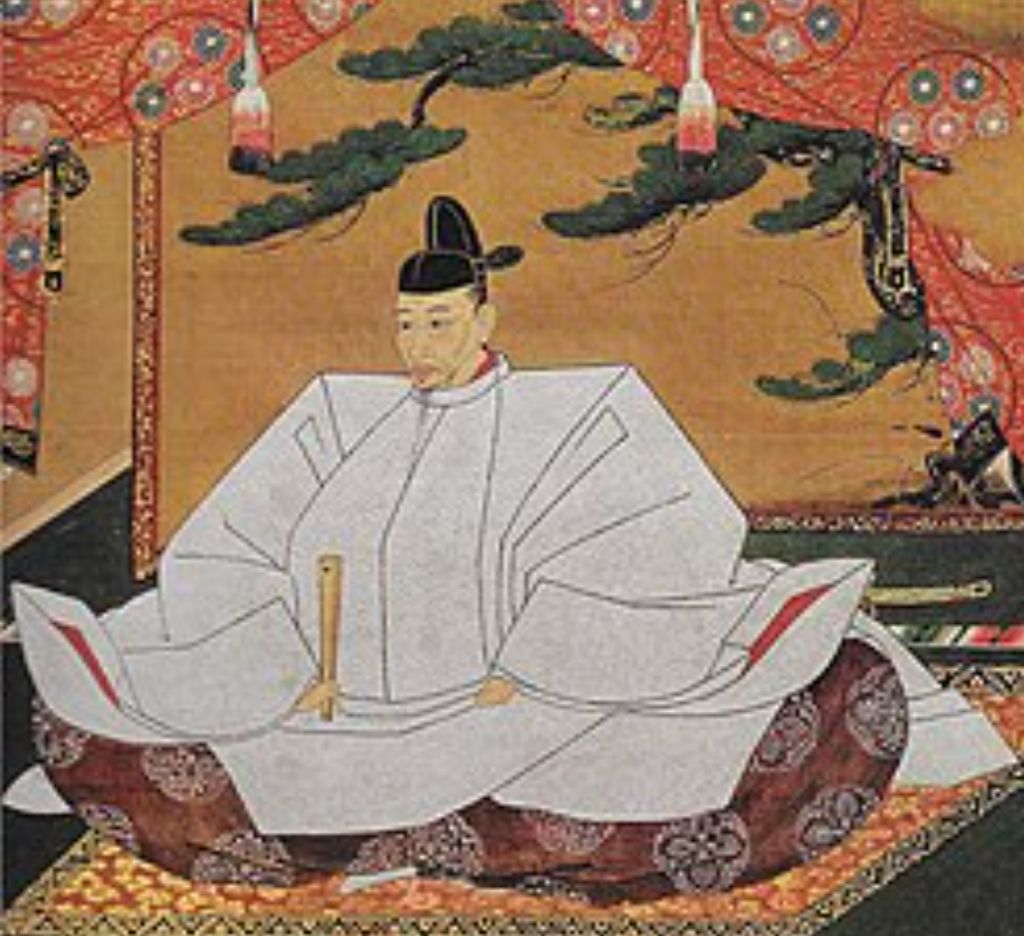 * Please remember the following names:
Toyotomi Hideyoshi (samurai, warrior in the 16th century)
Oda Nobunaga (Hideyoshi's master.) Nobunaga was betrayed by one of his vassals (not Hideyoshi) , and died in the fire.
Toyotomi Hideyori (Hideyoshi's only son.) Hideyoshi loved his wife, 'Nene' and so! many other women. He wanted to get his son, his successor, however, only one concubine (not 'Nene') could give him a son when Hideyoshi was 57 years old. When he died at 63 years old, Hideyoshi asked everyone (his vassals) to take care of Hideyori.
Tokugawa Ieyasu (Hideyoshi's biggest rival.) Hideyoshi has been bewared of Ieyasu. After Hideyoshi's death, Ieyasu broke his promise with Hideyoshi, attacked and defeated Hideyori. After the war, Ieyasu established 'Tokugawa Shogunate' in Edo (present Tokyo).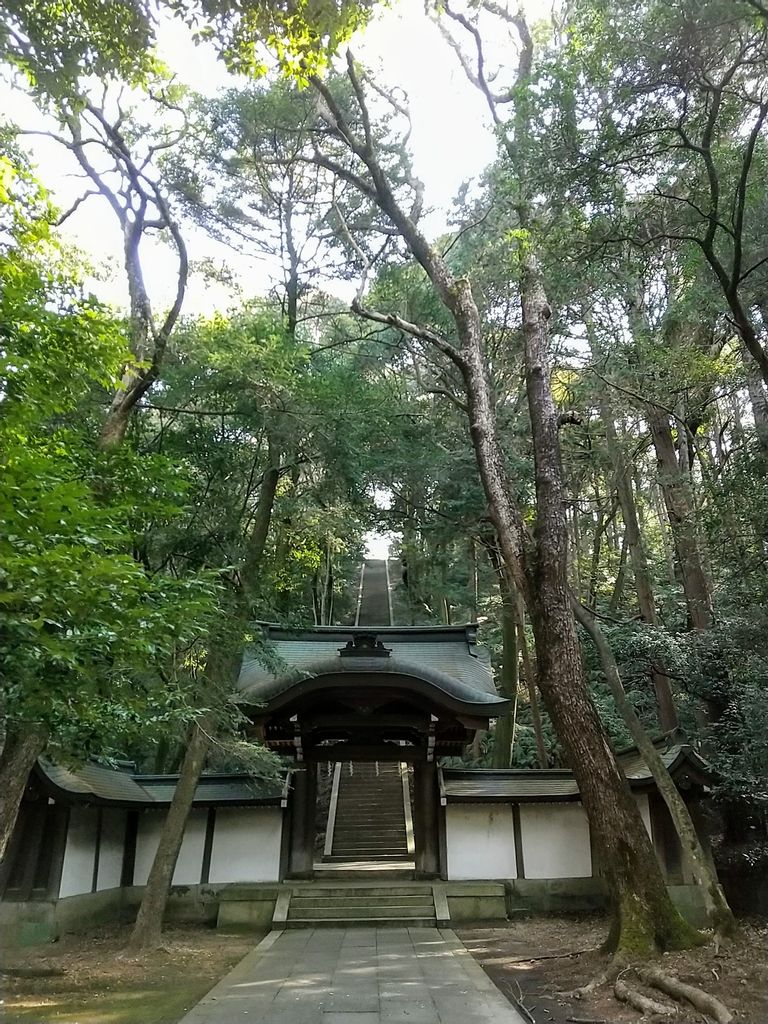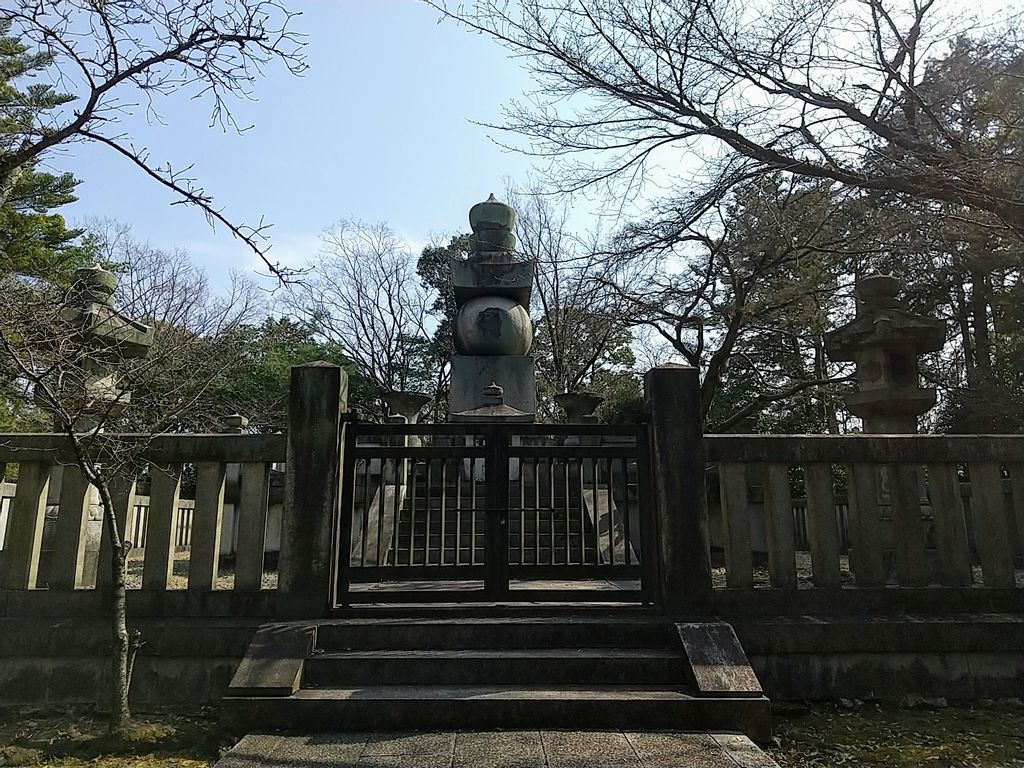 Hideyoshi died in 1598, and was buried on the mountainside in Higashiyama, Kyoto. He was given the deity name, 'Toyokuni Daimyojin' by Emperor Goyozei and Toyokuni Jinjya Shrine was built to enshrine him as a deity. (His wife, Nene is buried in Kodaiji Temple facing toward Hideyoshi's mausoleum. If you are interested in Nene, please read my another blog, 'Entokuin, one of my favorite places in Kyoto.')
After 16 years, Tokugawa Ieyasu defeated Hideyori and ordered to break everything concerning Hideyoshi.
In 1868, after 'Tokugawa era' ended, Emperor Meiji ordered to restore his mausoleum and the shrine. The Emperor thought Hideyoshi to be the man who unified Japan, however, who didn't establish shogunate and paid respect for the Imperial Court.
To his mausoleum, you have to climb up many stairs. (more than 500 stairs.) There are some landings of the stairs on the way to the top and there are 63 stairs between each landing. Hideyoshi died at the age of 63!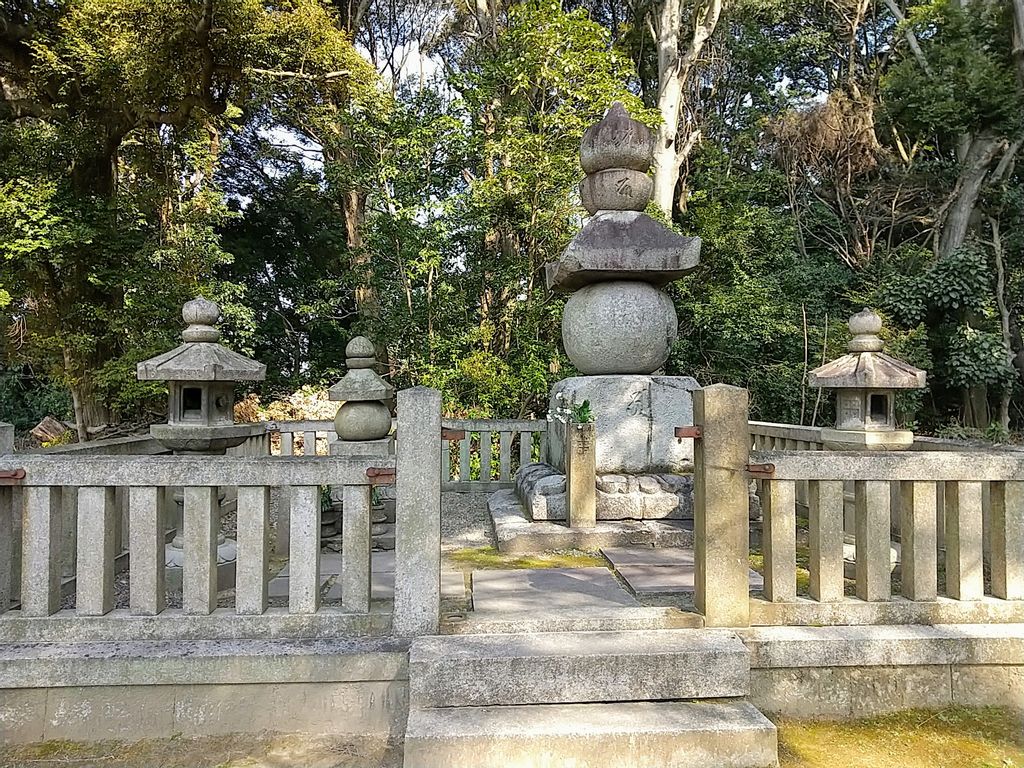 At the foot of the mountain, you can find another mausoleum. The bigger one is Hideyoshi's concubine's. (not a mother of Hideyori.) and the smaller one is Hideyoshi's grandson's. When Hideyori was attacked by Ieyasu and died in the fire (at Osaka Castle), he had his son, Kunimatsu. The concubine who is buried here, took care of Kunimatsu because she could not have any children. After Hideyori died, Kunimatsu was caught and executed at the ege of 8 by Ieyasu's order.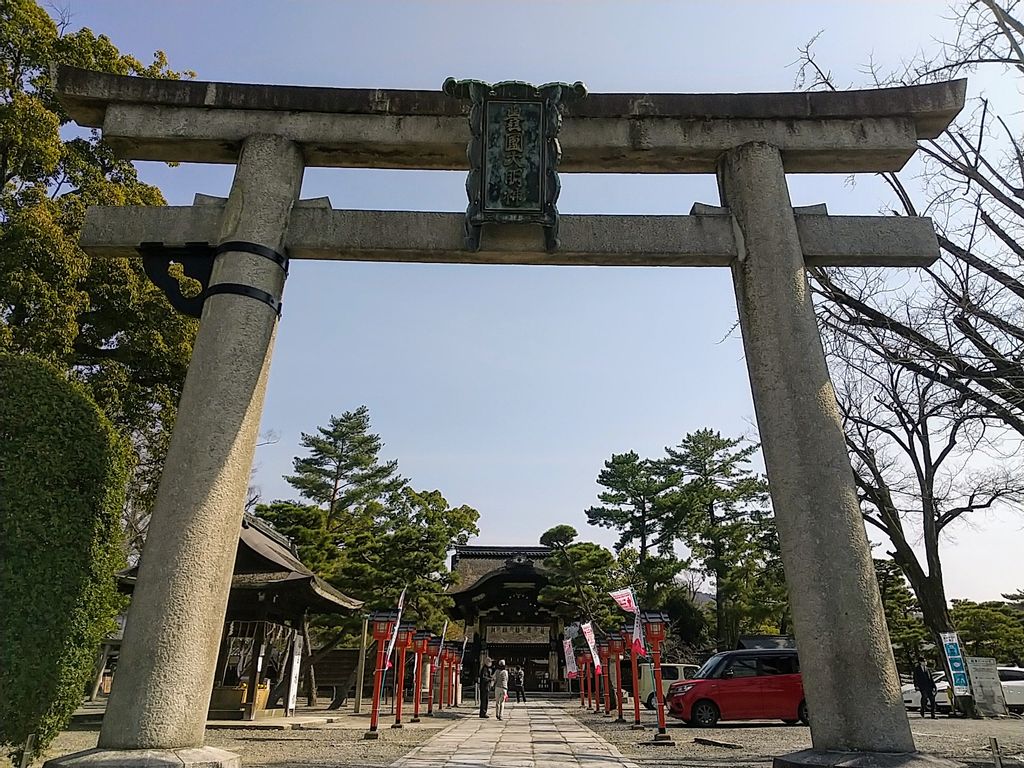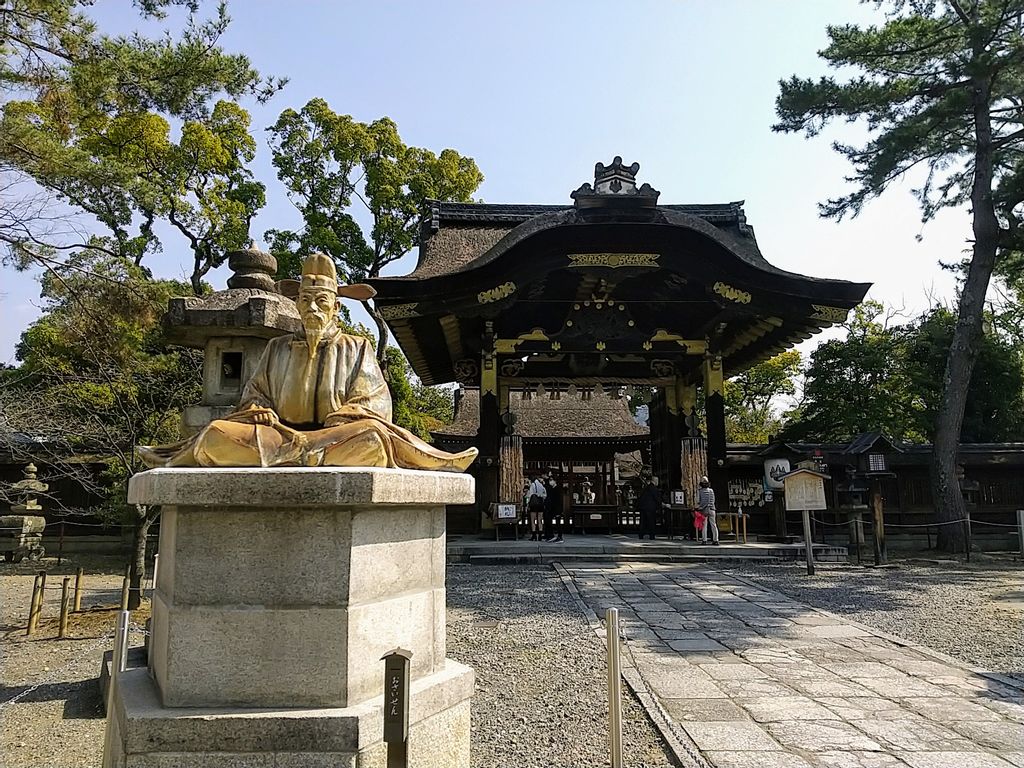 At Toyokuni Jinjya Shrine, the statue of Hideyoshi welcomes you. He loved authority, women, and gold. You will see the gorgeous main gate, 'Karamon'.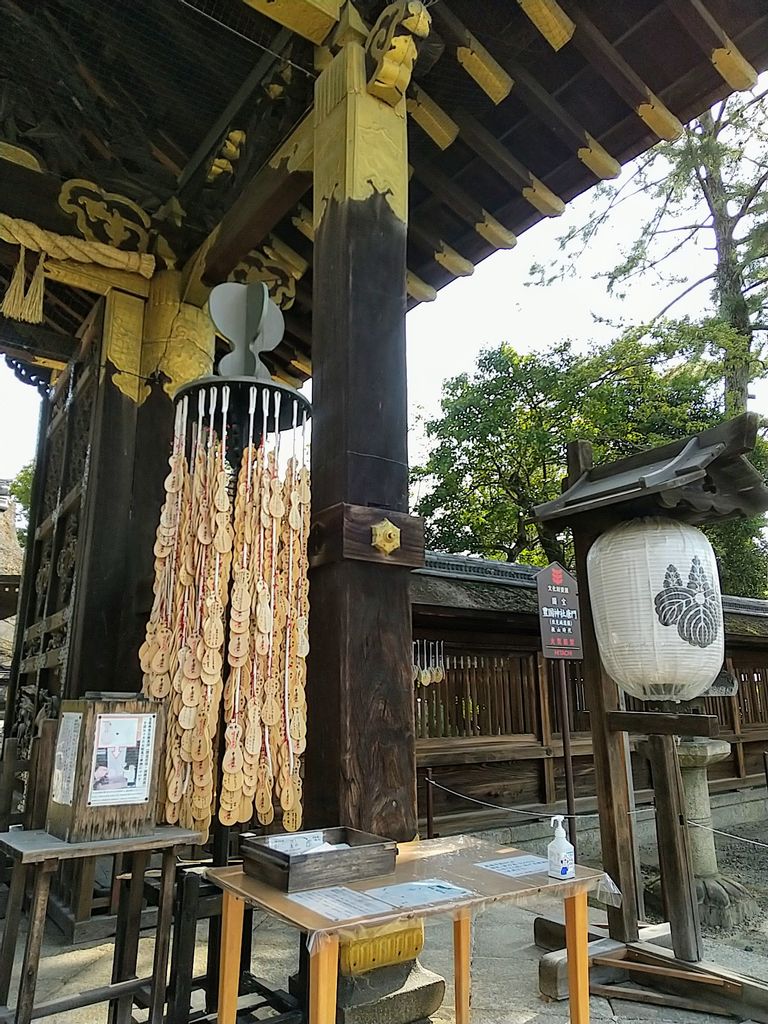 You can find many wooden tablets in the shape of a guard (Hideyoshi used a guard as his symbol during war) hanging in front of the gate. Many people come here and donate tablets wishing they were as lucky as Hideyoshi.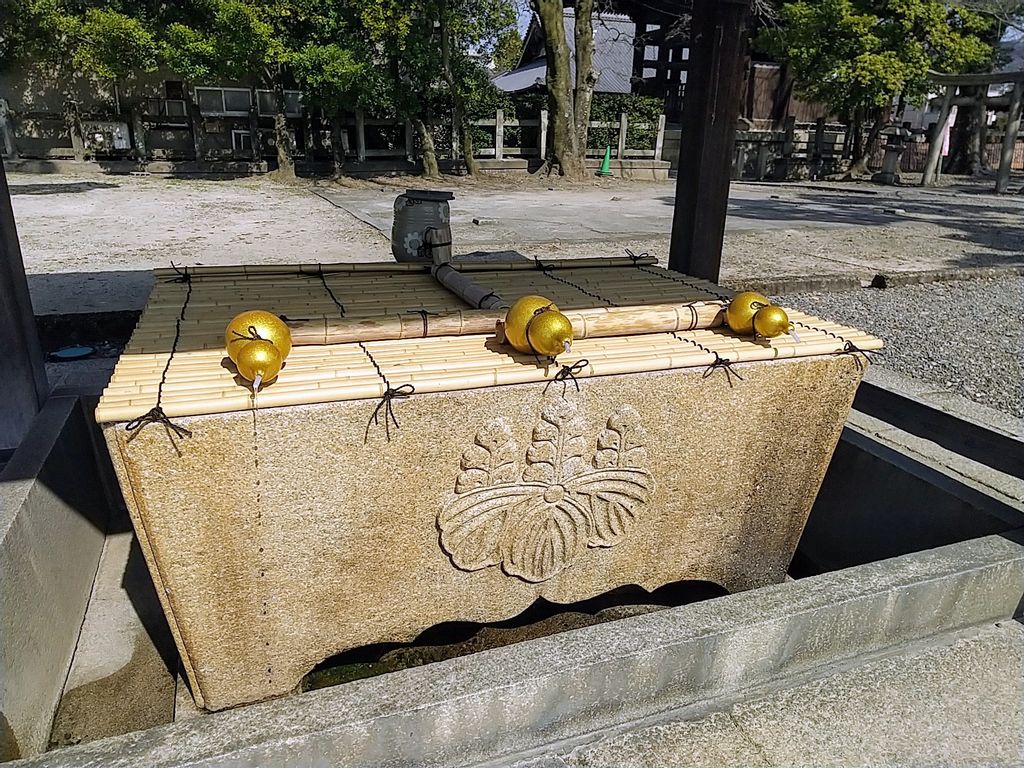 Here are other guards and family crest of Hideyoshi.
It is said that Hideyoshi looked like a monkey and his master, Oda Nobunaga called him, 'Saru' ('Monkey' in Japanese).
There is a famous saying to express the character of three leaders of 'Civil War Period'.
'If the cuckoo won't sing, just kill it.' Oda Nobunaga who is said to have been very cruel said so.
Hideyoshi said, 'If the cuckoo won't sing, let's try to make it sing.' Hideyoshi used anything he could use for him.
Tokugawa Ieyasu who won the last said, 'If the cuckoo won't sing, let's wait until it sings.' He became a shogun and established Tokugawa Shogunate at the age of 62.
In north of, next to Toyokuni Jinjya Shrine, you can find a huge bell, 'Kokka Anko' Bell (literally means 'May the country be peaceful and prosperous'), hanging in the precinct of Hokoji Temple. Ieyasu accused Hideyori who donated this bell (whose inscription is to divide Ieyasu's name into two) to the temple falsely and made an excuse for attacking Hideyori. The accused place of its inscription is framed in white.
In Kyoto, there are many places where you can experience Japanese history. If you get interested in Hideyoshi, you can visit the museum attached with Toyokuni Jinjya Shrine in its precinct. You can see his tooth, too...