If you wake up in Sendai, I recommend you go to Shiogama Seafood Wholesale Market in the morning, which is a thirty-minute drive from Sendai. Like the outer market of Tsukiji Fish Market in Tokyo, Shiogama seafood wholesale market is also open to the general public. You can purchase fresh fish at cheap, wholesale prices in exactly the same manner as the professionals. The wholesale market's 105 specialty stalls offer several hundred varieties of seafood, including fresh and frozen fish, tuna, octopus, prawns, oysters, dried fish, and processed marine products like canned whale. My impression of this market is that people in the stalls are more friendly and easy-going than those of Tsukiji. I tried negotiating over the prices of some products, many of them have gave me a better price. Moreover, as there are less tourists than Tsukiji Fish Market, you can leisurely enjoy shopping there.
The Entrance of Shiogama Seafood Wholesale Market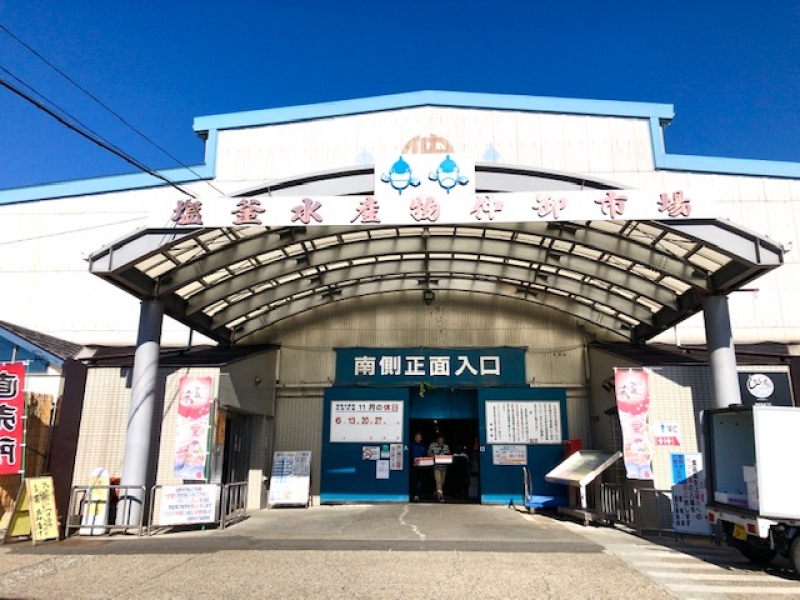 If you'd like to enjoy a meal, there are five restaurants and various kinds of seafood dishes waiting inside the market. My kaisen-don is particularly popular. You can buy as much seafood as you want to eat at the market. Then buy a rice set for ¥400 at a section where you can create your very own seafood rice bowl and put your purchases of the rice. I also made my original kaisen-don only with my favorite ingredients.
My kaisen-don with tuna, flounder, sea urchin, prawn, salmon roe, eel, and ice fish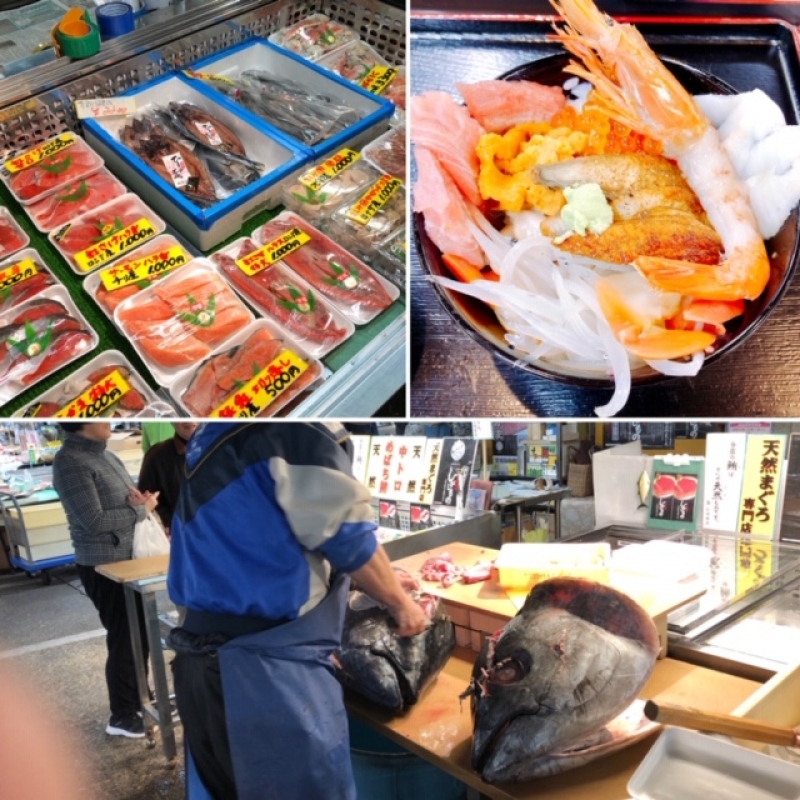 The fresh tuna brought in Shiogama Port is one of the largest in the country. Inside the wholesale market are over 20 stalls specializing in tuna. They handle a special brand of big-eye tuna maned Sanriku Shiogama Higashimono, which is noted for its supreme freshness, fattiness, color and gloss.   Caught only between October and December, people can enjoy the special tuna here during this brief season. Don't miss it if you are here between October and December!
Opening hours:
Weekdays: 3:00 a.m.–1:00 p.m. (closed on Wednesdays)
Saturdays: 3:00 a.m.–2:00 p.m.
Sundays: 6:00 a.m.–2:00 p.m
Please note that restaurants open between 6:00 am and 8:30 am, and close at around noon.
After enjoying the fresh seafood, let's head for a place that is abundant in scenic spots and history. 15-minute drive takes you to one of the three most scenic spots in Japan, Matsushima. It's a bay dotted by over 200 small islands covered with pine trees. There are also several historic temples in the neighbohood. A good way to enjoy the beautiful bay is by sightseeing boat. There are several companies that offer various courses of cruise. I usually take a 50-minute cruise that departs from Matsushima Port and gets back to the same port. It operates every hour.
Matsushima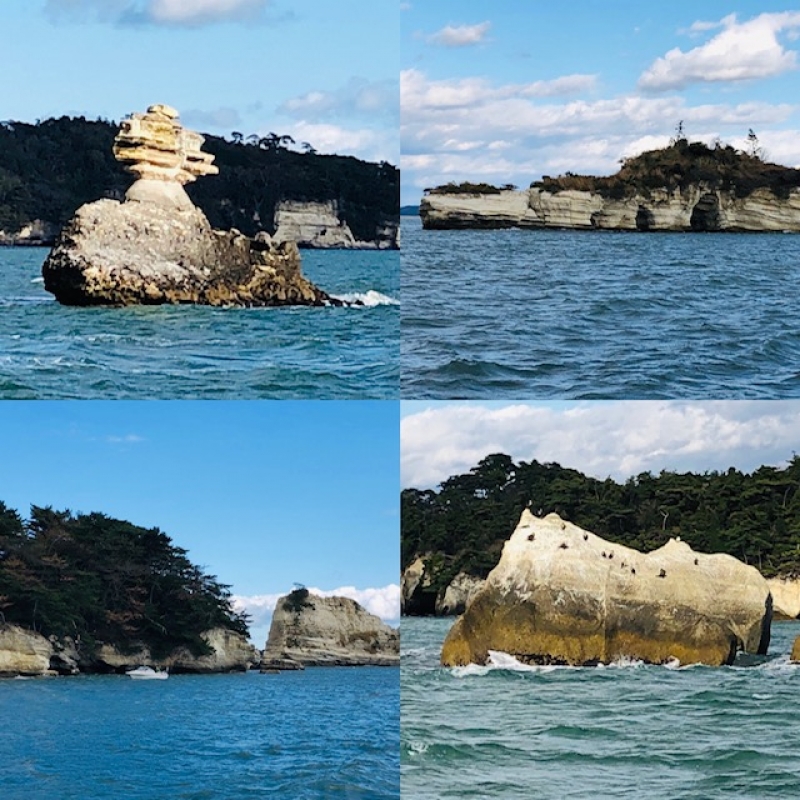 Next, let's visit temples to learn a little about history in the region. The symbol of Matsushima is Godaido Hall. The small temple hall was originally founded as Bishamondo Hall by the famous general Sakanoue Tamuramaro in 807 and took its name Godaido when the priest Ennin enshrined images of the Five Wisdom Kings in 828. The temple opens its doors to the public for the viewing of these images only once every 33 years. The present building was founded by the celebrated feudal lord Date Masamune in 1604 to celebrate the victory of the decisive battle, Sekigahara War, which brought an end to the civil war period. It is the oldest example of Momoyama period architecture in Tohoku and is designated as a National Important Cultural Property. 
Sukashi-bashi Bridge: The intentionally precarious red bridges connecting the island to the shore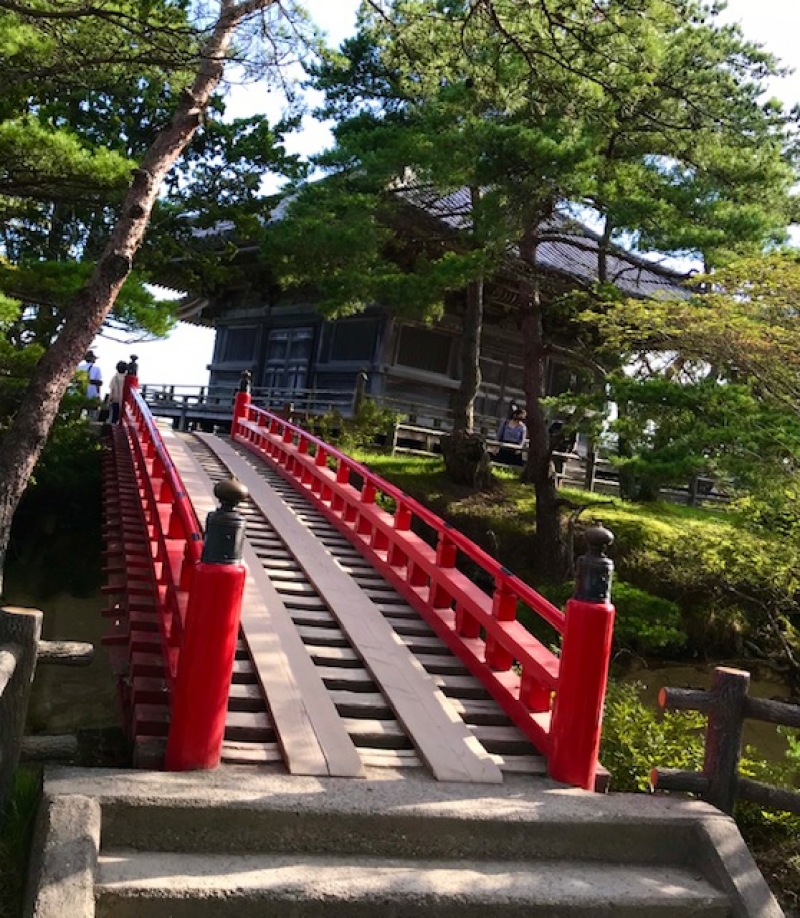 When walking across the bridge, visitors can observe the water below through the wide gaps in the bridge floor. These gaps were intentionally left so that visitors would brace themselves before praying in the temple. 
In the neighborhood are the family temples of the Date Clan, who were the rulers of Sendai. Why not lean about the popular samurai family? Entsuin Temple is one of them. It was founded in 1647 as a mausoleum of Date Mitsumune, who had been in line to become the third ruler of Sendai. He was a grandson of the celebrated lord Date Masamune. Mtsumune was such a talented and respected samurai who was believed to become as great a ruler as his grandfather, Date Masamune. However, he passed away suddenly when he was nineteen. His father Tadamune, the second ruler of Sendai, built Entsuin in his honor.
Sankeiden Hall, mausoleum of Date Mitsumune in Entsuin Temple
Sankeiden Hall houses a statue of the young lord on a white horse surrounded by his most devoted followers, who committed ritual suicide upon his death. The mausoleum's interior is decorated in gold leaf and ornate paintings, which include small Western symbols like spades, hearts, diamonds, clubs, crosses and the oldest Japanese image of a rose. It's very rare to see such symbols included into a temple building. That's because the Date Clan was so interested in Christianity and Western technology that they had sent envoys to the Pope in Rome.
Entsuin Temple is also well known for its beautiful gardens. Although the fresh green leaves in summer are nice and refreshing, the color of autumn is especially outstanding. 
Rock garden in early November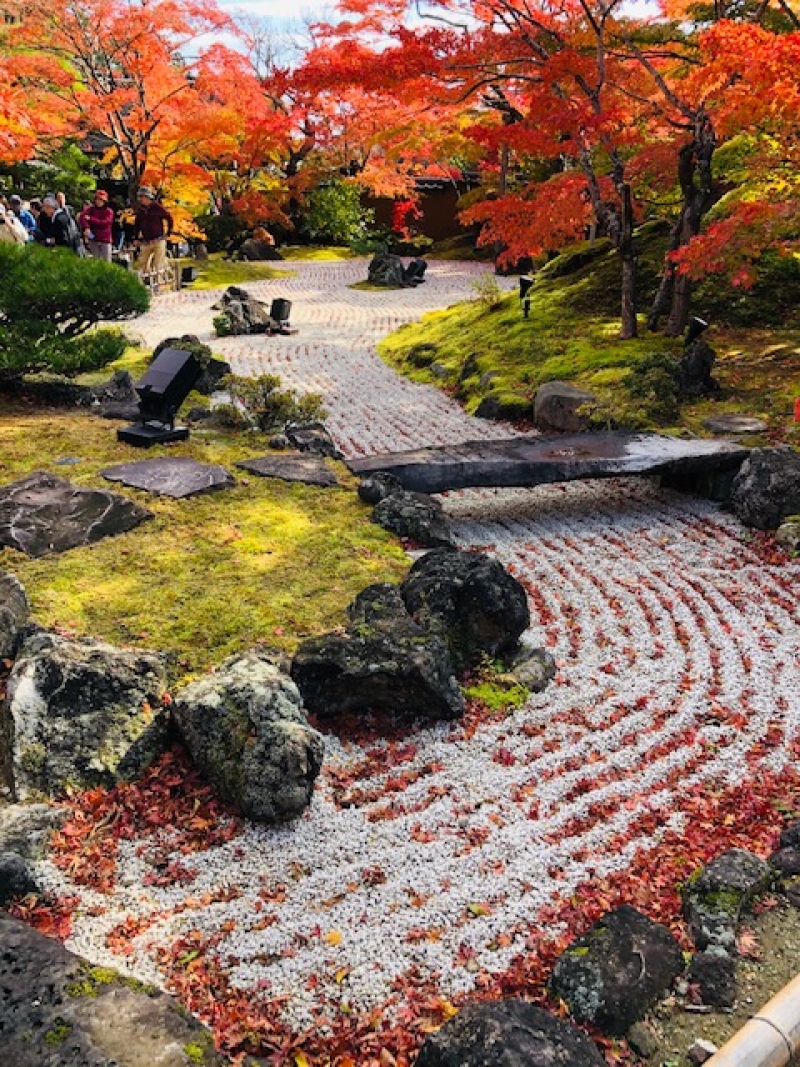 They illuminate the garden from late October to late November. The view of autumn foliage reflecting on the pond is breathtakingly beautiful.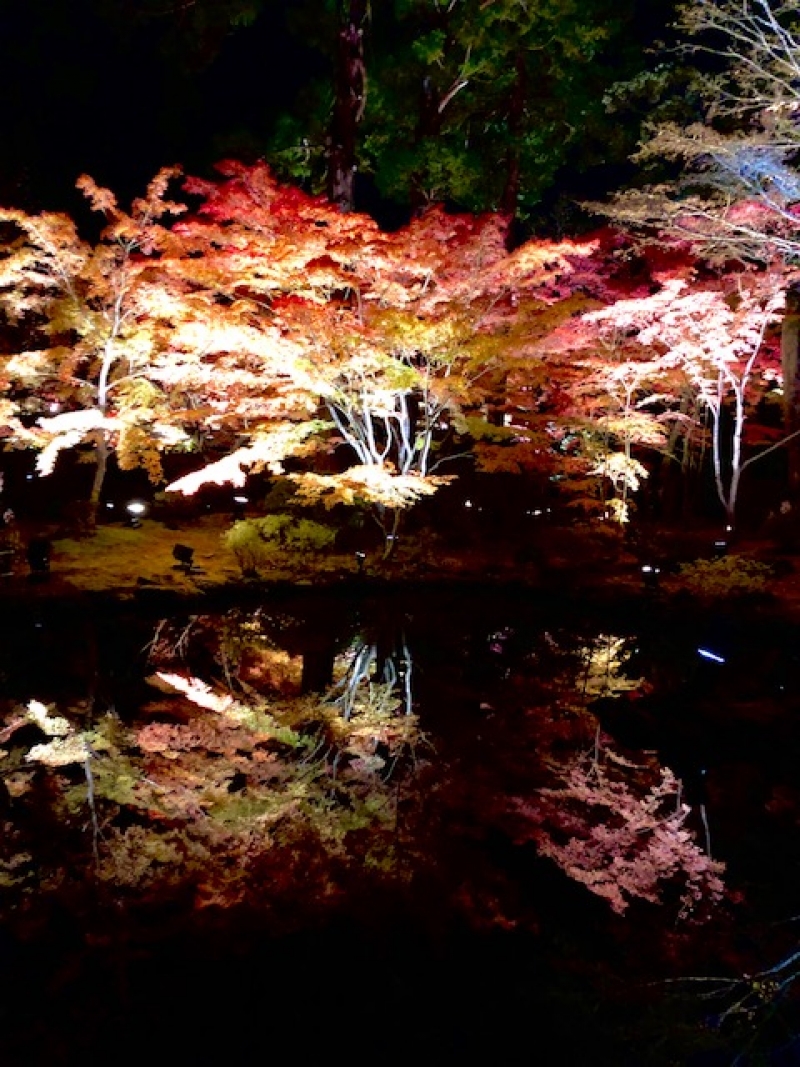 Entsuin Temple is also popular among young people who want to make a wish for love and good marriage because there's Kannon  (Goddess of Mercy)  of matchmaking. They offer a kokeshi doll on which they write their wish and name to the Kannon.
En-musubi Kannon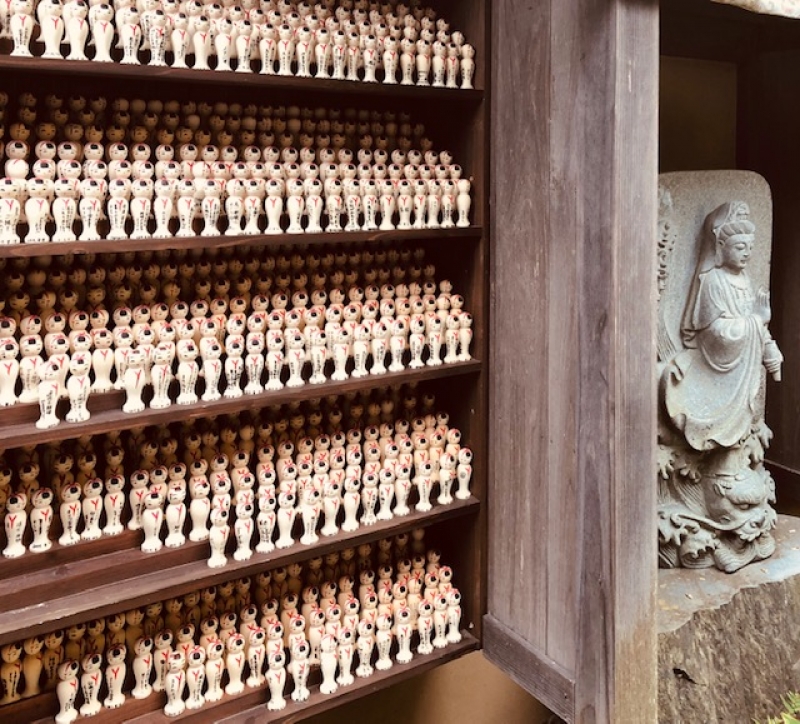 The Goddess of Mercy is standing on the back of a dragon. The Kannon is Bodhisattva that represents women, and the dragon symbolizes men. It's said that they ascend to heaven and unite.
Next to Entsuin Temple is the National Treasure Zuiganji Temple. It's really worth visiting. This is one of the most important Zen Buddhist temples in northern Japan. It was originally established in 828 by Ennin, who also founded Godaido Hall.
Today's temple building was rebuilt by Date Masamune in 1609 as his family temple. As Zuiganji was built at the end of the long civil war period, it has features such as a watchtower and nightingale alarm floors that are normally seen in castles.
Kuri, the Zen kitchen where the meals were prepared for monks.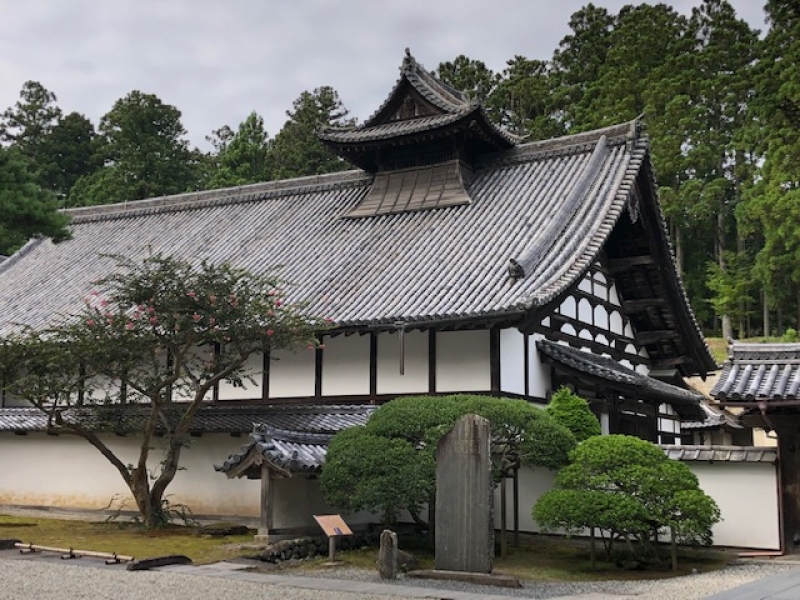 This building was designated as a National Treasure in 1959. This is one of the three most treasured Zen kitchens in Japan.The others are in Myoshinji Temple and Myohoin Temple in Kyoto. Zen kitchens are usually plain and simple, but this kuri has features that show the aesthetic sense of Date Masamune.
Next to kuri is  hondo, or main hall. Though taking pictures inside is prohibited, you can see brilliant paintings on actual gold leaf depicting the seasons on sliding doors of the rooms. There are lots of art works in hondo. Inside and outside the building are detailed original wood carvings of real and mythical animals. The carving over the entrance of the main hall is a mouse with grapes, which is said to have been done by the legendary sculptor Hidari Jingoro. 
Another thing you must not miss is amazing oysters produced in this region. All- you-can-eat oysters would be an exciting experience. I ate more than 60!!
All-you-can-eat oysters: 2300 JPY/ adult for 40 minutes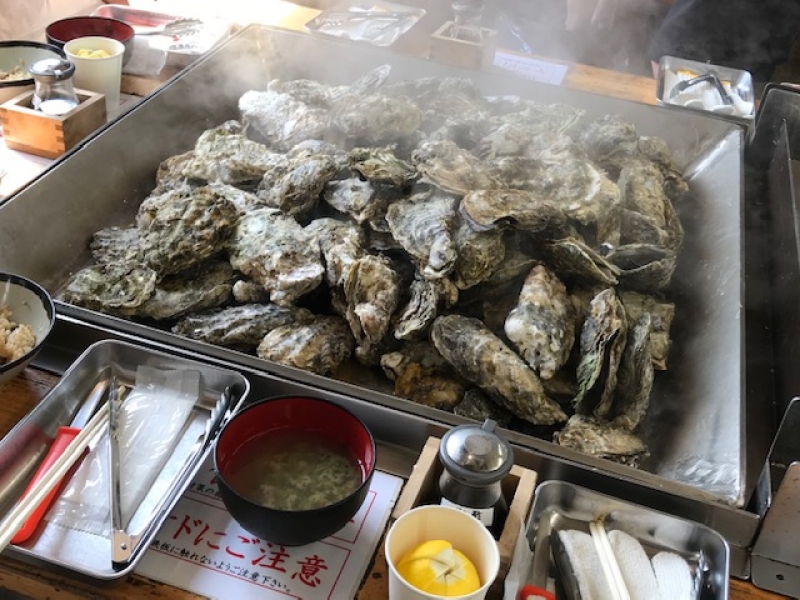 They also offer miso soup containing sea weed and steamed rice with oysters.  After enjoying the pleasant lunch, you can enjoy shopping at many souvenir shops nearby. There are many kinds of seafood products, crafts, snacks and sweets that you can find only here in Sendai. This region is a big producer of soy beans. Ice cream and other sweets using soy bean is especially popular. Bamboo leaf shaped fish cake is also a specialty here.  There's a shop where you can make your own fish cake too.
Matsushima is truly a good place to learn history and culture, and to enjoy beautiful nature and delicious food. There are many good hotels and ryokan that boast quality hot spring too. Those places also serve amazingly fresh and delicious dinner. Please feel free to ask me about more information. I'm happy to share infromation on things you'd be interested in. I'm looking forward to going there with my future guests. Thank you for visiting my blog.
There are several funny stories that depict the humanity of the renowned sculptor Hidari Jingoro, who loved travel and spent most of his life on traveling. Here's a translation of rakugo whose subject is his travel to Sendai. If you'd be ineterested in the funny story, please watch my youtube below.
Did you like my article?
You can send me a message to get a customized itinerary and quotation for an unforgettable experience. Let's explore Japan Together.
I'll be waiting for you, so please check my profile and get your trip plan now