Shinjuku Gyoen Park is an oasis in the middle of the bustling city of Shinjuku. It's a big park with a circumference of 3.5 km and is a famous place to enjoy the cherry blossoms in spring. This park, which is surrounded by skyscrapers, is a place where the people living in the metropolis can relax and briefly enjoy nature. It has 3 types of gardens as well as a greenhouse so it's a great place to go for a stroll. And the sprawling lawns provide ample space to hold picnics. The 3 types of gardens are integrated into a whole, making Shinjuku Gyoen Park one of the best modern western style gardens in Japan.
Shinjuku Gyoen Park's Three Entrances
There are 3 gates from which you can enter Shinjuku Gyoen Park. The first is Shinjuku Gate, which is the main entrance. This gate is close to Shinjuku station and Shinjuku-Sanchome Station. If you enter from this gate, the sprawling lawns of the English Landscape Garden open up before you. The second is the Okido Gate which is a quick walk from Shinjuku Gyoen-Mae Station. "Okido" means large wooden gate. The naming of this gate is from the fact that long ago there used to be a large wooden gate guarding the entrance to Edo (modern Tokyo) nearby. The third gate is the Sendagaya Gate. This is close to JR Sendagaya station. When you enter from this gate you'll be able to see cherry blossom trees in the spring or the red maple leaves in the fall. It's near the Kyu-Goryotei Pavilion from which you can enjoy the view of the Japanese garden.
Address: 11 Naitomachi, Shinjuku-ku, Tokyo 160-0014
Access:
An 8 minute walk to Shinjuku Gate from Shinjuku Sanchome station on the Fukutoshin, Marunouchi, Shinjuku subway lines or a 10 minute walk from the South Exit of JR Shinjuku station .

A 5 minute walk to Okido Gate from Tokyo Metro Shinjuku Gyoen-Mae station on the Marunouchi subway line.

A 5 minute walk to Sendagaya Gate from JR Sendagaya station on the JR Chuo line.
Closed: Every Monday (if Monday is a holiday then the following day) and from Dec. 29 to Jan. 1
Hours: 9 am to 4:30 pm during winter and 7 pm during summer
Entrance fee: 500 yen
Website: https://www.env.go.jp/garden/shinjukugyoen/english/
History
Shinjuku Gyoen National Garden started out as part of the grounds of the Tokyo residence for a feudal lord in the Edo Period. It was then changed into a botanical garden and was owned by the Imperial family since 1903. They used it as a place to entertain their guests and for recreational purposes. During World War II, it was unfortunately almost completely destroyed by air raids. However, it was rebuilt after the war ended and it was opened as a public park in 1949.
The Different Gardens of Shinjuku Gyoen
There are 3 different types of gardens inside Shinjuku Gyoen Park along with a large greenhouse.
Japanese Garden
The first and oldest is the Japanese garden. It consists of a large pond dotted with islands which are connected with wooden arched bridges. There are several pavilions in this area. The most magnificent is the Kyu Goryotei which is also called the Taiwan Pavilion. It's one of the few structures in Japan made in the real Chinese style, with wood brought in from Taiwan for it's construction. It was built to celebrate the Showa Emperor's marriage. There's also a tea house surrounded by plum trees in the Japanese Garden. It's a traditional Japanese building that greets you with a woody aroma as you enter. You can try matcha tea there and enjoy the Japanese sweet that comes with it. It's perfect for taking a break from all the walking you're bound to do when visiting Shinjuku Gyoen Park.
English Landscape Garden
In this area you'll find sprawling lawns and trees that are allowed to grow naturally without being trimmed into shape. This area is the best place to have your picnic or enjoy the cherry blossoms in springtime. You'll also be able to see the buildings of Shinjuku in the distance that remind you this is an oasis letting you escape from the urban jungle just outside the gates. The lawns spread in a straight line from the Shinjuku Gate towards the French styled garden. And in the middle of this grand view is the lily tree standing over 30m high, the symbol tree of Shinjuku Gyoen Park.
French Formal Garden
This is a beautifully symmetrical garden, styled to imitate the palace gardens of France. In the middle are the 500 rose bushes boasting 110 species. On the outer edges of the garden are 4 rows of sycamore trees. Walking in this garden and down the path lined by the sycamore trees, you'll feel like you've been transported to a garden somewhere in Europe.
Greenhouse
This greenhouse was the largest in east Asia when it was built in 1958. You can enjoy looking at the plants from warm climates without thinking about the weather outside. And the best part is that you can enter the greenhouse without paying any extra fees. There are monthly classes where the staff teach you about the plants and you'll be able to see the flora from the Ogasawara or Okinawa islands without ever leaving Shinjuku.
Shinjuku Gyoen Tea House "Raku'u-tei"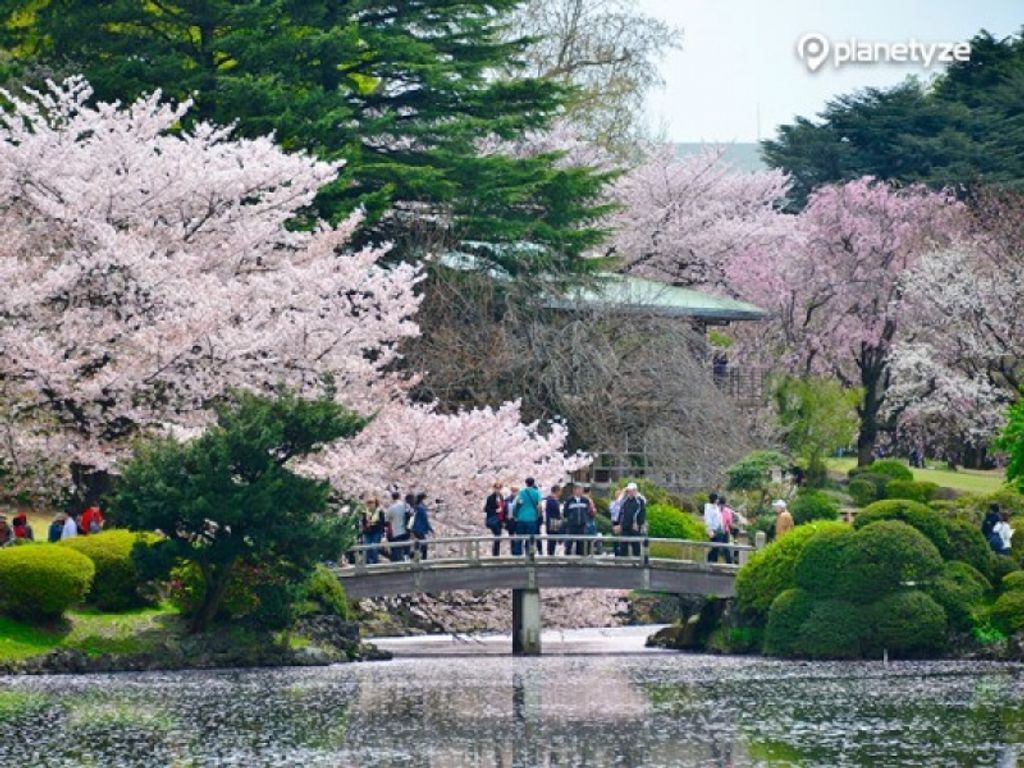 This tea house is a wonderful place to take a break. It's a wooden traditional Japanese tea house that will serve you matcha tea for 700 yen. It comes with a Japanese sweet which is not only tasty but visually enjoyable as well. And when the tiny plum blossoms on the trees around the tea house are in bloom, it's like a scene out of a old Japanese picture book. The tea house holds an exhibition of the tea ceremony about once a month so if you're lucky enough to visit the tea house on one of those days, you'll be able to see how matcha tea is made.
Tea house hours: 10 am to 4 pm
Closed: Mondays and other random days
Shinjuku is an area with lots to do other than see the Shinjuku Gyoen National Garden. If you want to go shopping, this is the place to do it because there are several department stores, electronics stores, and a whole lot of other shops everywhere you look. You could probably spend all day shopping here if you wanted to. It's also a busy and confusing area so if you don't want to get lost or you just want somebody to show you the highlights, touring the area with a local guide may be a good idea.
TripleLights provides a service of matching customers with the best tour guide for them. It's a marketplace of guides and tours from which you can choose the one the best fits your needs.
Unlike other tour companies, all the guides create their own tours so all of the tours are unique. Of course there are generic tours with only the most famous highlights of Tokyo in the itinerary, but you can also communicate directly with the guide to ask questions or convey requests, for example the length of a tour or wanting to spend more time in a particular area like Shinjuku, before actually booking a tour.
Also, if you don't find the perfect tour on the list of tours, you can request a tour directly to the guides. You'll need to be specific about the length of the tour you'd like, for example half a day, a full day or a consecutive two days. And you should list your requests on what you'd like to see or eat or so on. All of the guides will be able to see requests like this and the ones that are available during your requested dates will recommend a tour itinerary just for you. So you'll be able to compare what several guides suggest and see which suggestion looks to be the best for you. This way you can create your own customized tour for however long you'd like and see only the parts of a Tokyo that you want to see.
Most of the tours are walking tours, created so that you can use the public transportation system while sightseeing and also get a feel for moving around the city. It's an experience that will give you insight on how the local people move around during their daily lives. The trains are a big part of life in Japan. However, there is also the option of hiring a private car and driver just for your tour or to get around during your stay. This is an option that people with disabilities or elderly people who aren't able to walk for hours on end find to be helpful. Catching a taxi is also a good way to travel short distances, but sometimes you just can't find one, so having a private car just for you is pretty convenient.
You can also look at the guides' profile videos to see what kind of person they are and also read up on the reviews they got from other customers. This is an important step in choosing a tour. At most tour companies, you aren't able to choose your guide nor see what they look or sound like before the day of the tour. But TripleLights believes that having a pleasant companion during your tour is an important aspect in having a great day. So choose your guide by yourself and prepare to enjoy the Shinjuku area and the city of Tokyo!
Recommended Blogs
The 7 Top Places for Matcha in Tokyo: The Real Japanese Flavor
9 Best Tokyo Food Tours by Local Guides
Shinkansen Tickets, Prices, Speed & Travel Tips
How Much Does a Trip to Japan Cost?