Like in many countries around the world, springtime in Japan signals the coming of warmer weather and is a season when flowers blossom with amazing colors. If you like flower gardens or if you just enjoy pretty scenery, this is the season to visit.
2020 Japan: 11 Things to Do and Places to Visit
There are many famous places across Japan where you can see the beautiful scenes of pink or yellow or white flowers blooming against the fresh greenery. And if there are blue skies above, that makes it a picture perfect scene don't you think? One thing you want to watch out for is the temperature in spring time. It may rise during the day to the point that you feel comfortable in a short sleeved shirt, but after sunset and also early mornings can be very chilly. So if you don't want to catch a cold during your trip, make sure to bring a sweater or jacket around with you just in case.
Cherry Blossoms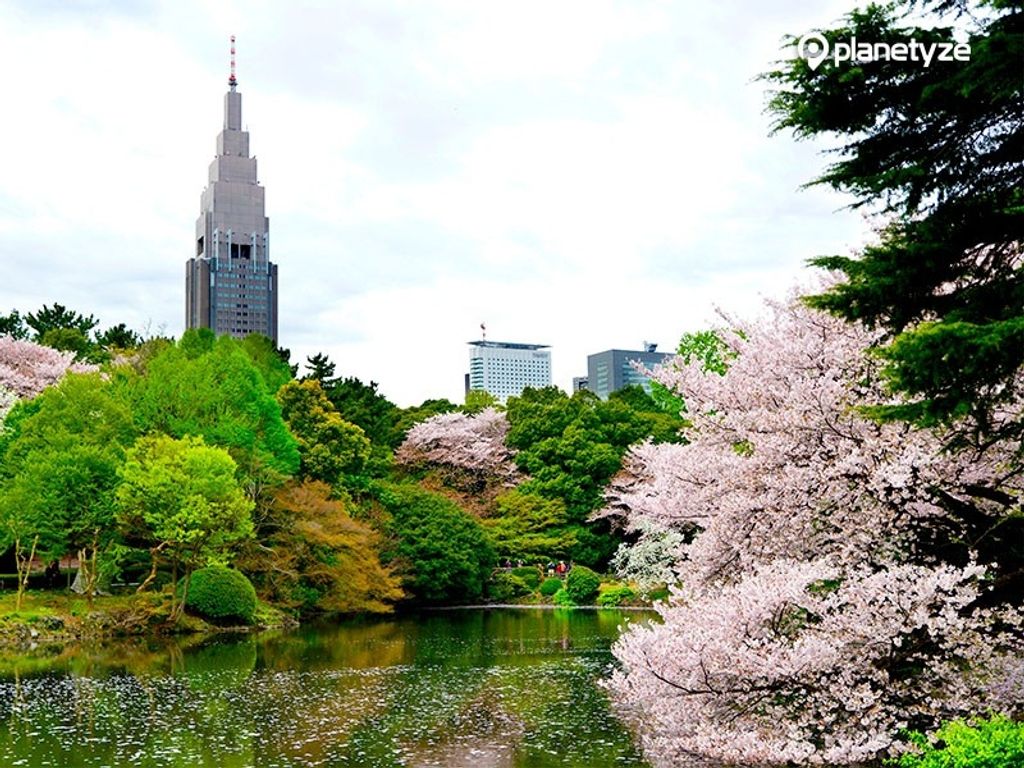 The cherry blossoms, of course, are one of the main reasons foreign tourists visit Japan during the spring. It seems the love the Japanese have for these beautiful pink flowers has spread worldwide. There are many places to see the cherry blossoms all around the country and different types of cherry blossoms as well. The earliest type that blooms is the "Kawazu" cherry blossom. It blooms from early February and can be enjoyed for around a month after that. You can see this type of cherry blossom in the Kawazu area in Shizuoka Prefecture.
The most popular and widespread type of cherry blossom is the "Somei Yoshino". This pale pink is the type you'll see in most cherry blossom pictures. The temples of Kyoto and Nara prefectures are beautiful places to see the cherry blossoms against historical backdrops. If you miss the late March to early April period, you can go north to see the flowers in mid to late April. Famous places to see the cherry blossoms in the northern region is Hirosaki city in Aomori Prefecture and the sightseeing spot of Goryokaku in Hokkaido Prefecture.
Recommended Tours:
Mother Farm (Chiba Prefecture)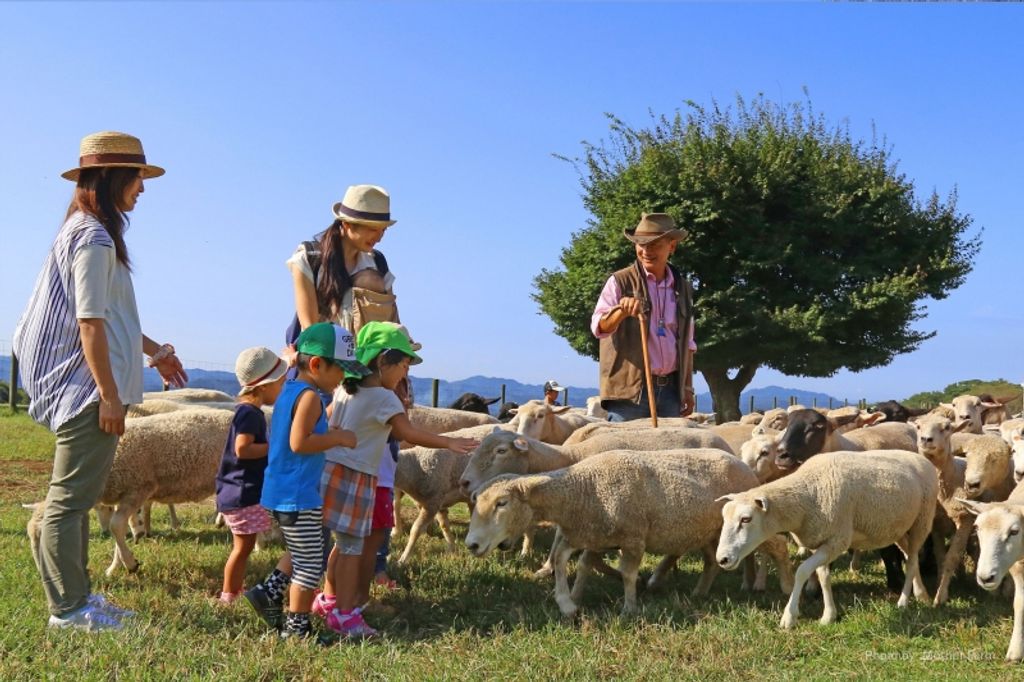 Mother Farm is a popular sightseeing spot in Chiba Prefecture, and is visited by many Japanese elementary school students. It's about 2.5 hours from Tokyo, either by train or bus.. It's a farm so you'll be able to see all kinds of farm animals like cows, sheep, pigs, and even alpacas. And there are shows like sheep herding by farm dogs that you can enjoy as well as a petting area. It's great fun for children! In addition to the animals, in spring you can see the wonderful flower fields.
Address: 940-3 Tagura, Futtsu-shi, Chiba (map)
Access: Take either train or express bus to JR Kimitsu Station. Then a 30 - 40 minute local bus ride to Mother Farm from there (700 yen one way)
Fees: 1,500 yen for adults / 800 yen for children over 3 years old
Hours: 9:30 am - 4:30 pm (9:00 am to 5:00 pm on weekends and holidays)
Website: http://www.motherfarm.co.jp.e.acb.hp.transer.com/
Huis Ten Bosch (Nagasaki Prefecture)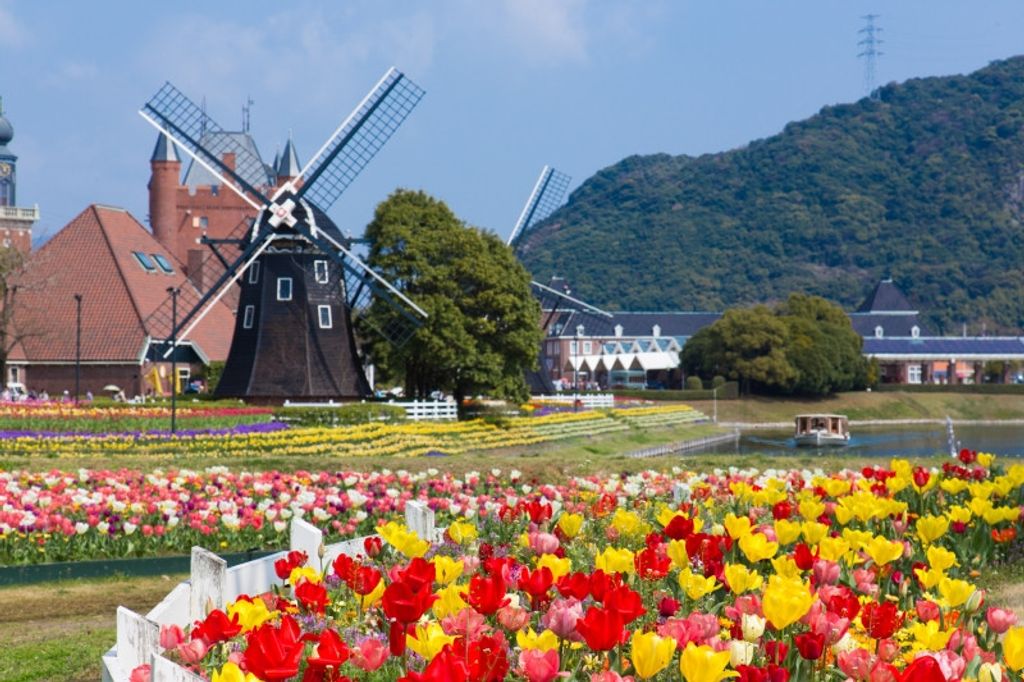 Huis Ten Bosch is a theme park along the coast of Nagasaki Prefecture. It was created to look like the streets of the Netherlands. It looks so real that once you step inside, you feel like you really are in Amsterdam. There are activities and games to play inside the theme park, but the scenery is the most amazing aspect of this theme park. It is always filled with flowers. Among all the flowers this park displays, the season of the tulips and the roses stands out. It's really spectacular. And you can also enjoy the illumination at night as well. You really need to go see it for yourself.
Address: 1-1 Huis Ten Bosch, Sasebo-shi, Nagasaki (map)
Access: 50 minutes by bus or ferry from Nagasaki Airport or 1 hour 45 minutes by express train "Huis Ten Bosch" from Hakata Station in Fukuoka.
1 day ticket fee: adults 7,000 yen / youths 6,000 yen / children 4,600 yen
Hours: 9 am - 10 pm
Website: http://english.huistenbosch.co.jp
Mifuneyama Rakuen (Saga Prefecture)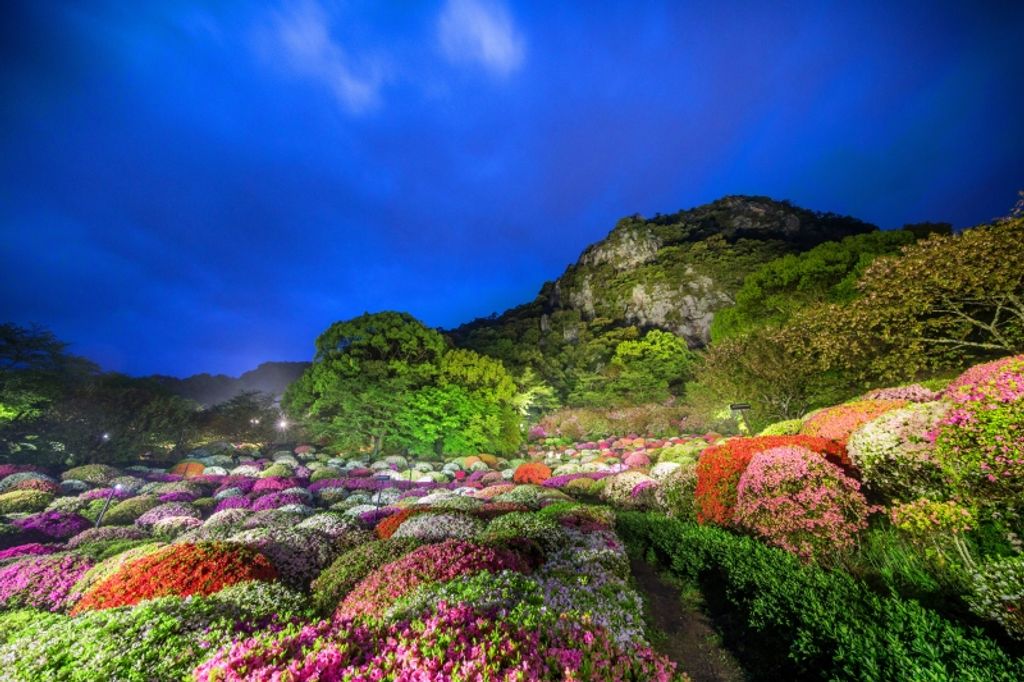 Mifuneyama Rakuen was created in 1845 by the local feudal lord, Shigeyoshi Nabeshima. With stunning colors, the park appears like a traditional Japanese painting coming to life. A stroll around the park is enjoyable in any season, but springtime is when all the flowers are in bloom. From late March to early April it's cherry blossom season, and from mid April to mid May it's the season of the azaleas. The park is right near Takeo Onsen so you can also relax in the hot springs.
Address: 4100 Takeo, Takeo-cho, Takeo-shi, Saga (map)
Access: 5 minutes by taxi from Takeo-Onsen Station
Hours: 8 am - 6:30 pm
Fees: 400 yen for adults / 200 yen for children
Website: https://www.mifuneyamarakuen.jp/en/
Sashimaki Moor Mizubasho (Akita Prefecture)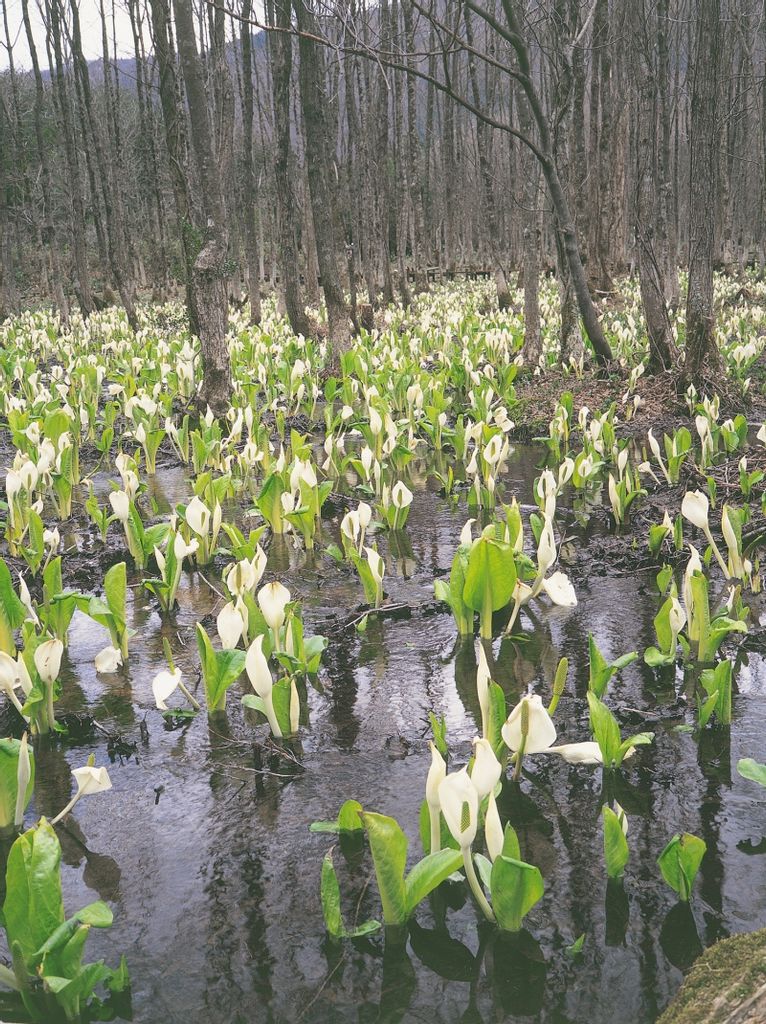 "Mizubasho" or Japanese skunk cabbage is a white flower that grows on the moor. This area in Semboku city of Akita Prefecture is a unique place where a moor surrounded by an alder tree forest thrives in close vicinity to a highway. The beautiful white flowers cover the moor from mid April to the beginning of May. Lake Tazawa, the deepest lake in Japan, is situated nearby so you can go sightseeing there as well and enjoy the spectacular natural scenery. There are tour guides that will take you to go see Lake Tazawa, so you can ask if they can take you on a detour to see the flowers as well.
Address: Sashimaki Tazawako, Semboku-shi, Akita
Access: a 15 minute walk from JR Sashimaki Station
Website: https://www.city.semboku.akita.jp/en/sightseeing/spot/04_sashimaki.html
Ashikaga Flower Park
Ashikaga Flower Park was chosen by CNN as one of the top 10 dream destinations worldwide. The season that is especially beautiful is the season of the wisterias. That is from mid April to mid May. During this season, the flowers are lit up at night and that is also an amazing view to see.
Tochigi Prefecture is also the same prefecture where Nikko Toshogu Shrine, a World Heritage Site, is located. This is also a spectacular sight so you should definitely go on an excursion tour here if you have time.
Address: 607 Hasama-cho, Ashikaga-shi, Tochigi (map)
Access: a 3 minute walk from Ashikaga Flower Park Station on the JR Ryomo Line
Duration: April 13 - May 19, 2019
Hours: 7 am - 9 pm (light up from 5:30 pm, April 20 - May 12)
Fees: 900 - 1,800 yen for adults / 500 - 900 yen for children
Website: https://www.ashikaga.co.jp/fujinohana_special2019/en/index.html
Nara Yoshinoyama (Nara Prefecture)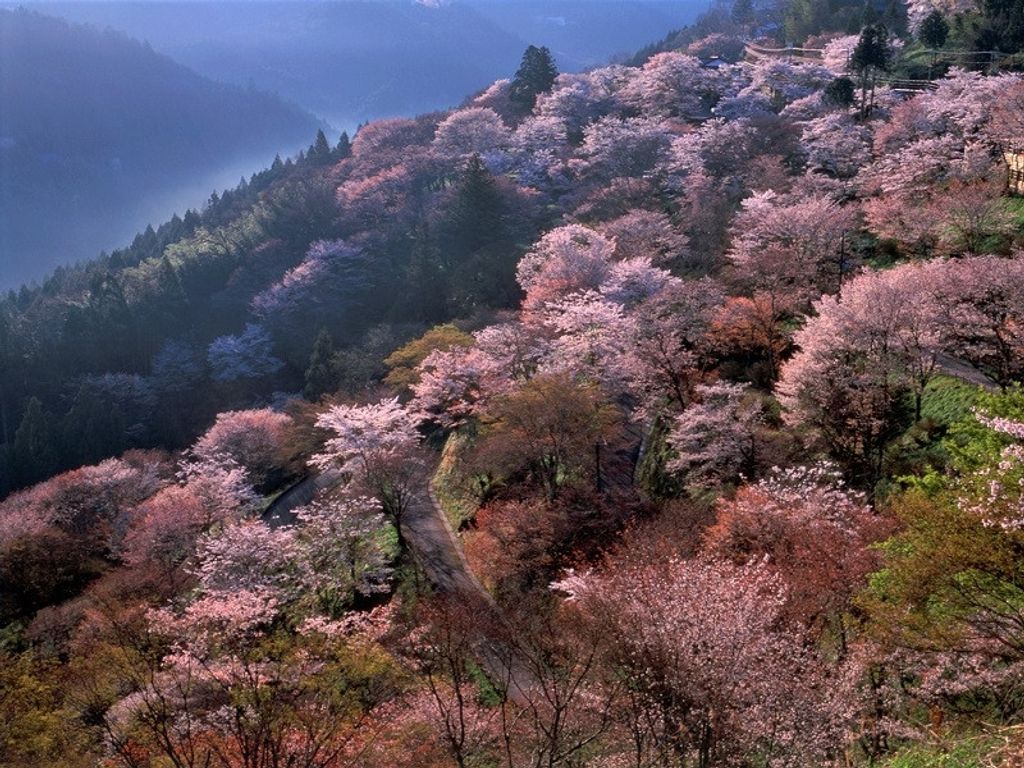 Mount Yoshino in Nara is covered by thousands of cherry blossom trees. The first trees were planted about 1,300 years ago and have now flourished into about 30,000 trees, spanning the four areas from the bottom to the top of the mountain slope. The cherry blossoms usually start blooming around late March to early April and then reach full bloom around the middle of April. You can enjoy the spectacular view while hiking up the mountain and taking a break at the observation points or the parks scattered along the mountain. There is a ropeway for people who don't want to hike up, but there is always a long line to ride the ropeway during the cherry blossoms season so going up on foot is recommended. The most popular and famous observation point is called Hanayagura, and it's about an hour's hike up from the upper ropeway station.
Nara is an area full of old temples, of which the most famous is Todaiji temple with its gigantic Buddha statue. Try a private tour of the most famous sights around the area.
Address: Yoshinoyama, Yoshino-cho, Yoshino-gun, Nara (map)
Access: the entrance to the mountain (and the lower ropeway station) is a 3 minute walk from Kintetsu Yoshino Station
Website: http://www.yoshinoyama-sakura.jp/omiyage/o_cable.php
"Hotaruika" or Firefly squid (Toyama Prefecture)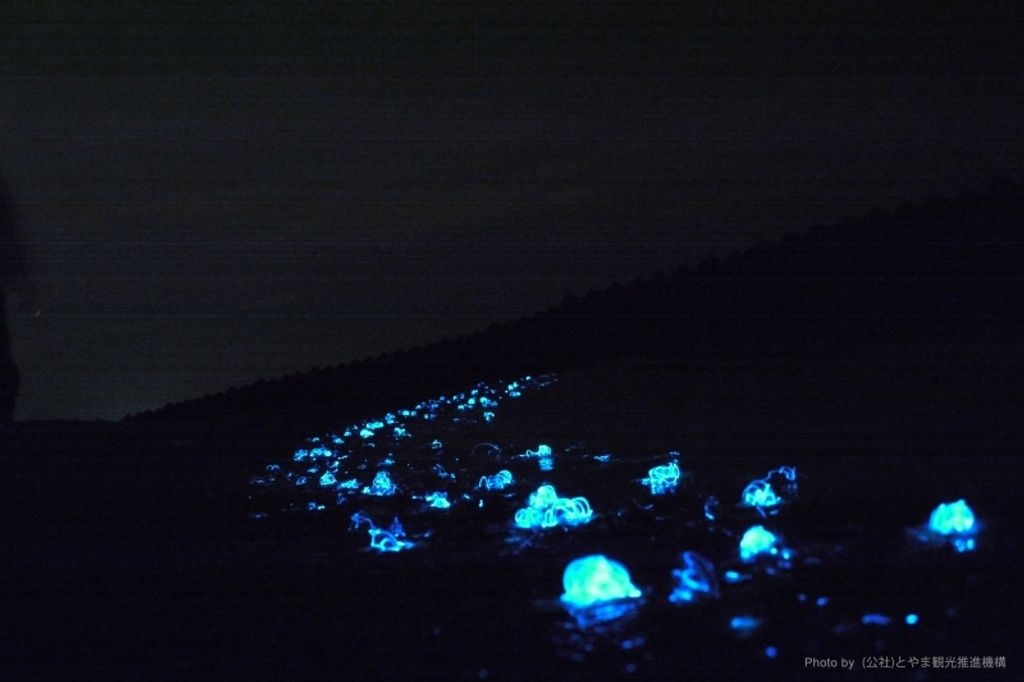 The "hotaruika" is a small bioluminescent squid the size of a grown man's finger. The light that one squid emits may be small, but when you have thousands of them flitting about in the sea, the water becomes illuminated in an electric blue color. It's spectacular! The whole bay of Toyama is full of these squid from March to May when they come up to the surface from the deep to lay eggs. You can see this amazing sight if you reserve a spot on an early morning fishing boat tour. But you'll need to wake up really early or rather stay up really late because the meeting time for the tour is around 2:30 am.
There are lots of other things to see in Toyama, so if you have time to go sightseeing try to check the tours options in Toyama.
Hotaruika Museum Firefly Squid Boat Tour: https://hotaruikamuseum.com/tour
Address: 410 Nakagawara, Namerikawa-shi, Toyama (map)
Fees: 5,000 yen for adults / 3,000 yen for children
**By reservation only through the above website
Hitachi Seaside Park
This huge seaside park is famous for being filled with flowers in almost every season. The most popular are the light blue fields of Nemophila flowers in mid April to early May. If you go in April, you'll probably also be able to see the tulips in bloom too. Another popular sight is when the Kochia bushes turn a bright red around the beginning of October. But for the most part, springtime is the season to go. It's a distance of about 2 hours to this park from Tokyo, so if you feel unable to make this trip by yourself, you can ask a local guide if they can provide a tour for you.
Address: 605-4 Onuma-aza, Mawatari, Hitachinaka, Ibaraki (map)
Access: 15 minutes by taxi or bus from Katsuta Station on the JR Joban Line, or a 20 minute walk from Ajigaura Station on the Hitachinaka Seaside Railway Minato Line
Website: https://en.hitachikaihin.jp/
Kawachi Wisteria Garden (Fukuoka Prefecture)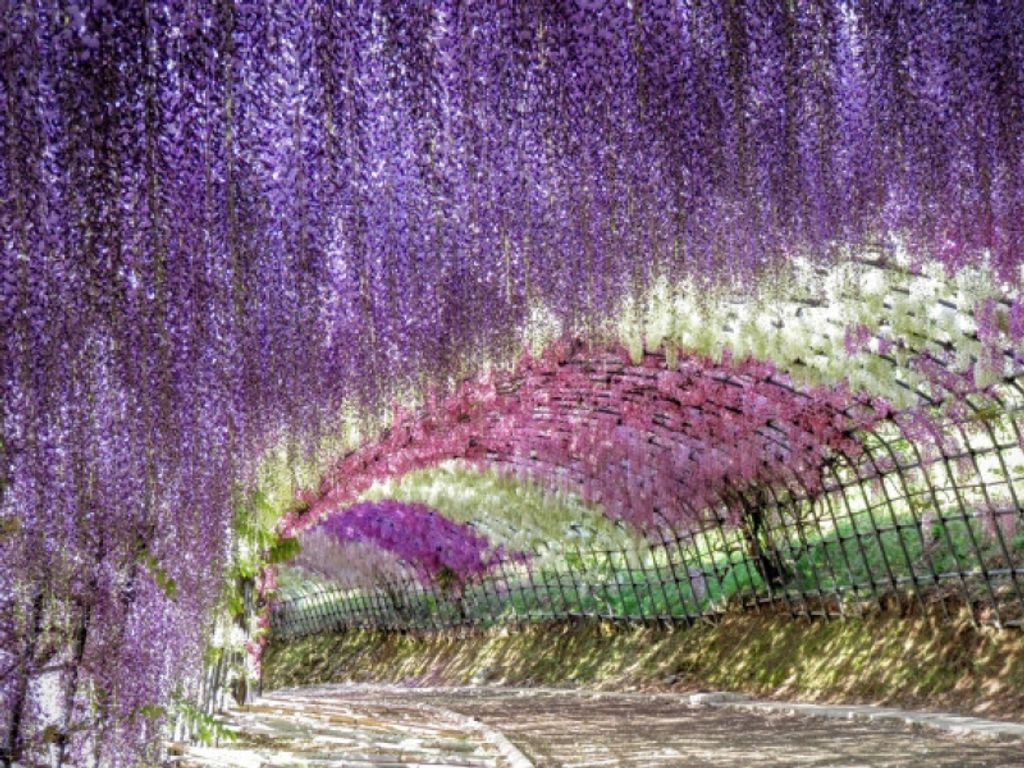 This wisteria garden was chosen by CNN as one of the 36 Most Beautiful Places in Japan. This has caused it to become very popular and crowded with tens of thousands of tourists coming from within Japan and from around the world, during the season of the wisterias in spring. So now, if you want to go, you must buy a reserved ticket in advance at a convenience store in Japan. This can prove to be difficult without the help of a local Japanese person as there is no English interface. Also, getting to this secluded spot is another problem. During the peak season around the end of April, there is a shuttle bus running once every hour from JR Yahata Station which takes 30 minutes. Or you can rent a car. Either way, you are very likely to be caught in a bad traffic jam from all the people trying to get there. And walking is out of the question. The view is worth the effort, but don't try it unless you are a very patient person. I suggest booking a tour guide to help you with the tickets in advance as well as getting there.
Address: 2-2-48 Kawachi, Yahatahigashi-ku, Kitakyushu, Fukuoka (map)
Access: By car or shuttle bus during the peak season.
Duration: mid April to mid May
Hours: 8 am - 6 pm
Fees: 500 - 1,500 yen depending on the how far along the flowers are in bloom
Website: https://kawachi-fujien.com/
Fuji Shiba-Sakura Festival
In English, the name of this flower is "moss phlox ". It's a type of small flower that grows on the ground and resembles the "Sakura" or cherry blossom in shape. That is why it's Japanese name is "Shiba- Sakura" or lawn cherry blossom. They bloom in all shades of pink and white. Depending on the way they are planted, they make a spectacular pattern on the ground. If it's a clear day, you'll be able to see a picture perfect scene of the flowers in the foreground and Mount Fuji in the back.
Address: 212 Motusu, Fujikawaguchiko, Minamitsuru Yamanashi (map)
Access: get on the Shibazakura Liner Shuttle Bus from Kawaguchiko Station (40 minutes)
Fees: Adults 2,000 yen / Children 1,000 yen (for the entrance fee and a round trip ride on the above shuttle bus)
Duration: April 13 - May 26, 2019
Website: http://www.shibazakura.jp/sp/eng/
Want to Know How to Take the Most of Your Trip in Japan? Check this out!
Many of the places above are in remote rural areas. This means it's not easy to get there even for Japanese tourists. If you're not confident in your navigation skills, hiring a private guide and car are convenient options. The conventional tours may not include these flower parks and festivals so you can request a tour by writing about what you'd like to see or where you'd like to go. The guides that are available on the date that you request will recommend a tour itinerary just for you.
And for places that are difficult to get to by public transportation, there is the option of hiring a private car and driver for the day. This is usually an option that people with disabilities or elderly people utilize. But it's also an option if you can't or don't feel comfortable renting and driving a car in a foreign country. Driving down the opposite side of the road than what you're used to can be pretty stressful so it's convenient to be able to just sit back and relax while being driven around by a professional.
TripleLights tries to match up customers with the best tour and guide for them. It's a marketplace of guides from which you can choose. Other than the above places, there are many sightseeing spots in all areas of Japan. The local guides create their own tours so all of the sightseeing tours are unique. You can also send a message directly to the guide to ask questions or convey requests before actually booking a tour.
And before your tour, take a look at the guides' profile videos. You can see the reviews they got from other customers and see what they look like. This way you know who to look for at your meeting place for the tour. Even if you are being picked up at your hotel, some people feel a little anxious about not being able to find the guide in the lobby especially if they don't know who to look for. So seeing the video beforehand can give you some relief in that aspect.
Springtime in Japan has lots to offer. The flowers and fresh greenery makes sightseeing spots more picturesque. So why not take a private tour with a guide and make your trip extra special?
Recommended Blogs:
One Day in Tokyo - Trip Plan itinerary recommendation
9 Best and Most popular Tokyo Tours
9 Best Things to Do in Harajuku