Super welcome to "Temple or Shrine."
"Dad, is this a temple or shrine?"
"It must be a temple. Coz there's a pagoda behind the temple.
"Yeah, but it also looks like a shrine, honey. See. There's a shrine gate."
"Right. What the heck happened?"
Temple or Shrine? It can be a little confusing seeing some differences between temples and shrines, like the above imaginary dialogue of a young family strolling the streets of Osaka, Japan.
So. Here's a photo of a place which the above-mentioned-family happenly passed by. Again a small quiz. Is it a temple or shrine?:)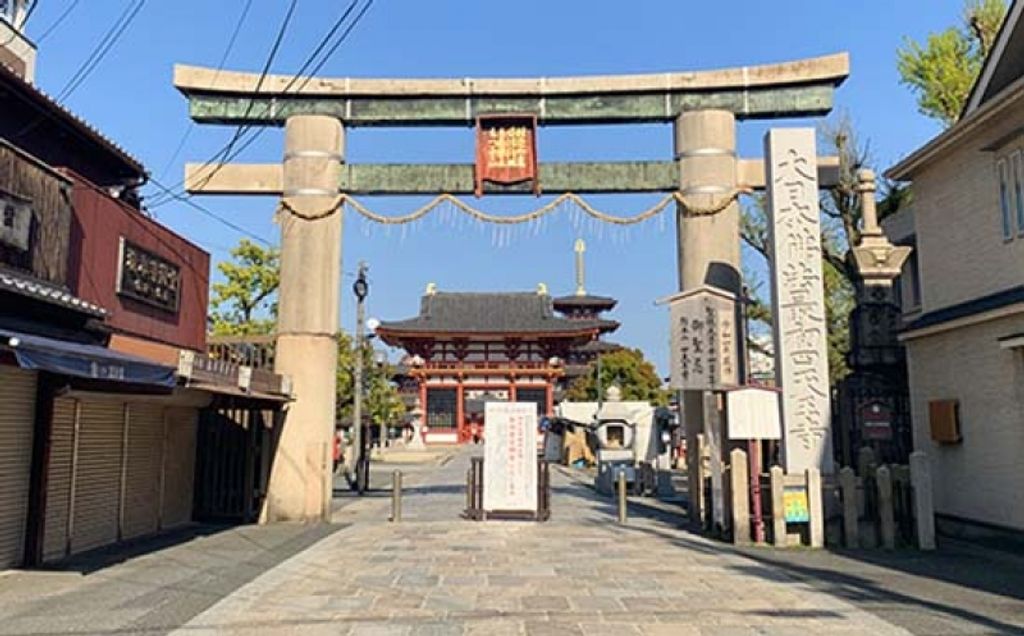 The answer is TEMPLE. No problem at all if you answered it wrong. This is Osaka's Shitennoji Temple, which is regarded as the oldest temple in Japan. Though rebuilt with concrete. As you see the huge shrine-gate in the foreground and the five-story pagoda in the distance, people might well get a bit stuck.
In fact, it's literally a long story. So let me tell you about it some day on our tour.:) With this as the introduction, let's move on to the main subject. Actually there is a big difference between the temple and the shrine. Here're two shots with a touch of information each to make up for the weird quiz above.:)
1 Main temple gate of Todaiji Temple in Nara (Buddha is enshrined.)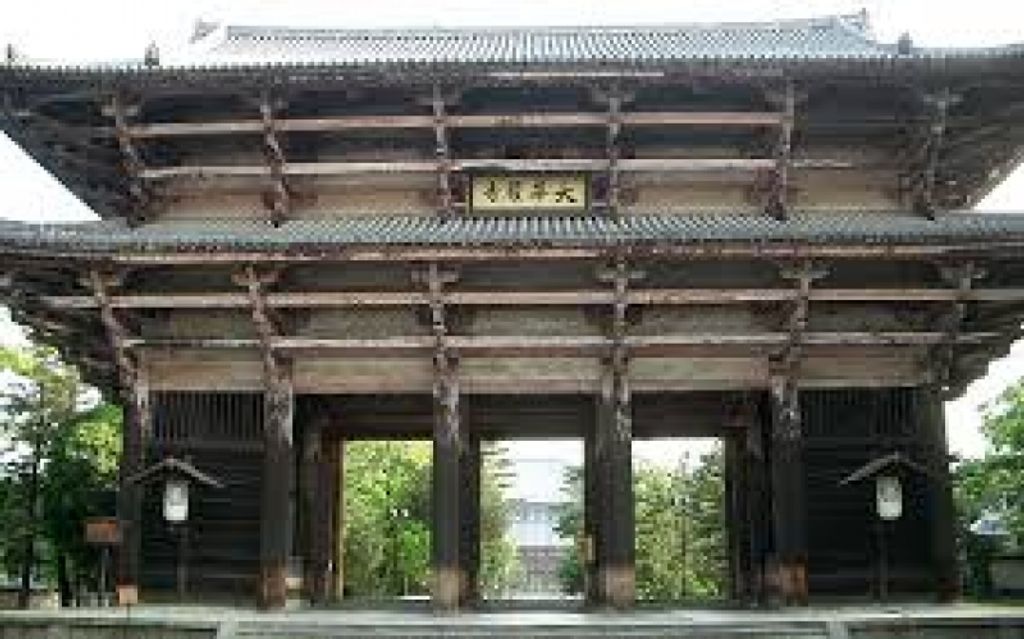 So let's take a look at what the temple is like.
When you visit a temple, first you'll probably see its temple gate(s) which often houses a pair of guardians on both sides of the gate. Then you'll see its main building which houses Buddha, the Goddess of Mercy, and/or the immovable Wisdom King, and the like.
Sometimes you also find a three or five-story-pagoda somewhere in the precincts, depending on its arrangement of the buildings. (So. Dad was right in saying that it's a picture of a temple.)
Japan's temple is related to Buddhism which was introduced in 538 from India via Korea/China. There are as many as thirteen sects and 77,000 temples across the country. Buddhism is for both this world and the next world, so people visit temples for various reasons, like to attain spiritual enlightenment, good health, easy birth, etc. They also visit and pray for religious service for their ancestors and the peaceful life in the next world.
2 Main shrine gate of Fushimi Inari SHRINE in Kyoto (Enshrined is the god of harvest.)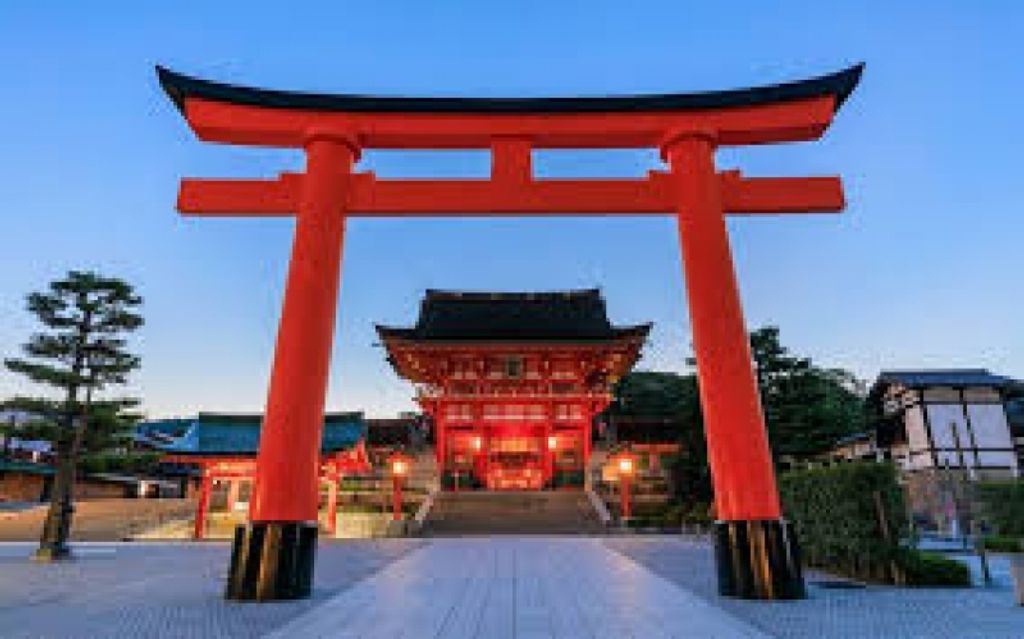 When you visit a shrine, first you'll see its vermilion shrine gate believed to be effective for exorcism, to keep away evil spirits. Then you'll see its main building which houses no statues, because the god/goddess can exist anywhere in and around the precints like a mountain, huge tree, rock, etc. You also find such a pair of guardians like dogs, lions, and foxes at least in front if its main building in the precincts.
The shrine is linked to nature worship, shintoism, which has neither founders nor scriptures. What is enshrined is a mythical character, emperor, Shogunate, general of samurai, or the god of harvest, etc. There are as many as 80,000 shrines nationwide. Shinto is mainly for this world, so people pay a visit for success in life, good business, good health, easy birth, and the like.
Now let me introduce ABC News Australia's clear-cut explanation on shintoism with four definitions, under the title of "What the pocket monsters of Pokémon can teach us about Japan's Shinto faith." (Sep. 7, 2020) (quote)
What is Shinto?
An animistic, folkloric belief system, native to Japan
It coexists with other religions — many Japanese are Shinto and Buddhist
The word is a translation of the Chinese phrase "shen dao", meaning "the way of the gods"
Like Hindusim and Greek mythology, Shinto has a pantheon of gods (unquote)
Here's a little more information about Japan's indigenous nature worship. In the northern part of Japan like Akita Prefecture, people called matagi believe in mountain gods/godesses, and mostly live in groups of around 10 to 40 matagi in a back country. They have been living by hunting bears, dear and any of that. They also go fishing chars living in clear streams, and gathering edible wild plants.
Matagi value game or nature's blessings as gifts from the mountain god/goddess. So after shooting bears dead, for example, they hold a ritual to send the bear's soul, thanking the mountain gods/goddesses for a good hunting. They make literally the best use of mountains and nature's blessings. It is said that matagi has over a thousand years of history. Very interestingly this summer, 2020, Hiroshima's 26yo man who longs for the matagi life reportedly turned matagi.
Finally again would you like to listen to my LONG story? ............. Well, in my early 20s, I quite often visited a bunch of great shrines in Kyoto with my ex-girl friend whom I was madly in love with, and pray and pray for good marriage, but it ended up a broken heart. What the heck happened?
So please notice that praying for a happy marriage at a shrine does NOT always WORK, no matter how many times you do. It sometimes works, and sometimes won't. So let me cross my fingers. The fact is that a few years later it literally WORKED! Yeah!! The bottom line is "To be or not to be; that is the question!"
Thank you very very much for visiting "Temple or Shrine." I wish you all the best.:)