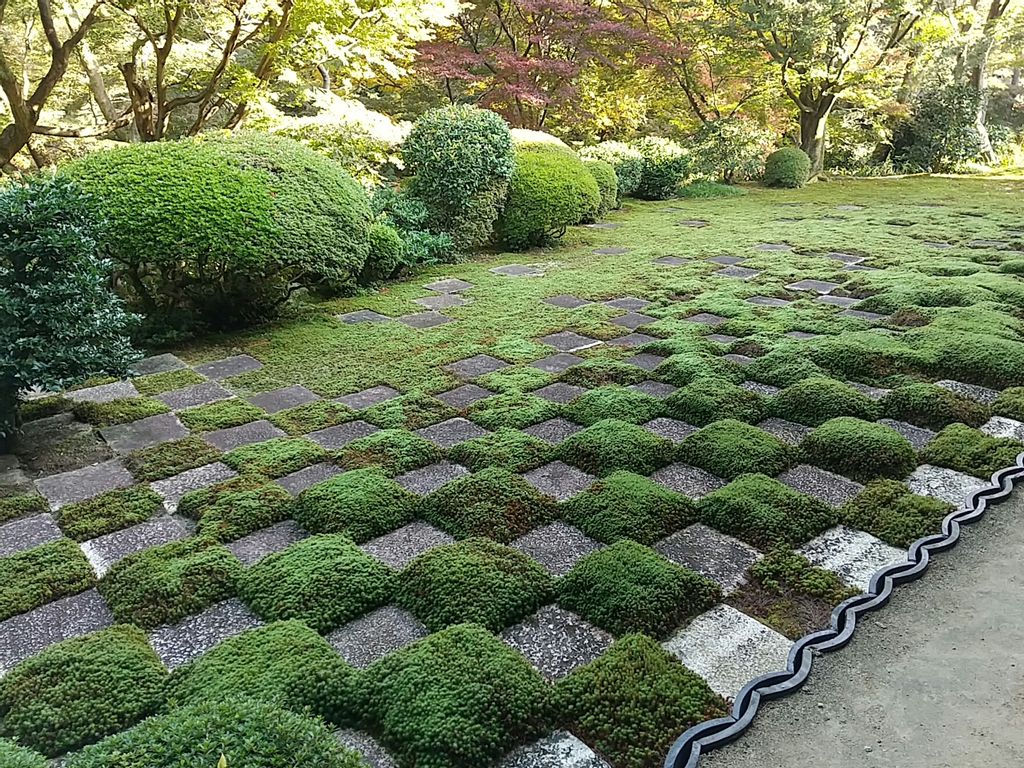 Tofukuji Temple, located in southeasten part of Kyoto city, is the head temple of Rinzai sect Tofukuji School of Zen Buddhism which was founded in the 13th century. The name, Tofukuji is named after the two great temples' name, Todaiji Temple and Kofukuji Temple (both of them are located in Nara.) (If you are interested in Todaiji Temple, please refer to my another blog, 'Nara Park and Todaiji Temple'.)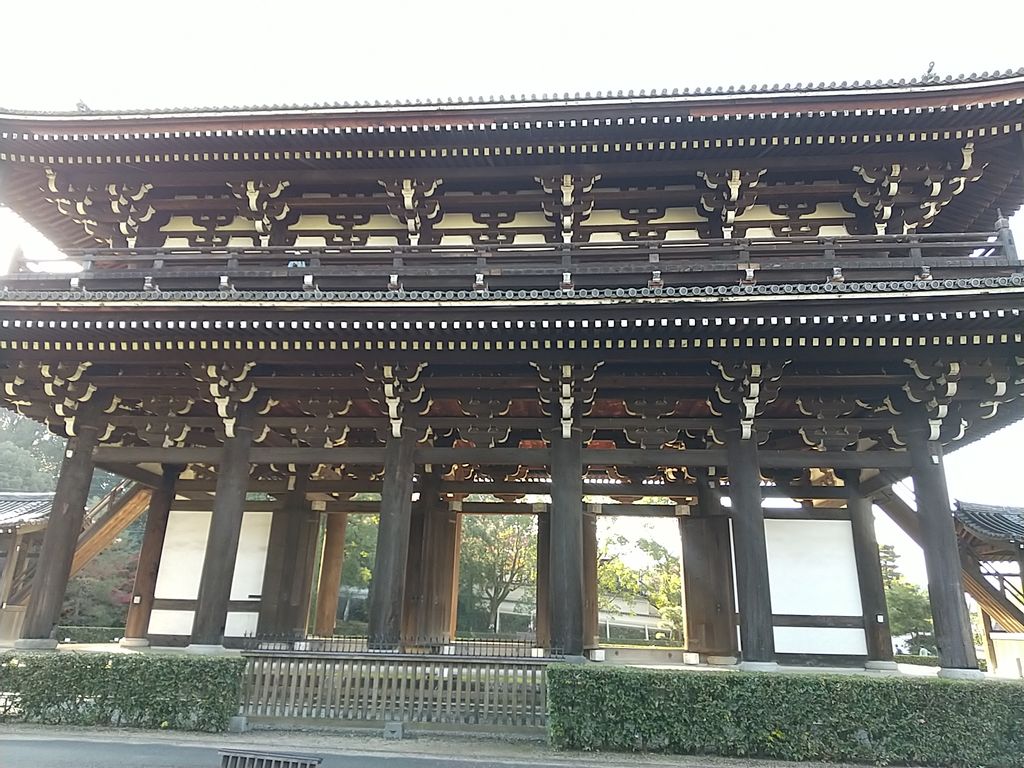 Sanmon Gate, which is 22 meter tall was built in the 15th century and is said to be the oldest Zen gate in Japan. It is listed as National Treasure. During the limited period when it's opened to public, (it's not narmally opened to public, so please refer to the period for special viewing on its website) you can go up to the upper storey and find many Buddhist statues such as Syaka Norai and the Sixteen Rakans (the sixteen arhats).(In China and Japan, 16 disciples who swore to keep Buddhism were respected as the '16 Rakans'.) (We are not allowed to take pictures of the Buddhist statues, so please refer to the website to see those majestic statues.)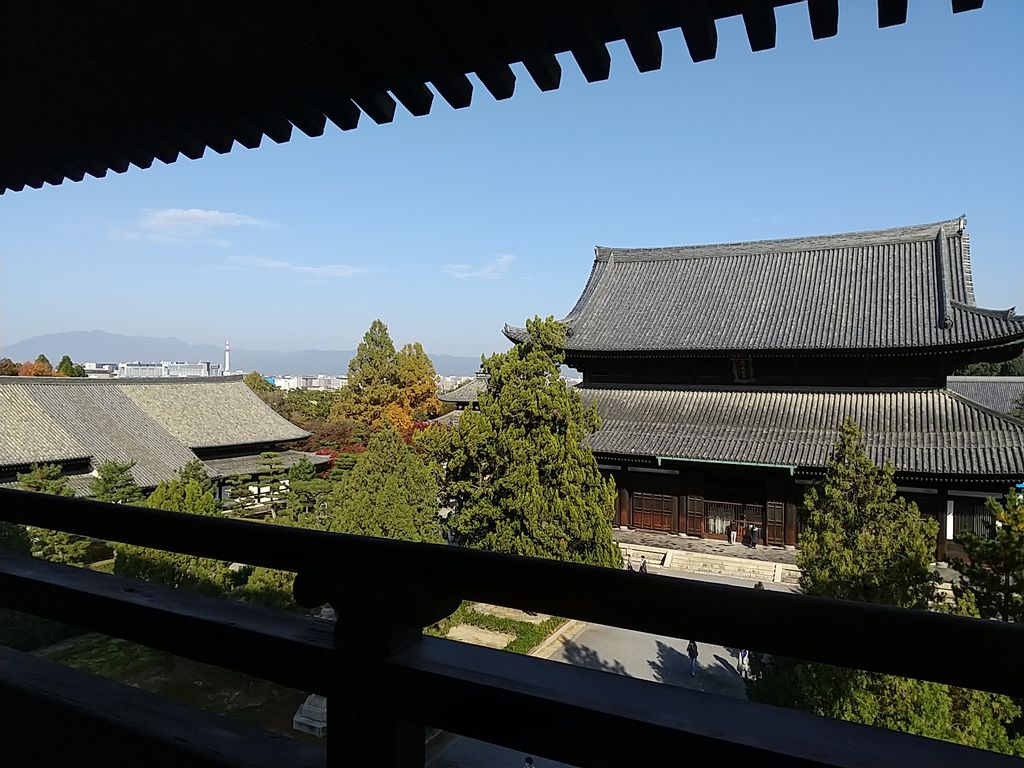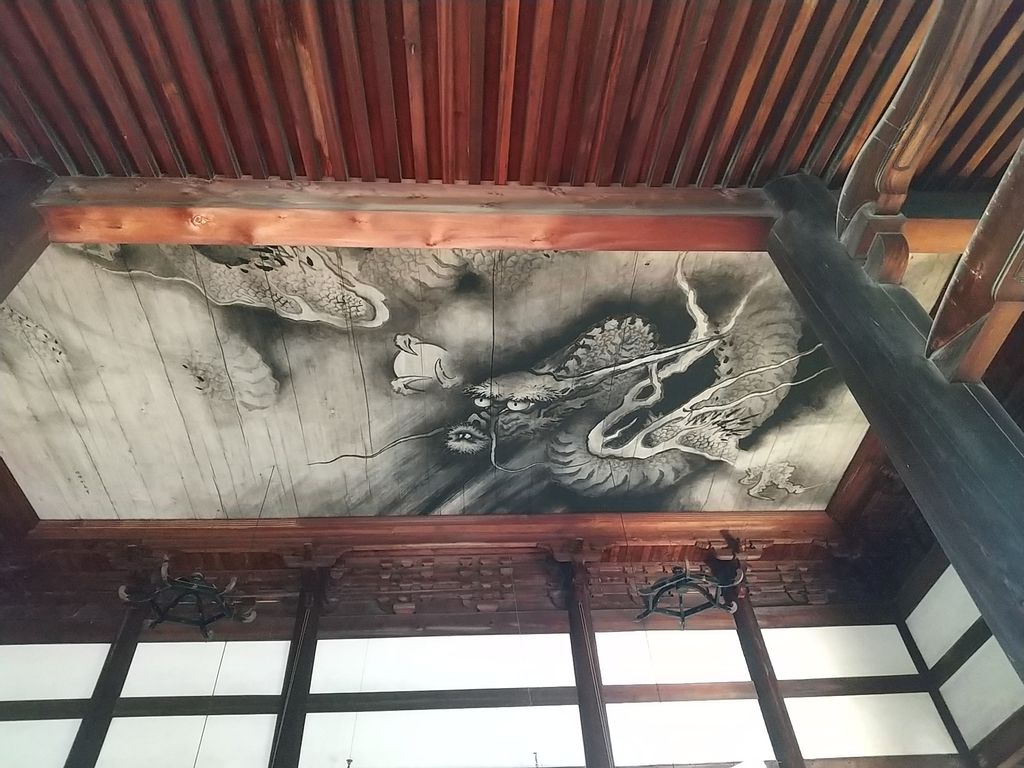 At Hatto, a lecture hall of the temple, you can see the picture of huge dragon drawn on the ceiling if you look into the hall.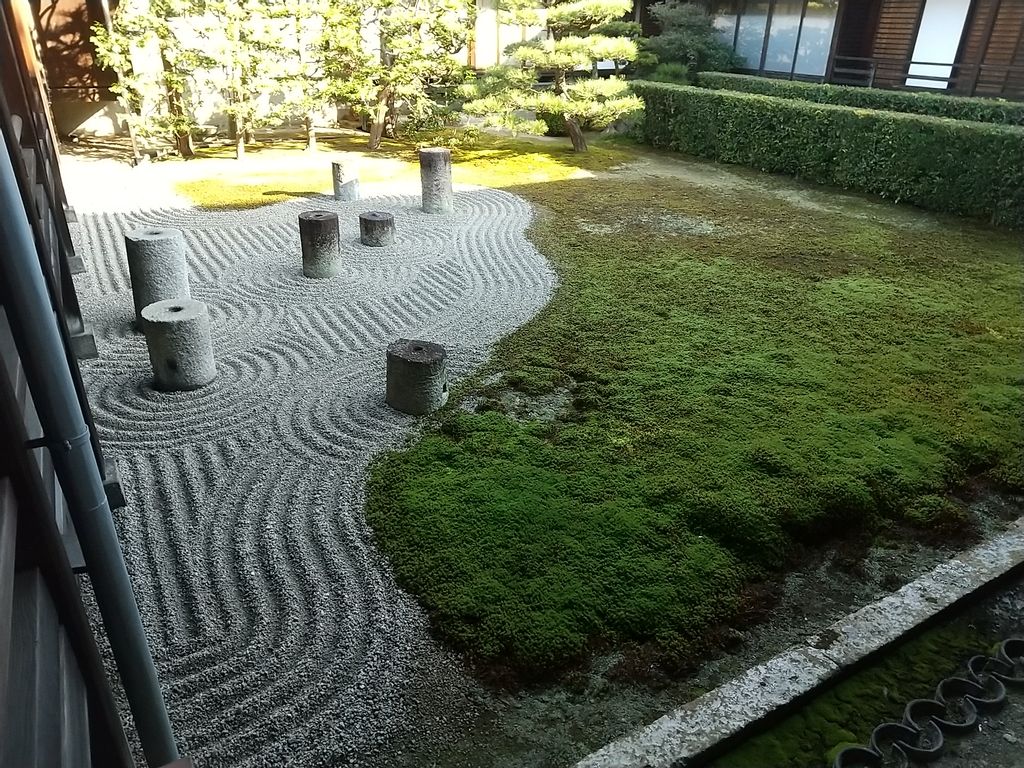 Tofukuji Temple is well known for those serenity Zen gardens. At Hojo, the head priest's former living place, you can enjoy four different kind of gardens. East Garden represents 'Big Dipper'. Seven cylindrical columns which express constellation were used as the foundation stones at the toilet of this temple long time ago.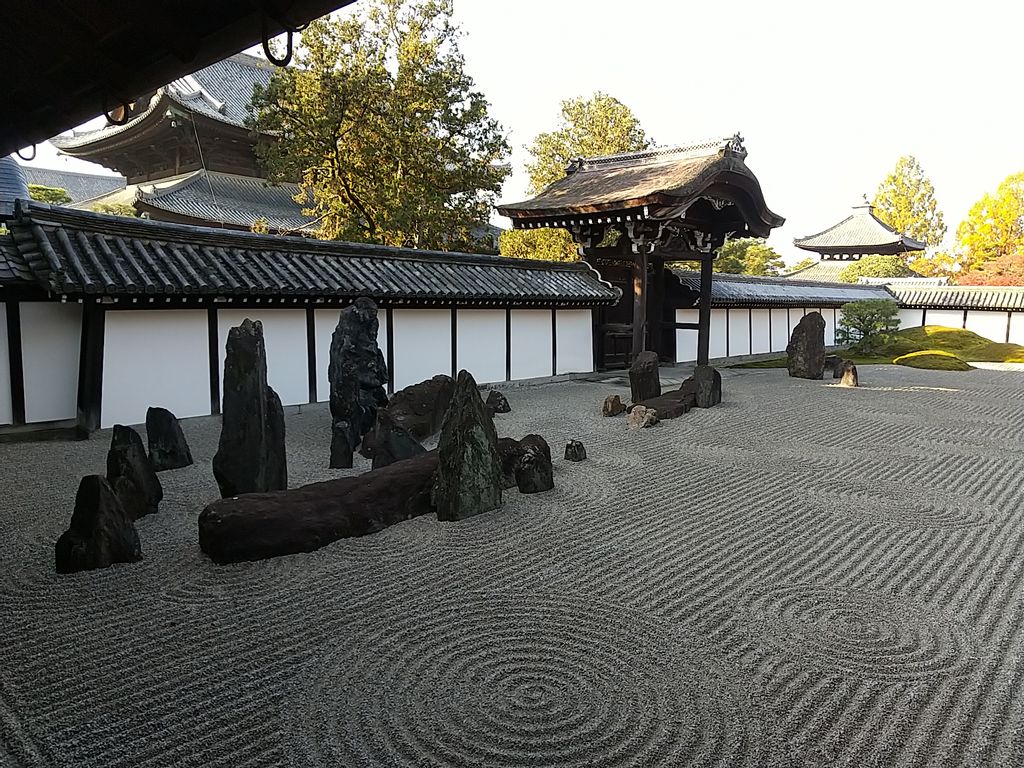 South Garden is the typical type of rock garden. White pebbles and rocks express the eight seas and islands where the supernatural being lives. At the very end of south of this garden, you can find 5 mountains made of moss. They symbolize Kyoto Gozan, five most important Rinzai temples of Kyoto.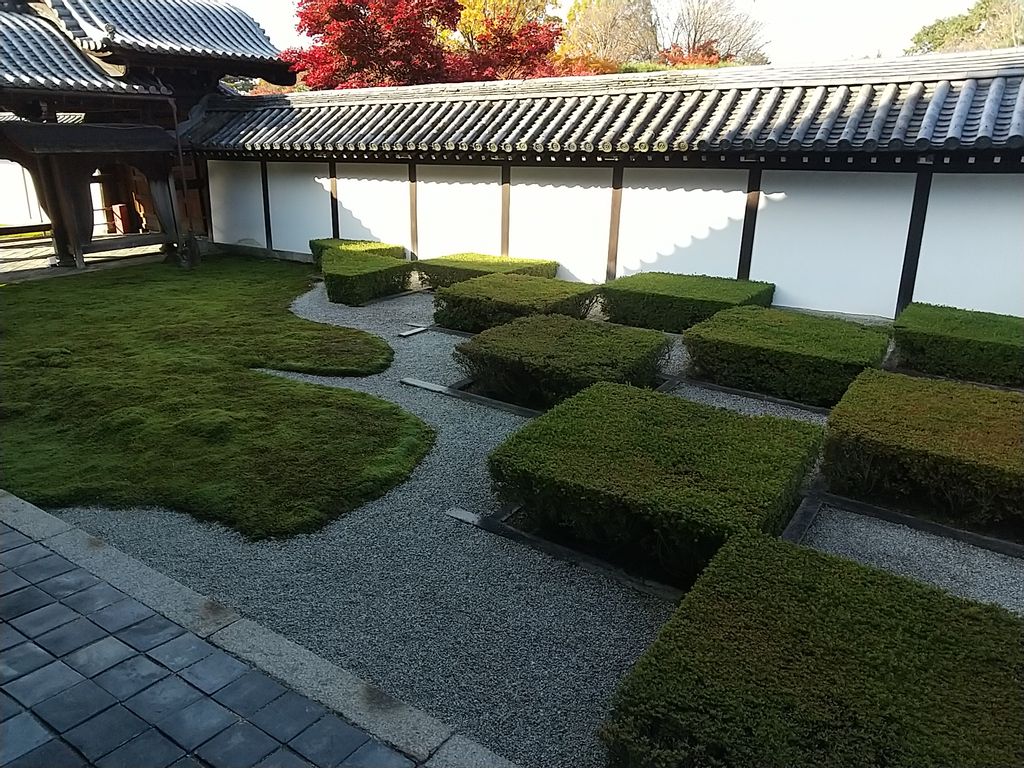 At West Garden, you can see checked pattern which comes from ancient Japan. Around May to June, you can see Satsuki Azalea (checked patterned places) turned into pink.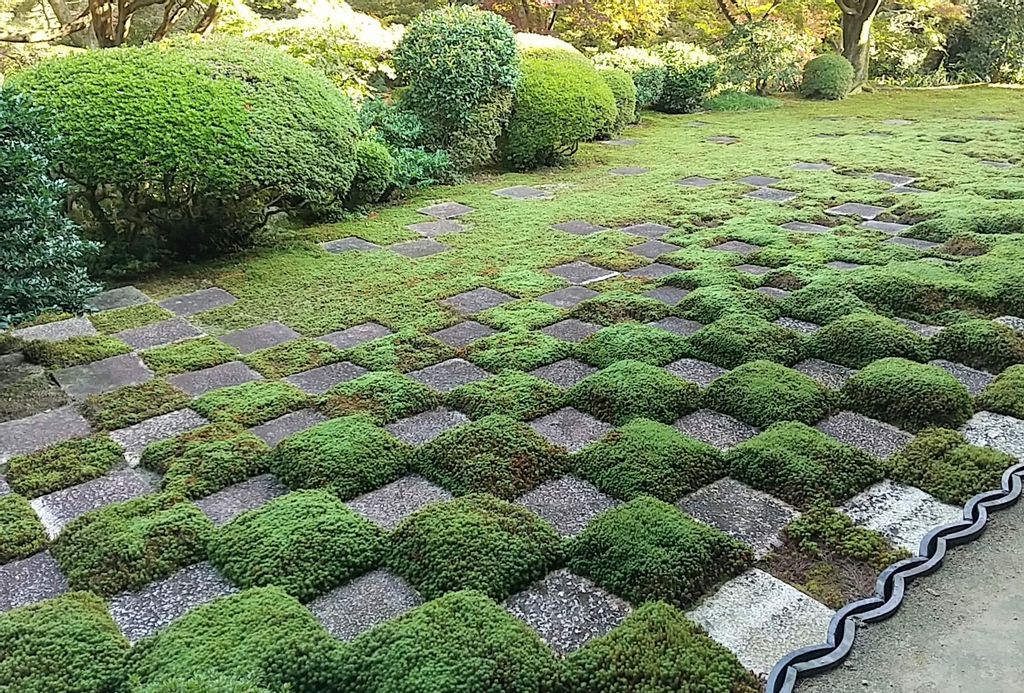 North Garden has been very popular these days. How cute checked pattern the garden has! You will find those patterns gradually fade out.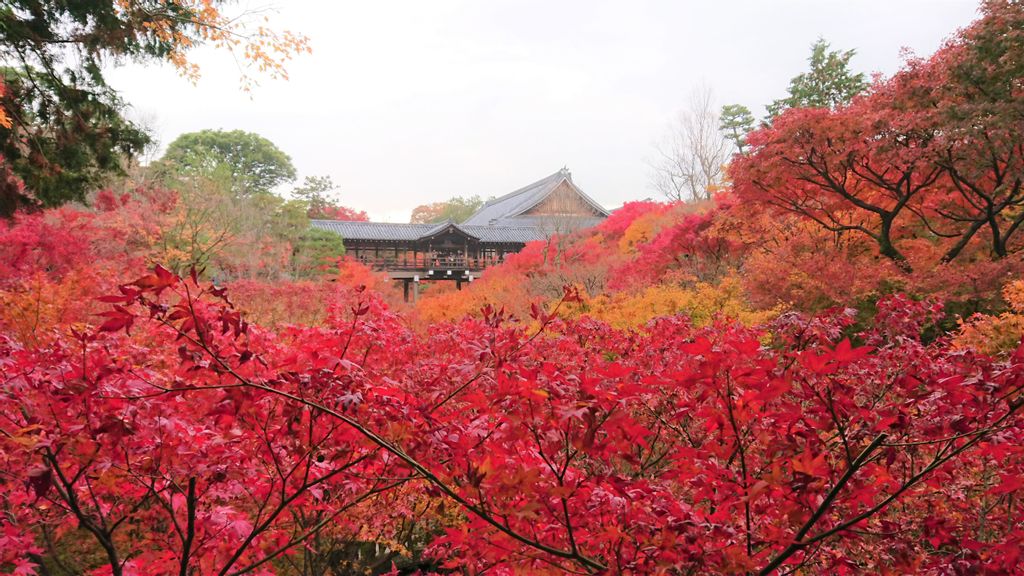 This temple has been so famous for its spectacular autumn colored maple leaves and so popular among Japanese people. This temple is usually quiet, however, during autumn when so many maple leaves turn into red, (around mid to late November), thousands of people visit here to enjoy its spectacular view. From 'Gaunkyo Bridge', you can see 'Tsutenkyo Bridge'. From here, you can enjoy the view for free. (Please visit here in the morning if you want to take good pictures. Sometimes when there are so many people on the bridge, you are not allowed to take pictures on the bridge.) (Tofukuji Temple opens its gate at 9 in the morning, however, it opens at 8:30 in November.)(You will go through 'Gaunkyo Bridge' before you go into the entrance gate.)
As you see, you can also enjoy wonderful green world in seasons other than autumn.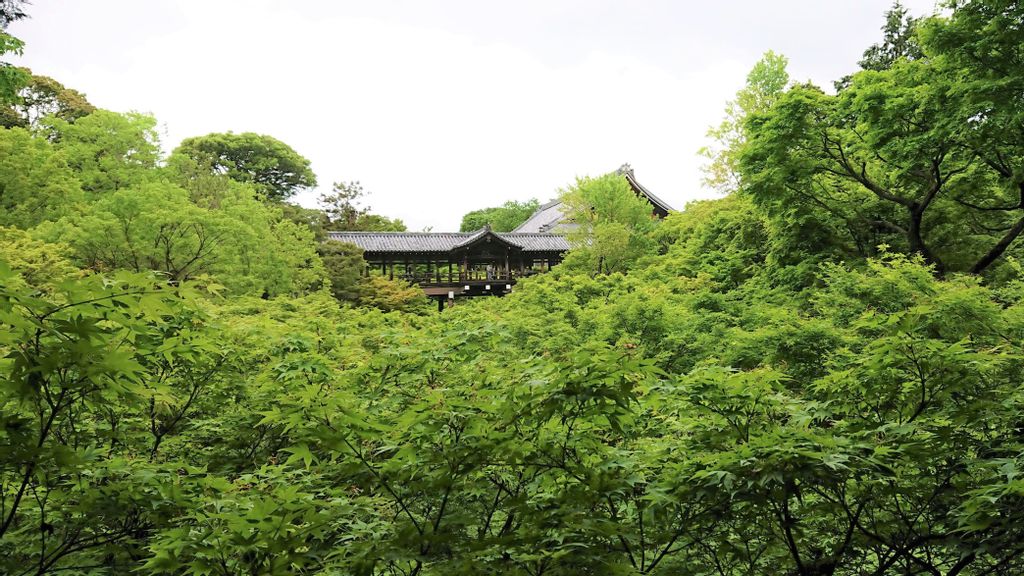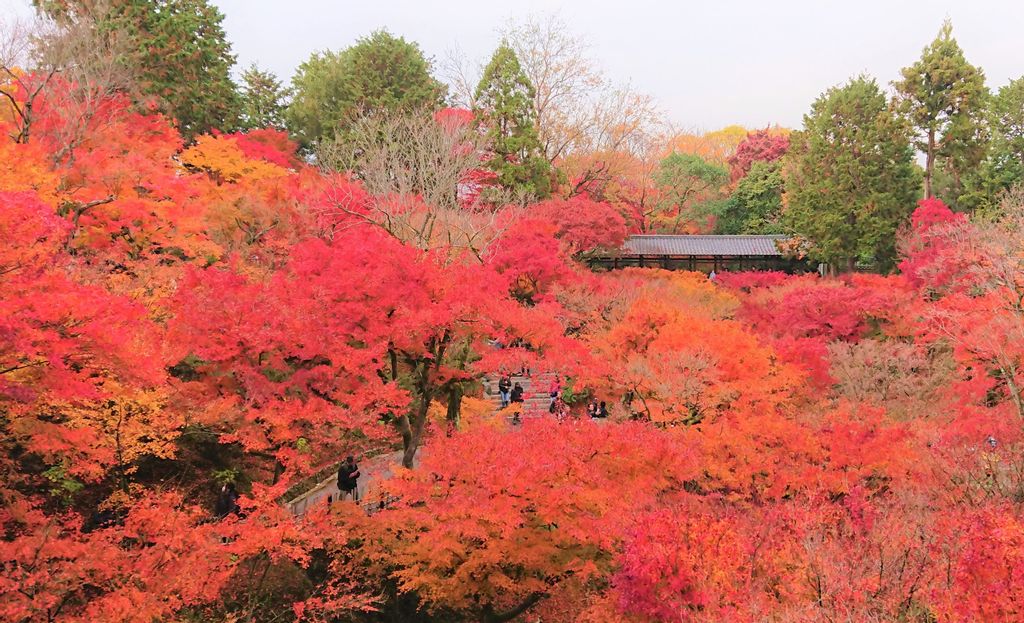 'Sengyokukan Valley' has about 2000 maple trees. On the 'Tsutenkyo Bridge', you will be amazed at such a marvelous view of red sea of clouds. (You can see 'Gaunkyo Bridge which you came through in the red sea of clouds.) (You have to pay to go into the area where 'Tsutenkyo Bridge' and 'Sengyokukan Valley' are.) You can enjoy walking around in the red world in 'Sengyokukan Valley'.
You can go to Tofukuji Temple easily by train from Kyoto Station (only 1 station from Kyoto Station). If you are interested in Zen gardens, you will have a good experience here. If you are lucky to visit Kyoto around November 15th~25th, I do recommend you to visit Tofukuji Temple. (During this period, you just follow the people from the station to the temple...) You will definitely make a superb memory.
You can visit Fushimi Inari Shrine which is close to Tofukuji Temple after visiting Tofukuji Temple in the morning. (I do recommend you to visit Tofukuji Temple in the morning before so many people visit the temple, especially in November. In other months, you had better visit Fushimi Inari Shrine first, and then, visit Tofukuji Temple.)
If you are interested in Fushimi Inari Shrine, please refer to my another blog, 'Fushimi Inari Shrine, marvelous vermilion torii gates!'
I hope you will make a precious memory in Kyoto which I love. If you are interested in the trip in Kyoto, please send me mails of inquiry. I will make a 'Very Special 1day Kyoto Tour just for You' !!
See you soon in Kyoto !!