The Tokyo Skytree is one of the symbols of Tokyo. It's a 634 meter structure built as a television broadcasting tower. It is the world's tallest tower and was also the second tallest structure in the world when it was completed in May 2012. There is a large shopping mall, called Tokyo Skytree Town, at the base of the tower and there's even an aquarium. There are two observation decks, one at 350 meters and the other 100 meters above it. Visiting this landmark is a great way to see Tokyo from above and also do some shopping for souvenirs.
How to get to Tokyo Skytree
Tokyo Skytree is located near Asakusa, another one of Tokyo's sightseeing spots, so visiting these two on the same day is a good idea. It's only about a 20 minute walk from Asakusa so you can take stroll from one place to the other easily.
The Tokyo Skytree Station on the Tobu Isesaki Line or Oshiage Station on the Hanzomon Line Subway, Asakusa Line Subway, Keisei Oshiage Line are the two stations that are connected to each end of the Tokyo Skytree Town shopping mall. So you can access the shopping mall and the tower without stepping outside. Alternatively, if you are coming directly from the airport, there is one bus per hour from Haneda Airport to Tokyo Skytree. It takes around 1 hour to get there and the fee is 920 yen.
Tokyo Skytree Ticket Fees
The fee for the Tokyo Skytree observatories are as below. You can buy a ticket for the lower observatory at the ticket booth at the entrance to the tower, and if you decide you want to also see the upper observatory, you can pay an additional fee at the ticket booth in the lower observatory. Or if you know from the beginning that you want to see both levels, you can buy a set ticket including the fee for both observatories.
On weekends in the peak season, there is a long line to buy tickets. Sometimes, you'll need to line up for about an hour, so make sure to delegate enough time in your schedule, just in case. If you can, going there on a weekday is probably better. You'll be able to enjoy the view with less people around.
Also, please be aware that the elevator to the observatory is stopped on days with strong winds, due to safety policies. And, if you go up to the observatory on a rainy or foggy day, the view can become obstructed by low lying clouds or fog. So, make sure it isn't a very windy day, and look up at the tower and make sure the top of the tower hasn't disappeared into the clouds before deciding to buy a ticket.
Lower Observatory
Adults: weekdays 2,100 yen / weekends and holidays 2,300 yen
12 to 17 year olds: weekdays 1,550 yen / weekends and holidays 1,650 yen
6 to 11 year olds: weekdays 950 yen / weekends and holidays 1,000 yen
Upper Observatory (additional to the lower observatory fee)
Adults: weekdays 1,000 yen / weekends and holidays 1,100 yen
12 to 17 year olds: weekdays 800 yen / weekends and holidays 900 yen
6 to 11 year olds: weekdays 500 yen / weekends and holidays 550 yen
Set ticket for both observatories
Adults: weekdays 3.100 yen / weekends and holidays 3,400 yen
12 to 17 year olds: weekdays 2,350 yen / weekends and holidays 2,550 yen
6 to 11 year olds: weekdays 1,450 yen / weekends and holidays 1,550 yen
Tokyo Skytree Business Hours
The best time to go to Tokyo Skytree is to go in the early morning to avoid the crowds. You'll be able to spend a quiet morning enjoying the view. However, if you want to see the day time view as well as the twinkling nightscape of Tokyo, I would recommend going around sunset and spending an hour or so seeing the sun set on the city's horizon and watch as night time creeps in. It's also not too crowded around this time as well.
Business hours: 8 am to 10 pm (last entry 9 pm)
Website: http://www.tokyo-skytree.jp/en/
Tokyo Skytree Restaurants
Skytree Cafe
There is a small cafe on the lower observatory deck where you can buy beverages, sandwiches, and sweets. There are only a limited amount of seats though, so you shouldn't count on being able to sit.
Business hours: 8 am to 9:45 pm (last order 9:15 pm)
Sky Restaurant Musashi (634)
This is a restaurant above the lower observatory, at an altitude of 345 meters. It's a high class restaurant and you cannot get here from the observatory. You have to take a special elevator from the bottom of the tower to get the restaurant entrance. You can make reservations from the official website or by calling. Lunch starts from a little over 6,000 yen per person and dinner is around 20,000 yen per person. Enjoy Tokyo style French cuisine with an amazing view. It's a great place to go on a special occasion.
Business Hours
Lunch: 12 pm to 4 pm (from 11:30 am on weekends and holidays)
Dinner: 5:30 pm to 11 pm
Website: https://restaurant.tokyo-skytree.jp/english/
There are also many restaurants in the shopping mall below, Tokyo Skytree Town. They tend to be crowded during lunch and dinner time, but that's to be expected. If you try to go a little before or a little after lunch time, you won't have to wait in a line to be seated. There are many types of Japanese food being offered in the restaurants, so it could be a good opportunity to try some.
Sumida Aquarium
As mentioned at the start of this blog, there is an aquarium at the bottom of Tokyo Skytree. So, it's a fun place to spend the day for the whole family. The Sumida Aquarium is known for their penguin exhibit. Unlike other aquariums where you look at the penguins from one side only, this exhibit is located in the middle of a large room so you can watch the penguins from different angles. It's especially fun to watch the staff feeding the penguins by calling each one's name. This is a place your kids will definitely enjoy. It's also a great place to cool down after a day of sightseeing around Tokyo under the hot summer sun.
Tickets
Adults: 2,050 yen
High school students: 1,500 yen
Junior High and Elementary school students: 1,000 yen
Children 3 years old and above: 600 yen
Business hours: 9 am to 9 pm (last entry 8 pm)
Website: https://www.sumida-aquarium.com/en/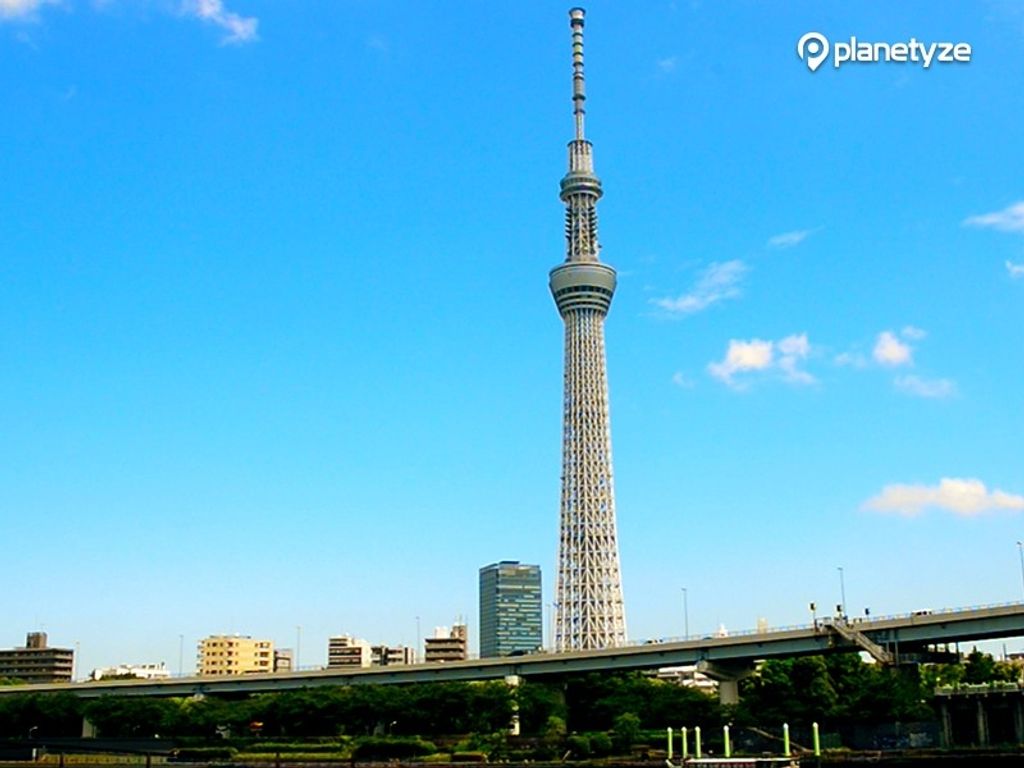 Tokyo is a big city where you can spend days on end, wandering around and seeing the sights. Instead of aimlessly walking the streets, take a tour with a local guide and make the experience even more interesting. They'll take you to the best sightseeing spots or even to places not on the beaten path. Learn about the history, culture, traditions of this city and enjoy the dialogue with the guide that you wouldn't be able to have with a travel guide book.
The guides at TripleLights create their own unique tours. So you'll find all kinds of tours to discover more about Tokyo. You can also communicate directly with the guide to ask questions or convey requests, for example the length of a tour, before actually booking a tour.
Also, if you don't find the tour you were hoping for, you can request a tour for however long you'd like, listing what you'd like to see or eat, etc. All of the guides will be able to see requests like this and the guides that are available during the requested date will recommend a tour itinerary just for you. So you can compare what several guides suggest before deciding on a tour. This way you can create your own customized tour.
If you're wondering about what kind of guide you'll be hiring, you can take a look at the guides' profile videos to see what kind of person they are and also see the reviews they got from other customers. This is a unique aspect of the Triplelights service. At most places, you can choose your tour but you can't choose your guide or see what they look or sound like before the day of the tour. But at Triplelights, having customers choose their own tour and guide ensures that everyone enjoys their Tokyo experience.
Most of the tours are walking tours, created so that you can use the public transportation system while sightseeing and get a feel for the city. This experience will probably give you some confidence on using the trains by yourself later on. It's a complex train and subway system covering the whole city, so it could prove to be a little overwhelming if you try it on your own from the start.
For people who don't want to use the public transportation system, there is also the option of hiring a private car and driver for your tour or just to get around. This is an option which people with disabilities or elderly people who aren't able to walk for hours on end find to be helpful. Catching a taxi is also a good way to get around, but sometimes it's not easy to find one and you may need to line up for a long time at the taxi stand, especially in bad weather. So having a car just for yourselves is very convenient.
Take a look at our marketplace of guides and tours and make your Tokyo experience an even more amazing one.