A lot of people have already heard of the fabulous Japanese cherry blossoms in the spring. You might see hordes of people doing hanami (cherry blossom viewing) in various outdoor areas at that time of the year.

But did you know that we also have winter cherry blossoms?
Miura Kaigan
Miura Kaigan has the most glorious early-blooming cherry blossoms in the wider Tokyo area. ("Kaigan" is the Japanese word for "beach". This area is really Miura Beach in English.)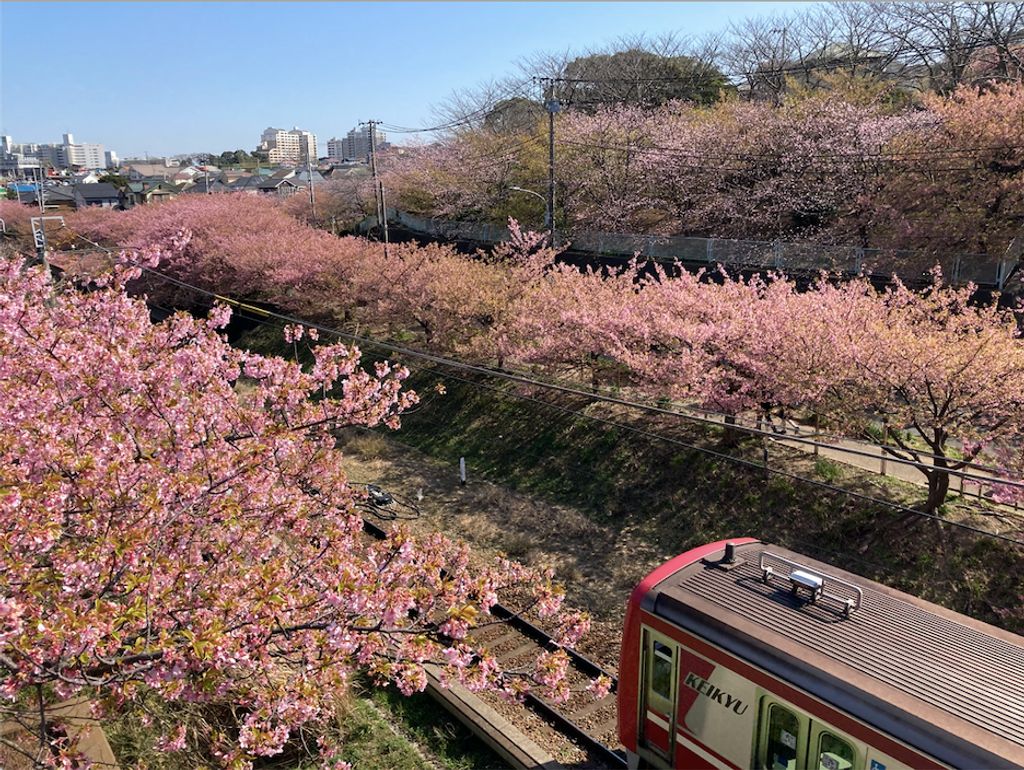 Miura Kaigan - 21 Feb, 2021
Imagine being on that train (see pic) surrounded by the cherry blossoms in full bloom! These are the Kawazu Zakura cherry blossoms. Winter cherry blossoms generally last slightly longer than the regular spring ones. Miura Kaigan is bathed in this sea of pink from mid to late February.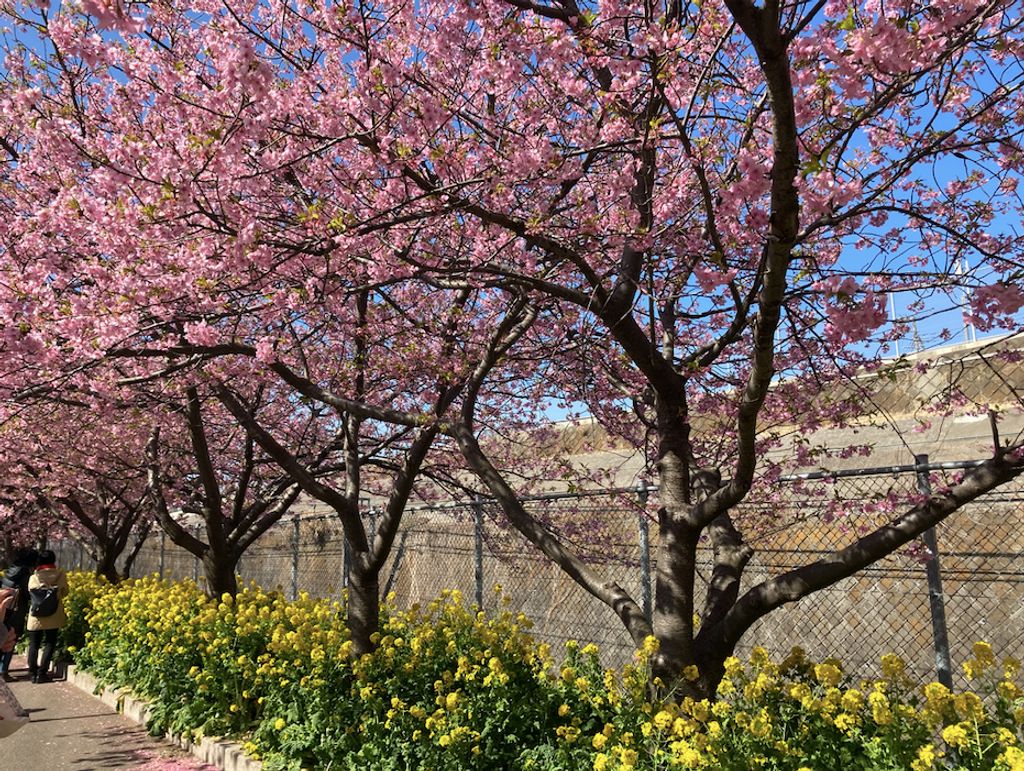 Miura Kaigan - 21 Feb, 2021
Take a relaxing walk on the tree-lined paths. We can hear the joyful sound of birds chirping while admiring the cherry blossoms. Add to that the invigorating ocean breeze and you have a perfect day in nature!
It looks like a completely different world from the hustle and bustle of Central Tokyo, which is only 75 minutes away by train.
Ofuna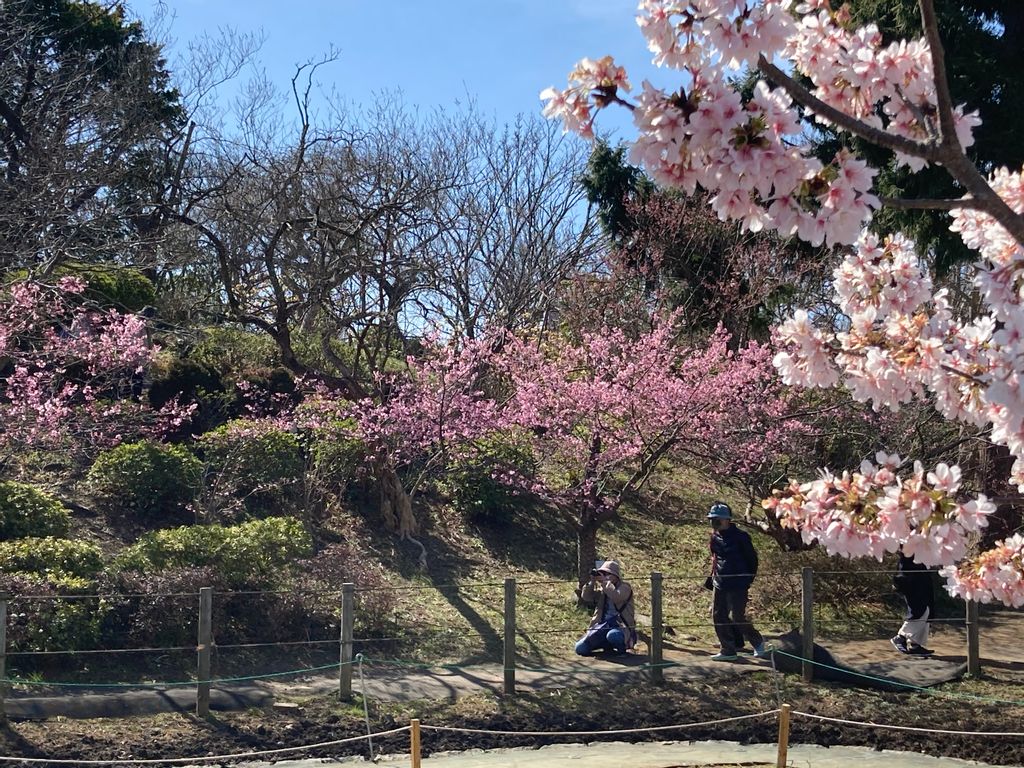 Tamanawa zakura look like pretty pink balls - 28 Feb 2021
Ofuna Flower Park has several different varieties of cherry blossoms. The ones in the picture are called Tamanawa Zakura. It's a hybrid cherry from Kamakura. Forty of these are the early-blooming varieties which blossom in early February. This is also when the Japanese plum blossoms (ume) are in full bloom. You can enjoy them both at the same time! They look similar but aren't really the same. Come and see if you can tell the difference!
Ofuna is only about 40 minutes from Tokyo via the JR train. The park itself is very close to Kamakura. You can make it a day and see the Zen temples in Kamakura while you're in the area.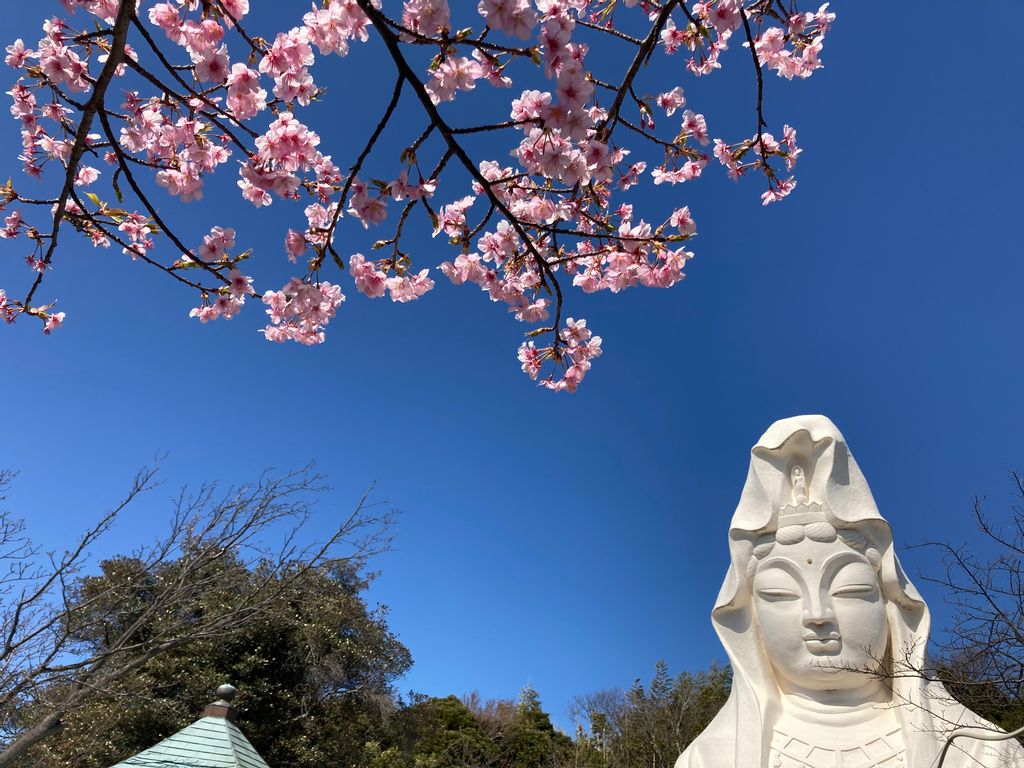 The Ofuna Kannon Buddha is a 10-minute walk from the flower park - 28 Feb 2021
Central Tokyo
Don't have enough time? Odaiba in Central Tokyo has about 20 cherry trees lining the street.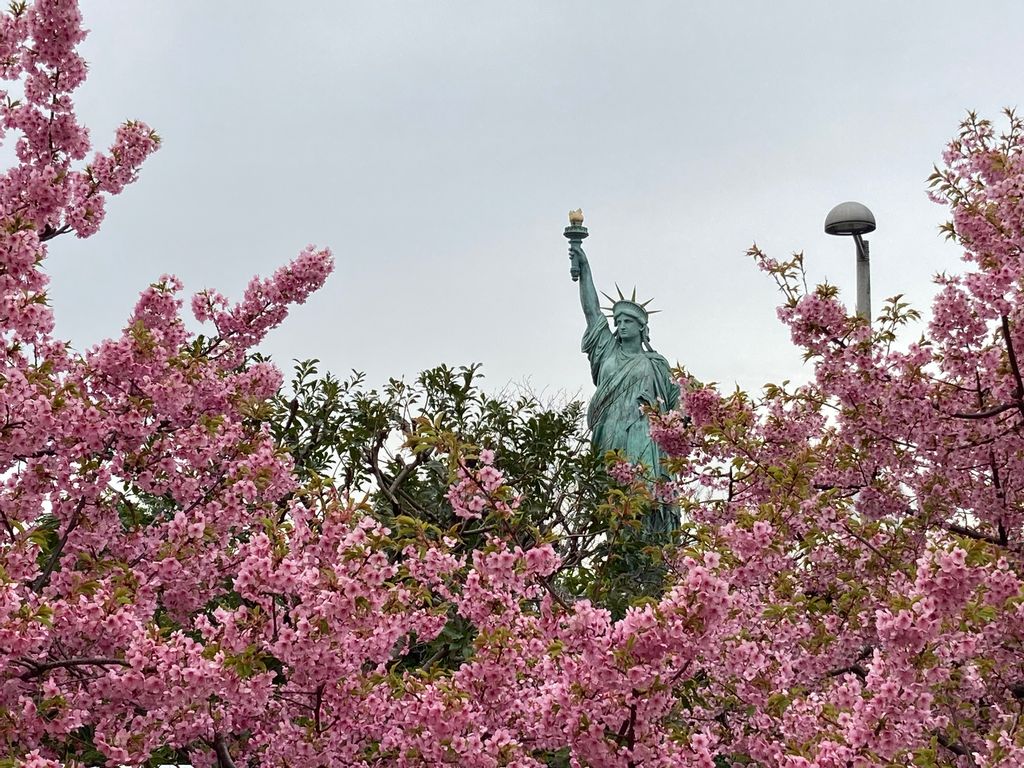 Lady Liberty in Odaiba looks more beautiful in the midst of all this pink - 24 Feb 2021
Several large parks in Tokyo are also known for winter cherry blossoms. The early birds start blooming in December.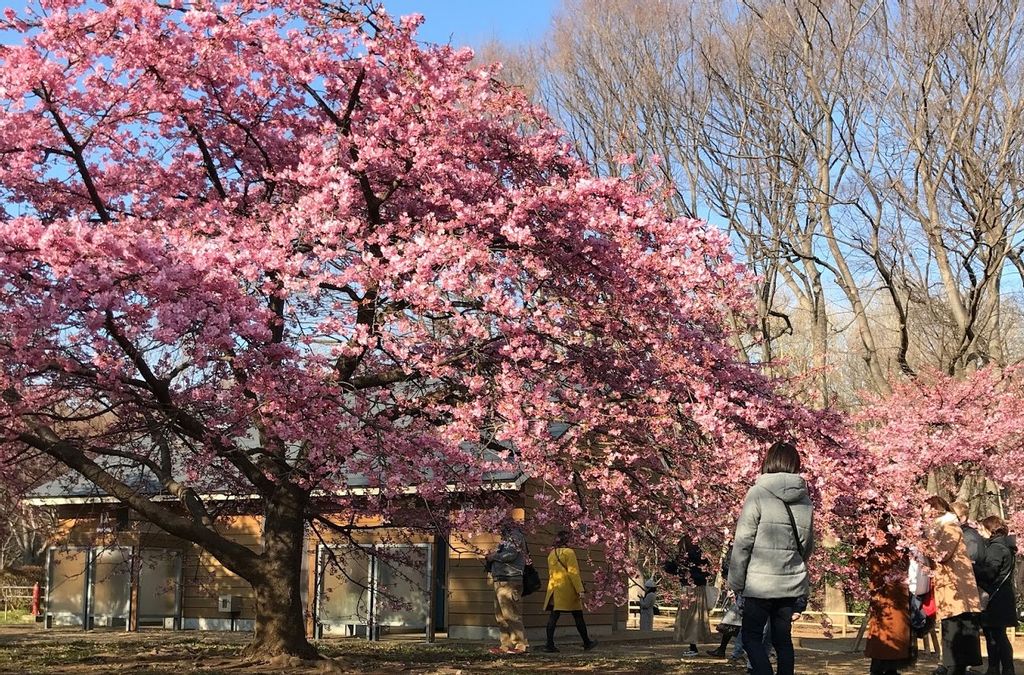 Yoyogi Park has 10 Kawazu zakura trees - 23 Feb 2020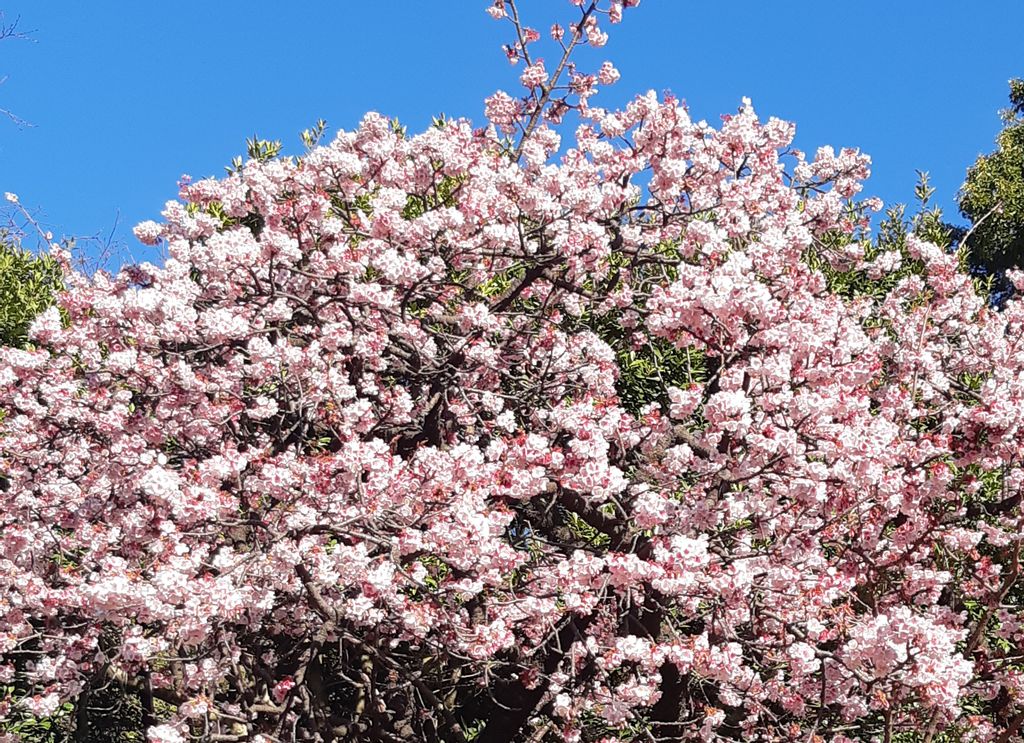 Ueno Park has several of the Hikan zakura variety, some of which bloom in December. - 9 Feb 2021
Hope to show you the winter cherry blossoms soon.
Until then, let's have fun planning our trip!


LINKS:
Odaiba info: STAYCATION AT ODAIBA (also features TOYOSU) | GoWithGuide
Kamakura info:Kamakura, Your Way - Kamakura Private Tours | GoWithGuide
Ueno info: Ueno & Yanaka - Half Day, 4hrs - Daytime or Evening - Tokyo Private Tours | GoWithGuide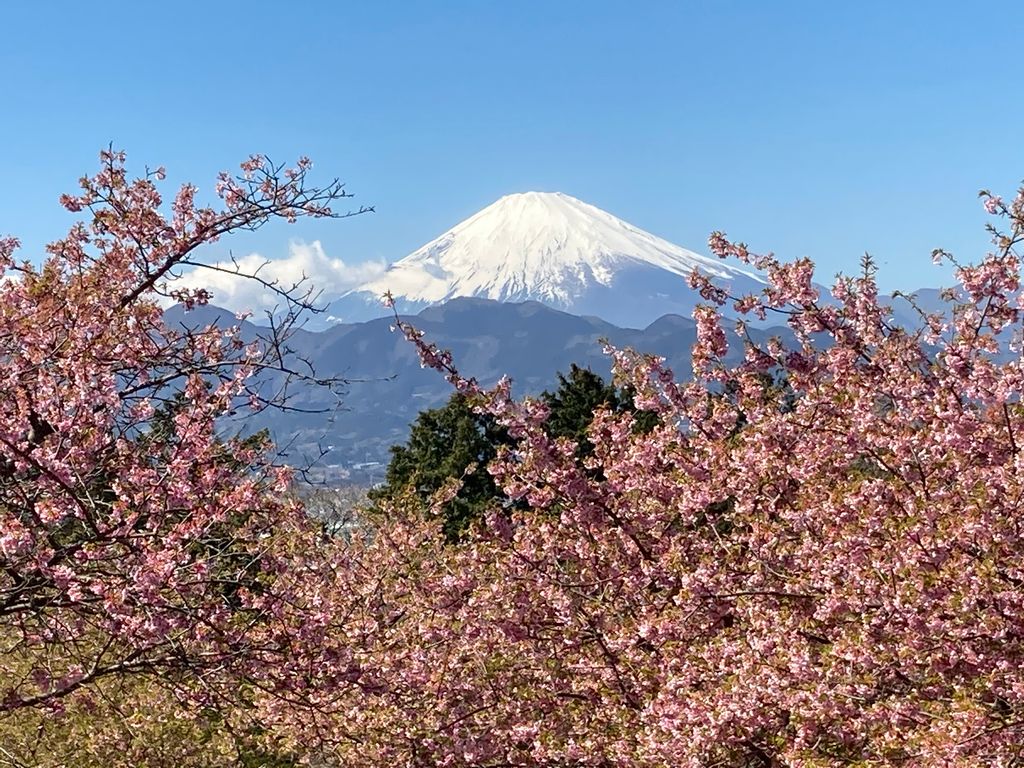 Bonus pic of Mt Fuji from Oi Yumenosato, 2-hr drive from Tokyo.Note the early-blooming Kawazu zakura in the foreground.
- 3 March 2021