What is street art? What is the difference between street art and graffiti? According to Difference Between Net, an online dictionary, the biggest difference between street art and graffiti is that graffiti is illegal. Graffiti artists sneak out at night to avoid getting caught while they paint on walls. On the other hand, street art is approved by authorities. Street artists are often commissioned in order to beautify drab areas of the town or city. In my opinion, for something to be called street art, it should convey a message, making it relevant to the society.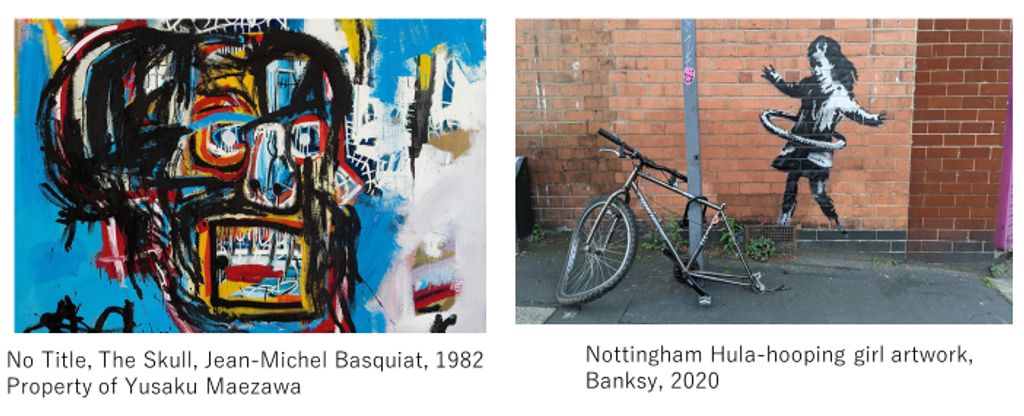 In the US, wall art started in 1960 and was done mainly through the use of color aerosol sprays or felt pens. Most of them were in the form of graffiti showcasing random words with intricate designs, but some had artistic value. One of them is Jean-Michel Basquiat, an American artist of Haitian and Puertorican descent. Recurring themes of his artworks include the opposing realities of wealth and poverty, integration and segregation and inner versus outer experience. Emerging from the Lower East Side of Manhattan, his neo-expressionist paintings were exhibited in galleries and museums around the world by the early 1980s. One of them is "No Title: The Skull". The head is filled with Basquiat's signature graffiti style that gives the spectator an impression that there are forms and figures on the face. However, on a closer look, the face is a smorgasbord of abstract lines and shapes.
Meanwhile, Banksy is an anonymous England-based street artist, political activist, and film director. His messages are sometimes cynical and critical. For example, recently, he confirmed a piece of art that appeared in Nottingham as his. His works feature socio-political commentaries toward an irrational society. One of his works shows a girl hula-hooping with a bicycle tire. The bicycle is tied up to a pole and is missing its rear tire. This piece, which is found outside a beauty salon, went up a week later. Perhaps that is the message: "We are in difficult times, so let's try to make the most of it and get some fun out of something which is broken." The reason I like his work is because pieces like this incite people to reflect on what is happening around them and take action.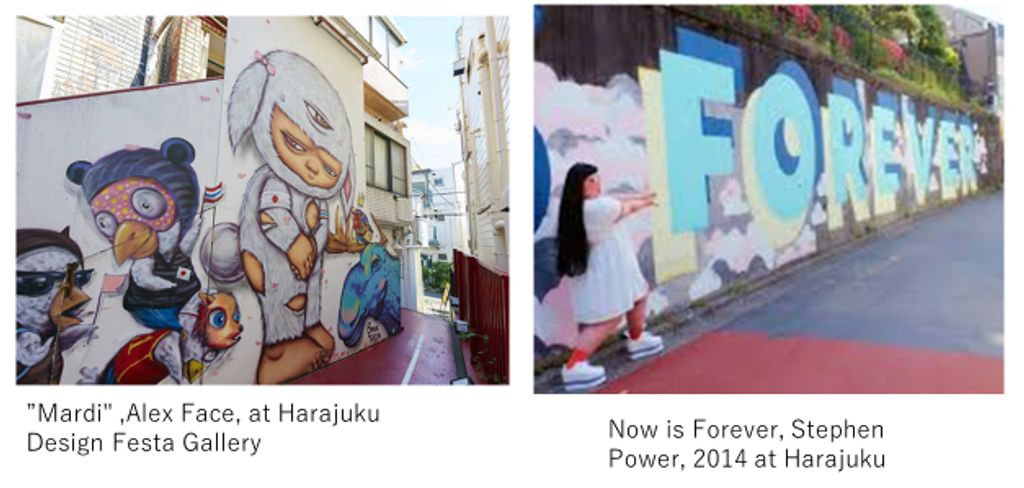 In Japan, street art is yet to become mainstream. Maybe this is because most Japanese are not so interested in graffiti because Japanese culture values keeping the environment clean. Also, most of the time, graffiti artists are commissioned by business owners, so their works barely have any artistic value.
However, there are several street artworks in Harajuku. For example, you can find Alex Face's Mardi on the Harajuku Design Festa's wall. The character is called 'Mardi', a huge cartoon bunny rabbit with a child's face. Much like Banksy in the West, Alex Face also addresses deep political issues and Mardi is a prime example of this. It depicts a weary society that is at the same time mired in adversity.
There was another street art in Harajuku called "Now is Forever" which was made by an American Graffiti artist, Stephen Power. This painting used to be a famous spot for Intagrammers, but it was destroyed due to the construction of a new building. Other famous tags include the HUG piece opposite Takeshita Street, the HOLE mural on Cat Street, the graffiti at the entrance of the Sakura-Tei Bamboo Garden, and the Heart Wall. I admit that these works are fit for Instagram enthusiasts, but sadly I cannot find any discernible message in them.
I like Banksy the best. All of his works are humorous, but they are also deep, giving us a unique perspective of socio-political issues that many of us might have overlooked.
Unfortunately, these street artworks in Japan are not permanent, just like what happened to Power's "Now is Forever". Also, this fall, the Toyoko Department commissioned 7 artists to paint their wall before destroying the building to put up a new one. Another point to ponder is that street art in Japan has not yet been recognized as an official art form because they lack critical messages which appeal to people's heart.
If you plan to visit Tokyo, it would be my great pleasure to guide you. I will explain to you Street Art further. My tour website is https://triplelights.com/profile/3624