I visited Hakone on Nov. 26th with my guests from Philippin. We enjoyed the speed of Shinkansen at Odawara station as usual but we were scolded by a station employee not to lean to the wall, not to use a Camera stand. So be careful to avoid these things if you want to take a movie of this moment. Do not use phone cameras as the movement of Shinkansen is too fast for them. We took a bus from Odawara station but the road was very crowded as it was the last week end for the autumn color. So I decided to give up the bus and changed to the train from the next station. But we saw a long line of people waiting for the cable car from Gora. We spent our time by taking lunch and enjoy tea ceremony at a park until the crowd may end.
We enjoyed the view at Owakudani from the ropeway, without waiting so long.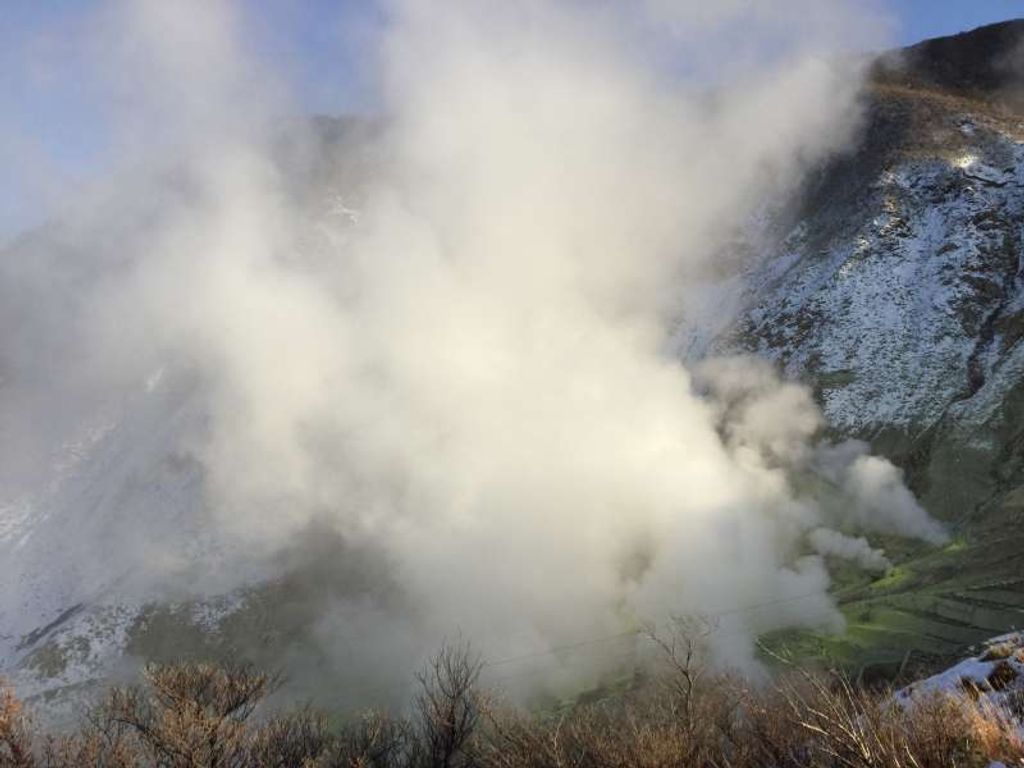 But we had to wait for about 30 min. to get the other ropeway from Owakudani but the view of Mt Fuji from the ropeway was spectacular! Like the Japanese paintings by Taikan Yokoyama.
Unfortunately, we missed one pirate ship by 5 min even though my guests ran down the stirs to catch the ship. It is very rare for Phippino to run. I always asked them to move quick to get seats or nice place. We took the last ship at 17:00 from Togendai port in dark and arrived at Odawara around 20:00. My gusts learned to move quickly during this tour.
It was so late and we decided to have a dinner before taking a train to Shinjuku at Odawara. Since it was Saturday, most of the restaurant s at Odawara were crowded with people for drinking. We were very lucky to find a place where we can use Karaoke for free. We enjoy singing and food too much so that we arrived at Shinjuku at 23:00. I took my guest to their hotel and tried to go home in Yokohama. I found that I missed the last train home. I decided to stay in Shinjuku as I have one more tour for them. Again I was very fortunate to find a inexpensive hotel without any reservation. I asked my guests to pay me an extra fee of 10,000 for the day. It was very difficult and long day but I appliciated the cooporation of my guests and the decisions I made during the tour.