Five story Pagoda (Michelin ★★)
If you think something wrong with a pagoda in a shrine, you know about Japanese religion well. That's right, a pagoda is a tower to store the ashes of Buddha's bone, formaly at least. This related to the movement in Meiji period to separate Shinto shrines from Buddhist temples. Dewa Sanzan was first opend as a Buddhist temple in 593 when Japan was barely estaburished as a nation. During Edo period, this temple had very strong political power when the five story pagoda was built. There was a shrine in the same area which was very common in those days in Japan. But in Meiji period, Buddhist temples including this temple were forced to become Shinto shrines due to the power of Emperor and many Buddhist statues were destroyed. It was very fortunate that the five story pagoda was not destroyed.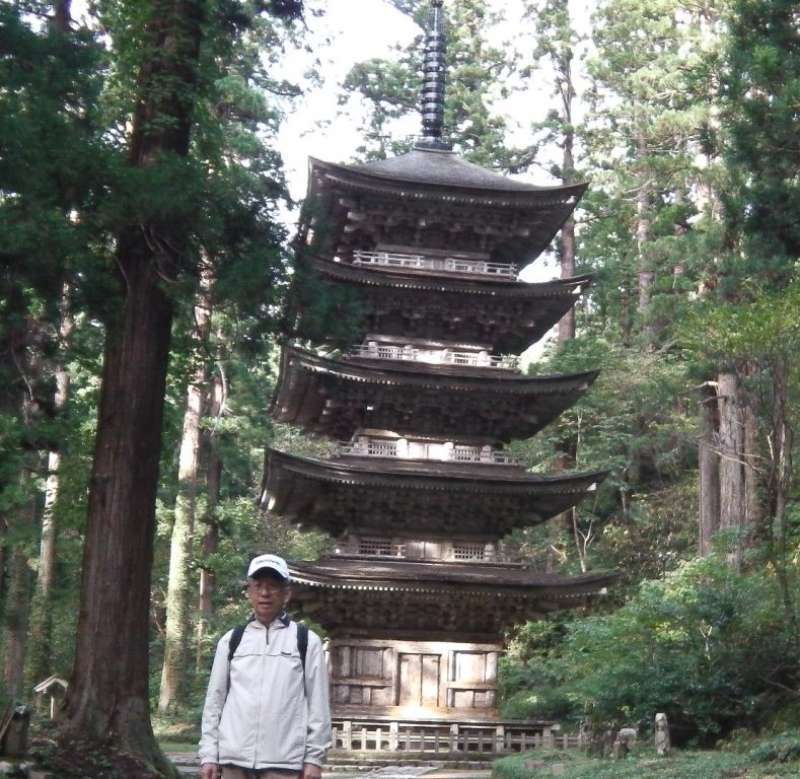 Long slope of steps toward the main shrines (Michelin ★★★)
We went to this shrines on Oct. 21st, 2016. We walked in a forest from the entrance gate of this shrine for 1 hour and 30 min. until we arrived at the main shrines area. There are so many steps for 2 km long, they may be more than 4000 steps. There are several buildings we thought we arrived at last but it was not the one. There is an easy short cut by a car but you will miss the pagoda and it is the purpose of visiting a shrine to walk from the entrance to the main area to find yourself.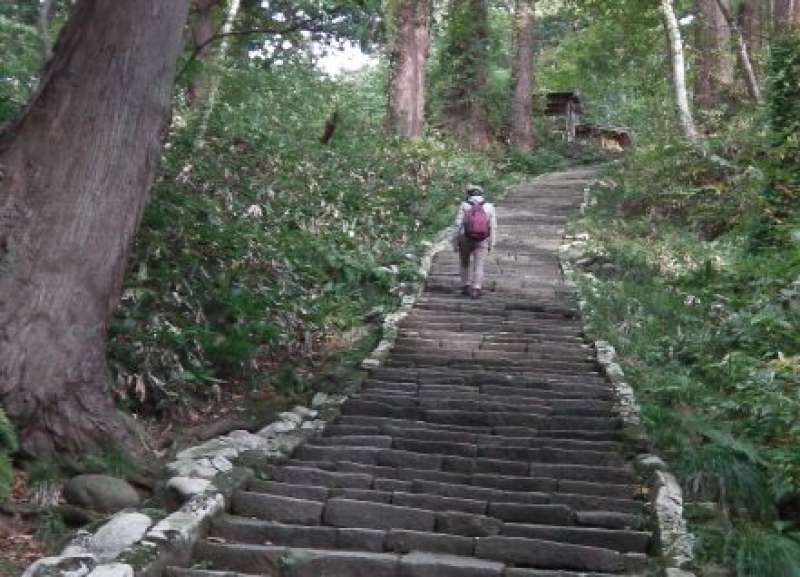 The main shrines of Dewa three sacrid mountains
We arrived at the main area of the shrines. The three mountains are Mt. Haguro, Mt. Gassan and Mt. Yudono meaning "Black feather, Moon mountain and Bath mountain ". The last one is very unique and I will report separately later. Other than the three, there are small sanctuaries of all of Japanese shrines I know of, it's like a sanctuary of sancuaries.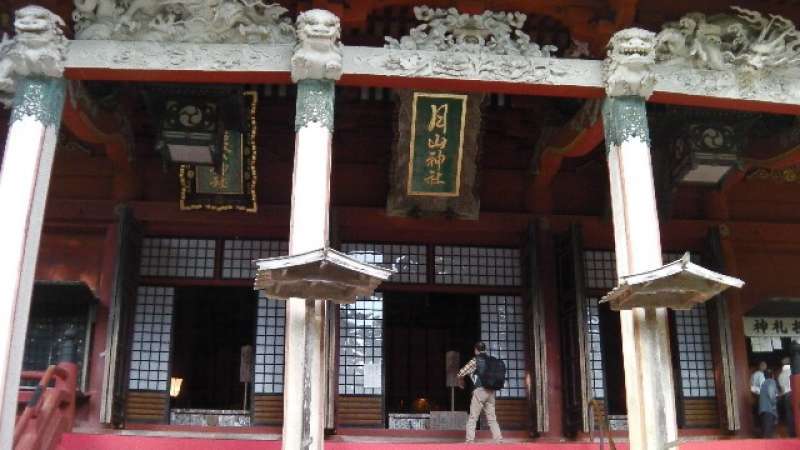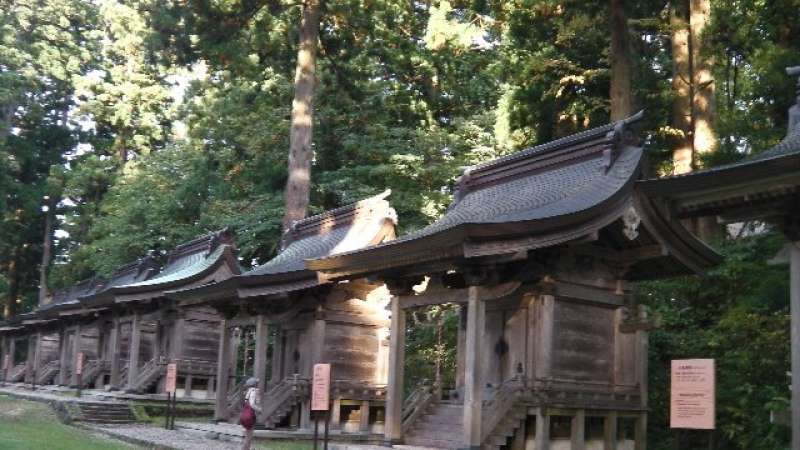 Staying at Shukubou, a lodge for ascetic people
There are many Shukubou near the entrance of the shrine. We stayed one of them which was very confortable and interesting place.
We enjoyed delicious dinner called "Shojin cuisine" composed of wild plants ,vegetables and fish. We attended in the morning ceremony of Shinto performed by the master of the lodge who is a ascetic person.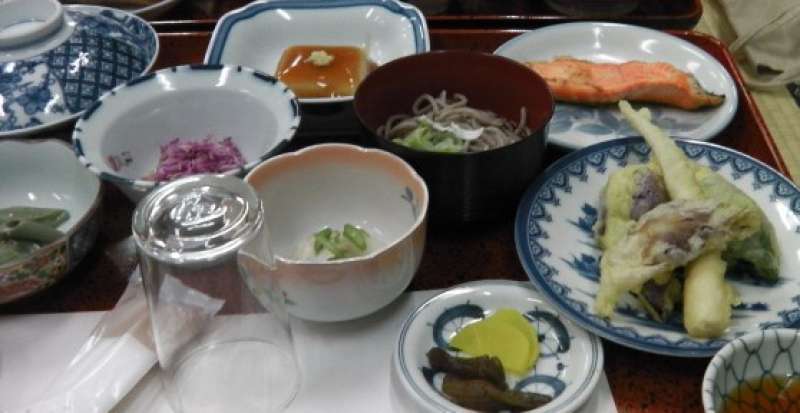 It takes about 5 hours from Tokyo to the shrine either by Shinkansen or an airplane. Its location is shown as Mt. haguro in the map of Japan below. If you want to visit here, I can arrange a 2 day tour from Tokyo: Two day exploration of Dewa Three Mountain Shrine from Tokyo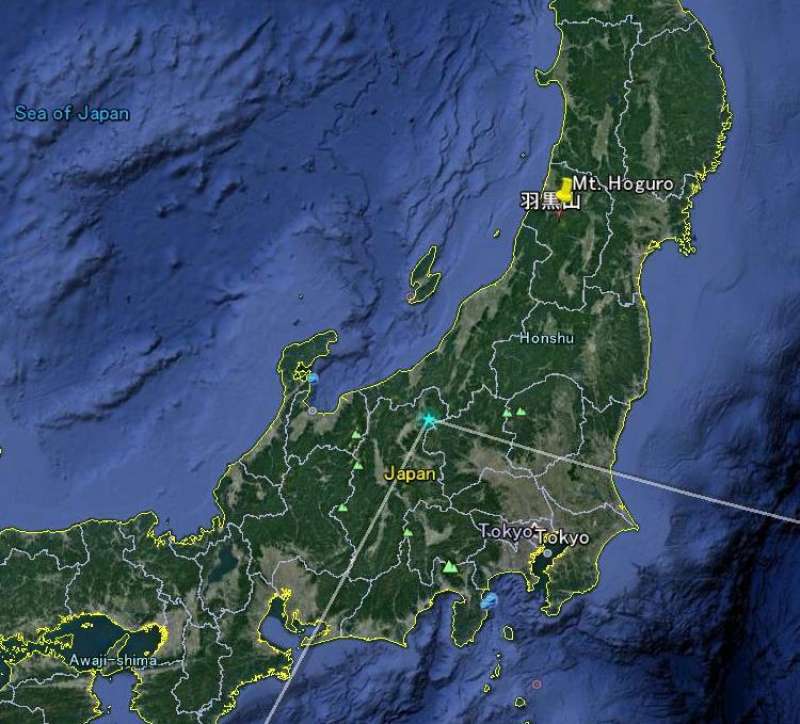 Did you like my article?
You can send me a message to get a customized itinerary and quotation for an unforgettable experience. Let's explore Japan Together.
I'll be waiting for you, so please check my profile and get your trip plan now