It would be a wonderful souvenir if you'd be able to sing a Japanese song just like the Japanese.
I've often heard Japanese office workers saying they'd like to sing a song well in Karaoke. Actually to sing songs happily with their colleagues after working hours could help get along with them in Japan. One of my friends who used to be a professional singer teaches people how to sing a song beautifully. I knew that she has been doing it and getting good reputations about it. She believes there's no one who can be called "tone-deaf". She's always telling me that a person who can't sing on key is just not be able to hear his / her own voice. She teaches people how to listen to their own voice. And she makes an original lyric card for them that shows which part should be stressed or how softly you should sing in a certain part of the song and so on.
But I was too busy to experience her lessons and just didn't think I need such lessons because I thought I can sing at least like others do.
The day when my perception changes came at last.
My friend, Bekki has been in Japan for ten months as an English teacher at a language school. She was going back home and wanted to surprise her friends and family by singing a Japanese song. But the problem was that she didn't know any Japanese songs and couldn't read the Japanese lyrics displayed on the video screen at Karaoke. Then I came up ta great idea of asking that friend to give her a lesson. Bekki was willing to take the Karaoke lesson. The lesson fee is 5,000 JPY for three hours, which includes a small present the teacher gives especially for a foreign guest. The teacher made the lyric card as soon as Bekki chose a song. As Bekki didn't know any Japanese songs, the teacher helped her choose a song by sending her three songs on YouTube. Bekki chose a relatively slow number, "Anata", which was a hit song in 1970s. The lyric card Bekki was given was written in Roman letters. There's no note on it, but several marks were written on it and those Roman letters were colored so that she could easily know where to breathe and how to sing.
Here's live coverage of the Karaoke Lesson.
First, Bekki learns a proper posture. I translate what the teacher says. "Stomach in! Chest up! Shoulders back!!" (Wow! That seems to help stay in good physical shape.)
In Karaoke, you can drink soft drinks as much as you like. OK! I'll bring some drinks for you.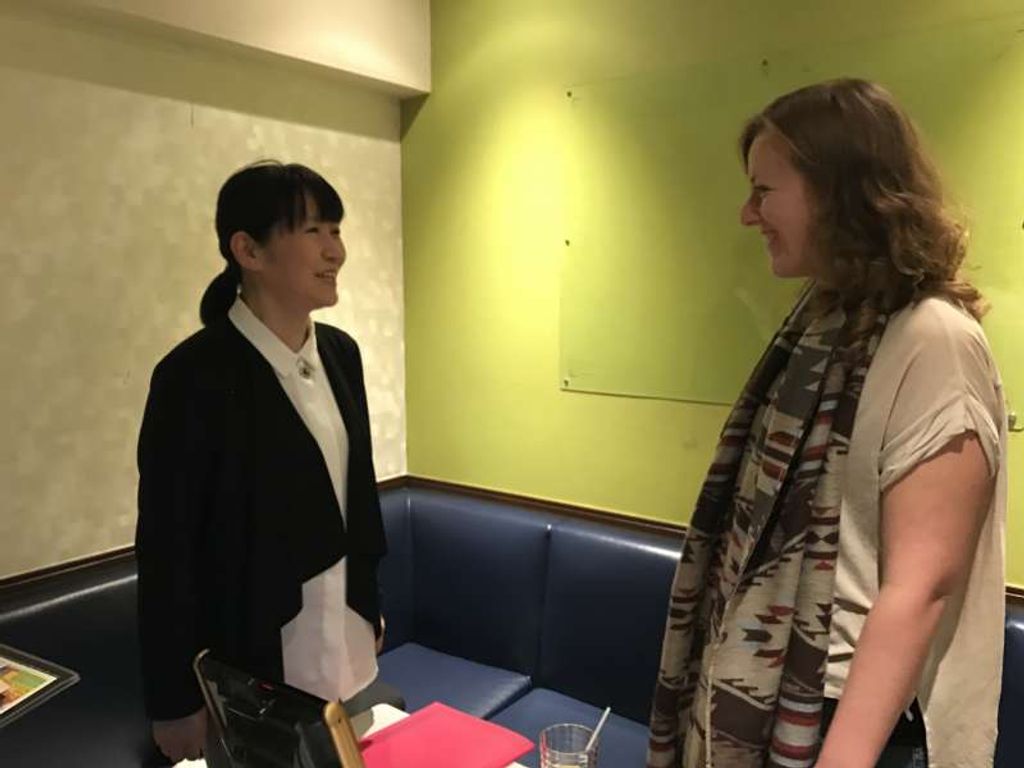 After listening the melody several times, Bekki starts singing the song with the teacher.
Ummm… it may be too difficult for a foreign person to sing a Japanese song. This is normal because she usually doesn't speak Japanese at all. She continues to sing again and again. Gradually she can sing it all alone.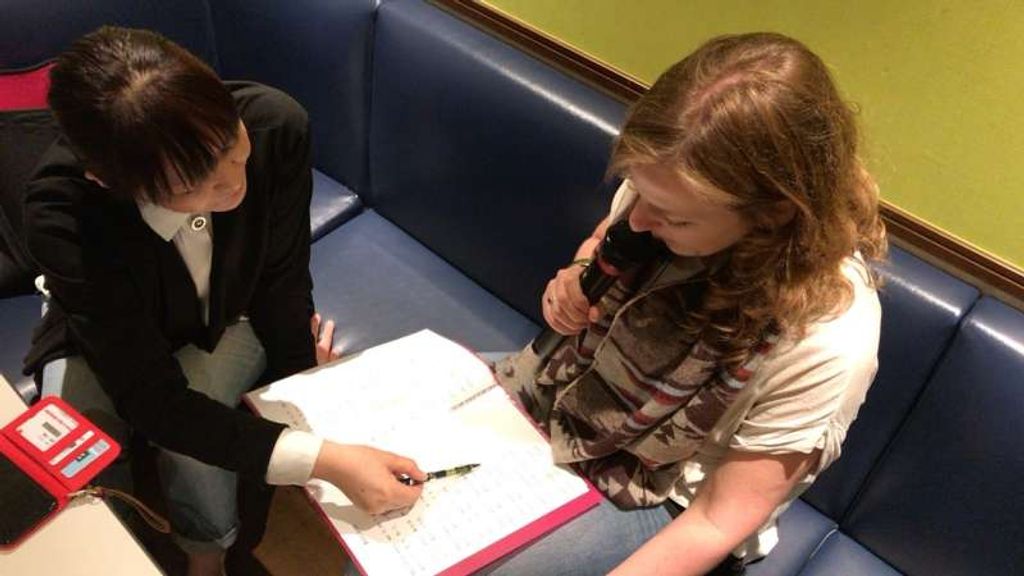 Hey! I must say that you are a completely different person now, Bekki. Amazing!! I'd like you to sing this song when the Japanese have a Karaoke Party. They must be surprised to know a foreign girl who doesn't speak Japanese can sing a Japanese song perfectly. I'm so proud of you. Now you got a very good souvenir of Japan.
After the Karaoke lesson, Bekki learned how to write her name in Japanese. The teacher is actually a master of calligraphy too and often submits her work to the exhibition. She made a name seal, hanko for Bekki and gave it to her.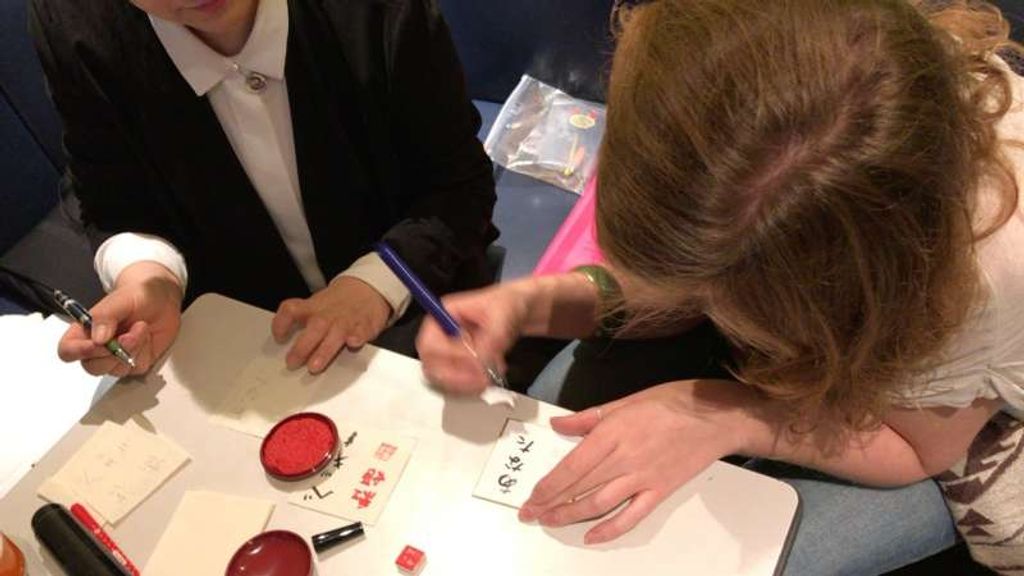 We have four character sets in Japanese, hiragana, katakana, kanji, and roma-ji. Hiragana is just for sound and katakana is a sister character set of hiragana. Kanji was introduced from China and the most complicated one. Each kanji has each meaning but has several sounds. Roma-ji is written in Roman alphabets. We usually use katakana to write foreign words in Japanese, so Bekki is ベッキー. But this time, the teacher tried making a name seal for Bekki in Kanji. 紅姫 sounds just the same as Bekki, and the meaning of 紅 is crimson and 姫is princess. Surprisingly, she made it perfectly. She wrote the title of the song and her name. I was amused by the Karaoke Lesson packed with interesting Japanese culture.
She is now on the way home as she is invited to the wedding party of her best friend. She intends to sing the happy love song at the wedding party. I'm pretty sure that her song can successfully liven up the atmosphere.
Thank you for visiting my blog. If you'd be interested in this Karaoke Lesson, please feel free to ask me.