Riding the "Shinkansen" is one of the fun and practical things you can do in Japan. A "Shinkansen" or bullet train is an amazingly fast express train that connects one major city to another, all across Japan. You can see more of the country from the window of this bullet train than you would be able to if you were to travel by airplane. There are many types of Shinkansen, with different names according to the area of Japan or their speed, but one of the most wonderful sights you'll be able to see is the view of Mount Fuji on the Tokaido Shinkansen.
General Information
The Shinkansen was first completed in 1964, in time for the first Tokyo Olympics. It connected Tokyo Station to Shin-Osaka Station in 3 hours 10 minutes which is about half the 6.5 hours a local train would take. Nowadays, the speed of the Shinkansen can go up to a maximum of 320 kilometers per hour, and has decreased the time between these two cities by another 45 minutes. The timetable of the Shinkansen is amazing. Unless a natural disaster or some kind of technical accident happens, it is always on time. The drivers of these speeding bullet trains calculate the time they pass a certain station down to the second and make sure they are exactly on time. It's a spectacular feat.
Types of Shinkansen by region: North to South
From Shin- Aomori Station to Shin-Hakodate Hokuto Station
(due to reach Sapporo in 2030)
The Hokkaido Shinkansen, apart from trains running only between Shin-Aomori and Shin-Hakodate, is run as part of the Tohoku Shinkansen (see below). So you can get on from Tokyo and go all the way to Hokkaido. There are two types of trains used. The train used for trains running from Tokyo or Sendai stations to Shin-Hakodate Station is called "Hayabusa." And the train from Morioka Station or Shin-Aomori Station to Shin-Hakodate is called "Hayate." The seats are all by reservation only. It takes about 1 hour to cross the strait between mainland Japan and Hokkaido, from Shin-Aomori Station to Shin-Hakodate Station.
The city of Hakodate is on the southern peninsula of Hokkaido. It's known for its spectacular night view from the observatory on top of Mount Hakodate. You can also get to Sapporo, the capital of Hokkaido, by train in about 3.5 hours. Hokkaido is a huge island with lots to offer. For tours in Hokkaido please see here.
From Tokyo Station to Shin-Aomori Station
The Tohoku Shinkansen is the only fast way to travel between cities in the Tohoku area. It runs like a straight line from Tokyo to Aomori Prefecture. There are 21 stops between Tokyo Station and Shin-Aomori Station and the train speeds through 5 prefectures (Saitama, Fukushima, Miyagi, Iwate, Aomori) after departing Tokyo.
There are 5 types of trains according to the train's departure point and final destination. Sometimes, they are connected to each other up until a certain station. "Hayabusa" goes all the way from Tokyo to Shin-Aomori Station and then continues on as the Hokkaido Shinkansen to Shin-Hakodate Station. "Hayate" runs between Tokyo and Morioka Stations and also between from Morioka or Shin-Aomori Stations to Shin-Hakodate Station on the Hokkaido Shinkansen. "Komachi" departs from Tokyo, passes through Morioka Station and continues on as the Akita Shinkansen to Akita Station. "Yamabiko" makes the run between Tokyo Station and Morioka Station. And "Nasuno" is the train that runs the short distance from Tokyo Station to Nasu-Shiobara Station or Koriyama Station.
From Tokyo Station to Akita Station
The name "Akita Shinkansen" is not really an official name, but rather a term coined for convenience. It's really the Tohoku Shinkansen from Tokyo to Morioka Station, which continues on to Akita Station using the local train routes. It takes a little less than 4 hours to get from Tokyo to Akita on the "Komachi." Akita Prefecture is famous for the Akita dog featured in the movie "Hachi," Tazawa Lake - which is the deepest lake in Japan, and for its many intangible folk culture assets like the "Namahage." For tours in Akita Prefecture, please see here.
From Tokyo Station to Shinjo Station
Like the Akita Shinkansen, "Yamagata Shinkansen" is not an official name. The "Tsubasa" sometimes connected with the "Yamabiko" until Fukushima Station, departs from Tokyo Station and arrives at its final destination, Shinjo Station, in 3.5 hours. You can enjoy sightseeing spots like the Zao Resort for skiing or the hot springs at Ginzan Onsen. For tours in Yamagata Prefecture, please see here.
From Tokyo Station to Niigata Station
The Joetsu Shinkansen connects Tokyo with Niigata Prefecture. There are 10 stations in all and you can get to Niigata Station in about 2 hours. The train used is called "Toki" which is the Japanese name for the crested ibis. Sado Island in Niigata is the only place these endangered birds still exist in Japan. For tours in Niigata, please see here.
From Tokyo Station to Kanazawa Station
(due to reach Tsuruga in 2022)
The Hokuriku Shinkansen connects Tokyo Station with Kanazawa Station in 2.5 hours on the train called "Kagayaki." It was difficult to go to Kanazawa before this bullet train route was created, so once it was established, Kanazawa flourished as a sightseeing spot for both Japanese and foreign tourists. Kenrokuen Garden, Kanazawa Castle, and the old tea houses or samurai houses are just a few examples of what you'll find there. For tours in Kanazawa, please see here.
From Tokyo Station to Shin-Osaka Station
The Tokaido Shinkansen is the oldest but the most frequently used Shinkansen route in Japan. It connects the three large cities of Tokyo, Nagoya, and Osaka, transporting over 16 million people back and forth every year. Many of the trains continue on toward Kyushu, as the Sanyo Shinkansen (see below), after arriving at Shin-Osaka Station. Osaka is one of the most popular places to visit in Japan for foreign tourists. It's a city with a unique food culture which is great news for the foodies of the world. However, before arriving in Osaka, the Tokaido Shinkansen passes through Kyoto, a city with many World Heritage sites. This city is a must see sightseeing mecca which is sure to wow anyone who visits. For tours in Osaka or Kyoto, click these links.
There are several train types running on the Tokaido Shinkansen route. They are the "Nozomi," the "Hikari," the "Kodama," in order from fastest to slowest. "Nozomi" stops at only the main stations and takes about 2.5 hours to get to Shin-Osaka Station from Tokyo. There are around 5 to 9 trains departing per hour, but there are only a few cars with non-reserved seats, so if you don't have a reserved seating ticket, you should line up early to make sure to get a seat on the train you want.
"Hikari" stops at more stations than the "Nozomi," and takes about 3 hours to get to Shin-Osaka Station. There are only about 1 or 2 trains per hour but there are more non-reserved seating cars so it's easier to get a seat with a non-reserved seat ticket on the "Hikari" than on the faster "Nozomi." The "Kodama" is the slowest of the three, stopping at all the stations on the route. It takes a little less than 4 hours to get to Shin-Osaka. "Kodama" is the train to use if you want to get off or on from stations that the faster "Nozomi" and "Hikari" don't stop at. It has the most amount of non-reserved seating cars, so you'll probably be able to find a seat even if you get on at a station in the middle of the train route.
From Shin-Osaka Station to Hakata Station
As mentioned before, many of the trains on the Sanyo Shinkansen line start off as the Tokaido Shinkansen from Tokyo. The "Nozomi" and "Hikari" take around 2.5 to 3 hours to get from Shin-Osaka Station to Hakata Station, and it takes the "Kodama" a little less than 5 hours to make the journey. There are also trains running continuously on to the Kyushu Shinkansen route, called "Mizuho" and "Sakura." They also take 2.5 to 3 hours from Shin-Osaka Station to Hakata Station. The main stations on the Sanyo Shinkansen include Shin-Kobe and Hiroshima which are wonderful places to go sightseeing. Kobe is famous as a beautiful port city like Yokohama, and Hiroshima is as you know a historically significant place as it's where one of the atomic bombs was dropped during the war. For sightseeing tours with a local guide in Kobe or Hiroshima, please click the link.
From Hakata Station to Kagoshima Chuo Station
(Nagasaki route due to open from Nagasaki to Takeo Onsen in 2022)
The Kyushu Shinkansen route was completed from Hakata Station to Kagoshima Chuo Station in 2011. It runs down the left side of Kyushu island from north to south. There are three trains that run on the Kyushu Shinkansen route. The first two, "Mizuho" and "Sakura," also continue on all the way to Shin-Osaka on the Sanyo Shinkansen route. They span the distance from Hakata Station to Kagoshima Chuo Station in about 1.5 hours. "Mizuho" stops at only the main stations and "Sakura" stops at a few more than that. The "Tsubame" stops at all the stations and takes a little less than 2 hours to cover the same distance. The Kyushu Shinkansen passes through Fukuoka Prefecture, Saga Prefecture, Kumamoto Prefecture, and Kagoshima Prefecture. And when the Nagasaki route is completed, it will also pass through Nagasaki Prefecture. The cities of Kyushu island are not yet visited by many of the foreign visitors to Japan. However, it's a place that offers a beautiful natural landscape to see and many hot springs to enjoy, in addition to the delicious local food. For tours in Kyushu, please see here.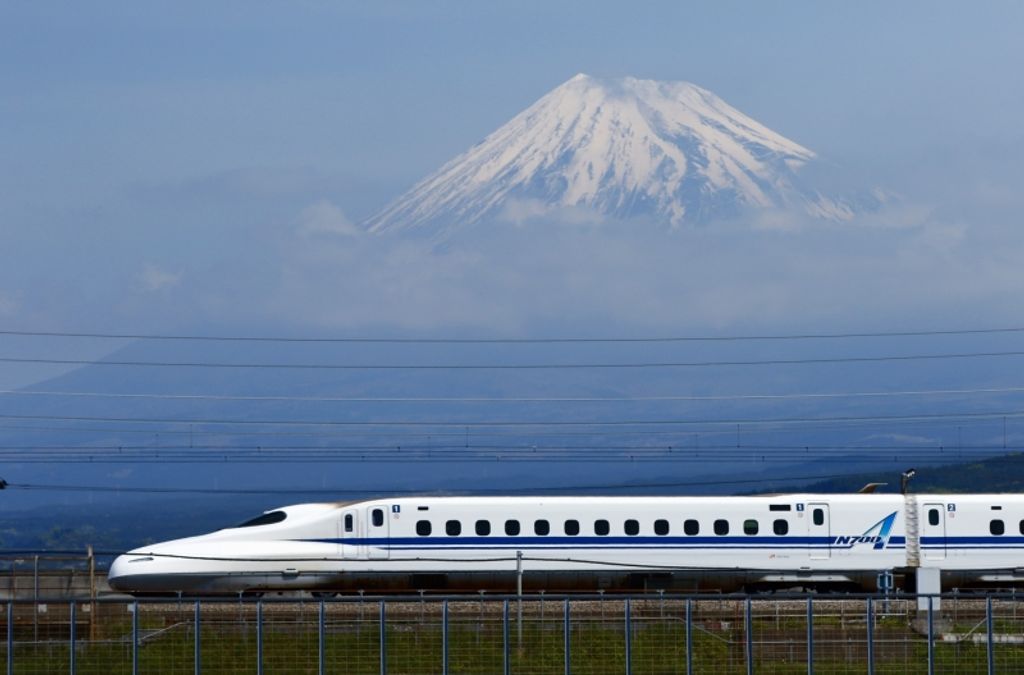 Prices
There are 3 types of prices for the Shinkansen. The cheapest is for the regular non-reserved seat. The next cheapest is the regular reserved seats. And the most expensive is for the Green Car reserved seats. The Green Car is like the business class of the Shinkansen and there are only reserved seats on these cars. They have nicer, wider, and more comfortable seats, and it doesn't get crowded due to it being expensive. You need to have a Green Car reserved seat ticket in order to get onto the car itself. On the other cars during peak season, people who weren't able to get a seat tend to crowd into the aisles too and stand there for the entire trip, but this does not happen in the Green Car.
Prices also depend on if you take the fast train or the slower train. There are fast trains and slow trains on each of the Shinkansen lines, as you can guess the faster trains are a bit more expensive than the slow ones. The difference in prices is around 2,000 to 3,000 yen at the most. And of course the prices change according to how far you're going. For example, the price for a trip from Tokyo to Kyoto station is around 13,000 yen one way for a regular non-reserved seat on the fastest train "Nozomi." And the price from Tokyo to Hakata station is around 22,000 yen one way. To understand how the prices are written, you need to know there is a base fare which changes according to the distance you're travelling. And then you need to add the seat fare, which is non-reserved, reserved, or green car. You can click on this link to search how much your shinkansen trip will cost.
How to book the Shinkansen
You have to buy a ticket, either for a non-reserved seating car, or a reserved seat if you want to ride the Shinkansen. You can either do this on the spot, or in advance. I would recommend booking in advance for a reserved seat if you are planning to travel during Japanese holidays or even on 3 day weekends. This is because everyone in Japan wants to travel during the holidays and the train is packed. If you are traveling on a normal weekday, making seat reservations are not mandatory, except for the "Hayabusa," "Komachi," and "Hayate" trains on the Tohoku Shinkansen line.
If you are planning to travel to several cities using the Shinkansen during your stay in Japan, you should buy and use the Japan Rail Pass (JR Pass). It's a train pass made for foreign tourists. Find out more about the JR Pass here.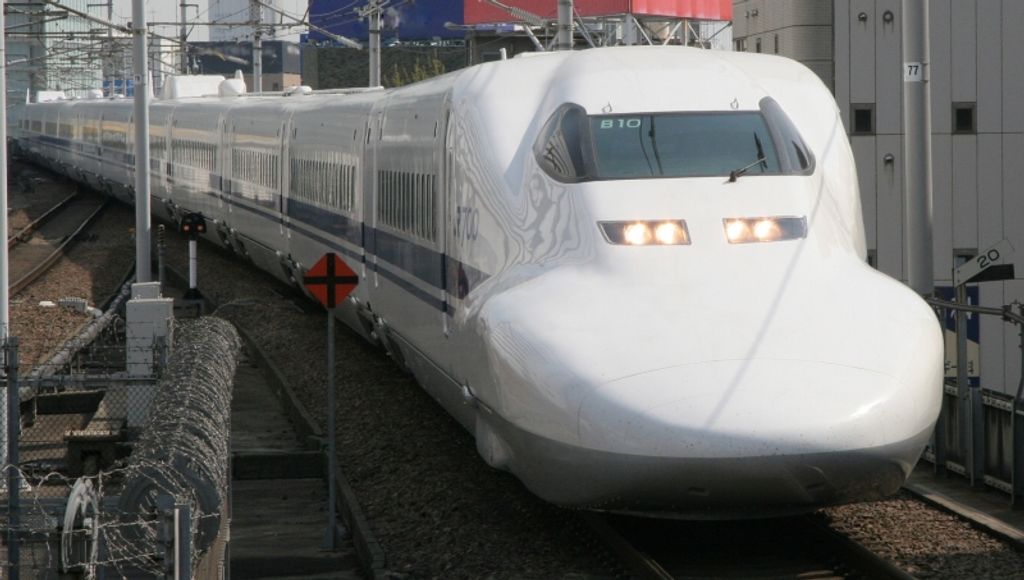 Where to make a booking
Ticket Desks
You can buy tickets and make seat reservations at the ticket office at any major JR station in Japan. You don't have to be in the same area as the shinkansen you want to make a booking for. A seat on any Shinkansen route can be reserved from any JR ticket office in Japan. There are special Shinkansen ticket desks at some larger stations like Tokyo Station, but you can also go to the View (びゅう) plaza counter or the JR ticket desk called "Midori-no-Madoguchi" (みどりの窓口) for reservations. If you have a Japan Rail Pass, this is where you need to go to make a seat reservation.
Ticket Machines
The ticket machines are a faster way to book your seats since the ticket offices often have a long line of people waiting to buy tickets. Some of the machines have an English menu, so you don't necessarily have to be able to read Japanese to use it. However, JR Pass holders cannot use the ticket machines to make their seat reservations, so be careful.
Online Reservations
If you are traveling in east Japan, you can access the JR East website for reservations. They have an English website that allows people with or without a JR Pass or a JR East Pass to make seat reservations for the Tohoku, Yamagata, Akita, Joetsu, and Nagano Shinkansen lines. However, you cannot make reservations for any of the other shinkansen lines running through other parts of Japan. The websites for JR companies in other areas of Japan are unfortunately in Japanese only.
The Shinkansen allows you to easily travel to all areas of Japan. You don't need to go early to check in like you would with an airplane, you just go to the station in time to get on the train you have reservations for. It's a time efficient way to get around, leaving more time for you to go sightseeing.
When you do go sightseeing, having a local tour guide take you around to the places you want to see is also an effective way to save time. You can find local guides and tours on TripleLights . The guides create their own local tours so all of them are unique and there's plenty to choose from. You can also ask questions or tell the guide about your requests directly, for example the length of a tour, before actually booking the tour.
Also, if you can't find your dream tour on the list of tours, you can request a customized tour by sending in a request with a list of what you'd like to see or eat or so on. All of the local guides will be able to see the requests and the guides that are available and can provide a customized tour will send you an example tour itinerary just for you. You can then compare the suggested itineraries and choose the tour you'd like to book. This way you get your own customized tour.
Also take a look at the guides' profile videos to see what kind of person they are. And also read the reviews they received from other customers. At most places, you aren't able to choose your guide nor see what they look or sound like before the day of the tour, but at Triplelights you can.
Most of the tours are walking tours which use the public transportation system. You can get a feel for getting around the city while sightseeing, giving you confidence about getting around by yourself later on. However, there is also the option of hiring a private car and driver. So people with disabilities or elderly people who aren't able to walk for hours on end can also participate in tours. You can hire a car just for your tour or even for your entire time in Japan.
Make use of the speedy Shinkansen and travel all around Japan to see the beautiful sights this country has to offer. I assure you it's a trip you won't regret taking.
Recommended Blogs:
Japan Rail Pass (JR Pass): Is It Worth It?
What You Need to Know about Trains in Tokyo (JR Line)
Narita Airport to Tokyo: Most Convenient Options
Tokyo Station: 11 Things to do Around Marunouchi