OIDE-YASU (warm welcome in the Kyoto dialect) to Kyoto's Maiko.
First of all, you may wonder what Kyoto's Maiko is all about, like  "Are they so-called Geisha? Are they just a hostess? If not, I'm curious to know what are the differences.".......                               Here's some information about Maiko just for your reference.
Maiko are female entertainers in Kyoto (and Nara as well), dressed in beautiful kimono. People don't call them Geisha in Kyoto. So Maiko are different from Geisha or a hostess. In Kyoto Maiko get trained on a daily basis in a lot of things like the Kyoto dialect, traditional Japanese arts, singing, dancing, and traditional Japan's manners.
Interestingly, most of Maiko aren't Kyoto natives, but come from all over the country. For example, Satsuki, regarded as the top of the Maiko/Geiko, is from Osaka. So one of their hardest challenges is the Kyoto dialect, which is quite different from standard Japanese language in terms of accent, intonation, and words. Indeed it takes time, actually years, for nonnative Maiko trainees, to master the unique Kyoto dialect.
One example of Kyoto dialect is that Kyoto people say "oh-ki-ni" instead of "a-ri-ga-to" which means "Thank you." Another example is that they say "oide-yasu" or "okoshi-yasu" for "irasshai-mase" meaning "Welcome." Interestingly, when it comes to Maiko, they say "oide-yasu" to a first-time customer, and "okoshi-yasu" to a regular customer.
If you are happenly a first-time customer, you need an introducer or regular customer as a kind of go-between. That is a must for Japanese customers as well. However, if you would like to see what Maiko dance is like, you don't need an introducer any more. They have a special facility for tourists like Gion Corner, at Kyoto's Gion District. You could check it out, if you are interested in it.  It might be worth a go.
Also Maiko-dance called Gion-odori takes place in April each year with around 100 Maiko in total on the stage.
By the way we have a fun example of traditional games started by Maiko with their guests, that is, "acchi-muite-hoi (Look this way) " which spread across the country and came to be played by kids for fun. Very simple but hard to explain here and now. So if you like, let me show you how to play it when you'll be having me as your tour guide. I'm crossing my fingers!:)
Here's an anecdote about Maiko. George D. Morganan, American millionaire visited Kyoto at 30 in 1901, and happenly had dinner at Gion with a young Maiko, Oyuki at her 20 years old. He literally fell in love with her at first sight. He was so fascinated by her that he visited Kyoto's Gion to see her three times in four years straight.
Also he had a nice second house at Nanzenji district, the eastern Kyoto. He proposed to her, and she accepted it. She ended up being called Japanese Cinderella. They held a wedding ceremony in Yokohama City, and went back to the US together. Unfortunately she was not naturalized. What a sad, love story!!
Another anecdote about Japanese. ............. One day back in the 1970s in Kyoto. A humble junior happened to meet a co-ed on campus. She was so graceful and fascinating like a real Maiko that he fell in love at first sight. A few months later he successfully asked her out, and repeated dates for three+ years; one afternoon at a cafe in Kawaramachi downtown, and another evening walking along the Kamogawa River. 
Gradually he had kind of vague sense that it was not one-sided love. At least he believed so in himself. ..... Four years passed, and soon after her commencement, things suddenly went wrong in March. She went back to her hometown with spring breeze. He didn't know why she went away at all. So he was literally like, "Oh no, she's Gone With the Wind!" ......
Shogo, you poor thing? Well, the only thing I can say is that it's LIFE. It sure brings back good old memories to the melody like ♩♩"Yesterday" and "Scarborough Fair."
 <Aren't Maiko Geisha?>
The word "Maiko" refers to so-called "Geisha" in other parts of Japan such as Tokyo's Asakusa, Atami in Shizuoka, Kanazawa in central Japan, and Fukuoka in the southern island of Kyushu. So it might be safely said that Maiko look similar to Geisha.         
 Usually girls aged 15 or 16 start trainings as a maiko trainee. After nearly 1-year hard training, they turn Maiko. Then Maiko become Geiko usually at the age of 20, after gaining plenty of experience as  Maiko for 3-4  years. So we could safely say it's like, say, yellowtails having different names as they grow? 
When it comes to their appearances:  
(1) Hair style: Maiko have their own hair done in a traditional Maiko style at an exclusive barbershop. On the other hand, Geiko wear a wig for the traditional Japanese hairstyle. They have a few types for each season. 
Also you'll see Maiko wearing a beautiful ornamental hairpin specially ordered. They change it every single month like a daffodil in March, cherry blossom in April, iris in May, bellflower in September, chrysamthemum in October, and maple in November.
(2) Kimono: Maiko wear a kimono with long obi (sash) hanging down from their back. By contrast, Geiko wear a kimono with short obi. Maiko's Kimono is very heavy, weighing about 10kg!! Their sash is as long as 6 meters!! So a gentleman helps Maiko tighten their sash. It is said that they have scores of kimono and sashes for different guests and occasions.
<Where's Maiko/Geiko?> 
There are five Kagai or Maiko amusement places in Kyoto. Four of them are located in the eastern part of Kyoto and the other in central Kyoto. One of the most popular districts is Gion, which has long been developing ever since the 17th century in the east side of the Kamogawa River. It is said that there are currently about 120 Maiko/Geiko living in Gion, totally some 250 in Kyoto's five Kagai. 
As of June, 2020,  Nara has also three Maiko/Geiko serving tourists at Ganrinin in Nara-machi area.
<Where do Maiko/Geiko live? What are their routines?> 
In Gion district there are nearly 20 Okiya, or traditional Kyoto style houses for Maiko/Geiko to live. In the morning they get trained dancing, singing, playing Japanese small drums, and samisen (three-stringed musical instrument) among others. Early-afternoon is for free activities, and the late-afternoon for preparation for the evening. I hear that it takes 40 minutes to make-up.                      
And then they are called upon by their guests/customers at a banquet hall, so-called Ochaya, around 6:00pm for dinner. Actually Maiko and Geiko don't eat dinner with their guests, just enjoying coversation, and pouring some sake/beer for their guests.
PS: So if you happenly want to see Maiko in streets, hanging around Gion district between 5:00pm and 5:45pm might be the best. They sometimes take a taxi to/from Ochaya. I'm crossing my fingers.:)
After dinner they dance and enjoy with their guests, playing traditonal games like "acchi-muite-hoi (Look this way)" and the like. After dinner/dancing/playing games, which usually lasts about two hours, they go back to their Okiya to have dinner. It is said that there are about 70 Ochaya or banquet halls in Gion district, totally 150 in Kyoto's five Kagai. There used to be much more Ochaya in Gion in mid-17th century.
The point is that Maiko/Geiko are highly respected in Japan, because they are trying very hard to maintain Kyoto's tradition and culture. No doubt about it. Let me show you around Gion soon.:)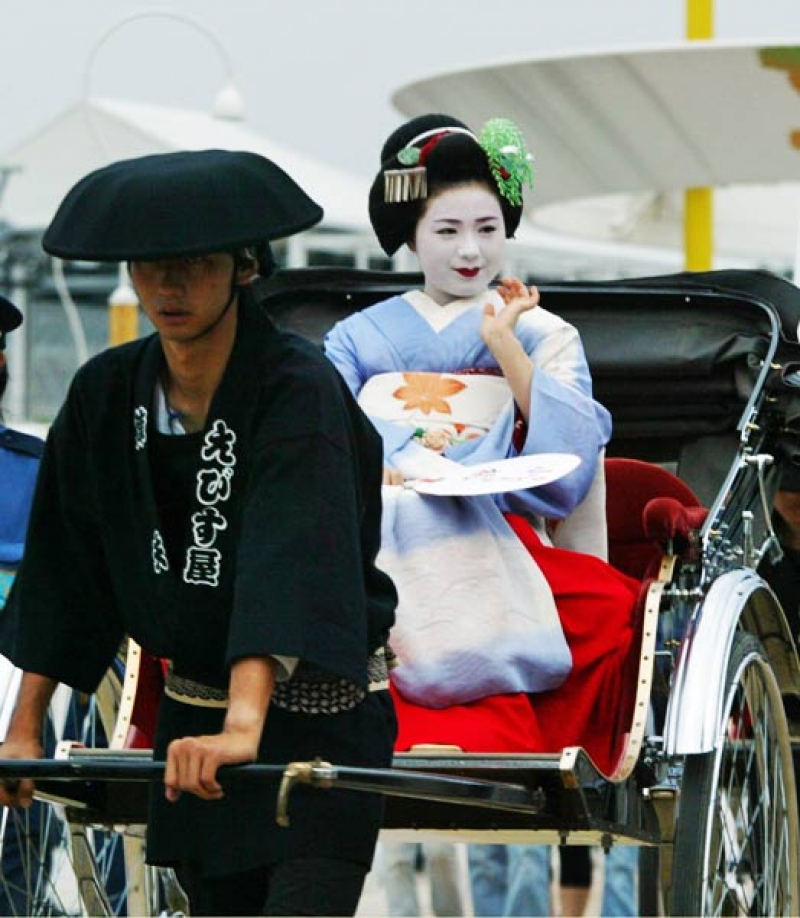 <Maiko with a long sash hanging down from their back>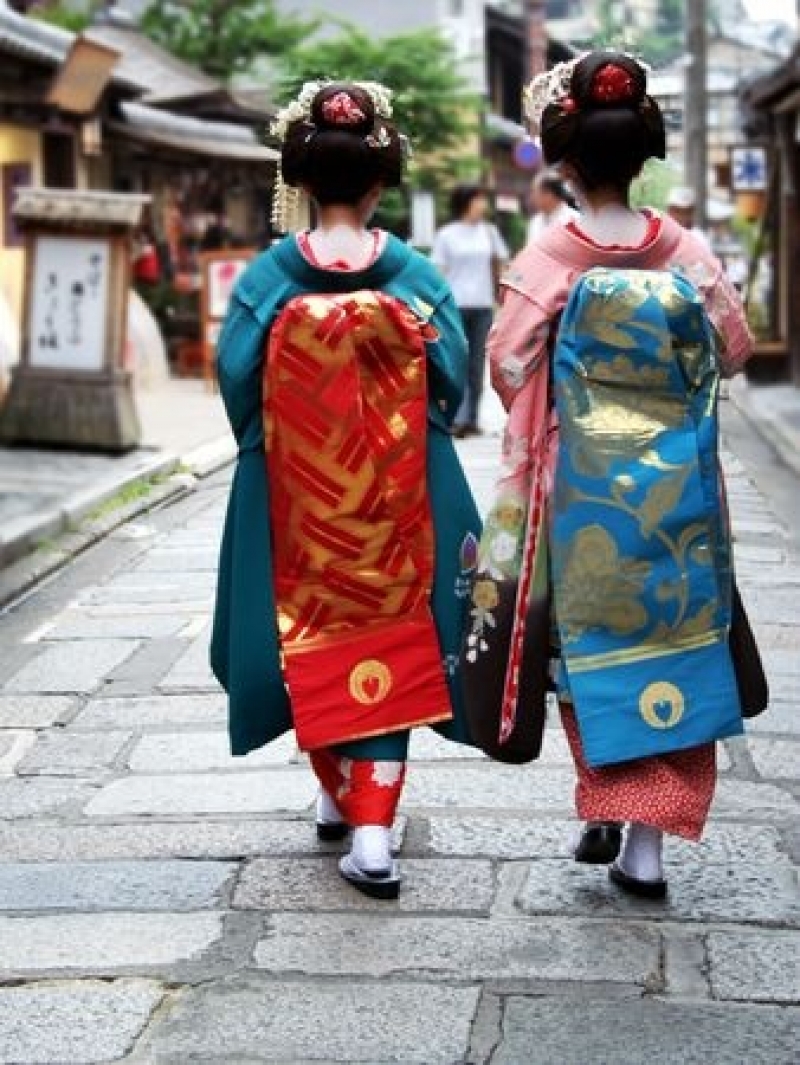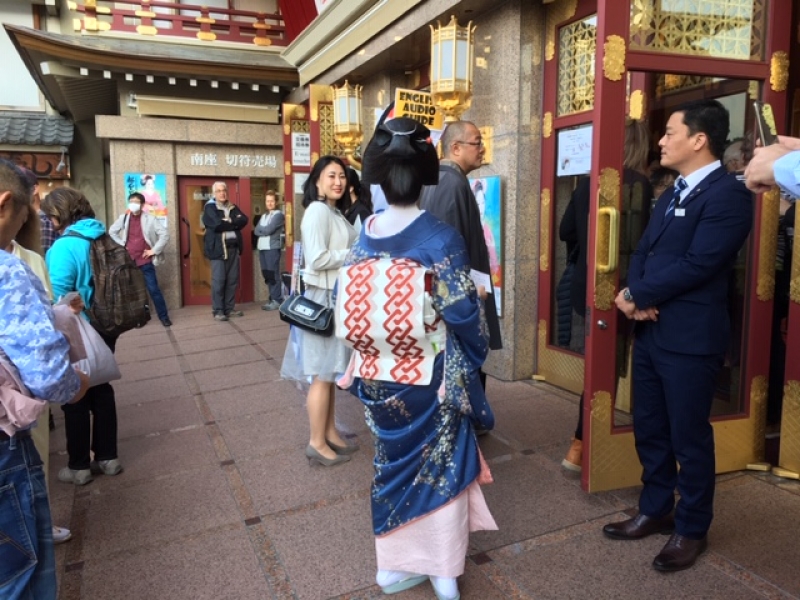 attached from NHK TV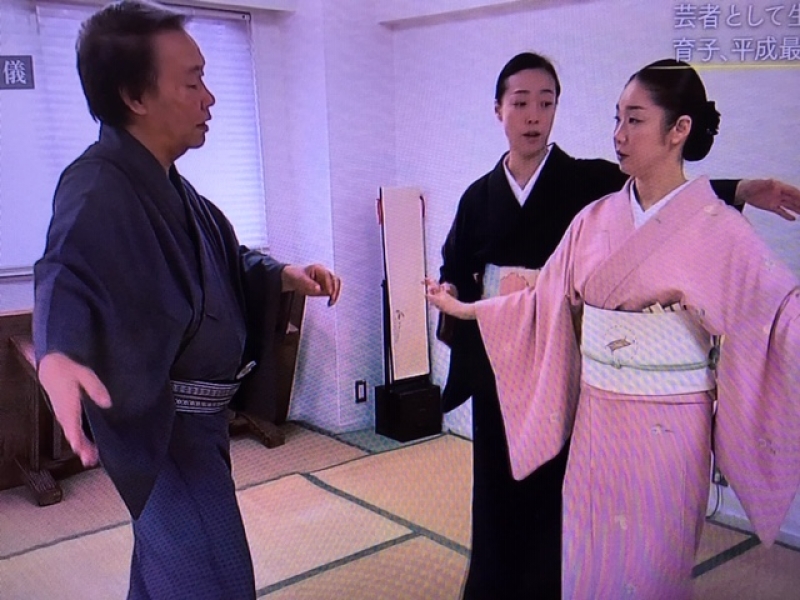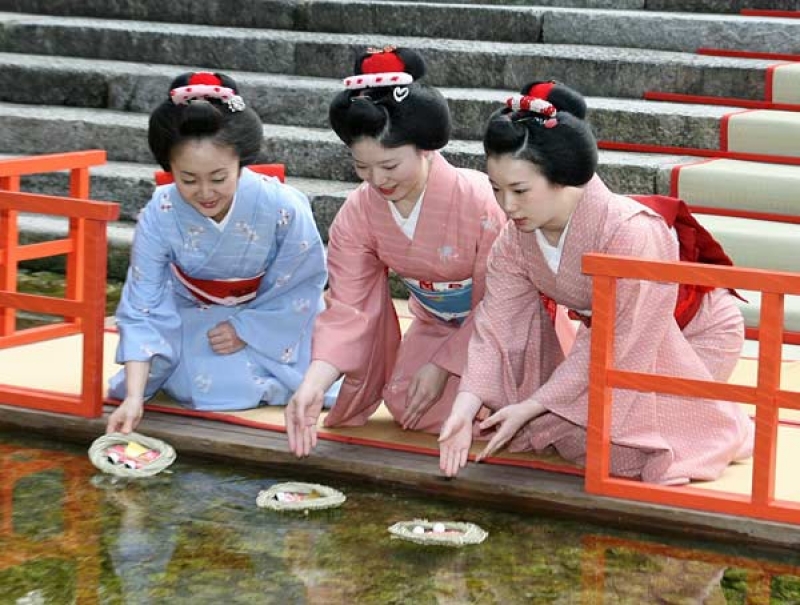 Huge thanks for visiting. Have a nice day.:)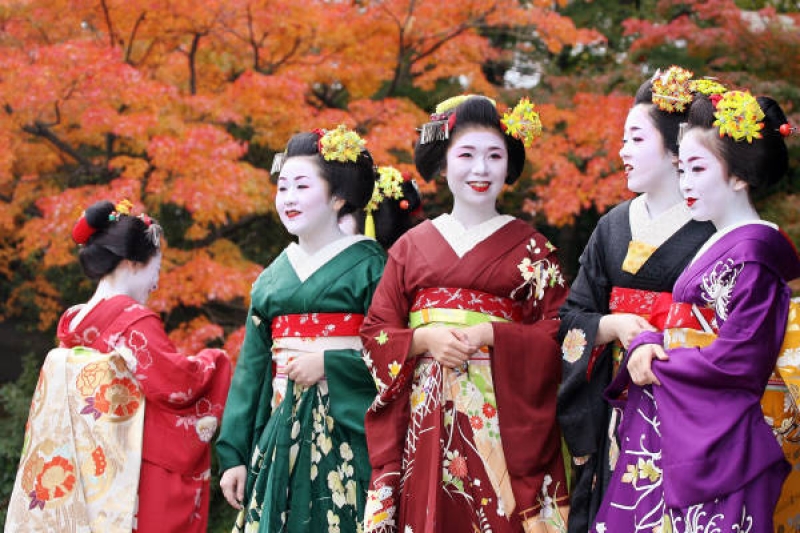 Did you like my article?
You can send me a message to get a customized itinerary and quotation for an unforgettable experience. Let's explore Japan Together.
I'll be waiting for you, so please check my profile and get your trip plan now