If you are traveling to Fukuoka and want to escape the busy city, then these three parks and gardens are for you. A garden designated as a Place of Scenic Beauty built in the style of one of the Three Views of Japan, a giant park built around the remains of Fukuoka Castle, and an incredible garden of wisteria tunnels. Here are the three best places to relax in Fukuoka:
Ohana Shoto-en Garden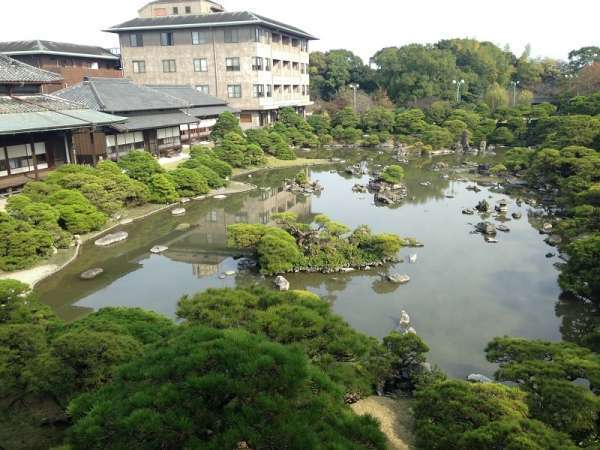 (image by upload.wikimedia.org)
In 1738, the 5th feudal lord of Yanagawa, Sadayoshi Tachibana, built a villa in this region which was once called Ohanabatake. Since that time, local citizens have come to admire the area which came to be called Ohana. In 1909, Kanji Tachibana, the 14th lord, completed the residence which includes Western and Japanese buildings as a guest house for VIPs. Following the war, the Tachibana family made use of the former residence to operate the restaurant inn of Ohana, and the riverside district in Yanagawa has become a main tourist spot in the area.
The garden, Shoto-en, which is faced by the 100-tatami mat Japanese-style Ohiroma great hall and the living room, is a Japanese-style garden that was built to resemble Matsushima, one of the Three Views of Japan, and is currently nationally designated as a Place of Scenic Beauty, elegantly established with 280 black pines, 1500 garden stones and 14 stone lanterns centering around a pond. It is a decorative garden that is enjoyed for its panoramic view from the tatami room. The 2-floor wooden Western-style Seiyokan Annex is used as a guest residence. In the foyer, there is a luxurious 3-arch structure embellished with profound and opulent decorations, and there are many features which have remained from those times such as imported lampshades. Currently, the Ohiroma great hall and the Seiyokan Annex are being used as wedding facilities, and Ohana is being operated as a restaurant inn. At the restaurant Shukeitei, you can dine on genuine kaiseki ryori and the local cuisine of delicacies from the Ariake Sea beginning with the specialty eel dishes of Yanagawa while viewing the famous Shoto-en, after which you can spend the night in Japanese or Western-style rooms in the hotel wing. Also, you can enjoy meals at Restaurant Taigetsukan and the Wisteria Coffee Shop. At the adjoining Tachibana Museum, the 400-year-old furnishings of the Tachibana family and the armor of the first lord among other exhibits are on display. Admission into the garden includes entry into Shoto-en, Ohiroma, the Seiyokan Annex, the Tachibana Museum as well as Restaurant Taigetsukan.
Admission: Adult: ¥ 500 / Child: ¥ 300
- Guidebook from Planetyze about Ohana Shoto-en Garden
- Reviews from TripAdvisor about Ohana Shoto-en Garden
- Tours of Ohana Shoto-en Garden
Ohori Park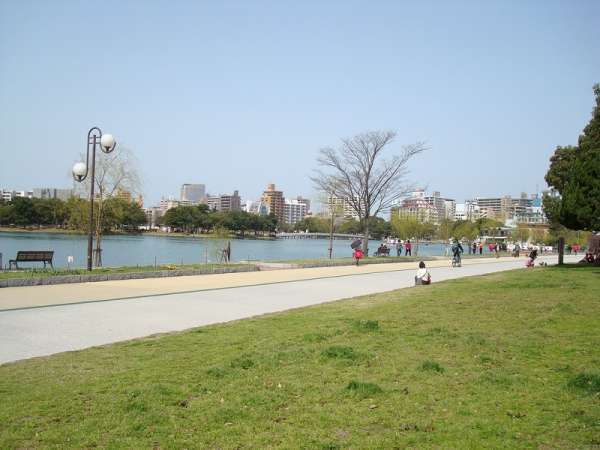 (image by flickr.com)
Formerly the outer moat for Fukuoka Castle which was built over an inlet on Hakata Bay, Ohori Park was established as a prefectural park in 1927 for the citizens of Fukuoka to use as a place of rest. Situated in the center of Fukuoka City, within its 398,000 square meters, it mostly consists of a pond which is surrounded by a strolling path that measures about 2 km, a forest for wild birds, children's playgrounds, a Noh theater, a Japanese garden, pond islands that are joined by 4 bridges, the Ukimi-do pavilion, and a boat house. On the strolling path around the pond, there is a rubber-chip pavement and distance signs which provide an ideal environment for jogging and cycling. In addition, there are 2 playgrounds for children supplied with slides and other equipment for families to enjoy. At the adjacent Nishi Park, an area of 1300 cherry trees which has been selected as one of Japan's 100 Famous Places for Sakura blooms every year, and in the autumn, the leaves of maple and gingko trees are beautiful. There is also a large observation plaza from where the city of Fukuoka, Hakata Bay and Shika Island can be seen.
There are various facilities within the park. Inside the 12000㎡ Japanese garden, a waterfall and artificial hill surround a large pond, and there is a dry landscape garden and a teahouse built in the sukiya style. Each of these places are connected by a path which winds around the pond making it easy to take a nice walk, and with the large variety of trees and plants, you can enjoy the different expressions throughout the four seasons. The Fukuoka Art Museum has over 14,000 artifacts including tea ceremony utensils (some of which have become Important Cultural Properties), Buddhist art, antique works, and works by world-regarded masters such as Dali, Miro & Chagall along with creations by Kyushu-born artists such as Seiki Kuroda, Shigeru Aoki and Hanjiro Sakamoto. On the Noh stage, the traditional Japanese dramatic form of Noh is performed, so it is worth checking out since tickets can be purchased online in advance. The boathouse area is a hit with the young people as it is filled with stylish cafes and restaurants. With rowboat rentals, it is also a spot that is popular with families.
Admission: Various
- Guidebook from Planetyze about Ohori Park
- Reviews from TripAdvisor about Ohori Park
- Tours of Ohori Park
Kawachi Fuji Garden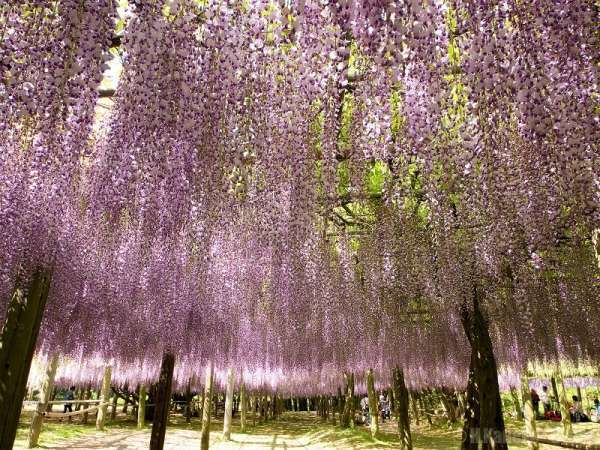 (image by flickr.com)
Kawachi Fuji Garden is a privately-owned wisteria garden which is one of the largest in Japan that was opened in 1977. With an area of 1 hectare, there are wisteria tunnels and trellises that span 6000㎡ as the biggest highlights of the garden. There are 2 tunnels with lengths of 80 and 220 meters, and during blossoming season, 22 breeds of wisteria open up at once with Japan's loveliest wisteria trellises garnering high praise. The peak time for wisteria in full bloom is from late April to mid-May. Information on when the wisteria are in full bloom is posted on the Net including Facebook, and the admission to enter the area ranges from 300 to 1000 yen depending on the season and the blooming conditions. The garden can be accessed by car or by taxi from JR Yahata Station in about 20 minutes or by taxi from JR Ogura Station in about 30 minutes. There are 22 breeds of wisteria including Kuchibeni Wisteria, Double Wisteria and Short Wisteria. On the giant trellises, there is wisteria that is over a century old in lovely colors of bluish-purple, pink, white and other pale shades with the wonderful scent of the flowers floating in the air. Kawachi Fuji Garden was selected as one of the 10 Beautiful Places In The World That Actually Exist on an overseas website in 2012, and in 2015, it was entered as one of CNN's 31 Most Beautiful Places in Japan so that overseas tourists have continued to increase year by year. Since the traffic starts worsening from around noon during the peak blossoming period, it's recommended that visitors come to the garden before opening time and wait.
Just 10 minutes' walk away from Kawachi Fuji Garden, there is the day-trip onsen facility, Kawachi Natural Hot Spring Ajisai-no-Yu. It's attractive for being able to enter without having to bring in anything, and it is equipped with an open-air bath, a cave bath, a Jacuzzi, a sauna and even a bath that can be reserved just for a family. There is also a restaurant to have meals and a free shuttle bus from Ajisai-no-Yu to JR Yahata Station, so heading home by using this bus is handy.
Admission: ¥ 1000
- Guidebook from Planetyze about Kawachi Fuji Garden
- Reviews from TripAdvisor about Kawachi Fuji Garden
- Tours of Kawachi Fuji Garden