Looking to sample some of the finest cuisine, enjoy the bustle of city nightlife, or just want to go shopping, you can have it all on your trip to Fukuoka. At Marinoa City you can enjoy over 170 shops. Beneath Tenjin Station, 150 shops make up an underground city, and at Canal City Hakata, which boasts a cinema and numerous restaurants, you can enjoy shopping at this incredible complex of stores. Here are the five best places in Fukuoka for shopping and dining:
1. Marinoa City Fukuoka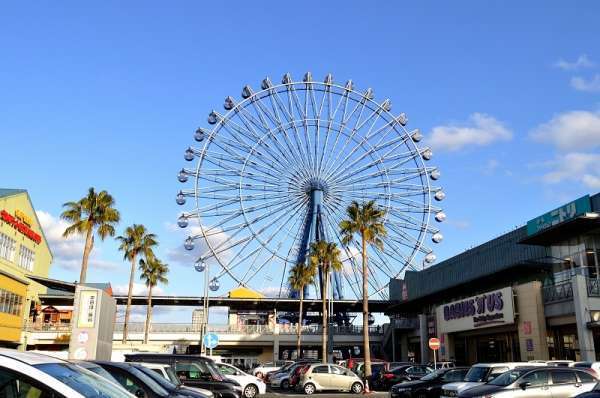 Marinoa City Fukuoka is Kyushu's largest outlet mall with over 170 shops, located about 30 minutes from downtown Fukuoka by car. It is also conveniently accessed by Nishitetsu bus which operates from in front of Hakata Station at a rate of 1 bus every 15 minutes. In the Outlet Buildings which have over 120 outlet shops specializing in brands such as fashion, interior goods and sundries, there are overseas brand shops such as COACH, MAX&Co and UGG, along with popular Japanese apparel brands such as BEAMS, UNITED ARROWS, SHIPS and URBAN RESEARCH. Also at Step Square, there are various events held during regular and long weekends.
At the Marina Side Building which faces the sea, there are major stores such as GOLF5 for all your golfing needs, Babies R' Us specializing in goods for babies and children, the sporting goods store Sports Depo and UNIQLO, along with facilities such as the Ferris wheel, restaurants, and the area beside the yacht harbor to relax at when the weather is nice. At night, Marinoa City Fukuoka's symbol, the giant Ferris wheel Sky Wheel is lit up in 6000 lights for a sight that is popular with the couples. Sky Wheel, which is 60m high and has a diameter of 50m, makes one circuit in about 12 minutes, and has a panoramic view of Tenjin and the surrounding islands. Also, a lot of consideration was taken for small children, so that free rental baby carts, a nursing room and toilet facilities for toddlers are available. As well, there are facilities so that kids at Marinoa City will never get tired such as the Mini Engine Marinoa Train which operates only on weekends, a playground corner, and an athletic play facility known as Club Yu Kids. And there is also free Wi-Fi.
Admission: Free
- Guidebook from Planetyze about Marinoa City Fukuoka
- Reviews from TripAdvisor about Marinoa City Fukuoka
- Tours of Marinoa City Fukuoka
2. Yatai (Food Stalls)
Yatai are a favorite even among the city locals as they popularly attract tourists as a signature of Fukuoka. They have a long history as they first appeared in the city from 1945 immediately after the war under the title of "Mobile Restaurants". At their peak at around 1970, there were as many as 400 yatai, but at present, there are about 150 with half of them congregating in the Tenjin area. With the bulk of the yatai serving ramen, yakitori and oden, there are also a variety of places serving Italian, French and Asian cuisines, and naturally, beer, sake, wine, cocktails and other forms of liquor are sold there, so that one of the attractions is that you can easily go barhopping. They open up at around 7 p.m. and go on until 1 a.m. All of the yatai in Fukuoka are officially licensed establishments so you can enjoy a meal there securely. Adhering to the rule of a 3x2.5m space, the yatai always have a supply of seats so you can leisurely enjoy the food there. Have fun in the lively atmosphere of a yatai while enjoying that pleasant breeze only in Fukuoka.
There are 3 large areas for yatai: Nakasu, Tenjin and Nagahama. Since the locations of yatai are fixed, check out the yatai that you are interested in beforehand. In the Nakasu area, the ever-popular ramen shop Ichiryu is a hit for its super-rich tonkotsu(pork bone) soup. In the Nagahama area which gave birth to the ramen of the same name, Nagahama Tonkichi Nidai-me is recommended for its lighter soup. And in the convenient Tenjin area which also has a shopping mall, there is Kokin-chan, the home of yaki-ramen, where you will get addicted to the rich taste of tonkotsu ramen fried up on a teppan grill. How about also giving salt-infused innards a try?
Admission: Various
- Guidebook from Planetyze about Yatai (Food Stalls)
- Reviews from TripAdvisor about Yatai (Food Stalls)
- Tours of Yatai (Food Stalls)
3. Tenjin Underground Shopping Center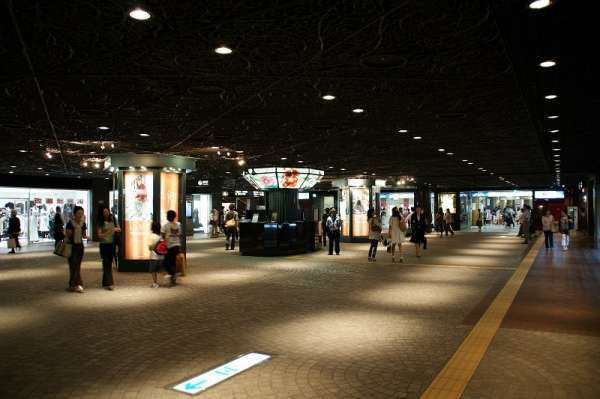 Underneath Hakata's commercial district of Tenjin, the largest underground shopping area in Kyushu stretches for a distance of approximately 1km, consisting of 2 avenues each with a 590m span from north to south. There are up to 150 shops specializing in items such as fashion, cuisine, cosmetics and stationery with direct access to the two subway stations of Tenjin and Tenjin-Minami, and also Nishitetsu Fukuoka Train Station and Nishitetsu Tenjin Bus Center. It also has very convenient access to all of the famous department stores and large shopping centers. Even on rainy days, enjoy shopping without getting wet and make use of the free Wi-Fi. The underground center was designed with the motif of a 19th-century European street in mind, making use of iron, brick and stone. Also, the stained-glass windows, automaton clocks and the natural light pouring into the plaza create a calming underground space. Furthermore, there are plenty of barrier-free facilities to assist people such as elevators, escalators, Braille blocks and nursing rooms.
For those who are looking for genuine kimono, there is the 65-year-old Suzunoya which provides beautiful kimono and Japanese dress articles of high quality. Also, at Itochu, which has a history of more than a century providing kimono footwear, you can purchase zori sandals that have been handcrafted by artisans. At Karankoron Kyoto, there is a selection of fine goods from the ancient capital such as cute modern bags and wallets of traditional Japanese design and fans so it's perfect for souvenir shopping. It's aimed for women in their 20s and 30s and focuses on the latest fashion trends in Japan. There is also Cosme Kitchen with its organic cosmetics from all over the world, and the drug store Matsumoto Kiyoshi which stocks all of the essentials ranging from medicine to Japanese brand cosmetics. The mall is also great for taking a break with all of its cafes and restaurants.
Admission: Free
- Guidebook from Planetyze about Tenjin Underground Shopping Center
- Reviews from TripAdvisor about Tenjin Underground Shopping Center
- Tours of Tenjin Underground Shopping Center
4. Canal City Hakata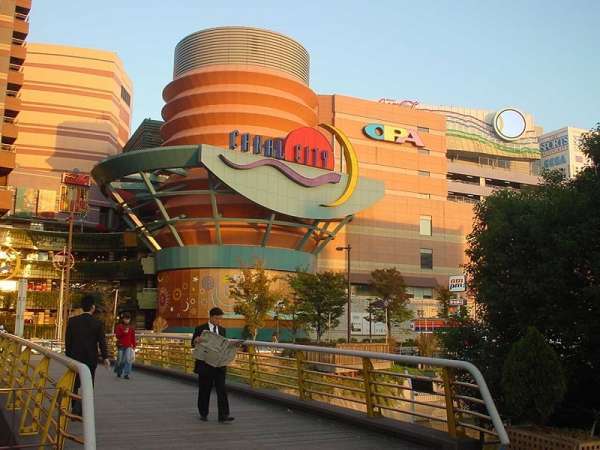 This is a multicomplex facility with a shopping mall, movie theaters, stage theater, amusement park, two hotels, showroom and offices on its 43,500㎡ grounds. It has easy access to Hakata Station, Fukuoka's largest commercial area of Tenjin, and Nakasu which is famous for its yatai food stands. Flowing among the buildings is a 180m canal, and there is a dynamic water fountain-and-music show which happens on the hour. At the Sun Plaza Stage in the basement, there are events daily in which performance shows and live concerts can be enjoyed.
Along with the stores selling overseas electronic goods, watches, jewelry, brand-name goods, folkcraft, cosmetics and other products, there are shops such as duty-free LAOX with staff who can serve customers in 4 languages, Sanrio where you can get character goods like Hello Kitty, the Ultraman-themed Ultraman World M78, the official Kinnikuman Muscle Museum featuring the popular manga character of Kinnikuman, and the Donguri Republic which specializes in the character goods from the famous Studio Ghibli by Hayao Miyazaki. As well, the shopping mall has plenty of other shops to attract children and adults with the latest in Japanese fashion, outdoor/sporting goods, cosmetics along with restaurants and cafes. And at the Ramen Museum, there are 8 ramen shops from all over the country starting with Kyushu, and with a system in which shops are swapped in and out periodically over a year, you can always enjoy some new ramen.
Admission: Free
- Guidebook from Planetyze about Canal City Hakata
- Reviews from TripAdvisor about Canal City Hakata
- Tours of Canal City Hakata
5. Nakasu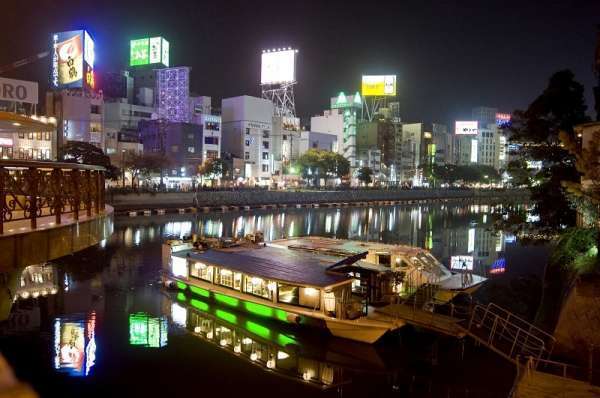 Nakasu has that feeling of an old downtown with its shrines and avenues. Around the year 1600, a delta area was created from the piling of sand and earth in the Naka River to link Hakata and Fukuoka which was the origin of Nakasu. It developed as an entertainment area for Hakata with places like stage theaters and movie houses being built, followed by establishments for drinking and eating to form a large flourishing amusement quarter. Even now, it is a neon-covered area that is the largest entertainment district in Kyushu and is known for the famous Fukuoka yatai streets, so that when night falls, the locals flock to the area to enjoy dishes like ramen and oden at yatai that number in the dozens. The recently popular Nakasu Hakata Boats are tatami-seated Japanese-style yakatabune where you can partake in gorgeous meals using fresh ingredients from the sea while sailing atop the Naka River which cuts through the center of Hakata and getting a 360-degree view of the lovely Nakasu nightscape of neon. The boats operate every day of the year and advance reservations are absolutely required. Also, in Hakata Kawabata Shopping District, which is Fukuoka's oldest commercial area, Kushida Shrine and shops selling traditional crafts and Japanese confections are all lined up along with trendy fashion outlets, restaurants and cafés to provide a great reason for a walk.
Nakasu, which is at the heart of Hakata, also holds historic festivals. In May, there is the Hakata Dontaku that has been continuing for 835 years which involves about 20,000 citizens taking part in a parade while doing their own performances. The 750-year-old Hakata Gion Yamakasa is a Prefectural Intangible Folk Cultural Property and a July summer festival with the magnificence of floats decorated with dolls made by master Hakata dollmakers and the spectacle of one-ton floats to be carried called kakiyama. And there is the Nakasu Festival in October that was started to create a more cheerful city to drive away any notion of a bad economy.
Admission: Free
- Guidebook from Planetyze about Nakasu
- Reviews from TripAdvisor about Nakasu
- Tours of Nakasu