Looking for natural beauty on your trip to Fukuoka? There are waterfalls, an adventure in a vast forest, numerous river boat tours, and even a whole island encompassing a natural park. If the city lights are too much for you, then these five attractions are a perfect getaway as you traval around the Fukuoka area:
Shiraito Falls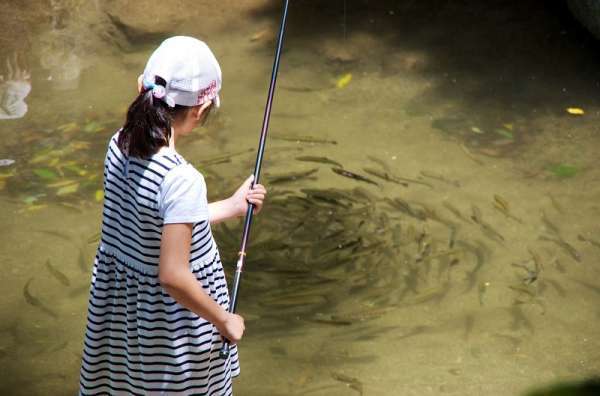 (image by flickr.com)
Shiraito Falls, which is located in the southern part of Itoshima City at the 530m mark of Mt. Hagane, is a famous place of scenic beauty whose waters flow like white thread over the rock face. It can be accessed from downtown Fukuoka City by car in 1 hour or on foot from the Shiraito Falls bus stop in 20 minutes. A dynamic waterfall with a drop of 24m, the falling water which kicks up a pure white mist is incredible. Around the waterfall, there are 3 naturally-growing Banryu maple trees which are said to be around 300 years old that have been prefecturally designated as natural monuments. Between late June and early August, 100,000 brilliant hydrangeas bloom everywhere, and on the final Sunday of June, the Hydrangea Festival is held. Many families come and visit between May and November. The water is so clean that it is said that Asiatic salamanders inhabit the clear streams, and in the surrounding area of the waterfall, there is an all-year teahouse, a water wheel, an observation point and a fishing moat for Yamame trout, all as part of the Shiraito Falls Fureai-no-Sato area.
From around May and into the summer, Yamame trout swim downstream and they can be fished with rental rods. At a store, you can buy salt-grilled trout, and at the teahouse, you can savor the Yamame course which includes sashimi and other examples of cuisine featuring the trout. In addition, you can enjoy the summer activity of somen nagashi which involves eating somen noodles as they flow down water-filled bamboo stems, as well as try some popular and superb ice cream which uses the premium milk of Itoshima, Ito Monogatari. In summer, this is the place where many tourists visit to find some coolness.
Some 10 minutes away from Shiraito Falls by car is the shaved ice shop, Murakami-ya Honpo Shirayuki, which always has a lineup forming outside. The big hit is the Shirayuki (White Snow) with its finely-shaved fluffy ice that resembles thread. Also, you will want to make that extra effort to head for Raizan Sennyo-ji Daihioin Temple which is famous for its wooden standing statue of Kannon. It is about 20 minutes away from the falls by car.
Admission: Free
- Guidebook from Planetyze about Shiraito Falls
- Reviews from TripAdvisor about Shiraito Falls
- Tours of Shiraito Falls
Forest Adventure Itoshima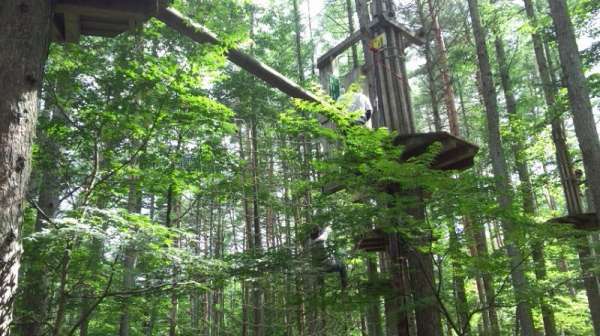 (image by flickr.com)
Forest Adventure is a park facility where you can experience a natural outdoor park that originally started in France and uses the actual forest as it is. Forest Adventure Itoshima is a place from where you can get a panoramic view of Shiraito Falls and the waters of the Genkai-nada Sea, and where you can take a thrilling and impressive walk through the air in the middle of a wonderful natural forest called The One-Hundred-Year Wood which has been tended by a local forestry cooperative. It can be easily reached in about 1 hour by car from the city of Fukuoka and about 10 minutes from the famous site of Shiraito Falls.
A playground where adults can feel like kids again and kids can feel more grown up, visitors, under the guidance of instructors, clip on harnesses and ropes (safety equipment) in the treetops and zip line across the trees over a maximum distance of 130m, go through a net tunnel, and walk over a rope so that they can enjoy a walk through the sky with the feeling of a bird. You can feel nature with your whole body with the cherry blossoms and rhododendrons in spring, the changing leaves in autumn, and the occasional fog. For children who are over 110cm in height and elementary school students from Grade 3 and higher (9 years of age and older), there is the least difficult Canopy Course which they can participate in without needing a guardian. Then there is the dynamic Adventure Course for participants who are taller than 140cm which is the most difficult course. Both are programs of about 2 hours in length in which children can take part with parental guidance. Although there is a change room, there are no lockers so backpacks and clothing that is easy to move about in are suggested. Drinks are sold but there is no food provided, so it is recommended that a bento lunch or snacks be brought to enjoy in the middle of the forest.
Admission: Adult: ¥ 3600 / Child: ¥ 2600
- Guidebook from Planetyze about Forest Adventure Itoshima
- Reviews from TripAdvisor about Forest Adventure Itoshima
- Tours of Forest Adventure Itoshima
Keyaoto Boat Tour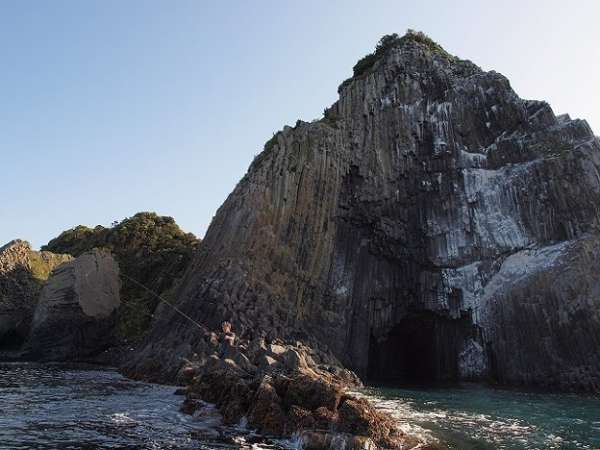 (image by photozou.jp)
Keya is known within Fukuoka Prefecture as a bathing resort which boasts some of the clearest waters. Keyaoto is located inside Genkai Quasi-National Park, and the scenic rock formation with its basaltic columnar joints of hexagonal and octagonal shapes is Japan's largest basalt cave at a height of 64m, a depth of 90m and with its mouth measuring 10m. Nationally designated as a Natural Monument, it is a symbol of Itoshima. Soaring above the rough waves of the Genkai-nada Sea, Keyaoto is a cavern that was created from seawater erosion, and between April and November only, an excursion boat from Keya Fishing Port heads over close to the rock formation where visitors can view examples of natural beauty such as the azure ocean and the cavern ceiling which resembles a hornet's nest. The boarding point for the excursion boat is located beside the Isonoya Minshuku (B&B) at Keya Fishing Port which has a number of inns and restaurants close to Keya Beach. On the 30-minute excursion tour, the group of basaltic pillars rises above the deep azure sea as the boat slowly makes its way through the mysterious dark cave which can vary in width from 2 to 10m. From below, cross-sections of rock with various shapes can be observed in an adventurous atmosphere. Feel the grand nature of Itoshima among the beautiful sea and the refreshing sea breeze.
At Restaurant Shima (closed on Tuesdays and Wednesdays), which is located on the 2nd floor, next to the ticket outlet for the excursion boat, the Keyaoto Burger which uses Itoshima pork and Kyushu beef along with locally-sourced tomatoes and lettuce is popular. Homemade ice cream using fruits from Itoshima can also be bought, and since it can also be ordered as takeout, you can enjoy it while on the boat. The land bracketed by the Kuroiso coast just before Keyaoto is Keya-no-Oto Park with a nature trail that ranges from the coast to the upper area of Keyaoto. In the area, you can find a direct sales depot for Keya products and Taiso Shrine.
Admission: Adult: ¥ 700 / Child: ¥ 350
- Guidebook from Planetyze about Keyaoto Boat Tour
- Reviews from TripAdvisor about Keyaoto Boat Tour
- Tours of Keyaoto Boat Tour
Yanagawa Punting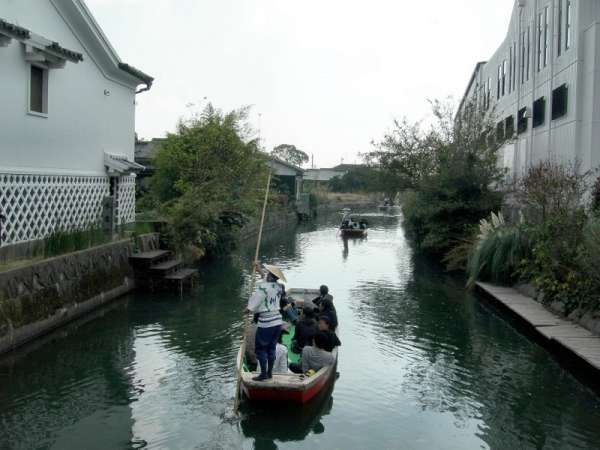 (image by upload.wikimedia.org)
A 40-minute ride from Fukuoka Station. When Yanagawa Castle was built about 410 years ago, an artificial moat to encircle the castle was also constructed along with a water usage system for flood control and irrigation so that you can take a ride on a lattice-like network of large and small canals that measure a total length of 470km within the city. The Yana River provides a distinct riverside scenery. Punting down the river should be more accurately called punting down a moat. The conservation of water in the canals is for flood prevention, and has been a useful historic asset for the citizens' lives as something to be used in agriculture and against fires. The mood engendered by these waterways has been beloved by many men of culture, and the renowned Japanese poet Hakushu Kitahara who was born and raised by the Yana, depicted the area in his poetry. Riding the small boats known as donko bune, the oarsmen steer the boat with their paddles as they navigate and guide you down the river for a 4.5km course that lasts about an hour. There are five boating companies in front of Nishitetsu Yanagawa Station, and since all of the boats depart at 30-minute intervals, you can get a ride easily without having to make reservations. Kasa hats can be rented out so that you can get into the mood of sailing down the river. There are also boats which are equipped with warm kotatsu in the winter so you can enjoy the rides all year round. The riverbanks are decorated by flora throughout the four seasons so you can appreciate the view at your leisure the whole year through.
After enjoy the punting, you will want to take a leisurely tour around on foot. At the Ohana, the Tachibana manor of the Yanagawa feudal lord which is now the nationally-designated Place of Scenic Beauty, Tachibana Garden, the lord's residence, the famous Shoto Garden and the restaurant Taigetsukan are all recommended spots to enjoy. Also, with sites such as the house where local poet Hakushu Kitahara was born and the Old Toshima House, this is a beautiful town with remnants of the old castle town and monuments dedicated to cultural literati.
Admission: Adult: ¥ 1600 / Child: ¥ 800
- Guidebook from Planetyze about Yanagawa Punting
- Reviews from TripAdvisor about Yanagawa Punting
- Tours of Yanagawa Punting
Nokono Island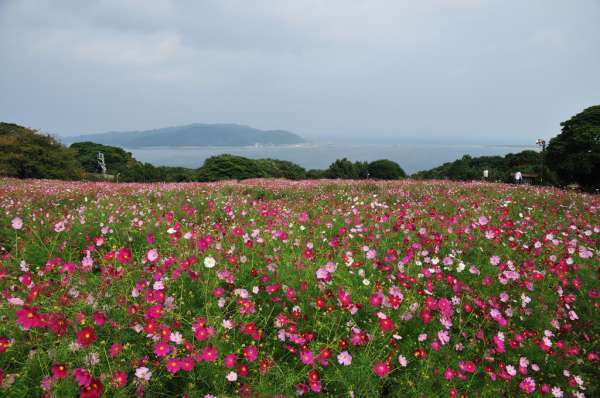 (image by flickr.com)
An island floating on Hakata Bay with a circumference of 12km, Nokono Island is a refuge for the citizens of Fukuoka City which can be reached by ferry in 10 minutes from the city's Meihama area. The island's tourist spot of Nokono Island Park is a 15000 ㎡natural park which spreads out at the northern tip of the island. Also known as Fukuoka's best place for flowers, the large site boasts beautiful blossoms all year round and the view from the flower-covered hill of Hakata Bay is breathtaking. Bright flower gardens spread out over the slope throughout the seasons with rape blossoms in the spring and cosmos in the fall. Also, at the Nokono Island Camp Village you can enjoy swimming between May and September. Day trips are also plenty of fun with activities such as barbequing and banana boating on the beach. For people who have the time, how about taking that dip into the sea?
Animals such as goats and rabbits reside within Island Park where you can feed them. You can also enjoy a variety of sports at the park without having to bring anything, and everyone from kids to grownups can have relaxing fun with golf, swings, athletic equipment and other facilities. Rental of volleyballs, soccer balls, badminton equipment and other items is possible, and families can all enjoy themselves on soccer pitches and volleyball courts. Also for those people who prefer indoor pursuits, there are pottery workshops where you can make your own tea cups and mugs on the potter's wheel. For Raku ware which is even popular with the kids, items such as plates and piggy banks can be painted. Spend a relaxing time on the island with the whole family
Admission: Adult: ¥ 230 / Child: ¥ 120
- Guidebook from Planetyze about Nokono Island
- Reviews from TripAdvisor about Nokono Island
- Tours of Nokono Island