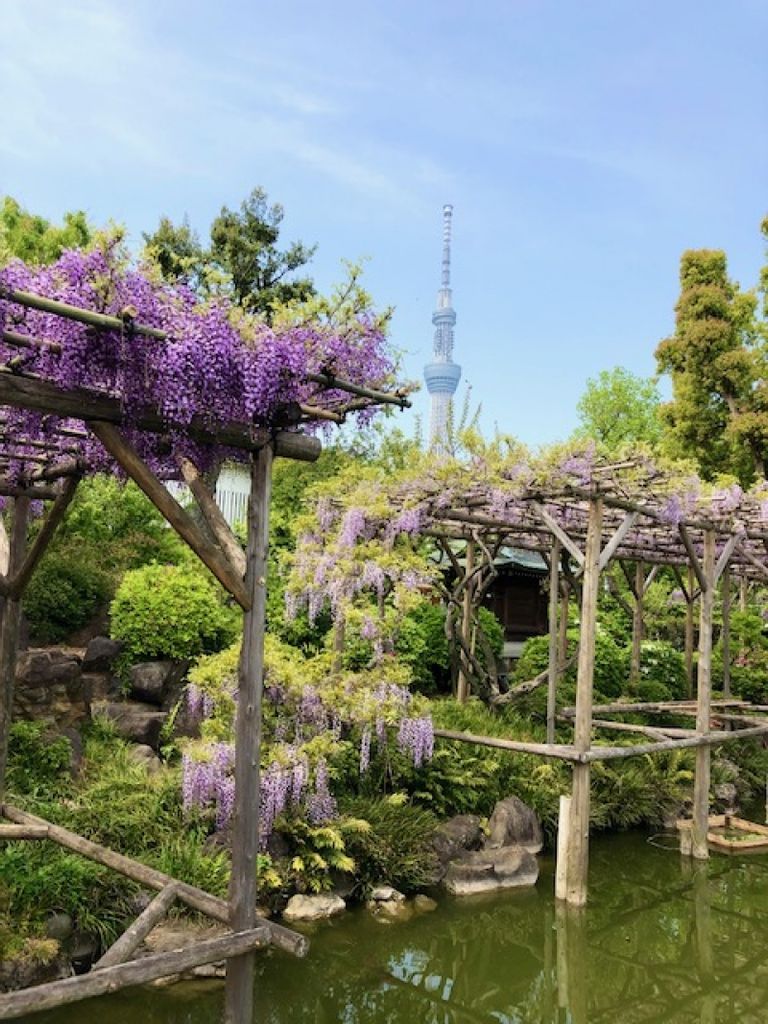 Can you guess what this place is? The combination of wisteria flowers and Tokyo Skytree is so beautiful, isn't it? There are usually many people there during Wistera Festival at this time of year. I've often guided people there to show beautiful flowers and Japanese culture. But as you know, we've had to refrain from outing under a state of emergency since last month due to COVID-19. I guess this place also has few people now. This is a picture I took last year. This is a shrine famous as a place for students to pray at when seeking examination success along with elaborately landscaped grounds, plum trees, and, a profusion of wisteria like this.
Bridge over the turtle-filled pond: There are three bridges leading to the main shrine, which represent life. The three bridges are called onnabashi (woman's bridge), otokobashi (men's bridge), and hirabashi, with which represent the future, past, and present, respectively. People believe that they are purified by going across the bridge toward the main sharine.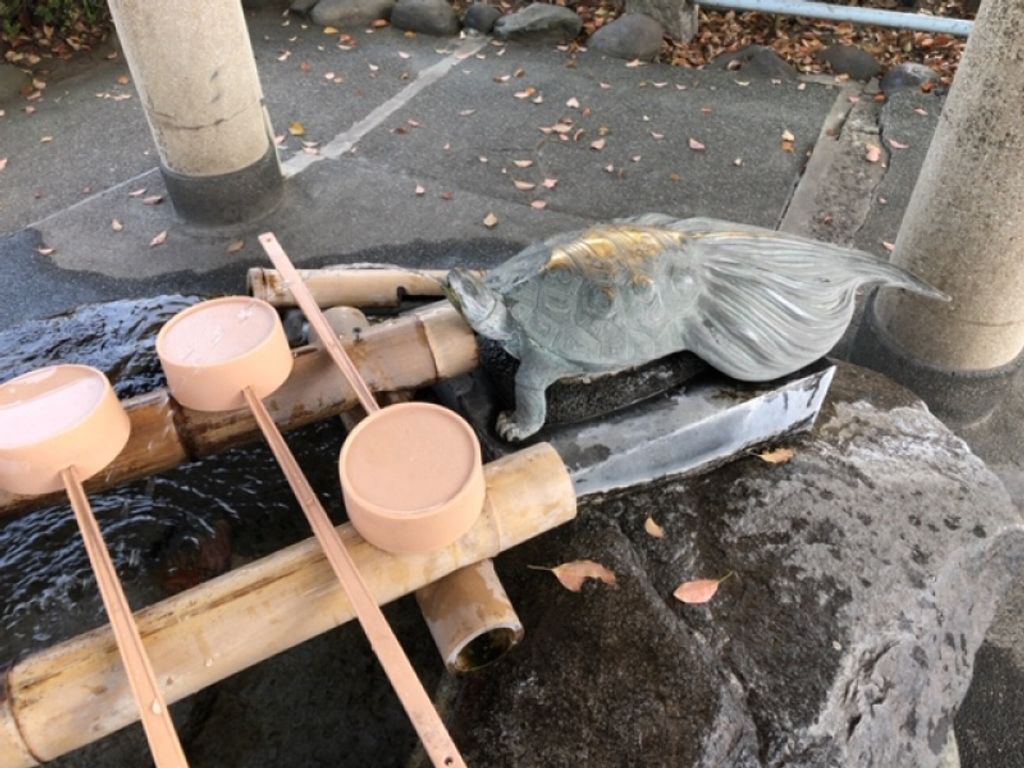 Chozuya: A place for ritual cleansing of hands and mouth with water before visiting shrines to make a prayer.
What's uniique about this chozuya is the turtle. The bronze tortoise issues a stream of cleansing water. That's because of the name of this shrine. The "kame" in Kameido means "turtle" or "tortoise", and the pond here is well-known for is large tortoise population - and also has koi, or carp. I've often noticed that those turtles are not indigenous species of Japan, though. Those who gave up keeping their pet turtles seem to have brought them to this pond secretly. Anyway, they have, however, become a symbol of the shrine, as turtles/ tortoises are said to live up to 10,000 years in Japan.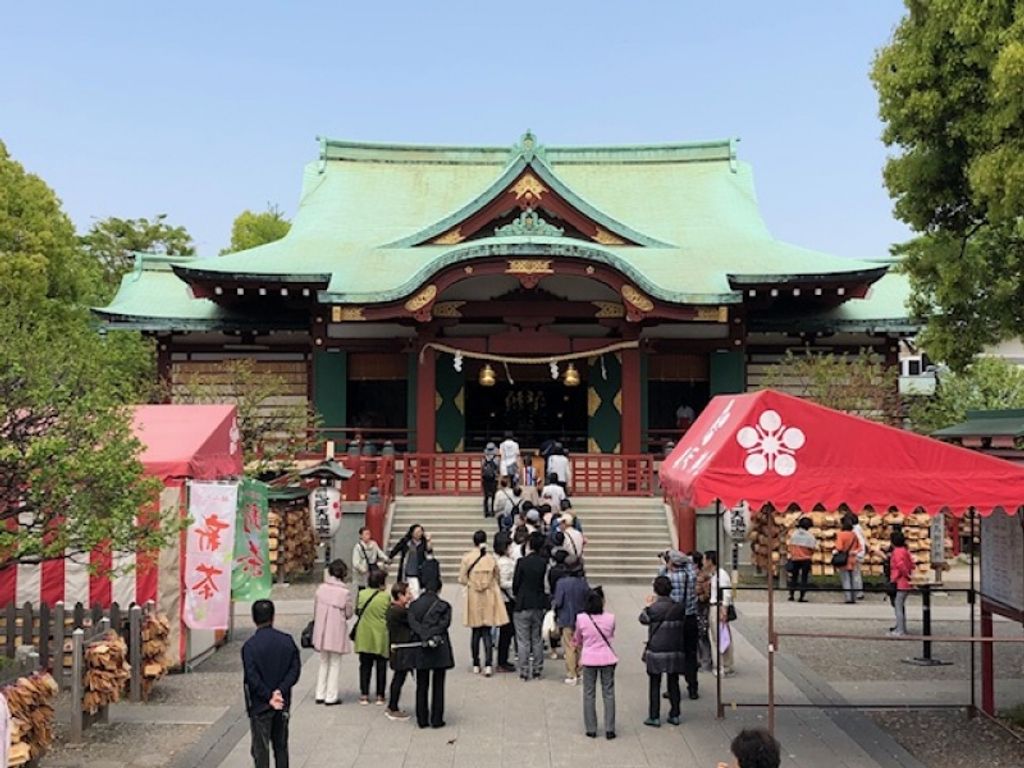 Main Hall of Kameido-tenjin Shrine
Kameido Tenjin Shrine is dedicated to Sugawara no Miichizane, who was the exceptional scholar, poet, and politician in Heian period. After Michizane lost his position as Udaijin (minister of the right) due to his political rival's plot, he was sent to a place far away from the capital and passed away in despair. There were several catastrophes on end after his death. People said that all the bad luck had been caused by Michizane's curse, so in 923 the Emperor tried to console Michizane's soul by decimating the imperial rescript on him being relegated to a lower position, returning him to the Udaijin and conferring the posthumous honor. The well-known Dazaifu Tenmangu Shrine in Fukuoka, Kyushu, where Michizane had lived his declining years was founded first. Then the head shrine of Tenjin Shrine was founded in Kyoto, then capital of Japan. That's the famous Kitano Tenmangu Shrine, which was built in 947, 44 years after Michizane's death. Kameido Tenjin Shrine was first built here in 1646. Its founding was the result of "missionary" work by a descendant of Sugawara no Michizane in the mid-17th century. He was a priest of Dazaifu Tenmangu Shrine. Kameido Tenjin Shrine was destroyed in WW2 and rebuilt in stages from 1947, achieving full restoration in 1979.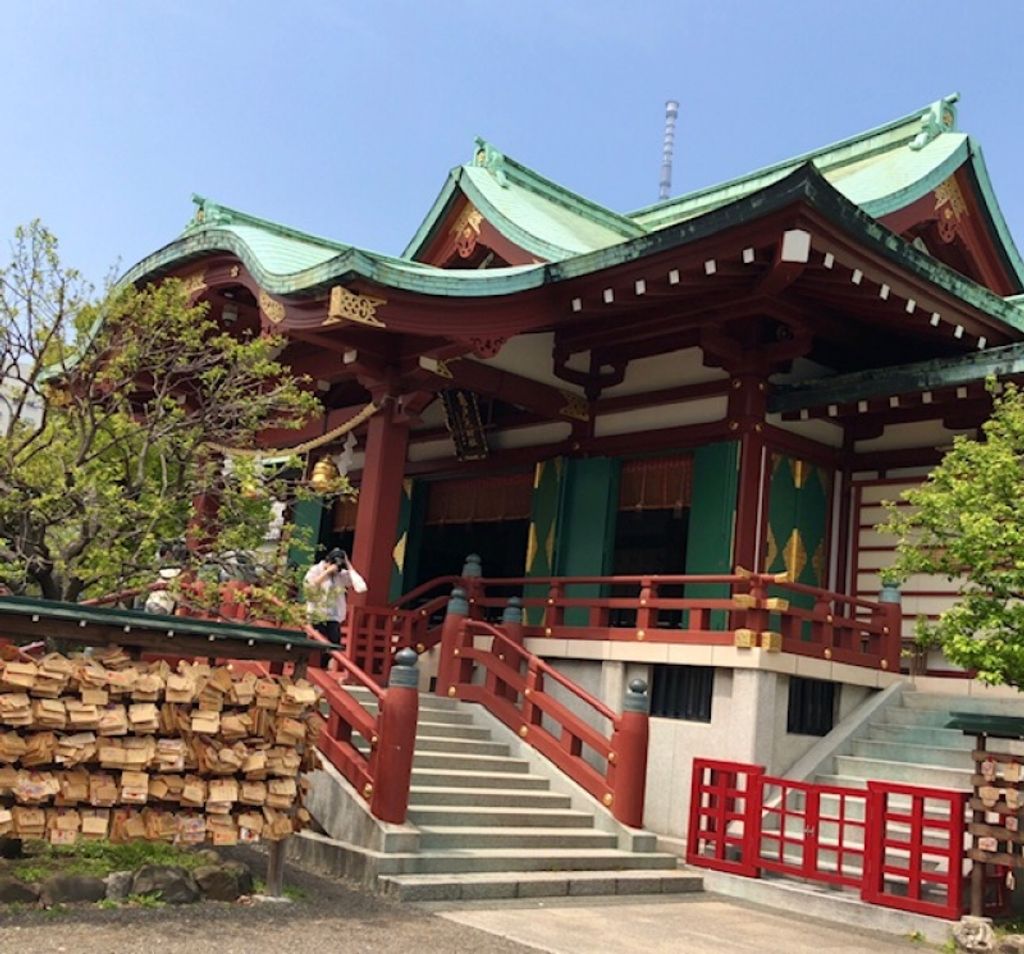 As Michizane was a great scholar and poet, he is believed as a patron deity of students. Students and their parents have come pray for academic success here at Kameido Tenjin Shrine for centuries. Those wooden tablets are called Ema, on which people write their wish. 'May I pass the entrance exam of Tokyo University!' for example. Last year, I bought a talisman here at Kameido Tenjin Shrine for my nephew who were to take an entrance exam this year. He succeeded passing the entrance exam of Tokyo University in March. I'd say this shrine would be very responsive to people's wishes. He has yet to go to the university thanks to the corona virus pandemic, though. Fortunately, I went back to the shrine to show gratitude before a state of emergency was declared. It's important not to forget the mind of gratitude.
Even if you don't have to pray for study, it's worth visiting here. As this shrine has a nick name of 'Flower Shrine', you can enjoy several different kinds of flowers throughout the year. If you are lucky enough, you'll encounter a traditional wedding ceremony or other rituals held in the main hall of the shrine.
Why not come to Kameido Tenjin Shrine to enjoy beautiful flowers and learn Japanese culture when things get back to the normal?
I'm looking forward to guiding you! Thank you for visiting the blog.