Japan is a place of many waterfalls. Over five hundred named falls exist across the country, mostly in the mountainous regions. From Kegon Falls in Nikko, to Kumano Nachi Taisha in Wakayama, we've selected four must-see waterfalls of Japan:
Yutaki Waterfall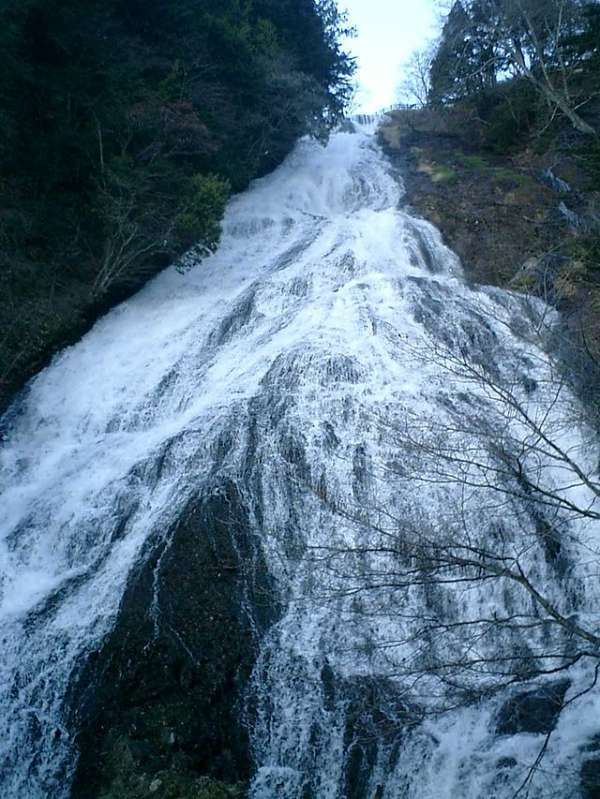 (image by upload.wikimedia.org)
The Yukawa River which begins from Mt. Nikko-Shirane, one of the 100 Famous Mountains in Japan, was dammed up from activity from the Mitake eruption which created Lake Yu-no-ko. Yutaki Waterfall flows from that lake. The bare rock made from lava measures 50m in height and the waterfall flows at a maximum width of 25m into the basin. The water temperature is slightly high due to the water gushing out from many source springs around the lake. During times like winter when the temperature is low, steam rising from the flow gave rise to the name "Yutaki" (hot water falls). The water from the Yukawa River goes from Lake Yu-no-ko over Yutaki Waterfall to Senjougahara, and then over Ryuzu Falls into Lake Chuzenji and then over Kegon Falls, which means that the water flows over the three famous falls in Oku-Nikko. There are observation points and places where you can see nature up close at Yutaki Waterfall which is the waterfall at the highest altitude of 1400m. There is a walking path beside the falls so you can view them at 3 points from the top, the side and at the basin. In particular, there is an intensity at the basin observation point of being able to approach the falls and view them right in front of your eyes. The area around Yutaki is famous for azalea and rhododendron. In Oku-Nikko, there are many hiking courses, but along the Yukawa River there are courses ideal for beginners that take you through Senjougahara. They are popularly used from spring to autumn even during the rainy season.
The Yutaki resthouse is located at the foot of the falls and is a resting area where you can enjoy having a meal while viewing the falls. There are also hiking course spots that stretch out all over Oku-Nikko, and there is fishing in the Yukawa River and birdwatching along with rest points which can also be used as photo locations. Tempura of yuba (tofu skin) and maitake mushrooms which are delicacies in Nikko are popular. 
Admission: Free
- Guidebook from Planetyze about Yutaki Waterfall
- Reviews from TripAdvisor about Yutaki Waterfall
- Tours of Yutaki Waterfall
Kegon Falls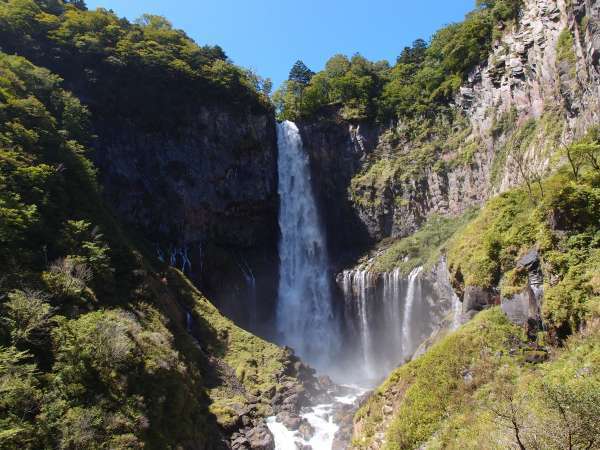 (image by flickr.com)
Kegon Falls is located by the outlet for Lake Chuzenji which was formed from the eruption of Mt. Nantai. The underground water from the steep cliffs flows out forming 12 small waterfalls that are wrapped into the main waterfall which creates a unique scene. Monk Shodo Shonin has been credited as the first discoverer of Nikko, and the name of the waterfall is derived from the sacred book of Buddhism, "Kegon Kyo" (Avatamska Sutra) of the Tendai sect. A waterfall with a long drop in elevation needs a certain amount of water. Around the waterfall basin, the fairly high water pressure flying out feels like a driving rain. The 4.5m-deep basin has a mysterious atmosphere. Designated as a National Place of Scenic Beauty, Kegon Falls has been recognized by many organizations for the wonder of its scenery, including its selection as one of Japan's 100 geological features. There are observation areas at the top and bottom of the falls. An elevator at the base of the falls goes down 100 m, and through an underground path, you can reach the waterfall basin. Spanning 3 floors, you can freely come and go. Following the rainy season and typhoons, the amount of water rises and you can witness a lively show of huge sound and water spray.
From Akechi-Daira Observation Platform, you can take in the entire view of the waterfall flowing from Lake Chuzenji. Taking 35 minutes by bus from Tobu-Nikko Station, there is the ropeway going up near the end of the No. 2 Iroha slope that will take you from Akechi-Daira Station to Akechi-Daira Observation Platform (a 3-minute ride). You can feel the grand scale of the sight that cannot be seen from the bottom.
Kegon Falls does not freeze over. However, in January and February, the 12 small surrounding waterfalls do. Due to this, the waterfall as a whole takes on a blue color and as a result, the effect has been called blue ice. The spring and fall are fine, but the waterfall of snow and ice also leaves a considerably deep impression.
Admission: Adult: ¥ 550 / Child: ¥ 330
- Guidebook from Planetyze about Kegon Falls
- Reviews from TripAdvisor about Kegon Falls
- Tours of Kegon Falls
Kumano Nachi Taisha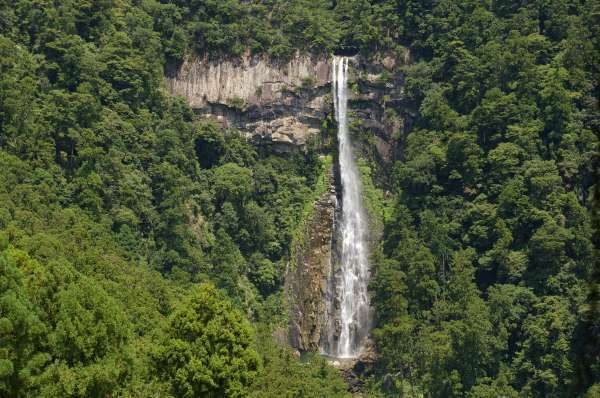 (image by flickr.com)
Nachi Taisha is one of the Kumano Sanzan (three sacred shrines), and both the shrine and the grounds are designated World Heritage sites. The shrine, consisting of six buildings at the top of 467 stone steps, is situated in the Nachi mountains at a height of approximately 500m. From the temple grounds, you can see Nachi Falls, which is a designated National Place of Scenic Beauty. The beautiful red-lacquer shrine also features Bird Rock (karasu-ishi), which is said to be the petrified form of Yatagarasu (a legendary raven), and the Sacred Camphor Tree (Okusu), which is 850 years old. In spring, the mountain cherry trees (yamazakura) bloom profusely, and the weeping cherry trees (shidare-zakura)are also magnificent. The Nachi-no-hi Matsuri Fire Festival takes place every year on July 14, when the god of the waterfalls is said to make an annual return to Hiro shrine (Nachi Falls). In this amazing religious spectacle, 12 portable shrines decorated with fans are purified by the flames of massive torches that weigh 50kg or more.
In terms of hot springs, Nachi Taisha is famous for Katsuura Onsen, which is 10 to 20 minutes from Nachi Station by car. We recommend walking the 2.5km from Daimonzaka, which is a route along the Kumano Kodo route that takes in Nachi Taisha and Nachi Falls. From the entrance to Daimonzaka, you can walk to Kumano Nachi Taisha along the Kumano Kodo route, where you will find beautiful stone steps covered in moss and groves of cedar trees. It takes about 40 minutes to reach Nachi Taisha. It takes 15 minutes to walk to Nachi Falls from Taisha. Nachi Falls, which is the home of a deity that has long been an object of reverence, is well known as one Japan's three great waterfalls. At a height of 133m, it is taller and has a greater volume of water than any other waterfall in Japan. The sight as it drops from the Kumano mountains is spectacular. On New Year's Eve, an illumination event is held. On the right of the waterfall is the Nachi Primeval Forest, which is a dedicated National Natural Monument where you will find 60 more waterfalls.
Admission: Free
- Guidebook from Planetyze about Kumano Nachi Taisha
- Reviews from TripAdvisor about Kumano Nachi Taisha
- Tours of Kumano Nachi Taisha
Ohara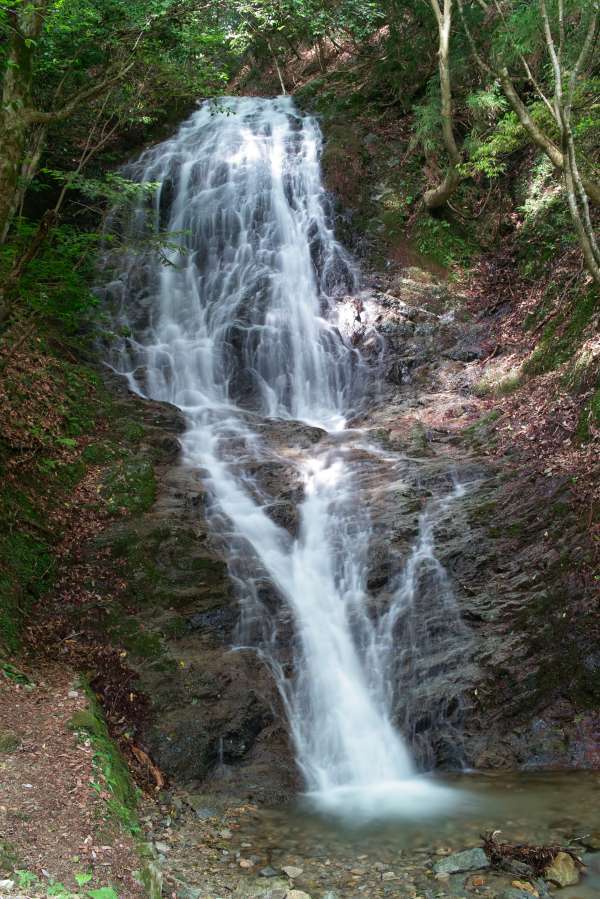 (image by flickr.com)
Located in northeast Kyoto, Ohara is a quiet area with plenty of beautiful nature in a mountain valley. Since the temples and tourist spots are grouped close together, one of its good points is that once you reach the area, you can tour around on foot. Along with the famous Sanzen-in Temple in Ohara, there are a number of other spots that we recommend.
There are many places to see at Hosen-in, with the appearance of 700-year-old Japanese white pine trees taking on the shape of Mt. Omi-Fuji, designated as Natural Monuments, being overwhelming. The ceiling of the open corridor is called the "Ceiling of Blood" because it consists of planks that used to be the floor boards on which warriors had committed ritual suicide before the Battle of Sekigahara. They were made to be part of the ceiling as a memorial tribute. The bamboo garden that looks like a painting within the frame of pillars is wonderful. There are also sukinkutsu earthen jars from which you can enjoy the sound of water drops falling from bamboo pipes. Matcha tea and Japanese confections are provided so you can also enjoy a leisurely time there.
There is a beautiful waterfall 3 to 4 meters in height further beyond Raigo-in Temple on a mountain road. When Ryonin, who had rebuilt Raigo-in, was practicing chanting while praying to Buddha, the chanting synchronized with the sound of the water and canceled that sound out, thereby leading to the naming of the waterfall as "Otonashi-no-Taki" (silent waterfall).
Admission: Free
- Guidebook from Planetyze about Ohara
- Reviews from TripAdvisor about Ohara
- Tours of Ohara
Best Virtual Tours & Experiences in Japan
Looking for an authentic travel experience in Japan but still stuck at home? No problem! Why don't you start by taking a Virtual Tour for a moment's escape from the mundane and chaos with our professional guides in Japan?
Top Experiences:
→
More Japan Virtual Tours & Experiences