When you think about ancient, majestic castles, Japan might nog be the
first country to pop in mind. However, compared to countries like France
or Germany, Japan actually doesn't do half bad. It boasts a number of very
pretty castles, spread all over the country. To give you an impression, I've
listed 10 castles which you can visit (for example when you get tired of
temples...).

Imagine yourself as a wealthy lord or a dashing dame (if you're not already
either of those) and step into the world of battle and intrigue in Japan's feudal
history…


The history of Japan has been a dynamic one. The land had been reigned by
emperors and feudal lords until the rise of the first shogun, Minamoto Yoritomo
in 1192. From that moment on, there was almost a constant struggle between
those waiting to get a piece of the pie from the side that was most powerful.

Emperor Go-Daigo overthrew the Shogunate in 1333, but before long he found
himself attacked by Ashikaga Takauji who captured the capital and took over its
power. These kinds of struggles typify the history of Japan until she was unified
by the end of the 16th century. This political unrest was a major cause for the
extensive building of fortresses and castles for protection in Japan, especially
in the 15th century. Unfortunately, many of the castles were destroyed after the
end of the feudal age in 1868, as unwanted reminders of the old feudal system.
Of the remaining castles, many more were lost during World War II. As a result,
not many original castles survive today. However, there are still enough to satisfy
the needs for historical relics for most travellers in Japan. And since they're not
all located in or around Tokyo or the Osaka/Kyoto area, you can also visit them
when you're based in more remote location.

Please click on the castle's names to find out more. The castles are listed
based on location: from west (Kyushu) to east (north Honshu) and Okinawa.
Please check also my handy map: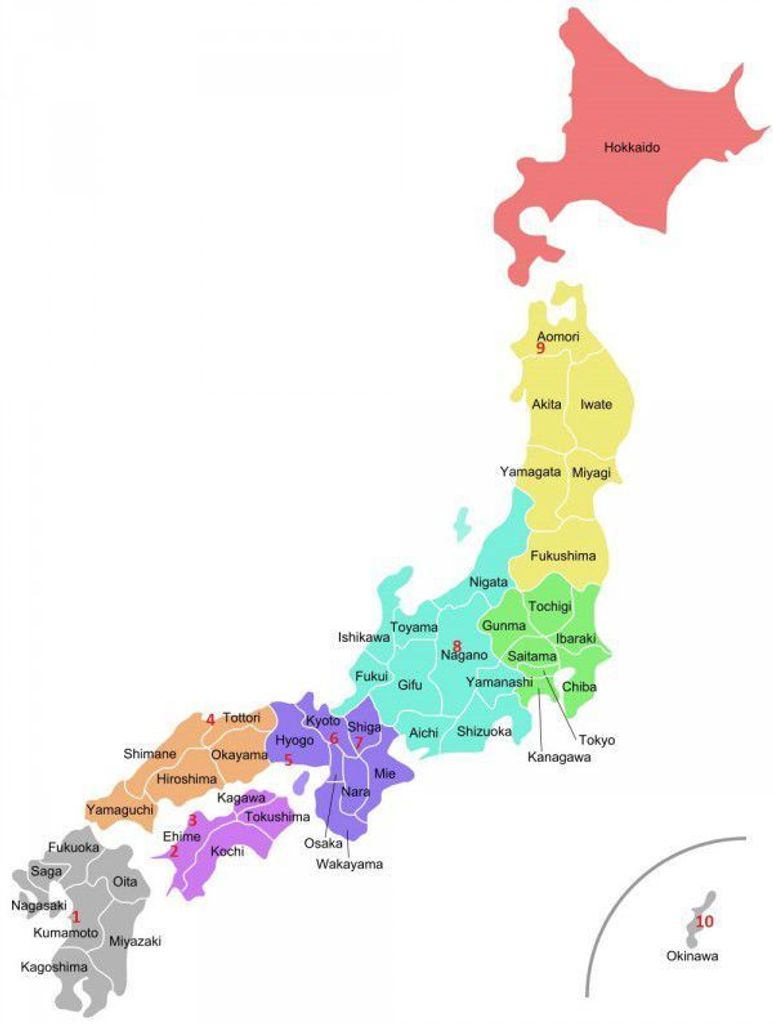 Kyushu:

1: Kumamoto Castle, Kumamoto

From a mid-15th century fortification, the building was transformed into a castle
over a century later by a successive feudal lord. Numerous attacks damaged the
castle, and some of its buildings had to be reconstructed, such as the castle keep.
Other ancillary wooden buildings are original.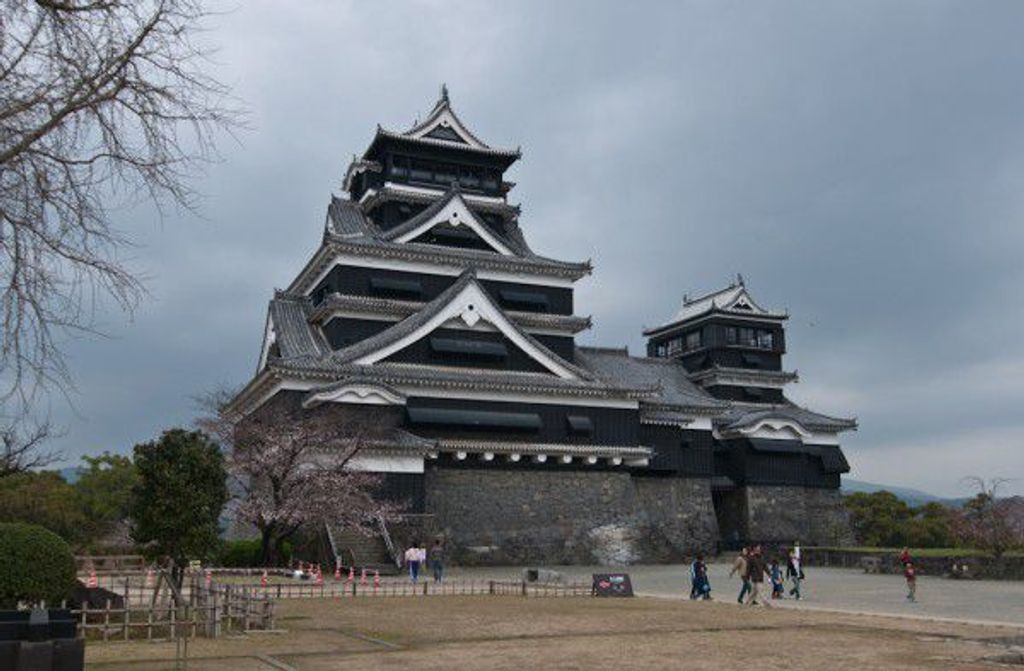 photo courtesy of chipango.wordpress.com


Shikoku:

2: Ozu Castle, Ozu

The foundations of Ozu Castle in Ozu City in Ehime were laid as early as 1331
by Utsunomiya Toyofusa. From 1585-1617 the castle was ruled by a quick
succession of different lords, who most likely all had some say about the castle's
lay-out and changed certain aspects of the building. From 1617 until the Meiji
Restoration in 1868, the castle remained in the same shape, but a fire destroyed
its main keep in 1888. Although the castle tower endured heavy bombings during
World War II, the castle grounds were not harmed. The keep was reconstructed in
2004, using traditional techniques and wood from the surrounding area.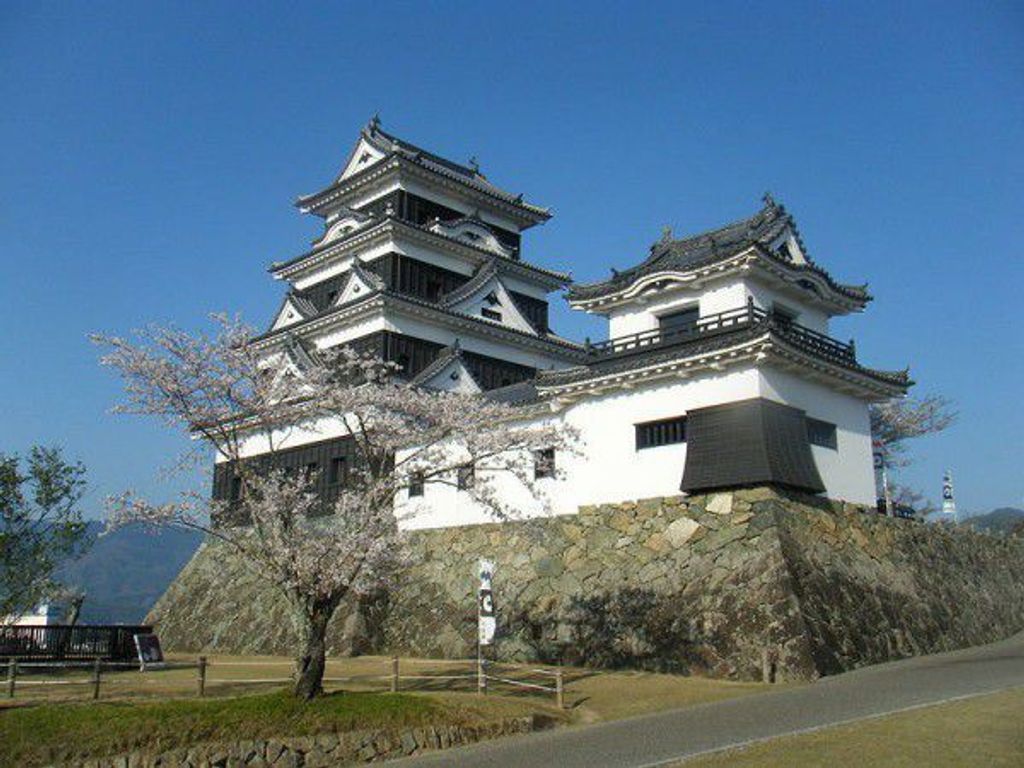 photo courtesy of asiaexplorers.com

3: Matsuyama Castle, Matsuyama

Matsuyama Castle was built in 1603, and has had to endure numerous damages
since. Once, its castle tower burnt down entirely after it was struck by lightning on
New Year's Day in 1784. The castle survived the reforms of the Meiji restoration,
which wiped out much of what was left of castles in Japan. However, parts of it
were destroyed by American bombers during World War II. Since the late 1960s,
Matsuyama city has been working to restore the castle.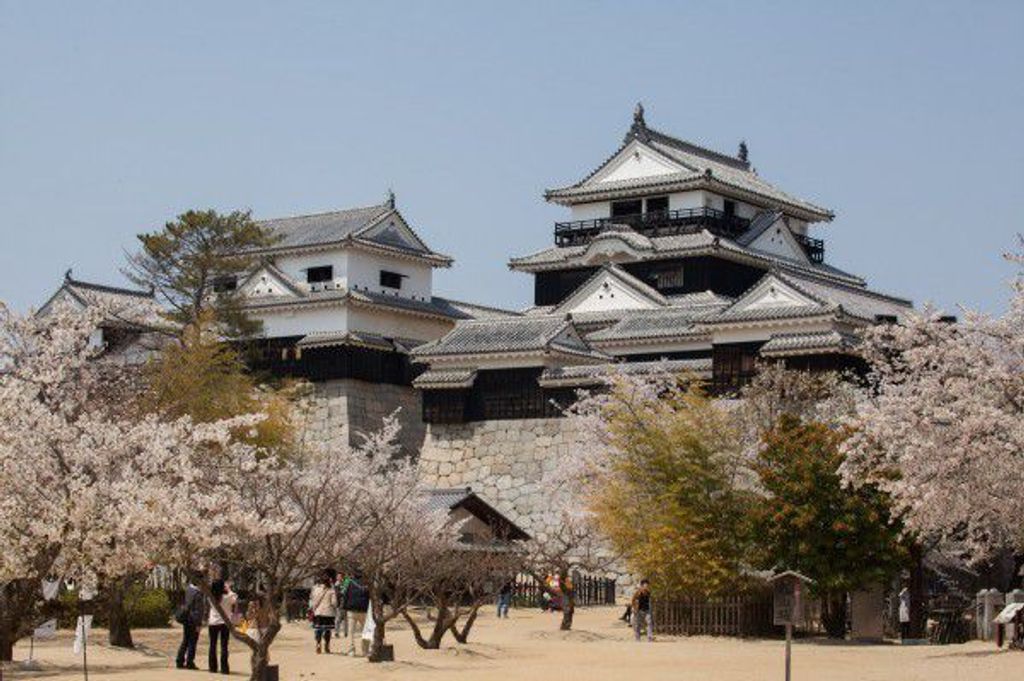 Honshu:

4: Matsue Castle, Matsue

The impressive keep of Matsue Castle is still in its original state. Although the
other buildings on the site were destroyed and had to rebuilt on a later date, the
keep survived. It thus gives you a unique insight to Japanese architecture and
construction styles. The castle is a complex structure and is built in a watchtower
style. Although is seems to have five stories from the outside, it has in fact six
levels inside. Most of the walls of the castle are painted black, giving it its
nickname 'the black castle'. The structure is strong, built to withstand warfare,
and yet it is majestic and solemn, almost a bit melancholic, and reminiscent of
the Momoyama style.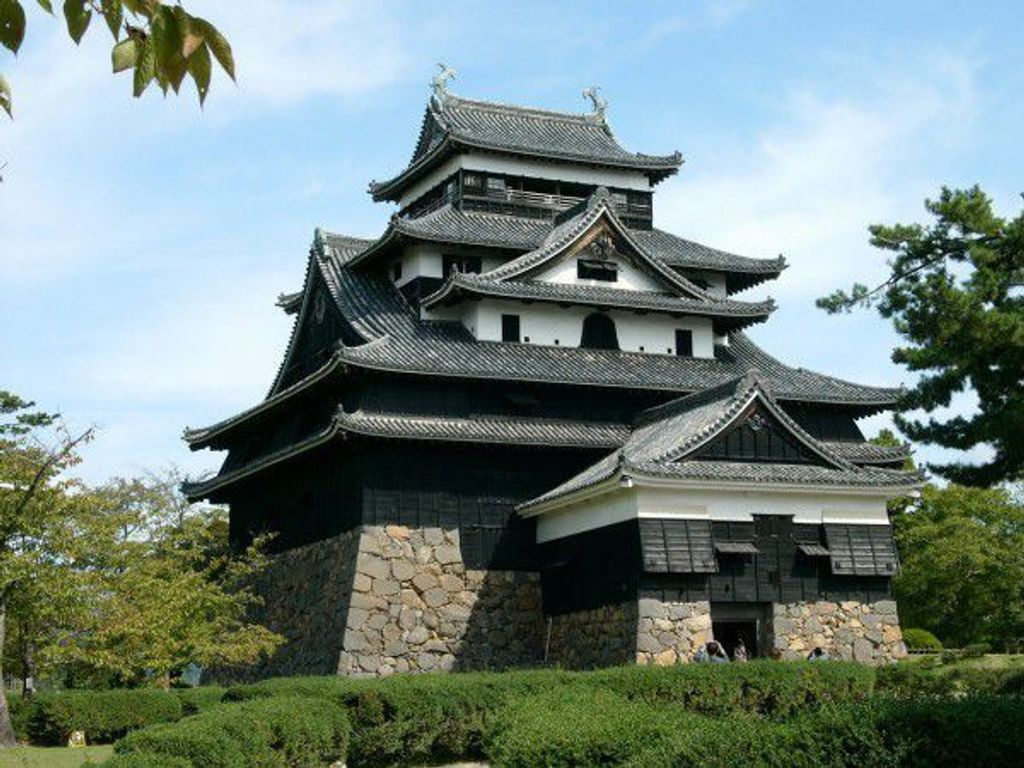 photo courtesy of connect-shimane.com

5: Himeji Castle, Himeji

Himeji Castle is one of Japan's most paramount castles. Together with the
Horyuji Temple in Nara, it was the first building to be designated as a cultural
heritage site in Japan in 1993. The castle grounds cover a large ground with
two wide moats. It was designed to work like a maze to fend off possible attacks
to the feudal lord living in the castle. Be warned: even though nowadays the
castle ground is fully equipped with signboards, tourists often get lost...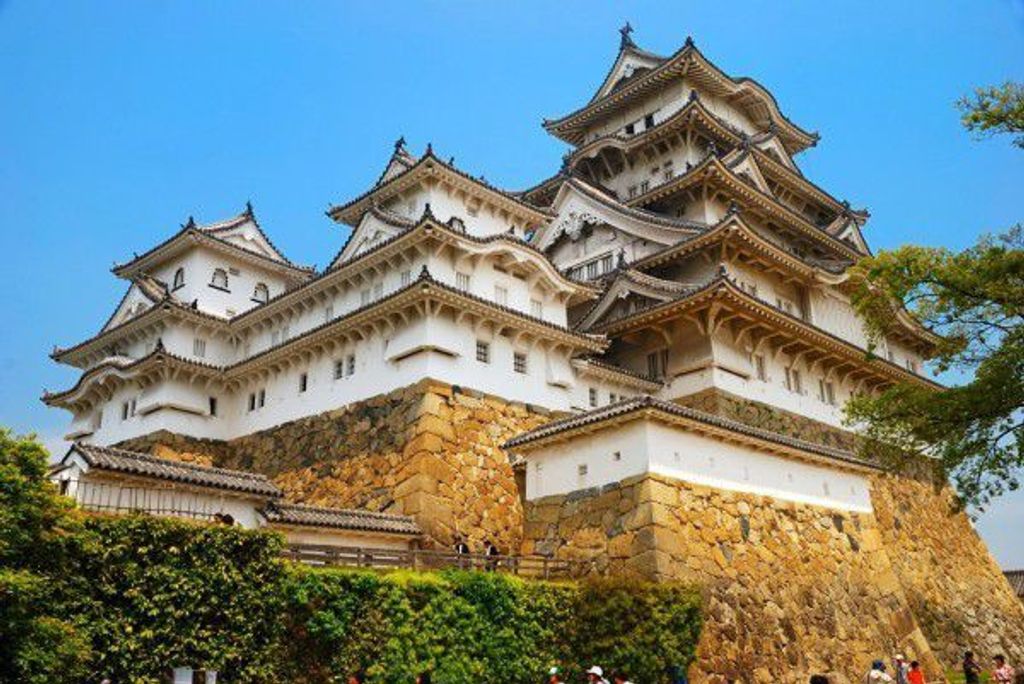 photo courtesy of mltours.com

6: Nijo Castle, Kyoto

One of Japan's most famous castles. Nijo Castle dates back to 1603 and
has been the stage for numerous meetings and gatherings of the Tokugawa
shogunate, which ruled the country for over 250 years since they took power
in 1603.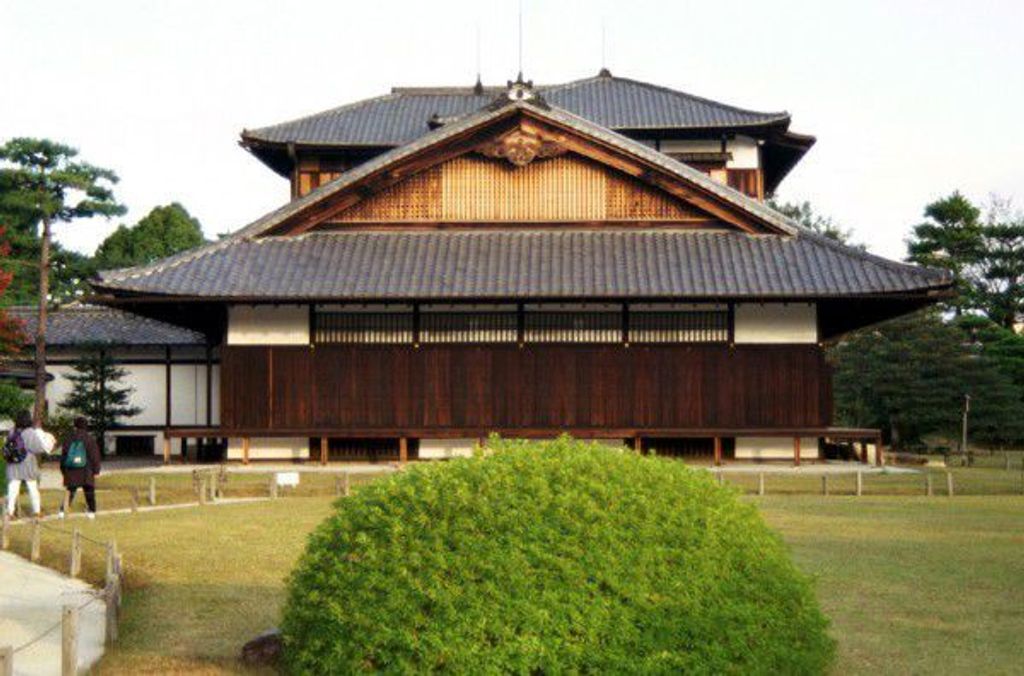 Image courtesy of raubacapeu.net

7: Hikone Castle, Hikone

Hikone Castle's predecessor, Sawayama Castle was bestowed upon the famous
warrior Ii Naomasa for his services during the Sekigahara battles in 1600. Tokugawa
Ieyasu, who gave the castle to Naomasa, had it rebuilt directly starting from 1604,
and Hikone Castle took Sawayama Castle's place in 1624. Naomasa's family, the
Ii's, were a noted warrior family. Their services for the shogunate did not go unnoticed,
and they eventually received an annual salary of around 63 million litres (!) of rice.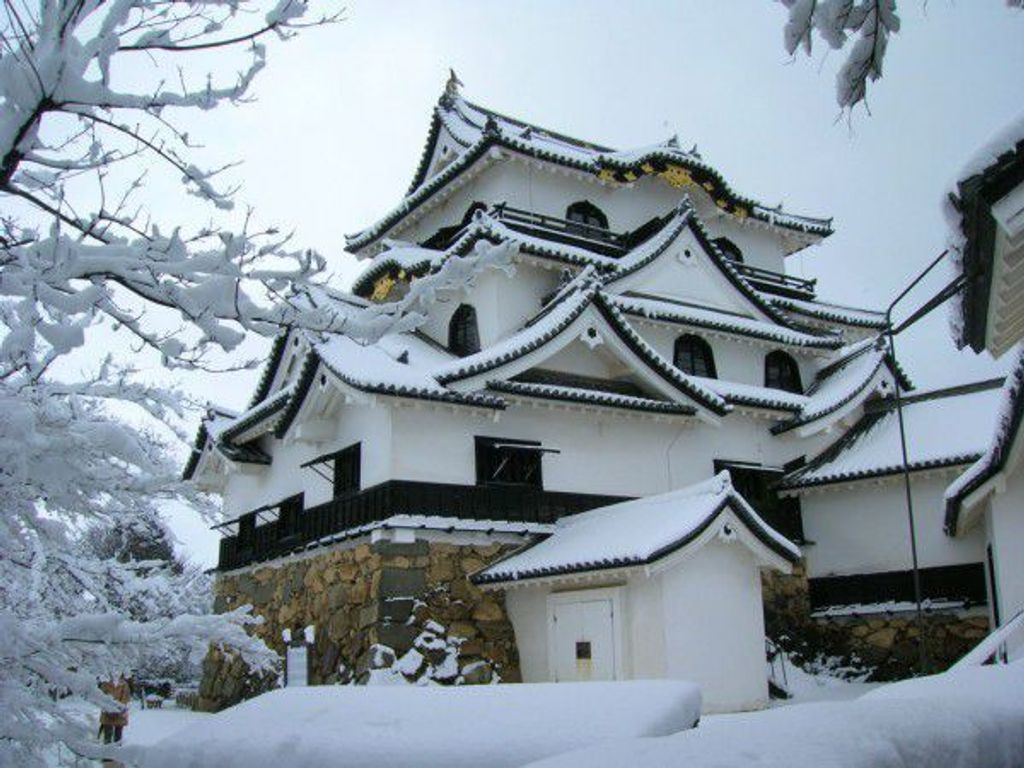 photo courtesy of hikoneshi.com

8: Matsumoto Castle, Matsumoto

Matsumoto city is located north of Tokyo in Nagano prefecture. It is a place where
you can unwind from the busy city life, offering lots of fun activities in the rich nature
of the area (called the Japanese Alps). Matsumoto is famous for their onsens, or hot
spring baths, in which some you can even encounter wild monkeys. If you make the
trip to Matsumoto, you should not miss out on the marvellous castle.

Matsumoto Castle is one of the four castles designated as 'National Treasures of
Japan' and the oldest castle donjon left. Construction began in 1592. Because of
the elegant black walls, Matsumoto Castle is also called the 'Crow Castle'. Inside
the castle the ceilings are low and steep stairs lead you past displays of armour
and weapons used during the Sengoku (or 'Warring-States') period when the castle
was built. Once used by archers and gunmen, the narrow wooden windows offer an
astonishing view of the mountain range, of Matsumoto City and of the koi carps and
swans circling in the moat below.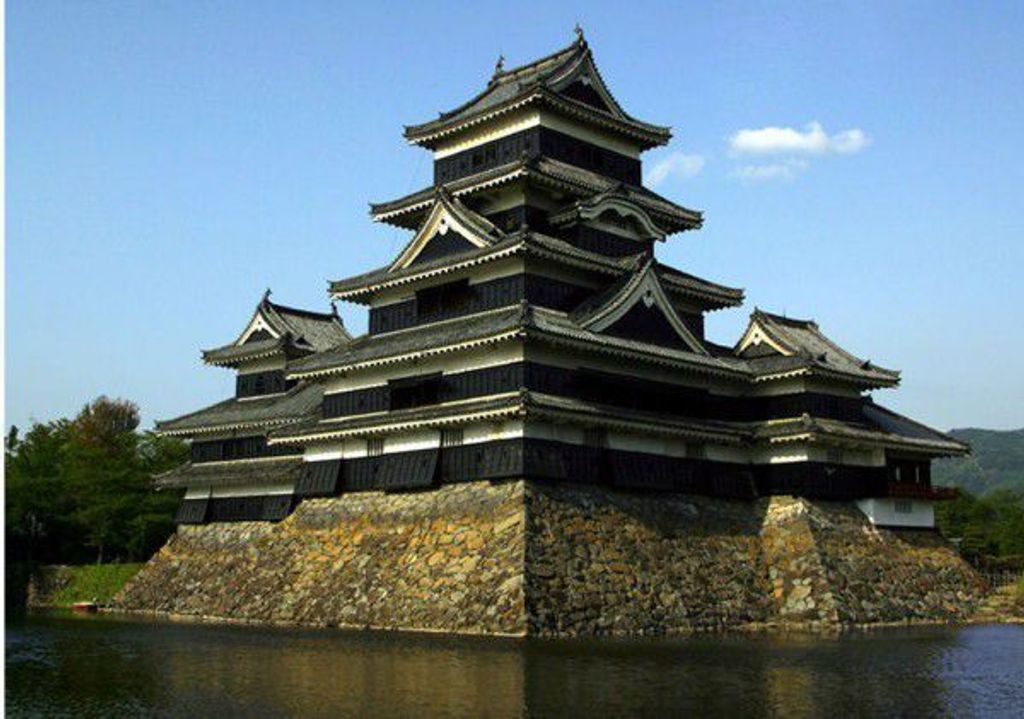 photo courtesy of ow.uk-.co-uk

9: Hirosaki Castle, Hirosaki

Feudal lord Ooura Tamenobu was awarded a large plot of land around Hirosaki
for his loyalty to Hideyoshi during the Battle of Odawara. Tamenobu changed his
name to Tsugaru and started work on Hirosaki Castle in 1603. When he died in
1607, work on the castle was suspended until his son Tsugaru Nobuhira resumed
the building 1610. He finished the castle in just one year by cannibalizing materials
from Horikoshi Castle and Daikoji Castle. The reason the 3 level main keep of
Hirosaki Castle seems so small compared to the huge grounds encompassed
by the castle, is that is originally wasn't just a 3 level building. Originally, it was
built with a 5 level keep but struck by lightning, it burned down in 1627. The
renovated 3 level keep is actually the Ninomaru tasumi yagura watchtower.
The Tsugaru clan held the castle until the Meiji Restoration when it was handed
over to the government.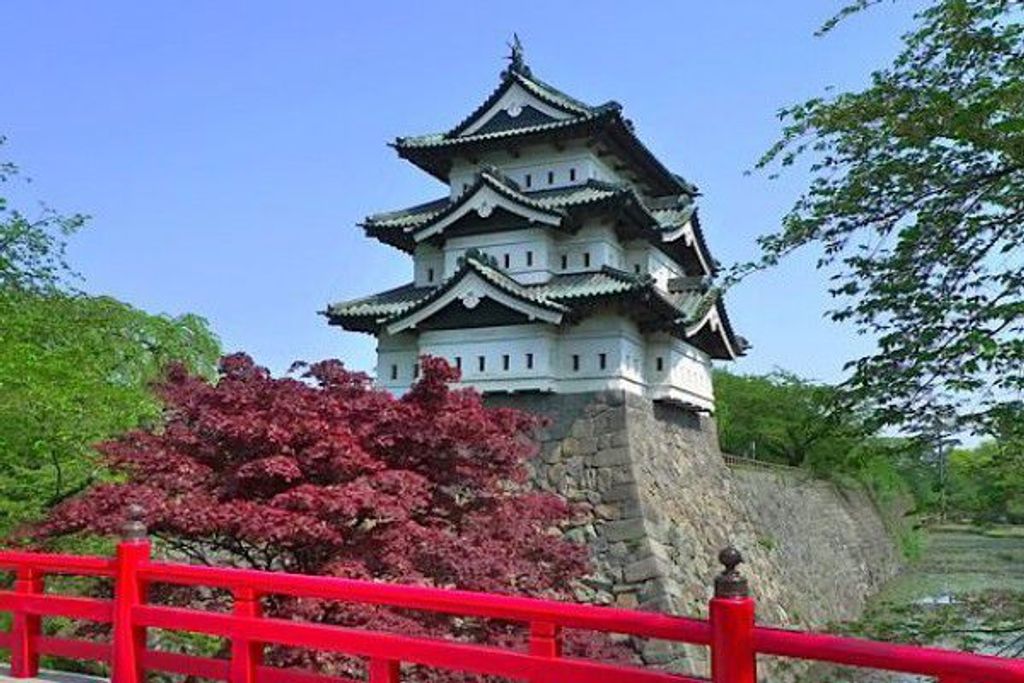 photo courtesy of jcastle.info


Okinawa:

10: Shuri Castle, Naha Okinawa

This is for sure the most remote of all the castles in my list for most travellers. However,
why not let this castle be an excuse to take a trip to the exotic islands of Okinawa? For
many Western travellers, Okinawa is too far and too expensive, which is really a shame
because it's an awesome place to go (and actually not that expensive anymore with the
advent of LCC airlines). They have a completely different culture than mainland Japan,
which can be seen in their food, their people, their clothing, and architecture, to name a few.
Compare Shuri Castle to the castles named above and you know what I mean.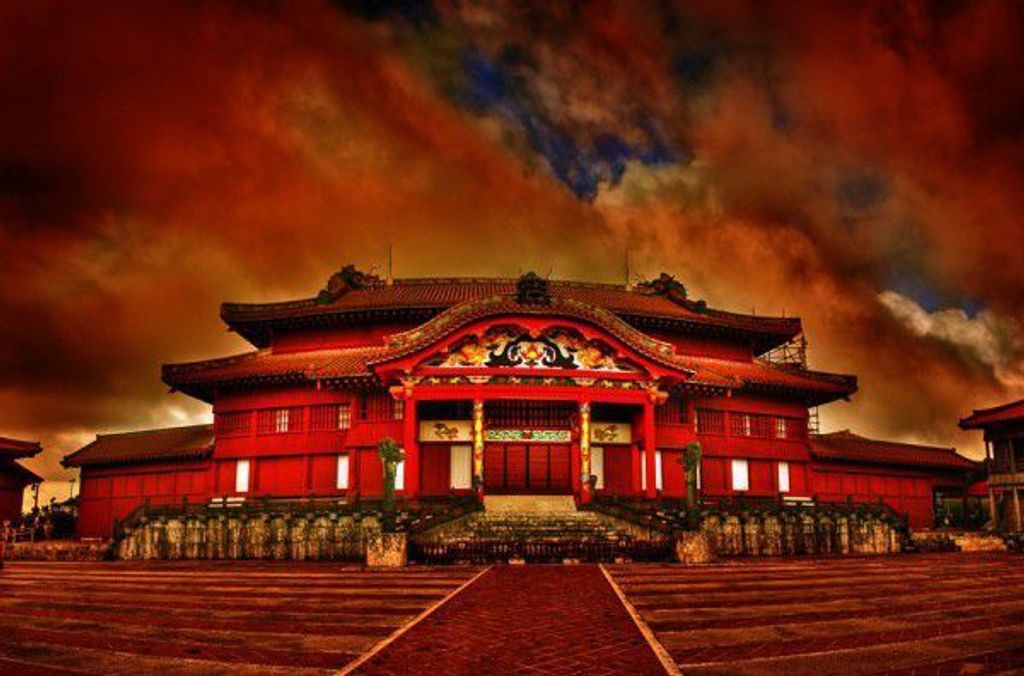 photo courtesy of awomanreading.wordpress.com