Tonight, an event known as Tori-no-Ichi is taking place in Asakusa. Held every November on each day of the rooster, over thirty Otori Shrines across Japan host this strange festival. Today is Tori-no-Ichi part one of three, the second installment will be held twelve days from now. The third, a week and a half later. The main focus of the festival is rakes. A special rake known as a 'kumade' harnesses the power of a god, and brings with it good financial fortune and prosperity in business.
People here are holding last years kumade, here to return them and replace them with a slightly larger rake. They don't get a refund for the rake they bought last year; I am not even sure what happens to them; presumably they are resold in twelve days time. These decorated rakes start from the smallest versions, costing around ¥1000 each, to the largest rakes, usually reserved for huge companies, costing around ¥800 million.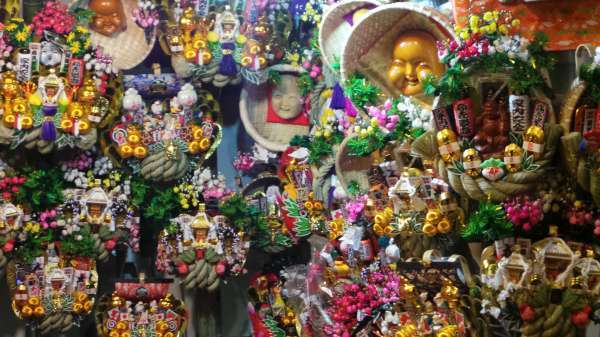 I find it somewhat ironic that the more you spend on a kumade, the more wealth you are said to acquire. I will take a small ¥1000 rake and keep my money, thanks. Every time a kumade is sold, a ritual of hand clapping known as 'tejime' is performed by the stallholder, and just about everyone else in the vicinity. After walking through a huge market of shops all selling the same thing, I no longer feel as though I am inside the grounds of a shrine. It feels like I am lost in a city of market stalls that stretch infinitely and indefinitely.
Pulled along by a wave of shuffling crowds, my route is decided for me, and I somehow end up at the front of the main shrine. I throw in a ¥100 coin (more expense), ring one of the huge bells, bow twice, clap twice, bow again, before praying, for nothing at all. After praying I am pushed out of the shrine toward one of the side exits. People leave happy with their now blessed kumade, the only thing left for them to do is carry their massive rakes home.
The shrine exits into yet another market.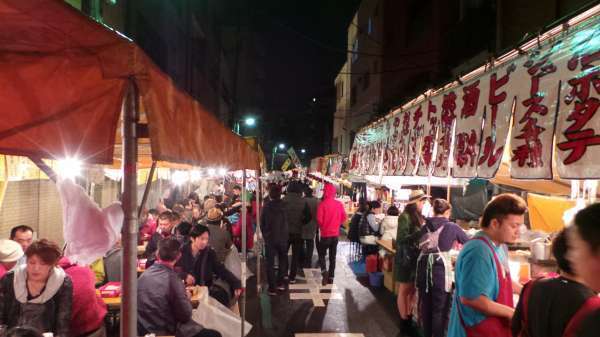 The market smells incredible, and is mostly stalls selling foods and beverages. For the third time today I am reminded of Christmas. I wander up to one stall selling decorated bananas. Once again etiquette dictates that I have to buy a souvenir, and I can't think of a better gift than a chocolate coated banana. After handing over ¥300 to the stallholder, he makes a fist with his hand. "One, two, three, rock," he says. I hold out my hand flat. "Ah, paper, you win!" Brilliant, for the second time this week I win a banana.
Next, a stall selling something that gives off the best smell I have ever experienced. I have to queue a while, perhaps fifteen minutes, all the while salivating as I watch more and more of the delicious looking hot cakes baked before my eyes.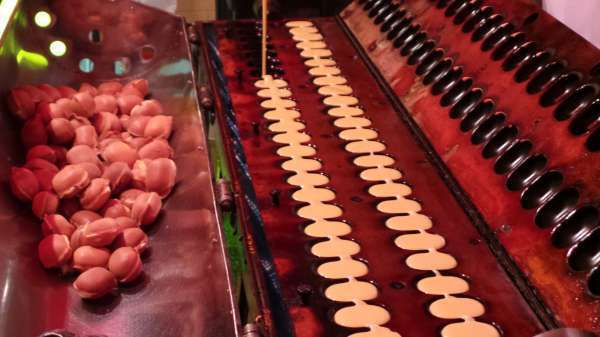 Eventually I reach the front of the queue. I excitedly hand over ¥300, and purchase a bag of twelve delicious hot kasutera. This sponge cake is made from milk, honey, eggs, sugar, and flour, and is now my favorite snack. I will come to Tori-no-Ichi part two, if not just to buy more of this delightful treat.
I head to a shop selling yakisoba; a type of Japanese fried noodle served with vegetables. The stallholder here says that because my eyes are the bluest he has ever seen, he will give me a special, larger serving. I sit on a bench and devour my yakisoba, surrounded by the sights and smells of this huge market.
On my way home I continue my walk through the stalls, and see a shop selling ¥400 baked potatoes. Still slightly hungry, I decide to make one final stop. It turns out the stallholder here doesn't know how to haggle. I ask for one potato, but he says that I can have four for ¥300 instead. A discount of 25% for four times the potato I asked for. I can't argue with his wild logic.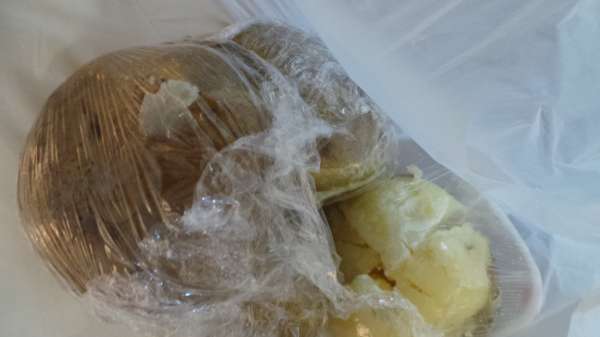 With my free banana, free potatoes, and empty bag of kasutera, I realise that for me, the prosperity promised by this festival has instantly started to pay off.
More Information:
- Tori-no-Ichi can be enjoyed on November 5th, November 17th, and November 29th.
- Because the event starts at exactly midnight and runs for twenty-four hours, there is often some confusion about the date and time. For example, the event tonight started at 23:59 on the 4th November, and will run throughout Thursday November 5th, finishing once again at midnight. We recommend that you arrive at 23:30 the day before the event, as most stalls will begin to open around this time.
- The event is absoluetly free (unless you spend money on potatoes or decorated rakes).
- For more details, please visit the official website for Tori-no-Ichi, Asakusa.
- And finally, here is a map:
Best Virtual Tours & Experiences in Japan
Looking for an authentic travel experience in Japan but still stuck at home? No problem! Why don't you start by taking a Virtual Tour for a moment's escape from the mundane and chaos with our professional guides in Japan?
Top Experiences:
→
More Japan Virtual Tours & Experiences