Vending machines are everywhere in Japan: in sidewalks, beside shops or establishments, in subways, train stations, bus stations, schools, offices, public parks… anywhere and everywhere you can expect to see at least one vending machine in the area. This is probably one of the reasons there are people who are actually fascinated by Japanese vending machines. Well, why not? Japanese vending machines offer a diverse selection of thirst-quenching fixes for you by just dropping in a coin.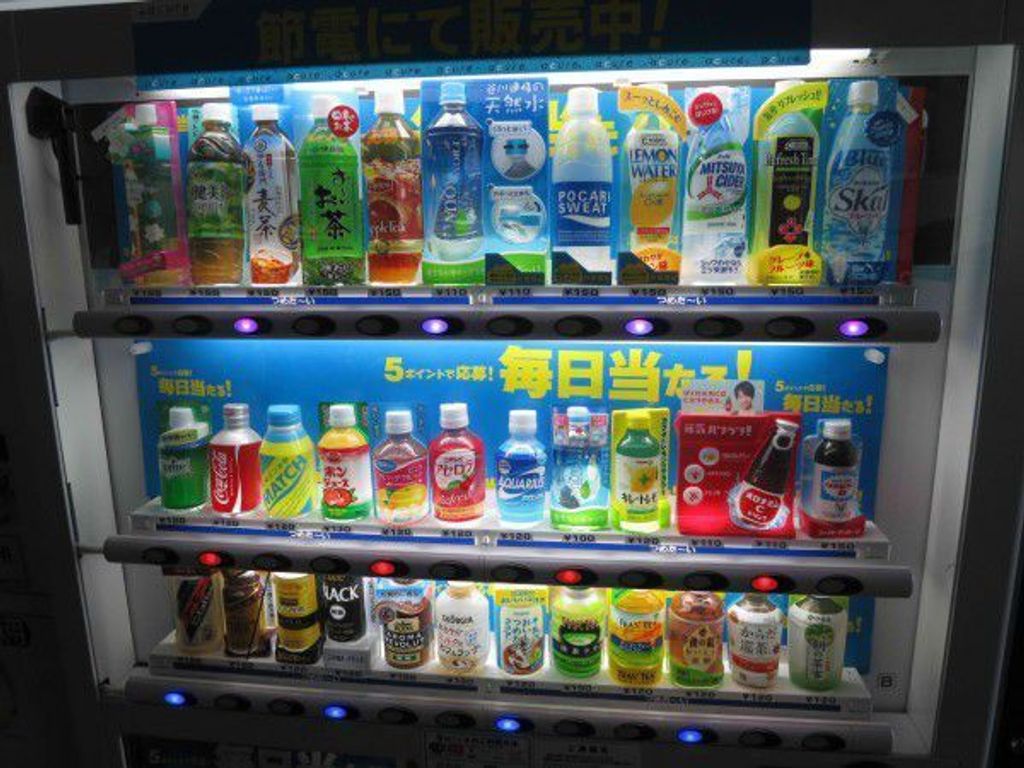 Photo from luggagetagtravels.com
What I am about to introduce to you now is nothing really out of the ordinary if you have stayed in Japan for a while now. But for visiting tourists and first timers who especially cannot read any or few Japanese, then let this blog article serve as a guide choosing your drink from a Japanese vending machine. Take note: This list is not exclusive by any means. There is a very large variety of beverages available in Japan and I have selected 10 out of the endless varieties currently present in the market.
I Lohas natural mineral bottled water is a new product from Coca-Cola Japan which is famous for its campaign for eco-friendly easy-crush bottles.
Fanta is a carbonated fruit drink that comes in a variety of fruity flavors: Orange, Apple, Black Cherry, Grape, Pineapple, Strawberry, Peach, Lemon, Grapefruit, etc. What's unique is that Fanta also distributes other flavors unique to Japan such as Moo Moo White, Ume (Plum), Snow Squash, R18, White Banana, The Mystery Fruit, Strawberry Cream, La France, and a whole lot more.
Coke, Coke Zero, Coke Light, and all other Coke variants are of course available in Japanese vending machines. I mean, do you think they will be absent from vending machines?
For anime lovers, the brand Dr. Pepper might ring a bell. Yes, it's that drink from STEINS; GATE. Dr. Pepper is famous for having a unique indescribable taste which is not cola, not cherry, not strawberry, nor any other fruit.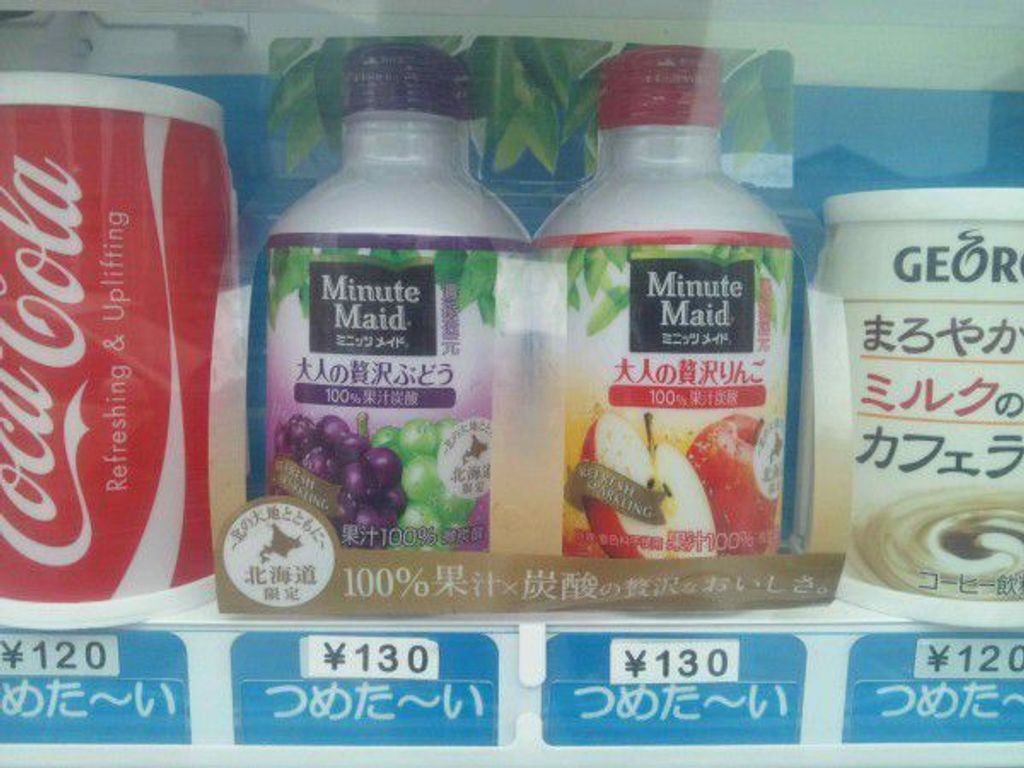 Minute Maid is yet another brand of non-carbonated fruit juices sold in Japanese vending machines. Fruit Plus comes in flavors such as Apple Guava, Lemon Lime, and Orange Peach.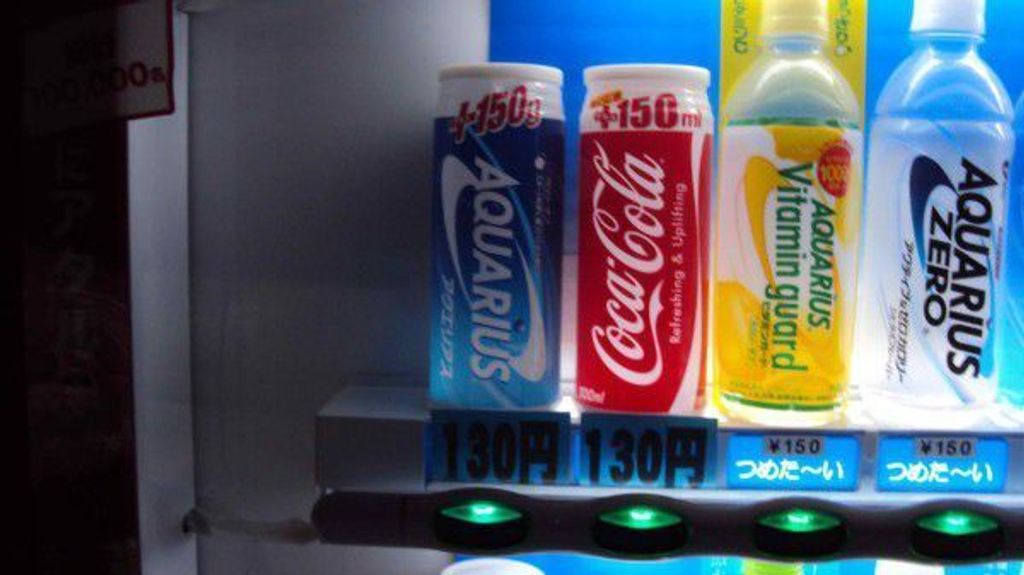 Aquarius is a brand of sports drink which was originally manufactured as a grapefruit-flavored sports drink. Aquarius is available in other variants such as Aquarius Neo, Aquarius Zero, Aquarius Active Diet, Aquarius Oasis, and more.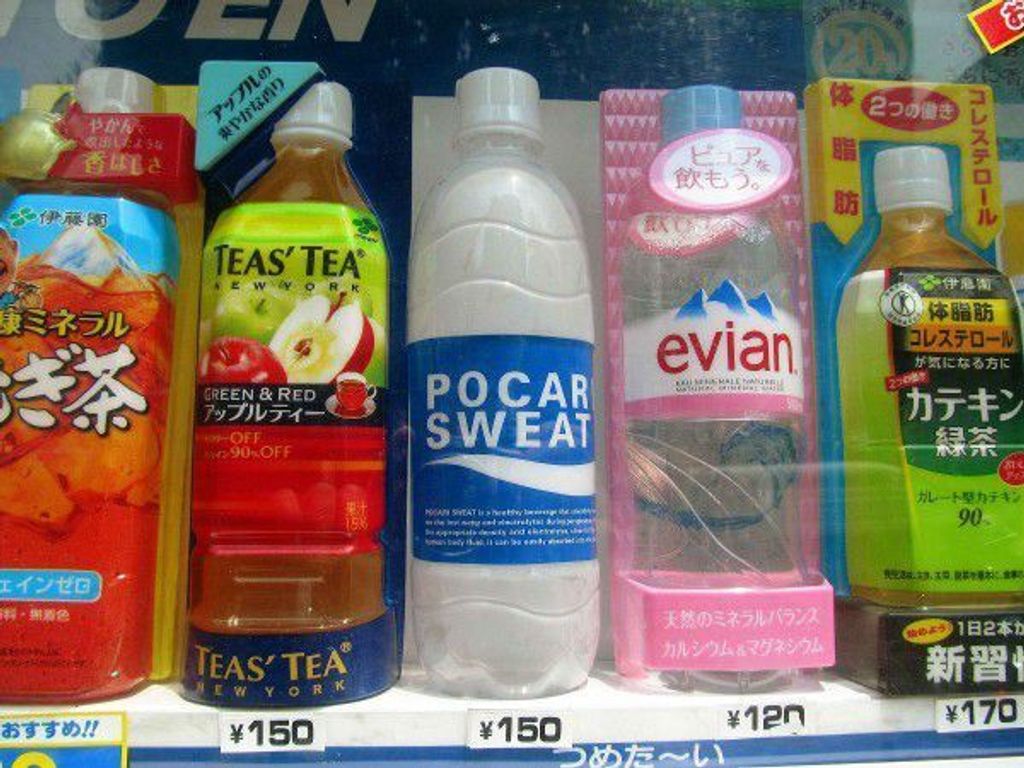 Pocari Sweat, similar to Aquarius, is also one of the famous sports energy drinks in Japan. One of the notable endorsers of Pocari Sweat is the all-girl Japanese band SCANDAL which featured Pocari Sweat in their music video for the song "Beauteen".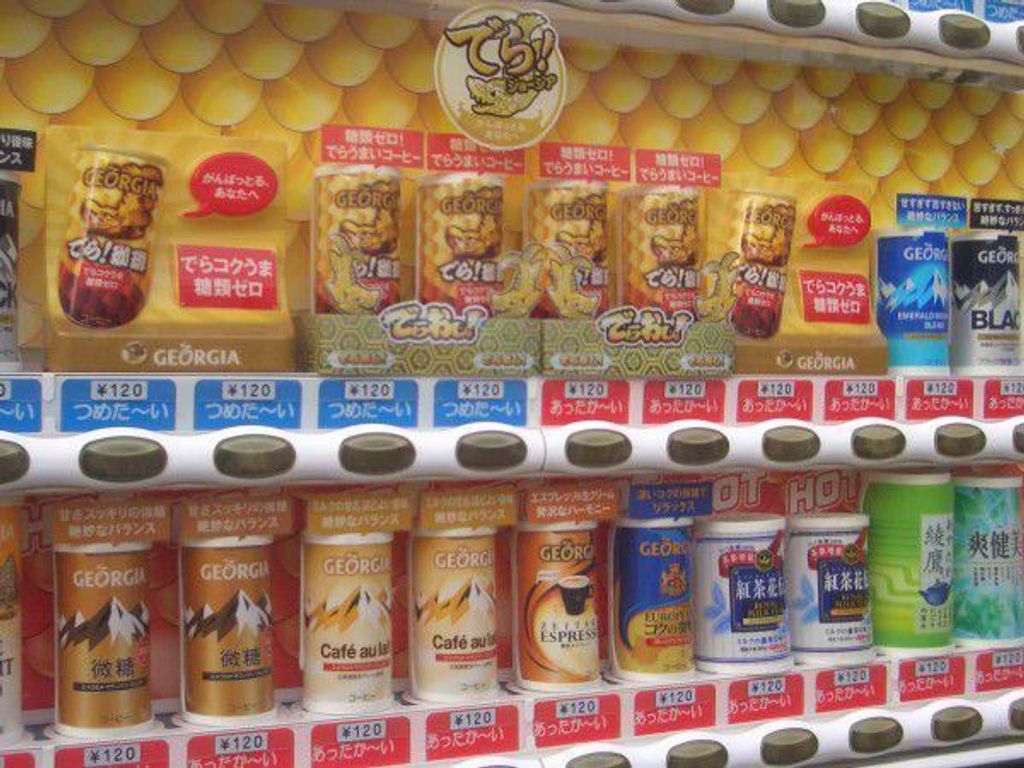 Georgia is one of those brands of canned coffee you will commonly see in Japanese vending machines. Georgia coffees come in original Emerald Mountain Blend, Black, Low-Sugar, and Premium. Georgia brand of coffees has also come up with a back-to-back promotional campaign with the anime Jojo's Bizarre Adventures.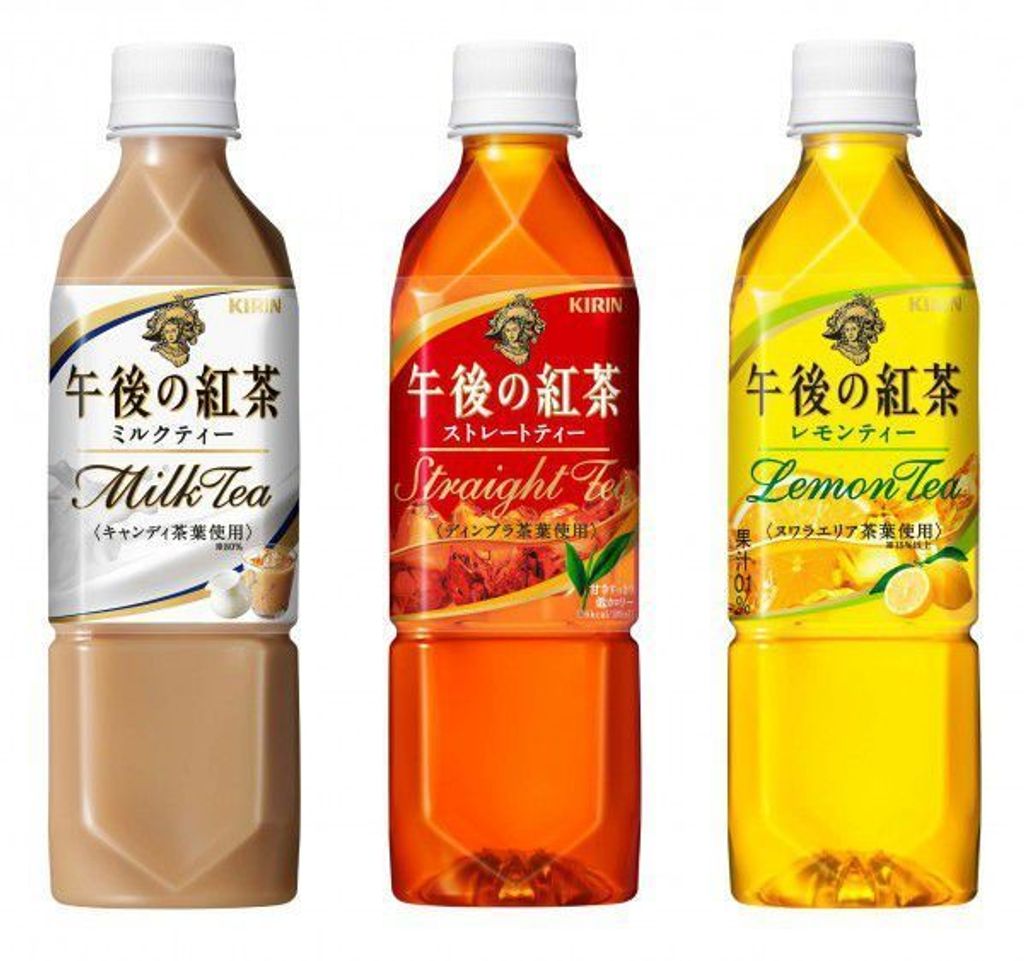 If Milk Tea is your thing, then Kirin's milk tea might become one of your next favorites. Kirin is normally known for its beer, but it also offers more to that including this Gogo no Koucha Milk Tea.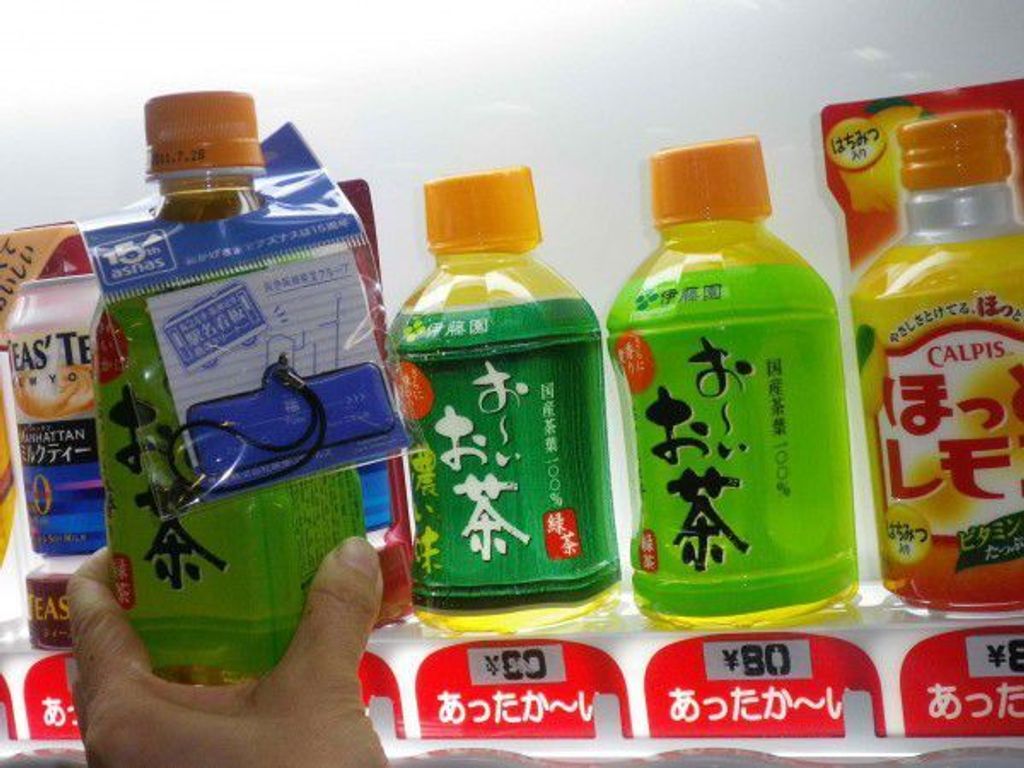 Ooi Ocha is only one of the many selections of bottled green tea you can avail at Japanese vending machines. Bottled green teas are often packaged in a transparent bottle with a leafy green colored label so different brands are easy to mistake for each other.
There are a whole lot more to the variety of drinks you can actually try to buy from Japanese vending machines such as UCC canned coffees, Calpis water, Lipovitan, Dekavita, Pepsi products, Evian water, and a whole lot more of fruit sodas, juices, carbonated drinks, alcoholic beverages such as beers and sake, sparkling waters, sports and energy drinks, and almost anything you can think of. So when you plan your trip to Japan, make sure to pay a stop to one of these eye-catching vending machines (but I'm pretty sure you will get to encounter them as frequent as you can imagine), drop your 100-yen coins or so, choose your pick, and enjoy your drink!
Some notes you might find worth knowing:
Beverages in vending machines normally range from 100-150 Yen depending on your choice of drink, of course.
The Japanese characters "つめた~い" that are written under the label of each drink in the vending machine means "cold beverage". It's read as "tsumetai" but is stylized as "tsumetaai" in Japanese vending machines for a friendlier atmosphere.
Drinks with red labels under them with the Japanese characters "あったか~い" are "hot beverages". It's read as "atatakai" but is stylized as "attakaai" for the same reason as the one stated above.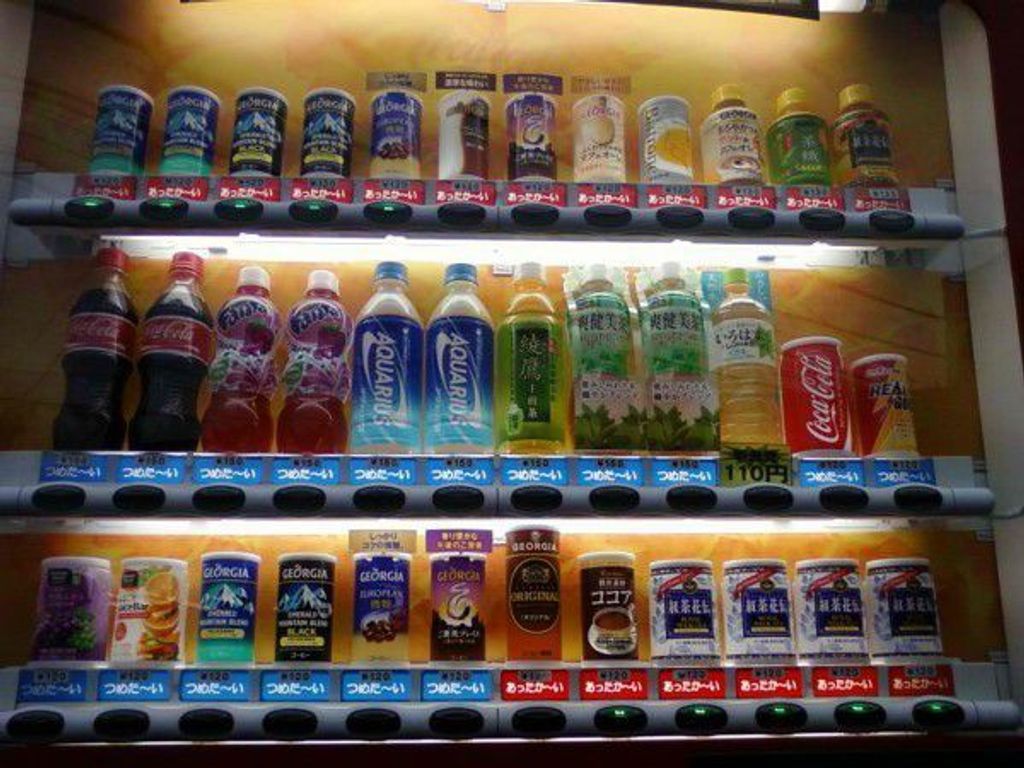 Japanese vending machines offer more than just beverages.

Read about: Japan's most unusual vending machines!
Want to have a better experience in Japan?
Japan is certainly a country that has a rich culture and lot to visit.
To plan better your trip, you can hire a private guide with GoWithGuide. Here are some advantages of the service:
Save your time
Custom itinerary
Know more about the history and culture of the places you are visiting
Qualified professionals to guide you
Private experience that allows you to focus on the people that are traveling with you and with time flexible.
Affordable price
You can also join a tour from GoWithGuide too and get knowledge about the main spots selected by the guides. This way, you will certainly have a great experience visiting Japan.
If you want to go further to the country, you can also hire private cars from GoWithGuide that allows you to go to various places without having to worry about the public transportation system and schedule.
Triple Lights is a company that wants to help tourists in Japan to have a better experience visiting the country. If you want to know more about how can the company helps you, visit the website or contact one of the guides.
Blogs about Japanese Beverages
Alcoholic beverages in Japan
5 Crazy Japanese Vending Machines
10 of Japan's Most Unusual Vending Machines