⭐⭐⭐⭐⭐ Come & enjoy the beauty of Japan with our highly rated Japan private tours.
LAST UPDATED: October 15, 2022
Ramen is practically a religion in Japan. Although it is considered to be fast food, there are many people dedicated to searching for the best bowl of steaming ramen that this country has to offer. But we've made it easy for you by compiling this list of the hottest spots to eat Ramen in Tokyo.
Ramen is a very popular noodle dish in Japan which originated in China but is now one of Japan's most popular foods. Below is a list of the top 10 ramen restaurants in Tokyo:
1. Tsuta Ramen - Sugama
Tokyo has the most Michelin star restaurants in Tokyo. To dine at one of these world-class restaurants would normally cost you an arm and a leg. Until Tsuta. This humble ramen shop was granted one Michelin star. Here, a bowl of ramen will cost you around $10. Where else in the world can you say you ate at a Michelin star restaurant for that price? However, this is a classy place where truffle oil ramen is on the menu.
After receiving this award, the shop had lines running out the door. So this tiny 9-seater restaurant decided to implement a ticketing system. Don't miss out on the best ramen in Tokyo!
More information on the restaurant can be found here.
Location: 1 Chome-14-1 Sugamo, Toshima, Tokyo 170-0002
2. Ramen Jiro - Mita Honten
At this infamous ramen, people start queuing for lunch from 10:30am, so you better get in quick to try one of Tokyo's best ramen. There are over 30 locations. The average wait time is around 45 minutes. One of the best things about this restaurant is that you can choose what size bowl you would like. Be warned: the large is GINORMOUS!
3. Ichiran Ramen

Photo by: abex / CC-BY-SA-2.0
Ichiran ramen is the most popular ramen chain in all of Japan, with locations spread across the country. They are famous for their tonkotsu ramen, which is made using a pork broth. Another notable point about this joint is that there is virtually not human interaction. You chose your order via a machine which is normal of a ramen shop. Then they hand you a form where you can select your preferences such as richness of broth and how soft you would like the noodles to be. They are very foreigner friendly as they have English forms. Then you go to your little cubicle, which partitions you from the person sitting next to you.
4. Rokurinsha in Tokyo Ramen Street
Rokurinsha, located in Tokyo Ramen street, serves high quality ramen. The speciality here is tsukemen ramen, which is dipping ramen. The noodles are served cold and dipped into the hot ramen broth. This restaurant is one of the best Ramen shops in Tokyo because the broth is made with a mix of pork and chicken bone broth, giving it an extremely rich and creamy texture. If you're looking for a place to try Tsukemen ramen, check out the best tsukemen restaurant in Tokyo.
5. Ginza Kagari
If you are looking for the richest and creamiest Ramen in Tokyo, then you should add Ginza Kagari to your list. This ramen restaurant keeps up with the trendy Ginza image by using elegant seasonal toppings. They offer chicken ramen options for those who don't eat pork. Due to the popularity of this restaurant, they have opened up another restaurant just 5 minutes away. Wait times can be up to 1 hour for this gourmet ramen.
⭐⭐⭐⭐⭐ Come & enjoy the beauty of Japan with our highly rated Japan private tours.
6. Menya Musashi - Shinjuku
The number one must try ramen in Shinjuku is certainly Menya Musashi. It ranks as one of the best Tokyo ramen joints, and thus attract a long queue during peak hours.
Both its signature and tsukemen dipping noodles are basic but spectacular – with chunks of melt-in-your-mouth pork, chewy noodles and addictive broth. They use a flavorful soy sauce base made using pork and chicken bones, with a slightly seafood-y taste due to the addition of dried saury fish.
7. Kyushu Jangara Ramen - Akihabara, Harajuku etc.
Tonkotsu ramen is arguably the most popular style of ramen in Japan. One well-known chain of tonkotsu ramen shops in Tokyo is Kyushu Jangara Ramen. Unlike other tonkotsu ramen, the Kyushu Jangara contains not only thin slices of chashu but also big, thick pieces of braised pork belly. There's also a big lump of marinated cod roe, bamboo shoots, and a boiled egg. These combinations result in a satisfying bowl of ramen. Jangara also offers you the choice of tonkotsu ramen with various levels of fattiness, as well as miso ramen, spicy ramen, garlic ramen, and tsukemen.
8. Daishi Ramen - Ochanomizu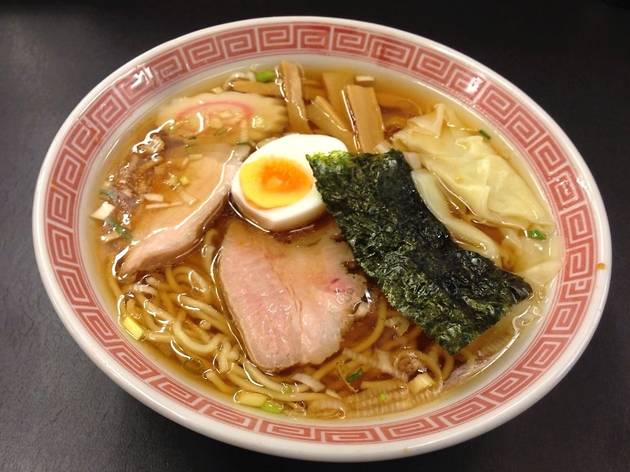 If you want something a little on the lighter side or are tired of the thick pork broth ramens, then Daishi has got you covered. They specialize in soy sauce broth ramen. A bowl of the house speciality will only cost you 650yen. This ramen is made using Chinese style cooking techniques, making for a truly unique ramen eating experience.
9. Sora-no-iro Ramen - Yotsuya
This one is for the vegetarians - this ramen shop specializes in ramen made without using any animals products. This is also suitable for people who only eat Halal as most ramen is made using pork. In addition to vegan ramen, you can find the traditional ramen fare. This restaurant is very popular, and you should expect to wait. For the best vegan ramen, Sora-no-iro ramen is not to be missed.
10. Menya Itto
Since 2010, Menya Itto has rapidly emerged as the shop with the best tasting ramen and tsukemen in Tokyo. The shop is popular for its signature dish, Seafood Tsukemen, which features homemade chewy noodles and a rich seafood soup. With a budget of more or less 1,000 Yen per person, you are guaranteed to enjoy a very satisfactory noodle dish at Menya Itto.
Read more.
How to eat ramen in Japan and what not to do!
In this video you will learn you how to eat and appreciate ramen, specially tsukemen, what to do when eating and what not to do when eating any kind of ramen in Japan! It also mentions the ingredients and curiosities about the Tsukemen ramen!
You can click here to watch the video, or click on the embedded video below:
This is from the Japan Fan channel where you can learn more about Japan: Japan Fan YouTube Channel


⭐⭐⭐⭐⭐ Come & enjoy the beauty of Japan with our highly rated Japan private tours.
Do you want to go to the best restaurants in the region? Do you want to try something different and not to regret? You want to eat in affordable places?
A private guide can help you to take the best of a place and have a better experience.
GoWithGuide offers private guides to make customizable itineraries, tours to guide you to the best spots and private cars for you to be able to navigate Narita and Japan without depending on public transportation, all these for an affordable price.
Watch the following video to know more.
Aside from our top rated tours in Japan, we are now also expanding to more countries all over the globe!
Blogs about food in Japan
Best Foods in Japan - Must-eat foods from Around Japan
Best Places to Visit in Tokyo - Parks, Shops, and Foods
Best Restaurants in Tokyo - Cheap and Affordable Foods for Visitors