Sensoji Temple is one of the most famous places in Tokyo. You've probably even seen a picture of this temple with its bright red gate at the entrance. This gate is called "Kaminarimon" or Thunder Gate and it has a huge lantern hanging from the middle of it. People walk under this lantern and through the gate to enter the temple grounds. Because the temple is so popular, you'll find dozens of people milling around this gate in order to take pictures or to meet people there as it's like a landmark outside of Asakusa station.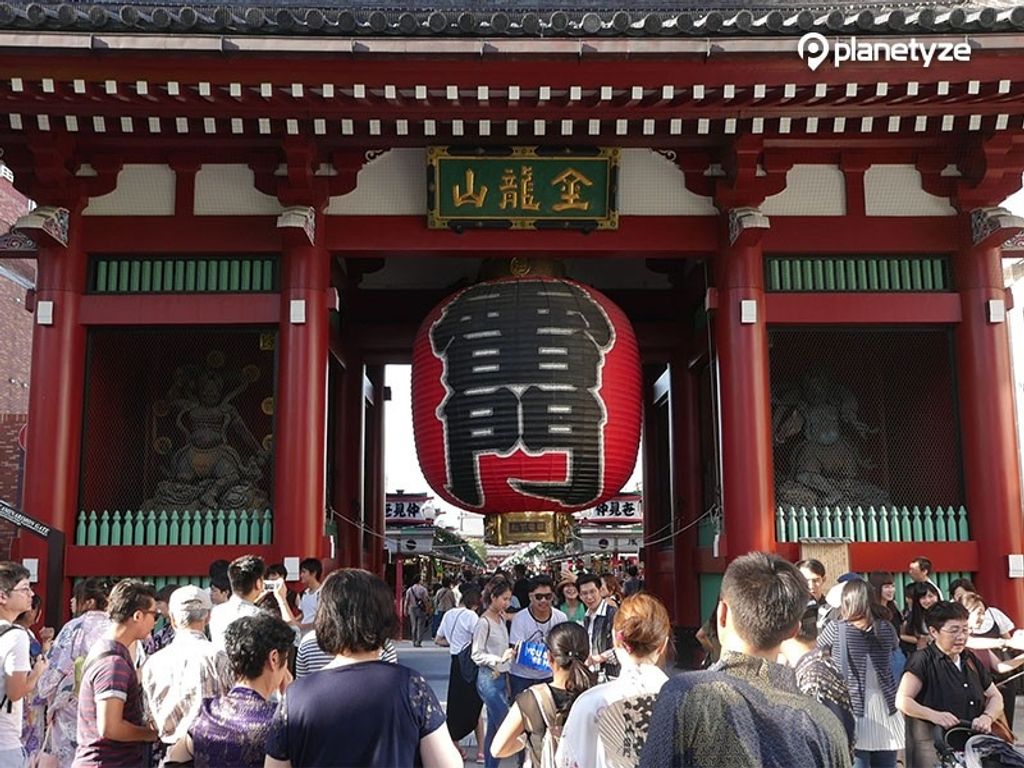 Asakusa is definitely on the list as one of the must see places when visiting Tokyo. It's located in the old town area of Tokyo where traditional temples and shops still exist. And it's about 30 minutes from the center of Tokyo. As the town is right by the Sumida River, you can opt to visit the temple either by train or the river boat . Another option for transportation during sightseeing is by private car. This is optimal for people who need a bit of help getting around or are in wheelchairs. Train stations do have elevators but the trains tend to be crowded and the elevators tend to be located at the edge of the station so it takes time to get from the nearest station to your sightseeing destination.
History of Sensoji and General Information
Sensoji Temple
Address: 2-3-1 Asakusa, Taito-ku, Tokyo (map)
Access: a 5 minute walk from Asakusa Station
Hours: 6 am to 5 pm (opens at 6:30 am from October through March)
Sensoji temple was completed in the year 645 and is the oldest temple in Tokyo. The temple is dedicated to the Bodhisattva of compassion, or "Kannon Bosatsu" in Japanese. Legend says that two fisherman brothers initially fished a statue of the Kannon out of the nearby Sumida River in 628. They and their wealthy landlord decided to enshrine it so that their whole village could pray to the statue and so they remodeled their own home into a temple. In the era of the Tokugawa shogunate, Ieyasu Tokugawa, designated Sensoji as the tutelary temple of the Tokugawa clan. The original main temple building was unfortunately destroyed in the bombings during World War II, but was rebuilt later on. The two gates leading up to the temple building have also burned down and rebuilt several times each during the course of history.
Across from the main temple building, you'll see Asakusa Shrine also known as "Sanja-Sama" to the local people. The shrine is dedicated to the three men who built Sensoji temple. You may find it strange to see a temple and a shrine on the same grounds, but Buddhism and Shintoism are religions that are non-exclusive so you'll see this kind of arrangement a lot in Japan. There is a large and exciting festival called the Sanja Matsuri held in honor of the three men, every third weekend of May. It's one of the three greatest festivals in Tokyo and attracts around 2 million people every year. If you want to learn more about the history and experience the culture firsthand, I would recommend finding a local guide who speaks English and knows the area well.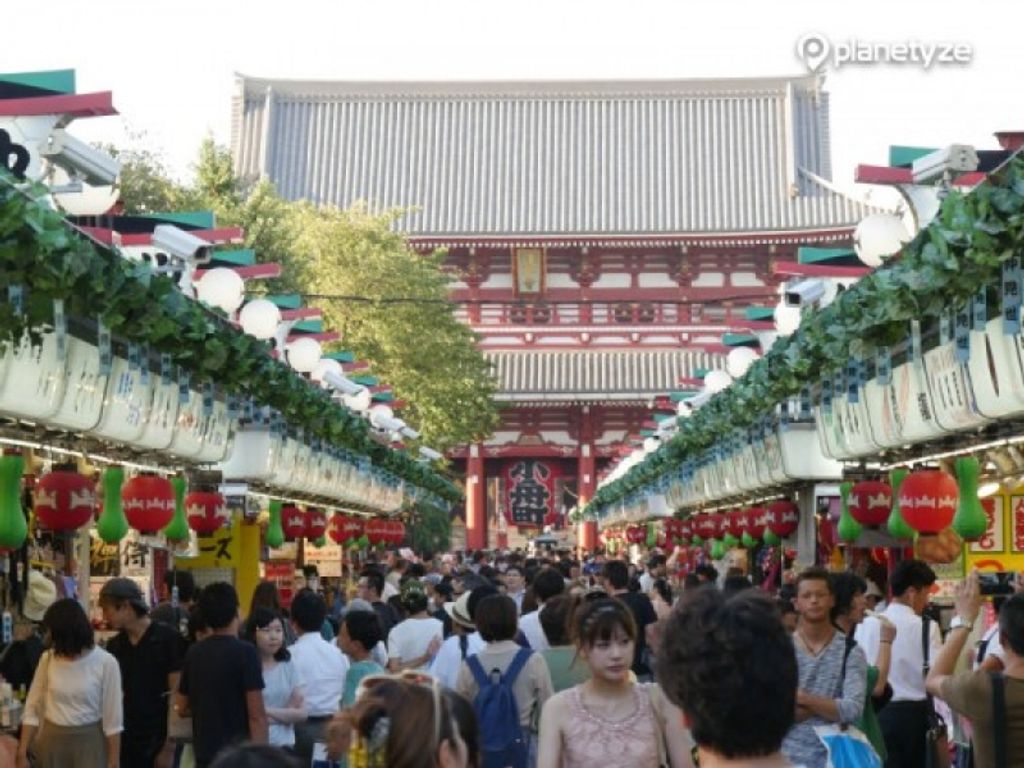 From the entrance of the large gate to Sensoji Temple, you'll find a 250m shopping street, stretching straight down from the gate to the main Sensoji Temple building. There are close to a hundred shops lining the street, selling souvenirs and snacks. It's a great place to buy souvenirs for yourself or small gifts for friends back home. And you should definitely eat some of the delicious Japanese snacks sold along the street while you make your way down towards the temple. There will be rice crackers, ice cream, steamed cakes with red bean fillings, etc. There also many small restaurants if you go into the side streets off of this main shopping street.
After passing the various stores, you'll see the Hozomon Gate. This houses the treasures of the temple inside its second story. And beyond this gate is the main temple. Before reaching the main temple though, you'll see people milling around a giant incense burner. Originally the smoke was to cleanse your body before entering the temple, but over time this changed into an understanding that the smoke will make the bad parts of your body better. Recently, this is understood as wafting the smoke on to your head will make you smarter.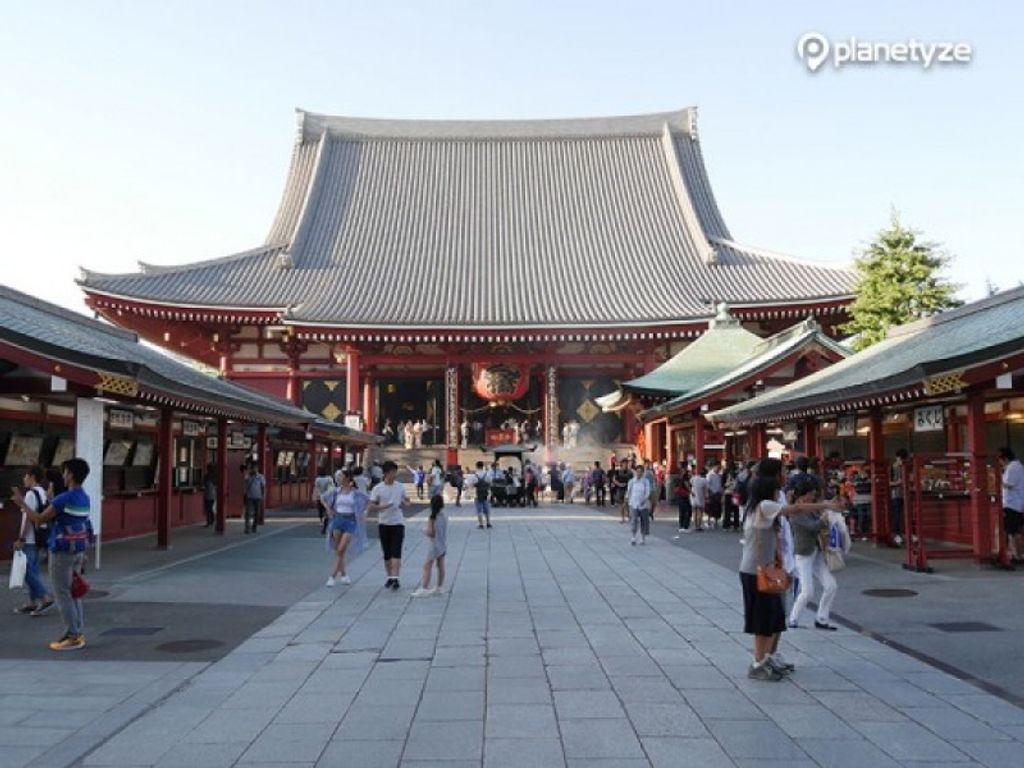 After seeing the main temple, you can also try your luck by buying an "omikuji". This is a slip of paper with your fortune written on it. If you find that your fortune is not very good, you need to tie the paper on one of the designated posts, thus changing your destiny. You can keep your fortune paper if it says good things. Sensoji temple is famous for having a high percentage of bad fortune slips, so don't be discouraged if you get one.
"Omikuji" Fortune: 100 yen
Almost all tours of Tokyo include this famous temple in their itinerary. At Triplelights, you'll also be able to find various kinds of tours for the Tokyo area and across Japan. The Tokyo Skytree is also located close to the Asakusa area, so it's a good idea to visit these two places on the same day. If you can't find a tour that will take you to all the places you want to go, you can request a tour and create your own tour with the help of a local tour guide.
Nearby Highlights in Asakusa
Hanayashiki
Hanayashiki is the oldest theme park in Tokyo. It was opened in 1853, but was destroyed during the war and later reopened in 1947. It's located about a 3 minute walk to the west side of Sensoji temple. It's not very big but the retro atmosphere of the place is intriguing. The entrance fee is 1,000 yen or 2,000 yen for the one day passport for 13 year olds and older. It's half that price for elementary school children. The rides are around 300 to 600 yen each, so if you plan on riding more than 2 rides, the one day passport is cheaper. The rides are small so they're not too scary for little kids. And it holds a different kind of thrill for adults knowing that the rides are really old.
Address: 2-28-1 Asakusa, Taito-ku, Tokyo 111-0032 (map)
Hours: 10am to 6pm (changes according to season or weather)
Website: https://www.hanayashiki.net/en
Melon pan
Have you ever heard of "melon-pan" or melon bread? It's a type of Japanese bread that is shaped like a dome with a crisp outside and a soft fluffy inside. The outside of the bread is sweetened with sugar and has a cross cross pattern like a cantaloupe rind, thus the name "melon-pan". Asakusa is the home of a popular "melon-pan" store, also to the west of Sensoji temple. You can buy one to eat while it's still warm from the oven, or you can buy a boxed set to take back to your hotel. They also sell this bread with a slice in the middle filled with ice cream. This is especially tasty on a warm day. It's quite big so maybe sharing one between two or three people is a good idea. You should also expect to stand in line for 10 to 15 minutes since it's usually crowded on weekends.
Kagetsudo Main Shop
Address: 2-7-13 Asakusa, Taito-ku, Tokyo (map)
Tel: +813-3847-5251
Hours: from 9am (will close when sold out)
Website: https://asakusa-kagetudo.com/en/
Further Reading:
Shinto Shrine: Top 7 Shinto Shrines You Must Visit in Tokyo Japan
Japanese Buddhism: Facts to Know Before Visiting Japan
13 Top Tokyo Tourist Attractions by Local Guides
9 Best Tokyo Food Tours by Local Guides
The 7 Top Places for Matcha in Tokyo: The Real Japanese Flavor