In Japan, there are vending machines everywhere, some more unusual than others. ¥ 130 saké cup vending machines that don't require age verification, the vending machine selling lead pipes in the Asakusa View Hotel, and the vending machine selling noodles in a tin in Akihabara, can all only be described as very odd, but here are five slightly more unusual machines:
King's Treasure Box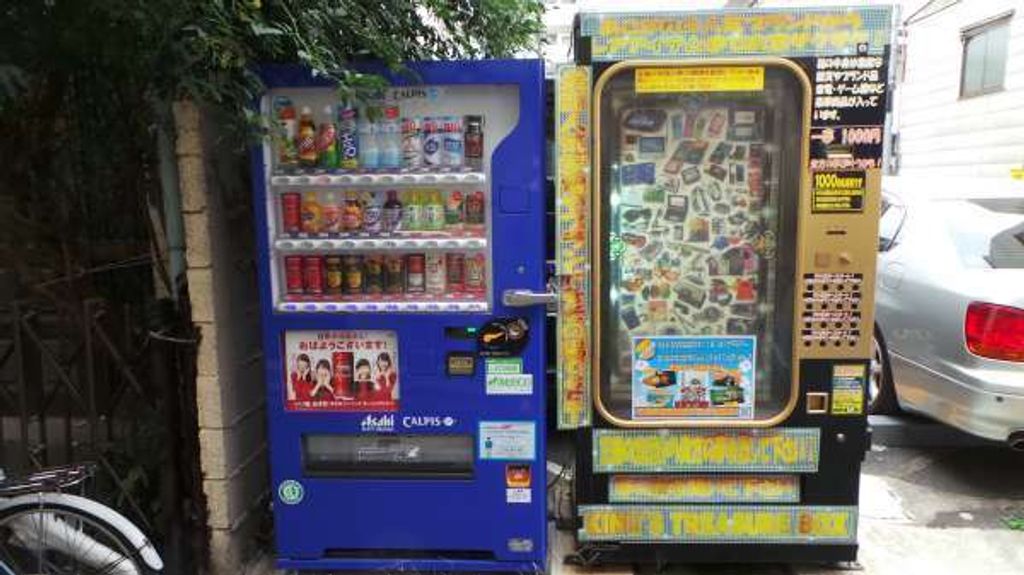 Japan, Land of the Prizing Sun. This machine is hidden away in the middle of a residential area in Minowa, down a side street that looks like it leads to a dead end, and sits beside a car park. There are also King's Treasure Boxes close to Ueno Station and Ōji Station.
A sticker on the front of the machine displays the English text, "Let it get." I can't hold back anymore. I insert my ¥ 1000 note into the treasure box. Above the note slot reads, "One dream, One note!" Some of the prizes include a Nintendo Duel Screen, a PlayStation Vita, and even a product vaguely labelled as, 'Famous car'. I follow the instructions, "Press any button and your dream will start." I hear an exciting clunk, before reaching into the lower chamber to retrieve my prize.
My treasure sits quietly waiting for me on the machines inner fake grass. Disco Glasses. Made in China. These glasses aren't something I would normally describe as treasure. They feature no lenses, cheap plastic, and voice activated flashing red lights. I have no way of knowing if this machine actually stocks the 'good' prizes; for all I know, the machine could be 100% Disco Glasses. Bitter and disappointed, I scour the machine for refund information. My limited Japanese ability understands that I can follow the 'King's Blog', if I so desire; any information about a refund isn't quite as forthcoming.
Thanks for all the Fish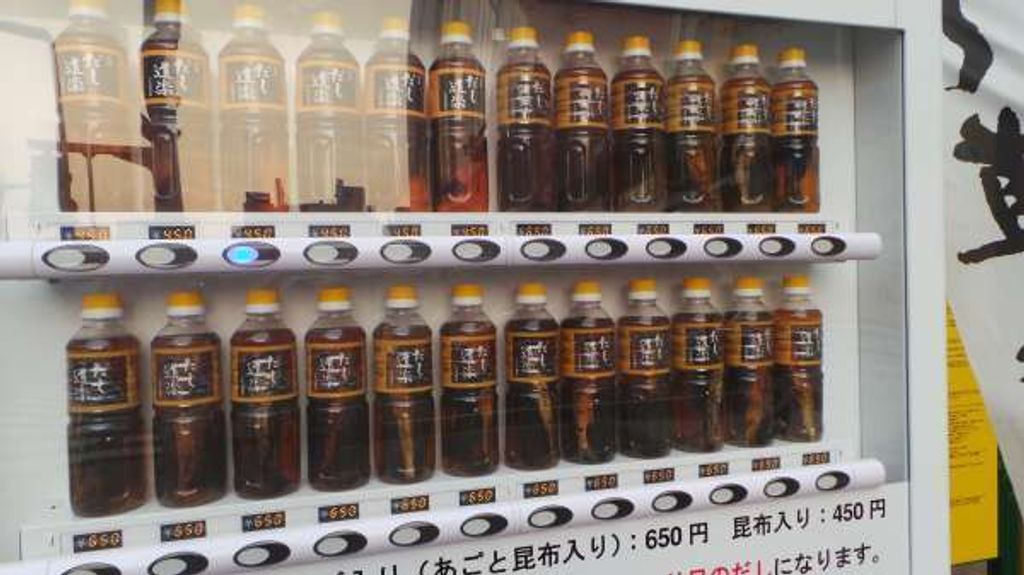 Japan consumes a lot of fish, so why not include it in vending machines. Outside Kokura Station I am surprised to see a vending machine that for ¥ 650 sells unusual bottles containing fish in a brown liquid. After a little research, I discove that this is Dashi, a type of cooking stock.
Happiness in your cup!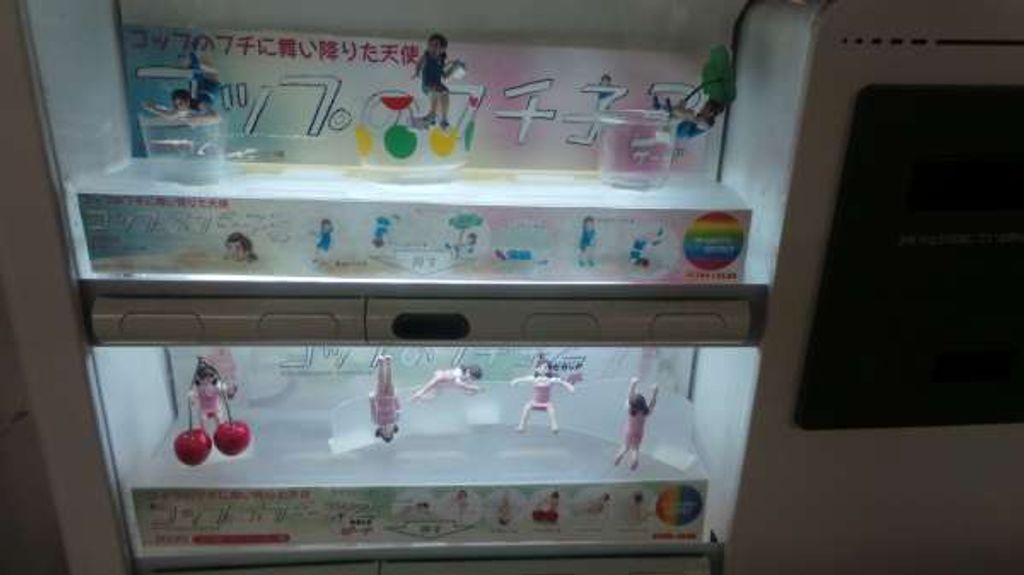 The machine offers four shelves of items. Two of which are toys for children; two sets from the Nature in Japan series. Small models of various different animals native to the country. It is what is contained within the other two shelves that I find strange. At a bargain price of ¥ 200 per purchase, I can buy office ladies that sit on the edge of my coffee cup; legs open, underwear exposed.
Akihabara Station famously has signs at each escalator, warning women to watch out for 'upskirting'. Apparently, it is a law in Japan that all cameras must make a sound when a photograph is taken. This vending machine perhaps tries to solve that problem. These coffee cup women are clearly exposing their undergarments, with no shame. The only shame, is possibly when your co-workers see you with a decorated coffee cup featuring this type of imagery. 'Make your office fun!' 'Happiness in your cup!' Just some of the explanations on offer, scrawled in Japanese across the machine.
Wheel of Misfortune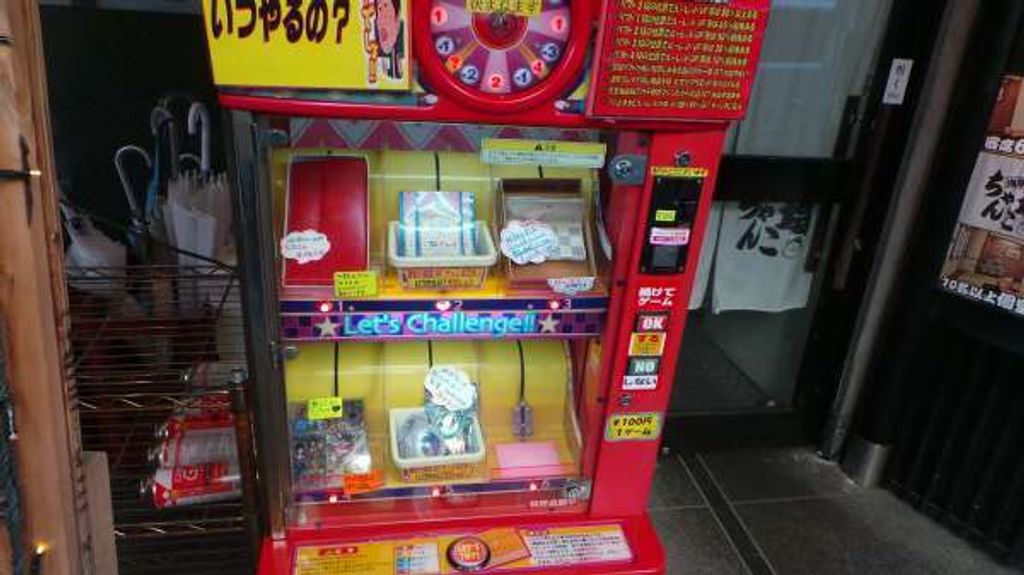 The machine costs just ¥ 100, and offers a chance to win excellent prizes. The machine is called, 'Pocket Lifter', and presumably, it lifts money from my pocket by tricking me into thinking I can win one of the luxury prizes. Hidden behind its polished glass front sits some trading cards, two Louis Vuitton purses, and tickets to Hanayashiki Amusement Park; the oldest amusement park in Japan.
The machine says, "One-two-three-four-GET!" Winning is as easy as counting. One of the Louis Vuitton purses can be won, and can be sold for ¥ 8000 at a nearby shop. The address is listed next to the prize, and the gambling loophole is exposed. Above the prizes sits a wheel with bright flashing lights. "Let's Challenge!!" How could I possibly resist. I keenly insert a ¥ 100 coin, "Thank you," the machine says, as it swallows my money. The wheel spins, and lands on the number one. The prize shelf moves up a fraction of an inch, then nothing happens. For a limited time only, I can get three tries for my money. I repeat the button pressing process twice, and disappointment reoccurs twice more. No prizes, no amusement, no amusement park, just more bad fortune.
Batteries Not Included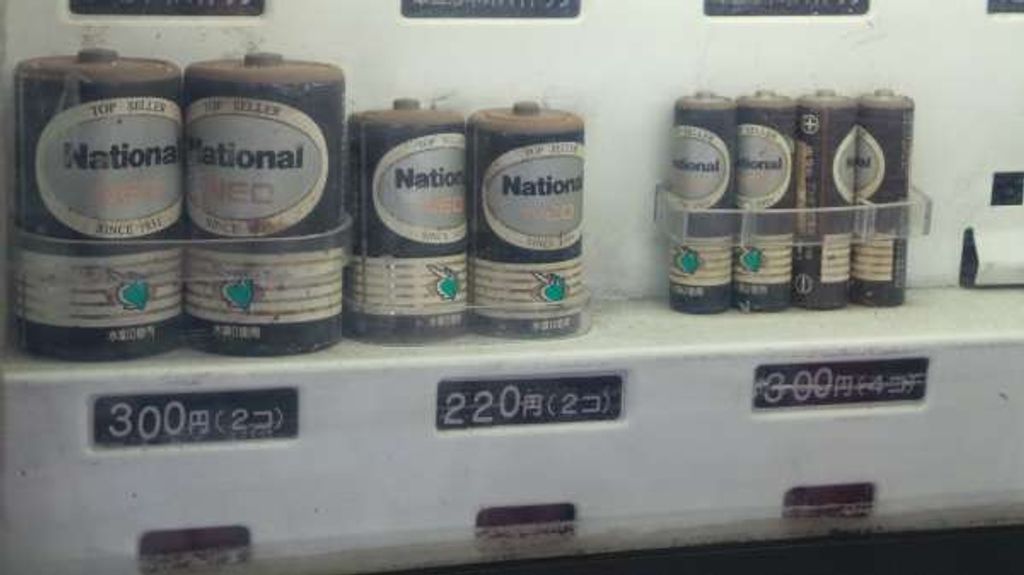 This machine, covered in dust, sells batteries from 1931. These batteries, made by Panasonic, are no longer in production. Yet, this machine sells them for around ¥ 300 a pair. Even though they do claim to be a 'Top Seller', batteries are the very last thing I need in my life right now. The machine doesn't actually work, and seems absent of any power. Somewhat ironically. What the machine could really do with is some new batteries.