Want to visit the Tsukiji Fish Market while you're in Tokyo? You're probably not sure about the opening days and hours of the Tsukiji Market. Good move! If you're here you're probably doing research about Tsukiji before visiting.
It can be a bit tricky, so it's always a good move to check ahead. Don't worry. I got you covered.
So, read on and find out the opening days and hours of the Tsukiji Market, tips to travel to Tsukiji Market, and more recommendations!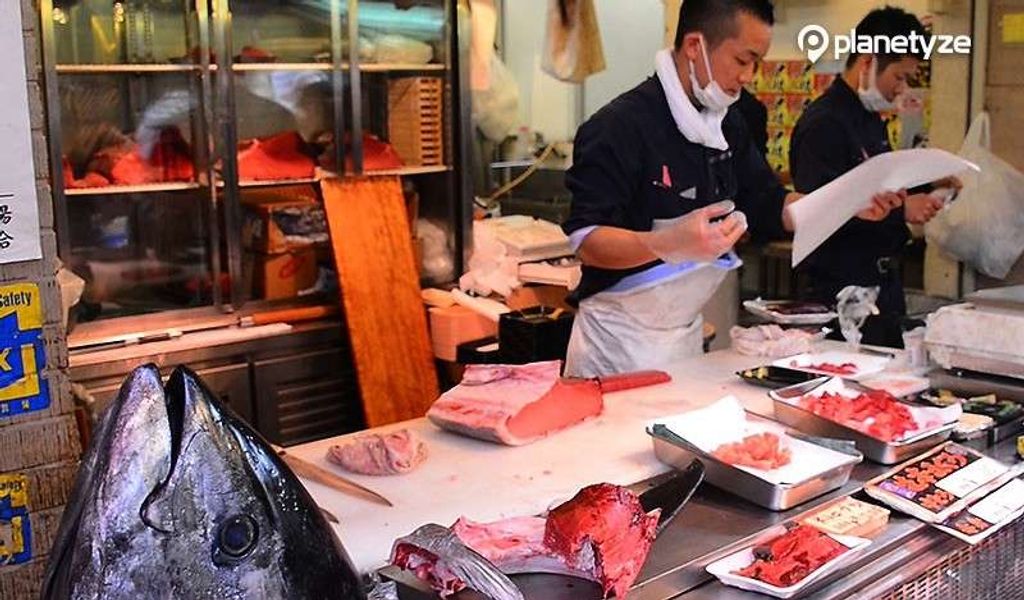 Tsukiji Fish Market Opening Days and Hours
So, let's get down to business. The opening days of Tsukiji Market can be a bit tricky because it's quite random and different each year.
White: open
Pink: closed
Blue: temporary open date
January 2018

February 2018

March 2018

April 2018

May 2018

June 2018

July 2018

August 2018

September 2018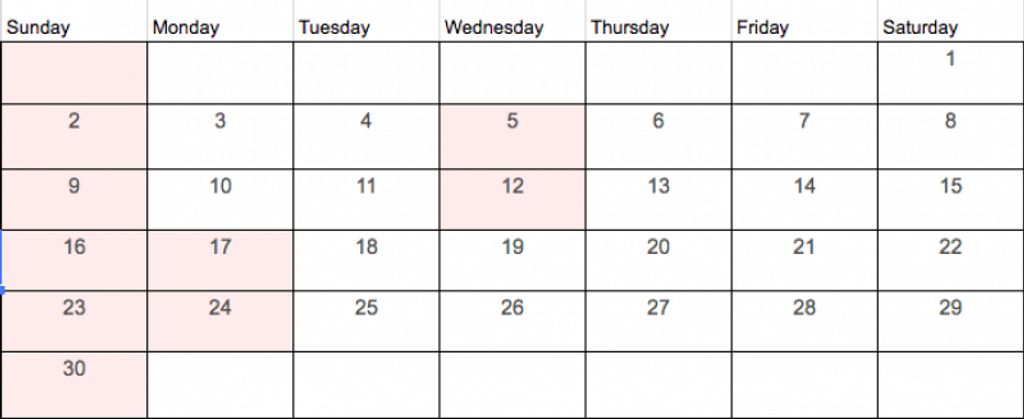 October 2018

November 2018

December 2018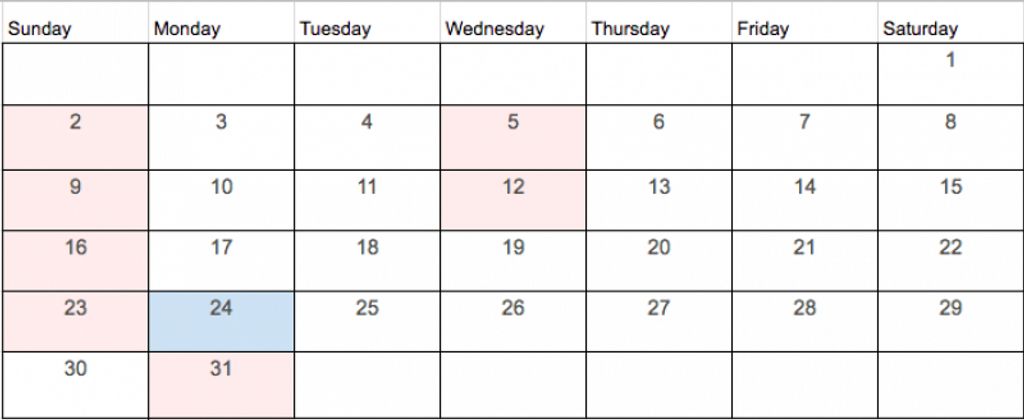 You can also click here to check the date.
Things to do at Tsukiji
Watch the tuna auction
Watching the tuna auction is a popular attraction here in Tsukiji. Some of you may ask, "why would I watch a tuna auction? What's great about it?"
It's not just any tuna auction. It is more like an interesting experience you can't really get anywhere else. Watchers are limited to 120 a day, so you need to come real early to the market, around 3 am or even earlier. The first group of 60 visitors will be admitted to the auction between 5:25 and 5:50 am, while the second group of another 60 visitors will be admitted between 5:50 and 6:15 am.
The thing is...
Trains don't operate during those hours, so you have 2 choices:
- You can get up at the crack of dawn and ride a taxi to Tsukiji market.
- You can stay around the Tsukiji market area until you need to go to the tuna auction venue. (recommended places are the Com Com Manga Cafe or Jonathan's, a 24-hour restaurant)
There's nowhere else to experience the voices ringing out at the auction to obtain high-quality tuna at Tsukiji Market. The talk of the town is when a 222kg tuna was bid for 150 million yen! Watch the auction for yourself and be impressed!
This, however, is difficult to get a ticket into, so if you don't want to risk it, you can consider going on a private tour with a private guide. My recommendation is the Tsukiji Tuna Auction Tour.
Eat, eat, and eat!
This is the obvious thing to do, reasons most people visit the market. So, what should you eat at Tsukiji?
Sushi/ Sashimi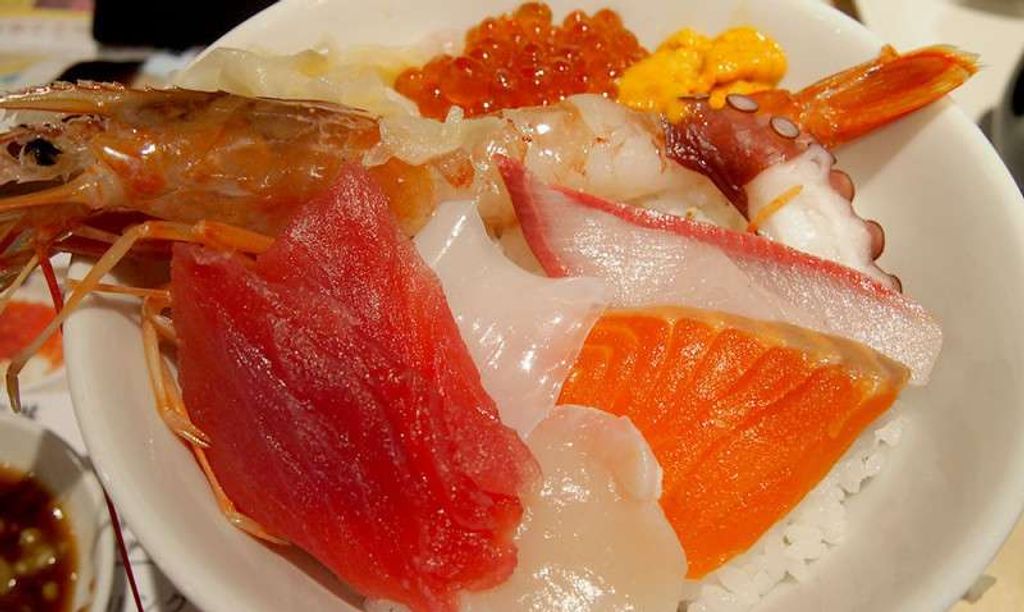 I think this is pretty clear. Where else can you get the freshest sushi/sashimi in Tokyo other than Tsukiji Market? Get a real taste of sushi through the many sushi joints in Tsukiji Market. The two popular sushi shops are Sushi Dai (寿司大) and Daiwa Sushi (大和寿司). However, queues are hours long for Sushi Dai as it is the more popular one of the two. Daiwa Sushi is more tourist-friendly and the queue is shorter, but the standard isn't far off.
But, if you don't want to wait, you can opt to walk in random sushi shops. They will be as fresh as they are located in Tsukiji Market.
Sushi Dai (寿司大)

Business hours: 5 am - 2 pm *closed on Sundays

Location: 5 Chome-2-1 Tsukiji, Chūō, Tokyo 104-0045 (map)

Phone: 03-3547-6797

Daiwa Sushi (大和寿司)

Business hours: 5:30 am - 1:30 pm *closed on Sundays

Location: Chome-2-1 Tsukiji, Chūō, Tokyo 104-0045 (map)

Phone: 03-3547-6807
Street food!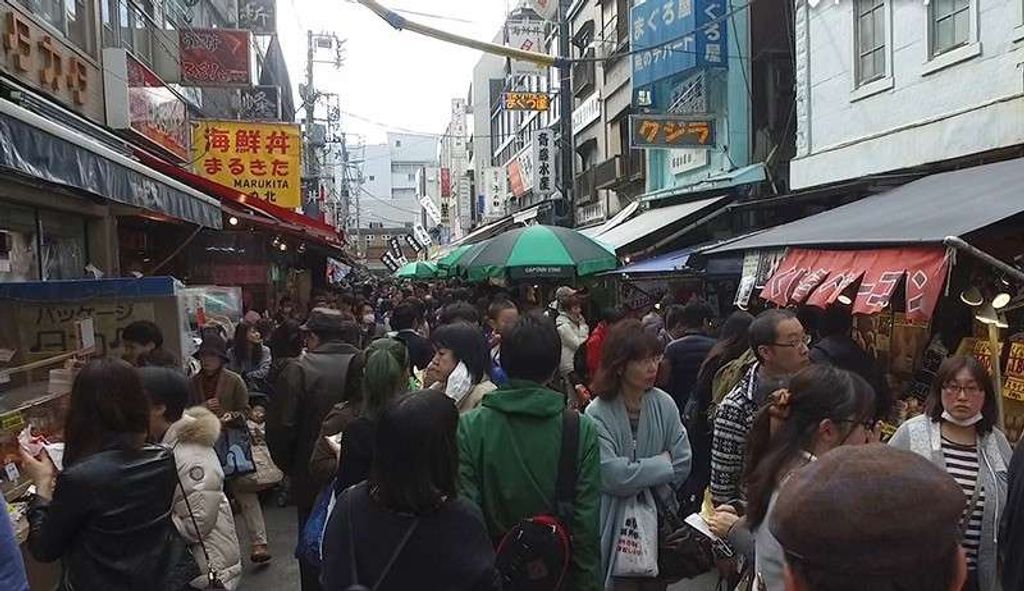 There are many various stalls in Tsukiji Market. Here are some of the popular street food in Tsukiji you need to try!
Sea urchin (uni): A Japanese delicacy with a complex flavor. Creamy, salty, with a hint of natural bitterness at the same time.
Approximate price: ¥500
Tamago (sweet egg omelet): One of the most popular street foods in Tsukiji, this is no ordinary omelet! This is different from the omelet you usually find elsewhere, as it is made with a special technique and it's sweet rather than savory.
Approximate price: ¥100
Oysters: The oysters at Tsukiji are fresh and some are gigantic. If you are a seafood person, especially oysters, you'll like this creamy, soft goodness!
Approximate price: *price differs for each size
Blowtorched scallop seafood: As the name implies, scallops are cooked by blowtorching them. It is then topped with crab claw, sea urchin, and sauce for taste. During winter, it is topped with cod sperm, which is a winter delicacy in Japan. I dare you to try it.

Approximate price: ¥1,000
Corn Fishcake Skewer: this is also no ordinary fishcake. A smooth and light fishcake is covered with amazingly sweet corn. It is then friend together and becomes this yummy goodness!
Approximate price: ¥300
Still so many other kinds food to try at Tsukiji Market, including tempura, grilled eel skewer, organ stew, oyakodon, and more!
Tips for your Tsukiji Market trip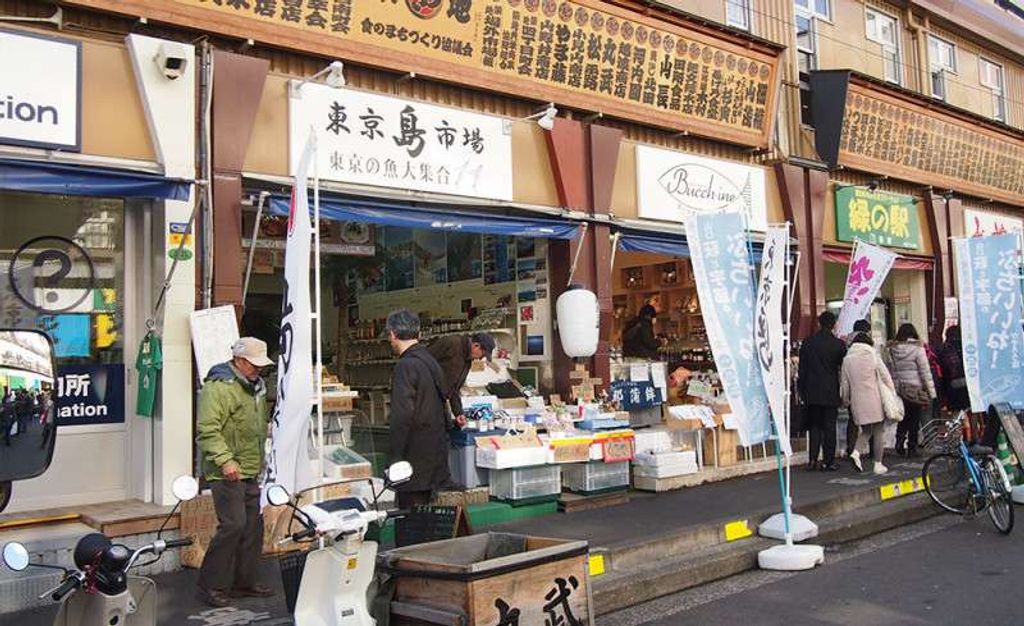 Pack light. The market is very busy and is very fast-paced, so avoid bringing large suitcases or backpacks. Not only it will an inconvenience for you, it will also be to another people as it will just be in the way.
Bring cash. Most shops in Tsukiji Market don't accept credit cards, that's why you need to bring enough cash.
Follow the market rules. Don't take photos in the inner wholesale market. Especially, you are not allowed to use flash photography as it might distract fishmonger wielding knives. Don't enter the prohibited area, don't smoke, and don't touch things unless allowed.
It's better to wear sneakers or boots. If you wear sandals, there is a possibility your feet will get wet.
Make your Tsukiji Market trip even better! How?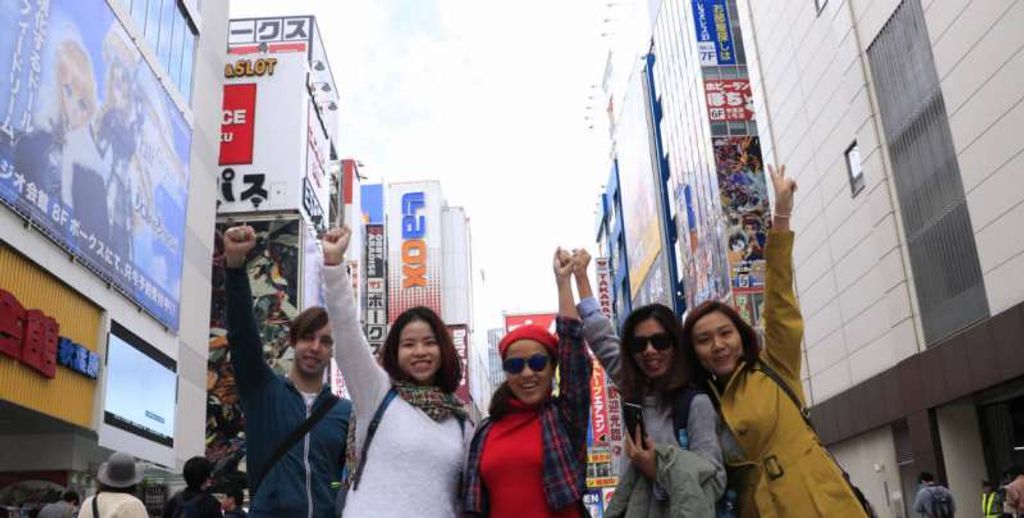 Tsukiji a busy and fast-paced place, so you can feel out of place there. Not only people, the many different choices of food can overwhelm you. So, here's a tip: go on a private tour with a private guide!
Not sure where to find them? You don't have to look very hard. My recommendation is the GoWithGuide website. So many options for private tours and private guides, trustworthy and easy!
How can they make your trip better? Well, private guides will accompany and guide you during your Tsukiji trip. They will give suggestions on the best food to eat at Tsukiji, so you're not missing anything out. You also won't have to worry about its opening date as your guide will make sure everything is set for your trip. So much more convenient!
Recommended tours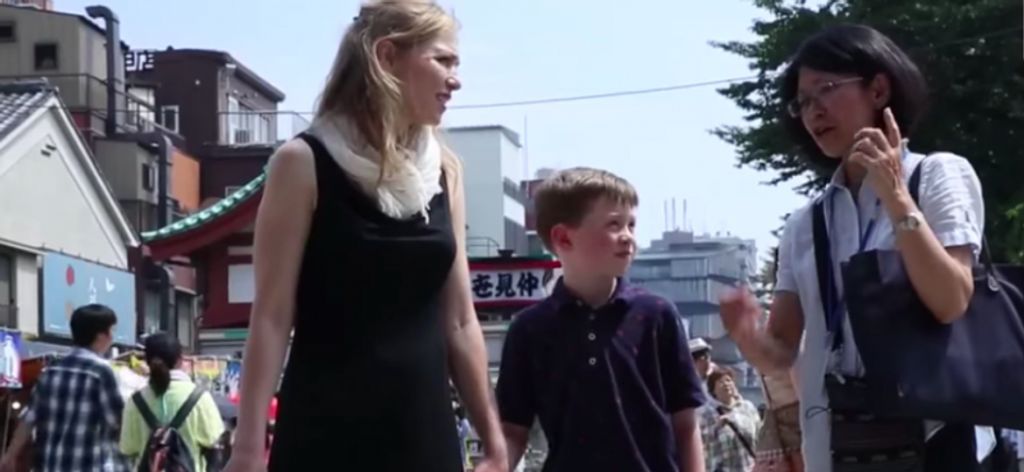 Mentioned above, to watch the tuna auction at Tsukiji Market, you should consider joining the Tsukiji Tuna Auction Tour, as this is quite popular and a guide will really be a huge help.
There are also many options for food tours in Tsukiji in the website. Some of my recommendations are Tsukiji Fish Market Tour and Tsukiji Fish Market Morning Tour to explore the Tsukiji Market and have a better experience there.
Wait, there's more:
Other recommendations are Daytime tour to Tsukiji fish market and also Tsukiji Breakfast Tour for more food tours at Tsukiji!
Click here for more tours to Tsukiji Fish Market for a better and more convenient experience at Tsukiji Market, and here is a list of more great private tours options in Tokyo.
I hope this article helps you for your Tsukiji Fish Market journey by providing useful information about the opening days of Tsukiji Market, things to do at Tsukiji, Tsukiji trip tips, and tour recommendations. Have a great time exploring Tsukiji Market!