Winter in Japan is full of things to do and places to see. And there are some things that you can only see in this snowy season. Skiing is, of course, one of the most popular things you can enjoy during winter in Japan. Go to Hokkaido and you'll be able to experience high-quality snow powder. And when you've had your fill of fun from spending the day in freezing temperatures, you can soak in the hot springs and thaw out your tired body.
11 Places to Visit During Winter
Below are some of the winter sightseeing spots that you might not be aware of. So if you aren't a person who likes winter sports or if you don't have time to take several days to go to the snowy mountainside, here are some of the places you can enjoy. It will still be very cold, especially during January and February so make sure you pack warm clothes.
Tokyo Winter Festivals and Illuminations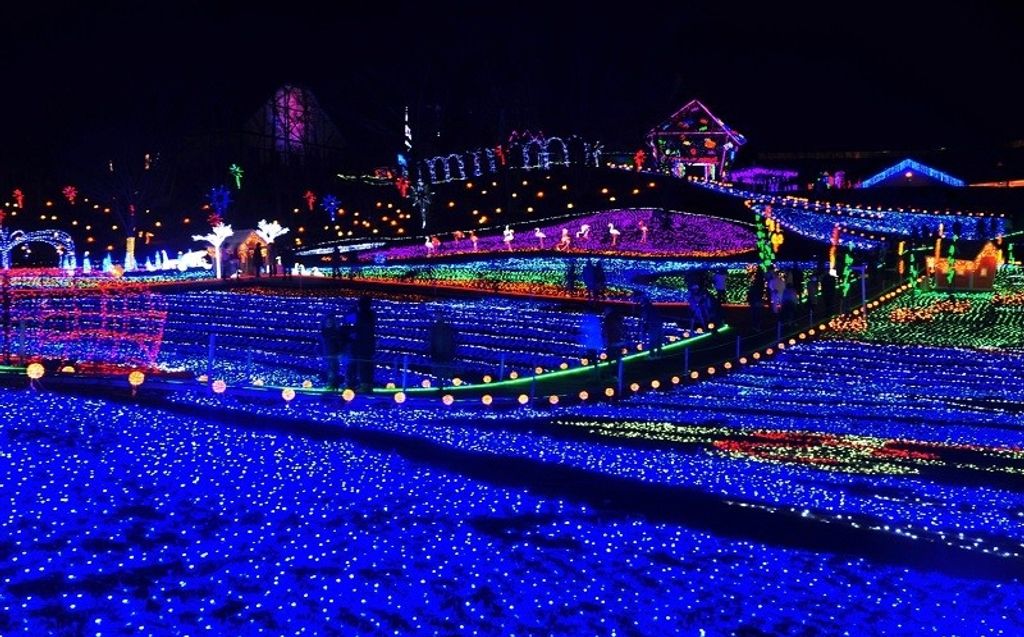 Tokyo doesn't get much snow. Even if it does snow, it's only a day or two during the long winter. So the scenery doesn't change much except for the trees being bare. However, winter time in Japan, especially Tokyo can be enjoyed after dark. Many places tend to put up colorful lights from December to around the end of February to illuminate the winter months. And since the sun sets early, you'll be able to enjoy the wonderful sight for a longer amount of time.
Tokyo Tower illumination
Tokyo Tower itself is one of the main sightseeing spots in Tokyo. And the illuminated tower at night is beautiful in itself. However, you can also enjoy the Christmas tree and elaborate illumination which twinkles to the sound of the music outside the entrance of the structure. This year, Tokyo Tower is presenting the City Light Fantasia ~ REIWA Lights in Tokyo ~, which will feature projection mapping. Don't miss out on this unique event.
Address: 4-2-8 Shiba Koen, Minato-ku, Tokyo (map)
Access: a 10 minute walk from either Kamiyacho Station on the Hibiya line or Onarimon Station on the Mita line or Akabanebashi Station on the Oedo line.
Duration: November 16, 2019 to February 11, 2020
Hours: 6 pm to 11:50 pm
Recommended Tours: Tokyo Tower Tours
Country Farm Tokyo German Village
Address: 419, Nagayoshi, Sodegaura-shi, Chiba 299-0204 (map)
Access: take the 4:30 pm shuttle bus (500 yen one way)from JR Sodegaura Station on the Uchibo Line. The returning bus leaves Tokyo German Village at 8:10 pm. There is only 1 bus either way so don't miss it.
Duration: November 1, 2019 - April 5, 2020
Hours: sunset - 8 pm
Sapporo Winter Festival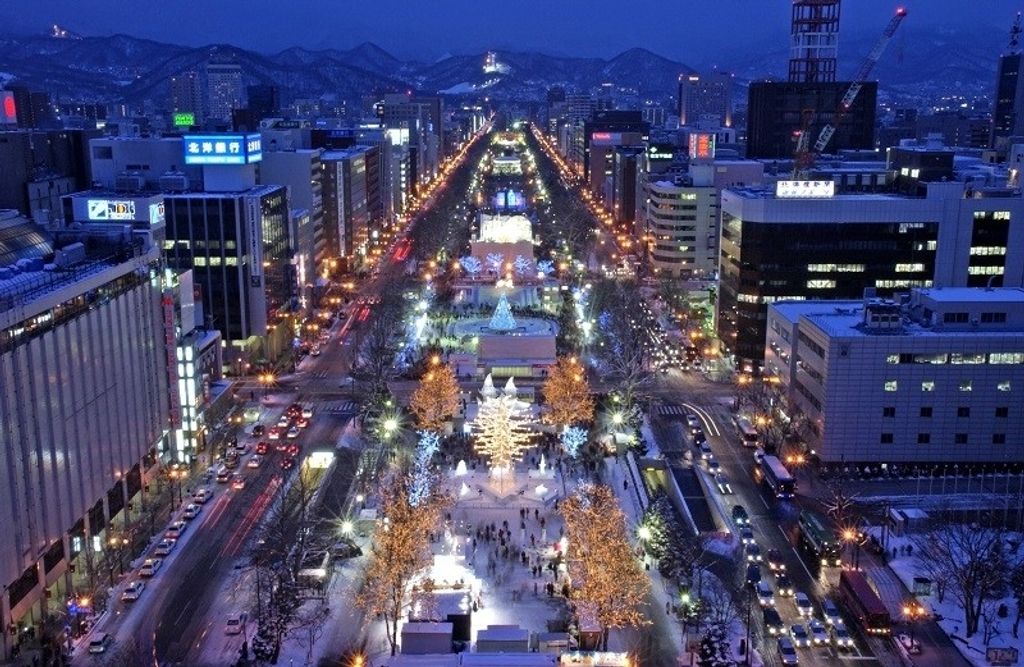 The Sapporo Winter Festival is one of the most famous winter festivals in Japan and maybe in the world. The humongous snow sculptures standing two stories tall are made in just 1 month. They're an awesome sight to see! The festival is held at 3 locations in Sapporo. Odori Park is the main location and there are also some ice sculptures in Susukino. At the Sapporo Community Dome also known as "Tsudome", there are snow slides and a snow maze that children will greatly enjoy. There are local guides that will take you there on a private tour if you want someone to help you get around the city.

Access:
1. Odori Park - next to Odori Station on the 3 subway lines (Tozai line, Toho line, or Namboku line) or a 10 minute walk south from JR Sapporo Station

2. Tsudome (Sapporo Community Dome) - a 15 minute walk from Sakaemachi station or use the Shuttle bus service available during the festival (from Feb. 5 only) from either Sakaemachi station or Sapporo station
3. Susukino - Susukino Station on the Namboku line
Locations:
1. Odori Park: Nishi 1 chome - Nishi 12 chome, Chuo-ku, Sapporo-shi, Hokkaido (map)
(From February 4 to February 11, 2020, open all day, lights until 10 pm)
2. Tsudome (Sapporo Community Dome): 885-1 Sakaecho, Higashi-ku, Sapporo-shi, Hokkaido (map)
(From January 31 to February 11, 2020, 9 am to 5 pm)
3. Susukino: Nishi 4-chome street, between Minami Shijo Avenue and Minami Shichijo Avenue (map)
(From February 4 to February 11, 2020, open all day, lights until 11 pm, 10 pm on the last day)
Website: https://www.snowfes.com/english/
Jigokudani Monkey Park
This group of Japanese macaque monkeys who live in Jigokudani Yaen Park (Snow Monkey Park) are a unique group of monkeys who have adapted the custom of soaking in the hot springs during the cold snowy winter months. Japan is the only place in the world where you can see monkeys displaying this type of behavior. You may have already seen a picture of these monkeys, now famous worldwide, but going to see the real thing is even better than a picture. The park is located in the countryside of Nagano Prefecture. There are guided tours that will take you to the park from Nagano Station if you think you might get lost trying to get there by yourself.

Address: Jigokudani Yaen Koen, 6846 Hirao, Yananouchi-machi, Shimotakai-gun, Nagano (map)

Access:
From Yudanaka Station, take the bus for either the Snow Monkey Park bus stop or the Kanbayashi Onsen bus stop. From there it's a 10 minute walk to the Snow Monkey Park trail entrance. The Jigokudani Snow Monkey Park is at the end of the trail, so it's a 30 - 40 minute trek to the park.

Hours: 9 am to 4 pm during Nov. to Mar. / 8:30 am to 5 pm during Apr. to Oct.

Fees: Adults 800 yen / Children age 5-12 400 yen

Website: http://en.jigokudani-yaenkoen.co.jp/
Shirakawago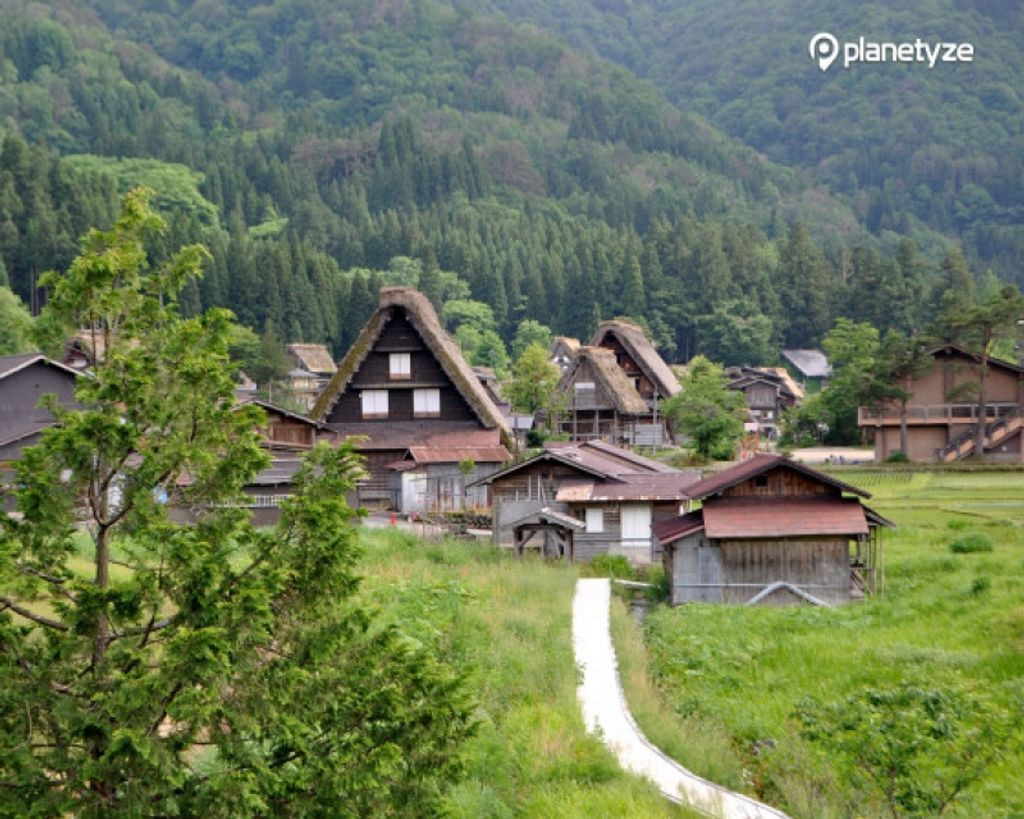 Shirakawago is a World Heritage Site located in the mountainous Hida Takayama area. The old traditional Japanese houses with thatched roofs that still stand tall are called "Gassho Zukuri" because they look like the sight of two hands with clapped together in the pose of praying or "gassho" in Japanese. These snow covered houses are a beautiful sight that make you feel as if you've slipped back in time a hundred years. Believe it or not, people still live in these ancient buildings.
Takayama is the city where you can board the bus to get to Shirakawago. It's a beautiful traditional city called "little Kyoto". Walking around and seeing the amazing sights on a guided tour is an exceptional way to spend the extra time you have in this region.

Address: Shirakawamura, Ohno-chiku, Gifu (map)
Access: 1.5 hours by bus from Takayama Station (1,700 yen one way) bus reservations and timetable
Entrance fees for each museum: around 600 yen
Website: http://ml.shirakawa-go.org/en/
Open Air Hot Springs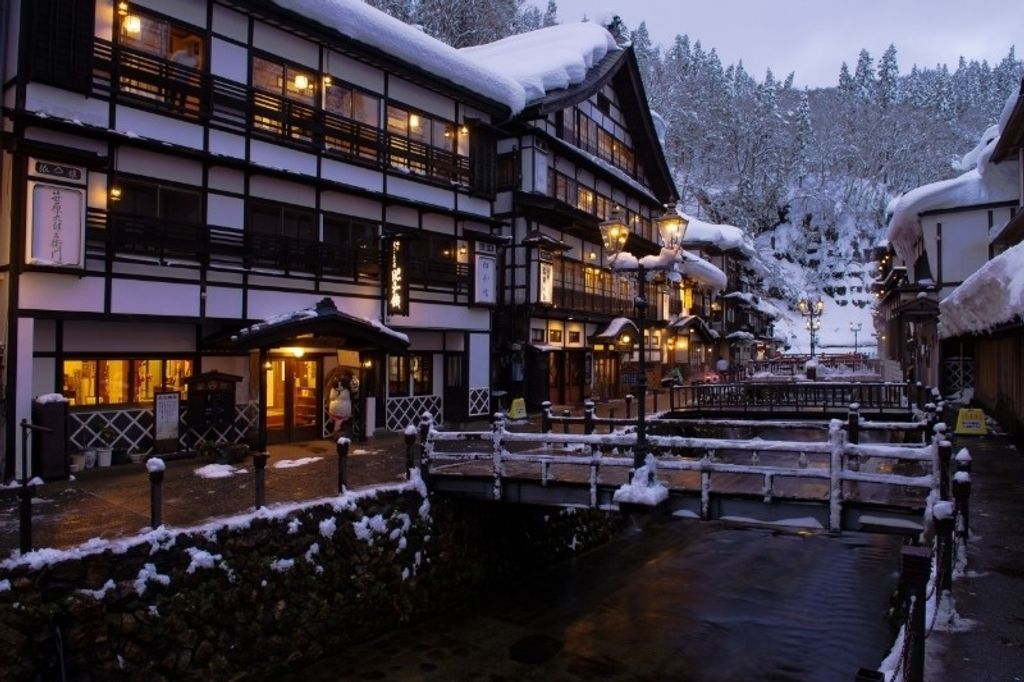 Soaking in the hot springs and just relaxing is one of the delights of winter in Japan. Of course you can enjoy the hot springs all year long, but sitting in the warm open air bath when there's snow all around you is an amazing experience. It's too bad you can't take a camera into the bathing facility, because the scenery is beautiful. And you'll find that you'll feel warm for a long time after you get out of the bath because one of the characteristics of hot springs is to warm you to your core.
Zao Juhyo Festival
The Juhyo or "snow monsters" are actually ice and snow covered trees that look like huge lumpy mounds. Hundreds of these trees surround the Zao skiing resort and the winter scenery changes into an expanse of weirdly shaped "monsters". You can only see them in a few freezing places in Japan with lots of wind, during the coldest months of the year. So go see this funny world of "snow monsters" for yourself. They'll be illuminated in the evening making them look more weird and eerie. And you can enjoy the scenery along with the great skiing experience.

Address: Zao Onsen, Yamagata-shi, Yamagata-ken (map)
Access: About 35 minutes by bus from Yamagata Station to Zao Onsen
Duration: Late December 2019 - Late February 2020
Website: http://zaoropeway.co.jp/en/
Kenrokuen Garden
Kenrokuen Garden is a very famous sightseeing spot in Kanazawa, Ishikawa Prefecture. It's a Japanese garden with lots of pine trees. In winter, these trees are protected from being bent by the snow by a kind of umbrella like contraption. The snow piles on to the contraption instead of the trees so it looks like the trees all have a white hat on. It's an unique and beautiful sight to see. The garden is also next to Kanazawa Castle, so that's something you can also go see. There are also several convenient private tours that will take you to Kenrokuen garden and some other sightseeing spots around the area.
Address: 1 Kenrokucho, Kanazawa-shi, Ishikawa (map)
Access: get on the Kanazawa Loop Bus (http://www.hokutetsu.co.jp/en/en_round ) from Kanazawa Station
Fees: adults 310 yen / children 100 yen
Hours: 7 am to 6 pm (Mar 1 - Oct. 15) / 8 am to 5 pm (Oct.16 - Feb. 28/29)
Website: http://www.pref.ishikawa.jp/siro-niwa/kenrokuen/e/index.html
Huis Ten Bosch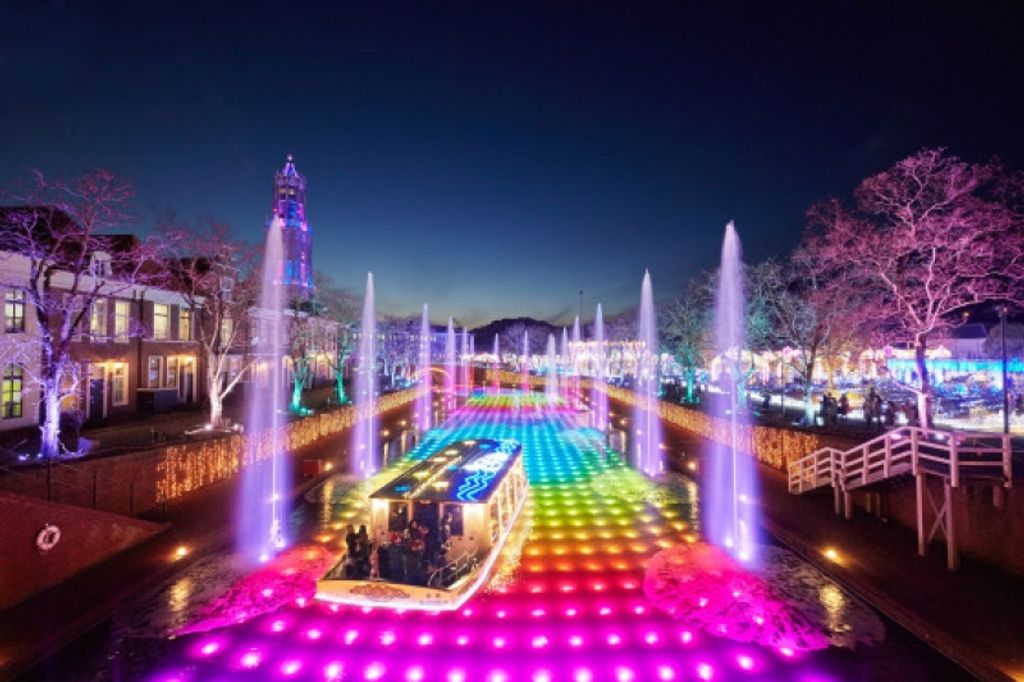 This is a theme park in Nagasaki Prefecture, created to look the streets of Holland. It looks so real that once you get inside, you'll feel like you really are in the city of Amsterdam. There are activities and games to play inside the theme park, but the really wonderful scenery is the one at night. The illumination of almost half the park is spectacular. You need to see it for yourself to really appreciate the sight. There are hotels inside the park and in the vicinity so you don't have to worry about going anywhere after taking in the night view.
Address: 1-1 Huis Ten Bosch, Sasebo-shi, Nagasaki (map)
Access: 50 minutes by bus or ferry from Nagasaki Airport or 1 hour 45 minutes by express train "Huis Ten Bosch" from Hakata Station in Fukuoka.
1 day ticket: adults 7,000 yen / youths 6,000 yen / children 4,600 yen
Website: http://english.huistenbosch.co.jp
Recommended Tours: Nagasaki Tours
Yokote Kamakura Snow Festival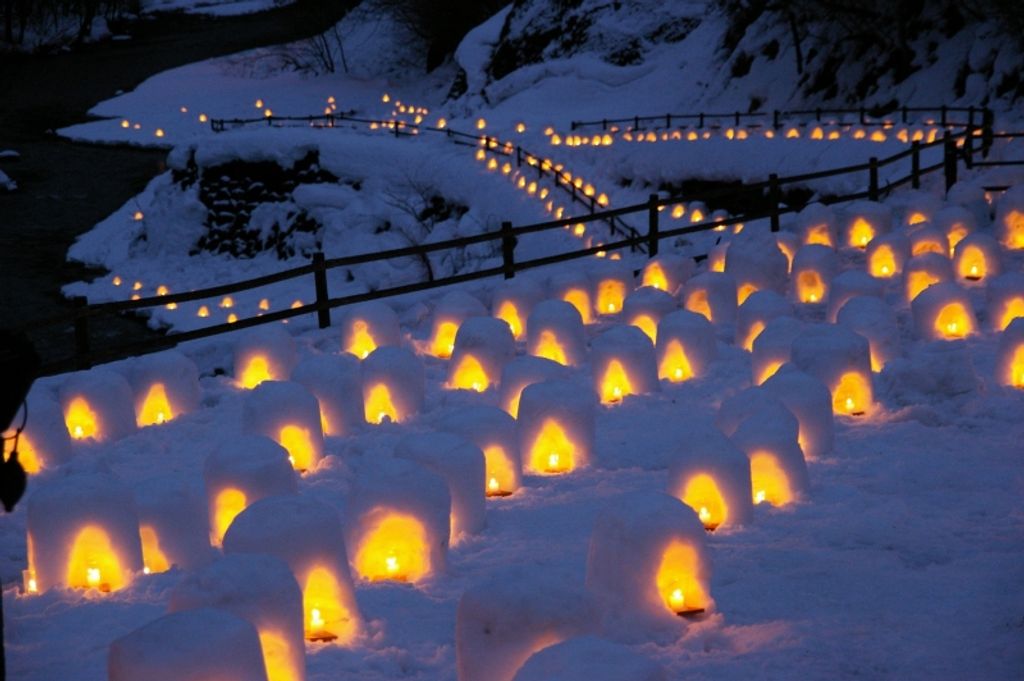 The Yokote Kamakura Snow Festival is held every year in Yokote city in Akita Prefecture. At this festival, you'll be able to see lots of snow domes, or "kamakura" in Japanese, scattered in various locations in the city. The sizes vary from very small ones to large ones, large enough that people can go inside.
Location: Yokote City, Akita (map)
Access: 20 minutes by bus from Yunishigawa Onsen Station on the Aizu Kinugawa Line
Duration: February 15 – February 16, 2020
Hours: 9 am - 5 pm
Fees: 100 yen
Recommended Tours: Akita Private Tours
Tsunan Snow Festival (Nigata)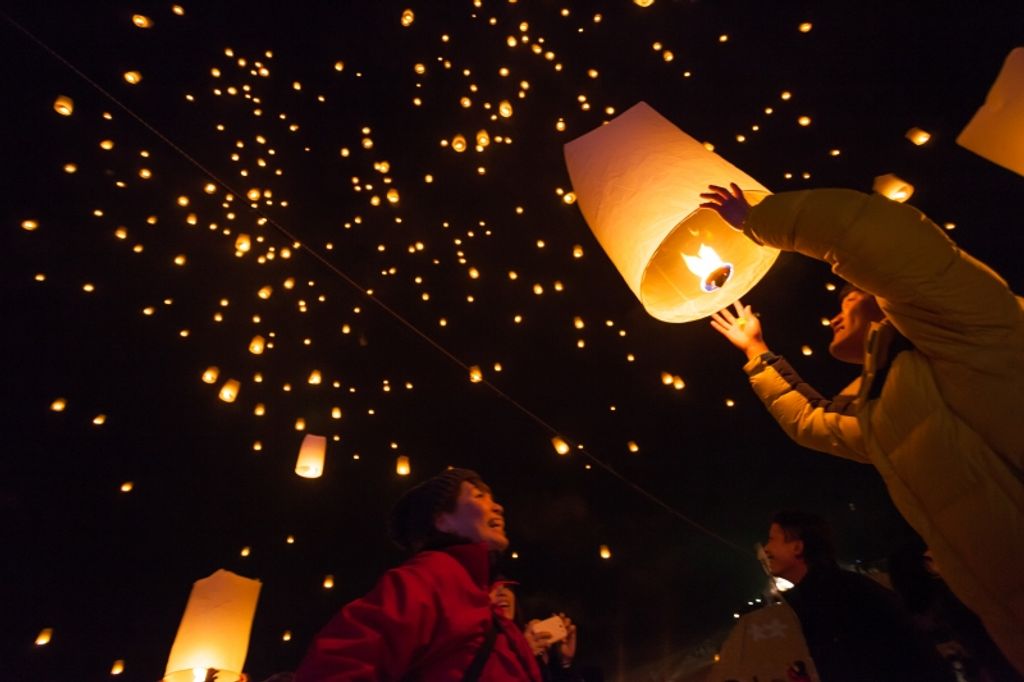 This is a festival held in an area with heavy snowfall every year. So you and your children can enjoy playing in the snow to your heart's content. There will be snow mobile rides and treasure hunts and lots of other snow related activities. And you can watch the event called "Sky Lantern" in which 2,000 paper lanterns are released into the sky at night. It's incredible! Just like the scene from the Disney movie "Tangled".

Address: New Greenpia Tsunan, 12300 Akinari, Tsunan-machi, Nakauonuma-gun, Niigata
Access: by shuttle bus from JR Tsunan Station (but the train service ends by the time the Sky Lantern event is over)
Date: March 13 – March 14, 2020
Website: https://snowfes.info/
Recommended Tours: Niigata Private Tours
Kurokawa Onsen Yu-Akari (Kumamoto)
Lanterns made of bamboo are hung all around the river that runs through this hot springs resort. The soft glow of the lanterns lighting up the night gives a little warmth to the winter months. It's a spectacular sight that will make you want to stand there quietly, just taking it all in. The event was started in order use the bamboo cut in the process of thinning the bamboo forest around this region. The bamboo used as lanterns is then later reused as charcoal and fertilizer, so it's a very eco-friendly event. If you have time in Kumamoto City before or after you visit Kurokawa Onsen, going on a tour of the highlights of Kumamoto could be a great way to spend your time.

Address: Kurokawa Onsen, Manganji, Minami-ogunimachi, Aso-gun, Kumamoto
Access: 3 hours by Kyushu Odan Bus from Kumamoto Station (ticket reservations here )
Duration: Dec. 21, 2019 - April 5, 2020
Hours: sundown to 10 pm
Website (Japanese only): https://www.kurokawaonsen.or.jp/event/yuakari/
Want to make your Tokyo Tour more Interesting? Here's how!
At TripleLights, we provide a service of matching customers with the best tour and guide for them. It's a marketplace of guides from which you can choose the one that suits your needs.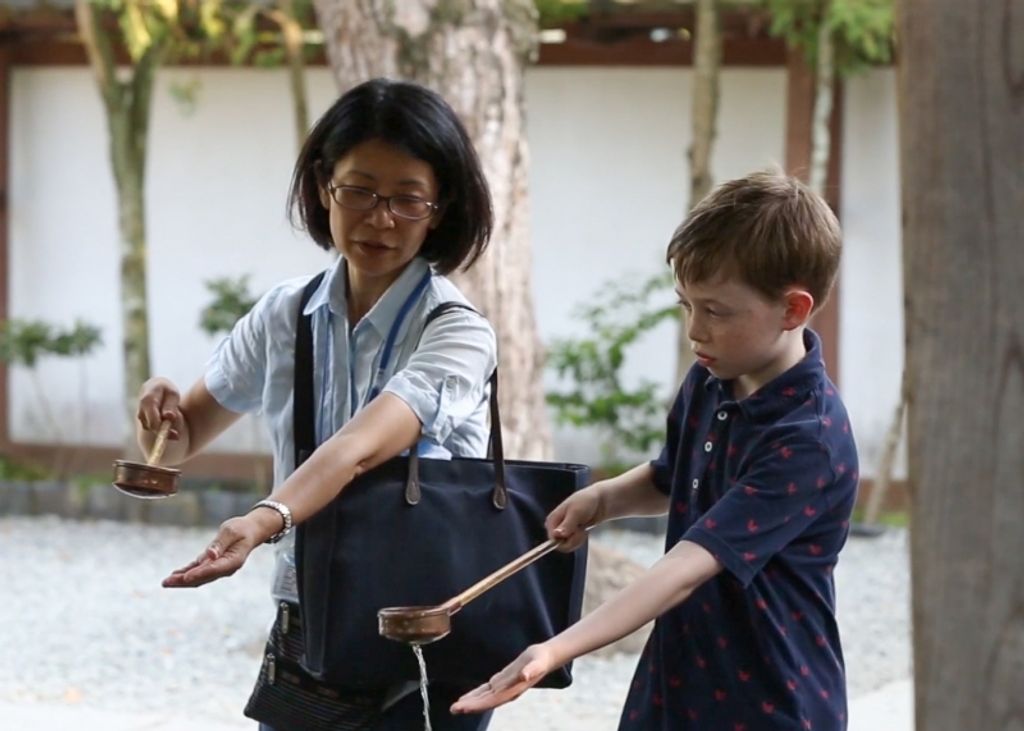 You can take a peek at the guides' profile videos to see what kind of person they are. You'll also be able to see the reviews they got from other customers. At most tour agencies, you aren't able to choose your guide nor see what they look or sound like before the day of the tour. But this is actually an important aspect of choosing a tour because who wouldn't want to have a pleasant companion during your tour.

The guides create their own tours so all of the tours are unique and made up of the places each guide thinks tourists should see in their city. You can also communicate directly with the guide to ask questions or convey requests. For example, you can ask to shorten or lengthen a tour before actually booking it.
If you don't find the perfect tour on the list of tours, you can request a tour just for you. Write down for how long of a tour you'd like and also what you'd like to see or eat or so on. All of the guides will be able to see requests like this and guides that are available during your requested dates will recommend a tour itinerary just for you. Compare the suggestions and see which one looks to be the best. This way you can create your own customized tour.
Most tours are walking tours, created to use the public transportation system while sightseeing and get a feel for the city. However, walking around the city for hours on end may be difficult for people with disabilities or the elderly. So, in that case, you can consider the option of hiring a private car and driver for your tour or just to get around. Having a car just for you is convenient and a perfect way to take a break between sightseeing spots.
Enjoy winter time in Japan by choosing an amazing tour and guide!
Recommended Blogs:
How Much Does a Trip to Japan Cost?
Shinkansen Tickets, Prices, Speed & Travel Tips
9 Best Tokyo Food Tours by Local Guides
The 7 Top Places for Matcha in Tokyo: The Real Japanese Flavor
Japan Travel - 7 Days Itinerary Around Tokyo, Kyoto, and Osaka