Quick! What is the first thing that pops up when I say the word Japan? Was it sushi? Well, you're not wrong. But then there's a lot more unique food in Japan other than sushi!
Want to know more?
In this article, I will talk about the best foods you definitely need to try in Japan! Read on!
About Japanese Foods
Typically, a lot of food in Japan consist of seafood or pork (and other meat). However, the Japanese also loves the pickled dish and you'd be surprised at the many options that you'd find at a tsukemono shop (a shop that sells pickled foods).
There is also a huge number of dishes that use shoyu and miso, which all comes from soybeans. Japanese shoyu typically have some traces of alcohol in it, which makes it smells and taste different than your usual soy sauce. If you are allergic to nuts, then it's better for you to do some research about which restaurant you can eat in during your travel in Japan.
Best Foods in Japan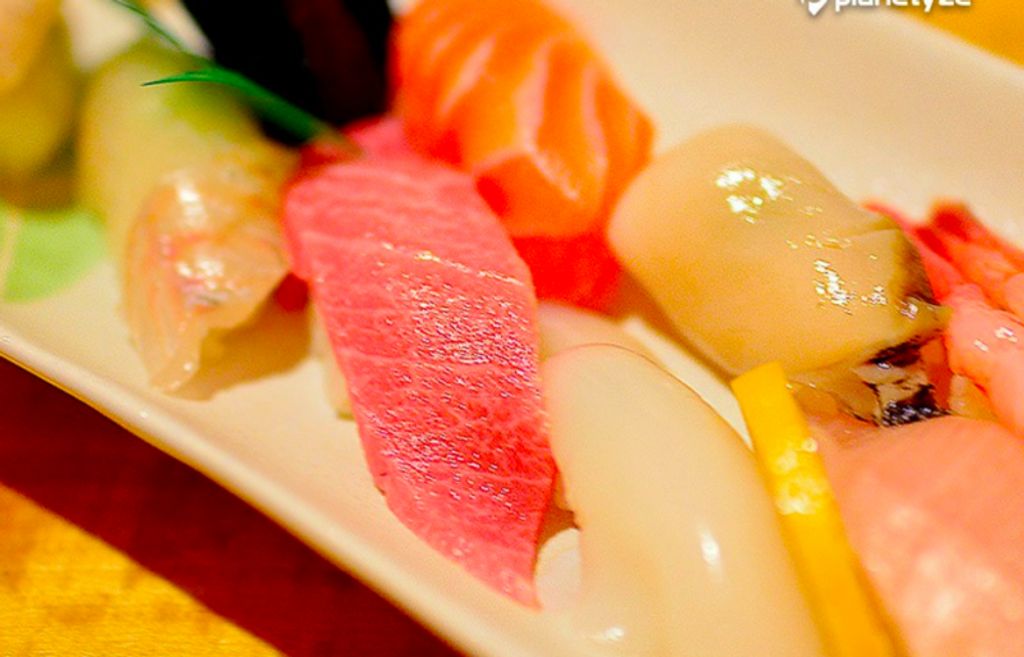 Sushi
Let's start with this one. Sushi is typically made from seafood ingredients. There are a few variations of sushi, such as the maki rolls and the nigiri sushi.
However, in the recent years, there has been an influx of "fusion" sushi. I am actually a fan of these kinds of sushi. Fusion sushi is usually not necessarily made from seafood, but instead uses ingredients such as ham, menchi-katsu, or even some sukiyaki beef.
You can find sushi restaurants anywhere in Japan, and they would all use the freshest ingredients. Don't forget to try authentic sushi during your trip!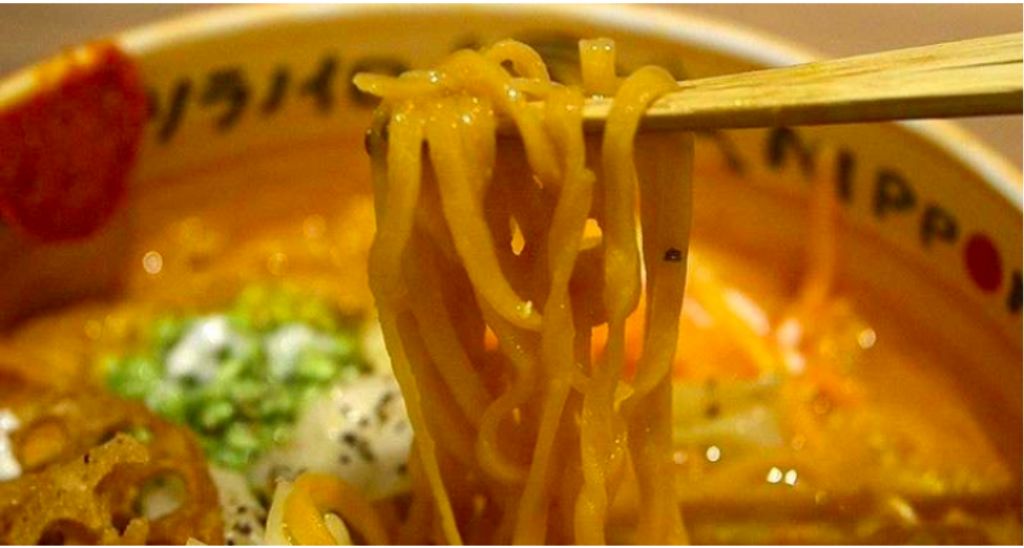 Ramen
The second favorite Japanese food; Ramen! There are many versions of ramen throughout Japan; each prefecture has their own style. The most famous one would probably be Hakata style ramen with their rich tonkotsu broth and Hokkaido style ramen with their miso-based broth. Okinawan style usually uses seafood-based broth.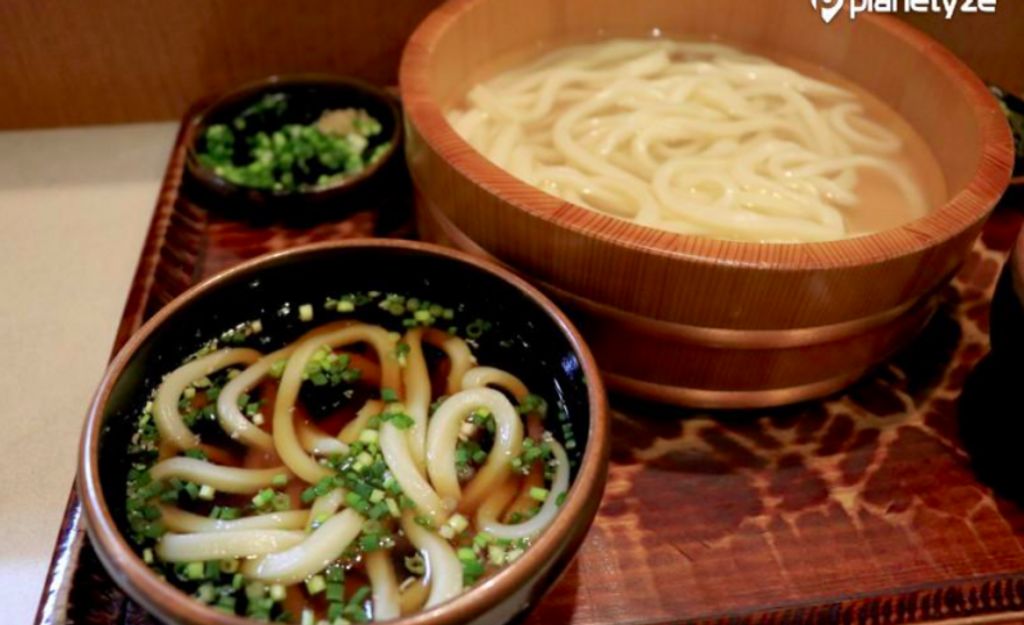 Udon
Some people said that Udon is good if you have a stomach problem. It's made from wheat flour and is usually thicker than ramen. Udon is usually served with clear shoyu based soup. In the recent years, kare udon's popularity has risen amongst the younger generation. Udon is usually quite cheap, and most udon restaurant also serves their udon along with tempura with some extra fee.
Tempura
Tempura are deep fried, lightly battered foods (could be seafood or vegetables). This food originally comes from the Portuguese that came to Japan in the 18th century.
They are usually served with a bowl of rice, or even on top of it. You might want to dip it into the sauce that usually came with it to further enhance the taste. Eat it while it's crispy!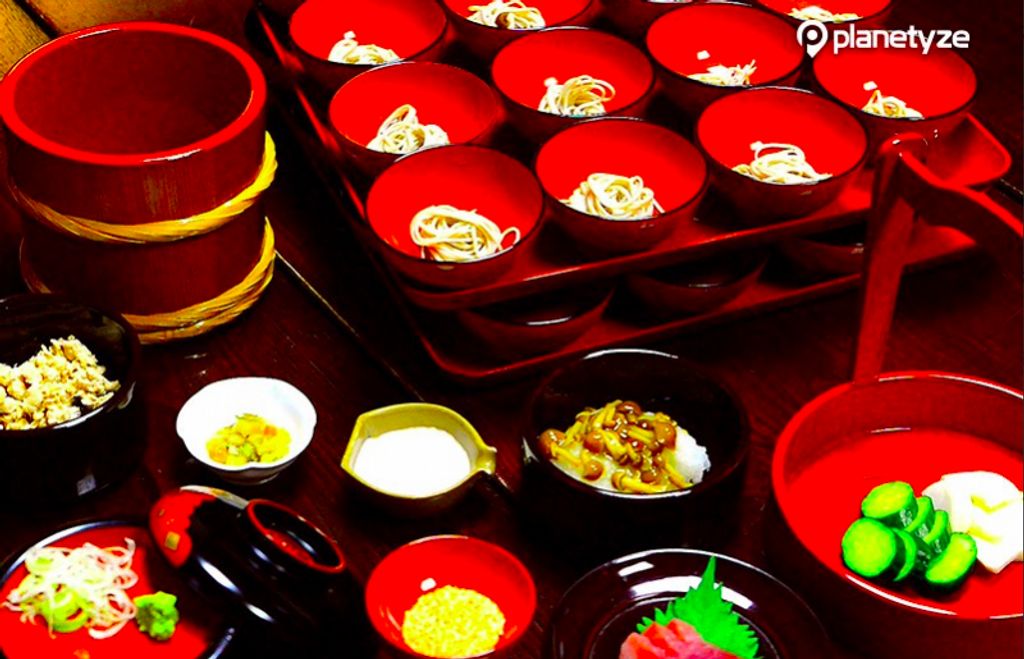 Soba
Made from buckwheat flour, this noodle is considered the healthiest one out of the category (ramen, udon, and soba). However, some people might not be used to the taste. Soba noodles are usually quite thin and could be served both hot or cold. Some restaurants also served them with tempura or chasiu (sliced pork), but soba is mostly served only with the soup.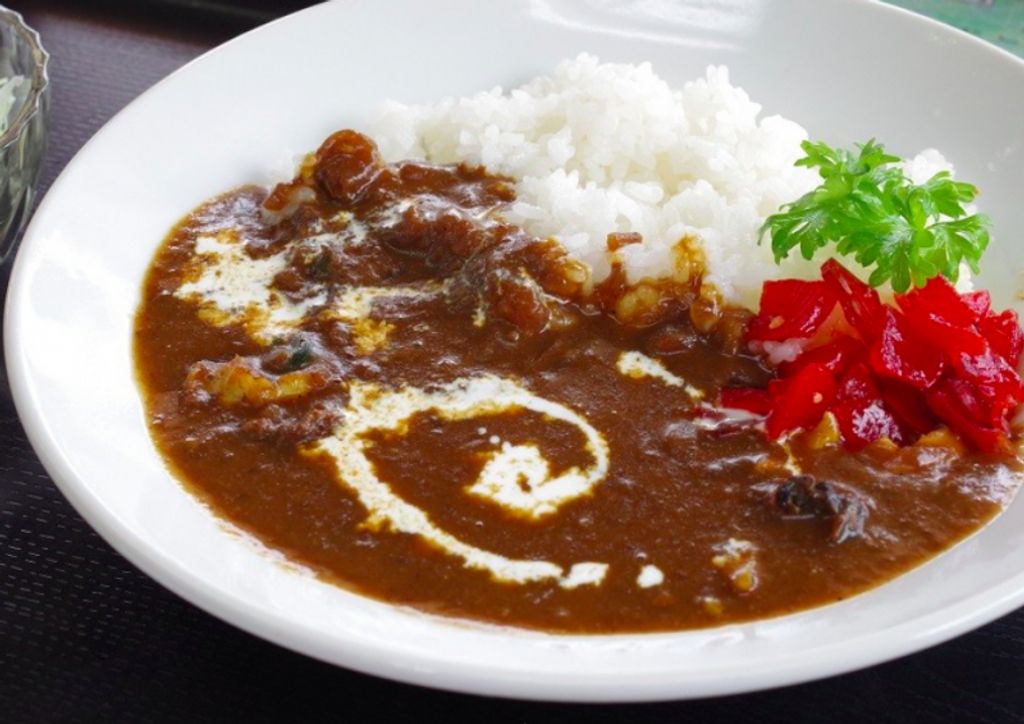 Kare
Although this dish is adopted from India, the taste of Japanese curry is so different from the original Indian curry. Japanese curry tends to be thicker, browner, and less spicy. They're usually served on top of rice with fried foods such as tonkotsu or ebi furai. They're not expensive, so make sure to try some during your visit!
Sashimi
I'm pretty sure you've also heard about this particular dish too. Sashimi is usually served at restaurants. Sashimi itself is fresh, raw fish meat that would be served usually with soy sauce and wasabi. However, there is also a unique kind of sashimi made out of horse meat in Japan. You might want to try this unique sashimi!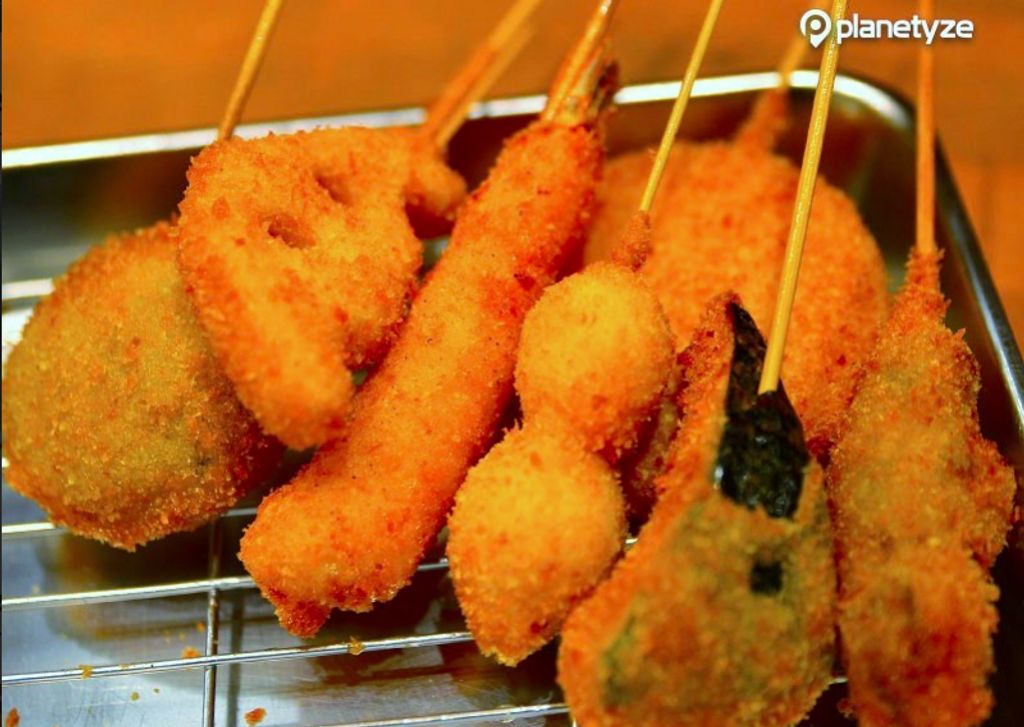 Kushikatsu
Another deep fried delicacy! Kushikatsu is meat and vegetables on a stick, dipped in a thick batter and then deep fried until it's golden brown. The restaurants usually gave customers a container filled with the dipping sauce.
Here's the catch:
You must not dip twice!
It's because the same container will be passed around to other patrons. Therefore, for hygienic reasons, you should not dip twice.
Sukiyaki
Sukiyaki is most delicious during winter time. This dish includes meat, vegetables, and tofu boiled into perfection inside a nabe (a pot, made from either iron or ceramics). Some other style of sukiyaki includes the chanko nabe, which is usually what a sumo fighter eats to gain weight. One chanko nabe could feed four people!
Gyutanyaki
This dish is basically beef tongue, cooked in a special way and served with mugimeshi (rice with barley) and beef tail soup. You could also try tororo, which is usually served together as a set with the rest of the dish. Tororo, might seem a little bit weird to first time eaters, but it is quite healthy. You should at least try this Sendai dish during your visit!
Gyudon
Gyudon is basically the Japanese, go-to fast food. You can find gyudon restaurants chain such as Yoshinoya, Matsuya, and Sukiya everywhere you go. This dish includes meat slices (could be pork or beef) cooked in soy sauce on top of rice. There are many variations to this dish, so you can select which one attracts you the most!
Yakiniku
It was said that this dish comes from Korean. It is quite similar to Korean barbecue, with meat grilled on a fire and dipped in sauce. You can find yakiniku restaurants anywhere in Japan. Some of them also offered the options of having a tabehoudai (all you can eat), so you can freely stuff yourself with as much meat as you can for 90 minutes!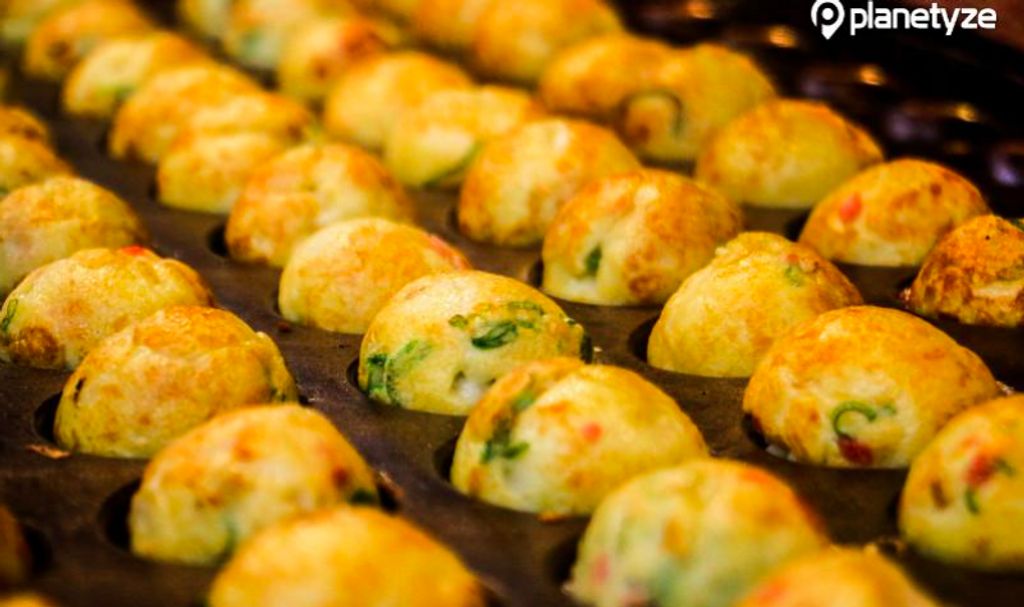 Takoyaki
I guess this dish is already quite famous in the international world as well. Takoyaki originally comes from Osaka, and you can find famous takoyaki shops lining up in Osaka. Takoyaki is basically fried balls that are filled with octopus. It is served a special sauce and bonito flakes. However, you can find this dish everywhere in Japan too!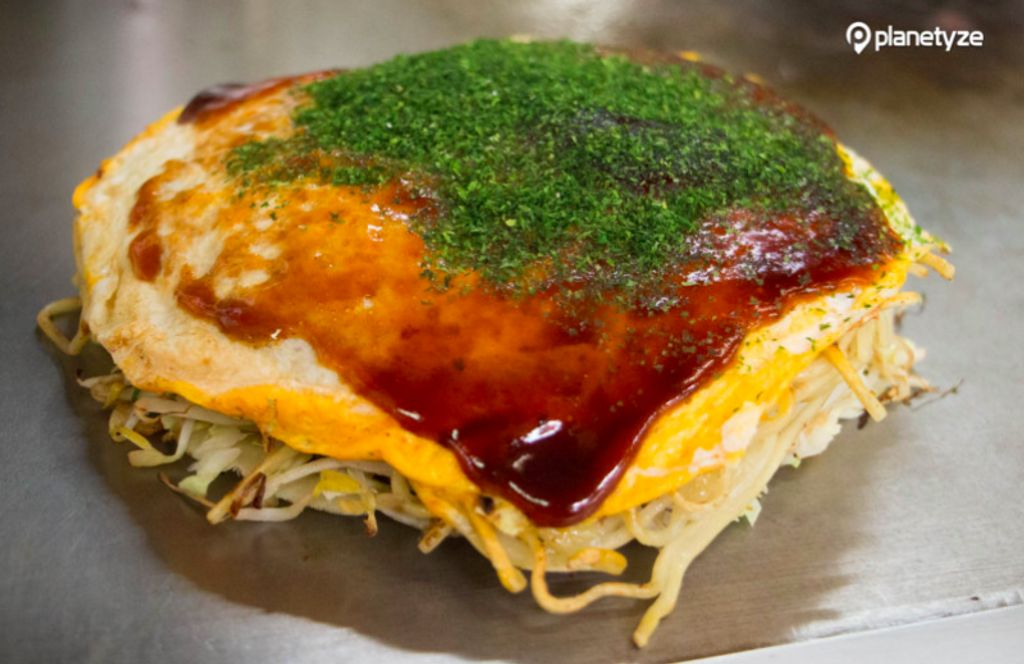 Okonomiyaki
Okonomiyaki is like a fried pizza, which consists of flour batter mixed with cabbage, and other toppings that you can choose for yourself. It will be cooked in front of you and would be served with sauce and bonito flakes. If you don't know how to cook one by yourself, don't worry! You can ask the staffs to cook it for you.
Taiyaki
It's a fish-shaped cake filled with red-bean paste! Although this street-food snack could be found anywhere in Japan, different place has different take on the dish. For example, some shops in Kansai area might have a thinner batter and crispier taiyaki. Tokyo's taiyaki, however, is usually thicker. If you do find these fish-shaped treats during your travel, make sure to try some!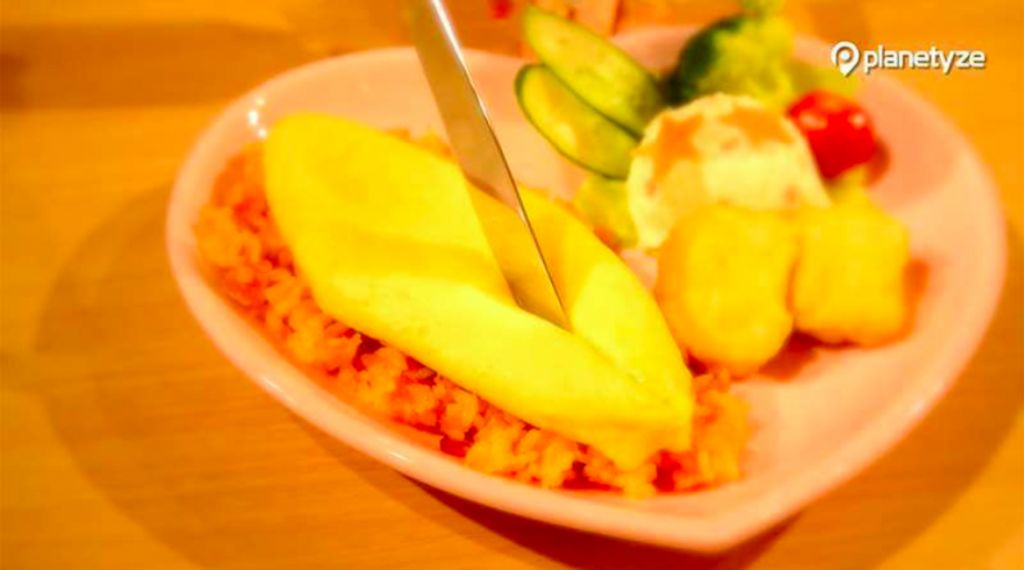 Omurice (Omelette rice)
This is quite a popular dish amongst Japanese children. It's basically fried rice with chicken or other meat and onion, wrapped in thin rolled egg. In the recent years, a new kind of omurice have appeared and people are crazy about it. Rather than covering the rice, this new type of omurice puts one, fluffy egg omelet on top of the rice. The customer would then needs to cut the egg in the middle, and watch as it flops down the rice revealing a runny, smooth egg from the center of it.
Chazuke
Chazuke is another unique dish! This is a bowl of rice with a topping of various ingredients (usual seafood) served with a tea-pot filled with dashi (stock). You would need to pour the dashi over the rice to eat it. It has a very refreshing taste, and is good to eat during both the summer heat or the cold of winter!
Japanese Sweets
Here's the thing:
Japanese takes their desserts very seriously.
Their sweets could take a very complicated design, and it will follow the current season of the year. They are usually served in traditional tea-houses along with some matcha. If you're eating the sweets alone, you might found that it's a little bit too sweet.
That's because it was meant to be eaten along with the bitter tea! It was supposed to balance out the tea's taste and to be eaten leisurely. You can find these establishments in a traditional area such as Kyoto.
Kakigori
What's better than a cold treat during the summer heat?
Luckily, Japan has an abundance of kakigori shops during summer time. It's a dessert that includes shaved ice doused in colorful syrups with various tastes. While it's definitely not the healthiest food on the list, it certainly is one of the delicious ones.
Unagi
For some reason, this particular dish is all the craze during summer time. Unagi is river eel grilled to perfection and coated in a sweet sauce. It is usually served on top of rice. Although a lot of restaurants offers this dish during summer time, I advise you to visit a restaurant that specializes in this dish to enjoy the utmost experience.
If you're looking for foodie tours, you might want to join this All-Star Food Tours during your trip in Tokyo. Or, if you want to taste Osaka's delicacies, you might want to consider joining this Gastronomy trip tour!
More tips
Look,
Finding the best local delicacies during your trip could be annoying
You might not know what is the specialty dish in that particular area. Moreover, the best restaurants are usually owned by the locals who rarely speak English. You could have a really hard time just trying to order one bowl of gyudon!
Fear not!


For the sake of your easy travels, I suggest you hire a private guide! Your private guide could tell you all the best foods in the area. Moreover, you can overcome the language barrier if you're traveling with a guide.
If you're thinking of hiring one, then I recommend hiring one from Triplelights! They have a list of excellent guides that would cater to your every need. Their customer service would make sure that you get the best guide that fits your needs.
In this article, I have discussed a few Japanese delicacies that you might want to try during your travel. I wish you the best of luck on your Japan trip!