Some of the highlights of a trip to Kanazawa include the impressive castle, one of Japan's three greatest gardens, and a 290 year old market. With the addition of the new Hokuriku Shinkansen Line, getting to Kanazawa has never been faster and easier using the JR Pass
. There is plenty to keep you entertained whilst you travel in and around the area, here are nine of the best Kanazawa sightseeing spots:
Learn everything you need to know about the JR pass here.
21st Century Museum of Contemporary Art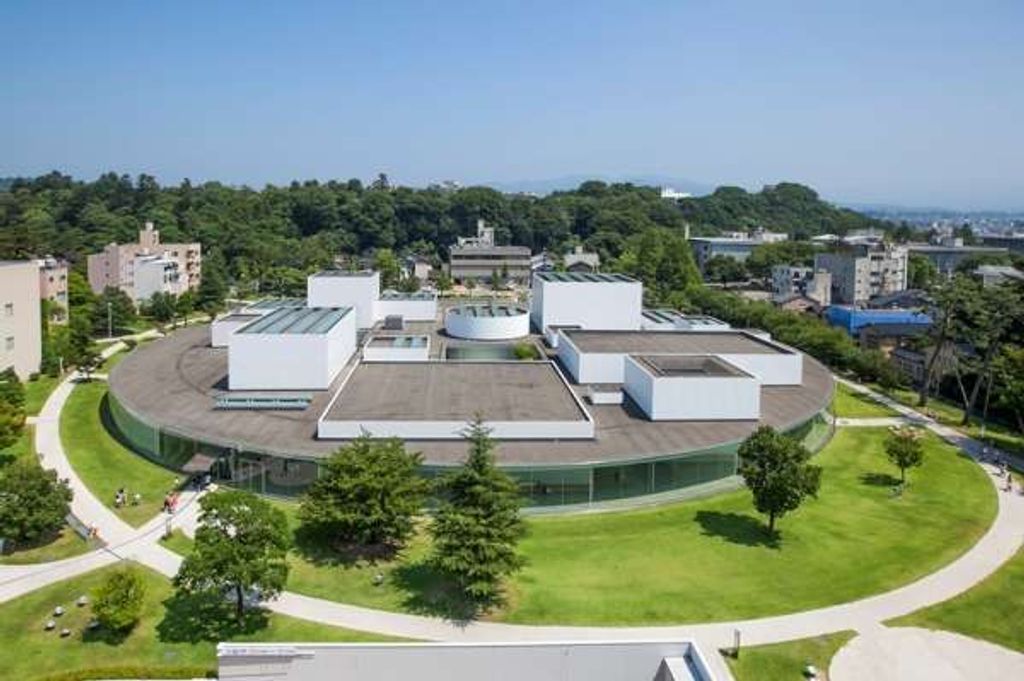 (image by upload.wikimedia.org)
Based on the concept to "create new culture" and to "revitalize the communities" of Kanazawa City, the 21st Century Museum of Contemporary Art, Kanazawa was built with the mission to vitalize the city and bring out new charms through a harmonious co-existence of the museum and the city. Marking its 10th year anniversary in 2014, the museum has been holding much talked about exhibitions of artists and architects from around the world. The museum is located in the center of Kanazawa City. Just like visiting a park, the museum can be visited casually by anyone. The museum has two sections: the Socializing Zone which is free of charge and the Exhibition Zone which requires fees for viewing various exhibitions. Especially popular is the "swimming pool" built by an artist from Argentina, Leandro Erlich. This unique, huge pool set up in one of the museum's courtyards gives you the illusion that the pool is actually filled with water. In order to get inside the pool to experience this illusion up close, you must enter the Exhibition Zone. As in this example, there are many participation-oriented artwork items in this museum – a place of great fun for both children and adults. Another highlight of the museum is its changing exhibitions which are held for differing periods on various themes. The museum also has a Japanese style tea room, a library, a museum shop and a café restaurant, Fusion21, which serves dishes that use local vegetables including the unique Kaga vegetables.
The Museum Link Pass is a shared museum passport valid for Japan's three popular contemporary art museums, the 21st Century Museum of Contemporary Art, Kanazawa (Ishikawa Prefecture), the Benesse Art Site Naoshima (Kagawa Prefecture) and the Mori Art Museum (Tokyo). You can have it issued for free at any of these three museums. The passport is valid for one year from the date of issue. You will receive a discount for the entrance fee from the second museum and on, and at the third museum you visit, you will receive a special, original Museum Link item.
Admission: Various
- Guidebook from Planetyze about 21st Century Museum of Contemporary Art
- Reviews from TripAdvisor about 21st Century Museum of Contemporary Art
- Tours of 21st Century Museum of Contemporary Art
Kenroku-en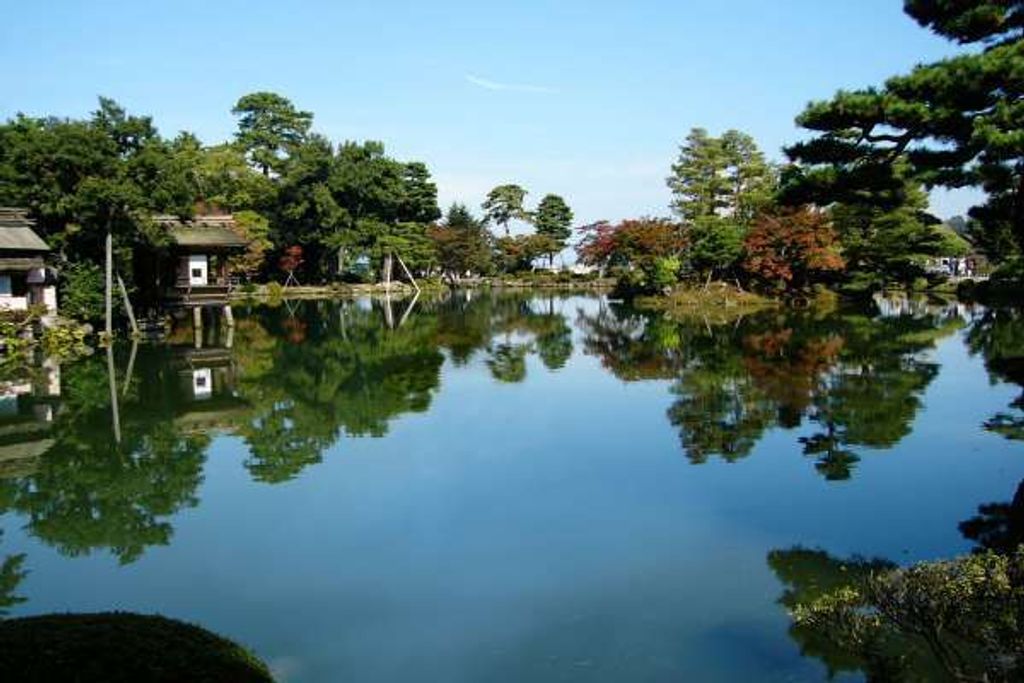 (image by upload.wikimedia.org)
As one Japan's three greatest gardens, this garden is a Place of Scenic Beauty that is rightly designated as a National Treasure. Enjoy the different features of each season in this garden where man-made beauty and nature exist in remarkable harmony.
Kenroku-en is a Japanese garden that was designed in 1676 by Kaga Hanshu and took almost 180 years to complete. The name Kenroku-en ("garden with six characteristics") comes from the Song dynasty book "Record of Famous Gardens in Luoyang," which describes six features (spaciousness, seclusion, artifices, antiquity, water-courses and panoramas ), all of which are found in Kenroku-en. It is spacious, bright and open, but the garden also has the peacefulness and profundity of being among the mountains, and every inch of the garden has had some influence from man. The garden also has an antiquated feel, and, as the ponds and waterfalls vie for your attention, you can marvel at the view of the Ushinada sand dune and the Noto peninsula in the distance, and the view of the Utatsu Mountains, Mount Haku and Iozan in the foreground. In each season, you will enjoy the beautiful scenery while walking around the 5800m2 Kasumiga-ike pond in the middle of the garden, which still has the characteristics of a pleasure garden with trees and water-courses from the Edo period. The Kotoji Lanterns that light up the surface of the water are one of Kenroku-en's most outstanding features, and they create an incredibly harmonious scene with the old maple trees and Nijibashi, which bridges the meandering stream. Gankou-bashi is a line of 11 stones modeled on the appearance of wild geese in flight. It is also called Tortoise-shell Bridge because the stones are shaped like tortoise shell. This bridge is said to ensure that those who cross it will live a long life, but crossing is now prohibited in order to protect the stones (viewing the bridge is possible).
Admission: Adult: ¥ 310 / Child: ¥ 100
- Guidebook from Planetyze about Kenroku-en
- Reviews from TripAdvisor about Kenroku-en
- Tours of Kenroku-en
Kanazawa Castle

(image by upload.wikimedia.org)
Kanazawa Castle was constructed through various traditional techniques. Due to its wooden construction, it was repeatedly burned down and re-built, and even now it is a famous castle which is being passed down to future generations as a historical cultural asset.
Kanazawa Mido Hall, which was once a Pure Land Buddhist temple, was invaded and taken over by General Morimasa Sakuma under orders of Nobunaga Oda. Afterwards, building of a castle began from 1583 under Toshiie Maeda, the head of the Kaga clan. However, following the loss of the castle tower from fire due to a lightning strike in 1602, only the watchtower and palace were re-built. But then another fire occurred which led to more re-building without the castle tower ever being resurrected, and even now it (inner citadel) exists only as remains of a demolished site. Currently, Kanazawa Castle is undergoing restorative construction so that it can be passed onto future generations as an important historical cultural property. In 2001, restoration of the Hishi Yagura watchtower, the Gojikken Nagaya warehouse and the Hashizume-mon Tsuzuki Yagura watchtower and command post was completed to become symbols of Kanazawa Castle which boasts an area of 1894.23 sq. meters. These buildings were protection against enemies during war, so there were latticed windows for stone-throwing and guns, mortared walls painted in white, and walls covered in square tiles jointed with raised plaster constructed against fire which were seen everywhere as a protective function. In addition, the Ishikawa-mon Gate and the Sanjikken Nagaya warehouse have been designated as Important Cultural Properties.
Admission: Free
- Guidebook from Planetyze about Kanazawa Castle
- Reviews from TripAdvisor about Kanazawa Castle
- Tours of Kanazawa Castle
Kanazawa Chaya Districts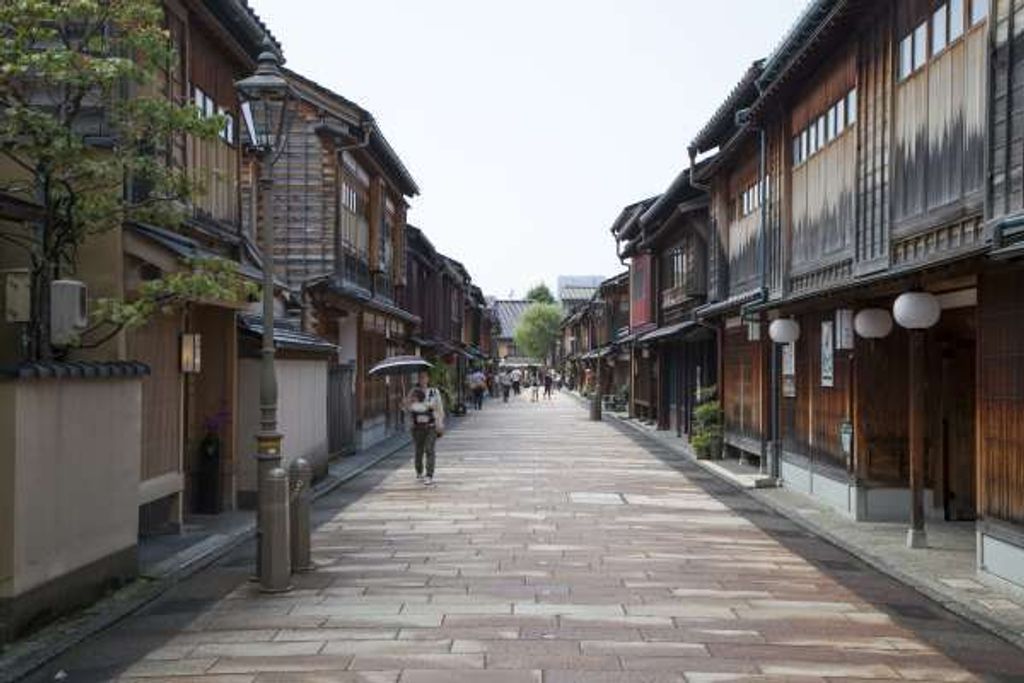 (image by upload.wikimedia.org)
The Chaya districts, which were constructed around the year 1820, have a long history in the castle town of Kanazawa. At the tea houses, geishas who had refined their craft welcomed visitors by playing the shamisen and taiko and with dancing. Even today, there are three Chaya districts that retain their ancient appearance; Higashi Chaya District, Nishi Chaya District, and Kazuemachi Chaya District. Although first-time customers are often refused entry to the tatami rooms in the tea houses, which are difficult to enter, some tea houses have a bar is more easily accessible. Today, in addition to the tea houses, many of the traditional buildings contain restaurants, cafes and souvenir shops. It is fun even just to walk around these beautiful streets. In the evening, you can hear the sounds of the shamisen and taiko in this elegant atmosphere.
The most popular Chaya district is Higashi Chaya District, which is the largest district and is situated between the Utatsuyama Temple Area, with its roughly 50 temples, and Asanogawa River. It is a designated Preservation District for Groups of Traditional Buildings, which also includes Gion in Kyoto. The rows of wooden buildings feature black tiled roofs with lattice doors, which gives the area an atmosphere of having been transported in time from the Edo period. At the Sabou-isho café in Higashi Chaya, you can try Kenjo Kaga-bocha, a Kaga specialty tea that is known for having been presented to the Emperor Showa. From its elegant rooms, you can enjoy the scenery of the Chaya district through the lattice doors. There are delicious Japanese confectionaries to try, such as fresh Japanese sweets and sweet bean jam. You can also inspect the inside of the Shima tea house, which is a designated National Important Cultural Property built in 1820. Here, you can taste matcha and Japanese confectionaries in the Kansonan tea house inside Shima.
Admission: Free
- Guidebook from Planetyze about Kanazawa Chaya Districts
- Reviews from TripAdvisor about Kanazawa Chaya Districts
- Tours of Kanazawa Chaya Districts
Seisonkaku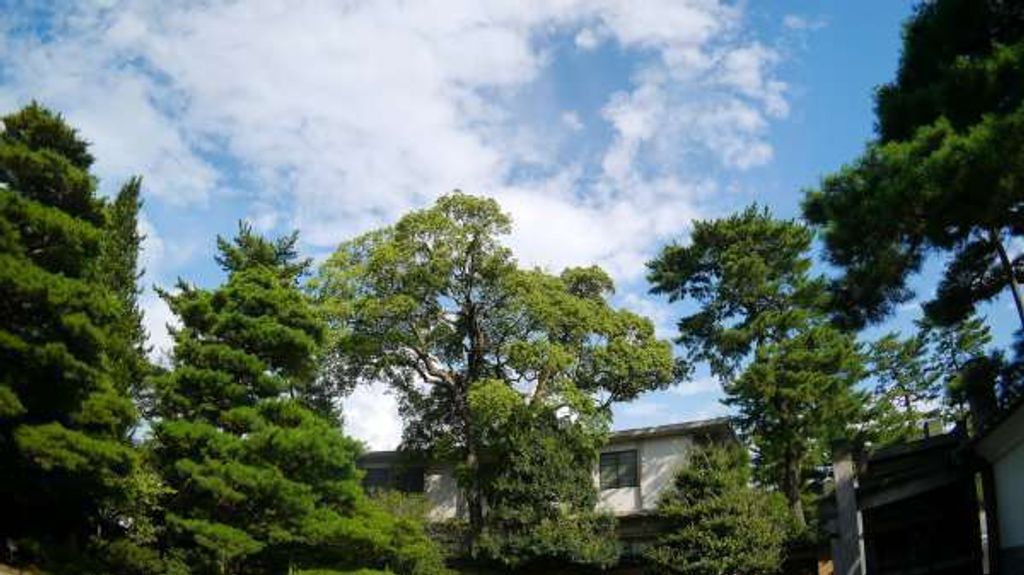 (image by flickr.com)
Nariyasu Maeda, the 13th daimyo (feudal lord) of the Kaga Clan, built this villa within Kenroku-en Garden in 1863 for his mother. It's characteristic for the construction of a gentle and refined space filled with modest consideration and a colorful structure integrating Western materials (Diamant glassware and expensive pigments). Built as a meeting space, the "Ekken-no-Ma" (Audience Room) has a custom-made carpet with the family crest, and a cypress openwork screen above the sliding doors which is embossed on both sides with plum, camellia and birds of paradise splendidly painted in natural pigments. In the "Matsu-no-Ma" (Pine Room) used as a relaxation space, European birds and plants are illustrated on Holland-imported Diamant glass on the sliding doors. On the ceilings of the "Gunjo-no-Ma" (Ultramarine Room) and the "Shoken-no-Ma" (Reading Room), artificial pigments which were expensive at the time were used, and the brilliant ultramarine which the Maedas only were allowed to use created spaces that evoked the integration of Japan and the West. It is a wonderful and extremely novel structure due to things such as the carving of alcove pillars out of cedar logs, its colors, material properties and the bold design and harmony of its shape. In the "Tsukushi-no-Teien" Garden facing the "Chou-no-Ma" (Butterfly Room) on the 1st floor, the 20-meter veranda is constructed so that there is not even one pillar, and when taking in the view from the room, the garden is built so that the sound of water is eliminated to admire the small birds.
The Maeda family's splendid collection of clothing and furnishings are exhibited in the "Exhibition Room of Possessions", and depending on the time, the nationally designated Place of Scenic Beauty "Hizuru-En", and the tea rooms "Seikouken" and "Seikoushoin" can be opened to the public. In the Green Cars of the Hokuriku Shinkansen bullet trains, there is a design incorporating an image of the Gunjo-no-Ma. Because of the opening of the Hokuriku Shinkansen, the ability to reach Kanazawa from Tokyo in about 2 hours and 30 minutes is an attractive point.
Admission: Adult: ¥ 700 / Child: ¥ 250
- Guidebook from Planetyze about Seisonkaku
- Reviews from TripAdvisor about Seisonkaku
- Tours of Seisonkaku
Omicho Market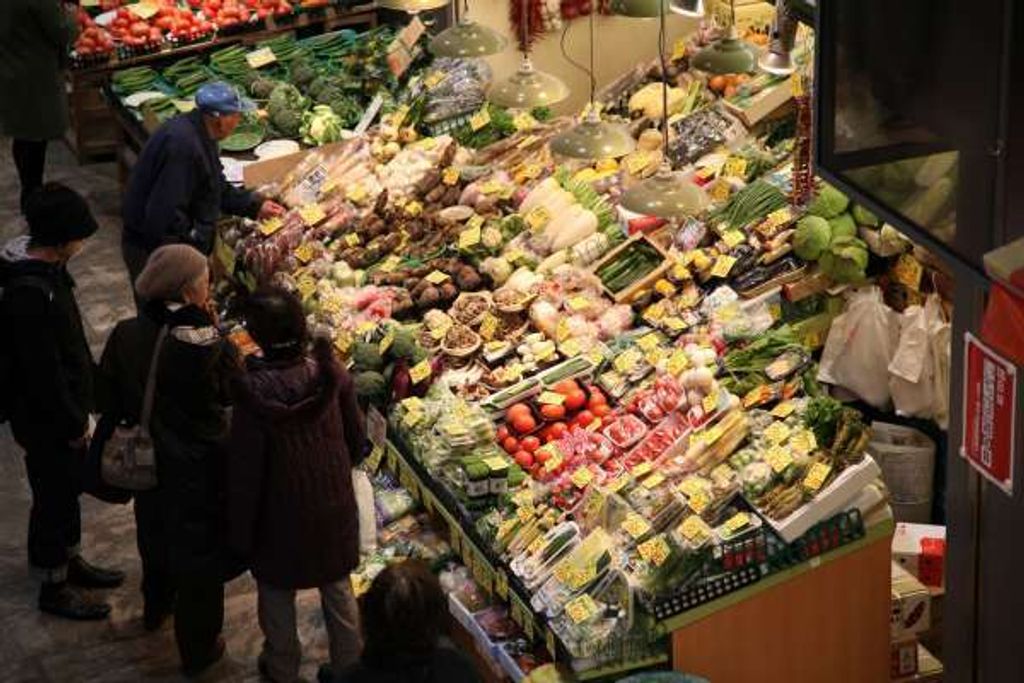 (image by upload.wikimedia.org)
Omicho Market, which has a 290-year history dating back from 1690 in the Edo Era, is called the kitchen of Kanazawa. Currently, there are more than 100 shops and restaurants specializing in fish, vegetables, fruits with ingredients found locally. This market is not just crowded with the locals but also with tourists. Since Ishikawa Prefecture faces the Japan Sea, it is flush with many kinds of freshly-caught fish and there is also a lot of unusual varieties that really can't be gotten in Tokyo.
There are also many fish shops which invite eating-in, and with seafood like fresh rock oysters, jumbo shrimp and sea urchins, you can easily have the seasonal fare as sashimi right there. And aside from sashimi, you can walk around and try Kanazawa delicacies such as grilled and skewered fish and shrimp croquettes. There are also plenty of various dining establishments such as sushi bars naturally serving hand-shaped sushi and bowls of rice topped with sashimi, curry places, ramen joints and a French restaurant which uses Kaga vegetables. There are many fresh food shops open from 9 a.m. to 5 p.m., but please be aware that there are also many stores that are closed on Wednesdays. Depending on the time, there are also events such as mochitsuki (rice cake-pounding) and nanakusa gayu (rice porridge with seven herbs) A 15-minute walk from Kenroku-en Garden, it's a tourist spot that you want to head for at least once.
Admission: Free
- Guidebook from Planetyze about Omicho Market
- Reviews from TripAdvisor about Omicho Market
- Tours of Omicho Market
Ninjadera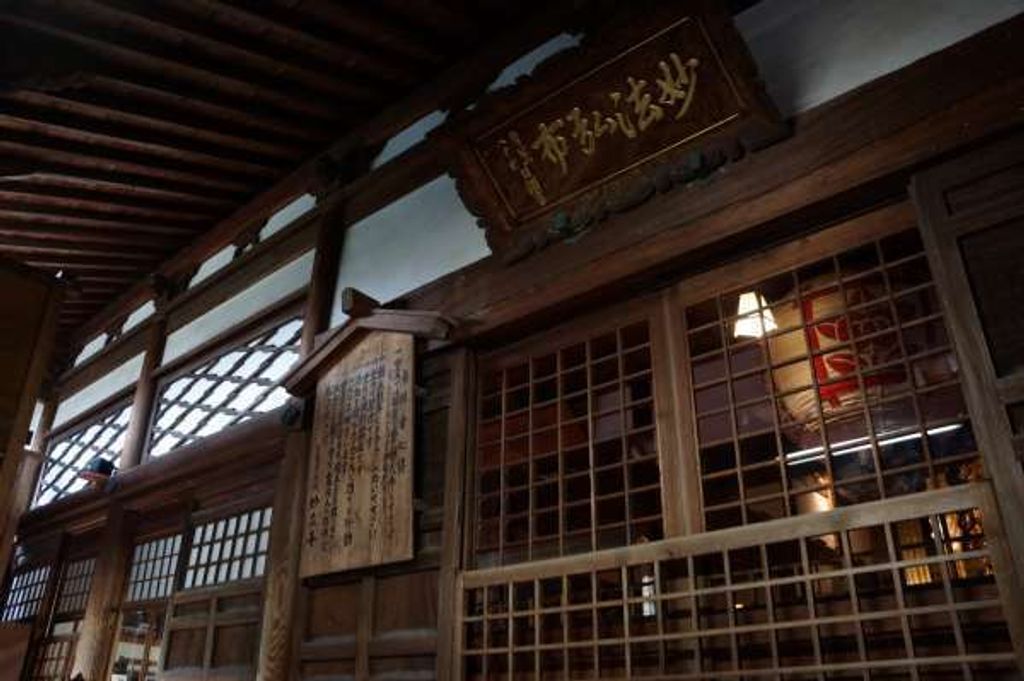 (image by flickr.com)
Myoryuji is known by the nickname Ninjadera. The tense historical background to this precious building can be felt in the unique traps and mechanisms set for the Shogunate army.
Myoryuji is a Nichiren Buddhist temple constructed in 1643 by the third feudal lord of the Kaga Domain, Toshitsune Maeda. As the original temple of good luck, many people came to visit the shrine regardless of social standing or sect, not to mention lords and vassals. The situation was tense for Lord Maeda of the Kaga Domain, who was also the Tozama Daimyo (a Daimyo who followed the House of Tokugawa at the 1600AD Battle of Sekigahara and after), due to constant surveillance from the Tokugawa Shogunate, One theory is that Myoryuji was a branch castle (constructed so that it could be separate from the main castle, as tactics dictated). In order to ambush the Shogunate military and to protect the Daimyo, the entire building is a maze with an incredibly complex structure and elaborate and varied traps and mechanisms, which is why it is known as Ninjadera. In other words, this temple is has absolutely no need for ninjas. Myoryuji appears to be a two-story building, but it is actually a four-story building with seven internal floors comprising 23 rooms and 29 staircases. A trap is set so that the offertory box (a box in which to put money offered to the gods or to Buddha) in front of the main temple building becomes a pitfall, and there are hidden staircases that lead to secret passages underground, and stairs where the boards give way to traps. There is also an observation tower that looks out to the plains of Kaga. 29 traps are set in Myoryuji. The approximately 40-minute official tour takes in the best of these traps inside the temple and the history of the temple. The explanations are only provided in Japanese, but you can participate with the help of explanatory pamphlets in English, Chinese or Korean. Telephone reservations are preferred, but it is also possible to participate without reserving. Please be aware that pre-school age children are not permitted due to the complexity of the structure.
Admission: Adult: ¥ 800 / Child: ¥ 600
- Guidebook from Planetyze about Ninjadera
- Reviews from TripAdvisor about Ninjadera
- Tours of Ninjadera
Nagamachi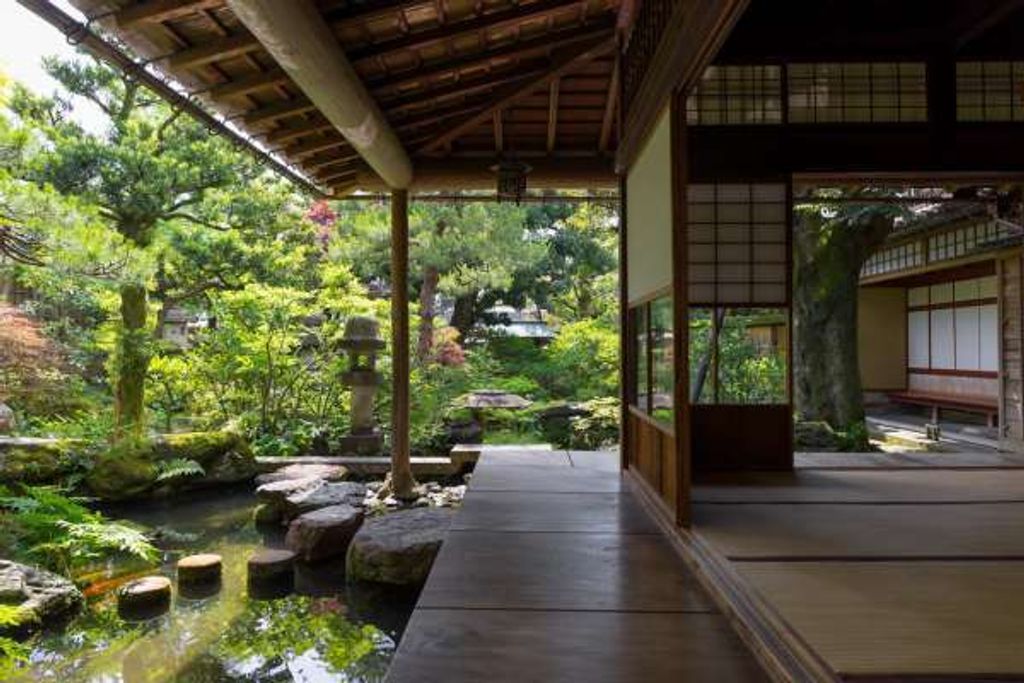 (image by flickr.com)
Narrow stone-paved alleys with long ocher earthen walls continuing along the waterways. Nagamachi is a place where you can get a peek at the life of samurai in the Edo Era, and lose yourself in the warrior district of those times.
In the Edo Era, Kanazawa was mentioned along with Osaka and Edo as the Three Great Cities, and remaining is the Nagamachi district where middle and lower class samurai resided, and you can get a taste of those times. Earthen walls run along on either side of the narrow stone-paved alleys, and the district feels as if you have just taken a trip through time back to the Edo Era. A total of 150 meters of irrigation channels flow in Kanazawa and the oldest of these is in Nagamachi as the Onosho channel, and along it are the samurai residences left as they were from the time. You can visit the Kanazawa Ashigaru Shiryokan Museum for free where the residences of the ashigaru (footsoldiers between the farming and warrior classes) have been moved. Various implements are displayed and you can find out about their austere way of life. With the samurai residences on the stone-paved alleys, one of them is the old Kaga Hanshi that is open to the public for free. The nagaya-mon gates that were only allowed to be built by above-middle-class samurai have been restored and within the residence grounds, there are wonderful walking gardens surrounding ponds taking water from the Onosho channel. At the Nagamachi Samurai Residence Rest House, volunteer guides are stationed there to provide information on the history and places to see, and you can also use the rest and washroom facilities there.
The biggest attraction in Nagamachi is the Nomura-ke residence. With its luxurious and gorgeous construction from the paulownia flooring to the cypress sliding doors, it has a splendid garden with rock falls, meandering streams, stone lanterns and a large bridge in cherry granite. It was chosen as the No. 3 Japanese garden in an American journal on gardens. On the 2nd floor, there is a tea room and while drinking matcha tea, you can also view the garden. On the east side of the Nagamachi samurai residences, there is the Hankagai and Kourinbou districts in downtown Kanazawa. Since there are only limited dining establishments in Nagamachi, it is recommended to go to Kourinbou to enjoy a meal.
Admission: Free
- Guidebook from Planetyze about Nagamachi
- Reviews from TripAdvisor about Nagamachi
- Tours of Nagamachi
Oyama Shrine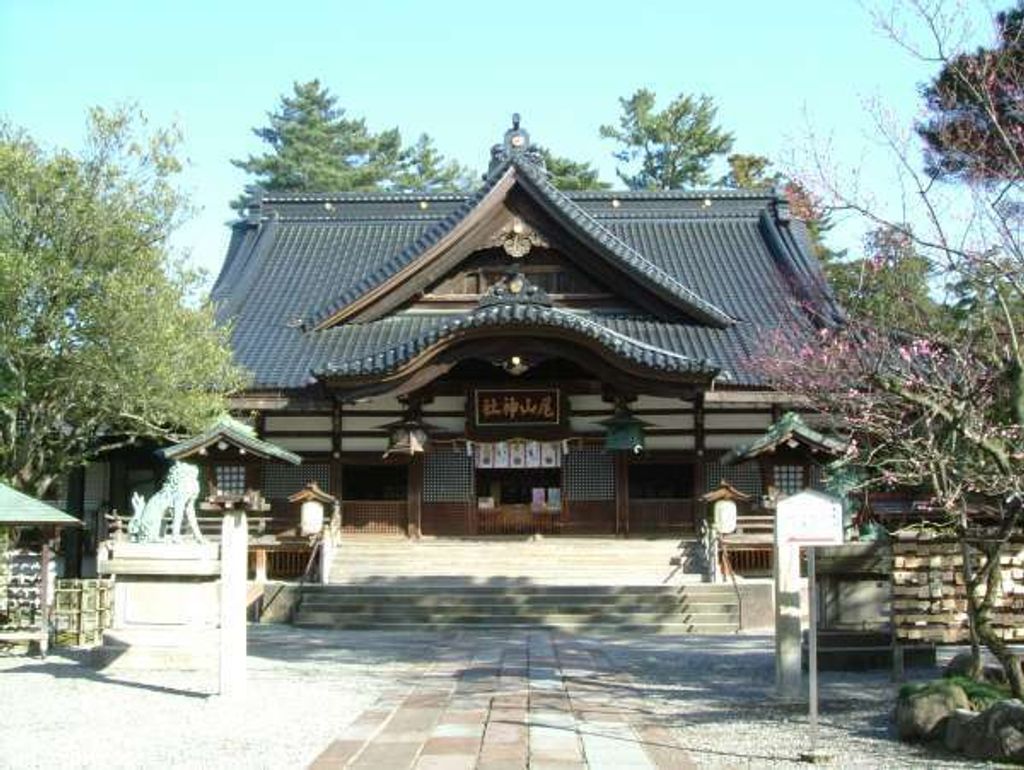 (image by upload.wikimedia.org)
Oyama Shrine was established in 1873. There is a bronze statue of a military commander on horseback on the grounds of the shrine whose identity is Toshiie Maeda, the man to whom Oyama Shrine is dedicated. In the shrine, there is a garden which is centered on a pond whose serenity and rich greenery has had it designated as a Place of Scenic Beauty in the prefecture. It is highly popular as a relaxing garden. Also, the highly dignified east gate with its carvings of dragons and clouds has been designated as a National Registered Tangible Cultural Property. And then there is the famous main gate at Oyama Shrine which was constructed in Japanese, Chinese and Western styles. It was built in 1875 during the Meiji Era, whose 1st floor consists of 3 continuous arches made from brick. The 2nd and 3rd floors are wooden, and along with Western structures such as its curved roof, the gate also incorporates a Chinese architectural style which makes it an unusual building to see. Originally, it was the front gate to Oyama Shrine and it is said that it even had a role as a lighthouse. The top floor has stained-glass windows which shine brightly at night. It is this magical scenery for which it is known as a symbol of Kanazawa, and almost all tourists to the city visit for that reason. Incidentally, there is a lightning rod installed at the gate which is the oldest of its type in Japan. Furthermore, it is also close to the most famous site in Kanazawa, Kenroku-en Garden (one of Japan's Three Great Gardens), so please visit both of them if you can.
There are festivals and events at Oyama Shrine all throughout the year. On New Year's Day, there is the hatsumode with its many visitors, but there is also the Setsubun Festival in February, the Hyakumangoku Festival in June where a huge parade unfolds like a picture scroll of the history of Kanazawa which was a castle town, the Fukuju Festival in July, and many other events to mark the seasons and certain turning points in life. Check out the homepage if you are planning to come on a trip.
Admission: Free
- Guidebook from Planetyze about Oyama Shrine
- Reviews from TripAdvisor about Oyama Shrine
- Tours of Oyama Shrine