If you are planning a trip to Tokyo, then the area of Shinjuku is a must see. It not only contains the busiest train station in the world, but also hosts all kinds of evening entertainment and day time sightseeing spots. Here are six of the best attractions to see during your Shinjuku visit:
1. Robot Restaurant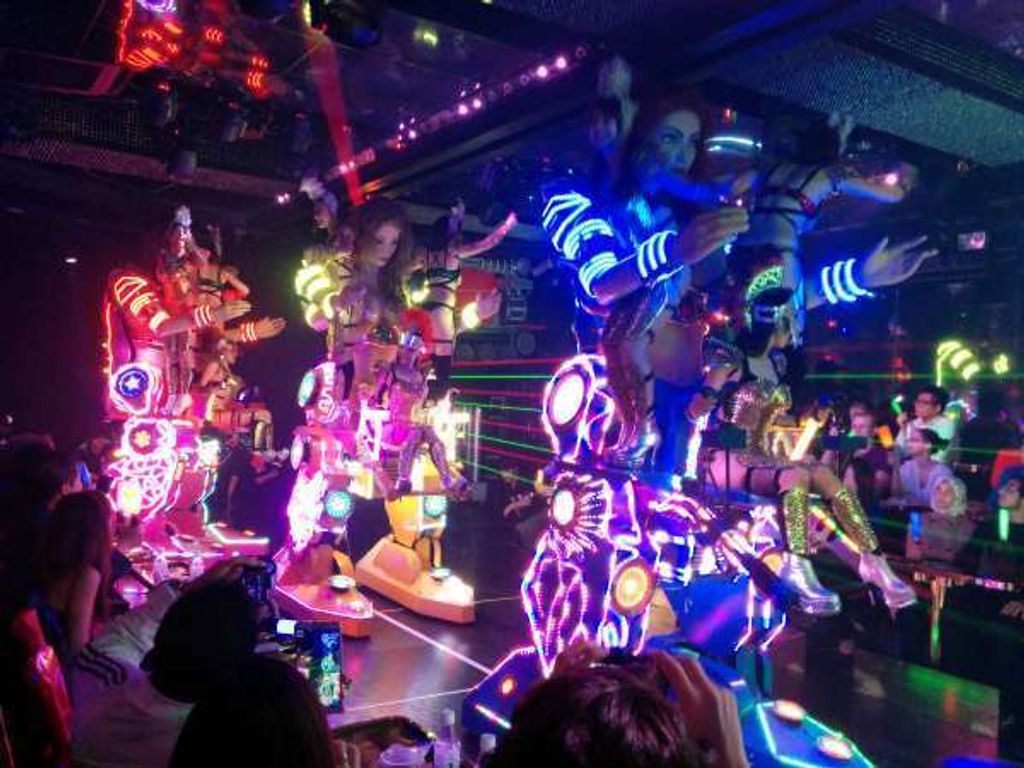 (image by upload.wikimedia.org)
At the Robot Restaurant in Shinjuku, foreign tourists are just flooding in. Inside, there are also plenty of famous personalities including overseas celebrities. The Robot Restaurant is located in a corner building within the neon streets of Kabukicho, Tokyo's premier entertainment district for the night life. The total cost for the restaurant was about 100 million dollars which explains its opulent design. The show continues to surprise and impress. The 90-minute show which interweaves robots, dancers and live music into one is a new kind of performance that had never been seen up to now which has grabbed the hearts of many tourists. Reservations can be made online and with an additional fee, you can enjoy a meal with the show. The Japanese meals include sushi and bento, and while you're enjoying your food, you can enjoy some cutting-edge entertainment.
It's not just about the robots tripping the light fantastic with the dancers. The biggest charm of the Robot Restaurant is its flashiness and originality. The dancers in their highly revealing outfits show off some magnificent moves to the beat of the taiko drums and other percussion, but that's not everything. There's a fair amount of decorative illumination on the tanks and other robots which the dancers skillfully handle. The robots are very expressive through their winking and hand waving. Also, themed performances are one of the other attractions with highlights including robot battles, robot parades and even Japanese-themed acts of josendaiko (women war drums) and senbonzakura (a thousand cherry trees). It is only at the Robot Restaurant where you can see this one and only performance which brings together robots and dancing that cannot be seen anywhere in Japan or in the world.
Admission: ¥ 7,000
- Guidebook from Planetyze about Robot Restaurant
- Reviews from TripAdvisor about Robot Restaurant
- Tours in Robot Restaurant
2. Shinjuku Gyoen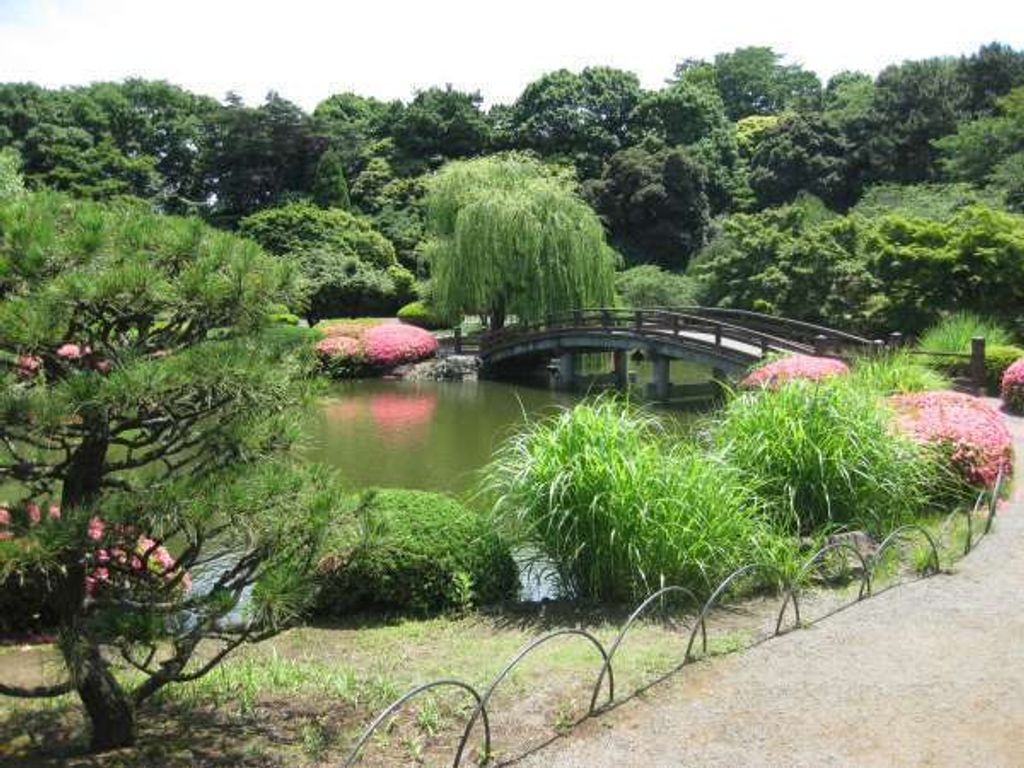 (image by upload.wikimedia.org)
This park was originally created as a garden specifically for the Imperial family for recreation and guests of the family, and was designated as an Important Cultural Property. Shinjuku Gyoen boasts a size of 58 hectares and consists of 3 types of gardens: an English garden known for its gentle slopes and public gathering space during hanami season, a French garden with sycamore trees and a Japanese garden with a central pond.
During the year, there are numerous events held at the park; there are participatory events such as photography lessons and contests in addition to chrysanthemum flower exhibitions and traditional Japanese art performances of Noh theatre. Once every month, the Edo Tokyovegetable market and Shinjuku Gyoen flower market are also held. It is prohibited to bring alcohol into the park to ensure that the peace and calm is kept at Shinjuku Gyoen. A visit to the garden is highly recommended during the cherry blossom and fall foliage seasons, but in general it truly is the ultimate place to take a break from the noise and bustle of the hectic Tokyo.
Admission: Adult: ¥ 200 / Child: ¥ 50
- Guidebook from Planetyze about Shinjuku Gyoen
- Reviews from TripAdvisor about Shinjuku Gyoen
- Tours in Shinjuku Gyoen
3. Tokyo Government Building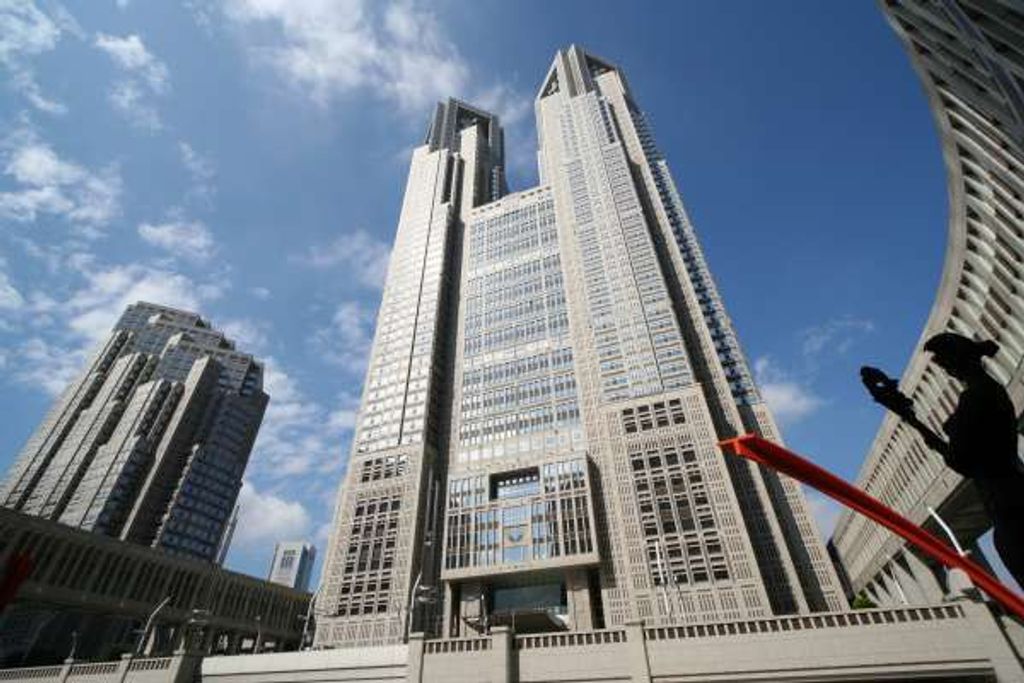 (image by upload.wikimedia.org)
Upon its completion in 1990, people were astounded to see this towering ultra-modern building, appearing to pierce the sky. People felt like they had accidently come to the future. But no, this was the new Tokyo Government Building – the central administration building for the government of Tokyo.
Planning for the construction began at the height of the Japanese bubble economy. The highest building in Tokyo at the time, the Tokyo Government Building was designed by a world famous architect, Kenzo Tange. At the time of its completion, there were some criticisms that the building was an unnecessarily large facility built at the expense of the metropolitan taxpayers. However, today it serves an important role as the strikingly high landmark among the Shinjuku skyscrapers.
Use the elevator to get up to the 45th floor and enjoy the view of Tokyo from a deck 202 meters above ground. You will be able to see many of the famous Tokyo tourist spots including theTokyo Skytree in the northeast direction, the Tokyo Tower in the southeast direction, and the skyscrapers of the Shinjuku subcenter in the southwest direction. When the weather is good and the view is clear, you can even see Mount Fuji in the distance.
Admission: Free
- Guidebook from Planetyze about Tokyo Government Building
- Reviews from TripAdvisor about Tokyo Government Building
- Tours of Tokyo Government Building
4. Golden Gai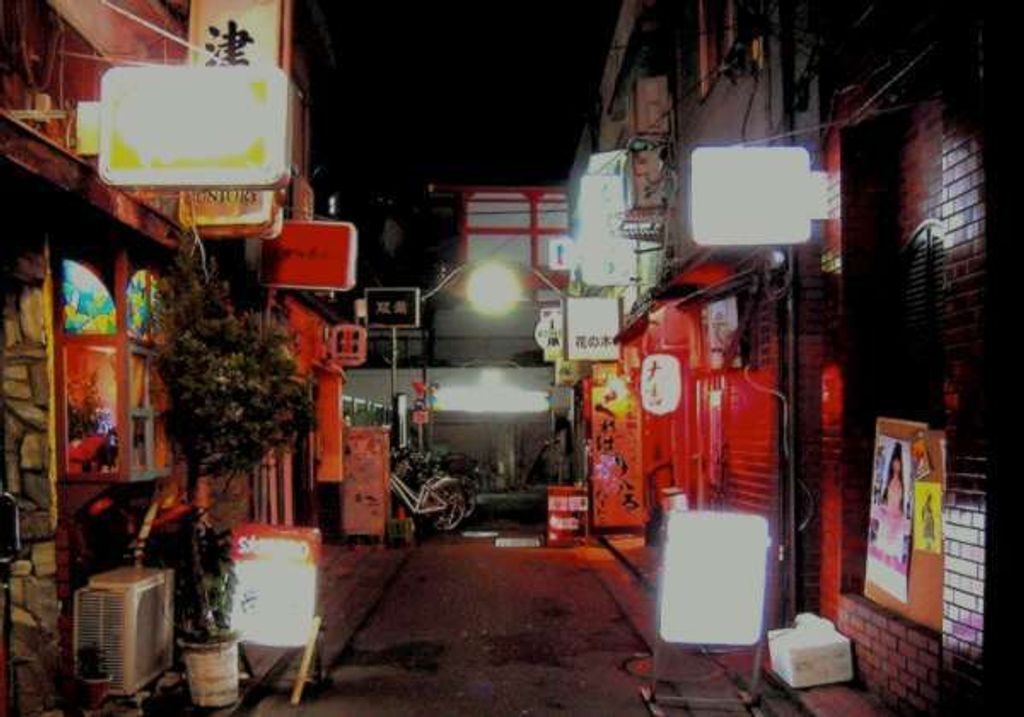 (image by flickr.com)
Tokyo's busiest commercial district of Shinjuku is divided into various areas with their own character. There is the shopping area which attracts the young, the area of soaring office skyscrapers and the pleasure area of cabarets and clubs. Among them, on a side street a block away from the boulevard lined with showy buildings and department stores next to Hanazono Shrine at Kabukicho 1-chome lies Shinjuku Golden Gai.  
When you go past the arched signboard of Golden Gai with its dimly-lit and flickering lights on the evening streets, you enter a different world. There are a number of alleys which seem more appropriate for cats in an absolutely tiny area lined cheek by jowl with small and narrow places that can only fit 10 people at most. The majority of the places are bars, but there are also ramen shops, kushiage joints and other establishments that can be entered easily. It's a fact that these tiny holes-in-the-wall are filled with the regulars but there are places that are obsessed about music such as jazz, flamenco and chanson bars along with manga, literature, movie bars and other specialized drinking places in addition to small theaters to make up this eclectic gathering of more than 200 establishments.  
Unlike the huge entertainment quarter of Kabukicho, Golden Gai attracts writers and poets, manga artists, film directors and other people of culture, in addition to office workers on their way home who find that bar matching their tastes and enjoy that leisurely drink; the area has that strong image of that second home away from home for adults who know how to have fun. However, perhaps because of the Showa Era boom (1950s) that has been influencing young people recently, those young folks have also been going in and out of Golden Gai as a corner with that nostalgic air of Showa. Getting accustomed to the unique vibe of the area, a new generation of owners setting up shop has risen which has given them the name of Golden Gai's New Wave.
Admission: Free
- Guidebook from Planetyze about Golden Gai
- Reviews from TripAdvisor about Golden Gai
- Tours of Golden Gai
5. Meiji Jingu Shrine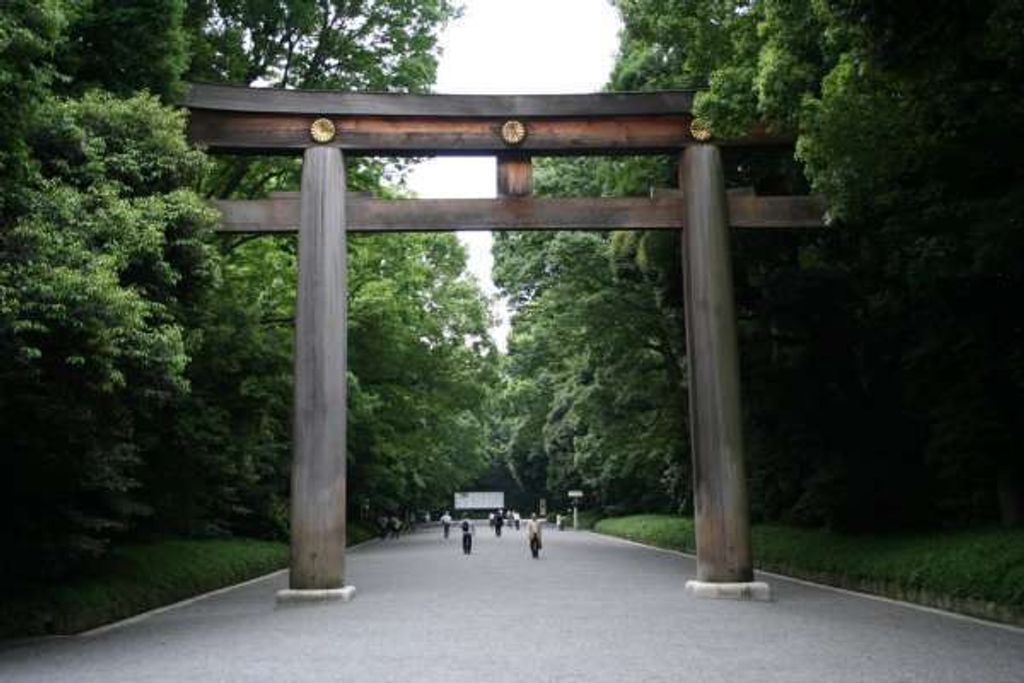 (image by upload.wikimedia.org)
Every New Year's Day on 'hatsumode', Meiji Jingu, which is over 700,000 square meters in size, receives around 3 million worshippers, reflecting its ability to attract the greatest amount of visitors in the nation. Considering the amount of lush greenery located inside the perimeters of Meiji Jingu, it is hard to believe that it is located in the same vicinity as bustling commercial centers such as Harajuku, Omotesando and Shibuya. To reach the shrine from JR Harajuku station is a mere 5 minutes away and one could easily even reach it on foot from the above mentioned areas. Many people have become interested in Japanese religions such as Shintoism as a result of references to them in famous movies such as 'My Neighbour Totoro' and other Ghibli animated movies. Naturally, this has sparked the motivation of many sightseers to pay a visit to Meiji Jingu. In Japan, regardless of your religion, feel free to visit during the New Year. As well, experience the customs and culture of the Japanese people visiting this place as a power spot.
Meiji Shrine is also known as a prime location to view the beautiful irises which blossom in the summertime from June to August. Furthermore, Meiji Shrine is known to be a power spot and has resultantly attracted many young women who wish to benefit from these powers. For example, the large camphor tree that has been standing since the Taisho Period outside the ge-haiden hall of worship, is a popular power spot visited by for those who wish to gain marital harmony and family safety.
And if you have time, you may also be able to witness a Japanese wedding ceremony. Generally speaking, visitors can see a Shinto ceremony in which the bride and groom declare to the gods that they will become a couple and contribute to society. The majestic wedding procession with the bride in white being led by a Shinto priest and shrine maidens and the groom in a kimono provides a snapshot of genuine Japanese culture.
Admission: Free
- Guidebook from Planetyze about Meiji Jingu Shrine
- Reviews from TripAdvisor about Meiji Jingu Shrine
- Tours of Meiji Jingu Shrine
6. Kagurazaka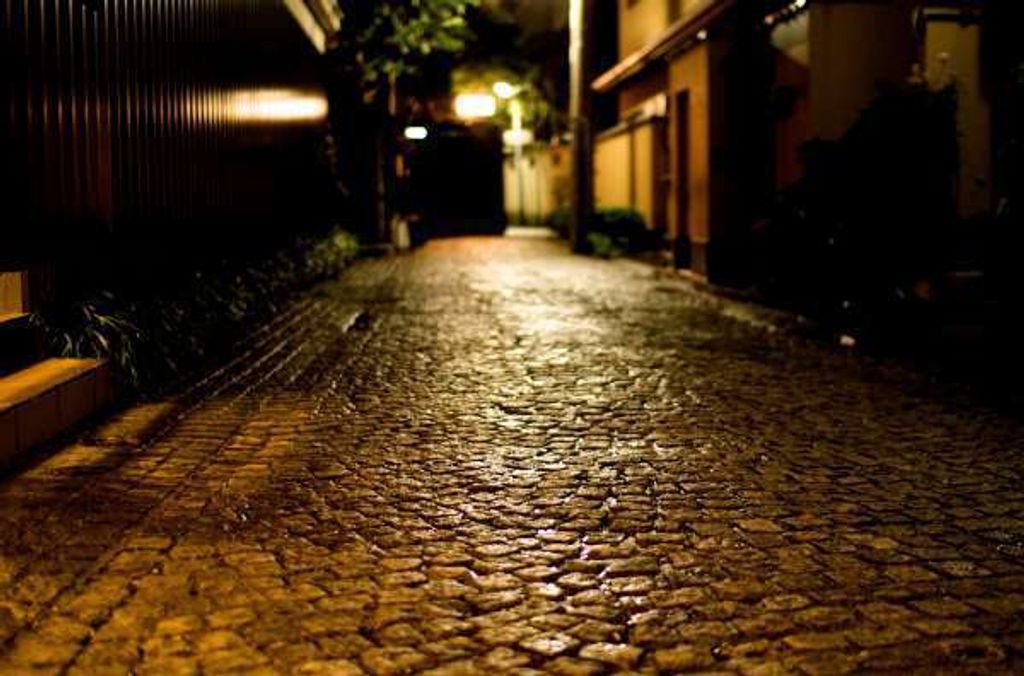 (image by flickr.com)
The area once had that background of being a lively geisha district of old, and even now it is a unique neighborhood that hints at a Japanese chic and gaiety. Recently, a lot of foreigners have come to live in the area, and a certain liveliness has risen with the younger generations coming to visit. Leaving the main avenue and going into the side streets, there is the scenery of the stone pavements along with the classy ryotei restaurants hidden away here and there. The streets are just like a maze, and it's fun to take a walk through the winding alleys with the basking cats, the seasonal blossoms at the front of the residences and the scattered temples and shrines.
Having said that, there are no major landmarks in Kagurazaka including any tall towers. However, it's enjoyable enough to look out for the inerasable reminders of that old entertainment quarter while walking, dining and relaxing in an area that has changed over time.
Admission: Free
- Guidebook from Planetyze about Kagurazaka
- Reviews from TripAdvisor about Kagurazaka
- Tours of Kagurazaka