Japan is a country made of islands, almost 7,000 make up the archipalego, but some are more interesting than others. Take a trip to a deserted sanctuary full of abandoned buildings, or a lush paradise of mountains and flowers. Here are five islands worth visiting, each one offering something very different:
Gunkanjima (Battleship Island)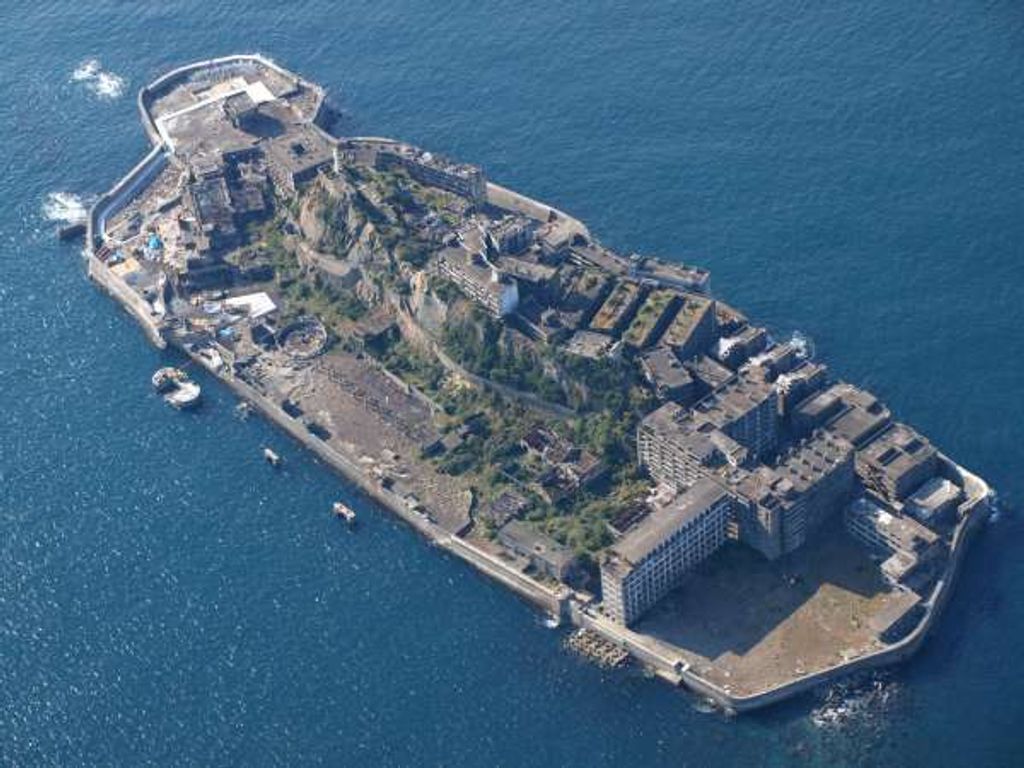 (image by flickr.com)
During the Golden Age of coal mining, people led a crowded lifestyle with a population density more than 9 times that of Tokyo. The life of those times has remained as it was on a deserted island of abandoned buildings left for 30 years.
Coal was discovered around 1810 on the island of Hashima, some 30 minutes away from Nagasaki Harbor by boat, and some 80 years later in 1890, Mitsubishi bought the rights for the mining areas for the entire island and began coal mining in earnest. The island was called Gunkanjima because its shape resembled that of a battleship. More than half the island was rich in ore, and the remainder was filled with hospitals, schools, temples, shrines, police boxes, movie theaters, barber shops, etc. so it functioned as a complete city.
During the high-growth 1960s, 5,300 people lived there with a population density that was No. 1 in the world and more than 9 times that of Tokyo. Utilizing cutting-edge technology, it was a near-future city channeling modern metropolises with Japan's first high-rise reinforced concrete apartment buildings, an undersea water supply first invented by Japan, the nation's first roof gardens, etc. But with the switch of the country's main source of energy from coal to oil, there was a course of decline. In January 1974, the mine was closed and in April, all of the residents left the island, leaving Gunkanjima a deserted island. Since then, people had been prohibited from going onto the island, but from 2009, tourism and field trips were allowed.
Despite the presence of abandoned buildings, household appliances starting with TV sets and other traces of life have been left there as they were, with the island as a whole being left as it was during its prosperity, and one can feel what Japan was like during the period of high growth. There are some tour companies, and high-speed ships leave from Nagasaki Harbor. Due to the extreme danger from the concentration of decrepit reinforced concrete buildings on Gunkanjima, visits are performed by going around the island once by ship. Then, tourists go onto the island and with a guide, they can tour for about 1 hour. Since there are guides who can speak English, inquiry is necessary beforehand.
Admission: Adult: ¥ 3,600 / Child: ¥ 1,700
- Guidebook from Planetyze about Gunkanjima (Battleship Island)
- Reviews from TripAdvisor about Gunkanjima (Battleship Island)
- Tours of Gunkanjima (Battleship Island)
Hakkeijima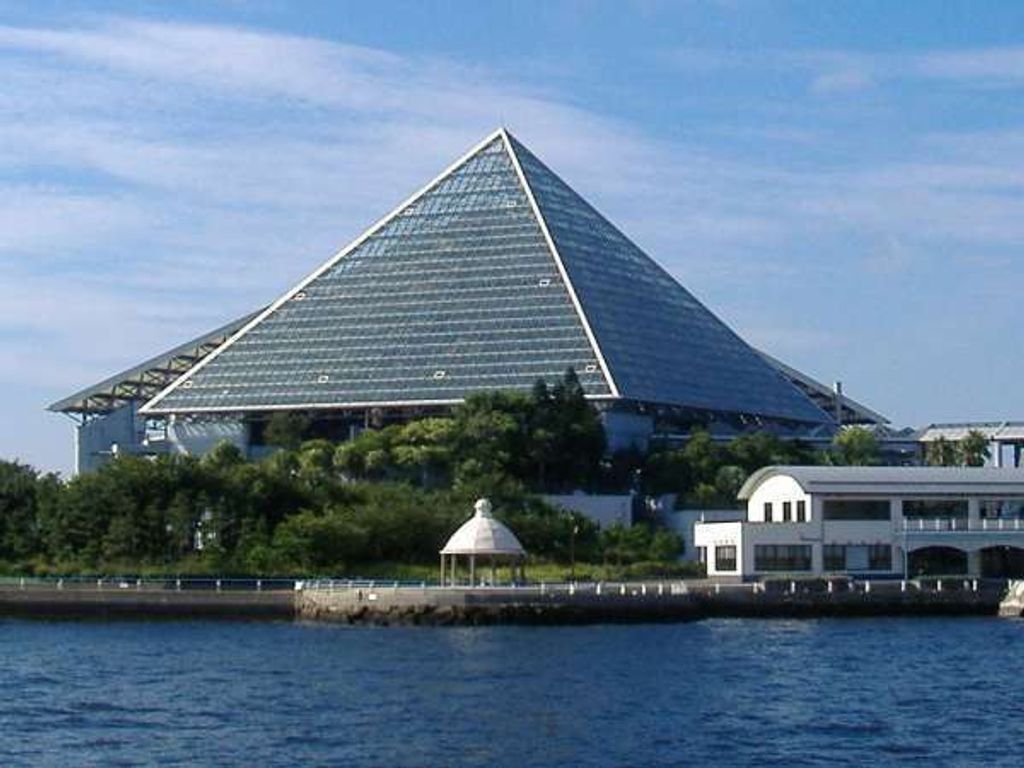 (image by uload.wikimedia.org)
About 1 hour from Tokyo. This island in Tokyo Bay was first opened in 1993 as "Hakkeijima Sea Paradise". There are 4 aquariums. The Aqua Museum is the symbol of Hakkeijima. The outstanding pyramid-roof aquarium displays 100,000 examples of sea life from 500 species. In the largest tank at the Aqua Museum, the nation's largest school of 50,000 sardines is used in Super Iwashi Illusion. It's a popular show in which the sardines dynamically race around while lit up by the tank lighting. At the Aqua Stadium, which can hold up to 2000 people, dolphins, sea lions, penguins and other animals can be seen at once performing in an exciting show. The Dolphin Fantasy is a magical aquarium with the theme of dolphins. There is no roof on the water tank, and you can view them from inside the tunnel. They can be seen on sunny or rainy days in conditions close to the natural sea, and it feels like taking a stroll on the bottom of the ocean.
The Fureai Lagoon is an aquarium where you can touch the sea animals. There is a program in which you can get a taste of being a trainer through touching the backs of dolphins and feeding them and there is also a program where you can swim with dolphins and whales (separate charge).
The Umi Farm is an aquarium whose purpose is to have visitors closely feel the environment of the ocean through the raising, harvesting and eating of sea life. Get the fish that you can eat and have it prepared for you. In the amusement park, there are attractions such as Japan's first roller coaster to go partially above the water and the seaboats where dolphins swim nearby.
Admission: Adult: ¥ 5,050 / Child: ¥ 3,600
- Guidebook from Planetyze about Hakkeijima
- Reviews from TripAdvisor about Hakkeijima
- Tours of Hakkeijima
Nokono Island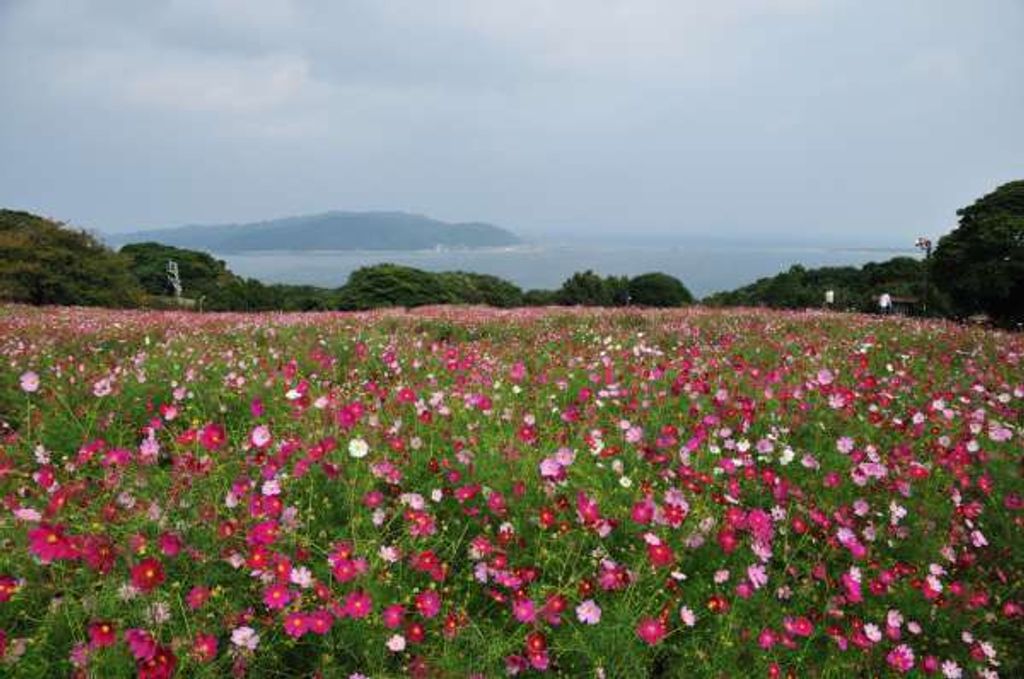 (image by flickr.com)
An island floating on Hakata Bay with a circumference of 12km, Nokono Island is a refuge for the citizens of Fukuoka City which can be reached by ferry in 10 minutes from the city's Meihama area. The island's tourist spot of Nokono Island Park is a 15000 ㎡natural park which spreads out at the northern tip of the island. Also known as Fukuoka's best place for flowers, the large site boasts beautiful blossoms all year round and the view from the flower-covered hill of Hakata Bay is breathtaking. Bright flower gardens spread out over the slope throughout the seasons with rape blossoms in the spring and cosmos in the fall. Also, at the Nokono Island Camp Village you can enjoy swimming between May and September. Day trips are also plenty of fun with activities such as barbequing and banana boating on the beach. For people who have the time, how about taking that dip into the sea?
Animals such as goats and rabbits reside within Island Park where you can feed them. You can also enjoy a variety of sports at the park without having to bring anything, and everyone from kids to grownups can have relaxing fun with golf, swings, athletic equipment and other facilities. Rental of volleyballs, soccer balls, badminton equipment and other items is possible, and families can all enjoy themselves on soccer pitches and volleyball courts. Also for those people who prefer indoor pursuits, there are pottery workshops where you can make your own tea cups and mugs on the potter's wheel. For Raku ware which is even popular with the kids, items such as plates and piggy banks can be painted. Spend a relaxing time on the island with the whole family
Admission: Adult: ¥ 230 / Child: ¥ 120
- Guidebook from Planetyze about Nokono Island
- Reviews from TripAdvisor about Nokono Island
- Tours of Nokono Island
Enoshima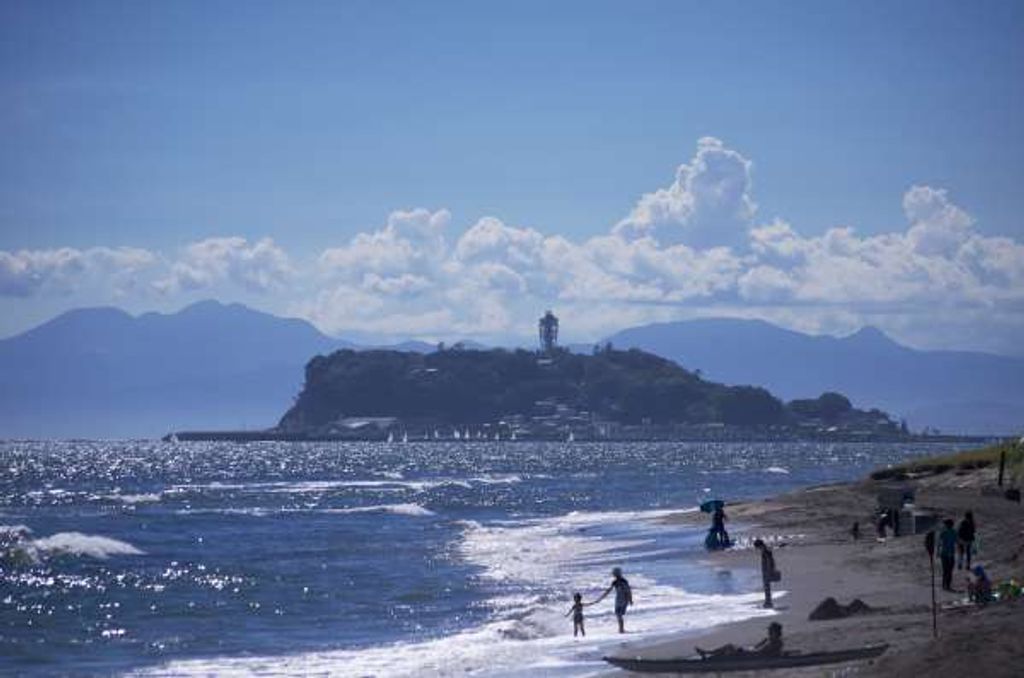 (image by flickr.com)
The Iwaya caves of Enoshima, formed through wave erosion from ancient times, had been places of Buddhist training for the monks. Afterwards, the first shogun of the Kamakura Era, Yoritomo Minamoto, established Enoshima Shrine so that generations of shogun would visit it to pray. The enshrined god of water was also made to be the guardian deity for kabuki, so people of culture also visited the shrine, and gradually it developed into a resort area for the common people. Currently, not just Enoshima but the surrounding beaches and aquarium have made the area into a huge tourist spot.
There is a tourist information office once you get off at Katase-Enoshima Station on the Odakyu Express Line and cross over the bridge in front of the station. Stopping off there before walking over to Enoshima, you can obtain some useful pamphlets. When you cross over to the island via the Bentenbashi Bridge, you will encounter a bronze torii gate at the entrance. Beyond the gate, there is the path going toward Enoshima Shrine. On either side, there are souvenir shops lined up. Going up the sloped path toward the shrine and through the red torii, you will see Zuishinmon Gate which is said to resemble Ryugu-jo Castle. Enoshima Shrine is one of The Three Great Shrines of Benzaiten in Japan which have enshrined three sister goddesses. There are three shrines which are located on the island. At the very back of the island where Okutsumiya Shrine is located, walking from there for 10 minutes will bring you to the Iwaya caves. There are the First Cave (length 152m) and the Second Cave (length 56m), and with a purchase of a ticket, you can enter them by candlelight. A group of stone formations and a dragon god among other things are enshrined there. There is a mystic atmosphere to go along with the naturally-created scenery.
Admission: ¥ 1,470
- Guidebook from Planetyze about Enoshima
- Reviews from TripAdvisor about Enoshima
- Tours of Enoshima
Sado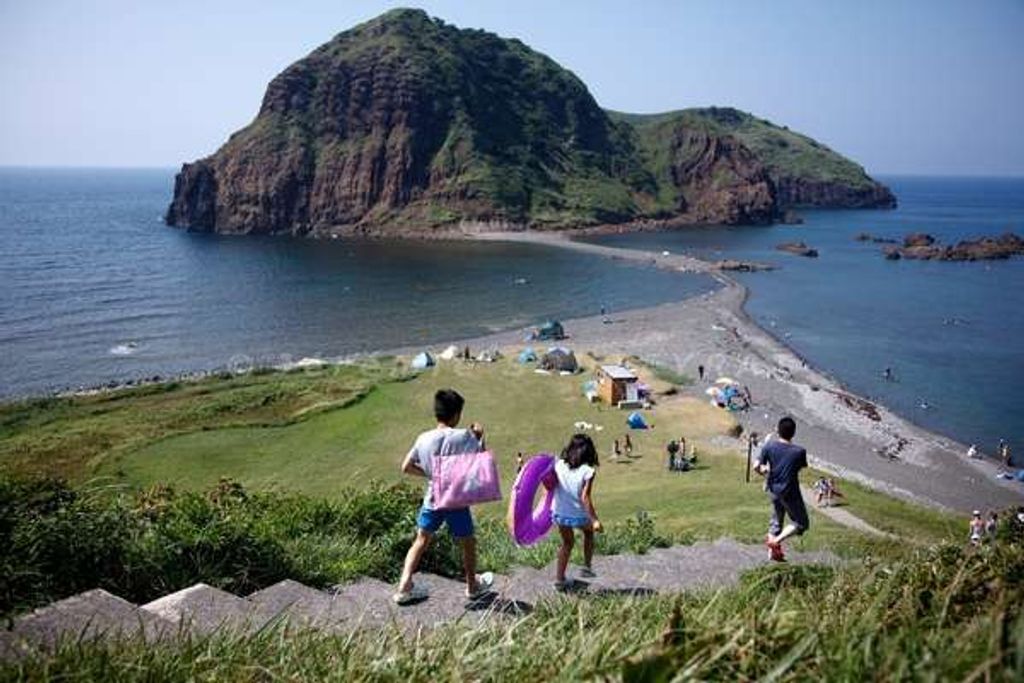 (image by flickr.com)
The lush natural island of Sado, surrounded by the sea and with a wide plain of large rice paddies squeezed in by the mountains, has plenty of tourist attractions such as hiking, spending time on the beach and touring the historic sites. It used to be infamous as an island for exiles but since the majority of those people were aristocrats who lost political battles, political heretics or cultural scholars, aristocratic and samurai culture were added to the simple beauty of the landscape to create the unique culture for Sado.
Untouched nature remains on Sado where you can have fun doing outdoor sports within the lush nature of a beautiful sea, mountains and forests. There is the forest trekking where you can appreciate the mystical and ancient cedar trees, hiking on Mt. Donden with its grand panorama as you view cows on the grasslands, marine sports such as kayaking and diving in the ocean, and sunbathing on the beach. There are also many campgrounds and the holidays spent in the middle of all this freedom are exceptional. Annually in September, there is plenty of excitement as an international triathlon is held.
Due to a fertile ground born of the aristocrats and artists who had been exiled to Sado, a very distinct Sado culture was nurtured through the different cultures that had been brought over by the exiles. Sado Island is also famous as the land where the genius playwright Zeami was exiled, and during the time when gold mining was at its peak during the Edo Era, a visit of a close associate to the Tokugawa shogun and a Noh actor due to a development of a gold mine led to Noh culture taking root on Sado, and now one-third of the country's Noh theaters are located there leading to an unparalleled Noh culture. In addition, Sado is an attractive island due to the continued rich presence of nature, culture and history with the beautiful historic sites, shrines and temples in the middle of Mother Nature, and the remains of the gold mines.
Admission: Various
- Guidebook from Planetyze about Sado
- Reviews from TripAdvisor about Sado
- Tours of Sado