Gunma is a mountainous region two hours from Tokyo, and is perhaps most famous for its numerous hot spring resorts. If you are looking to take a break from Tokyo to relax with nature, surrounded by mountains, then why not soak up the natural spring water of Gunma:
Manza Onsen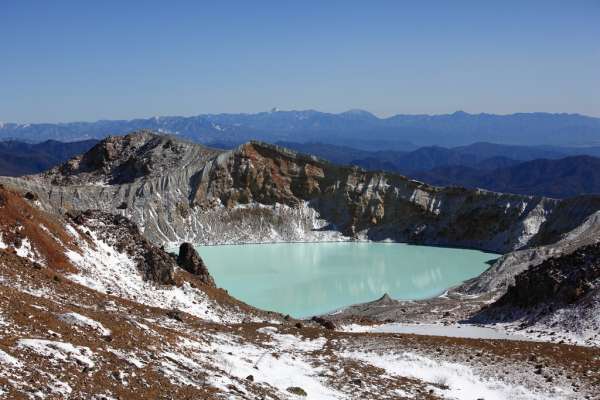 (image by flickr.com)
Within Joshin'etsukogen National Park, Manza Onsen is Japan's highest mountain hot spring village that is located at an altitude of 1800m. In summer, it is a resort area that doesn't need air conditioning, in autumn it has the changing leaves, and it has skiing in winter so that the area is lively with tourists all year round. The source spring has a plentiful daily output of 5.4 million liters per day and is a sulfur spring which has a high temperature of around 80 degrees C. It is known as the spring which has the highest concentration of sulfur in Japan. The hydrogen sulfide that is included in the sulfur is beneficial for improved blood circulation, and at altitudes higher than 1000 meters, the heart rate goes up and the metabolism becomes energized.
The water quality and the mountain climate have a double benefit only found at Manza Onsen. The 8 accommodations found all over the area each have onsen with their own character. At Manza Hotel Juraku, there is an open-air bath where you can view the symbol of Manza Onsen, the "karabuki" jets. The "karabuki" is located at the entrance of the Manza Plateau where steam created from the rain water soaked into the ground and underground water erupts from the craters. The cloudy steam emanating from the barren rocky crags is just like the force from an active volcano. The many open-air baths with superb views is one of the attractions at Manza Onsen. The Gokurakuyu of the long-established ryokan, Nisshinkan; the famous rock garden open-air bath at the Manza Kogen Hotel; the Komakusa-no-Yu at the Manza Prince Hotel and other onsen with their surprising spaciousness and views of starry skies just feel like being above the clouds.
On your way to Kusatsu from Manza, there is Mt. Shirane. Near the peak at 2160m, you'll find Lake Yugama which is a crater lake with beautiful cobalt-blue water which makes for the best sightseeing spot. It is said to be the world's most acidic lake with a diameter of 300m and a depth of 30m. It's worth it to make that extra trip to see it.
Admission: Various
- Guidebook from Planetyze about Manza Onsen
- Reviews from TripAdvisor about Manza Onsen
- Tours of Manza Onsen
Kusatsu Onsen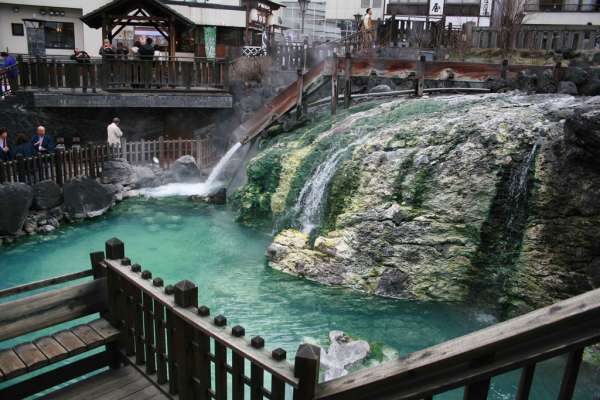 (image by flickr.com)
Yubatake is the symbol of Kusatsu. Located in the center of the onsen town, the spring water comes out at 4000L/min. The central Yubatake packs quite an impact, and with the steam, the smell of sulfur and yukata-garbed people strolling while carrying hand towels, the entire town takes on that onsen atmosphere. At night, Yubatake is all lit up so the onsen town is alive with activity the whole day and night. And only at Kusatsu Onsen can you find 13 public baths. The small bathhouses that are free for both town residents and tourists are carefully managed by the townspeople themselves. The appearance of the waters range from cloudy to clear since the source springs that the baths rely upon are different. There are even bathhouses between ryokan and behind souvenir shops so it's fun to take a stroll and search them out. When you come to Kusatsu, please drop by Netsunoyu where the famous Yumomi show is performed.
The waters of Kusatsu are extremely hot so it has been a long custom to stir them 4 times a day through the use of wooden planks. This Yumomi (stirring of the bathwater) at Netsunoyu is a recreation of an ancient custom which can be appreciated. And visitors can also try Yumomi on weekends and holidays so please give it a shot. Currently, the facility is under renovation although it was open temporarily on April 29th 2015. [AI1] Also, at Chiyonoyu, you can try a bathing method known as "jikan-yu". After you get into the tub whose water has been cooled down via the Yumomi, you pour water over your head from 3 to 40 times [AI2] and soak in the tub in the 47-48 C degree water for 3 minutes. At this time, the bath leader will call out a set of orders to which guests will respond heartily.  This is a traditional way to take a bath that has been passed down to Kusatsu, a town which has become specialized in hot spring cures. 
Admission: Various
- Guidebook from Planetyze about Kusatsu Onsen
- Reviews from TripAdvisor about Kusatsu Onsen
- Tours of Kusatsu Onsen
Ikaho Onsen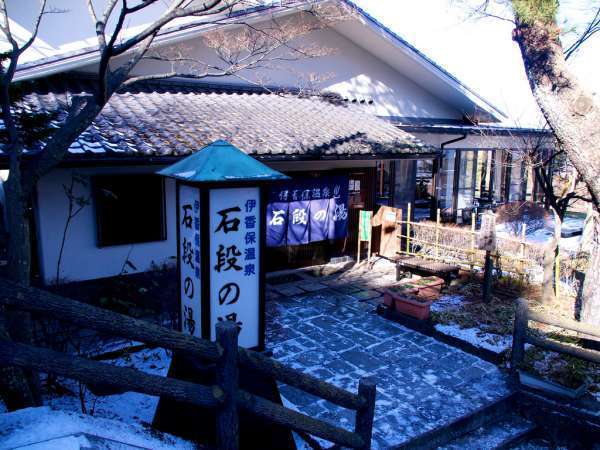 (image by flickr.com)
The Ishidan stone stairway is symbolic of Ikaho Onsen which has a history of more than 400 years. There are 365 steps to signify "a street that is alive with activity throughout the year". Right by the entrance to the stairway on the right is Ishidan-no-Yu, a warehouse-like public bath with reasonable prices. Ikaho Onsen has been called Kogane-no-Yu (The Golden Waters), but the waters used to be clear and colorless. However, due to the iron content, they turned dark brown when in contact with the air. They are also known as Kodakara-no-Yu (Child Waters) since they tend to be mild, warm the body from inside and are popular with women.
Gunma Prefecture is ranked No. 1 in the country for its production of konnyaku (yam cakes), and tama konnyaku (yam balls) steeped with the flavor of soy sauce is perfect. And then there is the irresistible onsen manju (bean paste-filled cakes at a hot spring) of Ikaho. The brown and lustrous manju became a household word around Japan when it was presented to the Imperial Family. The cakes whose skin was made brown after the color of Kogane-no-Yu are also called Yu-no-Hana (Blossom of the Waters) manju, and the area has become known as the birthplace for onsen manju. There have also long been a number of amusements of a Japanese hot spring town to be enjoyed at Ishidan. You can try target practice with a bow, ring toss and shuriken among other things so that adults can feel like kids again. There is also a free foot bath in the middle of the steps when you get tired from walking up Ishidan. The Tatsu-no-Yu (Dragon Waters) at Kishigon Ryokan can even be used by non-guests so it's the ideal bath to pep up your feet. At the top of the stairs, there is Ikaho Shrine. Surrounded by trees, it stands quietly above all of the bustle of Ishidan below.
Admission: Various
- Guidebook from Planetyze about Ikaho Onsen
- Reviews from TripAdvisor about Ikaho Onsen
- Tours of Ikaho Onsen
Sai-no-Kawara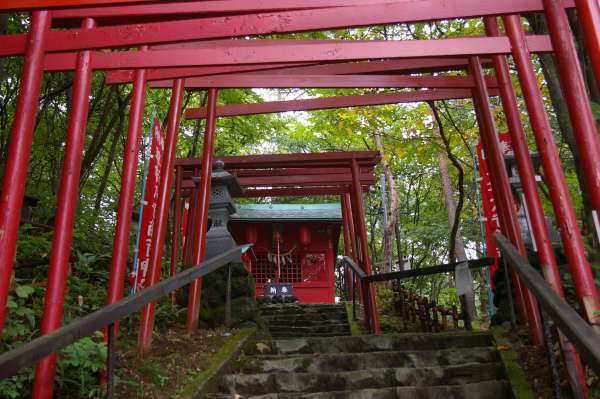 (image by flickr.com)
A 10-minute walk away from Kusatsu's symbolic Yubatake, when you pass the tourist-friendly Sai-no-Kawara Avenue with its manju (bean paste-filled cakes) and souvenir shops, you will end up at a desolate and dry river bed with lava rumbling underneath and smoke rising. This is Sai-no-Kawara Park where 1400 liters of 50-degree C water gushes out every minute from along the Yukawa River. Due to the high acidity of the water, there is no plant life on the river bed. There is stone paving within the park for ease of walking, and there are also beautifully shining onsen ponds of emerald green such as Zuisho Pond and Kohaku Pond. And there is Anamori-Inari Shrine with its attractive red torii gates.
The sand on the shrine grounds is known as "lucky sand" and if some of it is taken back and spread out at certain places, it will bring good fortune. At the very back of the park is Sai-no-Kawara Outdoor Bath. Including the men's and women's bathing areas, it is an open-air bath that measures 500㎡ and is popular for its spaciousness. Crowding at this pond-like bath is irrelevant. Bathing here while viewing the surrounding mountains and trees is the greatest. You will want to keep on visiting the bath with the fall foliage, the winter snow and the star-filled skies at night. The source spring has clear hot water with a greenish hue, and within Kusatsu Onsen, it is a high-temperature spring that is close to the lava. The water gushes forth at a temperature of 94 to 95 degrees C so cooler water is added but even so the water is very salty to the taste reflecting the high salt concentration. The bath is of a kakenagashi (flowing water) style, so if you go to the back and the steam lifts, you can see an onsen waterfall. It is not a place to enjoy a bath to wash your body, but it is the perfect bath to recover from fatigue and forget the hustle and bustle of the day.  
Admission: Adult: ¥ 600 / Child: ¥ 300
- Guidebook from Planetyze about Sai-no-Kawara
- Reviews from TripAdvisor about Sai-no-Kawara
- Tours of Sai-no-Kawara
Best Virtual Tours & Experiences in Tokyo
Looking for an authentic travel experience in Tokyo but still stuck at home? No problem! Why don't you start by taking a Virtual Tour for a moment's escape from the mundane and chaos with our professional guides in Tokyo?
Top Experiences:
→
More Tokyo Virtual Tours & Experiences