If you are planning on visiting Tokyo, and wondering where to go, then these five places are a must-see. Each of the areas features a unique character and style, from the fashionable area of Harajuku, to the electronic town of Akihabara, there is plenty to see and do at each. So, whether you are looking to see a more traditional side of Japan, or a busy nightlife area, we've got it covered with our top five places to visit in Tokyo:
Shinjuku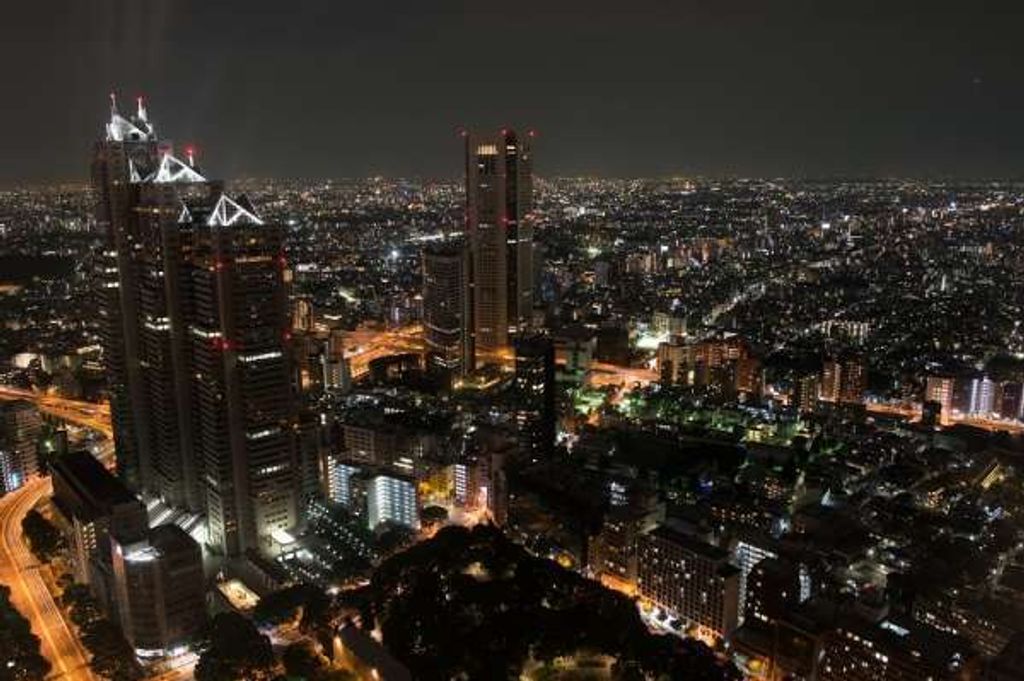 (image by flickr.com)
Shinjuku Station has been recognized by the Guinness Book of World Records as having the most number of train passengers congregated in one place. It's no surprise that a station that has over 3,000,000 or more people pass through it on a daily basis has received such recognition. The principal reason for such a large number of commuters is the easy accessibility to the various major areas throughout Tokyo such as Shibuya, Ikebukuro and Tokyo Station. This accessibility and convenience is largely influenced by the fact that at Shinjuku Station, there are a total of 5 different transportation companies, including both the JR and Tokyo Metro (subway) lines, with 3 lines serviced by the Tokyo Metro for very handy commuting. Not only are trains available as a mode of transport for commuters, but there are also bus lines at the west gate of the station servicing access to Shibuya and Shinagawa, as well as buses with routes to Narita Airport, Hakone and Nikko.
Close to Shinjuku Station, you will find anything from department stores such as Lumine and Takashimaya to restaurants serving various world cuisines, fast food outlets such as McDonald's to karaoke parlors and movie theaters. It is surely a place for amusement and is continuously being developed, recently with the construction of a great deal of multistory apartment buildings. In West Shinjuku, there are many soaring skyscrapers of which the majority are office towers but there are also buildings such as Tokyo Opera City, along with deluxe hotels like the Washington Hotel and Park Hyatt.
In the thick of the hustle and bustle of Shinjuku is a place called Golden Gai, a neighborhood of restaurants and bars located in the Kabukicho Itchome district. Kabuchicho itself is a mere 5-minute walk from the east exit of Shinjuku Station, and is filled with restaurants, izakaya pubs and red-light establishments, although Golden Gai mostly has izakayas. Each bar has its own character and sense of individuality, and amongst the bars you will find ones that are frequented by writers and film directors, as well as a few jazz bars. Golden Gai looks like it has remained just as it had been during the Showa Period, and filling the vacancy of the narrow street are scores of izakayas and bars. The buildings that are occupied by these bars and restaurants were erected in the postwar era in Japan, have fortunately not been swallowed up by the rapid development of the surrounding areas and the appearance strongly resembles the appearance and sense of feeling of the Showa Period.
It appears that the friendly and welcoming environment of the Golden Gai has been drawing foreign visitors. In the summertime, there is the Golden Gai Summer Festival (implemented in August of 2014) where you can enjoy the atmosphere at 500 yen a drink with no cover charge. Cover charge is often added onto the bill in many of these small bars populating the narrow alleyway but during the festival, this cover charge is excised. Over 170 bars are open from lunchtime during the festival and so it is recommended for those who may feel nervous about visiting the neighborhood at night. Moreover, the Hanazono Shrine, which is adjacent to the Golden Gai, has a bird market occurring in November of every year and has continued on a yearly basis since the Edo Period. Should you happen to be there during the season, it is highly recommended as a spot to visit in addition to the Golden Gai.
- Guidebook from Planetyze about Shinjuku
- Reviews from TripAdvisor about Shinjuku
- Tours in Shinjuku
Shibuya
Out of all of the areas in Tokyo, Shibuya is the city center with the largest number of young people. A trendy area, it is filled with many stores and cafes. Once you leave Shibuya Station and walk straight across the main crossing, you will hit the main shopping street in Shibuya. Once known as 'Shibuya Centre Street', it is a place where you can find anything from amusement centers to fast food chains to large-scale CD shops. From 2011 onwards however, there was a name change of the street to 'Basketball Street' to erase the bad reputation that Shibuya had begun to develop as a dangerous area.
Shibuya's evolution as a commercial center continues to progress, and Shibuya Station as a major transfer hub is undergoing further development towards 2027 as part of this evolution. One new commercial facility that opened in 2012 is Hikarie of which 70% of the 200-plus stores there have started for the first time in Shibuya. There is a restaurant floor which is the largest in the area, a theater for musicals, and an art space. If you would like to chime in on the latest trends in of Japan, you should certainly stop by Hikarie.
The bronze statue of Hachiko the dog whose story was filmed even in the USA, is one of the most popular meeting spots for young people in Tokyo. A lot of attention has recently been given to the scramble crossing directly in front of Shibuya Station, and it's hard to miss as soon as you step out of the station. Many tourists often film or take photos of the crossing from the cafes and restaurants dotted around the Shibuya Scramble.
Both Harajuku and Omotesando, two neighborhoods that are also particularly popular with youth in Tokyo, are extremely accessible from Shibuya, and you can get a glimpse of the young people of Japan. In the internationally popular Harajuku, you will find scores of young people dressed in cosplay. In recent years during Halloween, Shibuya has also become jam-packed with people dressed in cosplay costumes.
Shibuya also has free Wi-Fi that is generally accessible throughout the area. Furthermore, Shibuya has a great deal of signs and information centers geared towards foreign tourists in English.
- Guidebook from Planetyze about Shibuya
- Reviews from TripAdvisor about Shibuya
- Tours in Shibuya
Harajuku
There has been recent data on TripAdvisor that Harajuku's Takeshita Street is the number one attraction that tourists wish to visit when in Japan. Takeshita Street is Harajuku's shopping area and the narrow street is dotted with shops selling clothes distinctive of "Harajuku-style". While the Salon and Lolita styles are some of the most famous style trends in Harajuku, it cannot be so specifically characterized into one particular style. The reason for this is that Harajuku-style fashion is about re-making a particular fashion style and coordinating clothes in a particular way to your liking and expressing your individuality to the maximum through your fashion style.
It is said that the crepe and purikura shop craze that spread throughout Japan first started on Takeshita Street. "Purikura" is the popular photographic seal that is very popular amongst Japan's youth, and has gained this much popularity amongst young people as a result of having the choice to illustrate and process the photos to be printed to your liking. The trend has even been exported in recent times to Thailand and Korea. There is a multitude of shops where you can take purikura in Harajuku which have 'cosplay' clothing prepared for you to dress up in.
Feel like you are in Harajuku and see how Harajuku's Takeshita street TRULY is like in this 360º video:
In Harajuku, you will find all kinds of stores throughout the area. There is a five-storey shop called Kiddy Land that sells toys and other goods. Furthermore, there are also general variety stores that sell things from antiques and other miscellaneous unique products, as well as stores that specialize in Harajuku street fashion. These stores are a mix of individually owned and larger chain shops. Takeshita Street is the ideal place to pick up a few "kawaii" goods (such as Sanrio's Hello Kitty, Rirakuma Bear and other such characters) and other miscellaneous goods or fashion items, as well as observe the trends of Japan's youth.
Amongst the hustle and bustle of Harajuku is Meiji Shrine, one of the most famous shrines visited by worshippers all throughout Japan. It is also a very popular tourist attraction amongst foreign visitors, and it is right next to Yoyogi Park. We recommend that if you need a quick break from the energy of the Harajuku shopping district, you head to Meiji Shrine or Yoyogi for some peace and quiet.
- Guidebook from Planetyze about Harajuku
- Reviews from TripAdvisor about Harajuku
- Tours in Harajuku
Akihabara
Akihabara has gained a widespread reputation as Japan's largest area for electronics. Taking advantage of the period of rapid economic growth, stores dealing in software and parts were established and Akihabara progressed into one of the leading electronics areas in the world. Furthermore, there has been a steady increase of stores selling game software which, by no surprise, has occurred simultaneously with the rise of anime and game 'otaku' (enthusiast) culture. Recently, there have been many Chinese and Korean tourists who specifically wish to purchase Japan-made rice cookers. There is no better place than Akihabara to go to when in search of 'Made in Japan' electrical appliances, which are sought after by visitors from abroad.
If you are looking to purchase electrical appliances, the best deals can be found at Sofmap, Laox and Yodobashi Camera. Both Laox and Yodobashi Camera are duty-free stores that tend to be the most visited chains amongst foreign travelers. These stores are known to employ eager staff that can tend to your inquiries in English. Visitors from abroad should take caution to not purchase products that are not compatible with the voltage in their home countries.
Many tourists who visit Japan are initially drawn to visiting the country due to their interest in Japanese animation. Recently, television stations in many countries have begun to broadcast shows such as Sailor Moon and Pokemon. Even translatedmanga books such as Naruto and One Piece are sold extensively in bookstores worldwide. Akihabara has become the hub of Japanese anime and cartoon otaku culture, and with the number of stores dedicated to selling anime-related merchandise, you will have no trouble finding your favorite anime books or goods. Radio Kaikan or Animate are the top recommendations for anime and manga related goods.
If you are in need for a break in Akihabara, there are also many maid cafés throughout the area. A maid café is not any ordinary café; at maid cafes, customers are served by waitresses dressed as maids, idols or uniform-wearing students who in addition to serving food and drinks to you, will also treat like you like a king. This kind of distinct interaction can only be authentic and unique otaku culture that you would not be able to experience abroad.
Recently, many live houses solely dedicated to the all-female pop group AKB48, a musical phenomenon that has taken Japan by storm, have been developed in Akihabara alongside Don Quixote, a chain of discount goods stores. Devout, die-hard fans ofanime, cartoons, and idol groups, are called otakus, and the distinctive otaku culture now known throughout the world originated from here. Otakus congregate and dress up as their favorite anime or cartoon character. Many feel comfortable to do so without judgement in a place like Akihabara, and in fact, they can get photographed like a celebrity. Akihabara is certainly a place where lovers of pop culture and anime join together en masse to freely enjoy their time in an open environment.
Akihabara should be on top of your sightseeing list if Japanese electrical appliances or insight into the otaku culture is of interest to you.
- Guidebook from Planetyze about Akihabara
- Reviews from TripAdvisor about Akihabara
- Tours in Akihabara
Asakusa
Senso-ji Temple, the oldest temple located in Tokyo, and Nakamise-dori connecting the Kaminarimon entrance to the main hall are constantly crowded with sightseers on a yearly basis. Since the area has always had a large number of temples since the Edo Period, it has been called Teramachi, which translates to 'City of Temples'. Asakusa Kokusai Avenue is where you can enjoy shopping while walking through this Teramachi. As soon as you exit Asakusa Station, there are many unique stores that sell goods such as Japanese sweets and there is even a taiko drum museum. The area of old streets where people have been residing since the Edo Era is called shitamachi (old downtown), and it is recommended that people take their time to take a look around at the history of the Asakusa corner of shitamachi. During the springtime, the nearby Sumida River has cherry blossom trees lined up on both sides of the riverbank for a kilometer and when in full bloom, it is a great place to be for hanami.
In Asakusa, you are able to enjoy the cherry blossoms, shitamachi and Tokyo Skytree. Tokyo Skytree, soaring above the old town of Asakusa with its temples, wooden residences, rickshaws and venerable dining establishments such as Imahan (sukiyaki) and Daikokuya (tempura) contributing to its shitamachi atmosphere, is a popular photo op location for many sightseers. In 2012, the Tokyo Skytree took on the role that Tokyo Tower had as the main radio tower and as a commercial facility, and in recent times, has become a new landmark of Tokyo. The tower has become popular as a sightseeing stop for Japanese and foreign visitors alike. The recently established commercial center called Solamachi, located directly next to Skytree, has everything from shopping to food for the young people of today concentrated under one roof and it is an ideal place to take a rest after exploring Asakusa.
When people think of Asakusa, they also think immediately of Kaminarimon. These are the outermost gates of Tokyo's oldest temple, Senso-ji. The large red lantern located directly in front of these gates is one of the most photographed places in Asakusa. The path approaching the shrine that is located between the Kaminarimon and Senso-ji's main hall is known as Nakamise-dori and has many shops along it which sell a wide array of souvenirs and goods, such as sweets called Kaminari-okoshi made of rice or traditional Japanese sweets called "ningyo-yaki" with red-bean paste in between bite-sized sponge cakes. You can stroll and eat from many of these stores, so it is highly recommended to try as many unique delicacies as possible. The other goods sold range from sword replicas to Japanese fashion items, and it is likely that you will find souvenirs to your liking to take back home. Lined up outside of the temple are rickshaws whose drivers can carry and transport you throughout the area. During the Meiji and Taisho eras, as well as the initial stages of the Showa period, these rickshaws were very commonly used. These rickshaw drivers can not only take you around Asakusa, but they can also provide you with explanations and stories about the area as you ride around. This is recommended for those who want to tour Asakusa within a short amount of time.
Although there are many festivals throughout the year in Asakusa, the most famous of them is the Sanja Festival in May. The entire district of Asakusa comes alive during the festival, and the area shrines and Nakamise-dori are some of the areas used for the festival. The festival continues on for 3 days and over 150,000 turn up to the festival. This festival is truly a seasonal tradition of the early days of summer.
- Guidebook from Planetyze about Asakusa
- Reviews from TripAdvisor about Asakusa
- Tours in Asakusa