For a fun-filled time in Tokyo, try Odaiba. From an amusement park and museum to an onsen, auto showroom and other attractions, there is so much to do that it's difficult to get around in one day. It is one large entertainment facility on a huge tract of reclaimed land. So, if you are travelling in Tokyo, then why not add a day trip to Odaiba to your travel Itinerary.
Odaiba Overview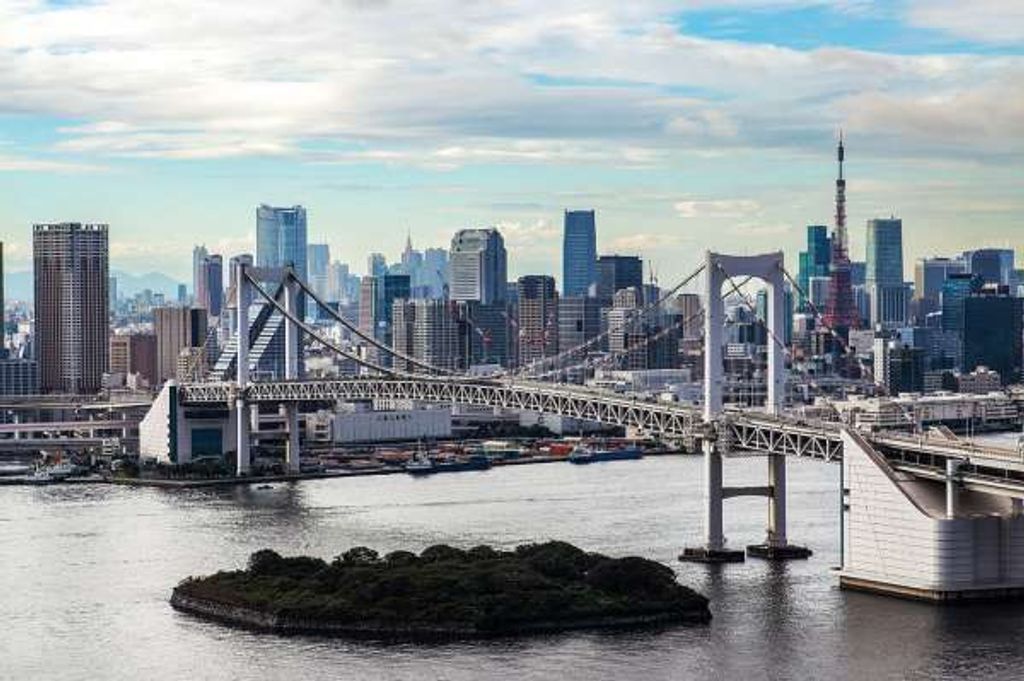 (image by flickr.com)
The area is now 18 years old. A long time ago, it functioned as a distribution facility and an industrial site. It gained attention with the opening in 1993 of the Rainbow Bridge, a suspension bridge drawing a 798m smooth streamline over Tokyo Bay. Odaiba continues to put up facilities with the theme of recreation centering on Rainbow Bridge. MEGA WEB is an automobile theme park operated by Toyota. You can check out the showroom and its history. It was renovated in 2013, and the place introduces technology related to safety and the environment to foreign visitors, and there are overseas passenger cars displayed. Also when it comes to Odaiba, there is Decks Tokyo Beach. At the Takoyaki Museum, there are 5 shops that have been selected from the birthplace of takoyaki, Osaka. The Daiba Itchome Shopping District re-creates a downtown from the 1950s in which inexpensive candies (made from barley, foam and other cheap ingredients as symbolic confections for children from that era), picture-story shows and other amusements for kids of that time are introduced. Also, there are other places such as Japan's first museum for yokai spirits.
The Odaiba Onsen Monogatari is a one-day bathing facility that is used as a hot spring. Along with a natural spring, there is a rock salt sauna, festival days, fortune telling, restaurants, shopping and plenty of other forms of entertainment. You can enjoy yourself relaxing in yukata with your desired pattern. From the observation deck of Odaiba Kaihin Park, the night view is magnificent. There is a feeling of spaciousness from a view from the observation room within the building, and you can feel the scale. Moreover, it would be good to try out the Yurikamome monorail for night travel. The look of pulling away from the group of tall skyscrapers evokes a feeling of the near future.
Admission: Various
- Guidebook from Planetyze about Odaiba
- Reviews from TripAdvisor about Odaiba
- Tours of Odaiba
VenusFort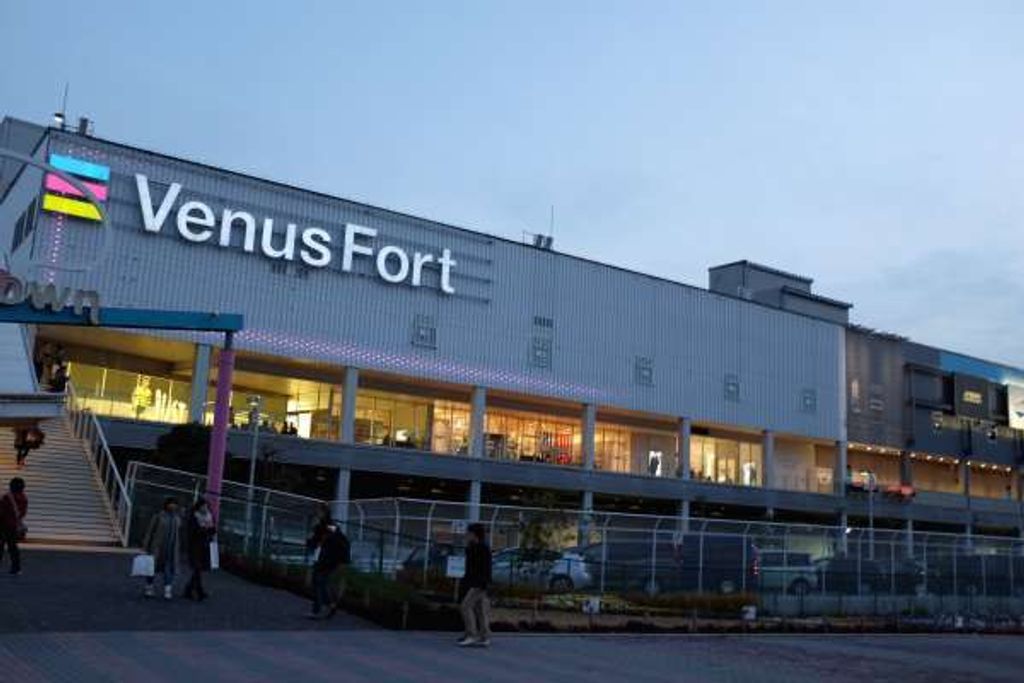 (image by upload.wikimedia.org
Tokyo's Odaiba district is a popular tourist area with plenty of facilities to enjoy shopping and dining for couples and families. Among the many facilities which include Diver City and Aqua City Odaiba, there is the hugely popular and large-scale VenusFort. It is a 3-story indoor mall where the 1st and 2nd floors are built in an atrium style for that feeling of openness. Also the 3rd floor has the image of streets of southern France and northern Italy in the 17th-18th centuries. On this 3rd floor which evokes the feeling of Middle Ages Europe, there are about 170 stores selling accessories and various other products. But it's not just because of the street where you can sample this relaxing atmosphere just through a stroll, but also the view of the ceiling which changes color through morning, afternoon and night. Enjoy shopping in an open atmosphere that doesn't feel as if you are inside an indoor mall. It's also convenient due to a staff that can speak in both English and Chinese.
On VenusFort's 1st floor which is known as Venus FAMILY, there is Joker's Town where you can do your shopping in a relaxed manner together with your pet dogs, plus major stores such as the overseas-friendly electronic appliance shop Laox where you purchase duty-free items. On the Venus GRAND 2nd floor, there are amusement facilities such as a casino within plazas with fountains and a church, along with popular brand-name shops and the amusement park Aneby Trimpark where kids can play with European-style toys. And on the Venus OUTLET 3rd floor, there are popular outlets and a dining court. In total, there are close to 100 duty-free shops.
Admission: Free
- Guidebook from Planetyze about VenusFort
- Reviews from TripAdvisor about VenusFort
- Tours of VenusFort
Diver City Tokyo Plaza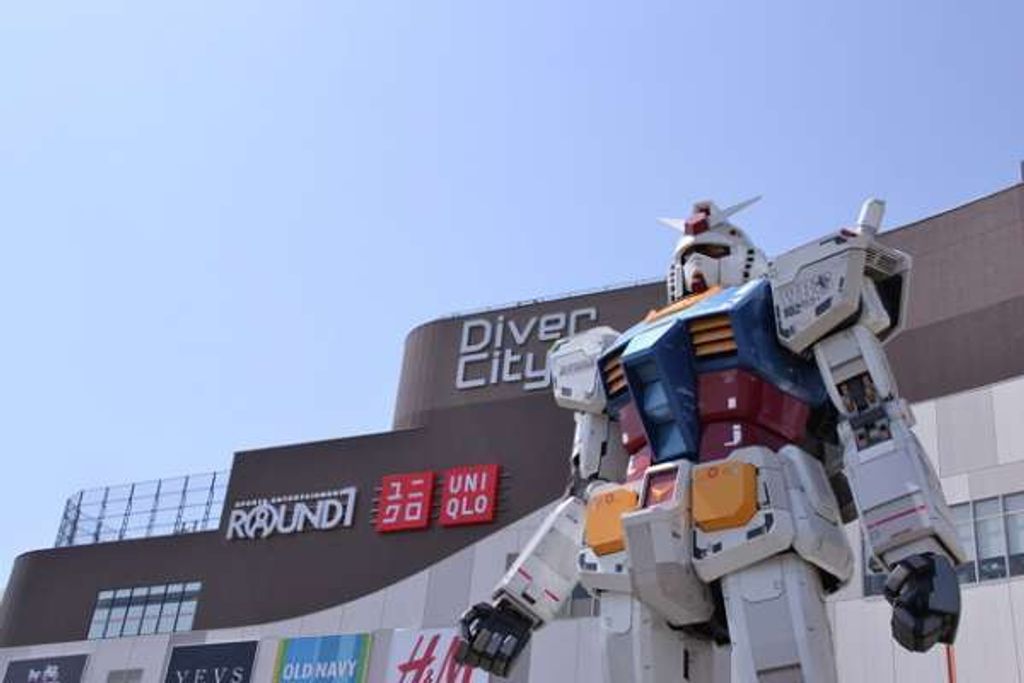 (image by art64.photozou.jp)
The extremely popular Odaiba area of Tokyo has many commercial facilities for couples and families. Diver City Tokyo Plaza, under its concept of a theatrical city space, was opened in 2012 as a new popular spot in Tokyo for not just shopping but also for entertainment and surprises. Once you go through the atrium-like entrance, you will find shops such as Japan's first Old Navy store and Honolulu Coffee, a coffee shop from Hawaii. As well, there are many shops and restaurants that have become the talk of Tokyo so it's great to get the latest trendy information. Stores filled with character abound in Diver City including the antenna shop Calbee+ where you can have a taste of freshly-made potato chips, the stylish café with the motif of the extremely popular Sanrio character Hello Kitty, Cafe de MIKI with Hello Kitty, and Hello Kitty Japan with Japan-only Hello Kitty goods and browned cakes with Kitty's face branded onto them.
Along with shopping and cuisine, there are also many amusement facilities where you can get that load of fun. First off, one popular photo spot is the giant life-size model of Gundam in Festival Plaza. You can also enjoy a different mood there at night when the plaza is all lit up. Moreover, Gundam Front Tokyo where you experience the world of the Gundam robots is a cutting-edge entertainment space. In addition, there are other facilities to enjoy such as Zepp Diver City, a performance hall which can seat more than 1000 guests and Round 1 STADIUM which has venues for bowling and other activities. Enjoy a whole day there with the family.
Admission: Free
- Guidebook from Planetyze about Diver City Tokyo Plaza
- Reviews from TripAdvisor about Diver City Tokyo Plaza
- Tours of Diver City Tokyo Plaza
Rainbow Bridge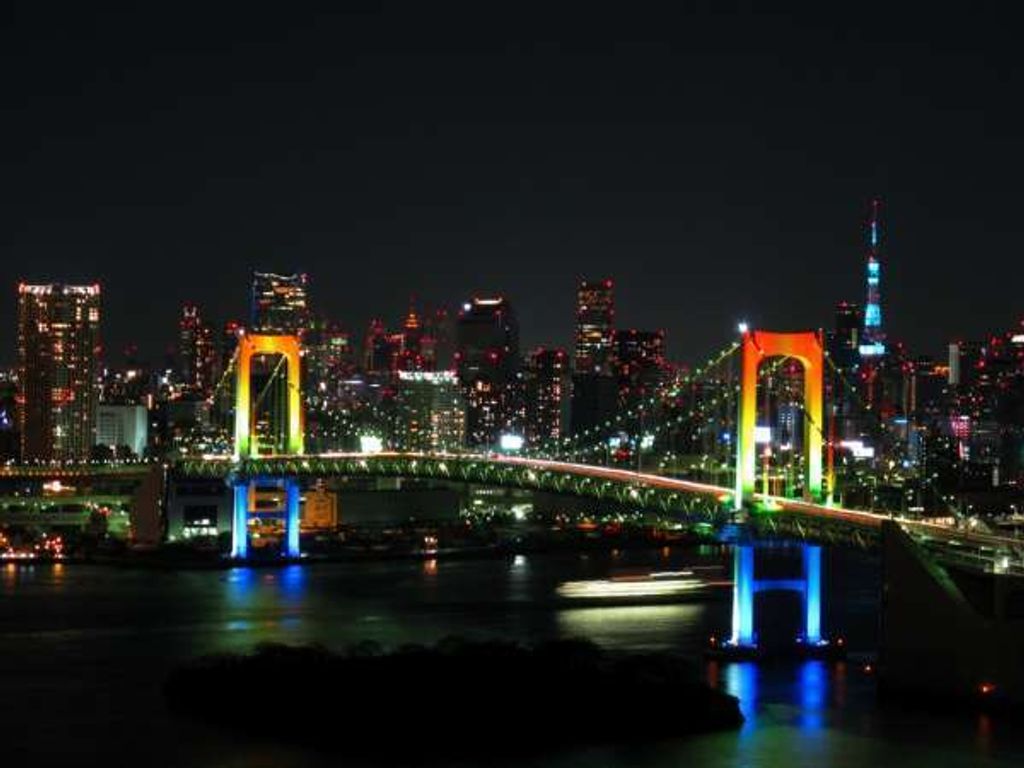 (image by upload.wikimedia.org)
Rainbow Bridge is a suspension bridge that links Shibaura Wharf by Tokyo Bay to Daiba, and was opened in 1993 to connect the seaside city center with the center of the metropolis as a basic transportation facility. In the form of a suspension bridge with the design of a free and graceful curve and an arch that seems to cut through Tokyo Bay, its appearance has made the bridge a beloved sight for many people as a landmark for the new Tokyo Bay area.
The bridge is not only a traffic route with an expressway and a monorail, but it also has a walking route that can be traversed over its 1.7 km. On the way to Daiba from Shibaura Wharf, it's also great to walk over the bridge while admiring the view of ships crossing the bay and a modern waterfront.
In Daiba, there is an area called Daiba Park which has remnants of an encampment built to confront the American armada in 1853 when it forced Japan open to the world. The view from this place, famous in history for opening up Japan, is incredibly beautiful for seeing Rainbow Bridge up close. Also, the area surrounding Odaiba Kaihin Park which has a sandy cove extending from Daiba Park is also a popular tourist spot. With a strolling path along the beach with a view of the bridge, the uniquely designed Fuji-TV headquarters with the giant ball that seems to float in the air (designed by Kenzo Tange who also designed the Tokyo Metropolitan Government Building in Shinjuku), and other sights, a futuristic view of a waterfront has merged the sea and nature, and a new Tokyo landscape has been born.
Admission: Free
- Guidebook from Planetyze about Rainbow Bridge
- Reviews from TripAdvisor about Rainbow Bridge
- Tours of Rainbow Bridge
Tokyo Bay Grand Fireworks Festival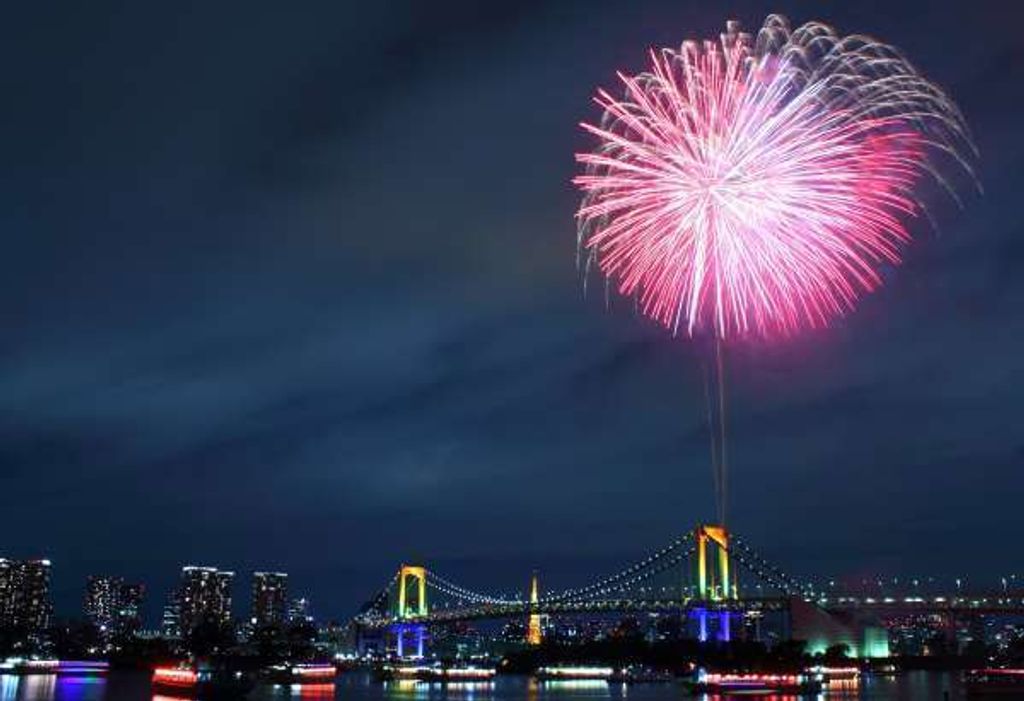 (image by upload.wikimedia.org)
The Tokyo Bay Grand Fireworks Festival is one of Tokyo's premiere fireworks events which shares its great popularity with the Sumida River Fireworks Festival and the Jingu-Gaien Fireworks Festival. Annually, more than 600,000 tourists come to the lively event. The scene of 12,000 fireworks at the bay where you can see Rainbow Bridge with the beautiful night view of Odaiba in the background is incredible. Among these, the 10 explosions of the largest-grade shells of 5-shakudama and the 100 explosions of shakudama shells are truly spectacular. These are dynamic fireworks of which the 100 shakudama shells reach an arrival altitude of 330m while the 5-shakudama shells hit 400m, with the possibility that they could even hit as high as the observation deck of Tokyo Sky Tree. The fireworks are launched from either Harumi Wharf or offshore and light up the entirety of Tokyo Bay in vivid colors. The dynamic fireworks can be fully enjoyed as they go up nearby from Harumi Wharf Park and the surrounding venues, but an admission ticket is essential. If you would like to view the fireworks at a venue, application for an admission ticket at the homepage or a purchase of a sponsored letter of invitation is necessary.
Even if you can't see the festival from the venues, it's relatively possible to still see the fireworks over Tokyo Bay from a wide area. There are sites such as Shiokaze Park in Shinagawa Ward, Ariake Bridge, Takeshiba Pier Park and Shinagawa Pier Park. You can also enjoy a fine view from areas in Odaiba Ward such as Lalaport Toyosu. The fireworks can also be seen from Tokyo Tower, Tokyo Sky Tree and Roppongi Hills, although depending on the site, it will be important to secure a place beforehand. Also, excursion cruises are sold where you can take a night cruise on Tokyo Bay. Since meals also come on the cruises, you can enjoy the spectacular fireworks without worrying about the crowds.
Admission: Free
- Guidebook from Planetyze about Tokyo Bay Grand Fireworks Festival
- Reviews from TripAdvisor about Tokyo Bay Grand Fireworks Festival
- Tours of Tokyo Bay Grand Fireworks Festival