For an unforgettable one day trip from Tokyo, Hakone is an excellent sightseeing spot. We have selected five things to fill your day, from relaxing to getting completely lost. Take a ride on a ropeway and enjoy splendid views of nature, before relaxing in a traditional hot spring bath of healing water. Just some of the things you can do whilst you visit Hakone:
1. Take a ride on a ropeway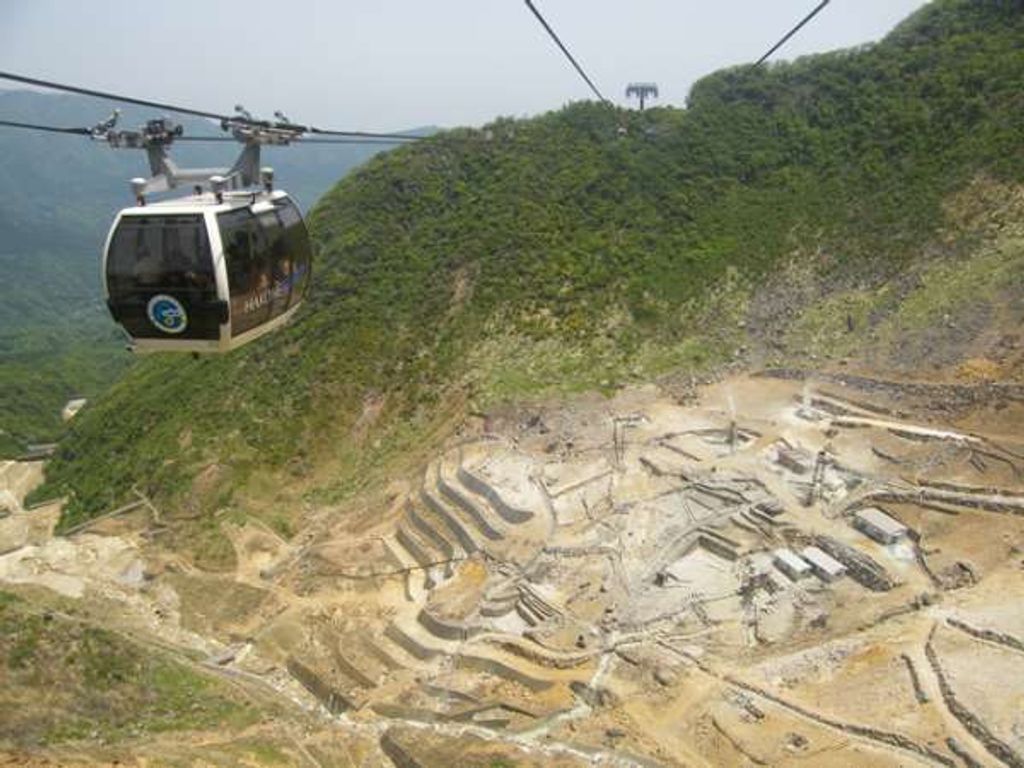 (image by Hakone Ropeway website)
Hakone Ropeway takes 24 minutes and has 4 stations. The time on board is short, but as a way to see the important spots of Hakone, it is indispensable. The view is so wonderful that on sunny days, you can see as far away as Tokyo Skytree. Take the ropeway from Lake Ashi to Owakudani, riding up the Hakone mountain cable to Sounzan Station through every station.
Lake Ashi has a circumference of 19 km that was created from volcanic activity about 3000 years ago. You can take a walk while viewing Lake Ashi at Kojiri Fureai Park 5 minutes from the Togendai Station. Within the park, there is a mysterious atmosphere with the many twisted trees. If you are going to Hakone or Old Hakone from here, take the sightseeing cruise ships on Lake Ashi for an elegant tour.
Owakudani Station is another stop, located within a national park. It's the smoking area of the Hakone volcano which is currently showing the volcanic activity from about 3000 years ago. The tea house black eggs over there are famous since eating one of them is said to prolong your life by 7 years. The smell of hydrogen sulfide is intense, but you can get the feeling of the power of the great nature. A wide landscape unfolds in front of you as you go up the steep slope from Sounzan to Owakudani. You wonder if you are actually walking in the sky. Do not miss out on this moment.
Admission: Adult: ¥ 730 / Child: ¥ 370
- Guidebook from Planetyze about Hakone Ropeway
- Reviews from TripAdvisor about Hakone Ropeway
- Tours of Hakone Ropeway
2. Relax in natural hot spring water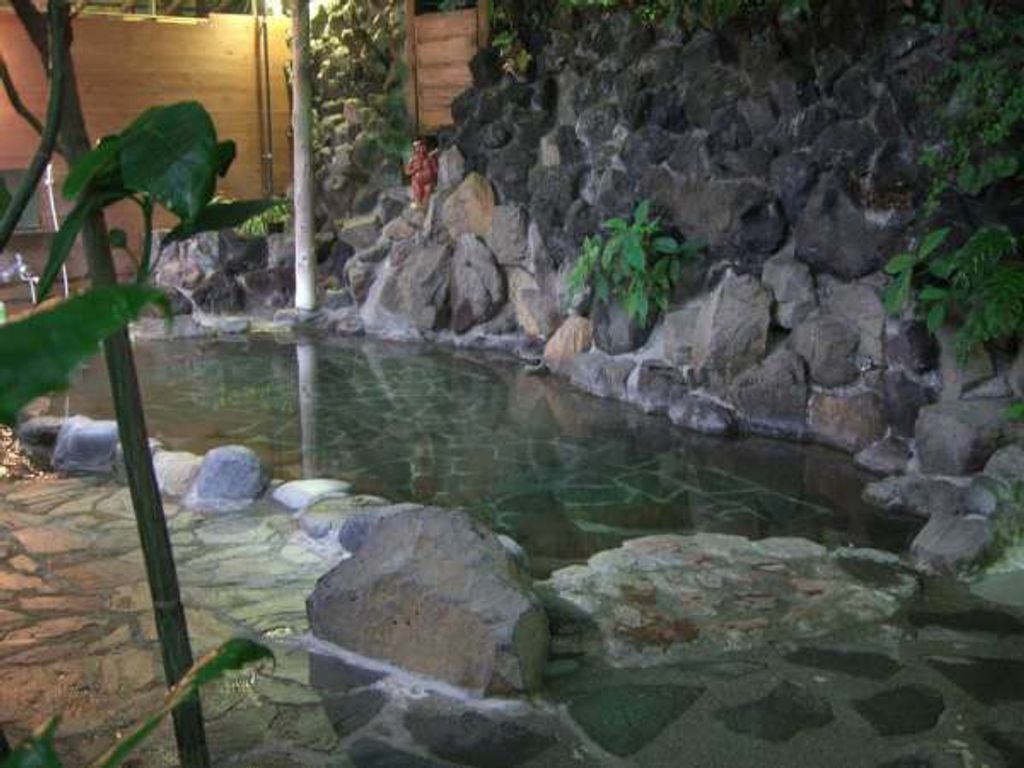 (image by flickr.com)
Hakone is a town of hot springs with a long history where you can enjoy looking at Mount Fuji while bathing in hot springs surrounded by nature. Because Hakone offers hot springs for resting, skin beauty, curing and much more, baths can also be selected by your bathing purpose. Whether you make it a day trip or decide to stay at an inn, there are numerous ways of enjoying Hakone.
There are numerous ways to enjoy Hakone where the 25,000 tons of warm water that flows daily from hot springs tabs are supplied to spas, resort facilities and hot springs inns. Hakone features many tourist attractions in addition to the hot springs: You can take a ride on the mountain railway train, a gondola lift or a cable car for a magnificent view of Mount Fuji and the national park, or you could visit tourist facilities such as museums and gardens, or you could participate in various seasonal events. Hakone is a diverse region; since the atmosphere and tourist attractions largely differ among the various areas of Hakone.
Admission: ¥ 800 - ¥ 1950
- Guidebook from Planetyze about Hakone Hot Springs
- Reviews from TripAdvisor about Hakone Hot Springs
- Tours of Hakone Hot Springs
3. Go for a cruise on a pirate ship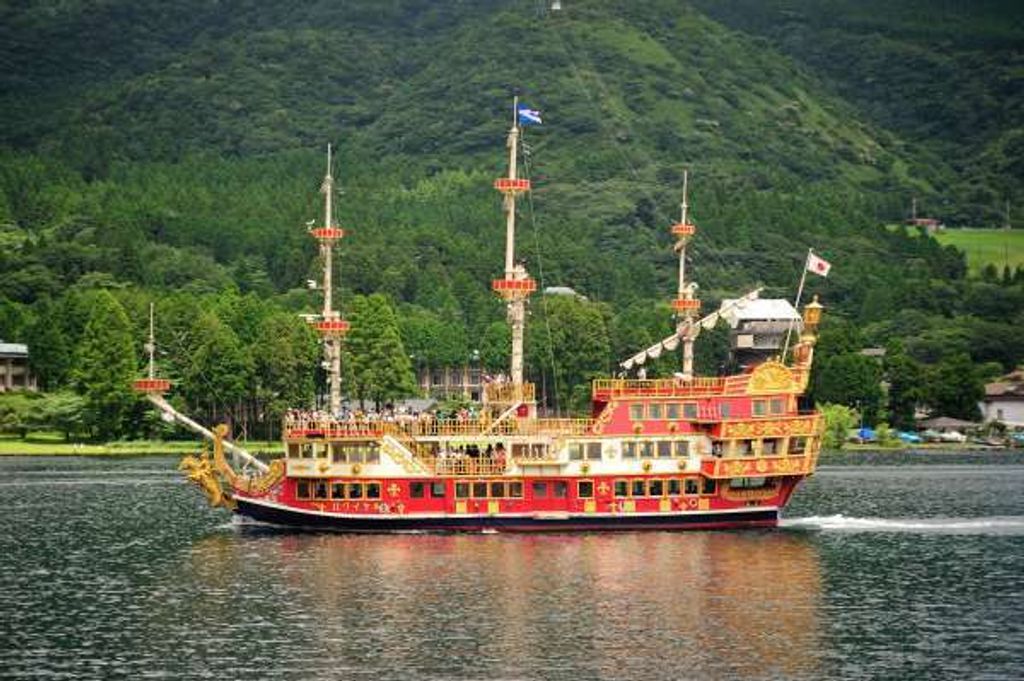 (image by flickr.com)
Tour ships operate on Lake Ashi. Since the circumference of this wide lake is 19 km, there are 3 ports and you can move around and take a tour at the same time. There are 3 kinds of vessels. All of them have a capacity of 500 people, and have the motifs of a French flagship, a British battleship and a Swedish luxury liner. Naturally there are cabins, and onboard features such as 3D art and skylights are standard. There are sculptures of the captain and pirates here and there which are popular as photography spots. Since there are 3 travel courses, trying out each of them is also fun.
If traveling by car, there is the ropeway and cruise set, and if you plan to use different modes of transportation to get around Hakone, the Freepass which also includes train and bus is a great deal. And with that ticket, you can get discounts for art museums and tourist landmarks. You can move around anywhere without worrying about fares since it's all-you-can-ride for every place. There are summer festivals in early August and at the Setsubun Festival in early February, you can take a cruise to view fireworks. Reservations are necessary. The leisurely view of fireworks from the top of the lake is exceptional.
Why operate pirate ships? During the 1960s when there was an increasing tendency toward leisure, the company president at the time visited Disneyland. Seeing the attractions there, the pirate ships inspired him. It was thought that Western-style ships in Japanese-style Hakone wouldn't work, but strangely enough when they started operating, they became very popular with the kids. Apparently, there was an onslaught of reservations to get on board. In 2013, the number of passengers was more than 1.8 million people. With the 2020 Tokyo Olympics coming, it will probably get even more popular.
Admission: Adult: ¥ 360 / Child: ¥ 180
- Guidebook from Planetyze about Hakone Sightseeing Cruises
- Reviews from TripAdvisor about Hakone Sightseeing Cruises
- Tours of Hakone Sightseeing Cruises
4. Get lost in a maze surrounded by outdoor art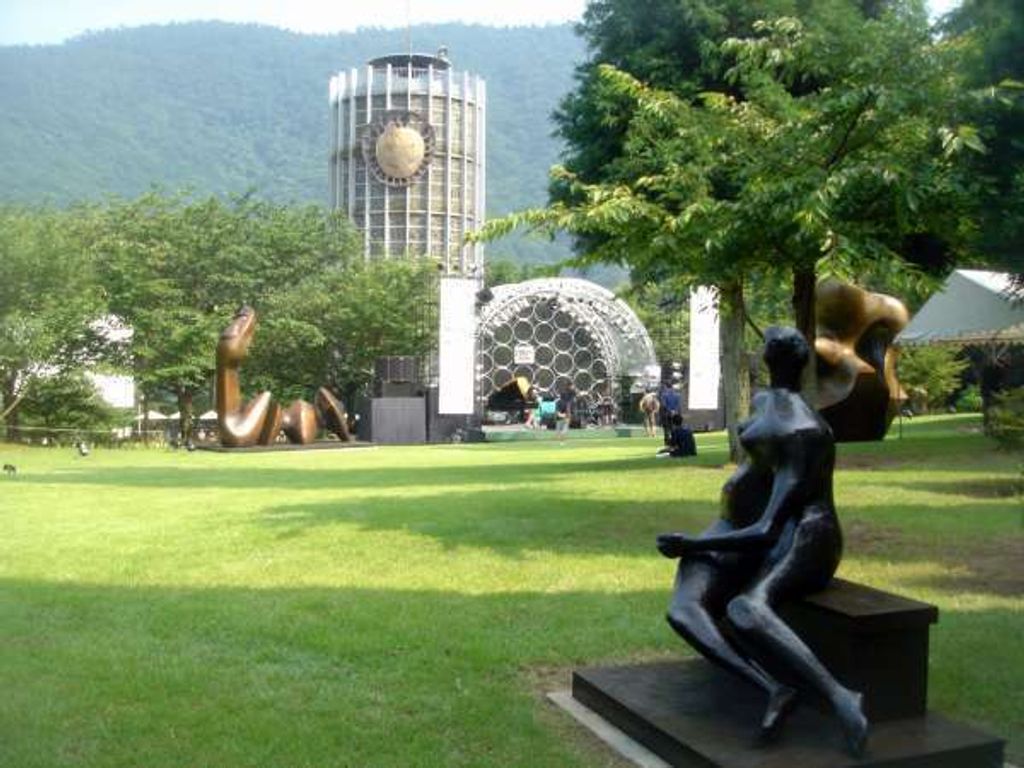 (image by upload.wikimedia.org)
At the Hakone Open-Air Museum, an outdoor art museum that boasts a vast site covering approximately 70,000 square meters, you can enjoy sculptures from Henry Moore, Marta Pan and others.
The park, which is Japan's first outdoor art museum, was opened in 1969 with the goal of making sculpture art more popular. Approximately 120 sculptural masterpieces are on permanent display across the huge sculpture park. These works of art can be enjoyed while viewing the mountains of Hakone. Calmly walking among nature while enjoying famous sculptures up-close is a real thrill that is unique to the outdoor art museum. There are also play sculptures that children can touch and have fun with, and other features that the whole family can enjoy, such as the maze.
Admission: Adult: ¥ 1,600 / Child: ¥ 800
- Guidebook from Planetyze about Hakone Open-Air Museum
- Reviews from TripAdvisor about Hakone Open-Air Museum
- Tours of Hakone Open-Air Museum
5. Watch people set fire to a field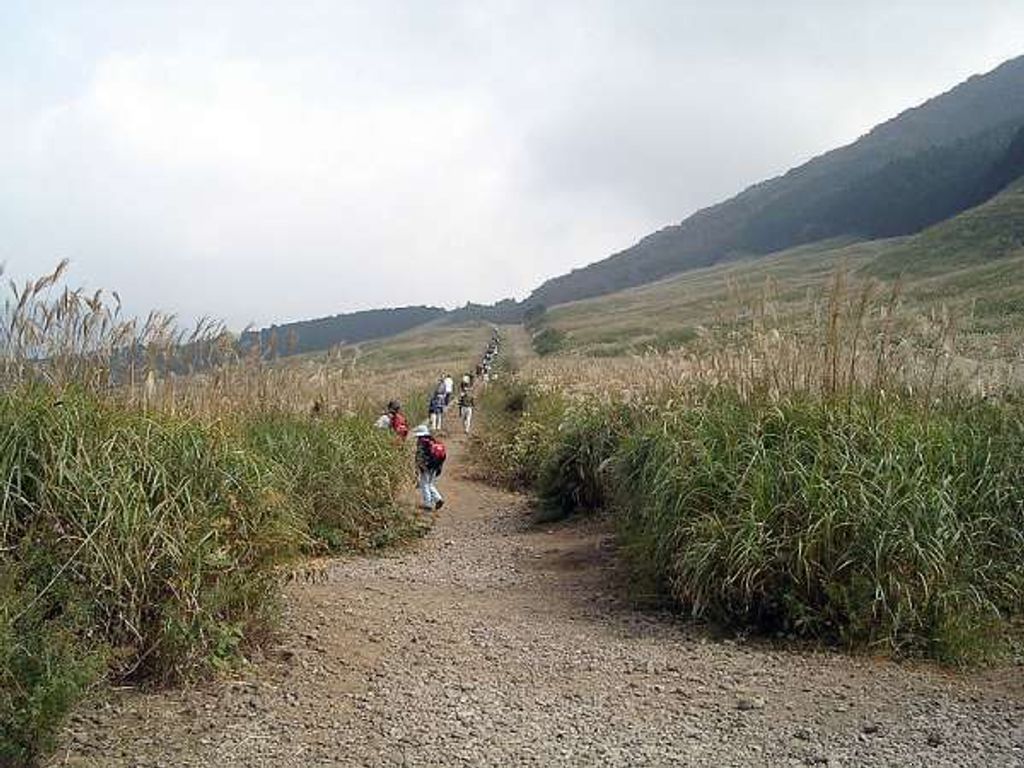 (image by upload.wikimedia.org)
Wetlands and pampas plains that expand through a wide area of Hakone. The autumn pampas, which has been selected as one of The Top 50 Picturesque Sceneries of kanagawa and The Top 100 Flowers of kanagawa, is visited by many during the early spring when the controlled yamayaki burning of the mountain occurs.
On the slopes of Mt. Daigatake in Sengokuhara, Japanese pampas grass grows all over. At the end of summer, the tips of the grass start to turn gold and the pampas have lush green stems. Entering late fall, the grass takes on a golden color and taking in the sunlight, the scenery becomes a golden carpet. While thoroughly enjoying the pampas, going up the lone path reveals a landscape that resembles a golden sea as far as the eye can see. You can view splendid scenery where the plains are in harmony with the surrounding mountains and wetlands.
The annual custom of yamayaki occurs between mid and late March. The plains' vegetation and scenery are maintained through fire. About 200 local residents set fire to 18 hectares of the plains, and the growing fire burns the grass down in one shot. The burned plains bathe in the sun's rays and warm up rapidly so that the spring flora bloom in white and violet and the pampas start to bud.
Admission: Free
- Guidebook from Planetyze about Sengokuhara
- Reviews from TripAdvisor about Sengokuhara
- Tours of Sengokuhara