One of Japan's three greatest gardens, traps and hidden doors in a complex of old ninja buildings, an old temple district full of traditional tea houses, an incredible castle, and a fascinating museum of contemporary art makes Kanazawa a great travel destination. Here are the top five attractions from TripAdvisor in detail:
1. Kenroku-en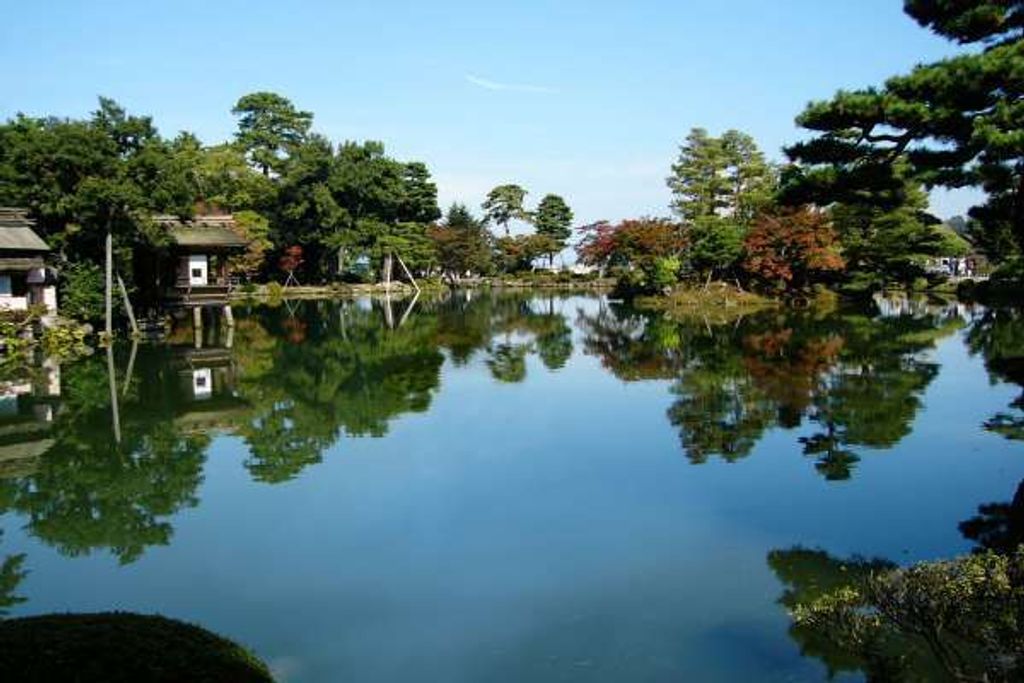 (image by upload.wikimedia.org)
As one Japan's three greatest gardens, this garden is a Place of Scenic Beauty that is rightly designated as a National Treasure. Enjoy the different features of each season in this garden where man-made beauty and nature exist in remarkable harmony.
Kenroku-en is a Japanese garden that was designed in 1676 by Kaga Hanshu and took almost 180 years to complete. The name Kenroku-en ("garden with six characteristics") comes from the Song dynasty book "Record of Famous Gardens in Luoyang," which describes six features (spaciousness, seclusion, artifices, antiquity, water-courses and panoramas ), all of which are found in Kenroku-en. It is spacious, bright and open, but the garden also has the peacefulness and profundity of being among the mountains, and every inch of the garden has had some influence from man. The garden also has an antiquated feel, and, as the ponds and waterfalls vie for your attention, you can marvel at the view of the Ushinada sand dune and the Noto peninsula in the distance, and the view of the Utatsu Mountains, Mount Haku and Iozan in the foreground. In each season, you will enjoy the beautiful scenery while walking around the 5800m2 Kasumiga-ike pond in the middle of the garden, which still has the characteristics of a pleasure garden with trees and water-courses from the Edo period. The Kotoji Lanterns that light up the surface of the water are one of Kenroku-en's most outstanding features, and they create an incredibly harmonious scene with the old maple trees and Nijibashi, which bridges the meandering stream. Gankou-bashi is a line of 11 stones modeled on the appearance of wild geese in flight. It is also called Tortoise-shell Bridge because the stones are shaped like tortoise shell. This bridge is said to ensure that those who cross it will live a long life, but crossing is now prohibited in order to protect the stones (viewing the bridge is possible).
Admission: Adult: ¥ 310 / Child: ¥ 100
- Guidebook from Planetyze about Kenroku-en
- Reviews from TripAdvisor about Kenroku-en
- Tours of Kenroku-en
2. Ninjadera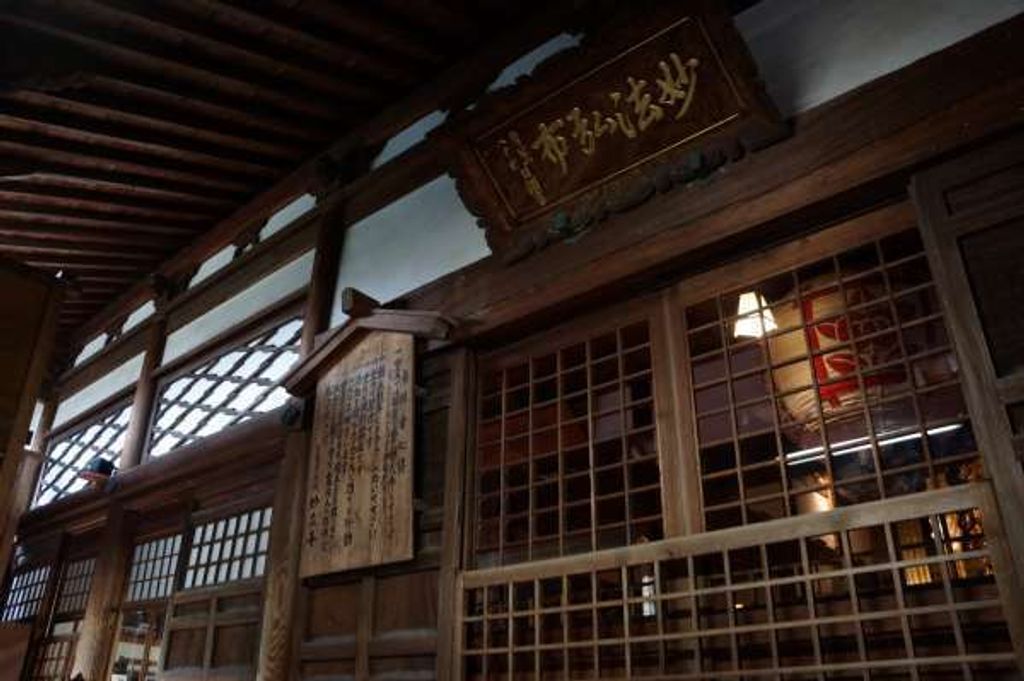 (image by flickr.com)
Myoryuji is known by the nickname Ninjadera. The tense historical background to this precious building can be felt in the unique traps and mechanisms set for the Shogunate army.
Myoryuji is a Nichiren Buddhist temple constructed in 1643 by the third feudal lord of the Kaga Domain, Toshitsune Maeda. As the original temple of good luck, many people came to visit the shrine regardless of social standing or sect, not to mention lords and vassals. The situation was tense for Lord Maeda of the Kaga Domain, who was also the Tozama Daimyo (a Daimyo who followed the House of Tokugawa at the 1600AD Battle of Sekigahara and after), due to constant surveillance from the Tokugawa Shogunate, One theory is that Myoryuji was a branch castle (constructed so that it could be separate from the main castle, as tactics dictated). In order to ambush the Shogunate military and to protect the Daimyo, the entire building is a maze with an incredibly complex structure and elaborate and varied traps and mechanisms, which is why it is known as Ninjadera. In other words, this temple is has absolutely no need for ninjas. Myoryuji appears to be a two-story building, but it is actually a four-story building with seven internal floors comprising 23 rooms and 29 staircases. A trap is set so that the offertory box (a box in which to put money offered to the gods or to Buddha) in front of the main temple building becomes a pitfall, and there are hidden staircases that lead to secret passages underground, and stairs where the boards give way to traps. There is also an observation tower that looks out to the plains of Kaga. 29 traps are set in Myoryuji. The approximately 40-minute official tour takes in the best of these traps inside the temple and the history of the temple. The explanations are only provided in Japanese, but you can participate with the help of explanatory pamphlets in English, Chinese or Korean. Telephone reservations are preferred, but it is also possible to participate without reserving. Please be aware that pre-school age children are not permitted due to the complexity of the structure.
Admission: Adult: ¥ 800 / Child: ¥ 600
- Guidebook from Planetyze about Ninjadera
- Reviews from TripAdvisor about Ninjadera
- Tours of Ninjadera
3. Kanazawa Chaya Districts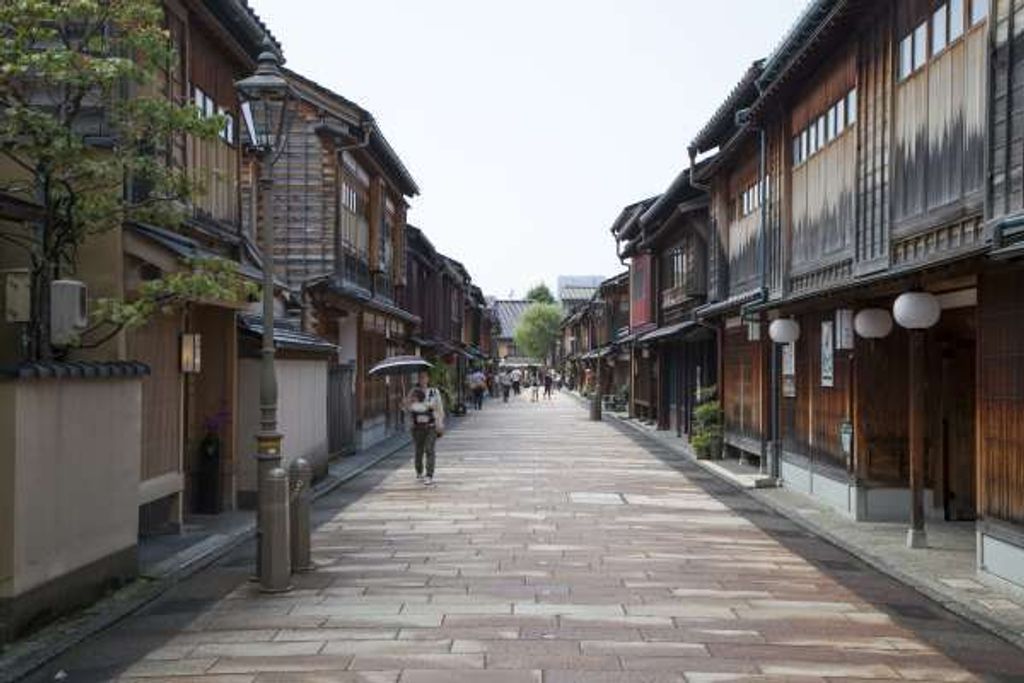 (image by upload.wikimedia.org)
The Chaya districts, which were constructed around the year 1820, have a long history in the castle town of Kanazawa. At the tea houses, geishas who had refined their craft welcomed visitors by playing the shamisen and taiko and with dancing. Even today, there are three Chaya districts that retain their ancient appearance; Higashi Chaya District, Nishi Chaya District, and Kazuemachi Chaya District. Although first-time customers are often refused entry to the tatami rooms in the tea houses, which are difficult to enter, some tea houses have a bar is more easily accessible. Today, in addition to the tea houses, many of the traditional buildings contain restaurants, cafes and souvenir shops. It is fun even just to walk around these beautiful streets. In the evening, you can hear the sounds of the shamisen and taiko in this elegant atmosphere.
The most popular Chaya district is Higashi Chaya District, which is the largest district and is situated between the Utatsuyama Temple Area, with its roughly 50 temples, and Asanogawa River. It is a designated Preservation District for Groups of Traditional Buildings, which also includes Gion in Kyoto. The rows of wooden buildings feature black tiled roofs with lattice doors, which gives the area an atmosphere of having been transported in time from the Edo period. At the Sabou-isho café in Higashi Chaya, you can try Kenjo Kaga-bocha, a Kaga specialty tea that is known for having been presented to the Emperor Showa. From its elegant rooms, you can enjoy the scenery of the Chaya district through the lattice doors. There are delicious Japanese confectionaries to try, such as fresh Japanese sweets and sweet bean jam. You can also inspect the inside of the Shima tea house, which is a designated National Important Cultural Property built in 1820. Here, you can taste matcha and Japanese confectionaries in the Kansonan tea house inside Shima.
Admission: Free
- Guidebook from Planetyze about Kanazawa Chaya Districts
- Reviews from TripAdvisor about Kanazawa Chaya Districts
- Tours of Kanazawa Chaya Districts
4. Kanazawa Castle

(image by upload.wikimedia.org)
Kanazawa Castle was constructed through various traditional techniques. Due to its wooden construction, it was repeatedly burned down and re-built, and even now it is a famous castle which is being passed down to future generations as a historical cultural asset.
Kanazawa Mido Hall, which was once a Pure Land Buddhist temple, was invaded and taken over by General Morimasa Sakuma under orders of Nobunaga Oda. Afterwards, building of a castle began from 1583 under Toshiie Maeda, the head of the Kaga clan. However, following the loss of the castle tower from fire due to a lightning strike in 1602, only the watchtower and palace were re-built. But then another fire occurred which led to more re-building without the castle tower ever being resurrected, and even now it (inner citadel) exists only as remains of a demolished site. Currently, Kanazawa Castle is undergoing restorative construction so that it can be passed onto future generations as an important historical cultural property. In 2001, restoration of the Hishi Yagura watchtower, the Gojikken Nagaya warehouse and the Hashizume-mon Tsuzuki Yagura watchtower and command post was completed to become symbols of Kanazawa Castle which boasts an area of 1894.23 sq. meters. These buildings were protection against enemies during war, so there were latticed windows for stone-throwing and guns, mortared walls painted in white, and walls covered in square tiles jointed with raised plaster constructed against fire which were seen everywhere as a protective function. In addition, the Ishikawa-mon Gate and the Sanjikken Nagaya warehouse have been designated as Important Cultural Properties.
Admission: Free
- Guidebook from Planetyze about Kanazawa Castle
- Reviews from TripAdvisor about Kanazawa Castle
- Tours of Kanazawa Castle
5. 21st Century Museum of Contemporary Art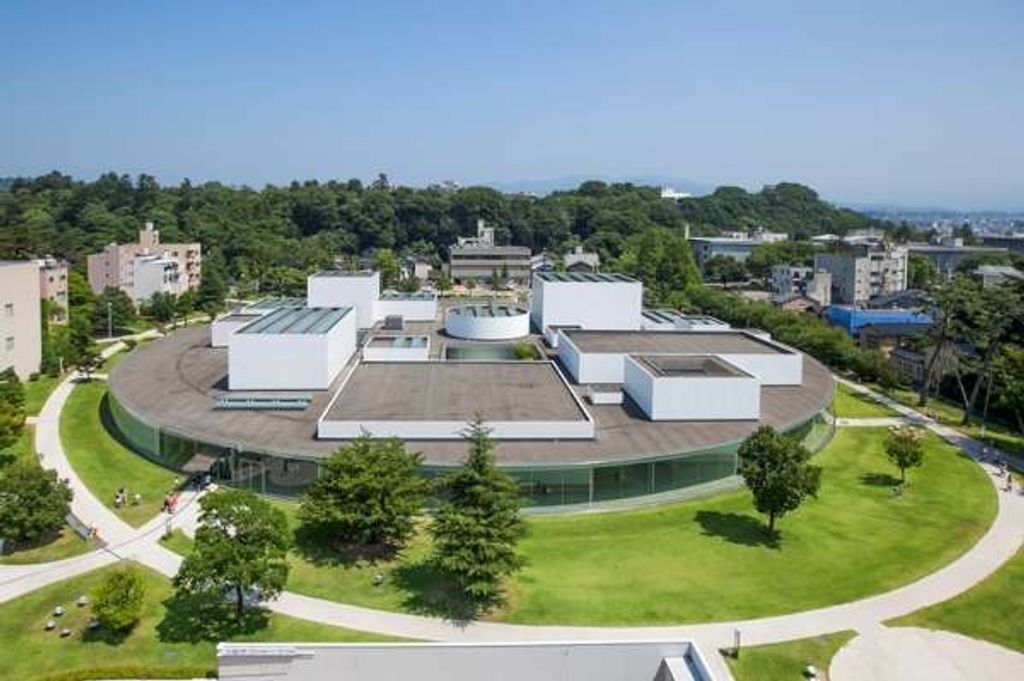 (image by upload.wikimedia.org)
Based on the concept to "create new culture" and to "revitalize the communities" of Kanazawa City, the 21st Century Museum of Contemporary Art, Kanazawa was built with the mission to vitalize the city and bring out new charms through a harmonious co-existence of the museum and the city. Marking its 10th year anniversary in 2014, the museum has been holding much talked about exhibitions of artists and architects from around the world. The museum is located in the center of Kanazawa City. Just like visiting a park, the museum can be visited casually by anyone. The museum has two sections: the Socializing Zone which is free of charge and the Exhibition Zone which requires fees for viewing various exhibitions. Especially popular is the "swimming pool" built by an artist from Argentina, Leandro Erlich. This unique, huge pool set up in one of the museum's courtyards gives you the illusion that the pool is actually filled with water. In order to get inside the pool to experience this illusion up close, you must enter the Exhibition Zone. As in this example, there are many participation-oriented artwork items in this museum – a place of great fun for both children and adults. Another highlight of the museum is its changing exhibitions which are held for differing periods on various themes. The museum also has a Japanese style tea room, a library, a museum shop and a café restaurant, Fusion21, which serves dishes that use local vegetables including the unique Kaga vegetables.
The Museum Link Pass is a shared museum passport valid for Japan's three popular contemporary art museums, the 21st Century Museum of Contemporary Art, Kanazawa (Ishikawa Prefecture), the Benesse Art Site Naoshima (Kagawa Prefecture) and the Mori Art Museum (Tokyo). You can have it issued for free at any of these three museums. The passport is valid for one year from the date of issue. You will receive a discount for the entrance fee from the second museum and on, and at the third museum you visit, you will receive a special, original Museum Link item.
Admission: Free
- Guidebook from Planetyze about 21st Century Museum of Contemporary Art
- Reviews from TripAdvisor about 21st Century Museum of Contemporary Art
- Tours of 21st Century Museum of Contemporary Art