What do you think about hiring a local tour guide in Tokyo? There are probably many aspects you need consider when deciding to hire a guide for your trip. What are the pros and cons? What do you want to do during your trip? You should also consider who you're traveling companions are. It's definitely a decision you should think about before creating an itinerary for your trip. I've listed some pros and cons so that maybe they will help you make up your mind.
Pros and Cons To Hire a Tour Guide In Tokyo:
Pros
1. You don't have to brainstorm an itinerary
When taking a trip for sightseeing purposes, you need to think up some kind of itinerary right? Or else you'll arrive in the country and say what am I supposed to do now? And if it's your first time in any country, in most cases you'll want to see the most famous sightseeing spots. Even with a guide book to help you, it takes a bit of research to decide on the best spots to visit and find the ones that are nearest each other so that you don't have to travel across the city two, three times in one day. If you hire a private tour guide, you don't have to think. They'll pick you up and take you to the best sightseeing spots, and just by following them around you'll be able to take in all the sights.
2. No worries about getting lost
Getting lost in a foreign country is one of the fears people have of going abroad. Even though Japan is one of the most peaceful countries in the world, I know from personal experience that it's still scary when you get turned around and have no idea how to get home. The train systems are a maze and if don't have any experience navigating them, it's easy to get lost. And you may notice that the Japanese people are really nice as a whole but not many of them are fluent in English. So, having your own personal guide to tell you which train to get on, what stop to get off at, or which exit to get out from the station is really a big help. Because frankly, it's a bit tiring to navigate Tokyo.
3. Local knowledge about everything
Have you ever found yourself going to some place written about in a guide book and finding it not to your taste? It's difficult to decide if it's worth seeing a particular sightseeing spot or not. This is where the knowledge of a local tour guide comes in handy. They live and work in Tokyo so their opinion should be insightful. It's also a good idea to ask a local person about restaurant choices or where to shop for certain things. I'm sure they'll have information you can't read about in guide books.
4. Detailed explanations in English
If you're going to be visiting a famous sightseeing spot, some people prefer to have a detailed explanation about the history or the cultural aspects in English. Of course, sightseeing spots often have brochures or plaques with a simple explanation in English, but it won't tell you about what that place means to the local Japanese people. And you won't be able to ask any questions. English speaking tour guides are essential if you are a person who wants to be able to have a really deep understanding of the history and culture of Tokyo.
5. Moving at your own pace
Private tour guides will accommodate groups of all ages. If you have small children or elderly family members with you, you'll probably want to take it slow with frequent breaks. And if you have a baby stroller or a person in a wheelchair with you, you'll find that looking for elevators in train stations is a difficult task as they tend to be located at the far end. If you have a guide with you, this task along with others like finding bathrooms or nursing rooms will be easier and not so time consuming. It's also a good idea to have the guide schedule your itinerary so that all the sightseeing spots are wheelchair accessible.
A private tour guide in Tokyo rather than a big bus tour is also better for people who want to schedule in activities like trying on a kimono or participating in a traditional tea ceremony. Or for ladies who are much more interested in shopping all over Tokyo than sightseeing.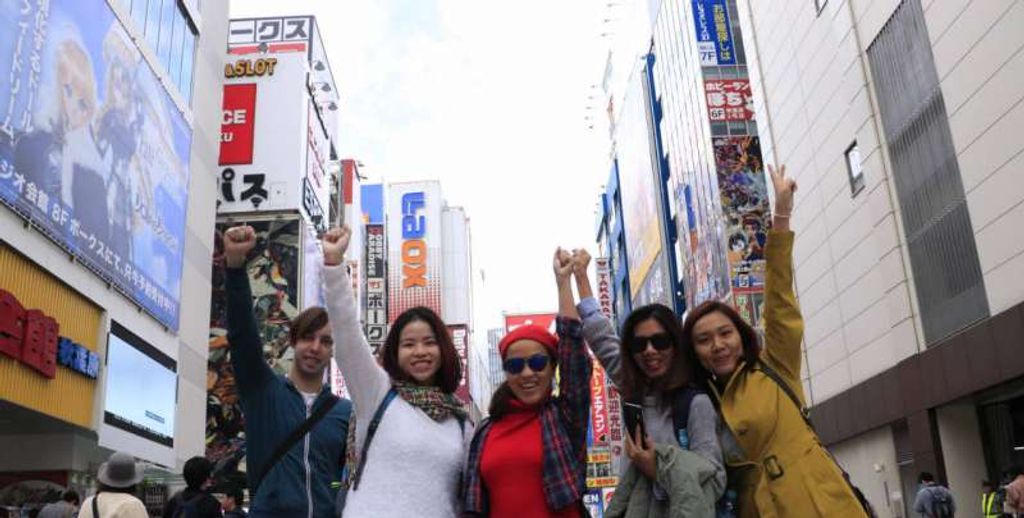 Cons
1. It's expensive
Yes, it is expensive if you compare it to sightseeing on your own as you have to pay for the guide's time. It probably costs somewhere in between 150 - 250 US dollars for a full day tour of Tokyo. If it's a day trip to somewhere outside Tokyo, it's even more expensive. However, if you have only a limited time to see the sights and you want to be as quick as possible to be able to take in as many places as possible, or you're a person who gets lost easily, or you don't have time to research the places you want to see before your trip, it could turn out to be money well spent. And if you're a group of for example 5 friends, about 50 US dollars per person is not that much. Expensive or not depends on your priorities and your point of view.
2. You don't know what kind of guide you'll get
If you meet your guide on the morning of your tour and you don't like him or her straight off, that could ruin your whole day. I think whether a guide and the customers hit it off or not depends on luck because you can't choose your guide. But what if you could? If you could choose male or female, young or old, maybe it would make a big difference. Talking to someone from your own generation is sometimes easier as they understand things that people of a different age group wouldn't. And if you were a young girl traveling on her own, wouldn't you feel more at ease with a female companion?
Nowadays guides have introduction videos of themselves where you can see what they look like, how they sound, and you'll be able to sense what kind of person they are even before you meet them. And you can read the reviews written by previous customers about their experience with that particular guide. This makes the risk of hiring a guide much smaller.
3. No private transportation
Unfortunately, private walking tours mean exactly that, walking. They use the trains and subways to move around the city so you can't just sit on a bus or in a car and relax. For active people, I suppose this doesn't tend to be a problem. For people who are addicted to their cars and use them to go just about anywhere, walking for 8 hours around Tokyo is a real challenge. But since it's a private tour, you can just tell your guide in advance that you need to take it really slowly, or if you decide you are tired and need a break during the tour, you can get the guide to change your itinerary right then and there.

Conclusion
There are many reasons why to hire a local tour guide in Tokyo and why not to. These reasons will differ from person to person, group to group, and they may or may not include the reasons listed above. So come up with your own pros and cons list to make a decision. With a guide or without, make sure you have an amazing time in Tokyo! If you do decide to go on a tour, here down below is a web page to help you pick a tour and local guide.
Would Like to Get the Most of Your Trip to Tokyo or Japan?
TripleLights the Best Private Tours and Locals Guides across Japan.
If you are interested to know more and save your time during your trip to Tokyo, you can Send a Message to our local guides to get a customized itinerary and quotation for an unforgettable experience.
You also can Request a Tour just for You. Just type what you would like to see and guides all over Tokyo will send you quotes and their recommendations according to your interested and budget.
TripleLights website you can find the best professional Local Guides all across Japan to help you plan your trip. Check our Local Guides for Japan and Tokyo.
Blogs about Tokyo
Tokyo Tour Guide - What is a Good Tour Guide
Best Areas to Stay in Tokyo - Where to Stay in Tokyo?
9 Best and Most Popular Tokyo Tours
Want To Know What to do in Japan?
To find out more Blogs with Tips about Tokyo and Japan click here.
For information about Private Tours, popular Activities in Tokyo and Japan click here.