Japan is a country that loves museums. It features such classics as the World Bags and Luggage Museum, the Electricity Museum, the Shell Museum where you can learn the history of petroleum, and a museum for pencils. But we have selected the four most unique or unusual museums in Japan, including a personal favorite of mine, a museum full of parasites:
Meguro Parasitological Museum (Tokyo)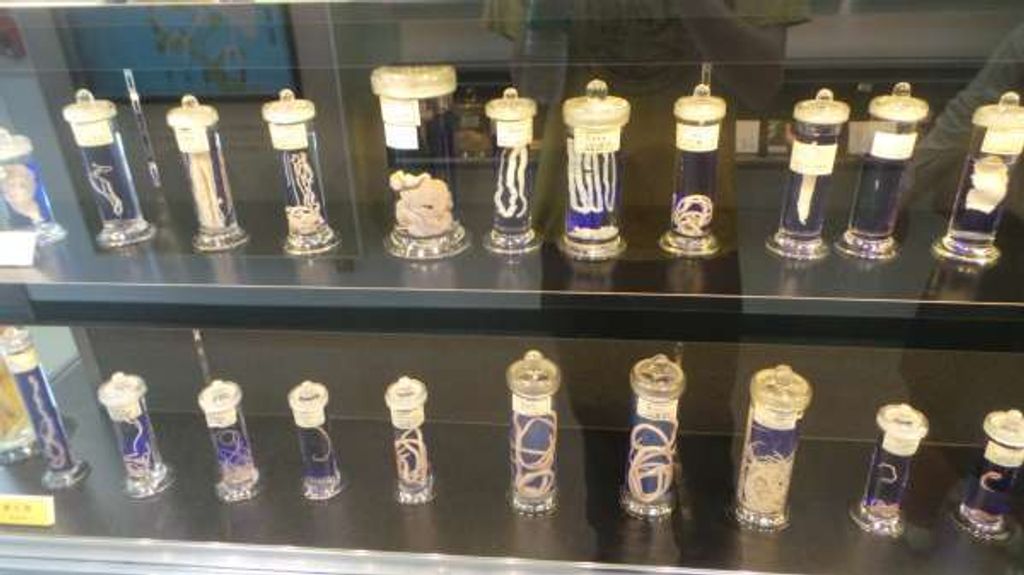 The Meguro Parasitological Museum; the only parasite museum in the world, I might add, is incredible. I am surprised to find it is also open on a public holiday's, and I am even more surprised to find that the entry is free.
If you are looking for a cheap destination for a romantic afternoon, then the Meguro Parasitological Museum is for you. Here, there are jars of parasites, magnifying glasses for that closer look, and an interactive screen displaying the life cycle of a parasite. There is even a small souvenir shop selling shirts depicting parasitological dissections. Finally a gift shop selling something worth buying.
You are guaranteed to leave with a faded appetence, so I recommend not visiting this museum until after you've had lunch.
Admission: Free
- 7 Unusual Things to do in Tokyo
- Reviews from TripAdvisor about Meguro Parasitological Museum
- Tours of Museums in Tokyo
Ghost Museum (Tokyo)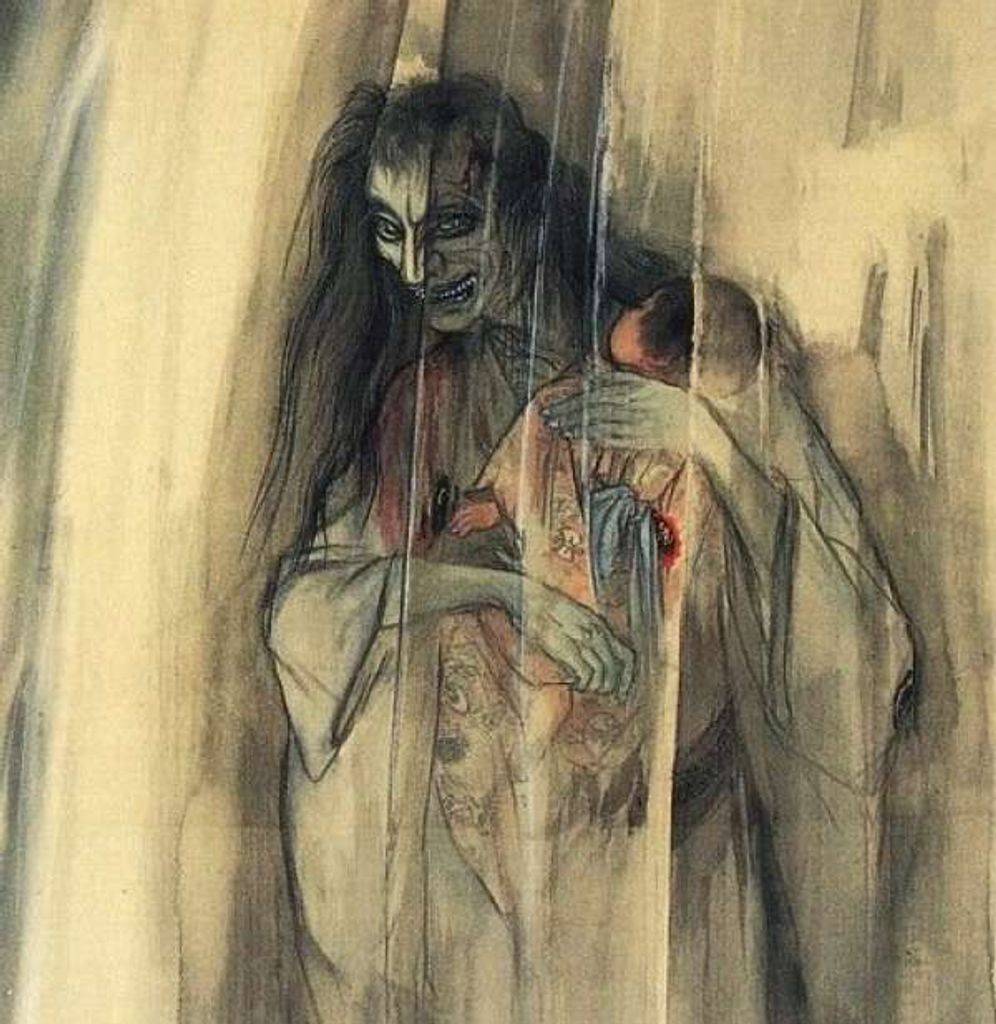 (image by pinterest.com)
In the Yanaka area of Tokyo, sits the peaceful looking Zenshoan Temple. As I enter the temple grounds, my attention is instantly taken by something that lurks in the distance, standing tall is a huge gold Buddhist statue. Although the statue of Kannon is impressive, what is potentially more impressive is the Ghost Museum. Sadly, the museum of silk scroll paintings depicting ghosts, and macabre ghost stories, is only open during summer months. Something about horror stories warming your blood, the reason for the seasonal opening hours. Still a strange museum in one of my favourite parts of Tokyo. Well worth a visit, when the summer returns.
Admission: ¥ 1100
- More places in Japan to see Ghosts
- Reviews from TripAdvisor about Ghost Museum
- Tours of the Yanaka area
If you like Ghost stories, check out this video with the most scary Japanese Ghost stories
Cup Noodles Museum (Yokohama)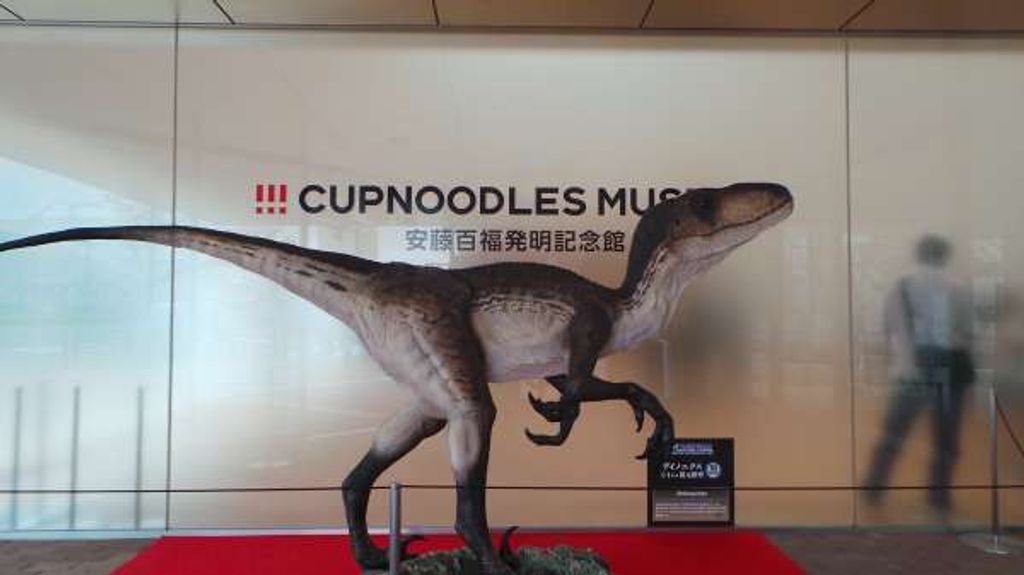 The reason I visited Yokohama was to visit the Cup Noodles Museum. For no reason that will ever become clear to anyone, a dinosaur stands guard at the entrance to the museum, a Deinonychus. This is the type of dinosaur that the raptors were based on in the movie Jurassic Park. I sneak past the Deinonychus, and head to the ticket office. "How many people?" a young woman asks me. It is painstakingly obvious that it is just me. "One people," I say, looking around me for answers, "I think," I add, deadpan. I pay the ¥ 500 and I am given a rather glossy museum guidebook.
Inside the museum I am given a cardboard hat featuring a cartooned yellow bird, presumably a mascot of sorts. There is every packet of instant ramen and every type of Cup Noodle that has ever been created, arranged in a huge timeline. Just to clarify, this museum is for the brand of cup noodle called, "Cup Noodle," made by Nissin; it is not a museum of cup noodles.
Momofuku Ando invented chicken instant ramen in his shed in 1958. With the overwhelming success of his chicken noodles, he went on to invent the cup noodle in September 1971. Not satisfied with his achievements, at the age of 96, he invented the first ramen that can be consumed in space. There is a wonderful exhibition of his life, a model replica of his 'famous' shed, and loads of crazy noodle based artwork here too.
There are noodle workshops where I can make ramen noodles from scratch, or create my very own products. I pay an additional ¥ 300 and join the queue. I wait forty minutes and eventually I am given the opportunity to design my very own brand of Cup Noodle. First I am given a blank Cup Noodle cup and am free to write or draw whatever I want. I graffiti the front of my cup, so where it once said, "Cup Noodles Museum," it now says, "Cook Pass Babtridge." I find the available pens to be of slightly poor quality, which spoils the whole experience for me.
Next I get to choose the broth and toppings. A sign boasts that there are a total of 5460 flavour combinations. After toppings are added to the noodles, the lid is sealed in place and the cup is vacuum packed. After I finish making my lunch, I go to the top floor of the museum and check out the restaurants. No prizes for guessing what is on the menu.
Admission: ¥ 500
- Guidebook from Planetyze about Cup Noodle Museum
- Reviews from TripAdvisor about Cup Noodle Museum
- Tours of Cup Noodle Museum
Kaleidoscope Museum (Kyoto)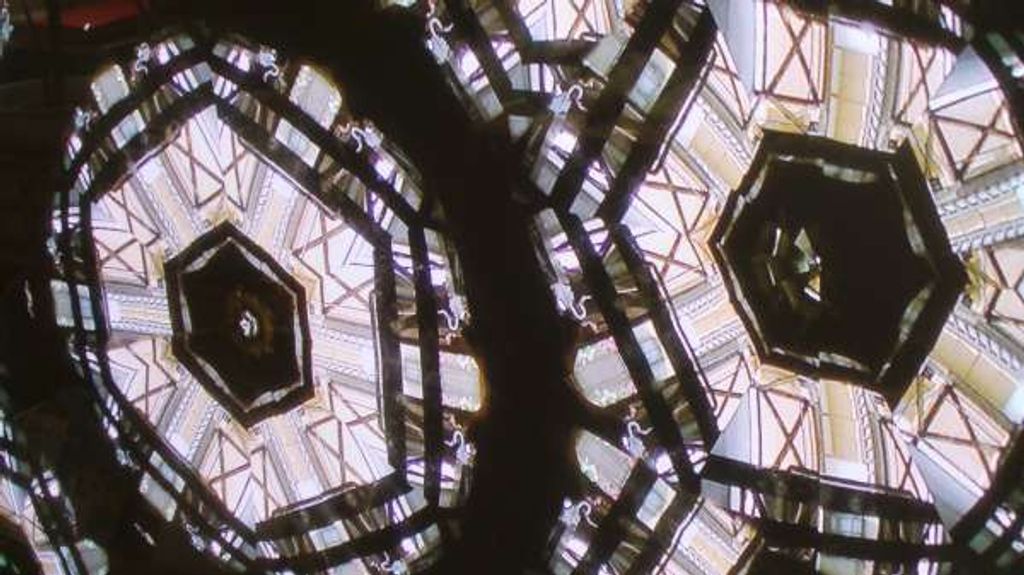 The Kaleidoscope Museum is literally a museum with a twist. There are fifty different Kaleidoscopes on display, from a growing collection of about 150. Some are very valuable, crafted by famous artists from around the world. I learn that the word kaleidoscope comes from the Greek words, kalos meaning 'beautiful', eidos meaning 'form', and scopes meaning 'to look at'. "To look at beautiful forms."
The museum has kaleidoscopes that you can freely pick up and use. Some are very well crafted, others are made out of plastic drink bottles. My favorite is one that is also a music box, playing a tune whilst the images turn before my eyes. There is also a little shop selling kaleidoscopes, kits, and key chains. Sadly, no photography is allowed, and I am constantly followed around by a member of staff. Although I do manage to photograph the inside of a Kaleidoscope whilst she is not looking.
Admission: ¥ 300
- More Things to do in Kyoto
- Reviews from TripAdvisor about Kaleidoscope Museum
- Tours of Kyoto Museums