I would like to introduce the various tour spots in Tokyo for each category so that you can select the best for your Tokyo tour.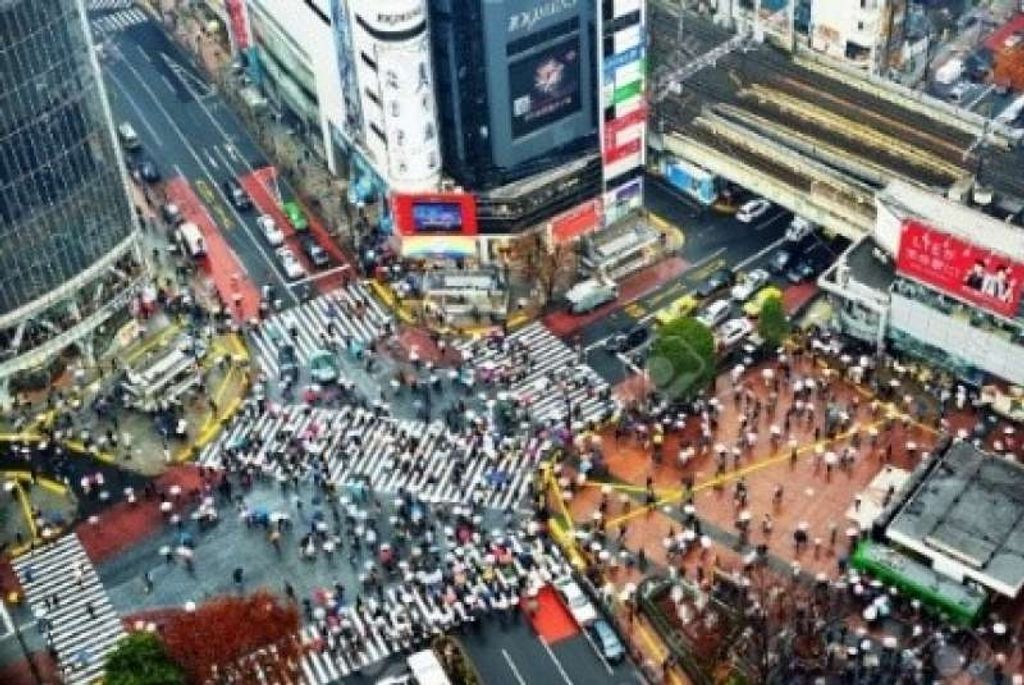 Those categories are as follows.
Museum & modern facility
Nature spot (Garden, cruising,) & Modern sightseeing facility
Temple, shrine etc.
Sophisticated and Bustling area
Theme park
Traditional town atmosphere experience
Food market:
Experience of Traditional performing arts & events enjoyment:
Crafts art of Japan experience such as Sake brewery and Bonsai museum
Enjoyment for kids such as Amusement facility, shopping of latest trendy goods, entertainment café and so-on.
Museum & modern facility:

(1) Tokyo National museum:
This museum is appropriate for you to learn Japanese history and related culture for each era.
The Exhibit on 2nd floor shows "Flow of Japanese art" from Jomon era to Edo era.
The Exhibits on 1st floor shows sculpture, clay, sword and so-on.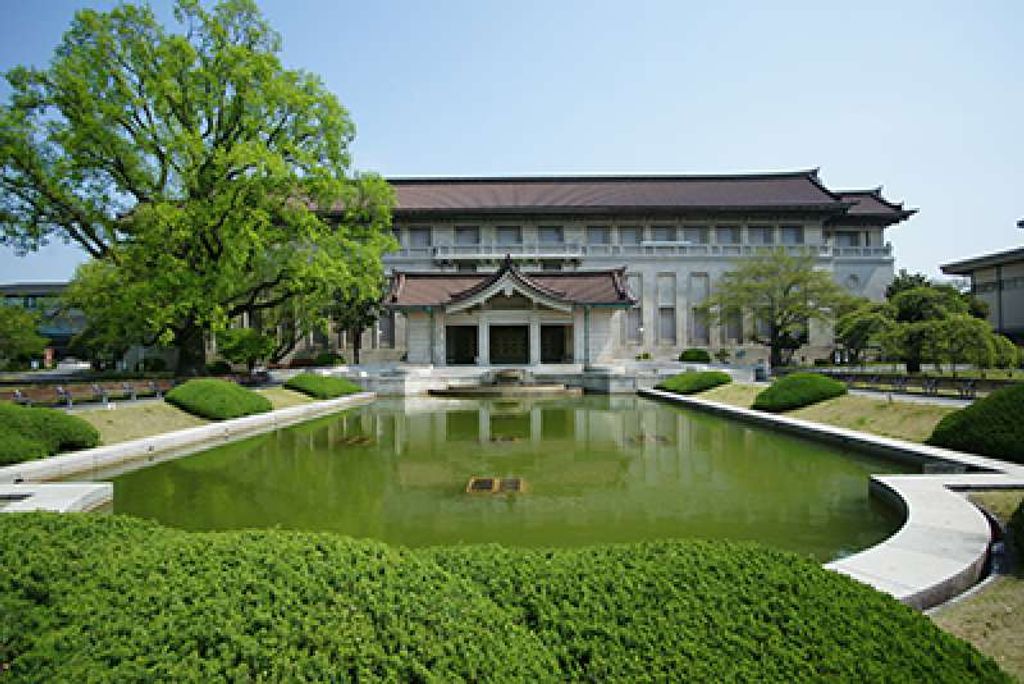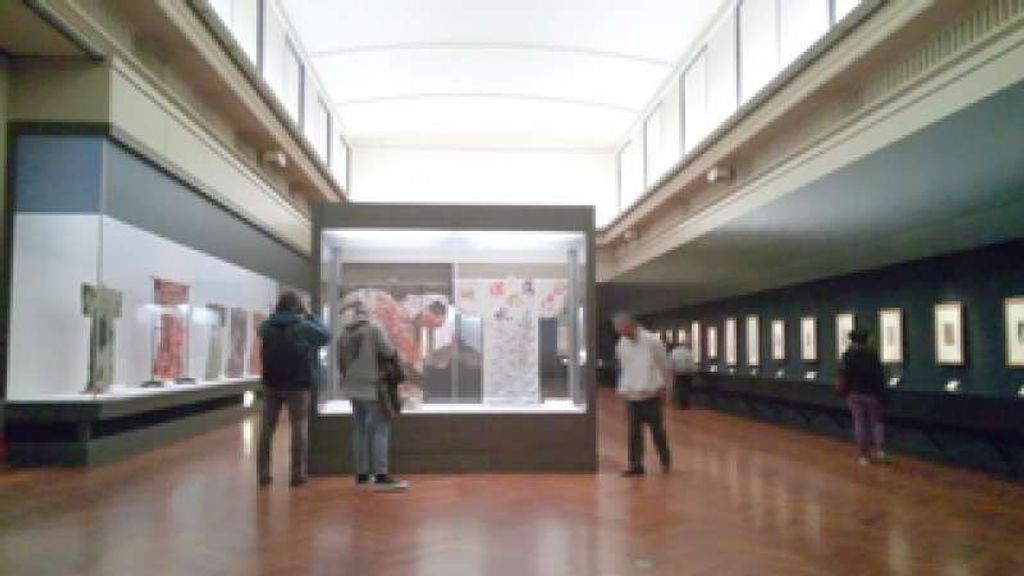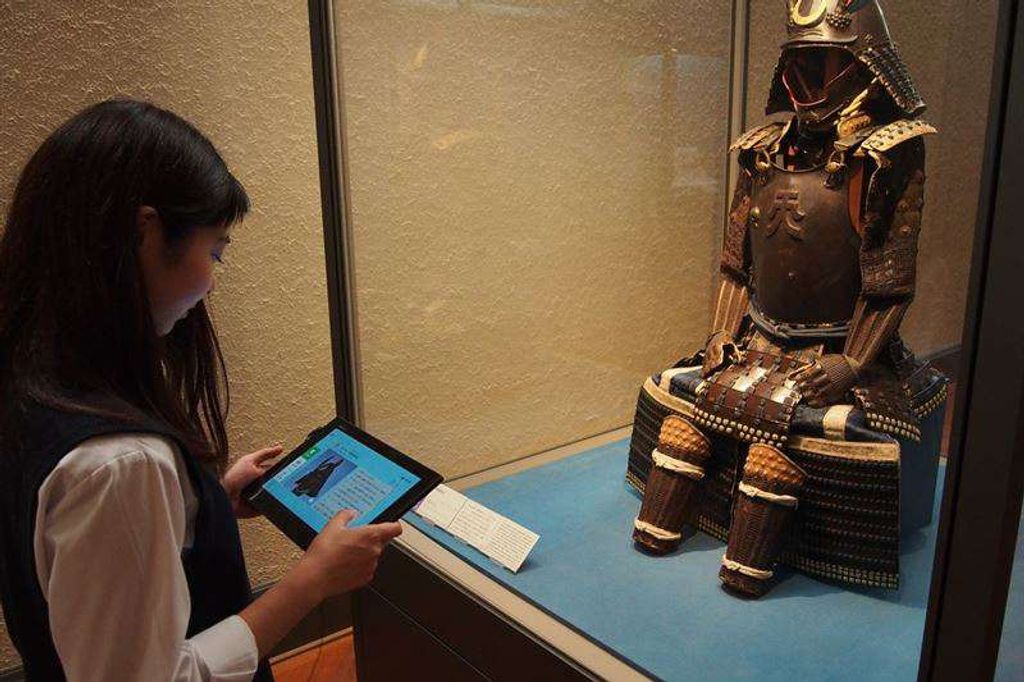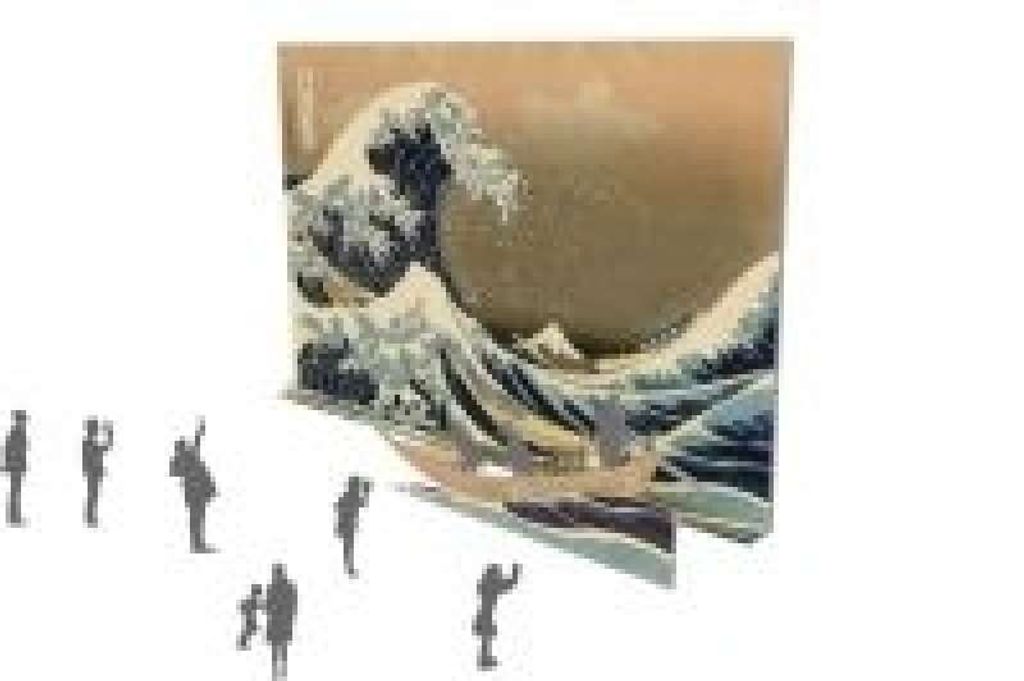 1-1:

Beginning of Japanese art - Jomon, Yayoi, Kofun

3-2:

Art of court―Heian ~ Miromachi

8-1:

Furniture in life

3-3:

Zen & painting in Indian ink: Kamakura ~ Muromachi

8-2:

Painting and writing: Azuchi-momoyama ~ Edo

1-2:

Starting of Buddhism―Asuka ~ Nara

4:

Art of tea ceremony

9:

Noh play and Kabuki play

2:

National treasure room

5・6:

Clothing of Samurai – Heian ~ Edo

10:

Ukiyoe painting and clothing: Edo

3-1:

Art of Buddhism – Heian ~ Miromachi

7:

Folding screen and images drawn – Azuchi-momoyama ~ Edo
Please refer Japanese history table comparing with Western & Orient as following pages prepared by Kashima.

Era

Name of Era

Years

History of Japan

History of Western & Orient

BC5000~200

Jyomon-era

BC4000

Egypt, Mesopotamian civilization

BC2000

Pyramid, Yellow river ,Indus civilization

BC1200

Aegean civilization,

BC750

Rome founded, Greek civilization

BC550

Buddha, Confucius born

BC220

Shikoutei the first Qin Emperor unified China.

BC4: Christ born,

Acient Era: AD~593

Yayoi culture

AD57

King of Na gold seal

AD30: Christ execution, AD140: new testament,

Yamataikoku(historical Japanese state thought to have existed during the late Yayoi period)

Himiko became queen of the state

Three Kingdoms in China

Tomb culture: Yamato Imperial Court

391

Germanic migration,

538

The introduction of Buddhism

479: Western Roman Empire

Yamato-Era: 593~710

Asuka culture

593

Shotokutaishi became prince regent

589: Sui (dynaty of China)

Hakuho culture

607

Shotokutaishi dispatched Ononoimoko to Sui. Shotokutaishi founded Horyuji-tempe

628: Origin of sensoji-temple founded.

618: Tang (dynasty of China)

630

Japanese missions to Tang china had began.

645

Taika Reform

671: Yamanoue-hi founded (one of the tombstone of Kouzuke-Sanpi / UNESCO Memory of the World

Era

Name of Era

Years

History of Japan

History of Western & Orient

672

Jinshin War

701

Taiho Code

Nara era: 710~794

Tenpyo culture

710

Transfer of capital to ancient Nara

711: Tago-hi founded(one of the tombstone of Kouzuke-Sanpi / UNESCO Memory of the World

726: Kanaizawa-hi founded(one of the tombstone of Kouzuke-Sanpi / UNESCO Memory of the World

745

Todaiji-temple, the colossal Buddha of Nara were founded.

780: The origin of Kiyomizu temple founded.

Heian era :794~1185

Bonsai was transferred from China.

794

Transfer of capital to ancient Kyoto

805

Saicho: Tendai sect of Buddhism

806

Kukai: Shingon sect

Fujiwara culture

The Phoenix Hall of Byodoin was founded.

962: Holy roman empire was founded.

1095

Samurai worriers had began to appear.

1063: Tsuruoka-hachimangu shrine founded.

1175

Honen: Pure land sect of Buddhism

Kamakura rea: 1185~1321

Kamakura culture

1185

Battle of Dan-no-ura, Heike extinction

1191

1192

Eisai: Rinzai school

Yoritomo Minamoto unified all worriers in Japan.

1206: Chinggis khan unified Mongolia

1224

Shinran: Jodo-shin sect

1227

Dogen: Soto Zen

1253

Nichiren: Nichiren sect

Era

Name of Era

Years

History of Japan

History of Western & Orient

1274

Bunei War (Mondai invation of Japan)

1271: Marc O'Polo: The travels of Marco Polo

1275

Ippen: Jishu sect

1279: Khubilai unified all China

1281

Khoan War (Mondai invation of Japan)

Nanboku-cho period: 1321~1399

1333

1336

Kamakura Shogunate was ruined.

The battle between north emperor side worriers and that of south side had began.

Takauji Ashikaga was assigned as Shogun unifying worriers.

1338: England,France the Hundred Years' War

1392

1368

The north side and the south side had agreed to be unified.

Yoshimitsu Ashikaga was assigned as Shogun uniting worriers.

Muromachi era: 1399~1573

Kitayama culture: Noh and Kyogen started.

1397

1449

Kinkakuji founded by Yoshimitsu Ashikaga.

Yoshimasa Ashikaga was assigned as Shogun uniting worriers.

1453: East Roma empire was ruined.

1467~1477

War of Onin: power struggle between worriers parties and successor struggle between royal court had extended to the war that caused the burn field in Kyoto.

Higashiyama culture: painting in Chinese ink

Civil war era: 1480~1590

1489

Ginkakuji-temple founded by Yoshimasa

1543

Portugal transferred firearm to Japan

1549

Christianity was transferred.

Azuchi-Momoyama period: 1573~1600

1573

Muromachi Shogunate was ruined after Nobunaga Oda banishing for Yoshiaki Ashikaga as Shogun of Muromachi era.

1576

1582

Oda Nobunaga spread military force and founded the base of unifying all of Japan.

Nobunaga was assassinated by one of his top chief vassals.

Momoyama culture: tea ceremony started

1590

1598

Toyotomio Hideyoshi unified Japan.

Hideyoshi died due to disease.

1600

Battle of Sekigahara

Era

Name of Era

Years

History of Japan

History of Western & Orient

Edo era: 1603~1867

1603

Tokugawa Iyeyasu became Shogun of Japan

1618~1648: Germany thirty years' war

1612

Christianity was prohibited.

1617: Nikko Toshogu founded.

1639

Policy of seclusion had started.

1652~54: England & Holland War

1702

Ako Roshi (forty-seven ronin) revenged for their load.of Ako castle.

1701: Industrial revolution started.

1765: Steve engine technology was renovated by Watt/England

1776: United States Declaration of Independence

1782~1787

Great Tenmei famine

1789: French revolution

Kasei culture: Ukiyoe flourished such as Katsushika-Hokusai, Kitagawa-Utamaro, Utagawa-Hirishige and Toshusai-Sharaku

1806: Holy roman empire ruined.

1853

Pery / USA Expedition

1858

Treaty of Amity and Commerce between USA and Japan

1861: Civil War in USA

Meiji Era: 1867~1912

1867

Restoration of imperial rule

1868

Meiji restoration established

New modernized country Japan started to realize rich country, industrial development and educational system establishment by importing advanced technology and political system from Western countries.

1872 ,: Tomioka Silk Mill was founded which has been registered UNESCO World Heritage List as "Tomioka Silk Mill and Related Sites". Meiji government built the first full-scale silk-reeling factory adopting Western advanced technologies. This is one of the most important project for Japan to become modernized country to catch up western country.

1871: German unified

1901: Commonwealth of Australia established
Special Exhibit "beauty of art during Jomon of 10k years" *
Jomon era had started around 13k years ago. People in the era who had executed hunting, fishing and collection created various type of tools during their daily life which are very much fascinated and powerful. This exhibit shows those tools gained from all around Japan created during the Jomon era.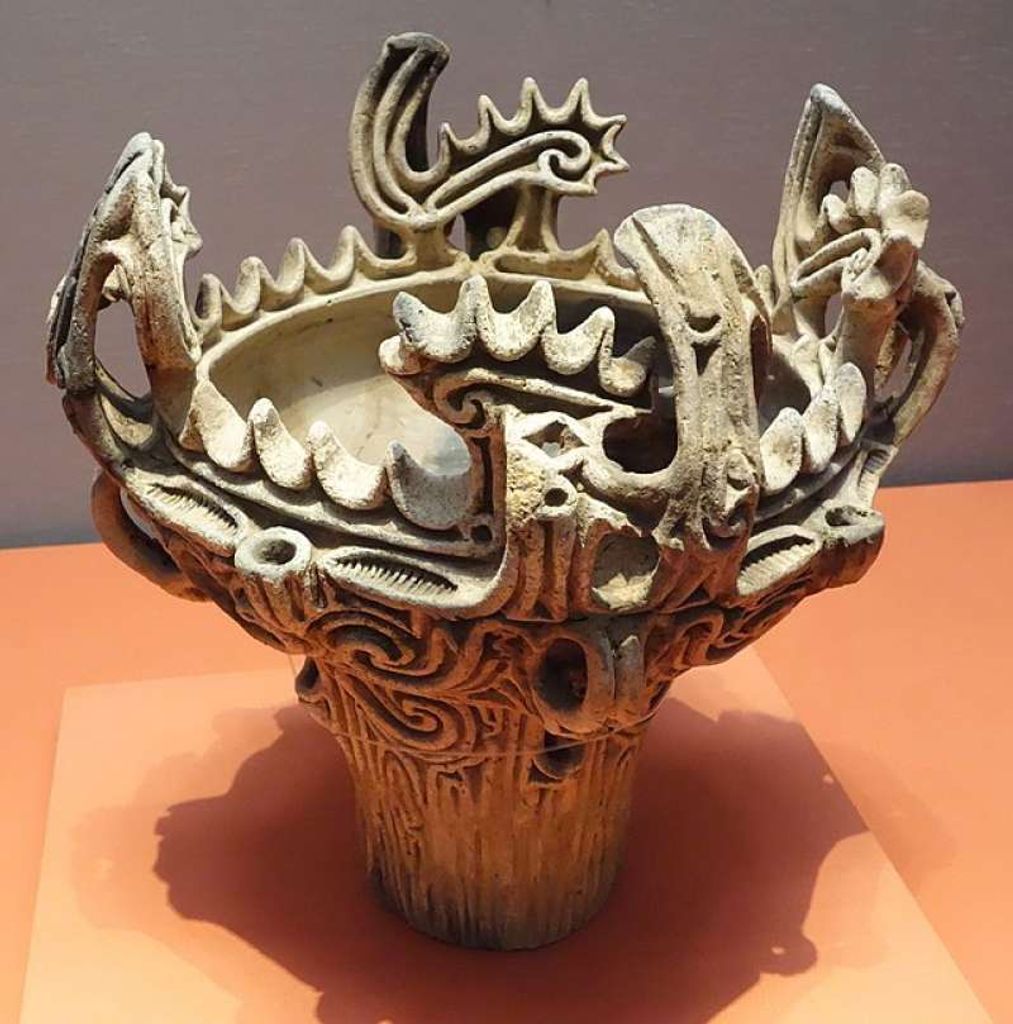 (2) National museum of Western art
This museum was founded in 1959 specialized for western art. Western paintings painted from end of Medieval age to beginning
of 20th century and France modern sculpture of mainly as Rodin are exhibited through out a year.
Currently, over 6000 pieces of are including paintings, sculpture, sketch, woodblock print and craft products are stocked in the museum.
Also, This museum building architecture designed and built by a famous architect named Charles Edouard jeanneret was registered as World cultural Heritage in 2016. The name of registered for this architecture is "Architecture art by Charles Edouard jeannere – Extreme contribution for modern architectural establishment".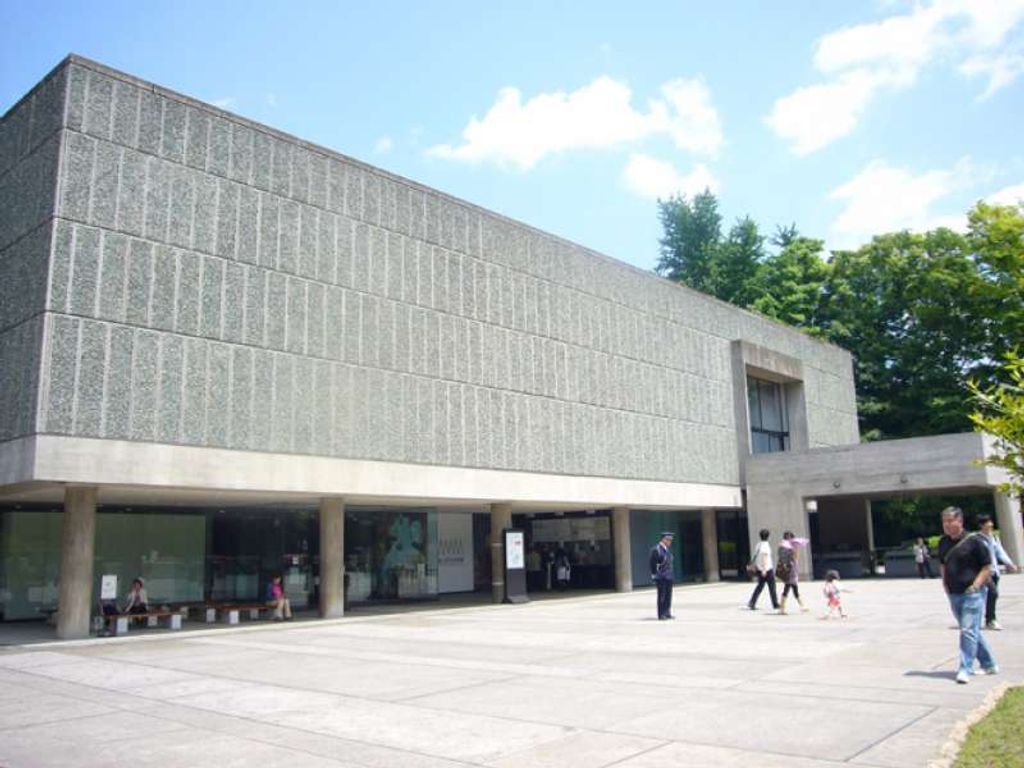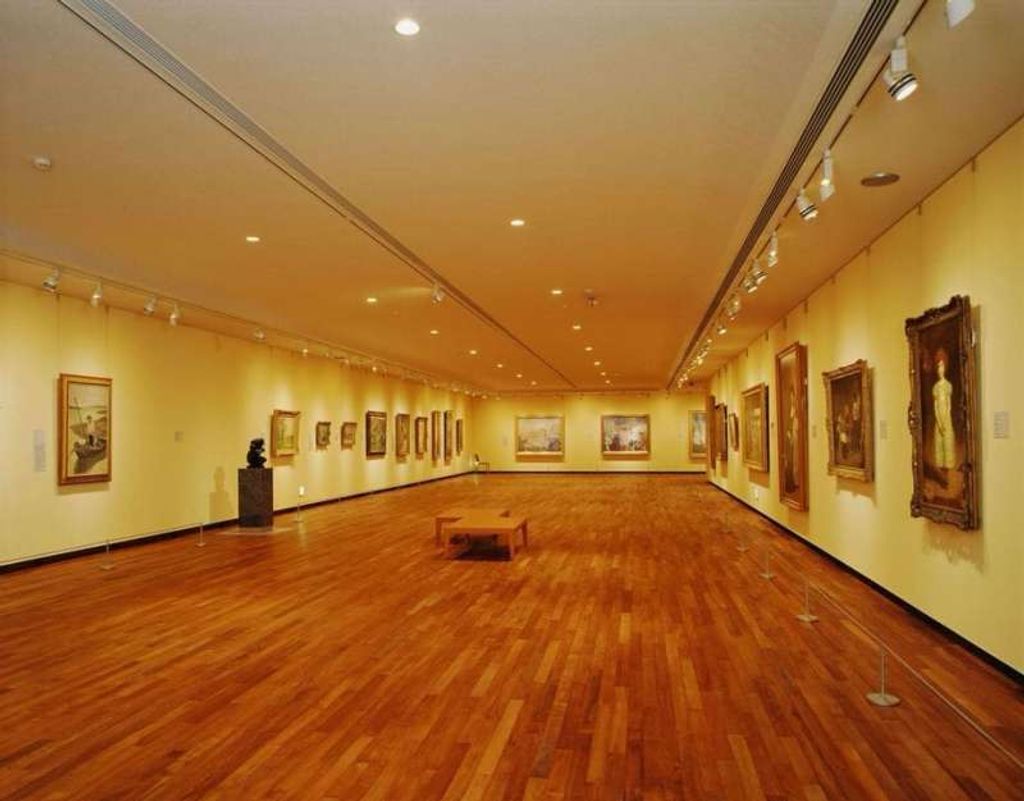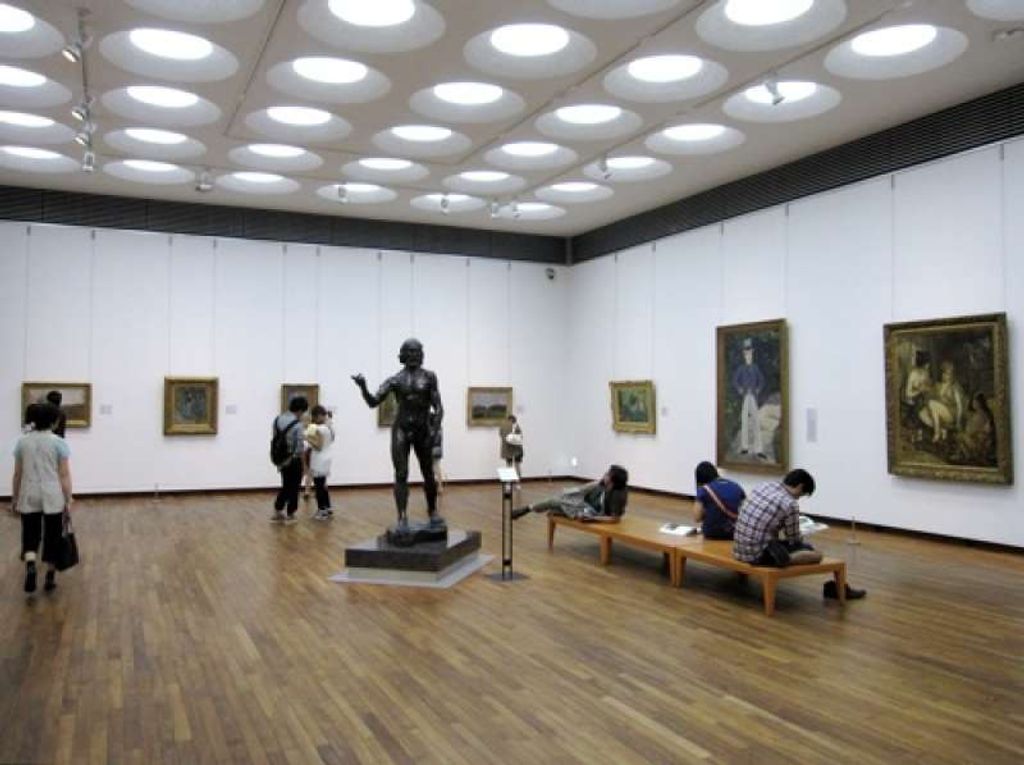 (3) Tokyo National museum of Modern art:
This museum stocks more then 9500 pieces of art such as paintings, sculpture, sketch, woodblock print, watercolor paintings, photos and so-on. Around 180 – 250 arts of the beginning of 20th century to the present day are selected within total stocks and exhibited from 2nd floor to 4th floor.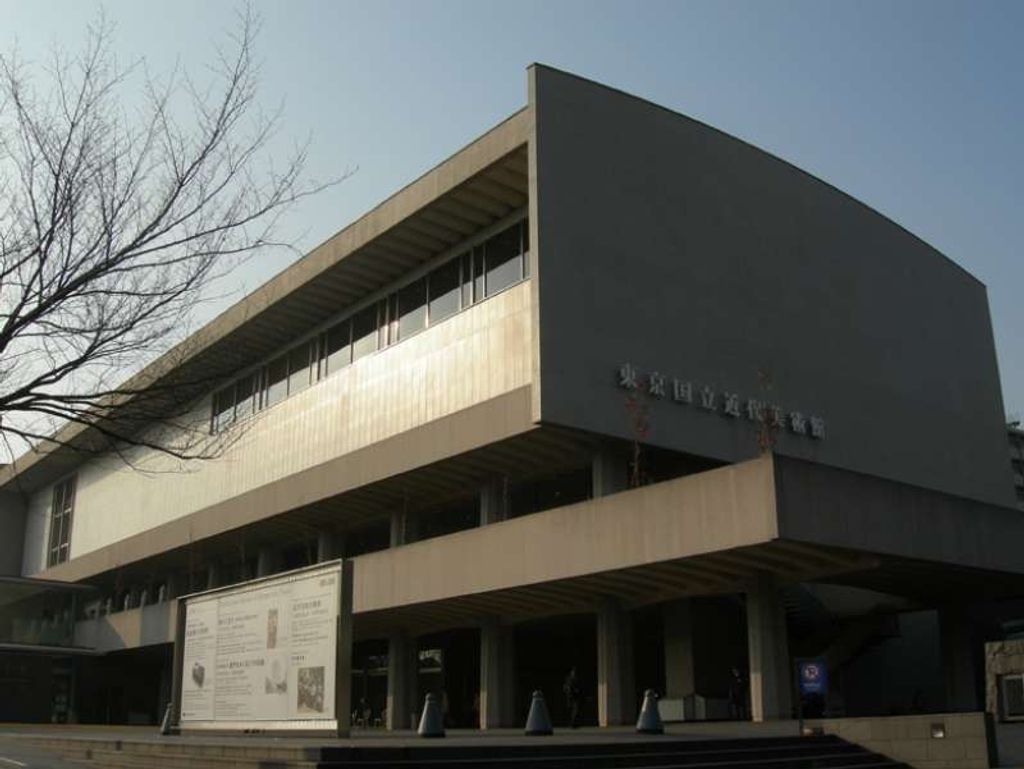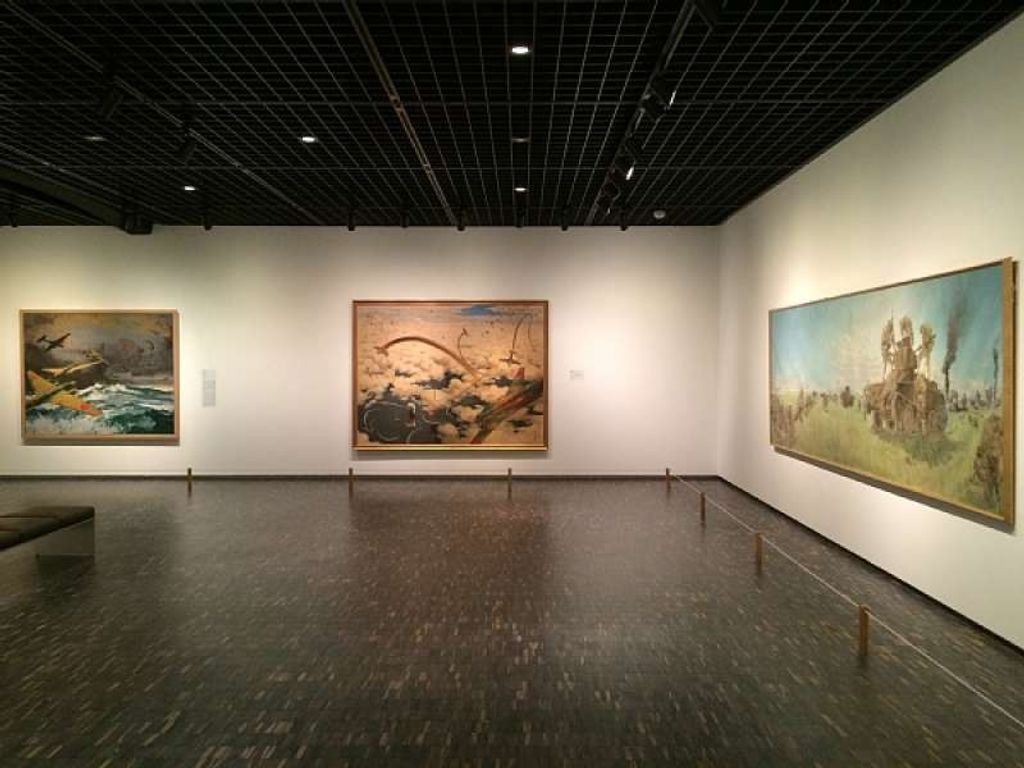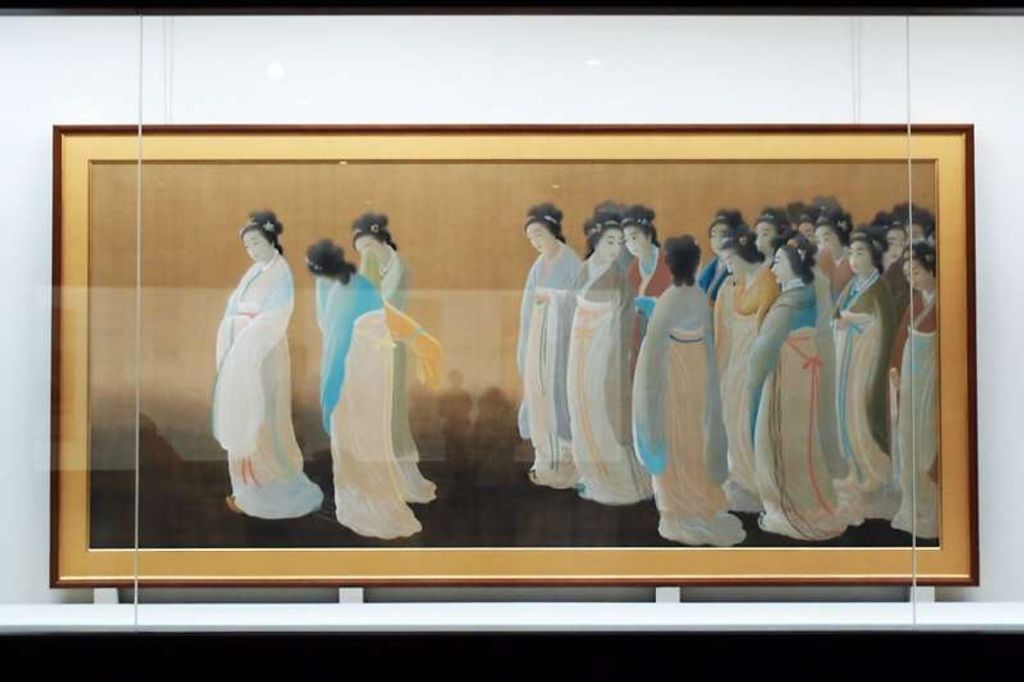 (4) Ota Memorial Museum of Art / Omotesando:
The main arts exhibited in this museum are Ukiyo-color print of everyday life in the Edo period of 17-19 century.
Total amount collected is around 12,000 pieces. The arts exhibited are changed every month with each theme setting.Therefore, people can enjoy new arts experience every time they come to this museum.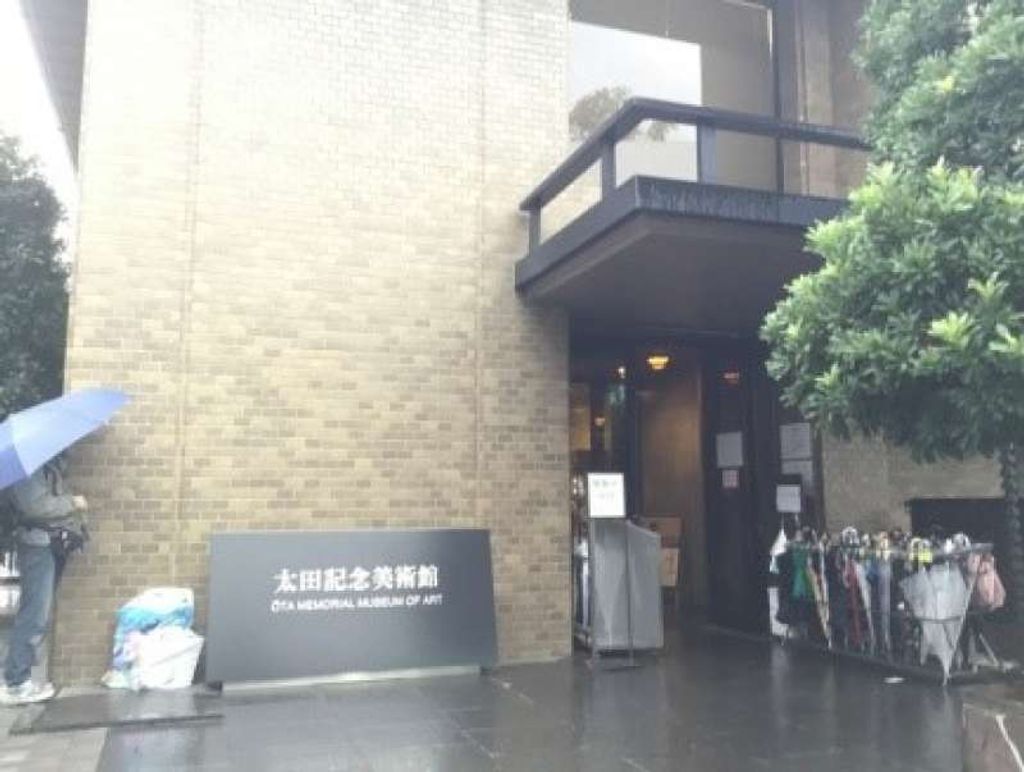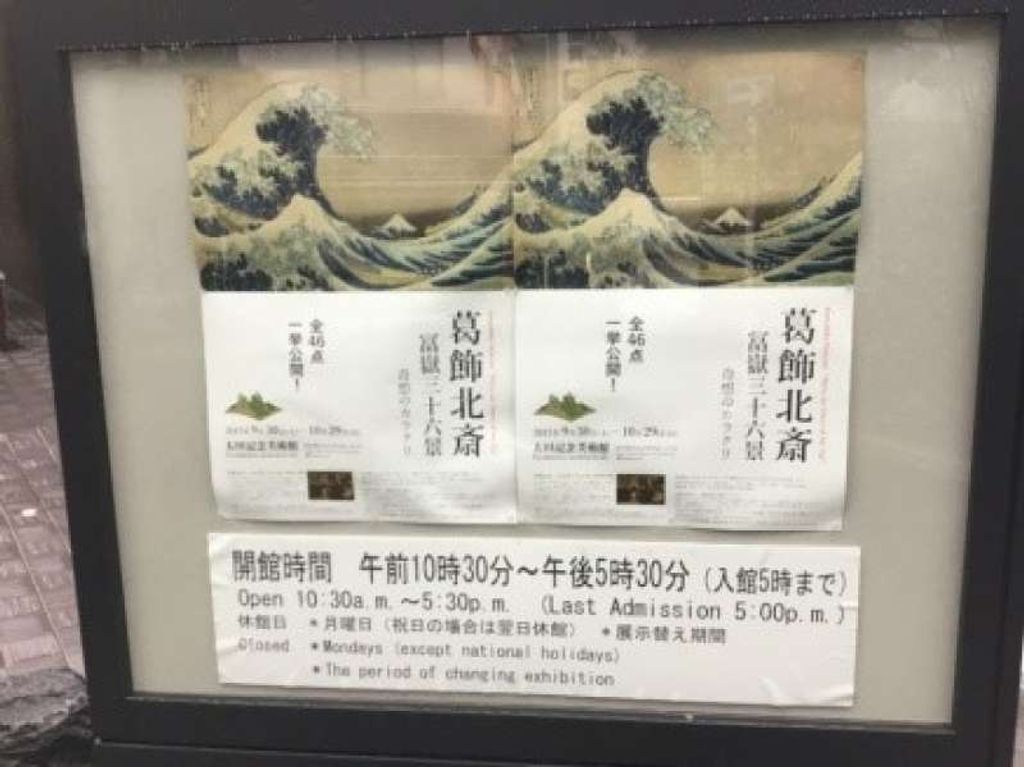 (5) Sumo-museum:
This museum show you the culture & history of Sumo-wrestling which is the national sports of Japan. There are a lot of exhibits related with Sumo and the actual Sumo-wrestling shown by movie pictures.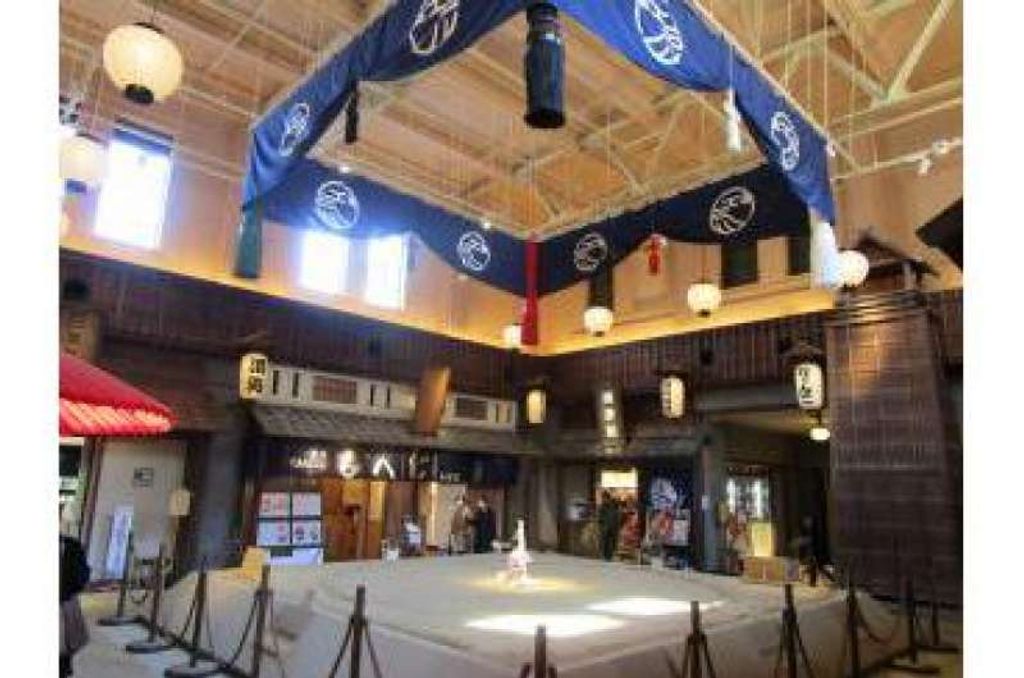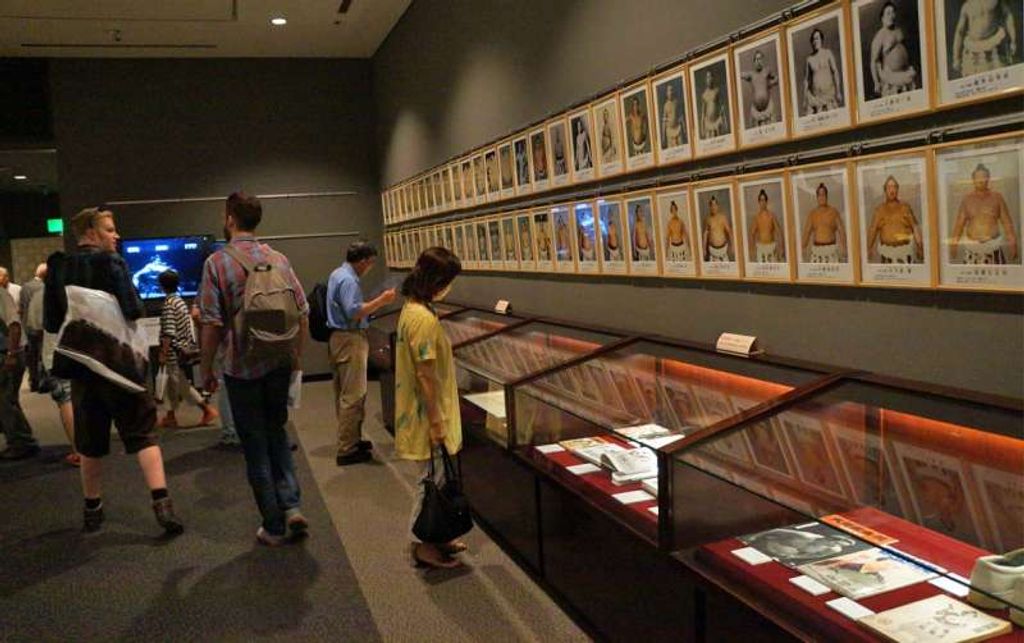 (6) Edo-museum Ryogoku:
To see ancient culture and atmosphere exhibits in Edo era (17th- 19th century).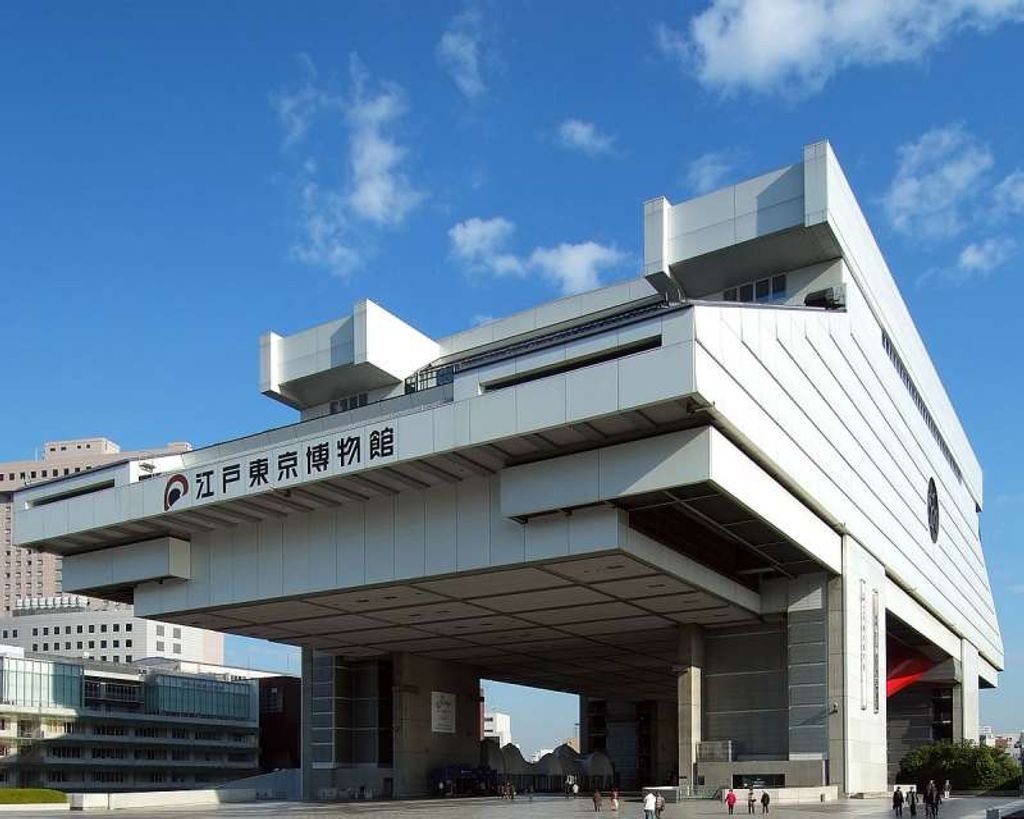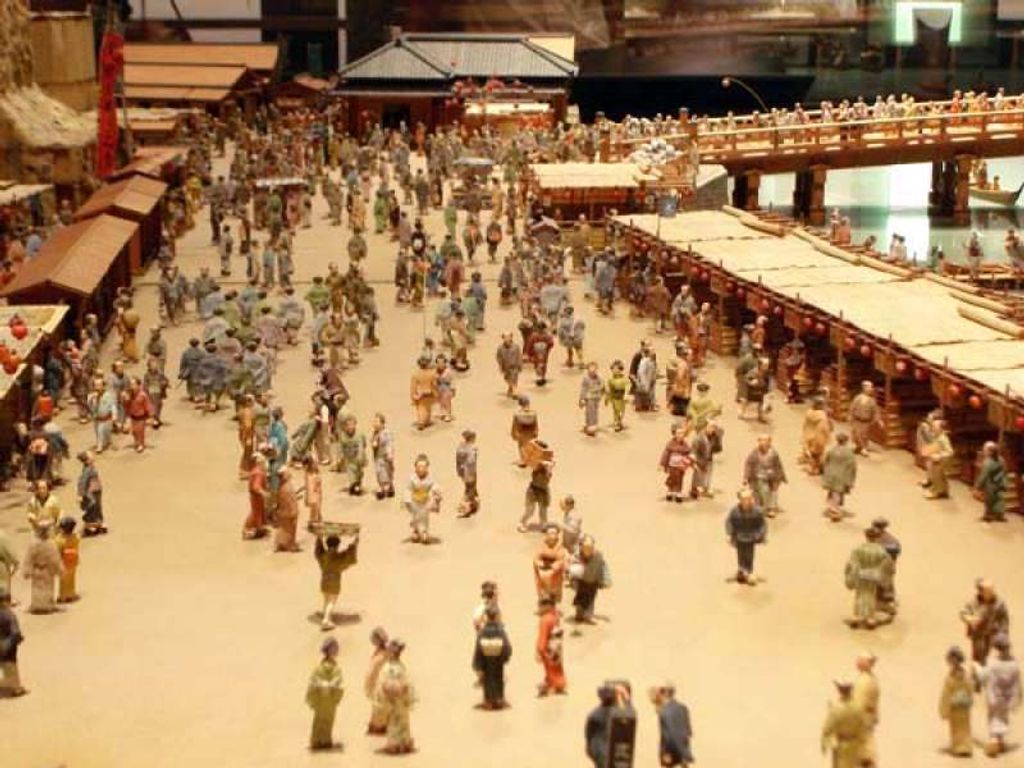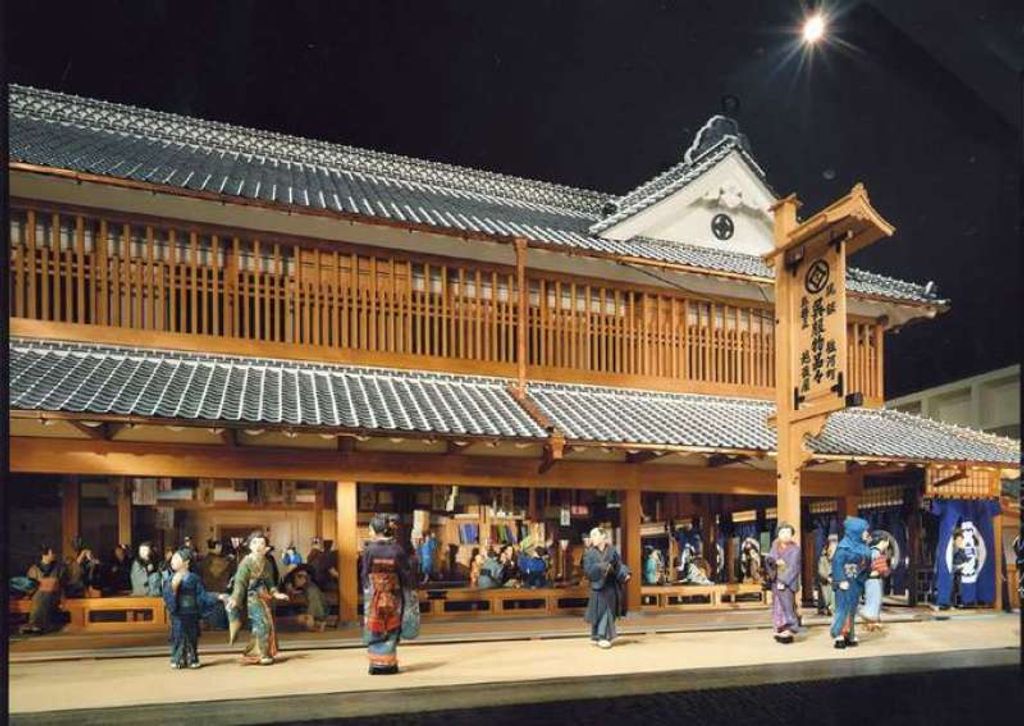 (7) Tokyo Skytree:
This Skytree is the tallest self-standing broadcasting tower (634meters) in Japan and is located about 1km east of Asakusa which is one of the main amusement center where the atmosphere of Shitamachi (traditional shopping, entertainment and residential district in Tokyo) is still preserved. The external appearance of Tokyo Skytree is designed to have beautiful curves similar with that of traditional Japanese architecture such as the five-story pagoda as shown in below photo.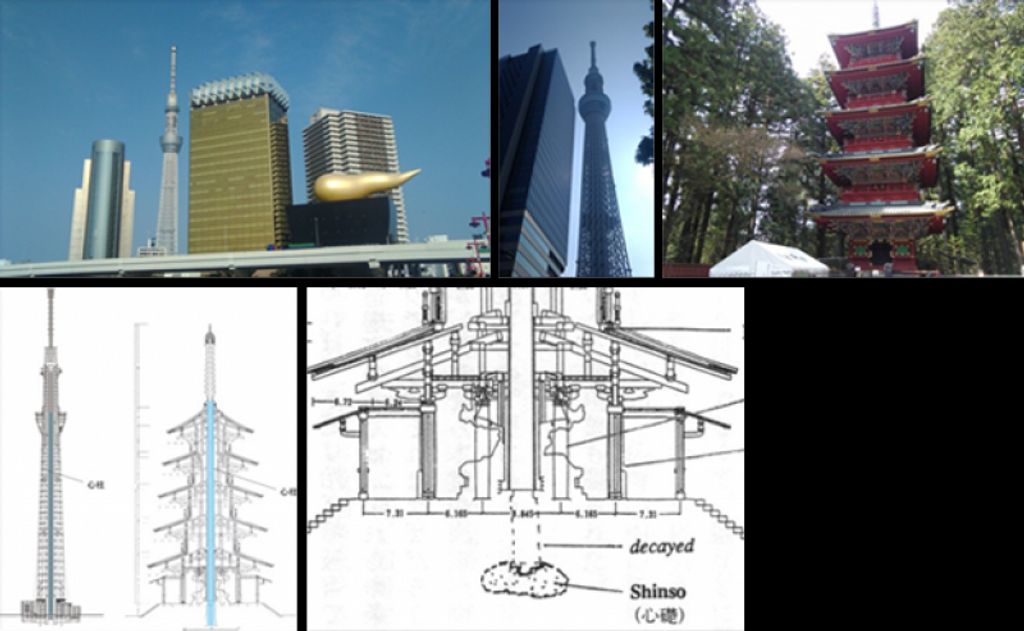 Earthquake resistant construction method of Tokyo Skytree (Blog)
(8) Tokyo Tower
Tokyo tower used to be the highest communications and observation tower in Japan before Tokyo skytree was constructed, whose observation decks command a breath-taking panorama of Tokyo. There are a lot of shops and restaurants, so people from all age groups can enjoy there.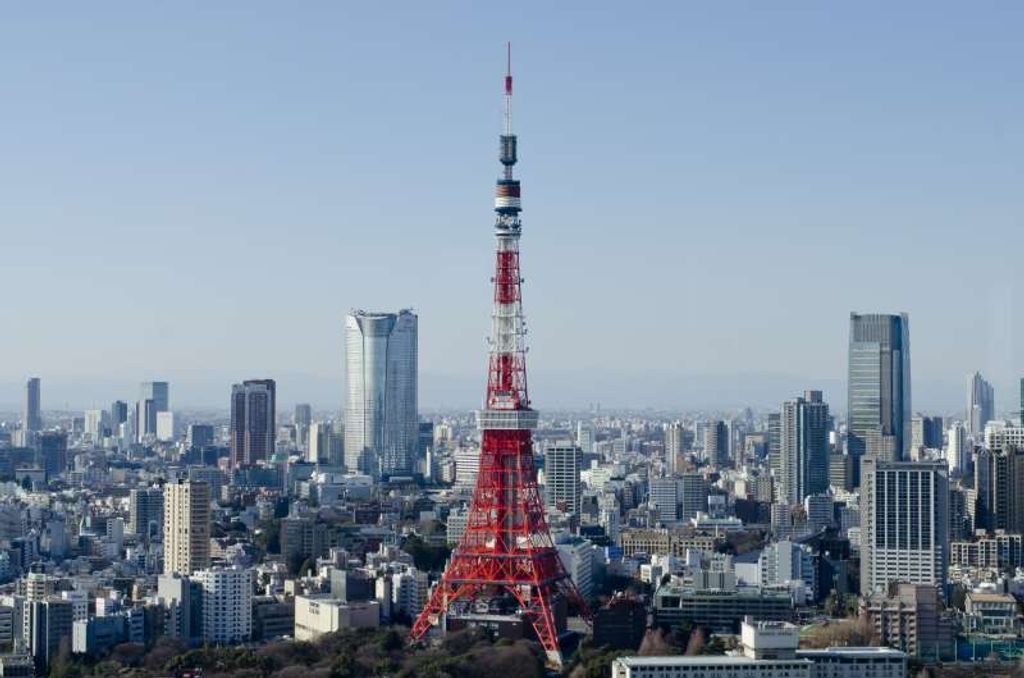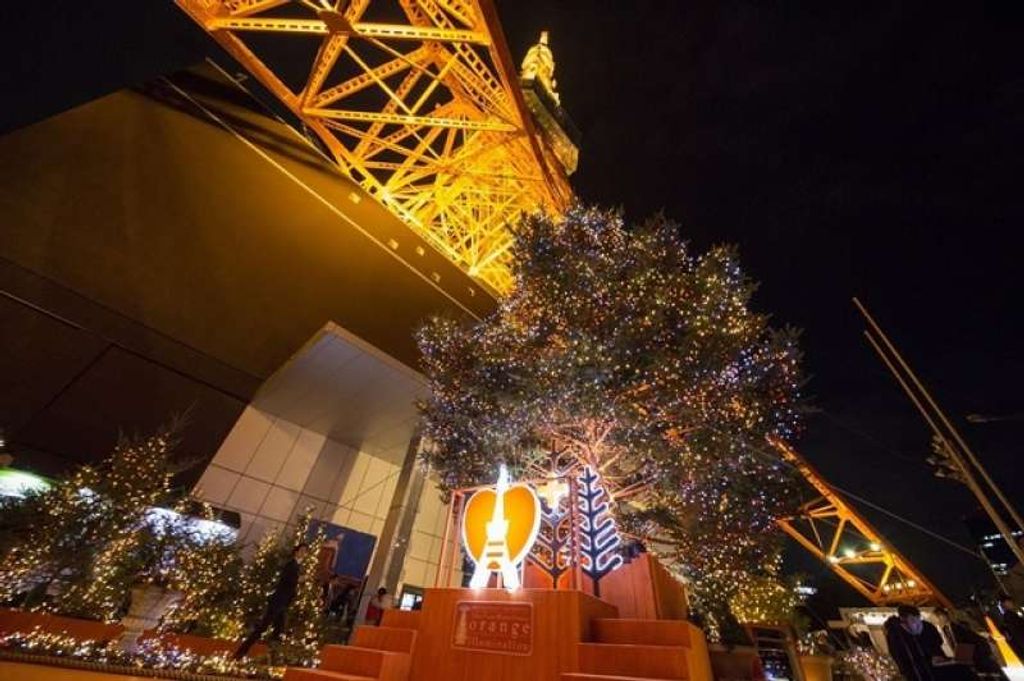 (9) Samurai museum:
You can receive the detail explanation from specialists of the stuffs about Japanese worriers clothing, swords and historical battle.
Also, you can enjoy Samurai sword playing action show.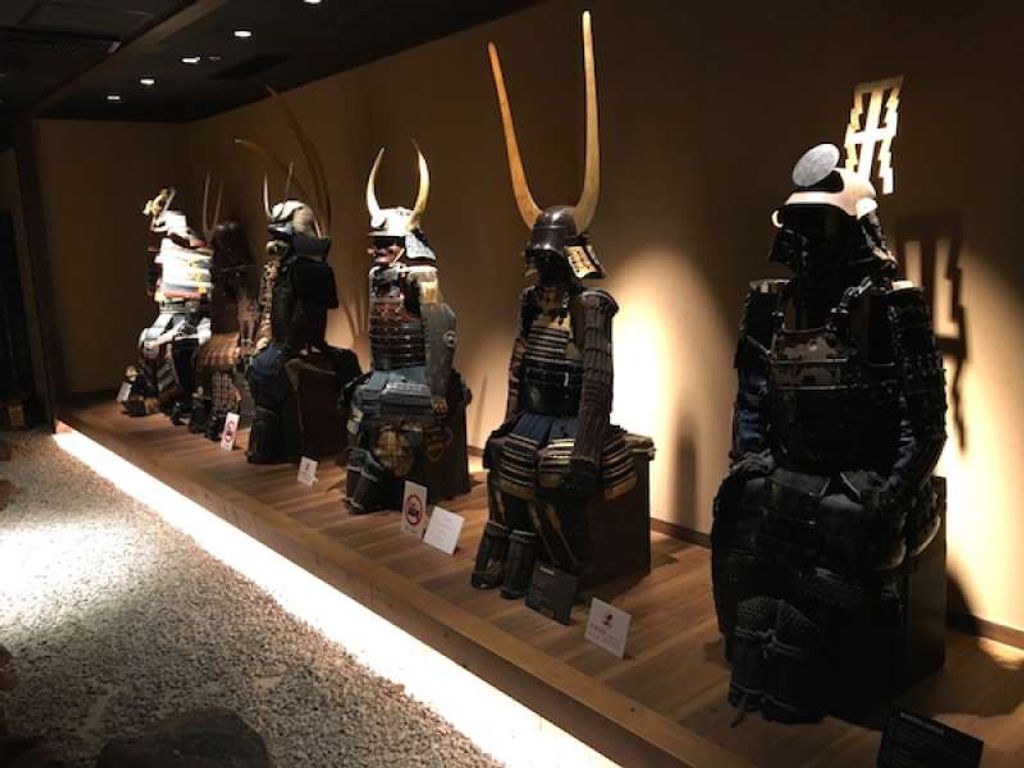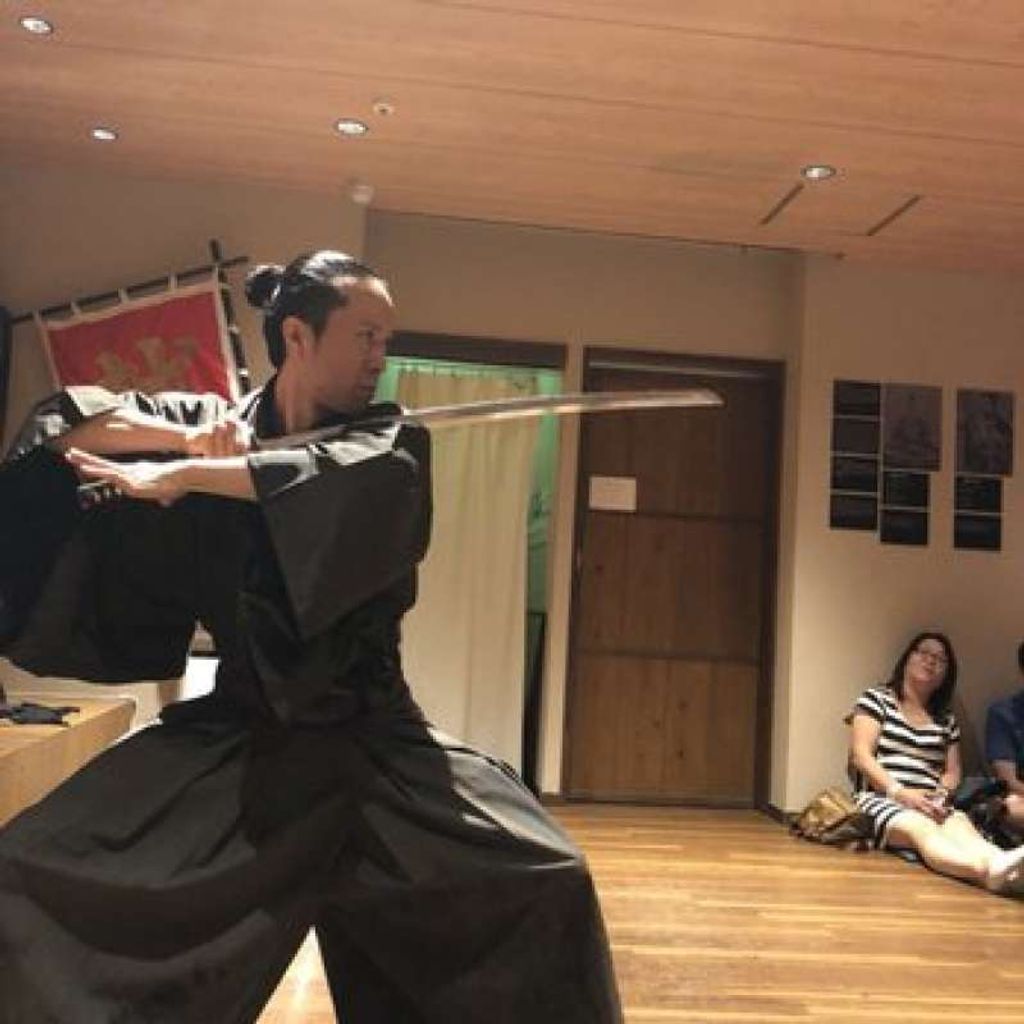 Nature spot (Garden, cruising,) & Modern sightseeing facility:
(1) Asakusa-Odaiba Tokyo Bay Cruise :
You can fully enjoy the color of Tokyo along the Sumida-gawa River toward Tokyo Bay and see many types of bridges spanning the river. (about one hour)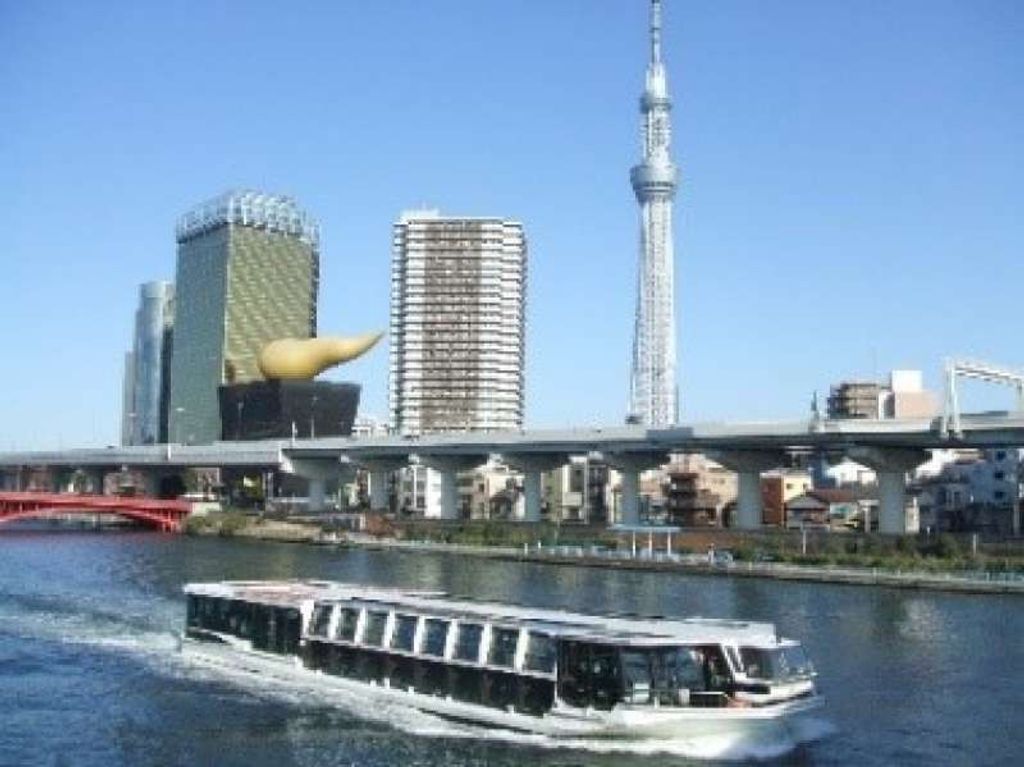 (2) Odaiba
(a) Odaibakaihin-park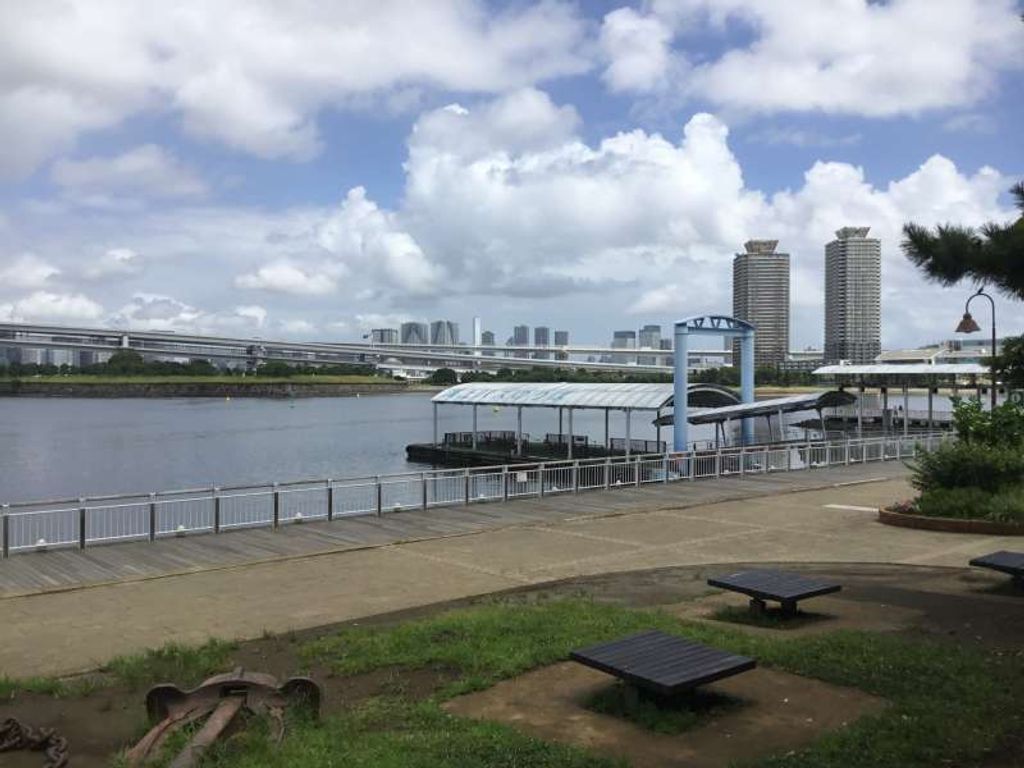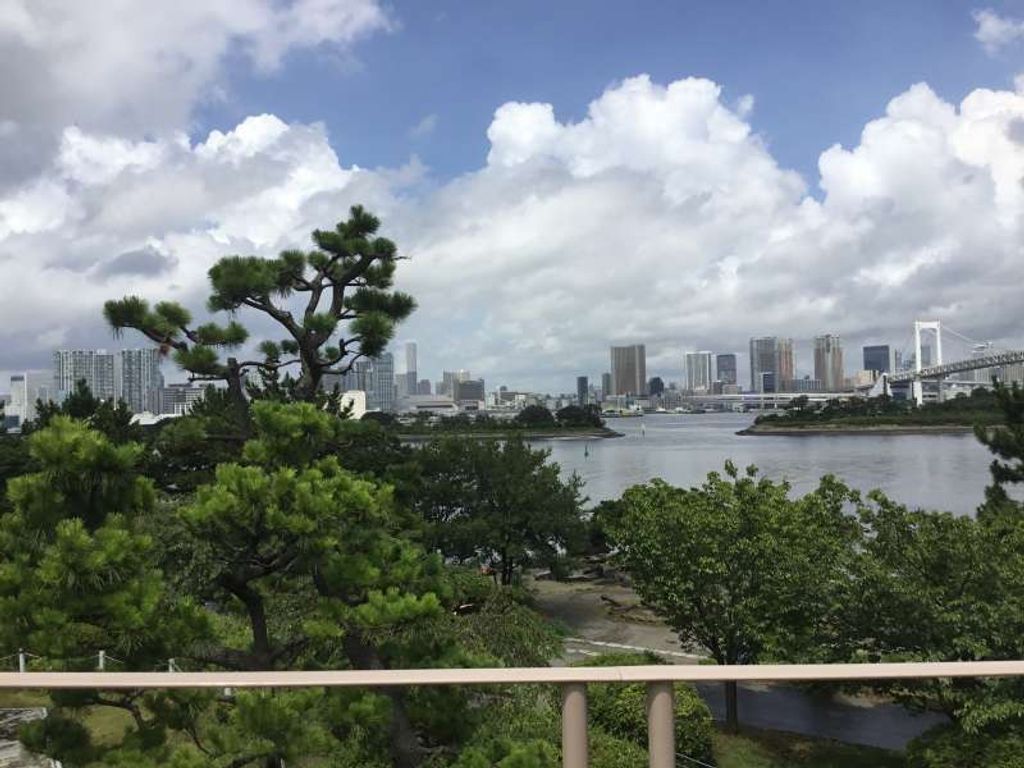 (b) Statue of Liberty in Odaiba as replica from that in France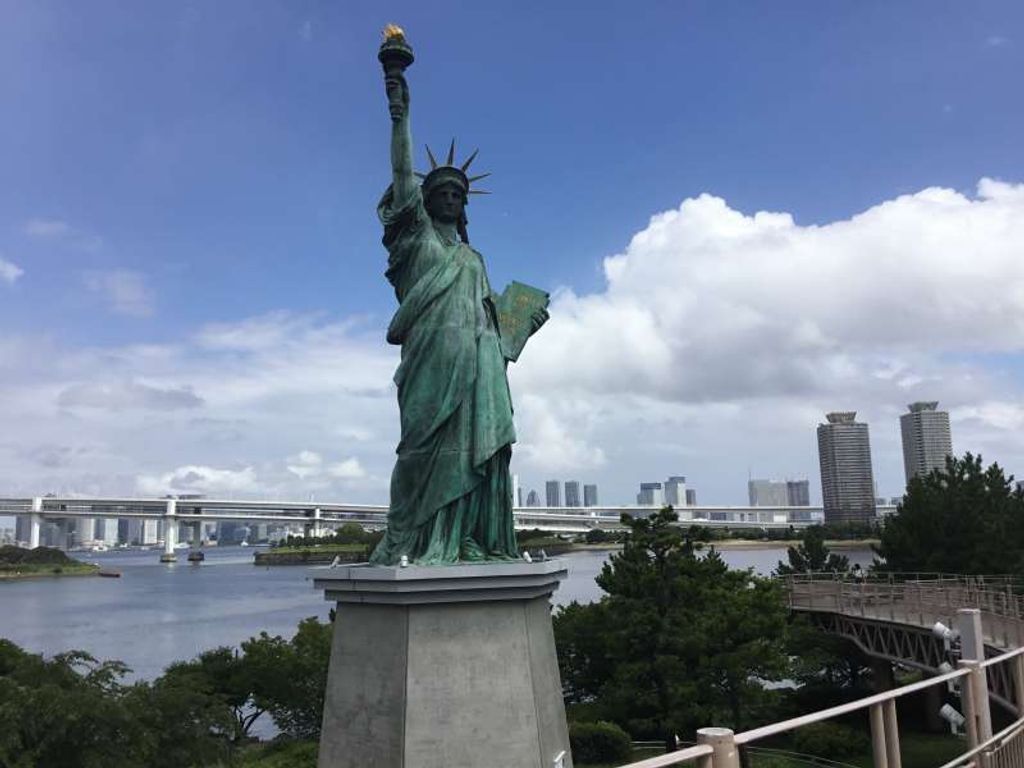 (c) Diversity Tokyo plaza This plaza aims to be a theater type urban space where you can find various kinds of shopping.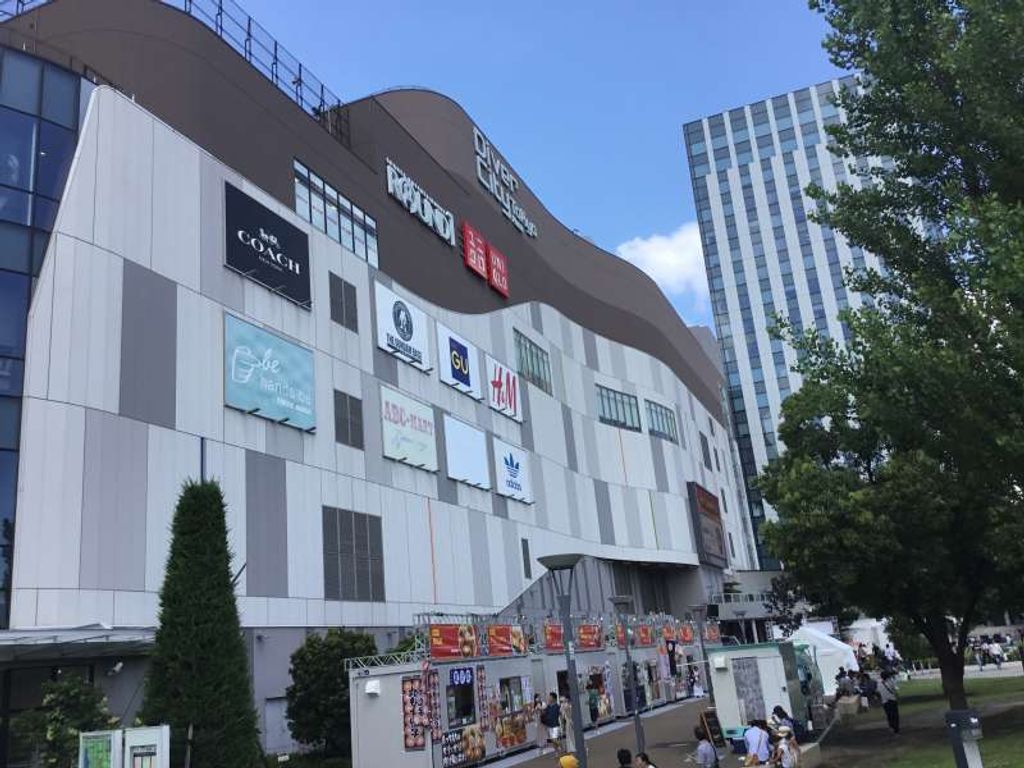 (d) Uniicrn Gundam watching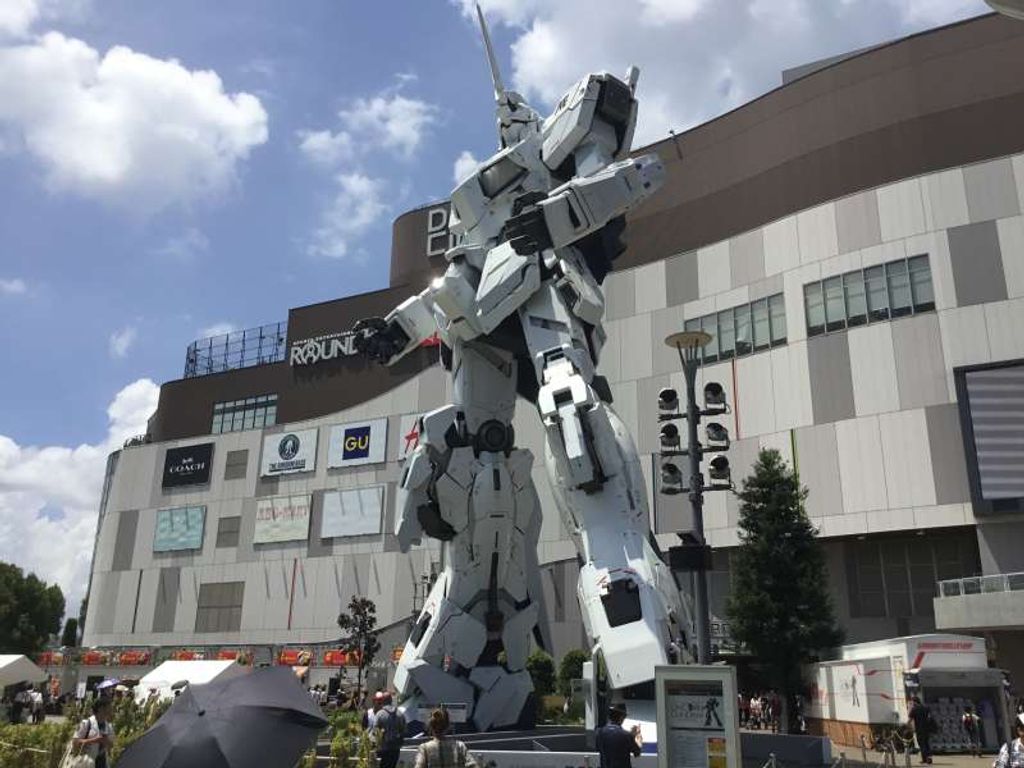 (3) Shinjyuku:
Shinjuku station is the place where the world top number of passengers are getting on and off with more than 3million per day and one of the best tourist spot in Japan. - Shinjuku Gyoen National Garden: Japan stroll-style pond garden, English garden, French garden are well mixed in this Garden. - (Tokyo) Metropolitan Government office - The Outer Gardens of the Meiji Shrine


To see overview of Tokyo including Mt.Fuji in the distance if whether is fine.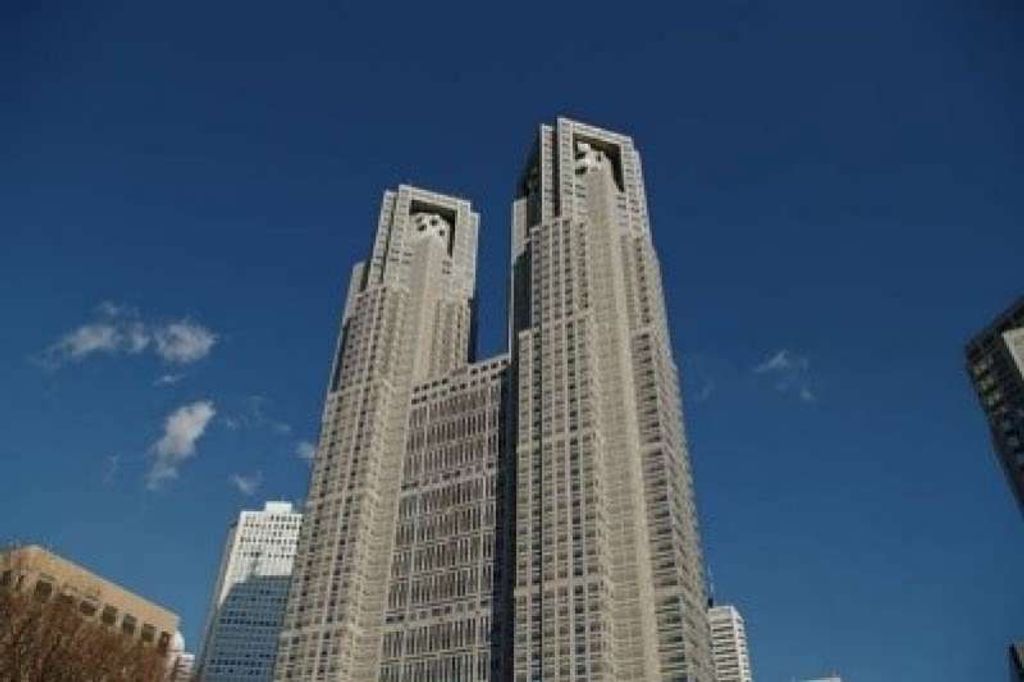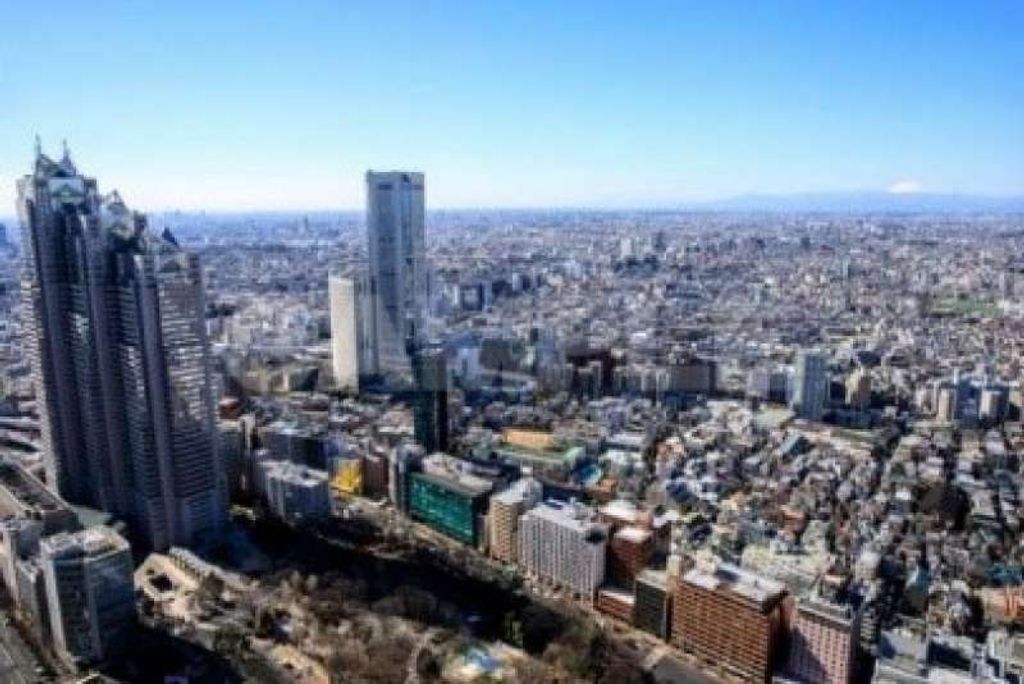 4) Rikugien garden
This garden is a stroll garden with a central pond, large garden and making a mountain with enjoying by walking around it.
This was founded by a top worrier in Edo era with spending 7 years period.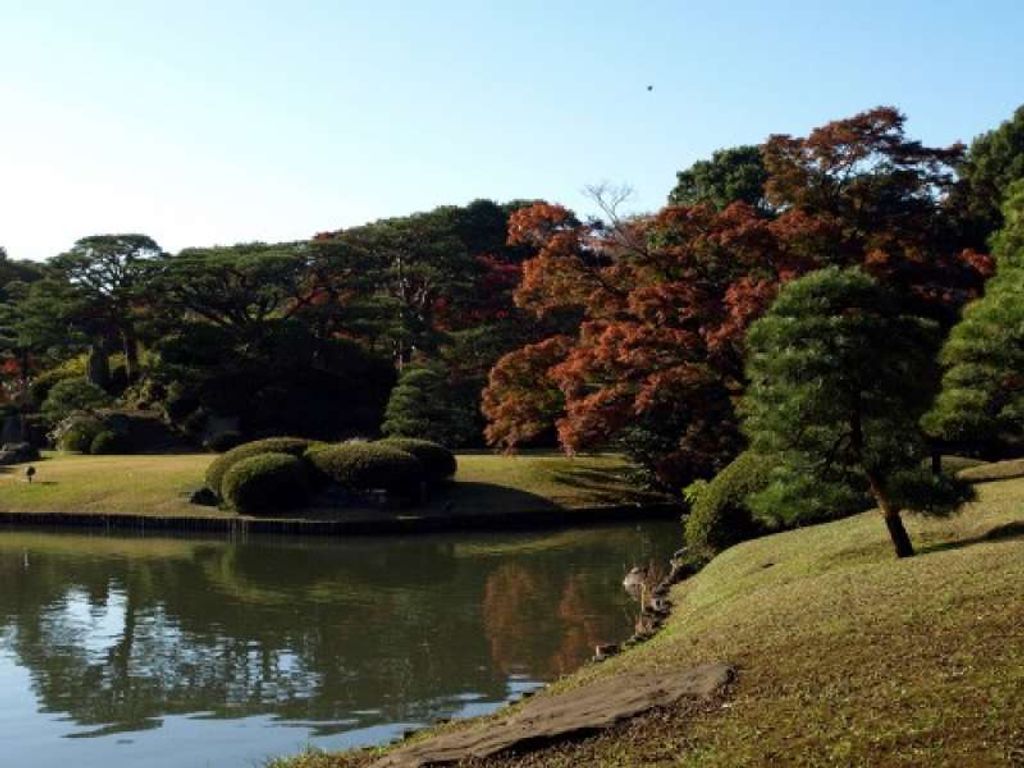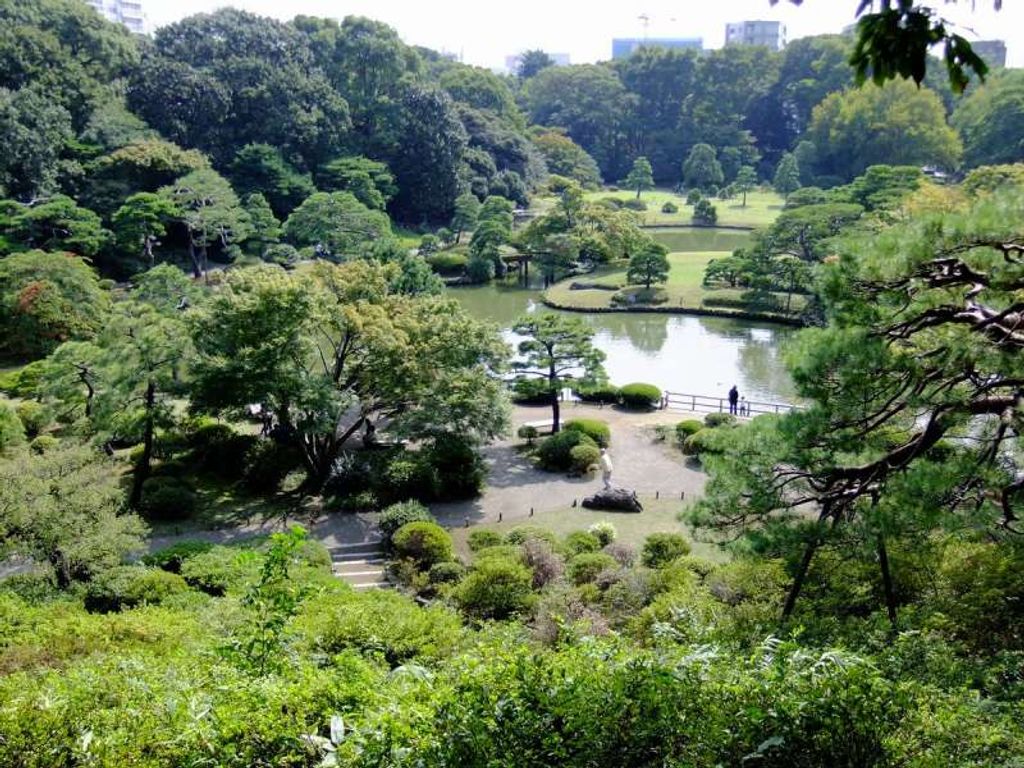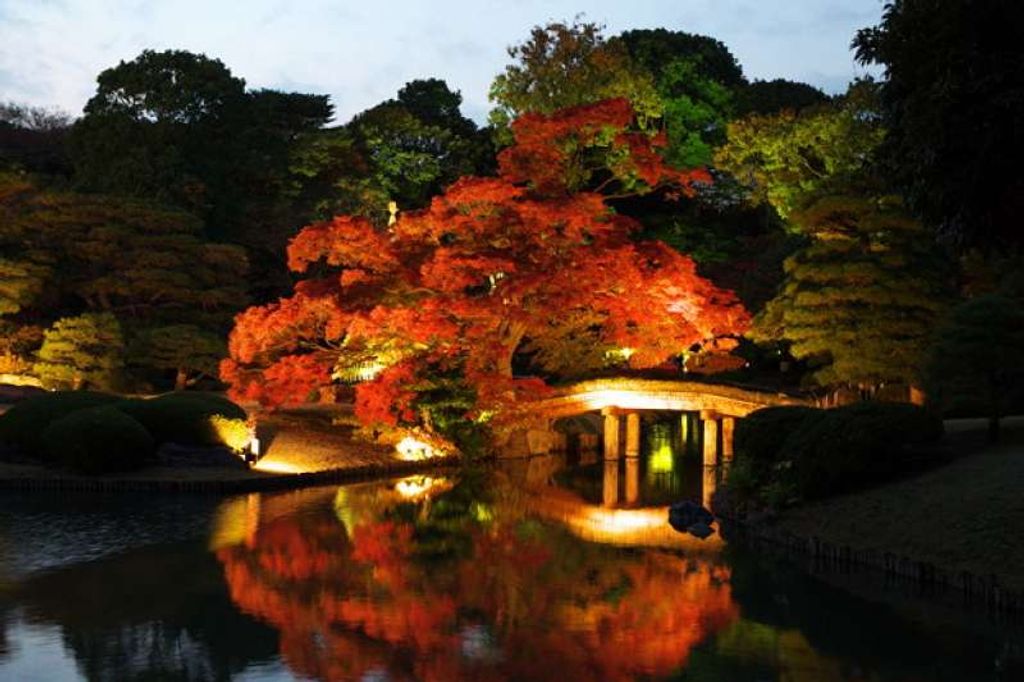 5)Hamarikyu garden
This garden was founded by a feudal load in Edo era which has a pond where sea water flow into and the atmosphere of the pond vary depending on the rise and fall of the tide. This garden became the imperial villa after Meiji restoration and now this is controlled by Tokyo Metropolis and registered as National historic site.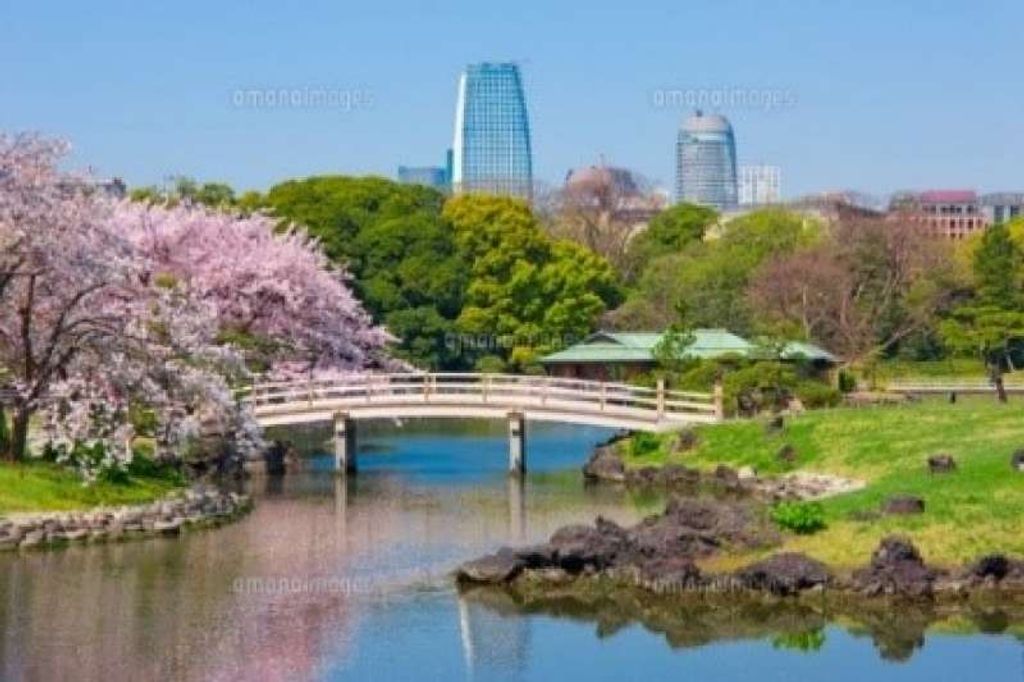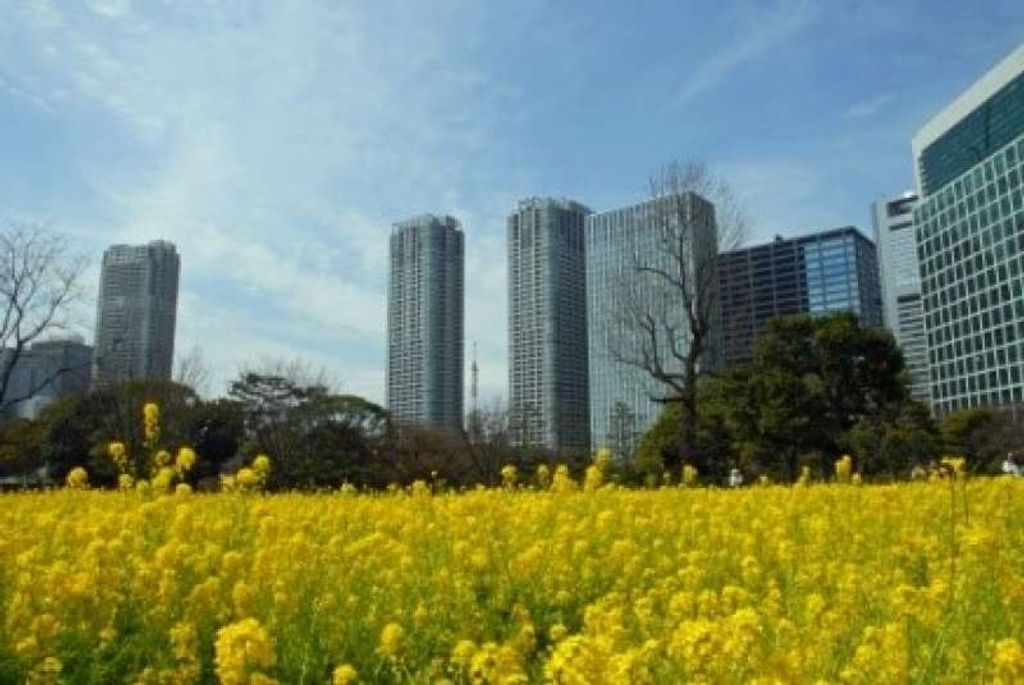 (6) Kiyosumi garden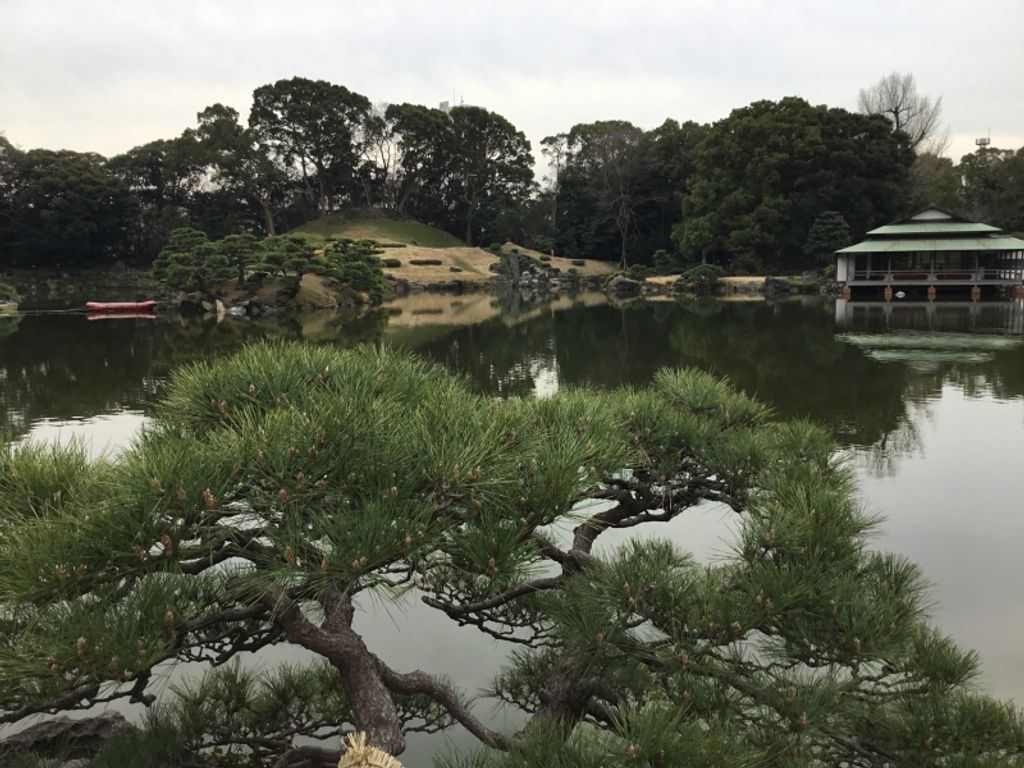 This garden is a stroll garden with a central pond mainly with forest, artificial hills and Japanese rock garden. This garden was built in 1891 by Yataro Iwahashi who established Mitsubishi combine. The water of a pond is from Sumida river and lots of exquisite stones set in the garden which are gathered from all over Japan.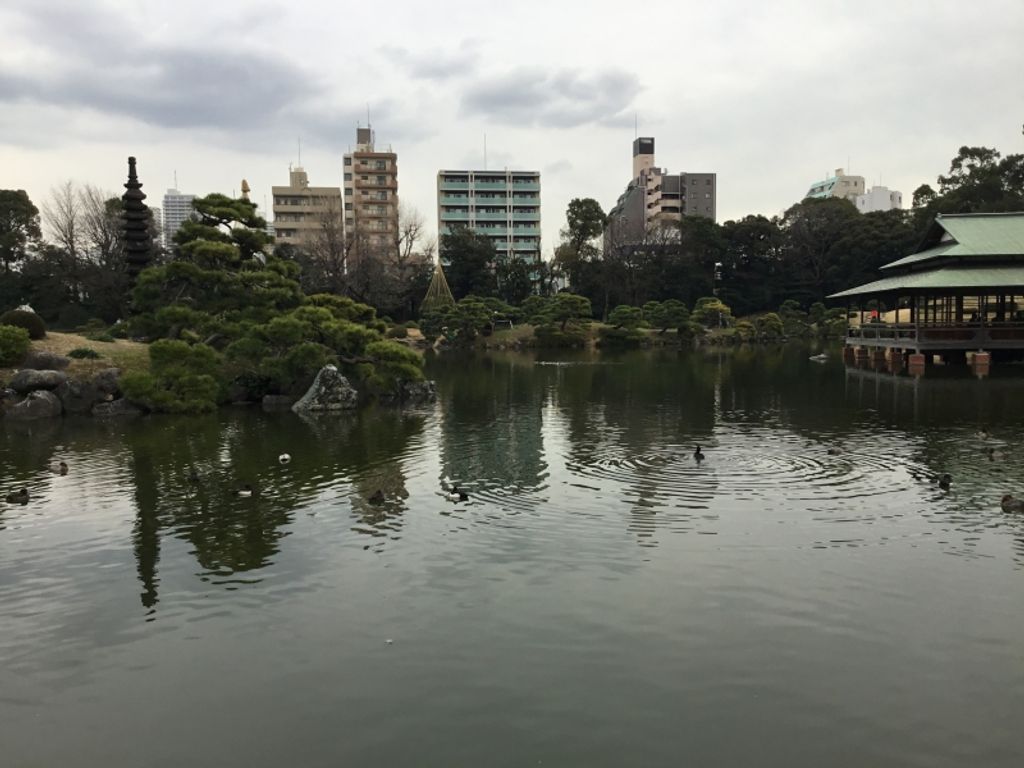 You can see a wide pond with three islands inside the pond where the shadow of artificial island and lots of trees are reflected. There are lots of stones set at intervals beside the pond and while you walk through there, you can feel the breezing of many water birds on the pond such as spot-billed duck, eastern turtle dove and heron.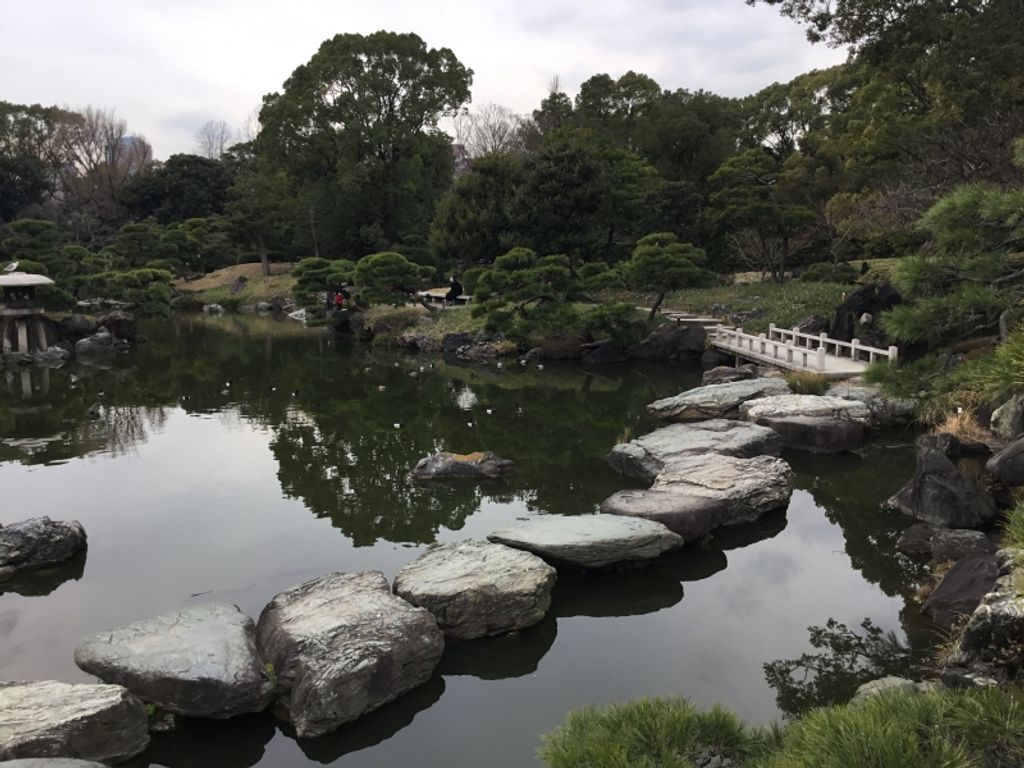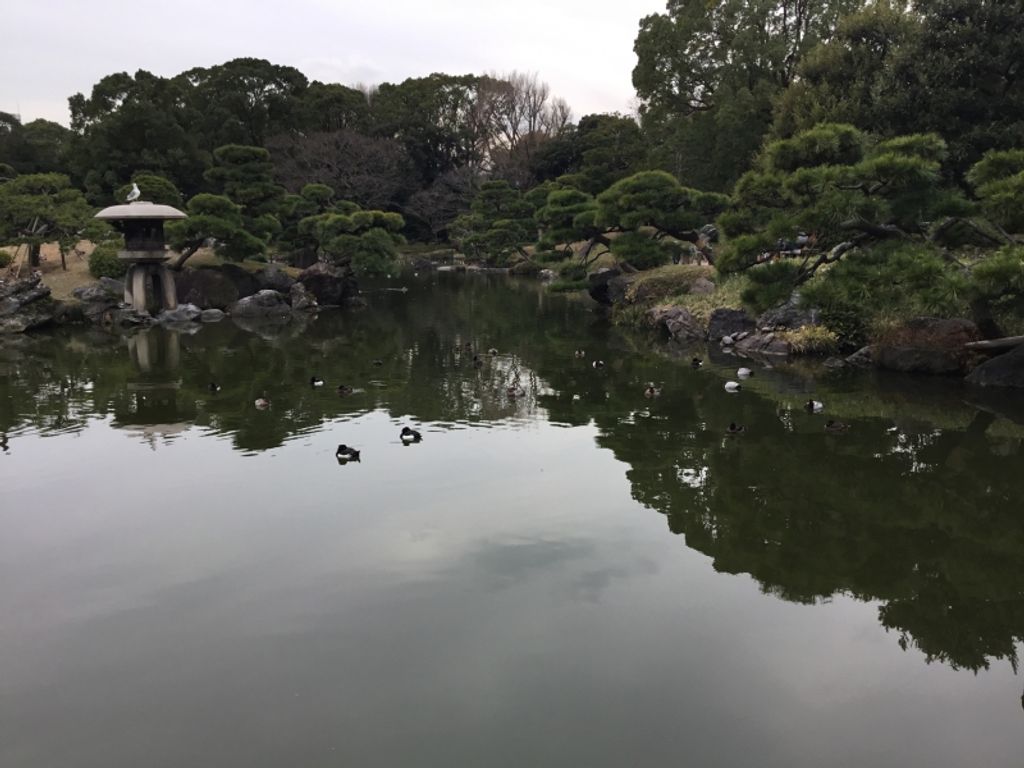 (7) Night view in several spots by Van driving
a) Odaiba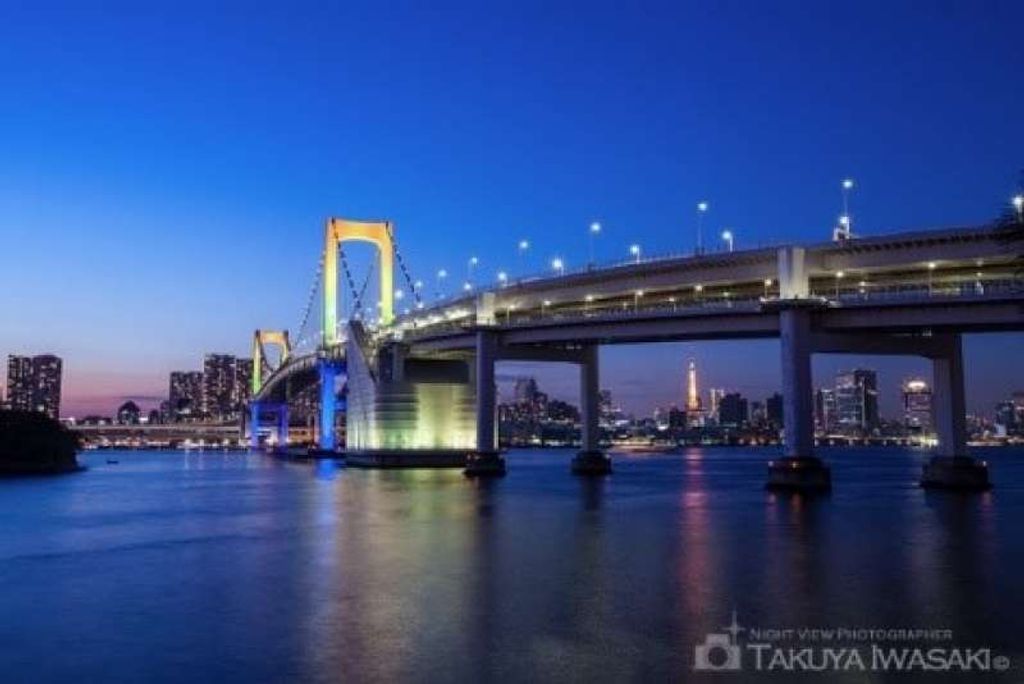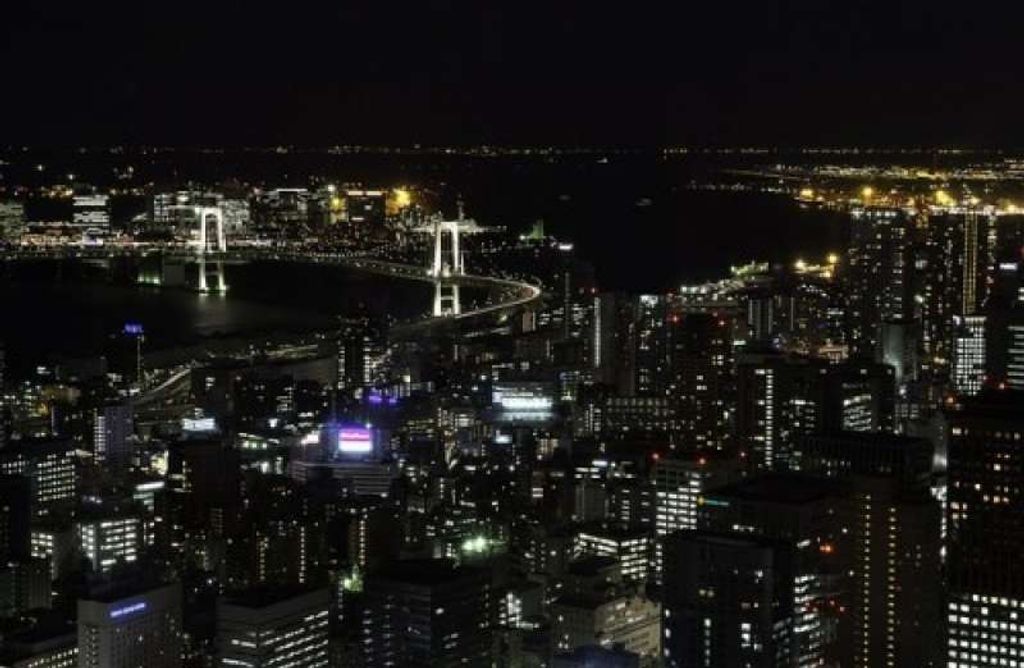 b) Tokyo coast line of bay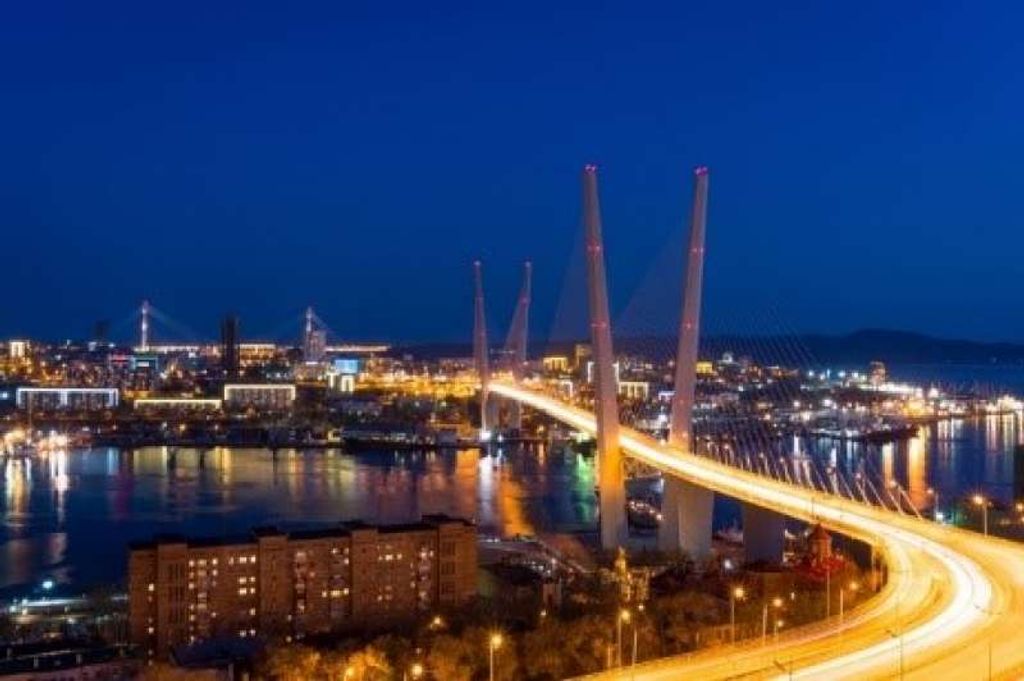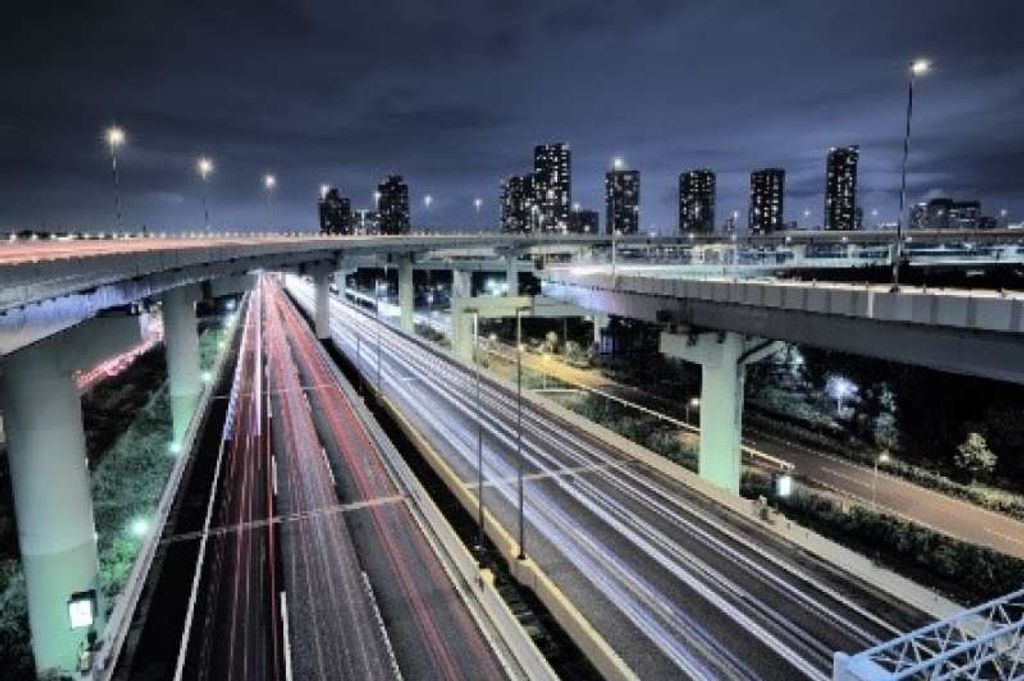 c) Tokyo at night" experience from an observatory tower from Tokyo-Skytree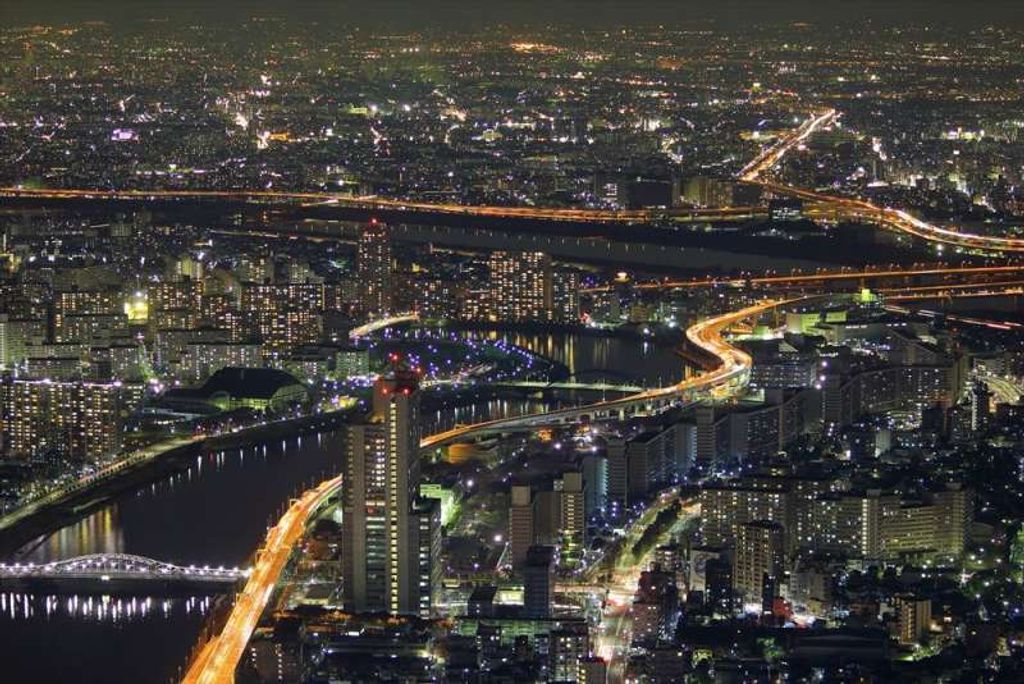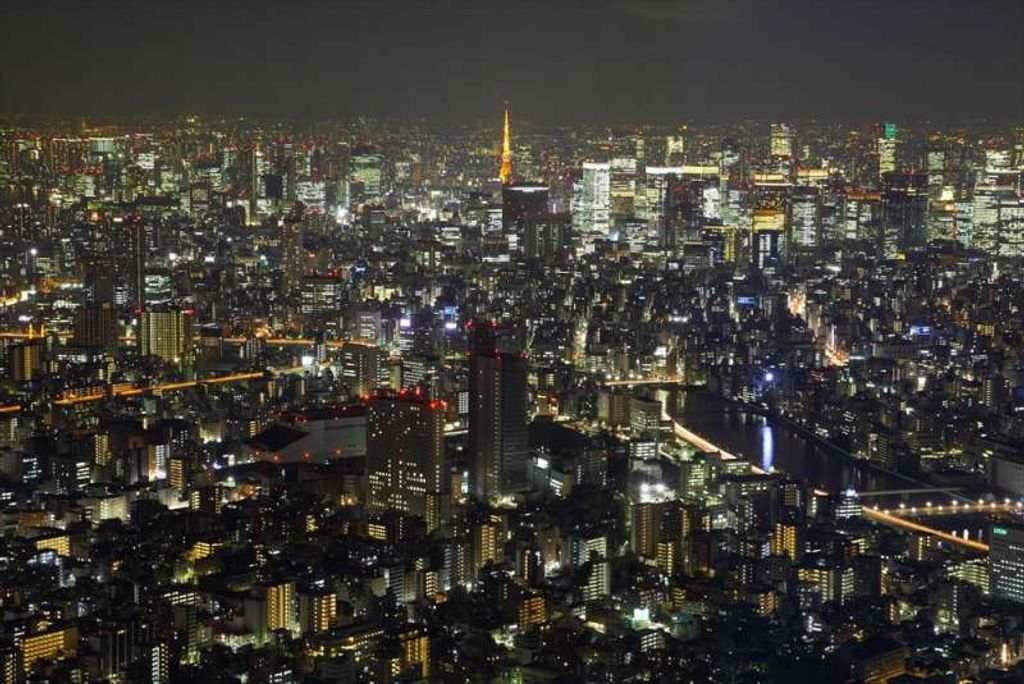 Temple, shrine etc.
(1) Imperial Palace & East Garden, Nijubashi Bridge
The Edo Castle, formerly the Tokugawa Family's residence, became the Imperial Palace as the Emperor moved to Tokyo from the Kyoto Imperial Palace after the Meiji Restoration. The main residence of the Emperor open only twice a year such as beginning of each year.
We visit the East Garden of the Imperial Palace. We see two main spots such as the main tower of the former Edo castle and the Ninomaru Garden. Many kinds of seasonal flowers and plants are planted. You can enjoy the scenery all year around. It's very a beautiful Japanese garden. Also we visit Nijyubashi bridge (Front entrance of Imperial palace).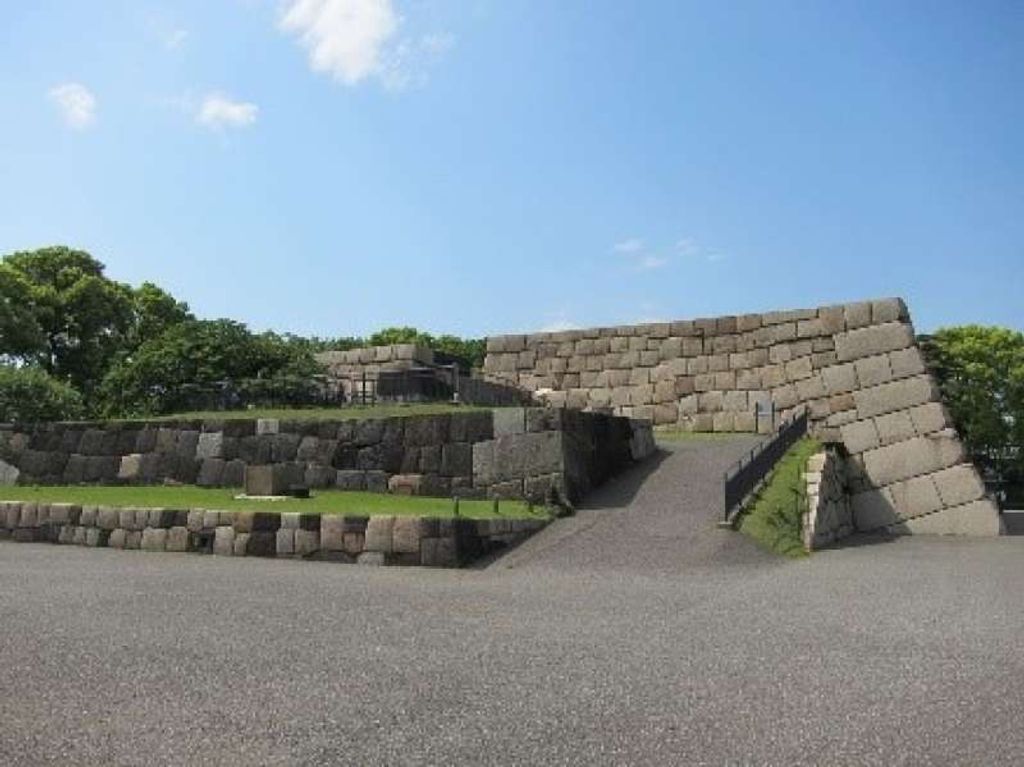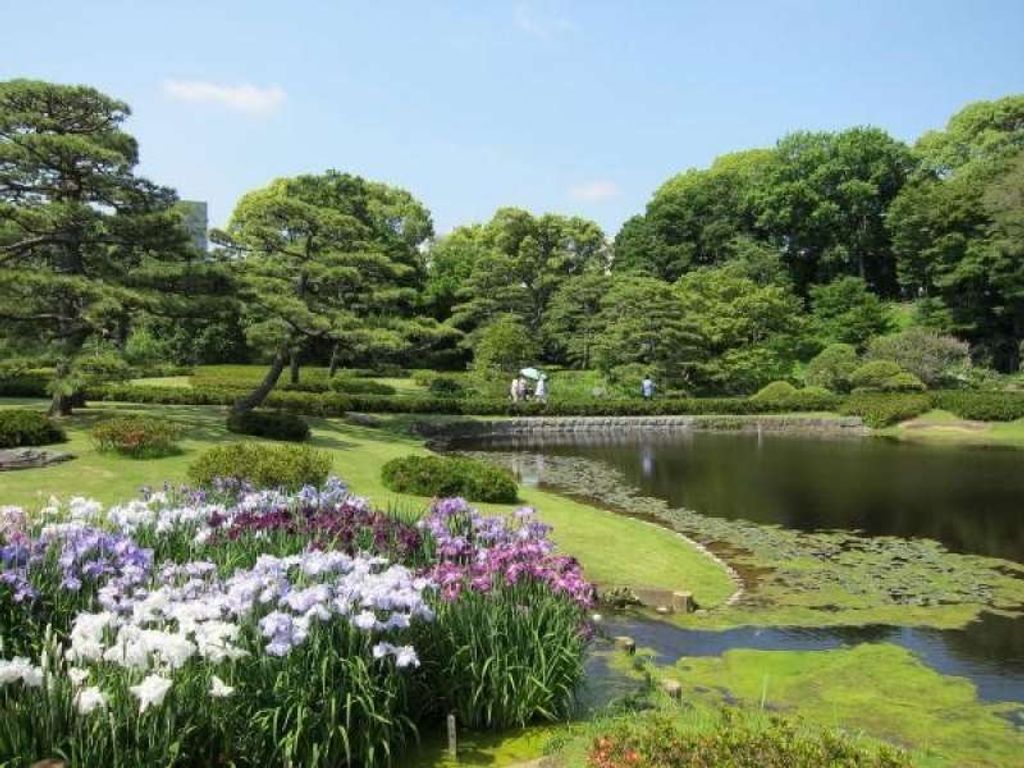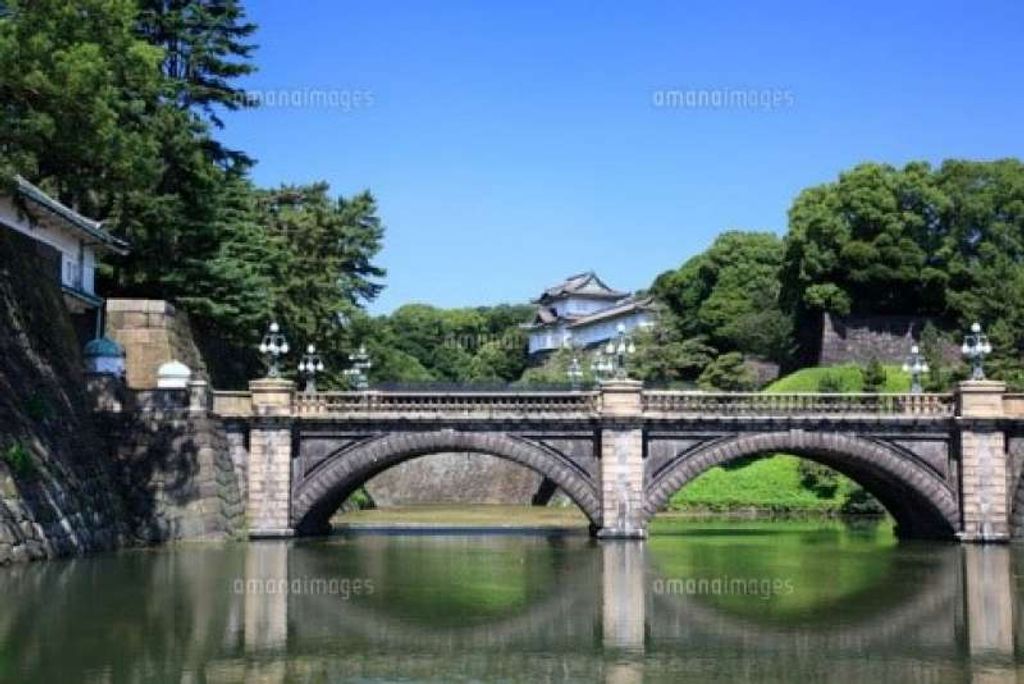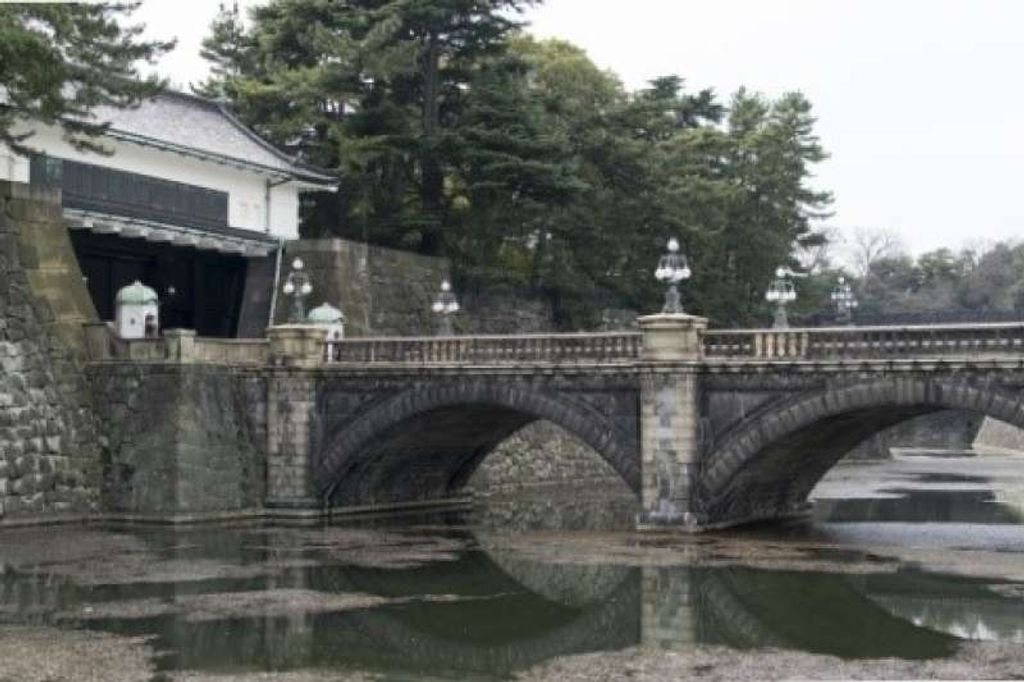 (2) Meiji Shrine:
Meiji Shrine is dedicated to the defied sprits of Emperor Meiji and his consort Empress Shoken.
It was founded in 1920 after they passed away.
After destroyed by fire in World War 2 air raids, the Shrine buildings were renovated on 1958.
Before you enter into this Shrine, you will find a gate called a Torii that separate the ordinary world from the sacred world.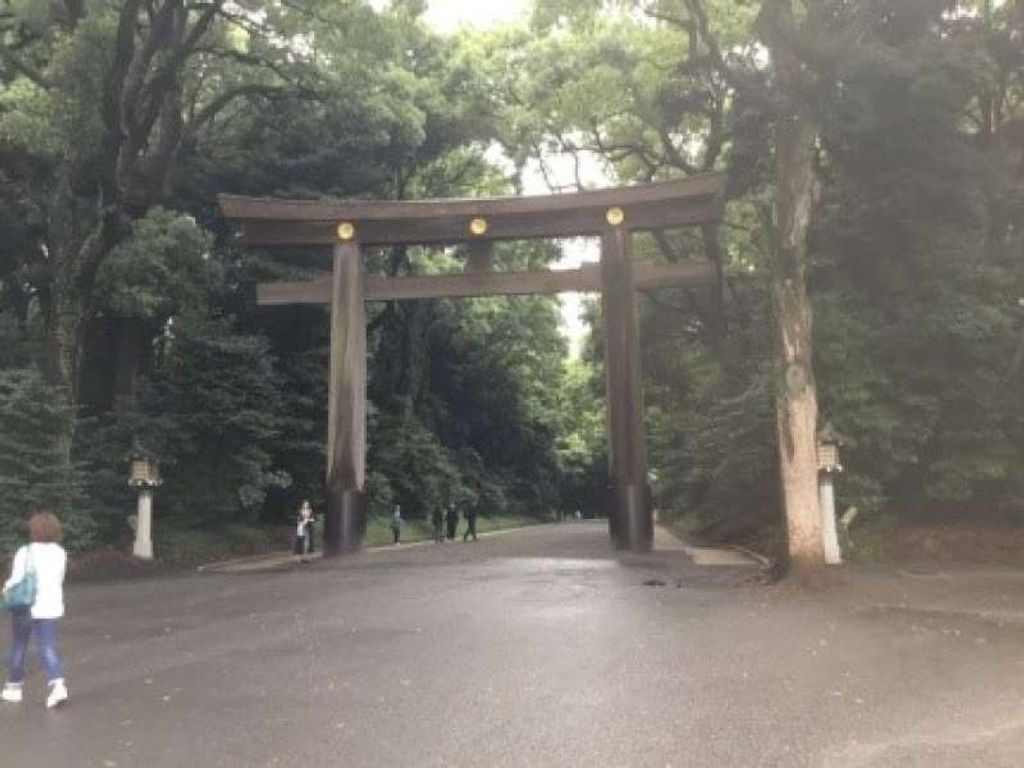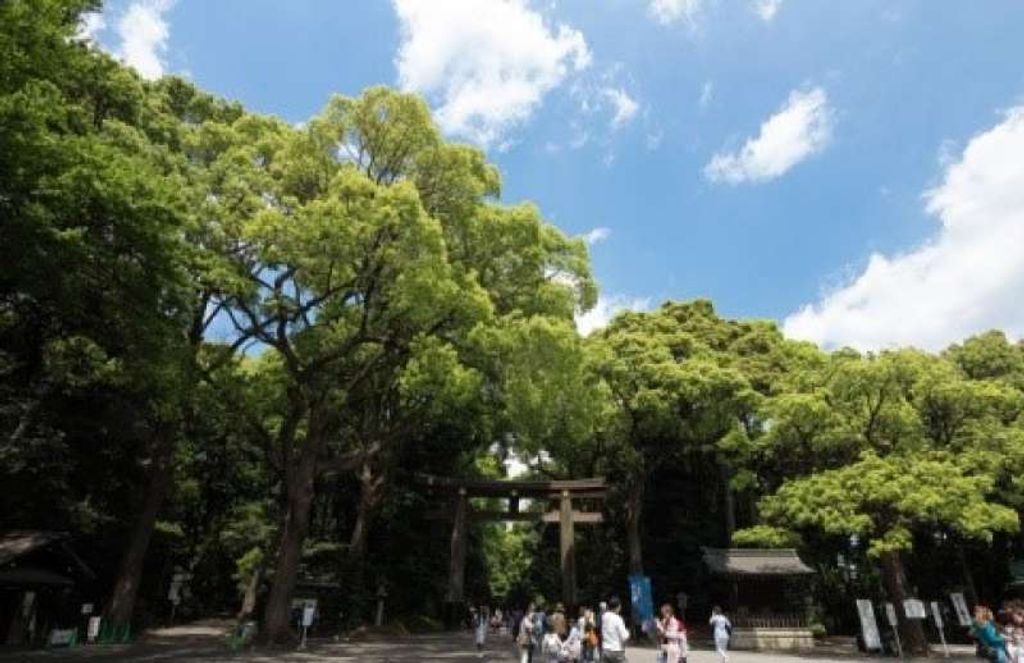 After going through Torii, you will find sake barrels which are stacked up because the deities like sake very much. Sake plays an important role in rites and festivals including Japanese weddings.
Also, Barrels of wine were offered by a famous France wine makers to pray good relationship between France and Japan.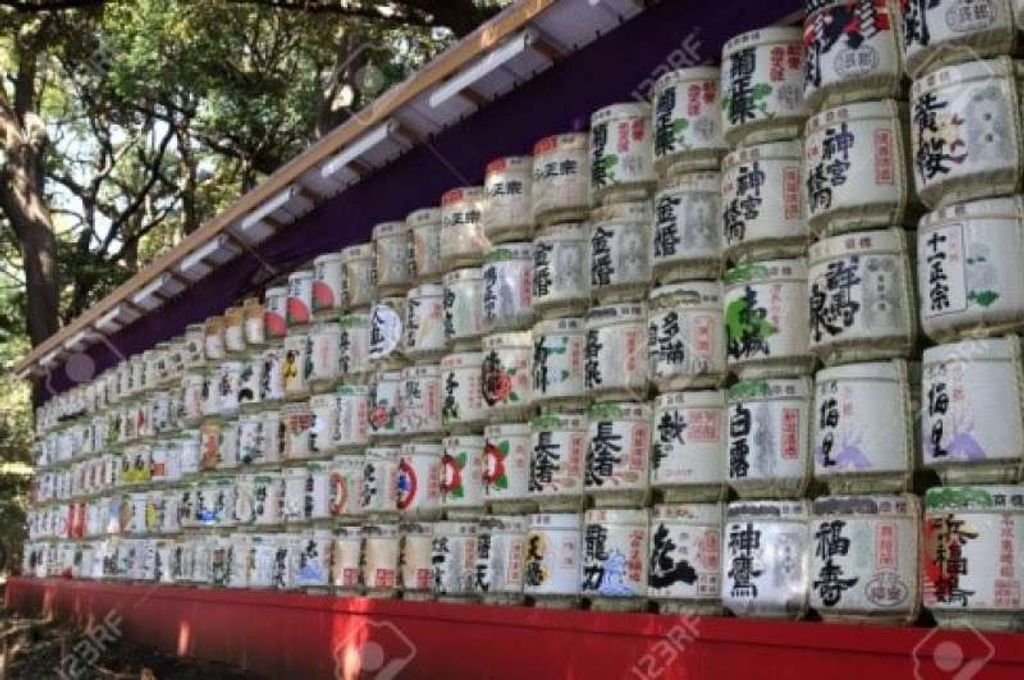 While passing through the Shrine to main hall, you will find an oasis of woodland.
This is an artificial oasis. This Shrine is surrounded by evergreen woodland that covers 700,000square meters.
In the beginning 100,000 trees were donated by people all over Japan. There are now 170,000 trees inside the shrine compound.
This was created as the first eternal forest in Japan using most advanced tree planting techniques.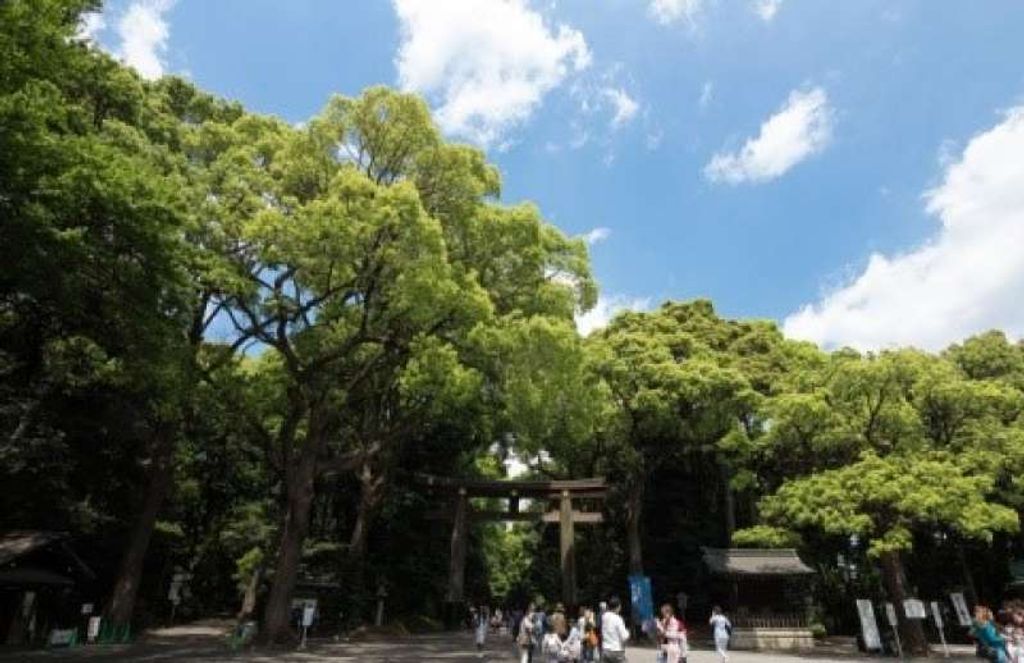 While walking through to Main hall, you will find the purification place called "Temizuya" in Japanese.
You have to purify yourselves there before praying in Shintoism.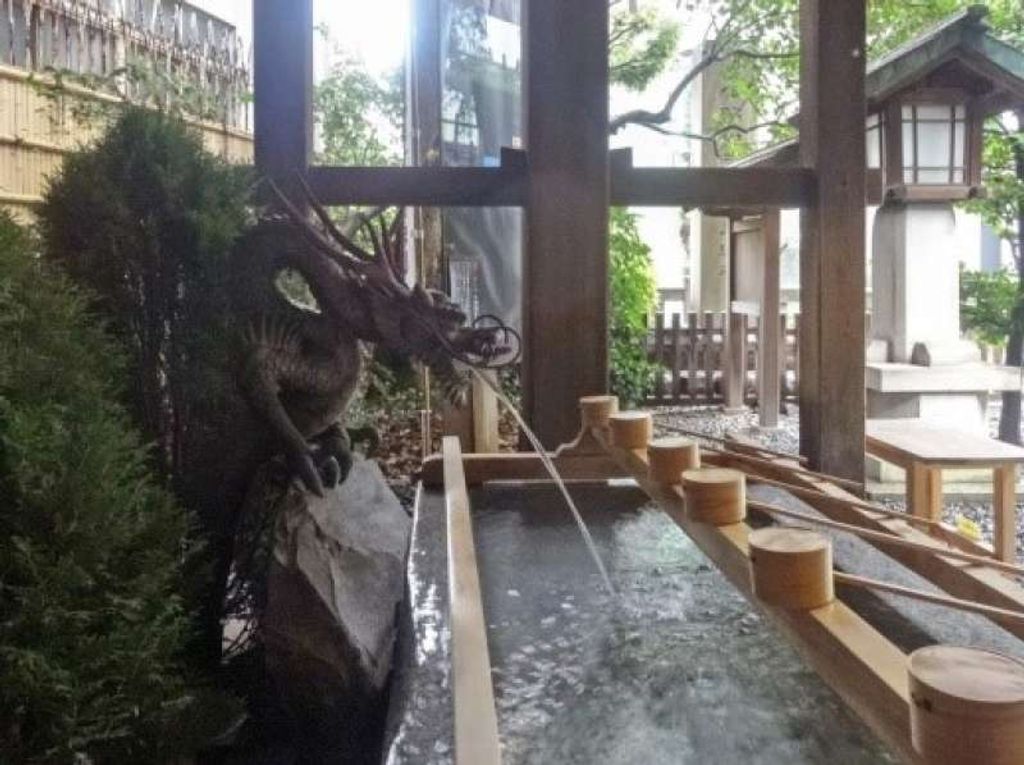 It will take around 20 minutes to walk up the approach path to the Main hall.
Meiji Shrine is listed as the most popular shrine for New Year's visits. The number of visitors is around three million.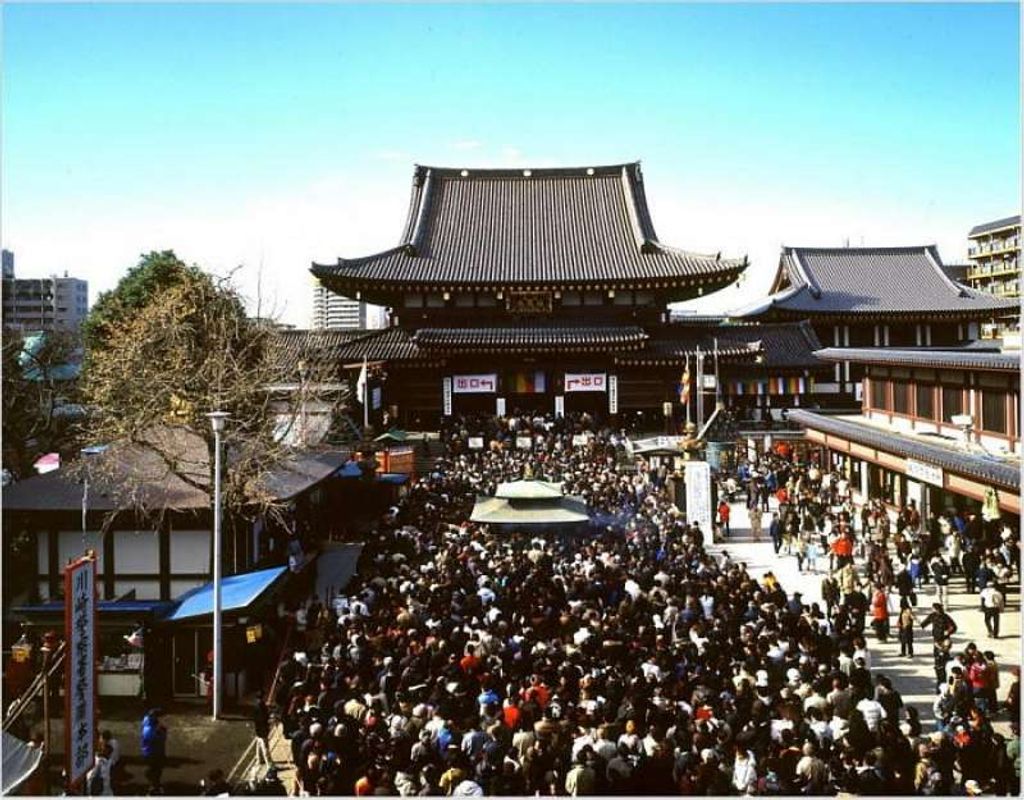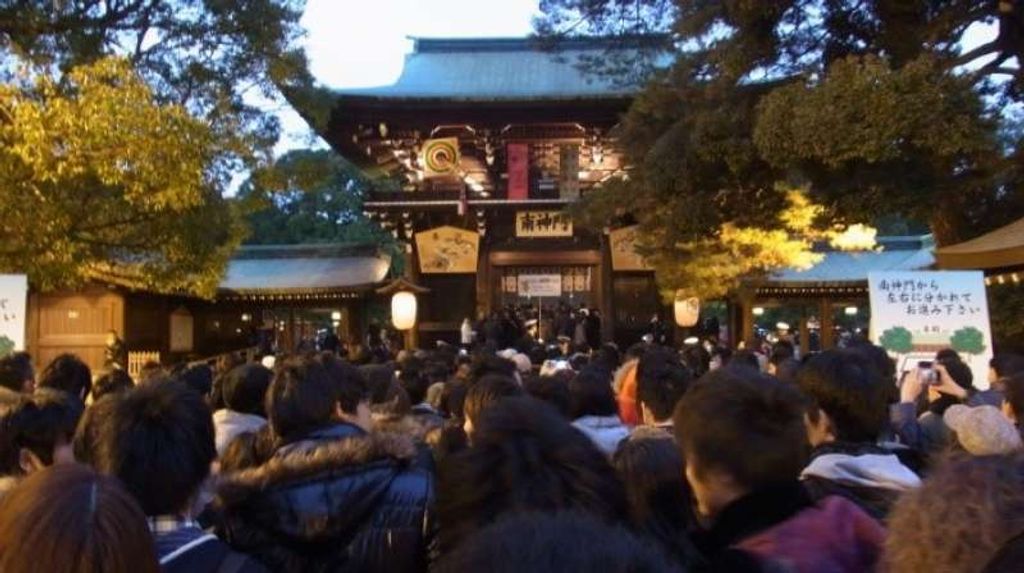 In front of the Main hall, you can find the pair of camphor trees which were donated when Meiji shrine was founded in 1920 and are called "Myotogi" meaning of Couple trees. You can pray for a good match for couples and the safety of your family.

(3) Asakusa:
a)Sensoji and Kaminari-mon:
This temple was founded in 628 and oldest temple in Tokyo. Around 30million people come to pray every year.
Kaminari-mon or Thunder Gate is the best symbol of Asakusa. There is a famous huge red lantern in the center of Kaminari-mon.
On either side of the gate, there enshrined Fujin (deity of wind) and Raijin (deity of Lightning).
This big lantern was re-built in 1960 by the founder of Panasonic / Konosuke Matsushita.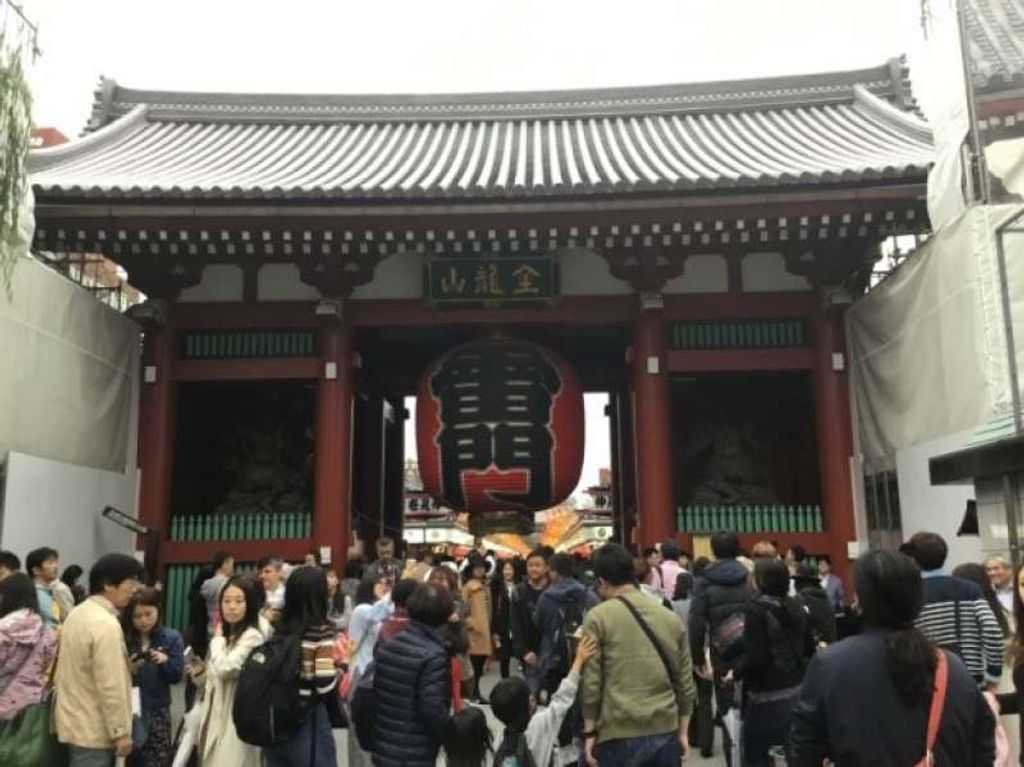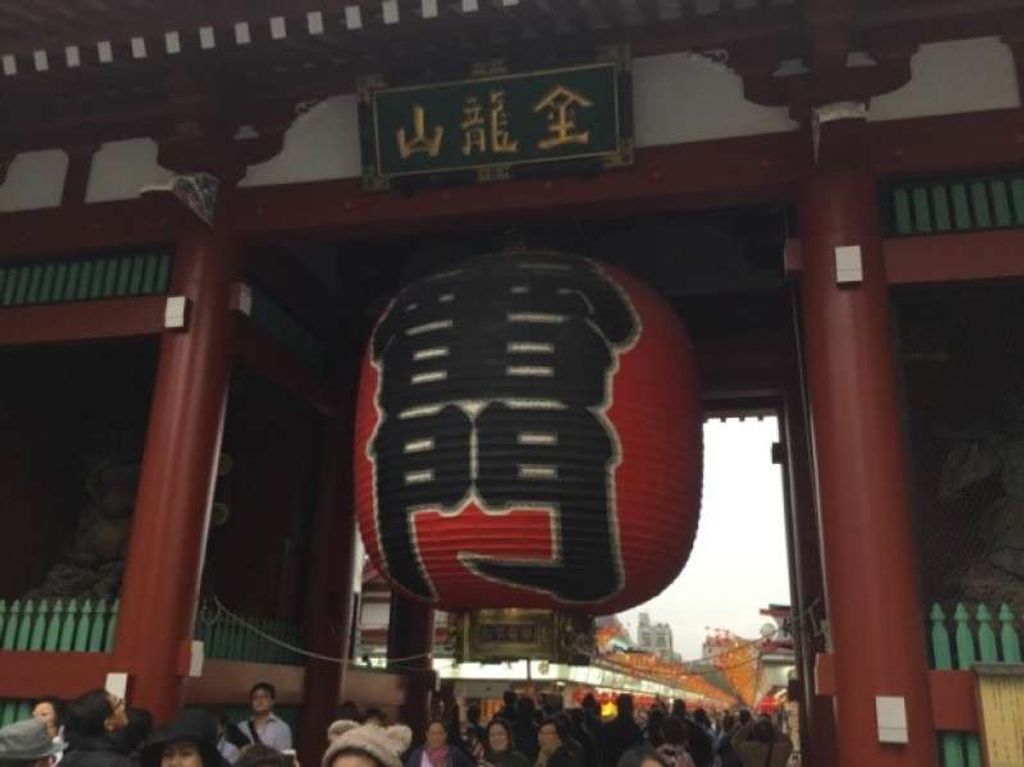 b) Nakamise-street
The souvenir shops of Nakamise-street are lined up from Kaminari-mon to Hozo-mon for around 205 meters. The number of the shops is 89 and they are selling souvenirs such as Kaminari okoshi, Ningyo-yaki, folding fans, beckoning cats, lanterns and Japanese Kimonos including light cotton Kimono called "Yukata".
Oldest historical cake in Asakusa: ningyo-yaki of Kimuraya-store :This shop started in 1868 and is located in Nakamise-street.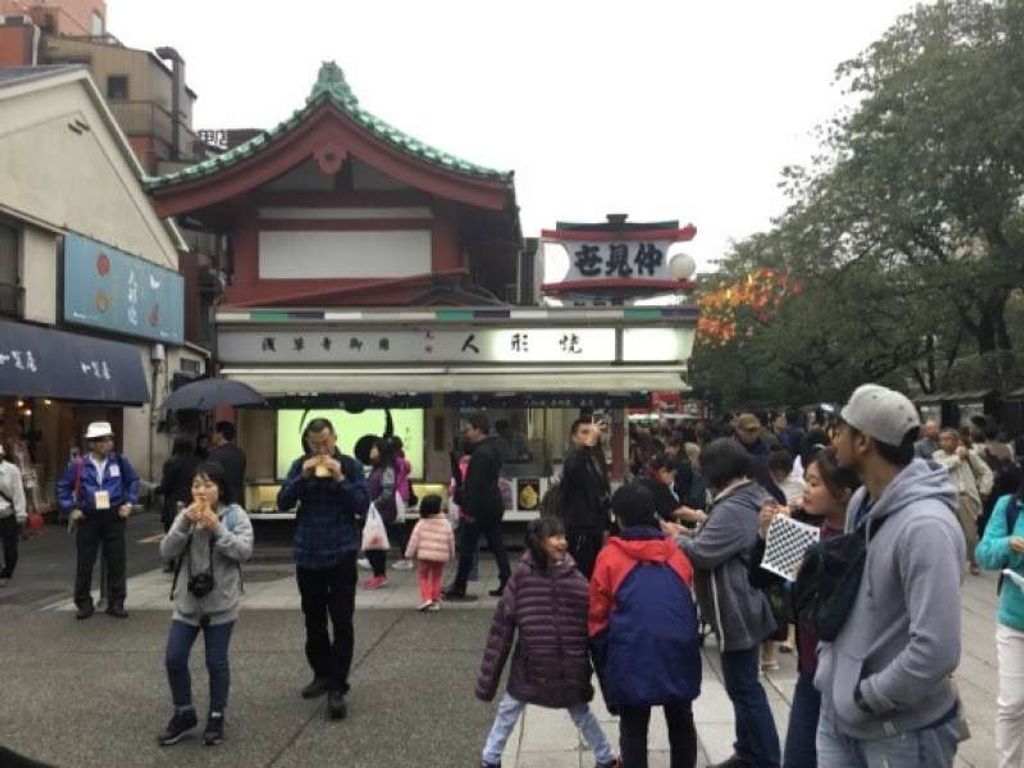 c) Hozomon
Hozomon is located inside Sensoji-temple at the middle path spot through to main hall.
This means "Treasure House Gate". On either side of the gate, there enshrined Deva Kings called Nio. These two Deva kings oversee everyone who enters the temple and keep the grounds safe.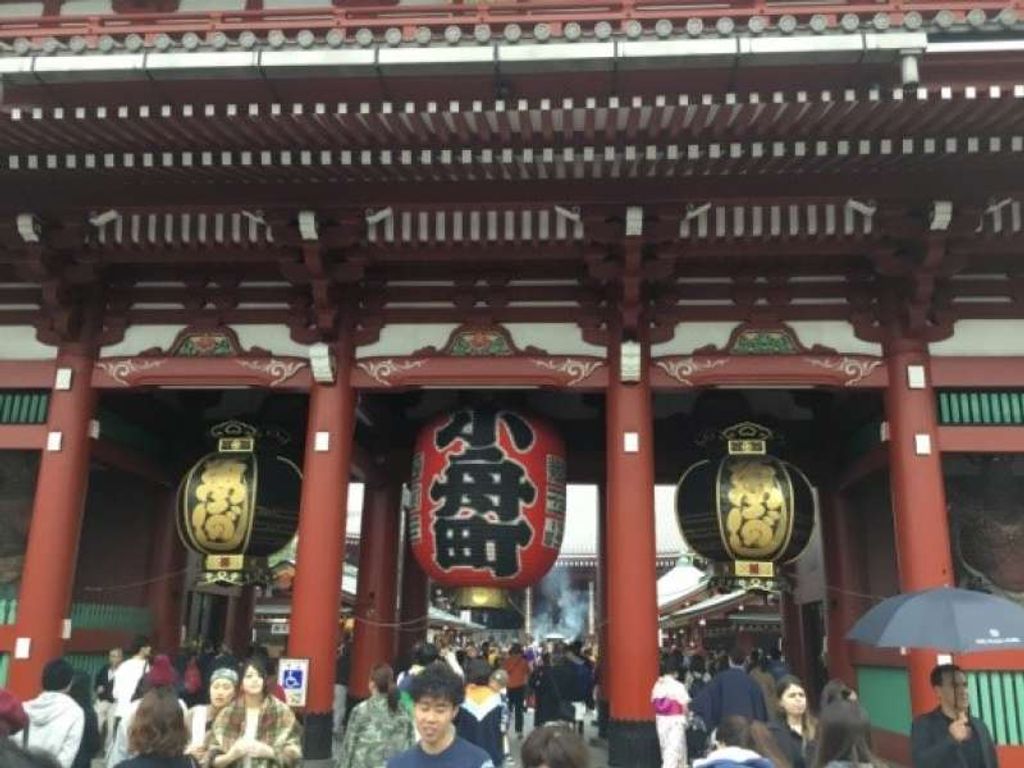 d) Five stories pagoda in Sensoji
The height of 53.32meter is the second highest in Japan next to that of Toji-Kyto. A small quantity of Gautama Shakamuni's ashes is symept on the top floor. From the bottom upward, each story symbolizes the earth, water, fire, wind and air.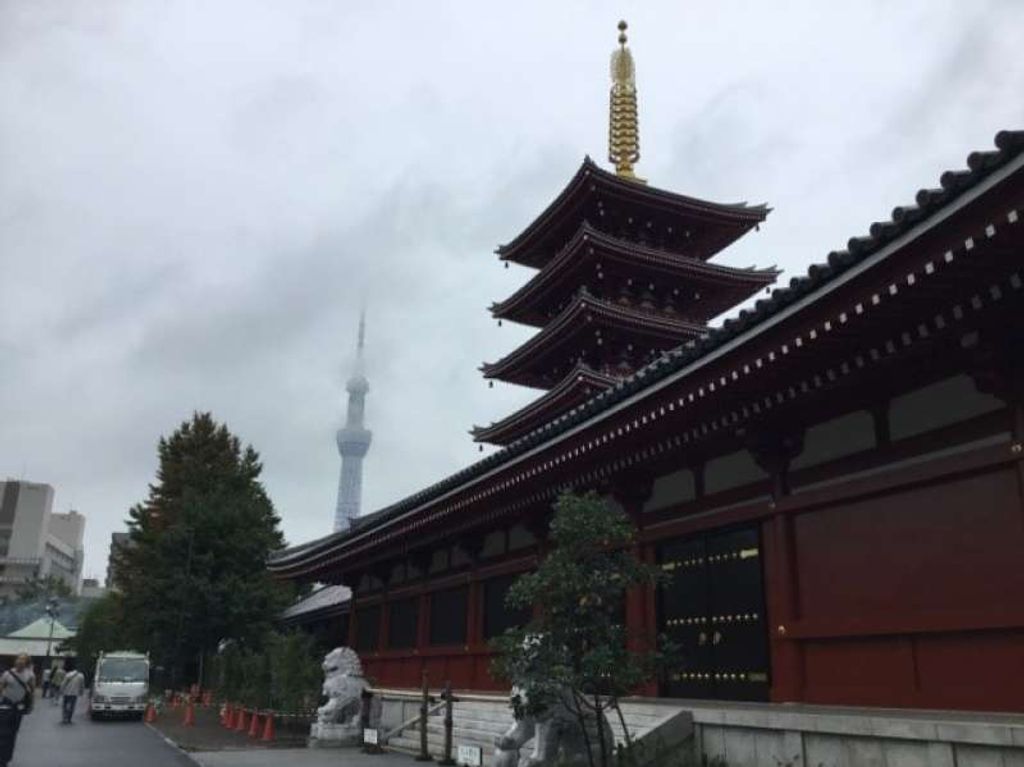 e) Main Hall of Sensoji
Three deities are enshrined in this Hall.
However, worshippers are not allowed to see the Kannon Bodhisattva which are hidden inside the hall. Those are called "Hidden Buddha". The Hidden Buddha can give you power by concealing itself.
The temple's monks gather at the alter to chant sutras three times a day at 6 am, 10 am and 2 pm each lasting 30 minutes.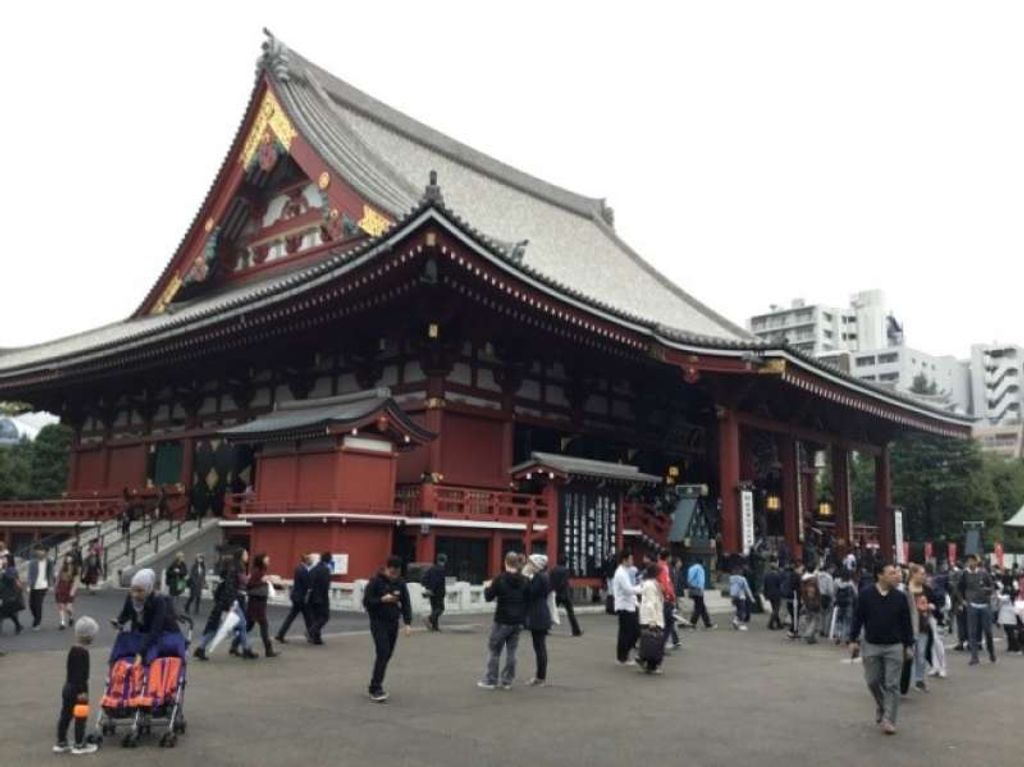 f) Asahi Breweries, Ltd. Headquarter buiding
You can see this building beyond the Sumida-river with outstanding architecture.
The brightening gold color object next to this building is called fire object which was designed by France famous designer Philip Sculp.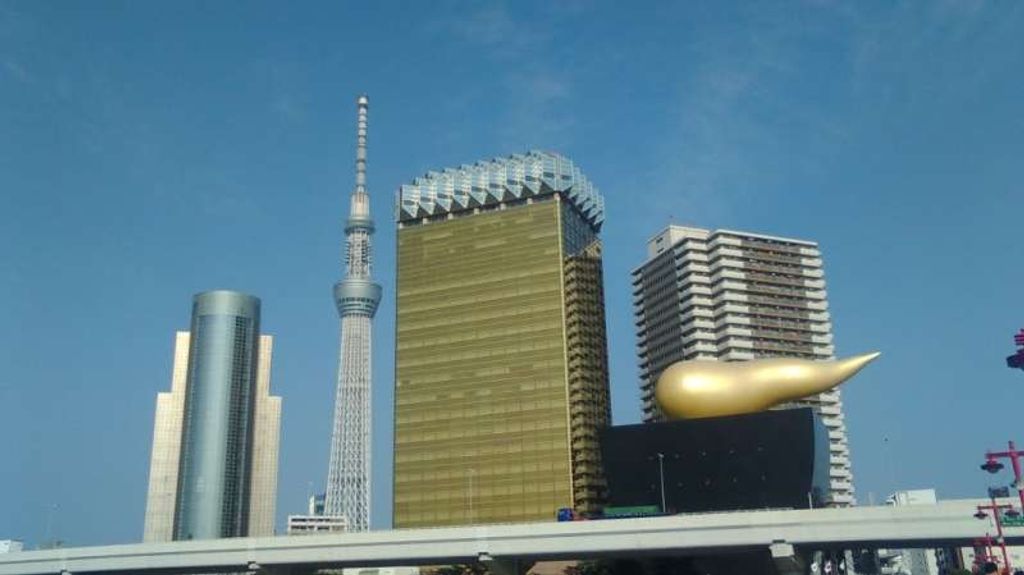 (4) Zojyoji temple
This temple is one of the representative temple in Tokyo and lots of people come here to pray.
This temple is the family temple of Tokugawa shogunate who established and had ruling power in Edo era.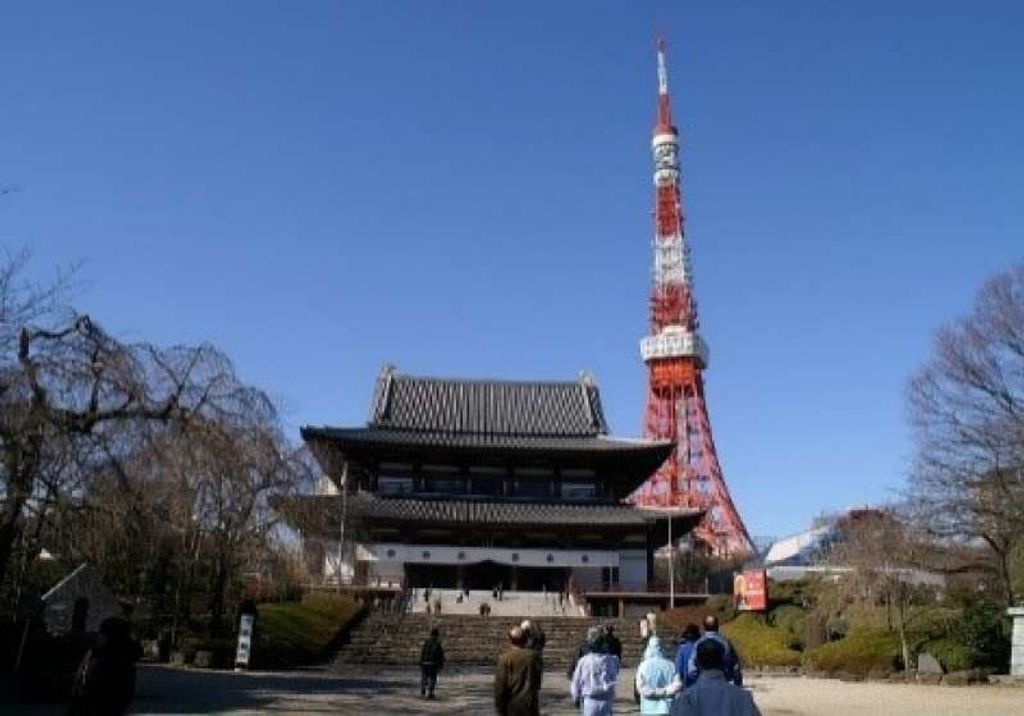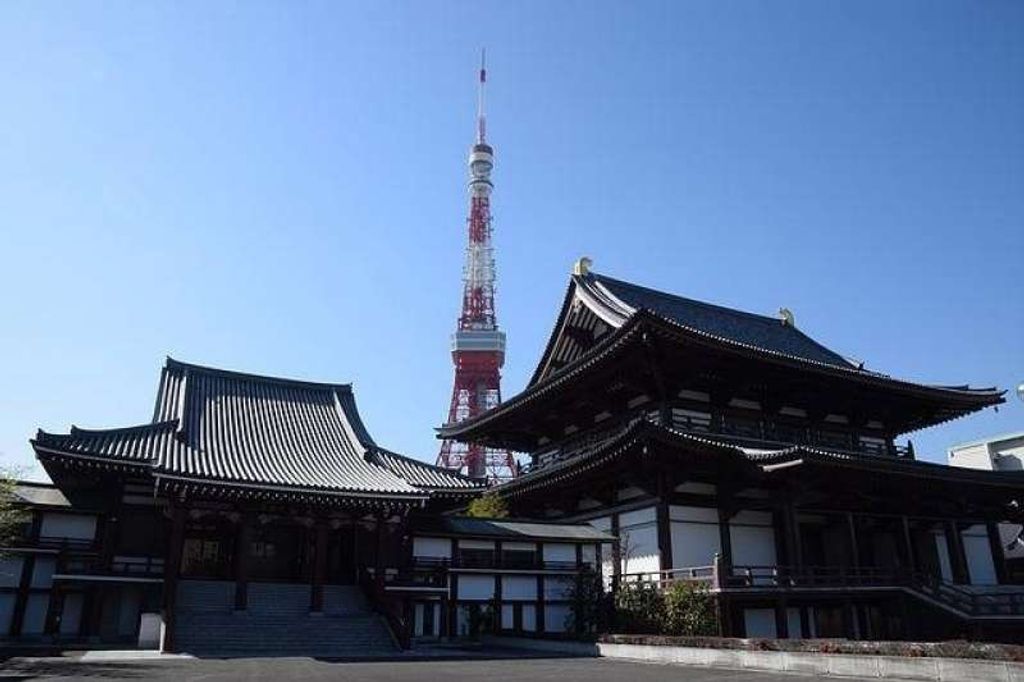 (5) Yasukuni shrine:
Yasukuni shrine was established to commemorate and honor the achievement of the people who dedicated their precious lives for their country. The name "Yasukuni" given by the Emperor Meiji represents wishes for preserving peace of nation.
Currently, more than 2,466,000 divinities are enshrined at Yasukuni Shrine.
There are souls of men who made ultimate sacrifice for their nation to join the various wars since the war occurred in 1853 related with Meiji restoration to World War 2. These people, regardless of their rank or social standing, are considered to be completely equal and worshipped as venerable divinities of Yasukuni shrine.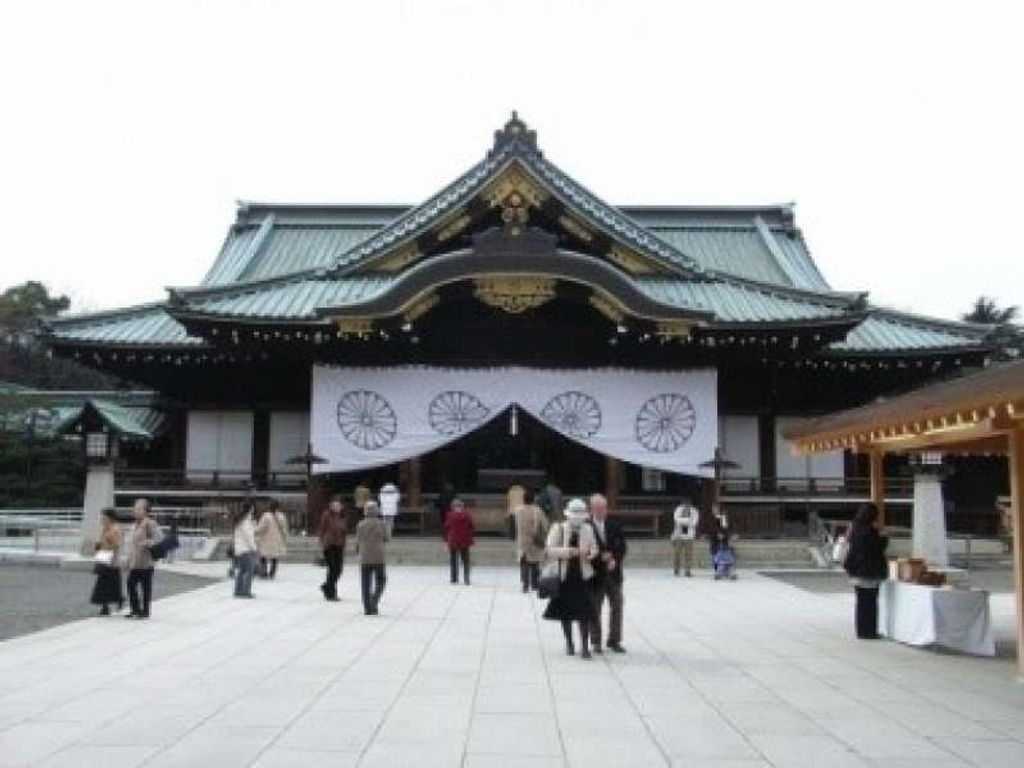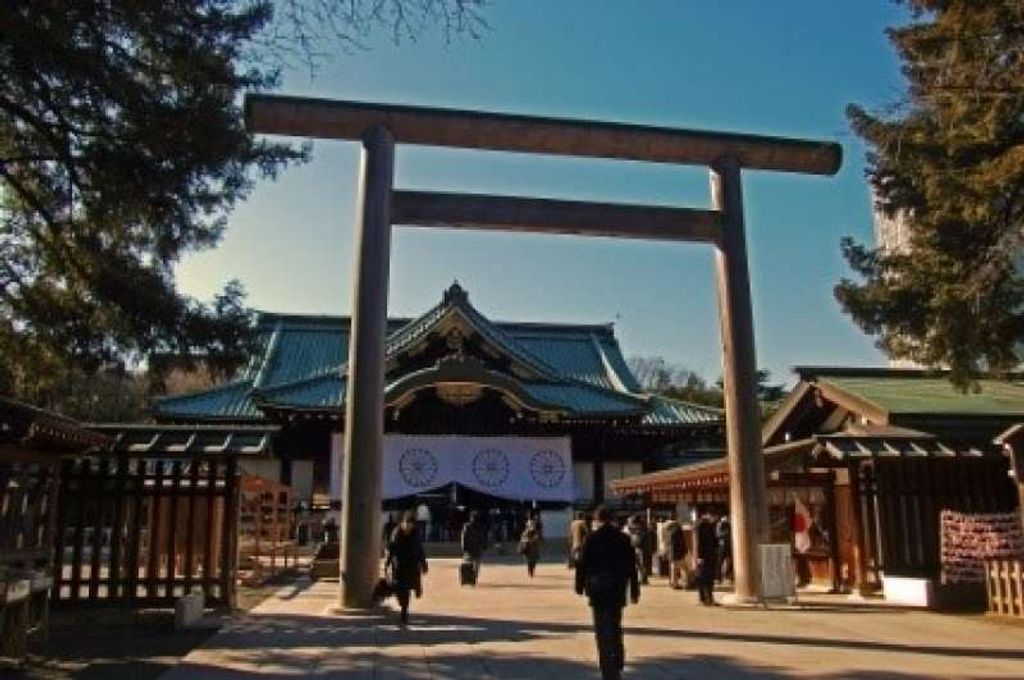 (6) Ueno Toshogu shrine
This shrine defies Ieyasu Tokugawa who established Edo era and was the top worriers in Japan.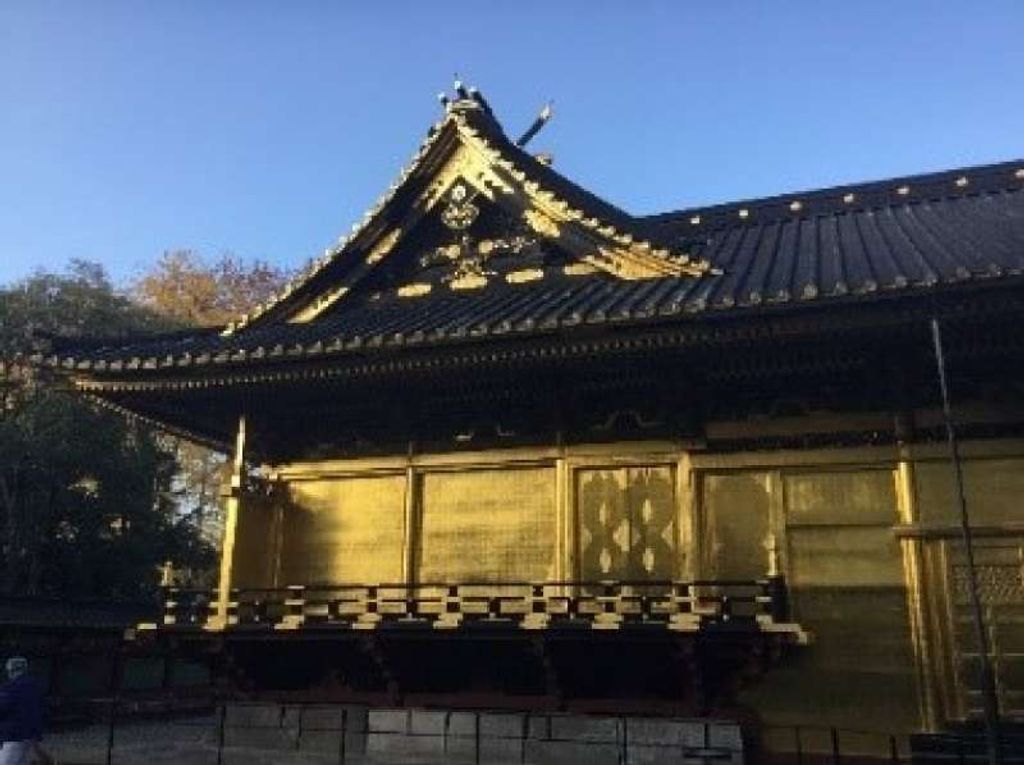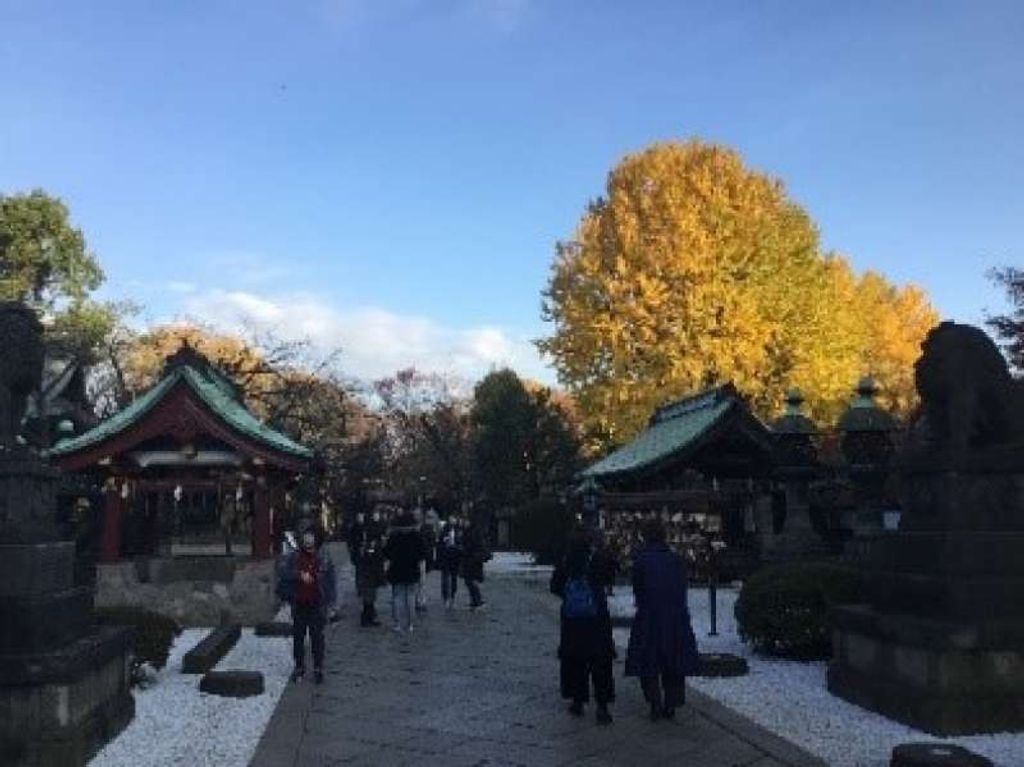 (7) Tomioka Hachiman Shrine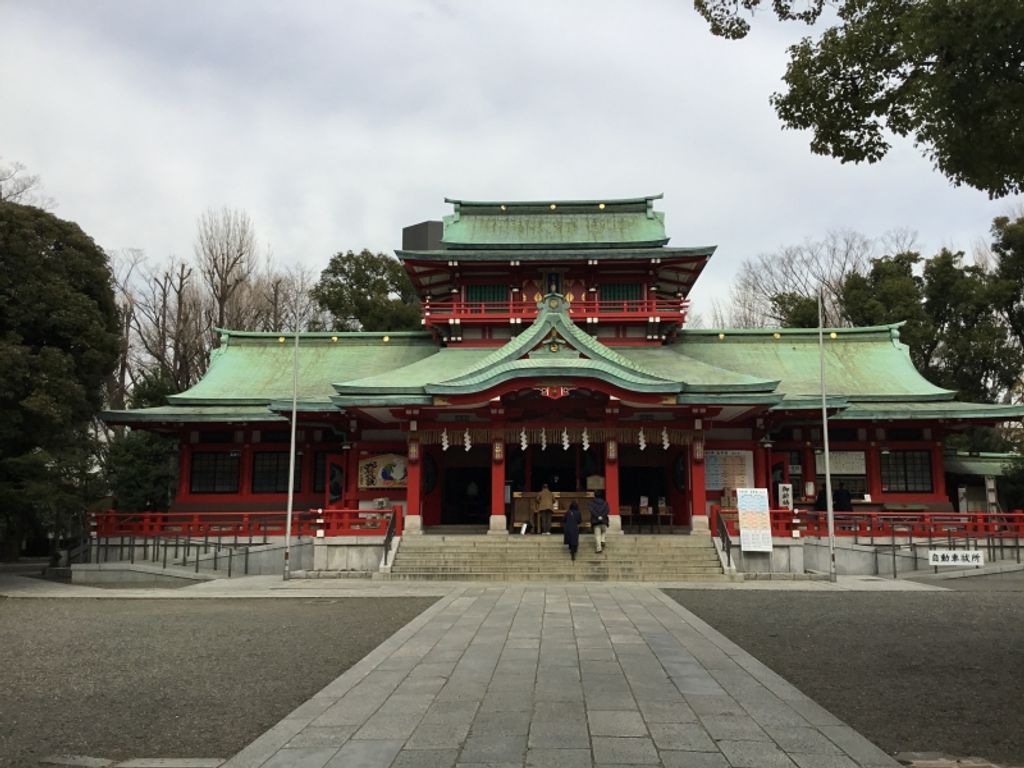 Tomioka Hachiman shrine was built in 1627 and the largest Hachiman shrine in Edo period, which has been widely worshipped by people who specially lived near the town on both banks of Sumida river. The festival of this shrine named as Fukagawa-Hachiman Matsuri is one of the three biggest festivals in Edo period. Other two festivals are Kanda and Sannou. 53 numbers of portable shrines go through the street with water bravely put on those. One of the main portable shrines is the biggest gold shrine in Japan. This shrine is also the origin of Sumo tournament in Edo period. During more than 100 years in Edo period, the sumo tournament had been held in the compound of this shrine and you can see the monuments of historical Yokozuna sumo wrestlers there. This shrine brings you various benefits such as traffic safety, business success , family& company safety and safe childbirth by your prayers.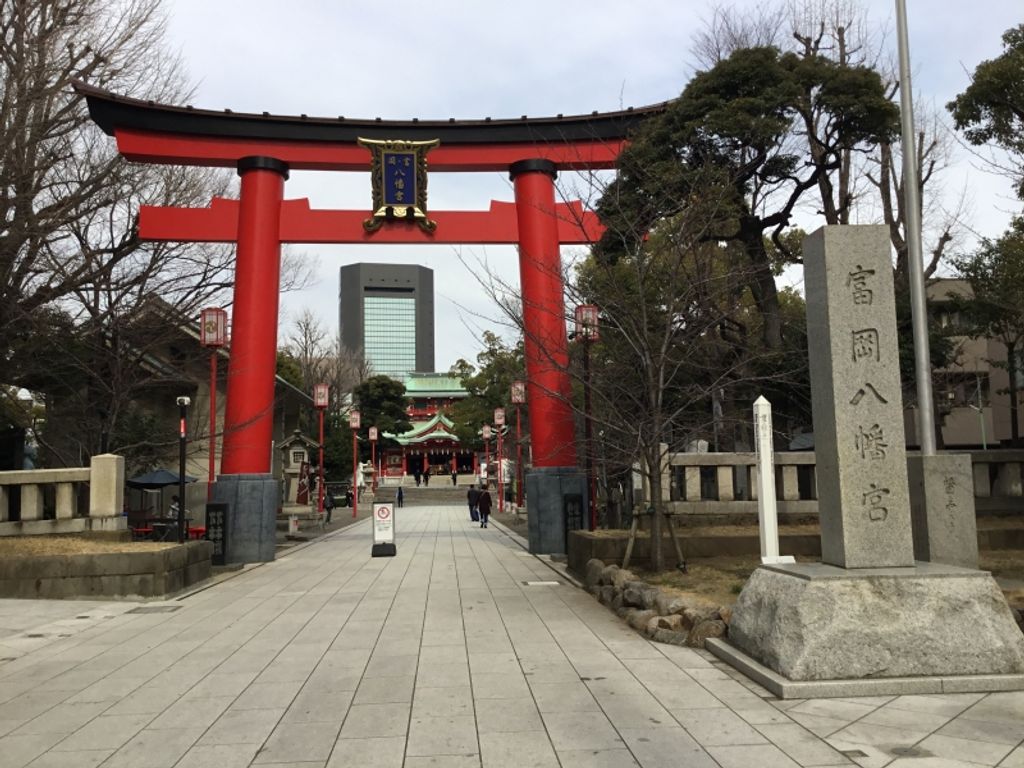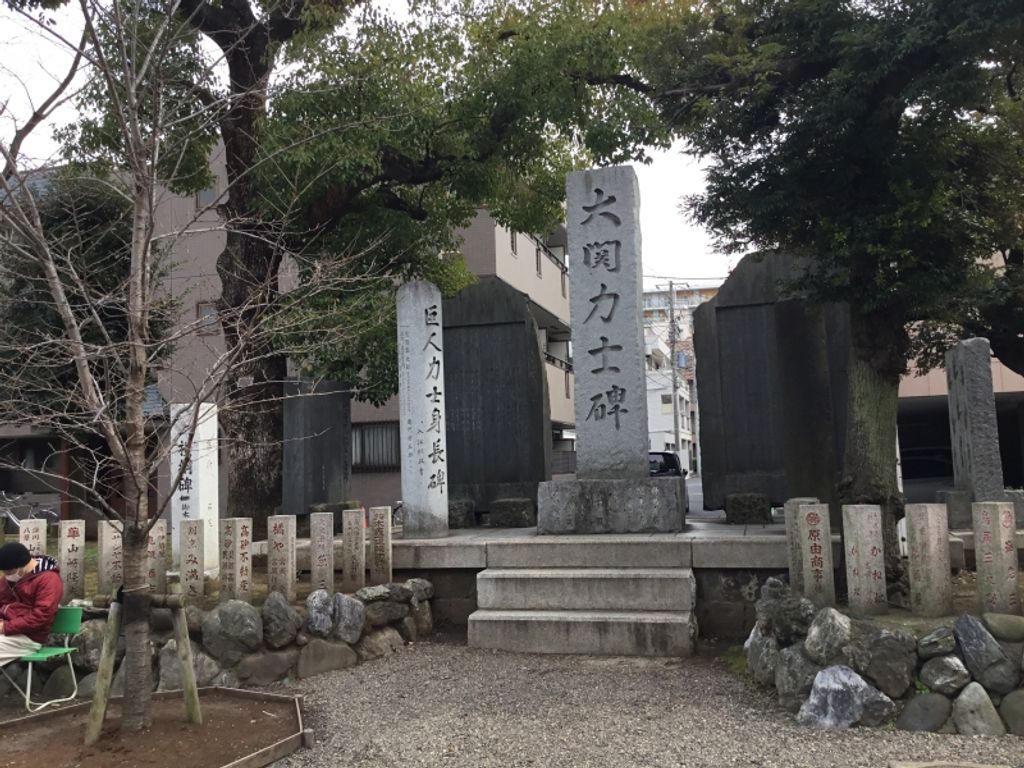 (8) Fukagawa-Fudoudo temple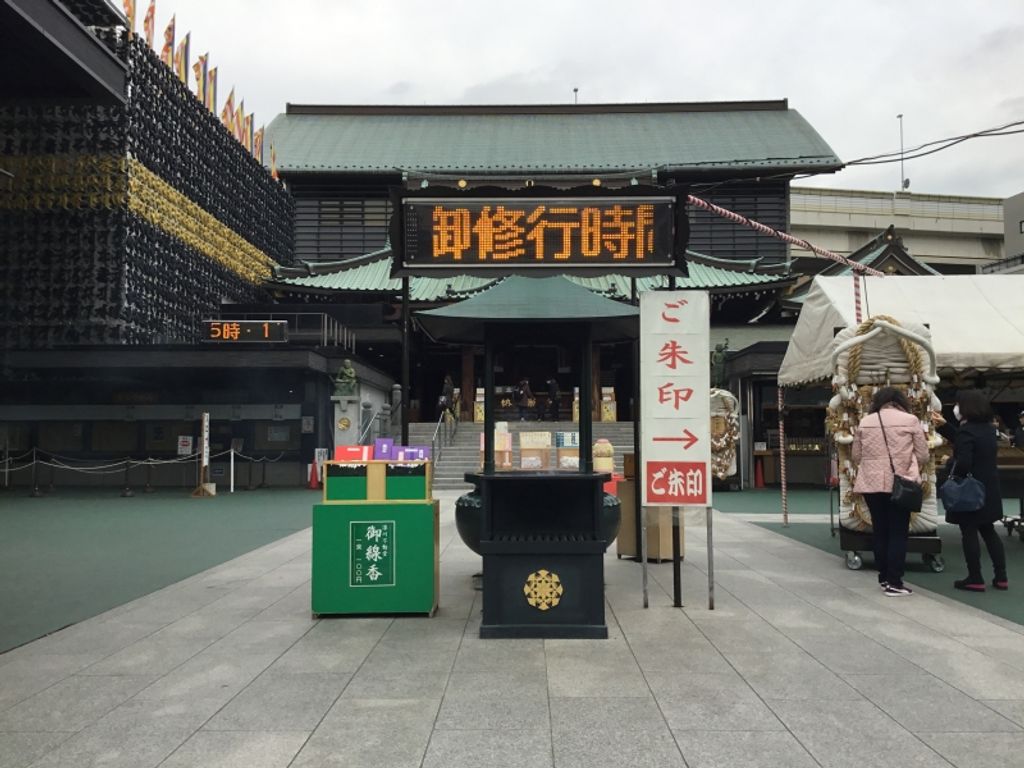 Fukagawa Fudoudo is the temple whose principle image is Acala.
The main hall was built in 2011 as the 310 years memorial project after foundation of this temple.
This main hall every day execute events in esotenic Buddhism called "Goma" where Goma woods which represent worldly desires are bonfire and burned up by fire of Acala wisdom. People pray for their wishes come true.
Anyone can join the ceremony. This ceremony make you feel overwhelmed by the full impact sutra chanting, sound of Japanese drum & conch and strong rhythmical sound.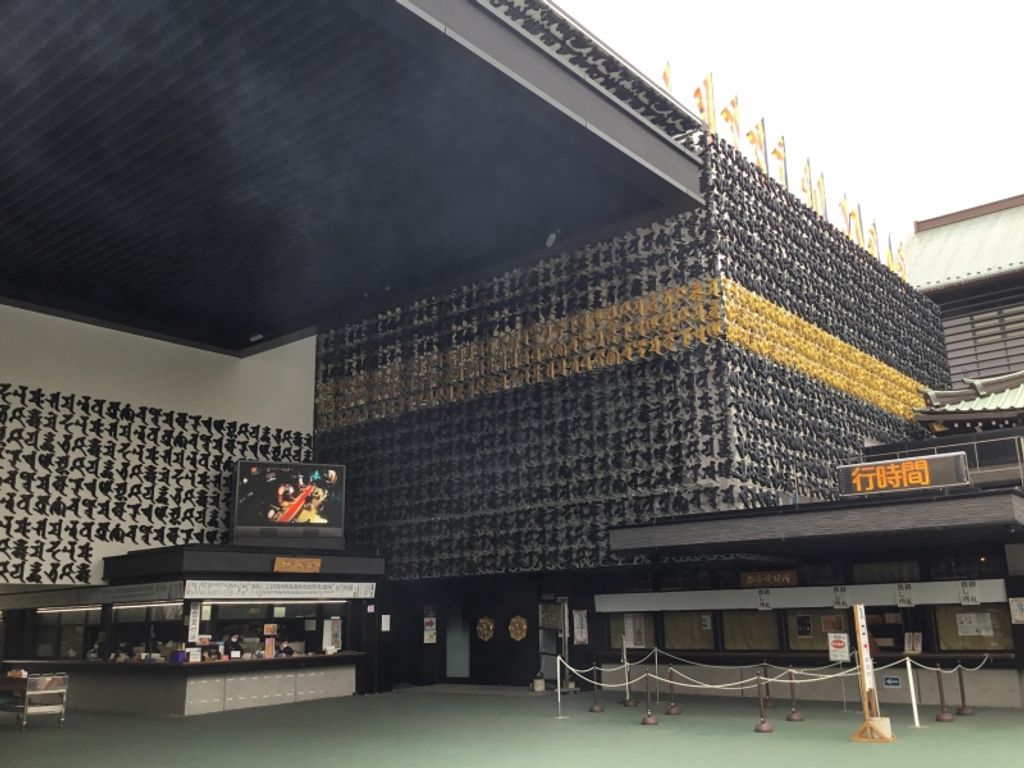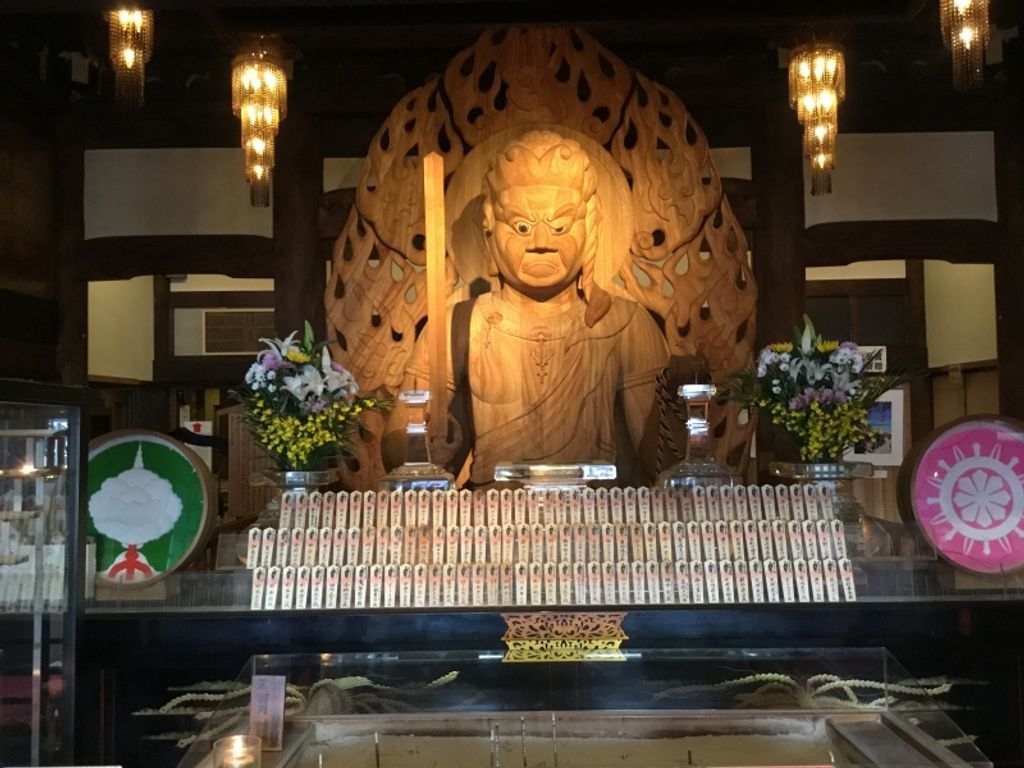 (9) Fukagawa Omotesando area
Tomioka Hachima shrine and Fukagawa Fudodou temple are built with closer each other in Fukagawa town area and in this area, there are lots of traditional stores lined up on the street such as Japanese cake & pickled. Also you can enjoy various gourmet and café.
The atmosphere of this street is similar with that of Kyoto and Asakusa, however the size of area is not so wide and not much crowded.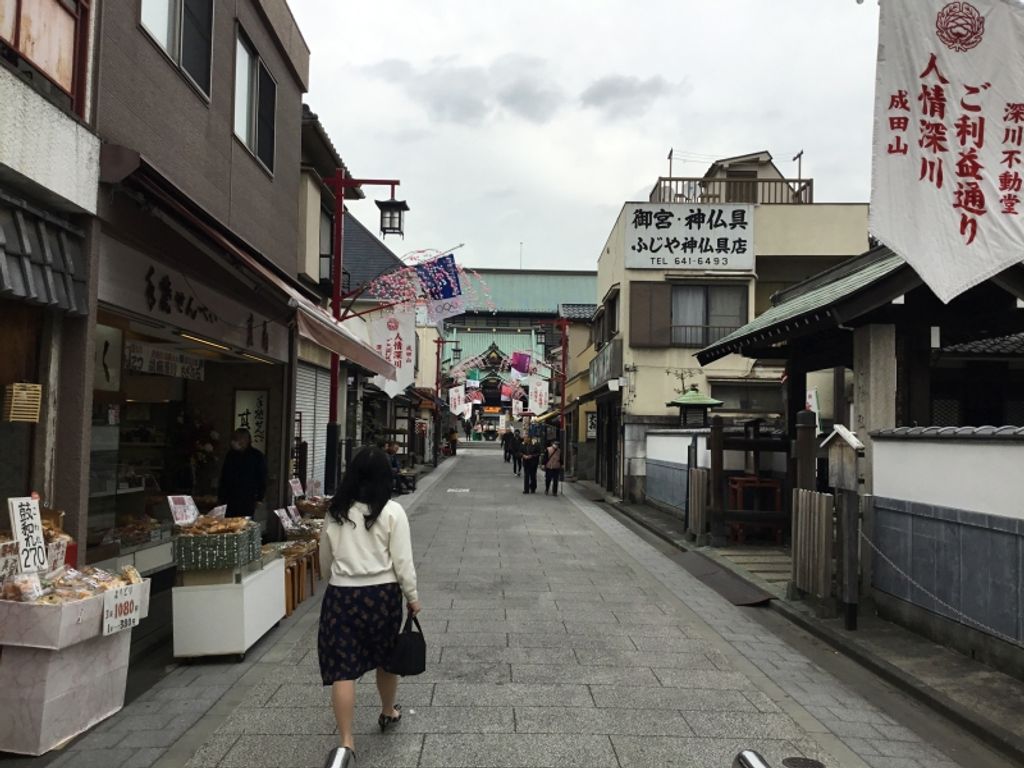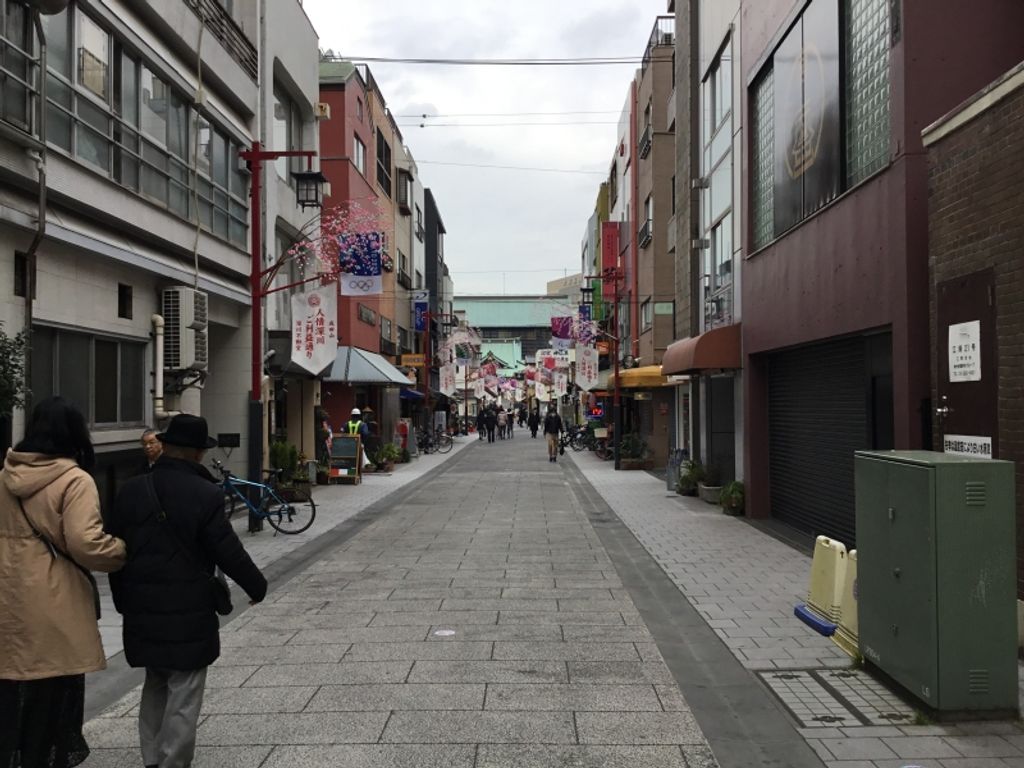 Sophisticated and Bustling area
(1) Omatesando:
Fashion building of Woodland in Harajyuku:
This is the trend mark of Harajyuku and around 140 shops handling Lolita fashion and recent trend cloths. You can get stimulation by the spots dispatching latest trend.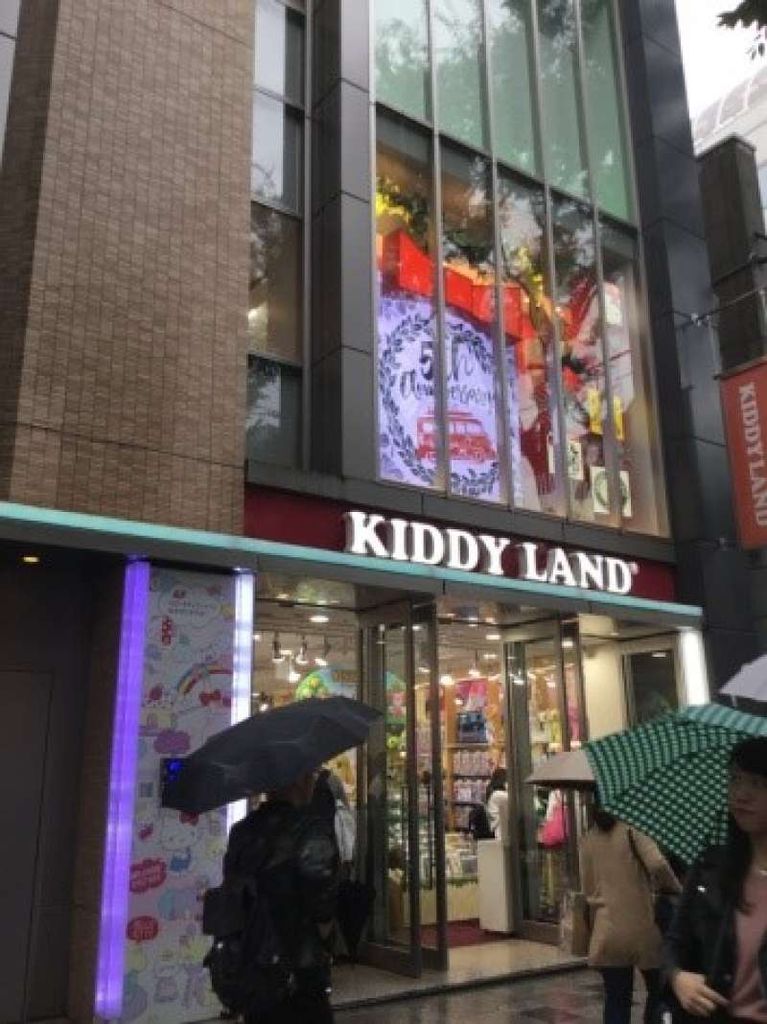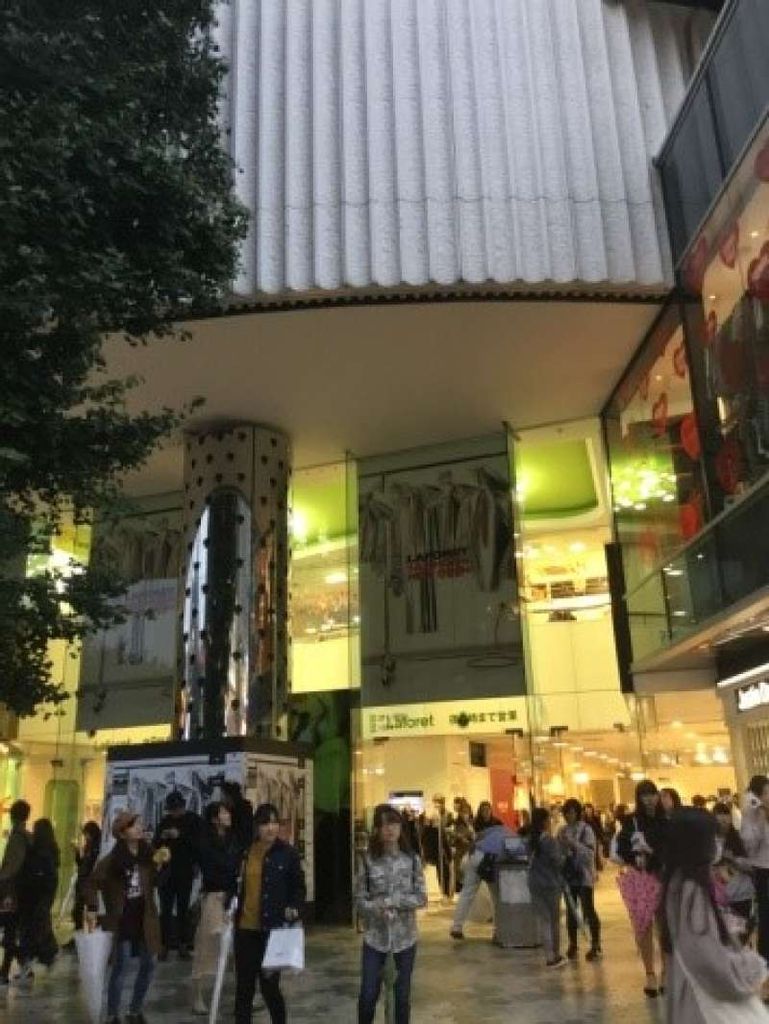 Cat street stretching north to south from the center of Omotesando:
There area bring you the sophisticated atmosphere with latest trend information.
You can make shopping with relaxed and happy mind.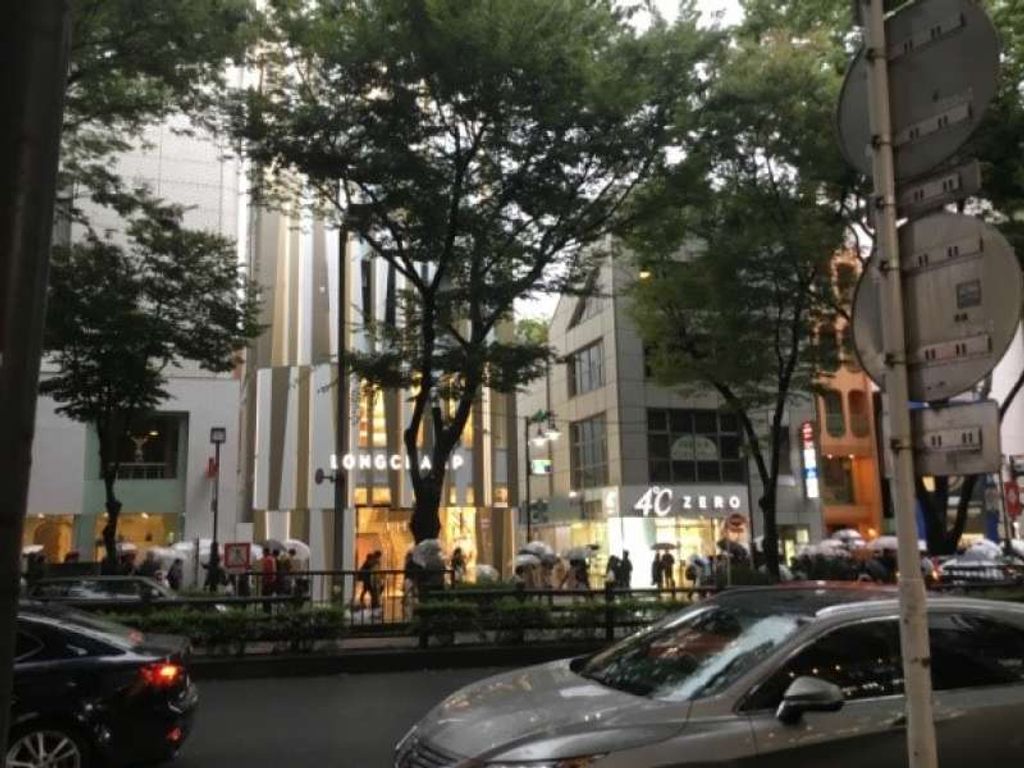 Oriental bazaar / Omotesando
Oriental bazaar is the souvenir shop located in Harajyuku / Omotesando.
This shop is selling various goods which you can feel Japanese culture and tradition ranging from reasonable price to antique such as Antiques, Furniture, Antique Kimono, Stationary Yukata and Fancy goods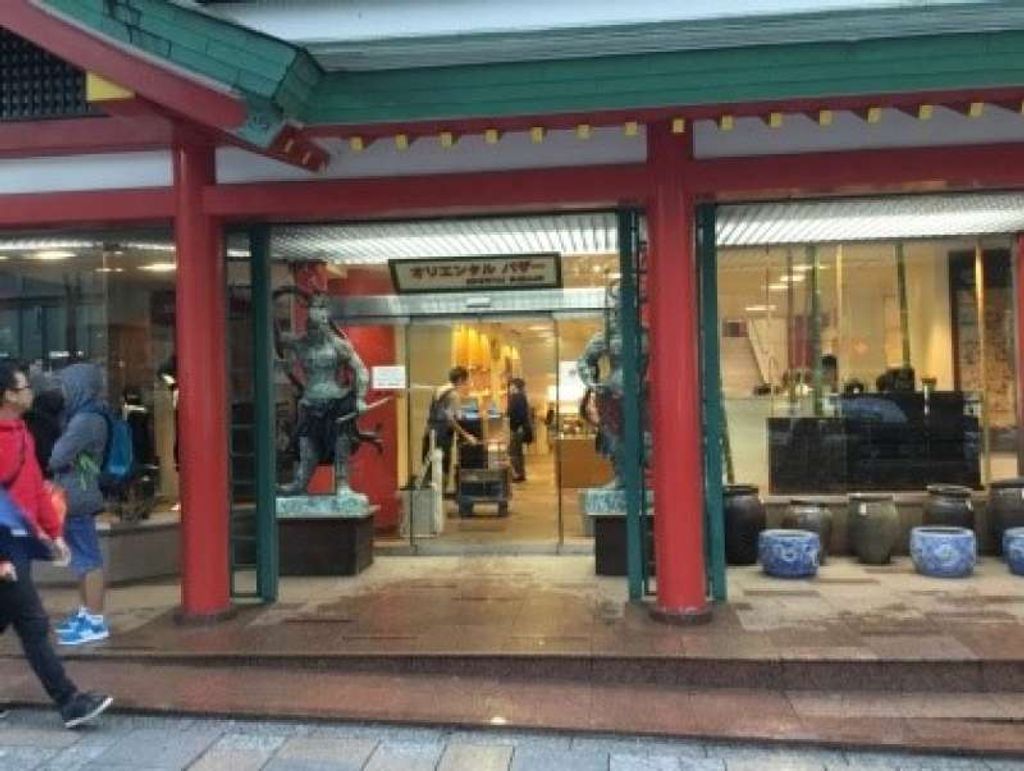 Omotesando Koffee shop Singapore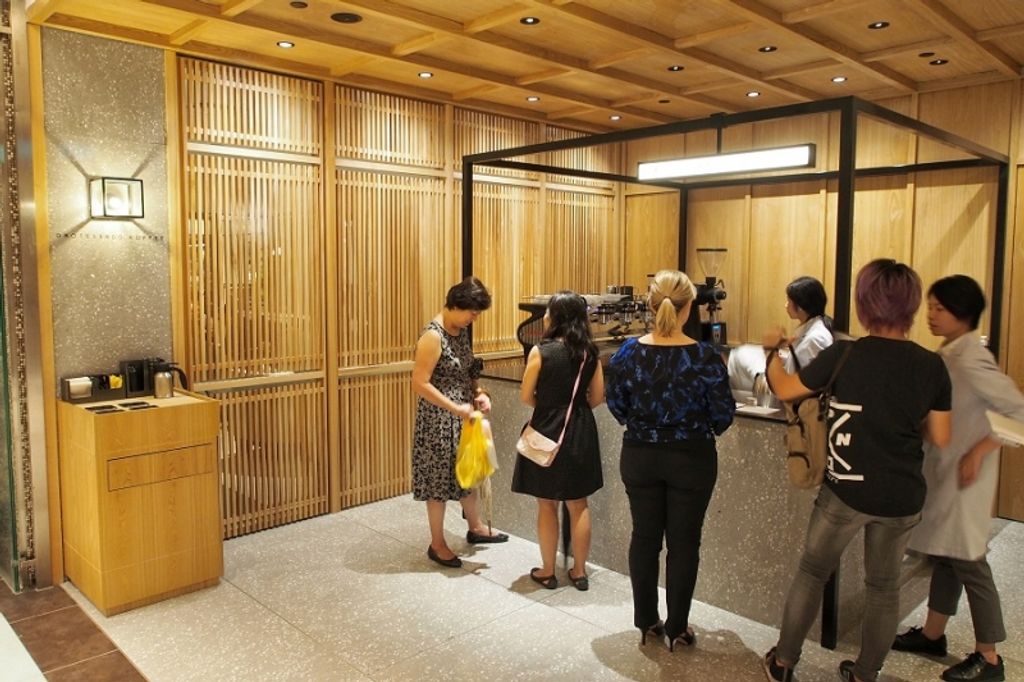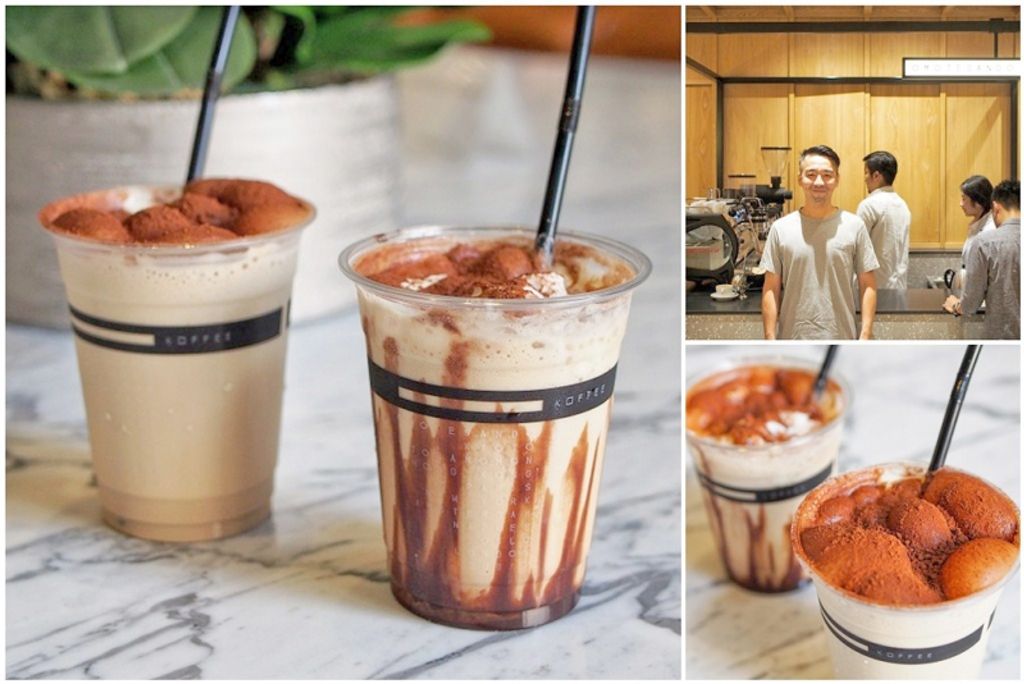 (2) Shibuya Crossing
Shibuya, teenager shopping area: Walking from Harajuku to Shibuya, you can see shop windows displaying the latest fashion for the young. And you can visit to Shibuya station to see the Hachiko statue and the 'human scramble' traffic crossing.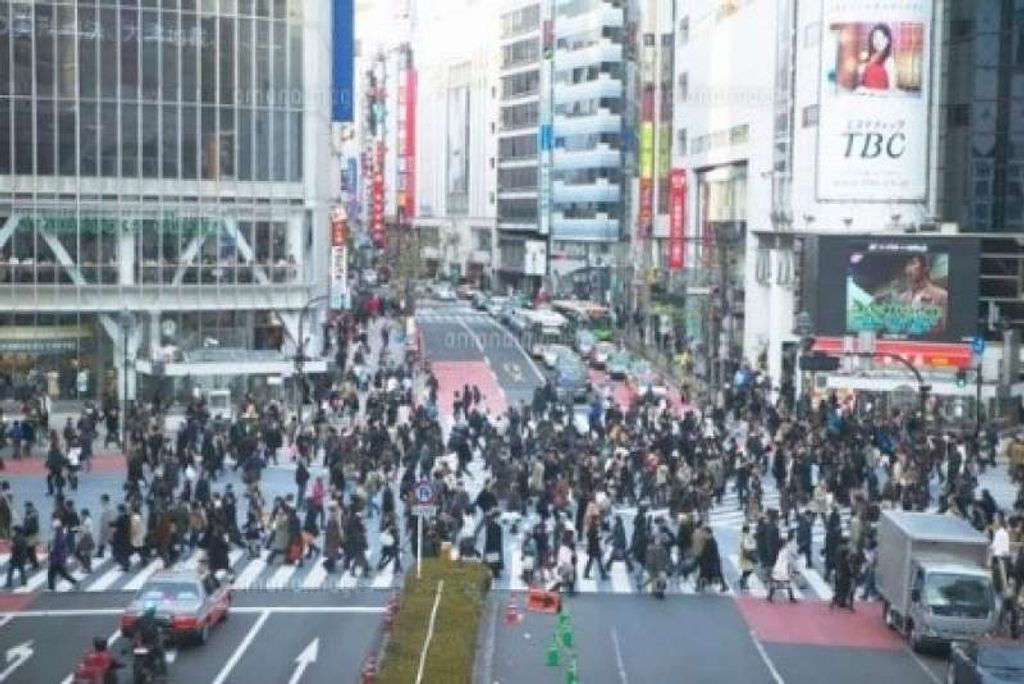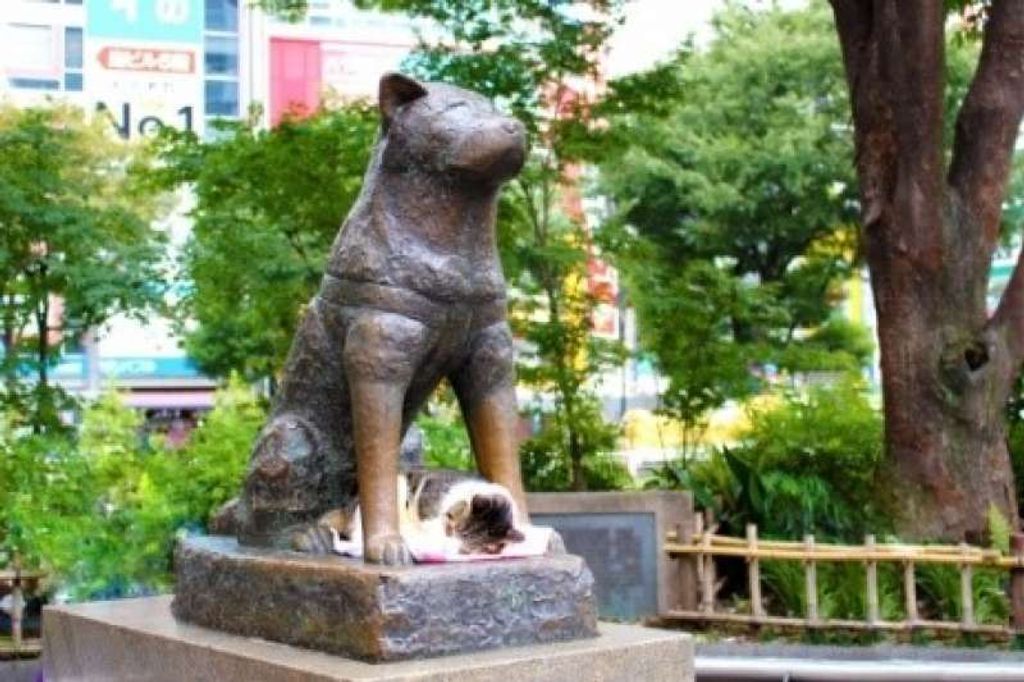 (3) Shinjyuku
Shinjuku Kabukicho: Kabukicho is the most crowded amusement area in Japan including Golden street (photo: below left), Godzilla sight spot (photo: below second left). Food restaurant, Manga-café, Izakaya-bar, Drinking bar, Pachinko parlor, amusement facilities such as Samurai Museum (photo: below second right) & Robot restaurant (photo: below right) , movie theaters and so-on.


(4) Ginza,
Ginza is the best graceful and sophisticated town in Japan where a lot of brand name shops are lined along the street and all kind of luxurious and delicious food restaurants are gathered. (photo: below left & middle) Kabuki Theater (photo: below right) is located in the eastern end of Ginza that was built in 1889. You can enjoy not only attending a performance but also lots at the atmosphere including the Kabuki gallery on 5th floor.


Kobe beef introduction (Blog)
(5) Roppongi:

a) Roppongi Hills Tokyo city view: This view is located in the center of Tokyo and it has indoor observation gallery whose altitude is 250 meters andOutdoor observation gallery whose altitude is 270 meters.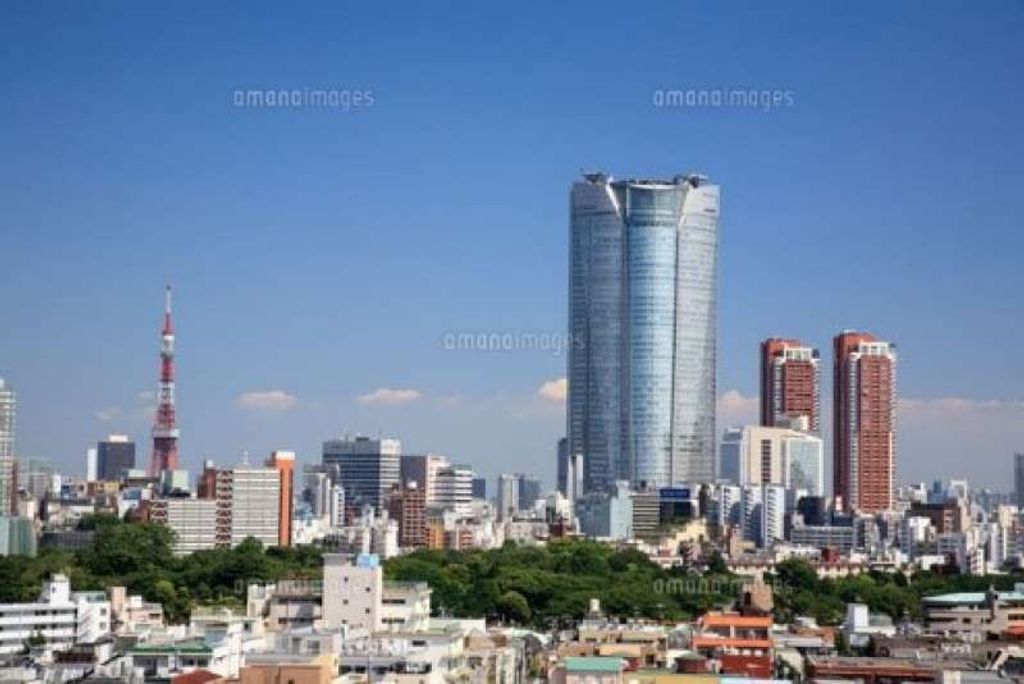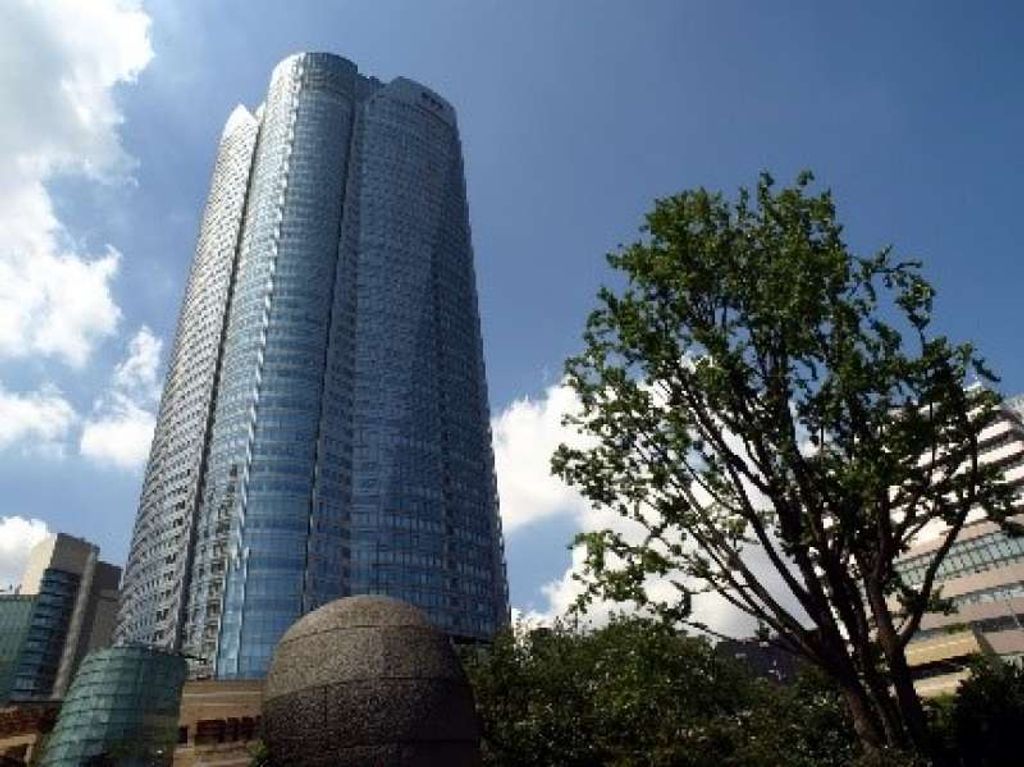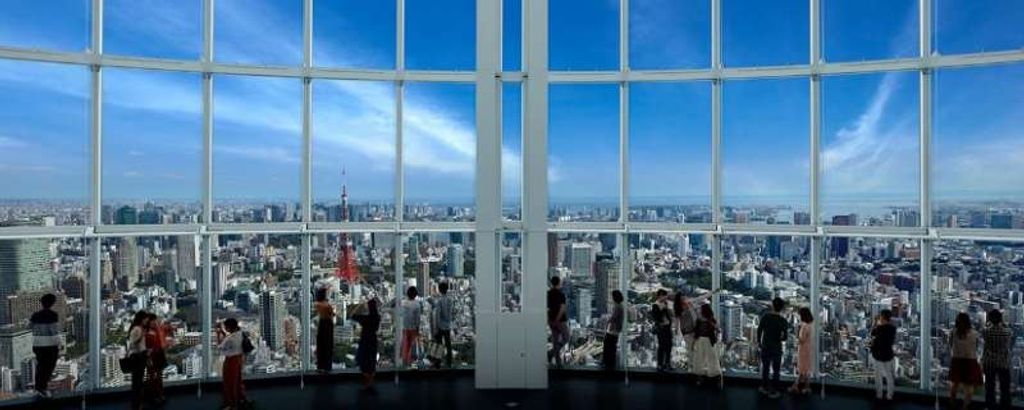 b) Mori art museum: Memorial exhibits of 15th anniversary of the museum as Japanese architecture which all over the world has been fascinated "what the gene of The craftsmanship has created and contributed ?"
Recently, world people have pay attention to Japanese architecture. There are many architects such as Kenzo Tange, Yukio Taniguchi, Tadao Ando and so-on have been highly evaluated from globally. The reason is that Japanese architecture has been created based on the traditional supreme technology from ancient time-flame that include unprecedented original idea and expression.
This exhibit consists of nine characteristic booth which are considered to be the key to understand Japanese culture.
You can see precious architecture materials, models and experienced type of installation as 100 projects and more than 400pcs of exhibits.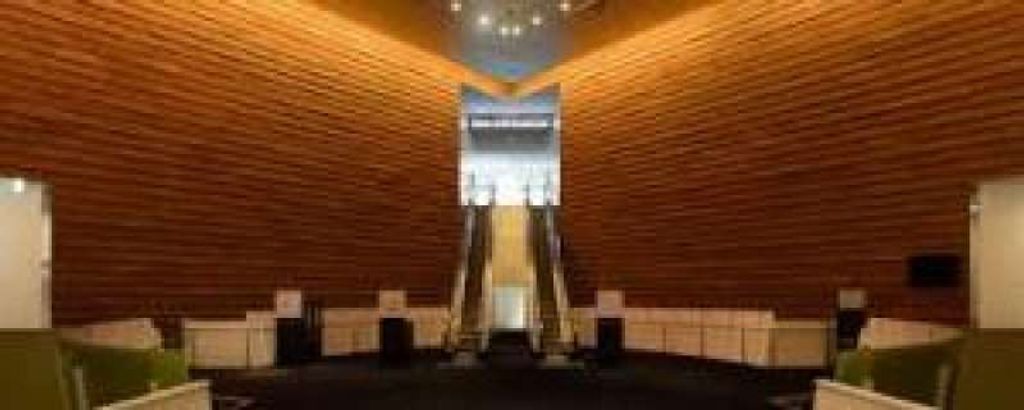 c) Museum of sea earth: By focusing sea, the exhibit shows the strangeness of earth for past, present and future.
You can feel as if you are inside the sea by space direction and using Digital glove.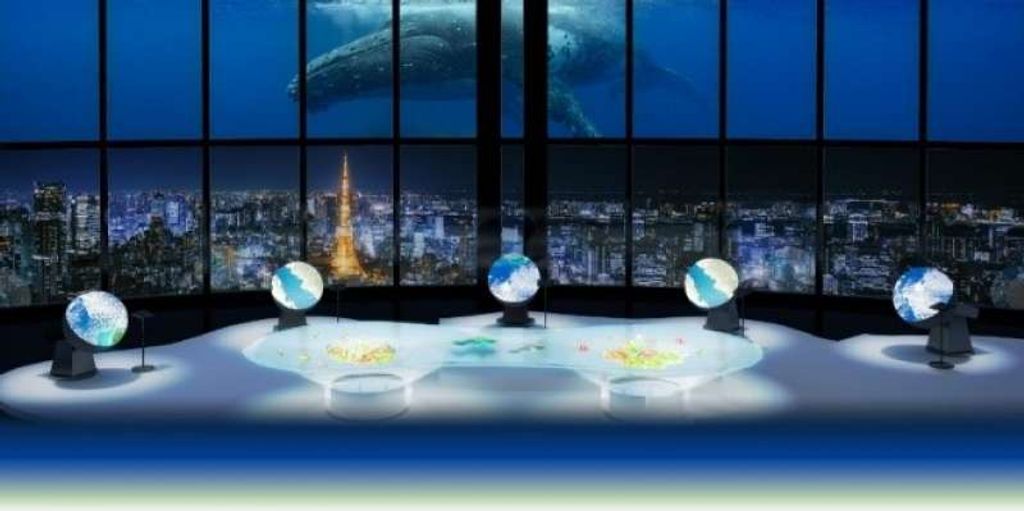 d) Shopping in Roppongi Hills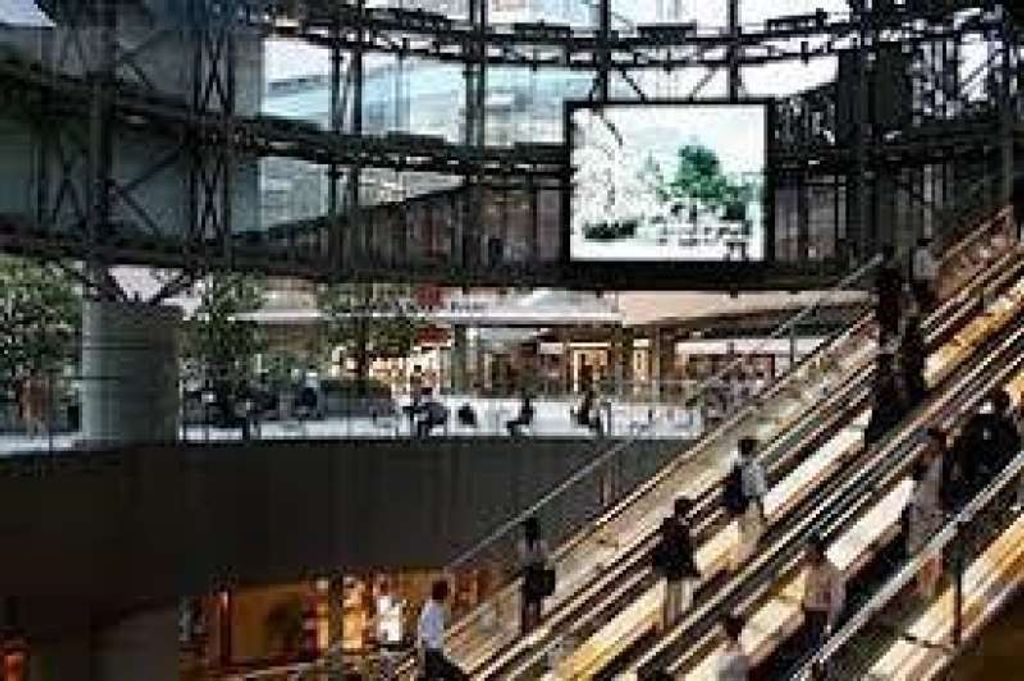 Kobe beef introduction (Blog)
Theme park:
(1) Ueno zoo inside Ueno park enjoying animals including Panda.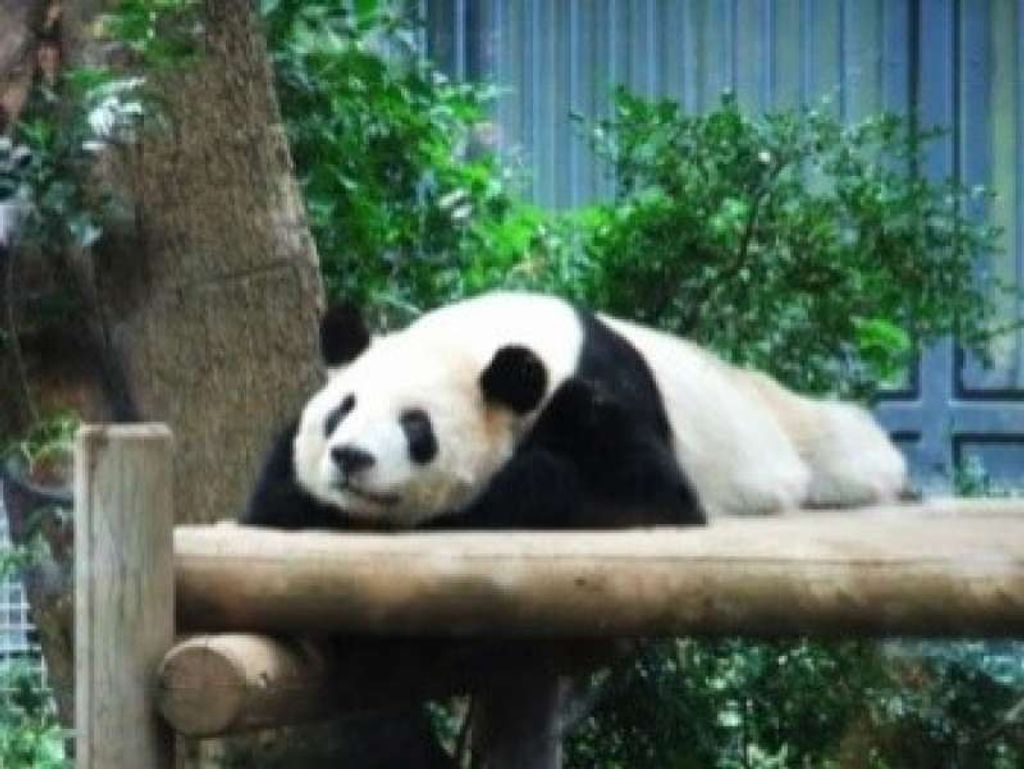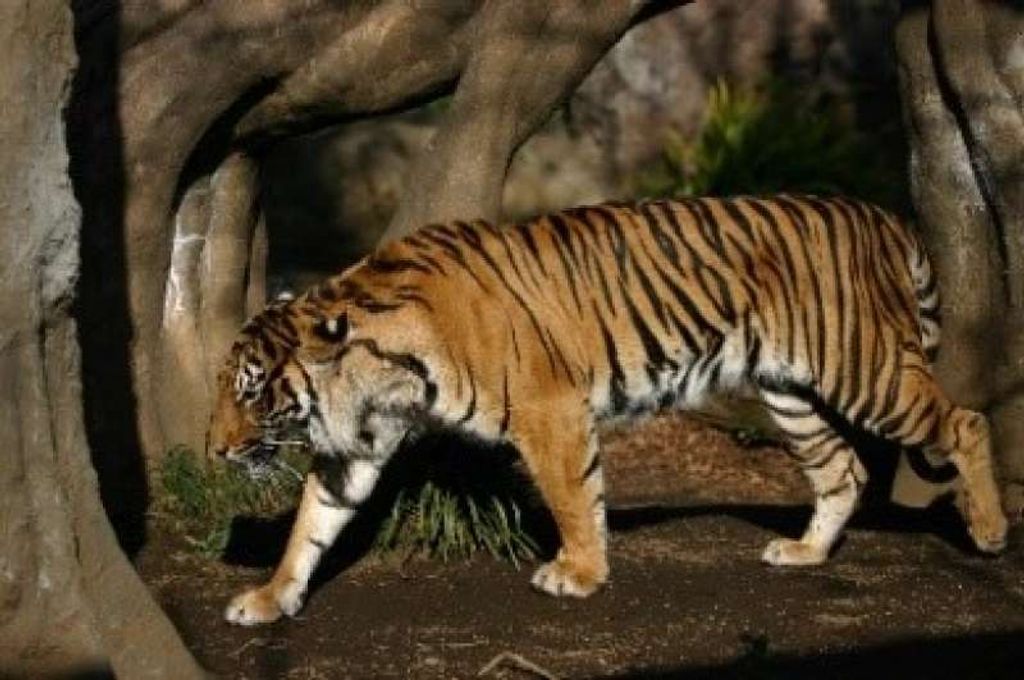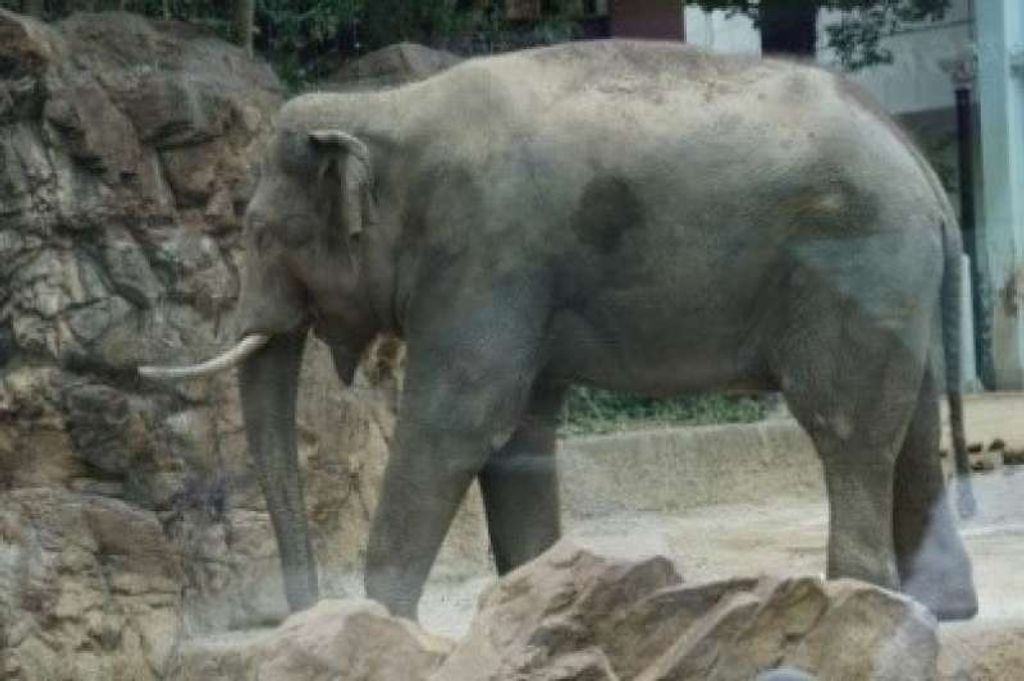 (2) Tokyo Disneyland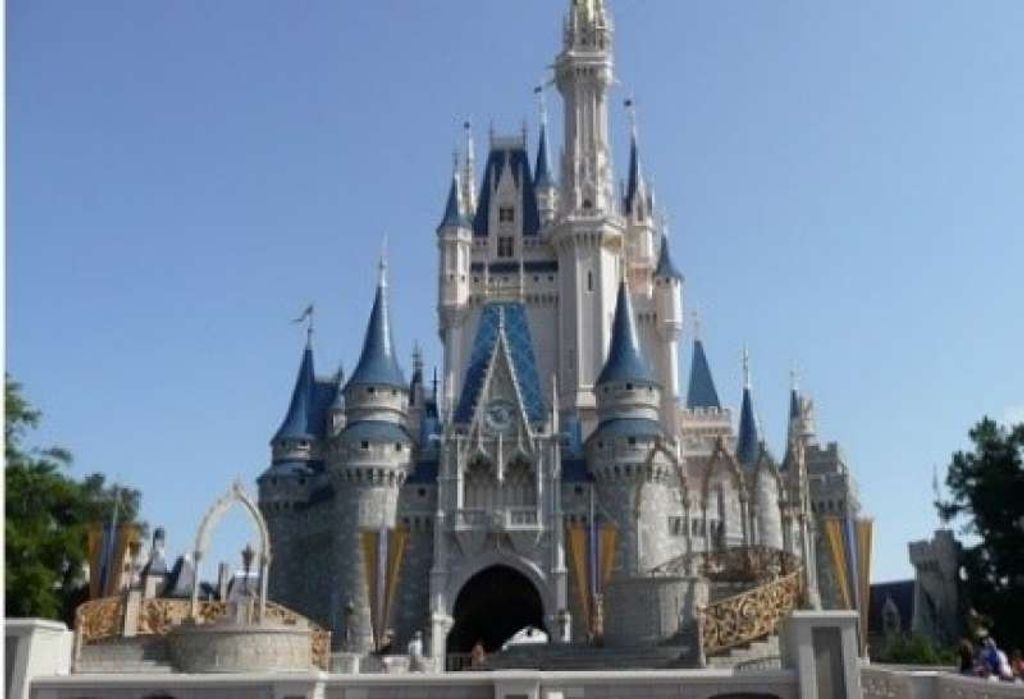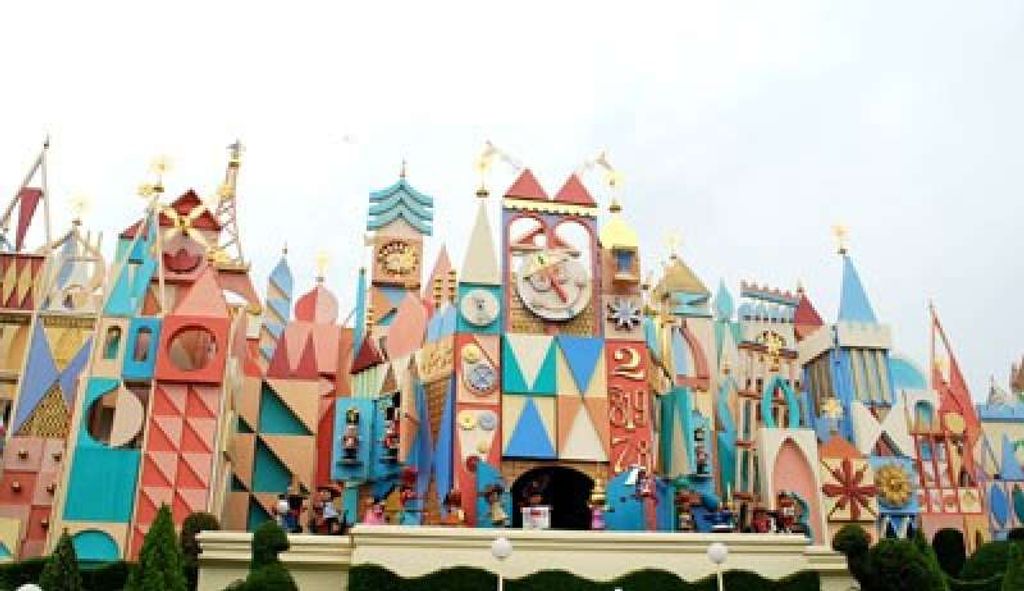 (3) Tokyo Disney Sea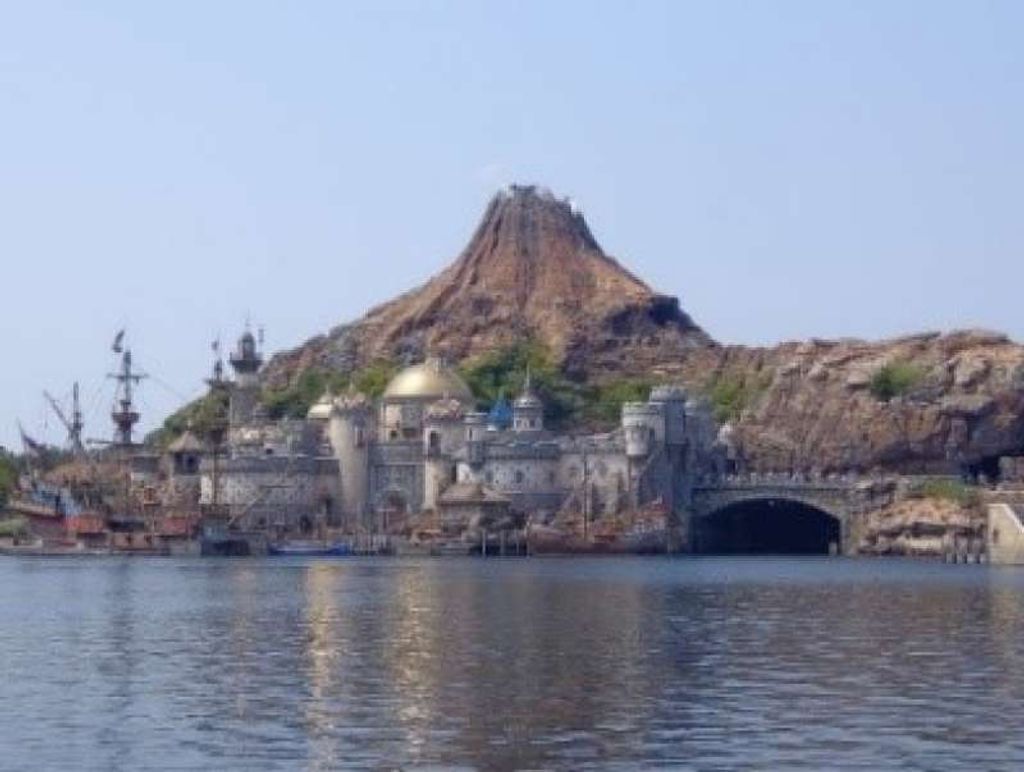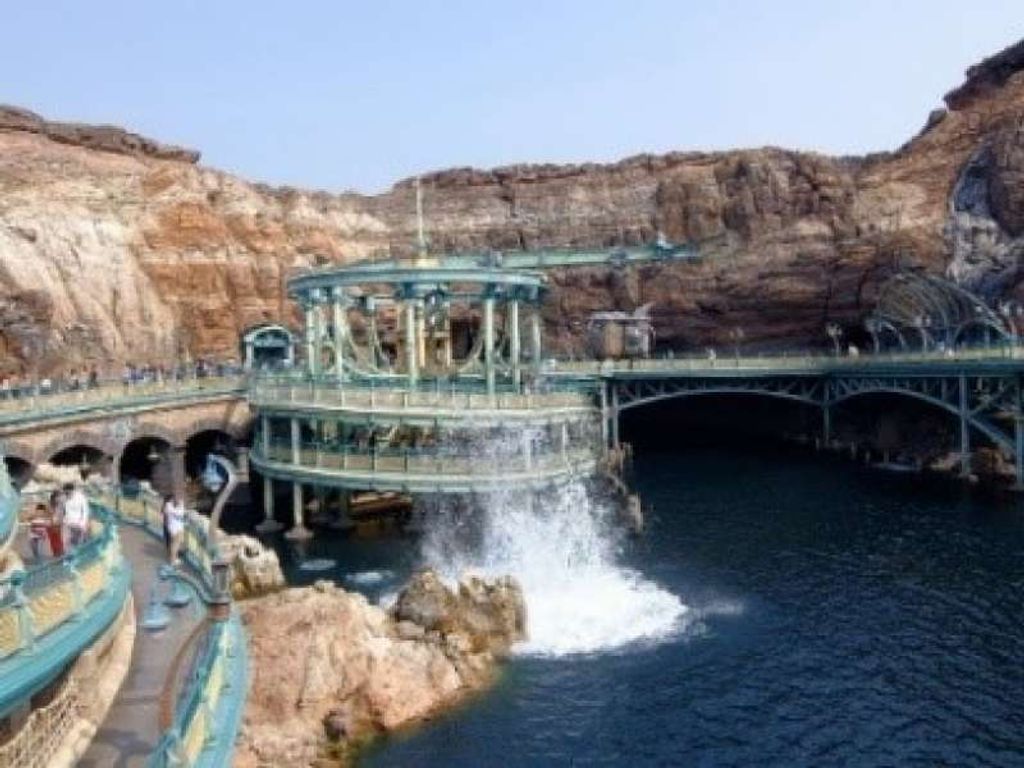 Traditional town atmosphere experience:
(1) Yanaka: In Yanaka, you can enjoy the atmosphere of old temple town include old shopping street.
You can eat traditional Japanese food such as minced meat cutlet, cream croquette and paste food.
Also, you can see old Japanese-style wall during 17th -18th century.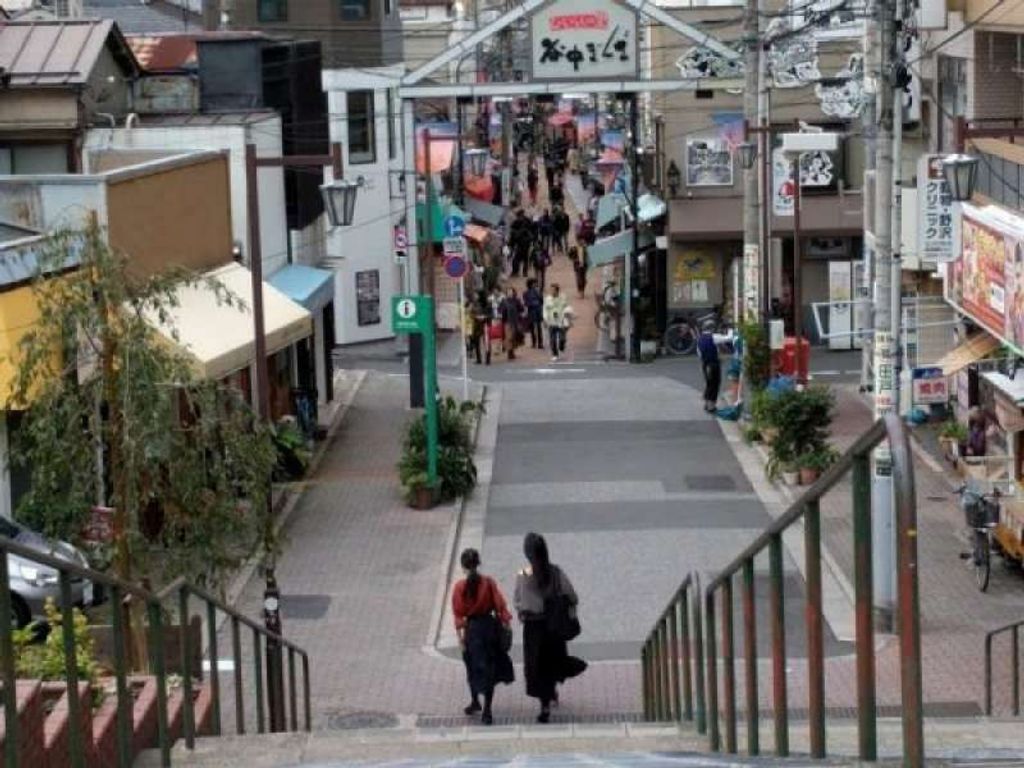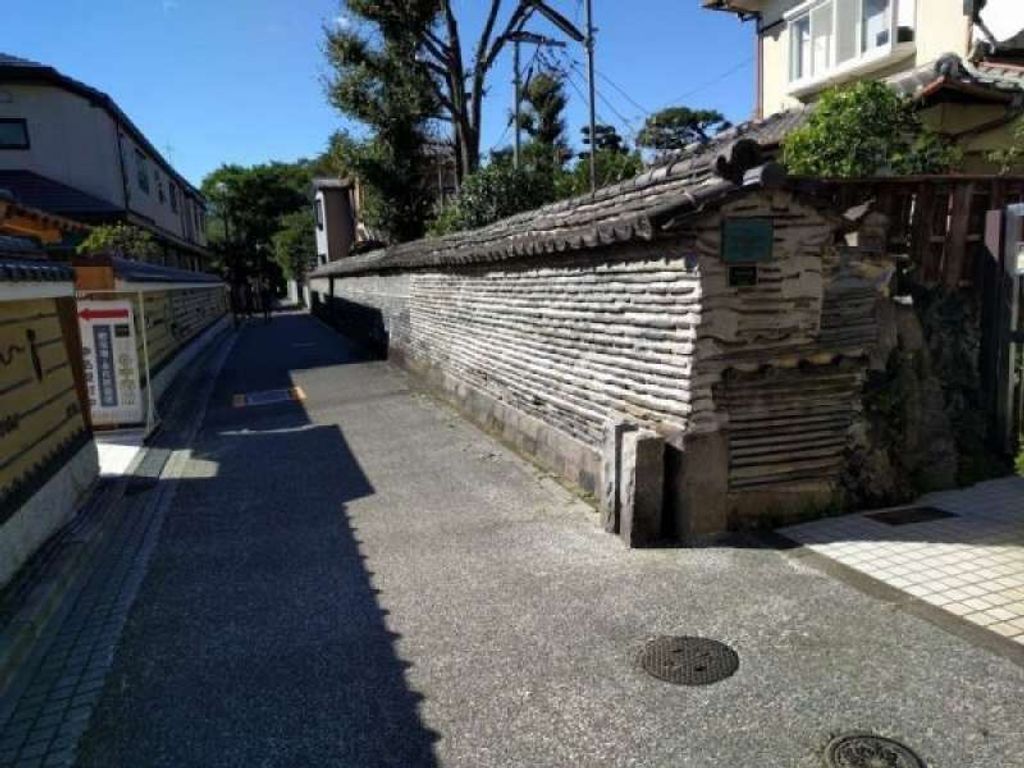 Food market and drinking street:
(1) Tsukiji Fish Market
Tokyo government already relocate the inner market of Tsukiji to Toyosu new market on Oct,2018.
Tsukiji Fish Market consisted of two main areas as the inner market and the outer market.
The inner market is the wholesale market for the professionals where about 480 kinds of marine products are traded.
The outer market sells various kinds of food fish related, cooking tools, retaurants and so-on.
1) The sightseeing of Tsukiji inner market can not be effective at present.
2) The outer market is still available in Tsukiji market.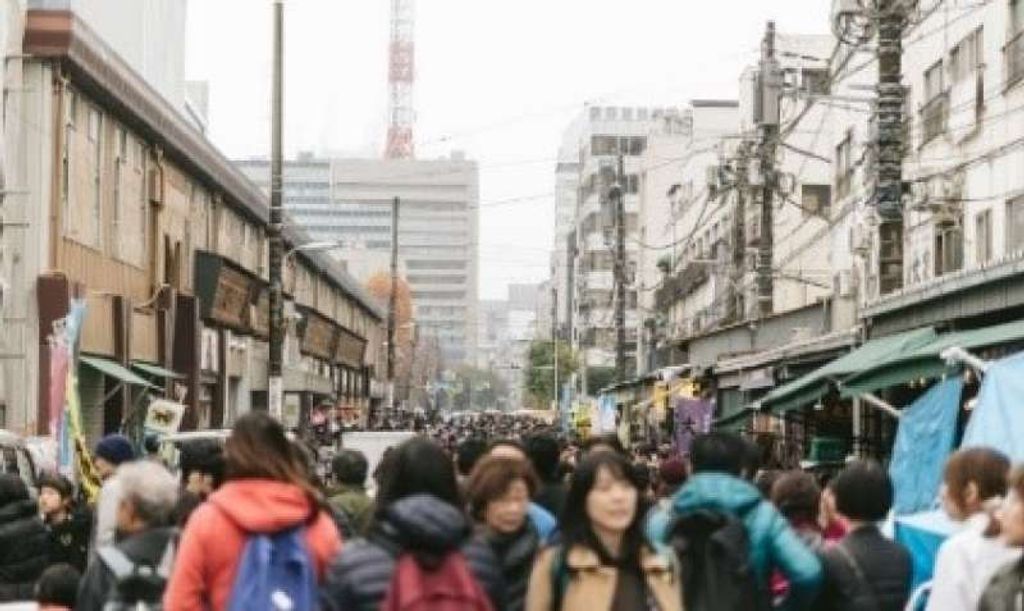 (2) Shinjyuku / Omoide - Yokocho
Shinjuku station is the place where the world top number of passengers are getting on and off with more than 3million per day and one of the best tourist spot in Japan. - Omoide Yokocho: A lot of small scale of old style food restaurant are lined in both side of the Omoide Yokocho street and serve various kinds of Japanese food such as Yakitori (Grilled chicken), grilled eel, grilled giblets and so-on.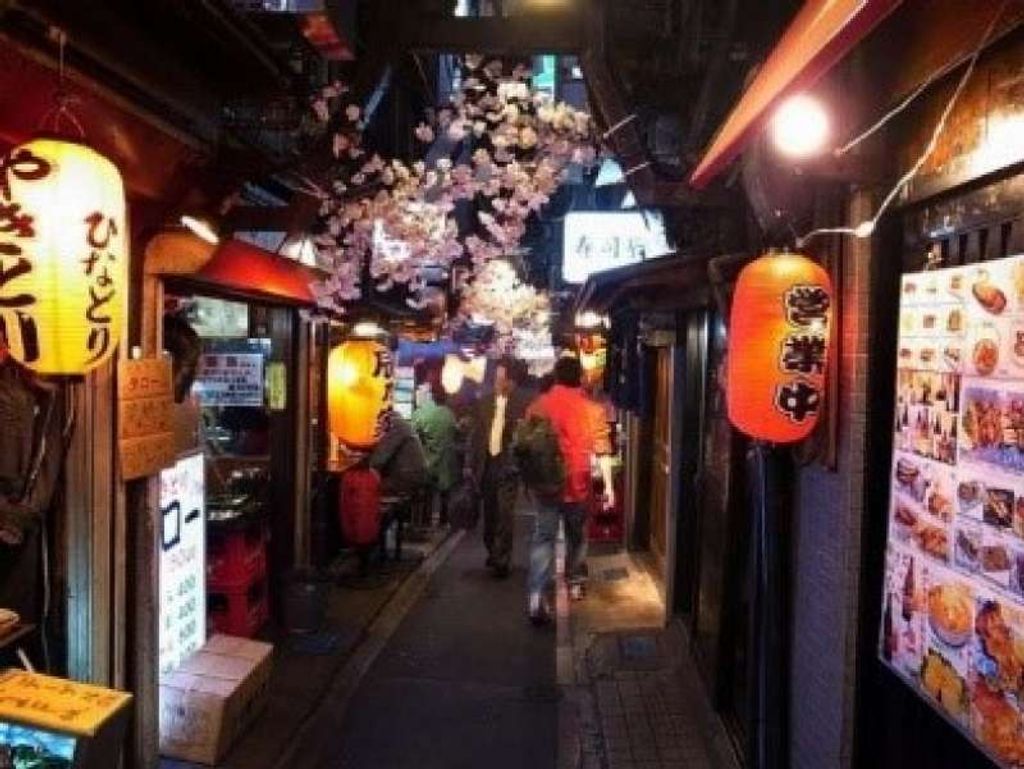 (3) Ueno Ameyoko
This food town is located near JR Ueno station and around 400 shops are lined in the street such as perishable foods, fashion and brand goods, miscellaneous goods, street stalls and restaurants. You can feel as if you are in festival.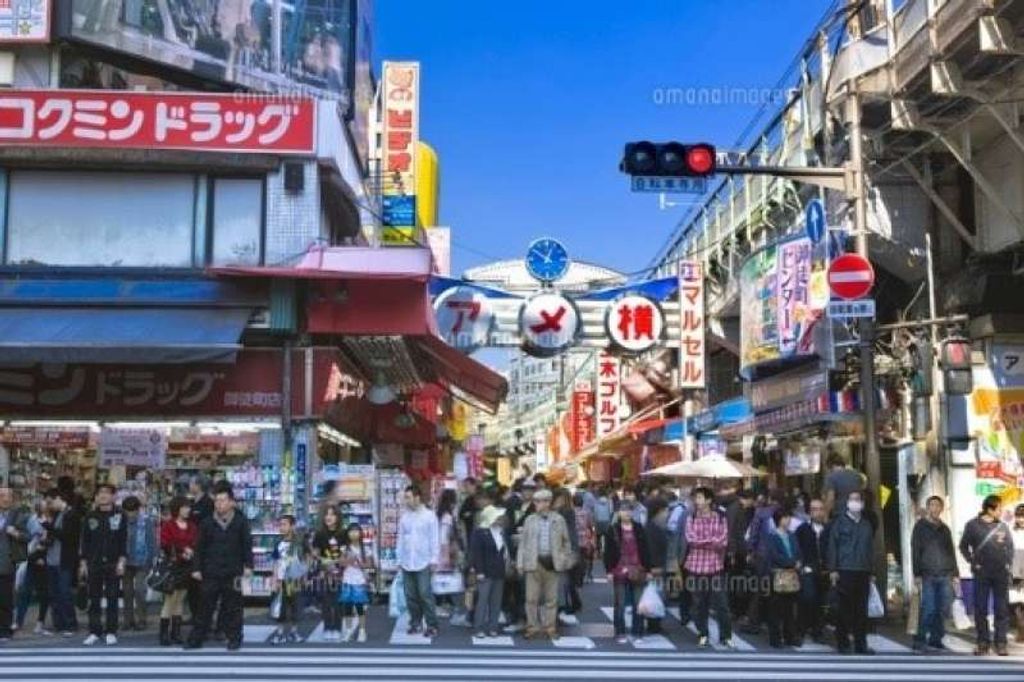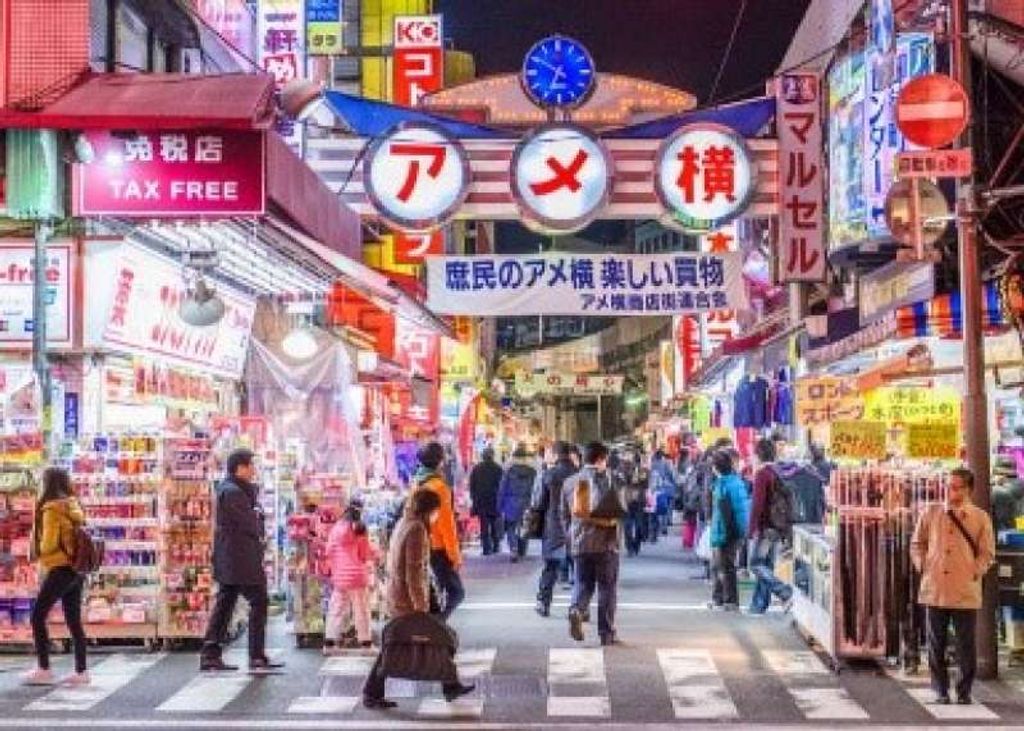 (4) Shinjuku Golden Gai (drinking street)
Shinjuku Golden gai is a drinking restaurant district in Shinjuku which has been built with Japanese style wooden Single Story low houses just after World War2. Lots of people from old ages to young generation come here to drink and eat with enjoying conversation. Recently, many tourists from various foreign countries have visited here.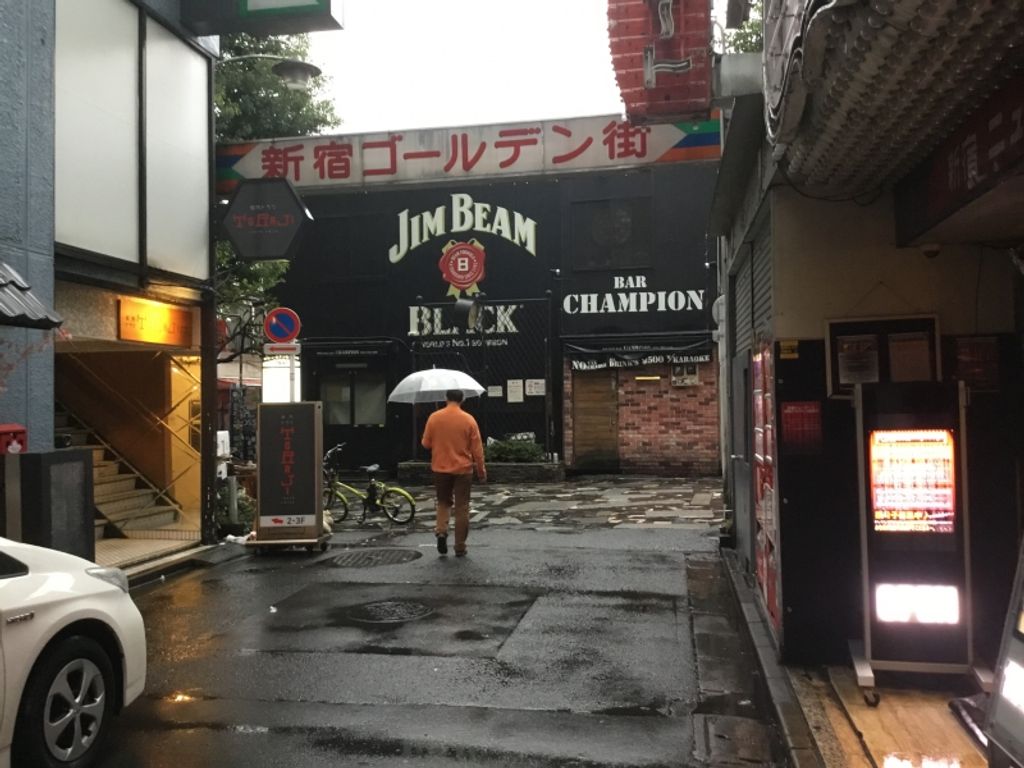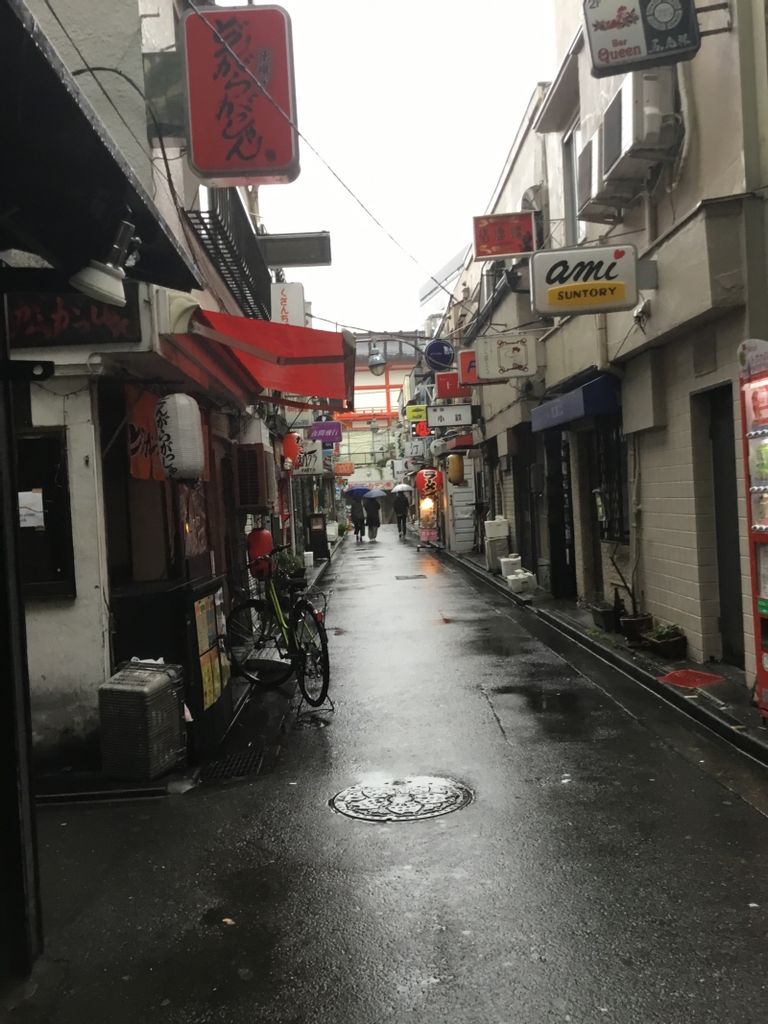 Experience of Traditional performing arts & events enjoyment:

(1) Enjoyment of Ninjya training : Ninja training for children ( Ninja training is a new place for children to practice some arts of Ninja. ( 40 minutes practice of basic skills of Ninja such as throwing shurikens.)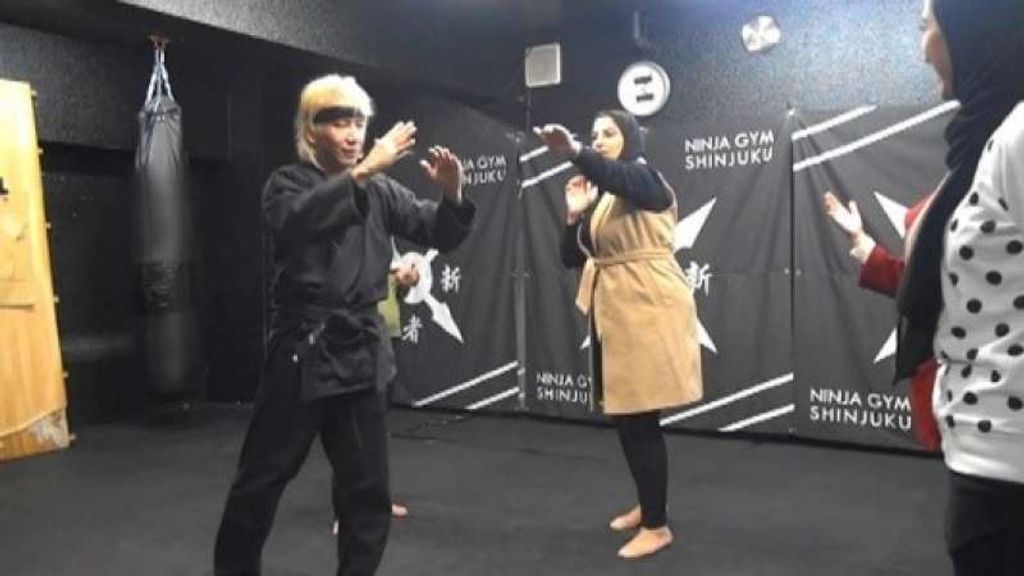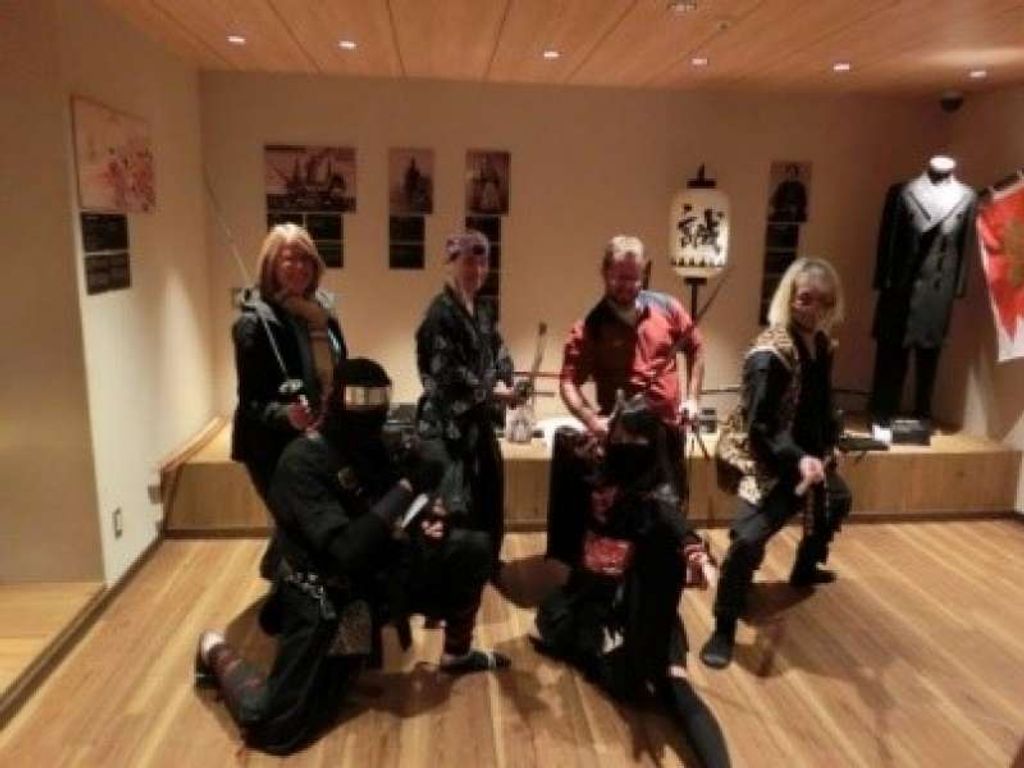 (2) Sumo-training watching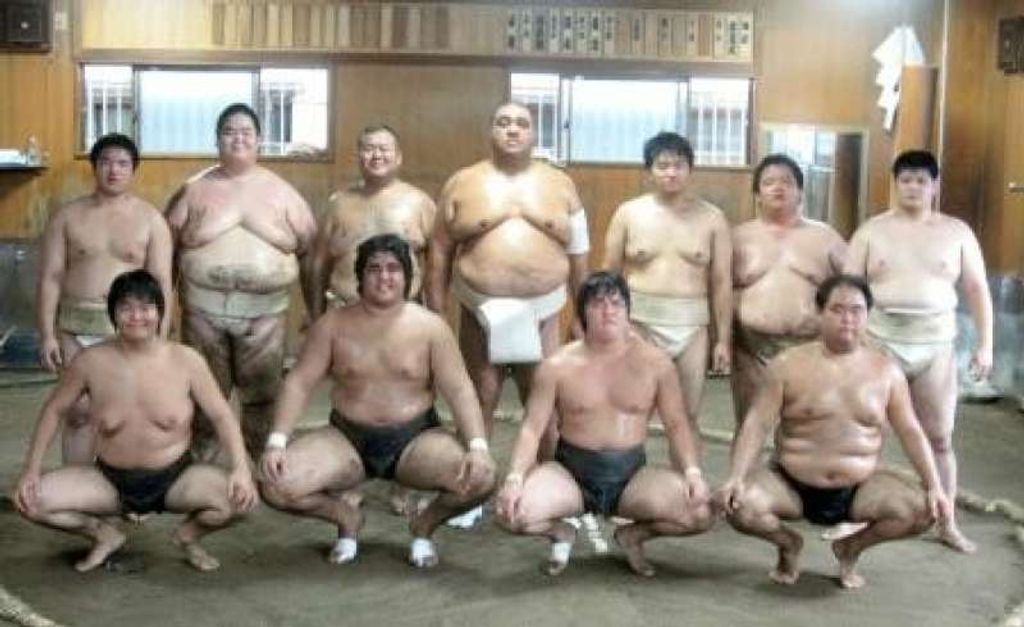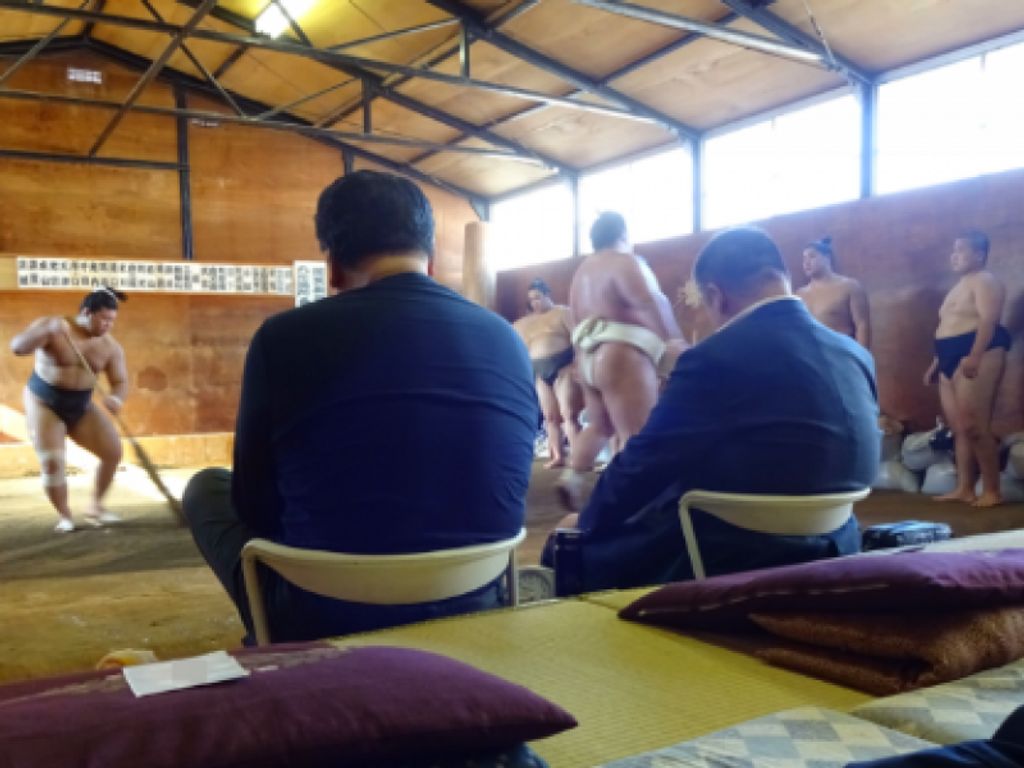 Sumo Introduction For Your Great Experience
(3) Kabuki short watching in Ginza
Ginza is the best graceful and sophisticated town in Japan where a lot of brand name shops are lined along the street and all kind of luxurious and delicious food restaurants are gathered. (photo: below left & middle) Kabuki Theater (photo: below right) is located in the eastern end of Ginza that was built in 1889.
Regarding Kabuki show:
One is formal show watching over around 3 hours with fairly expensive.
Another is non-reserved one hour (only one stage) show with yen3000 per person. I can arrange either way.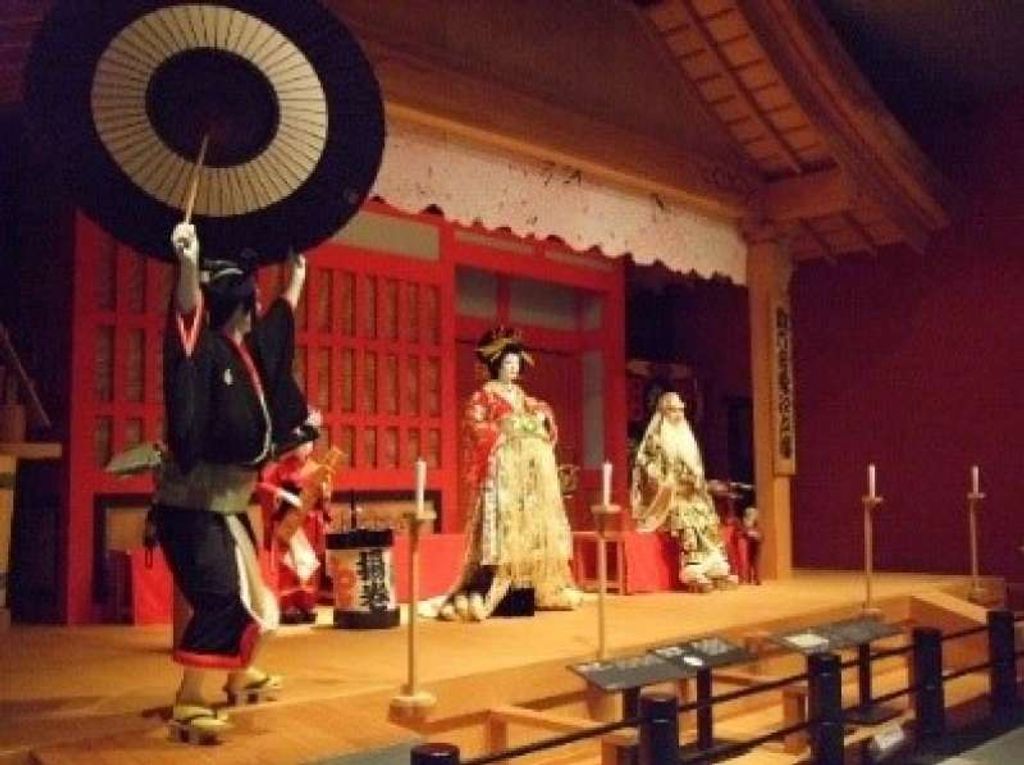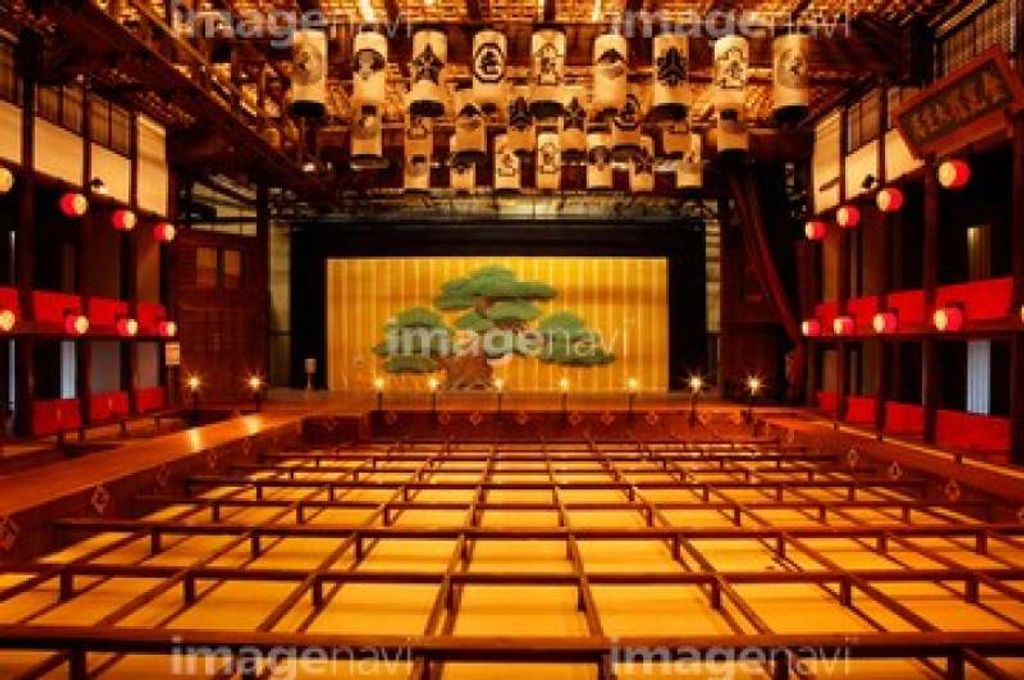 (4) Tea ceremony experience with Kimono trial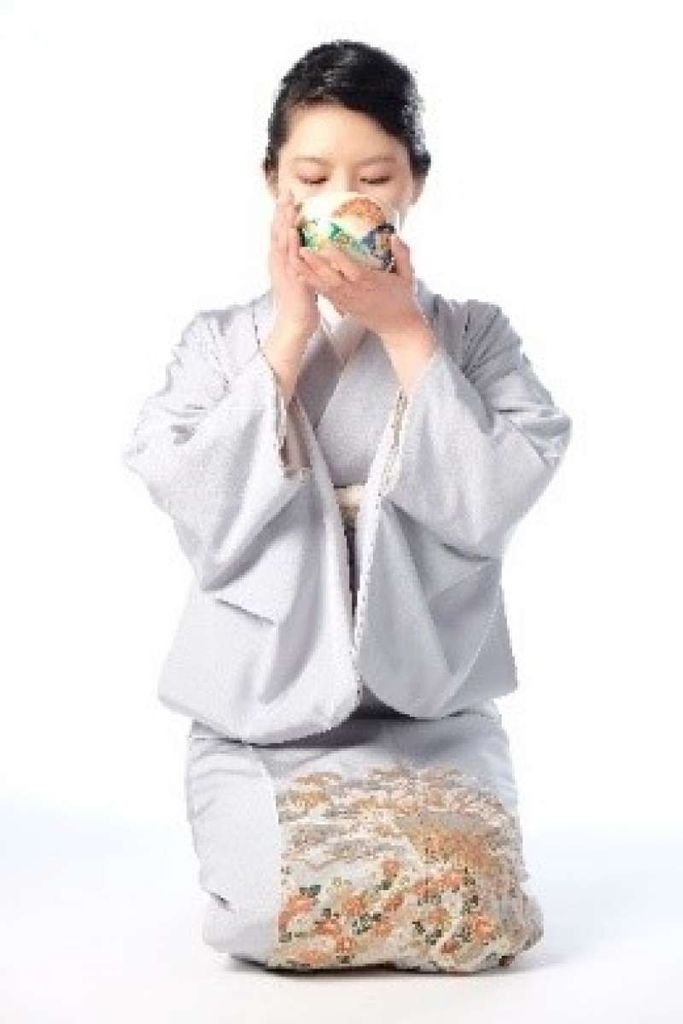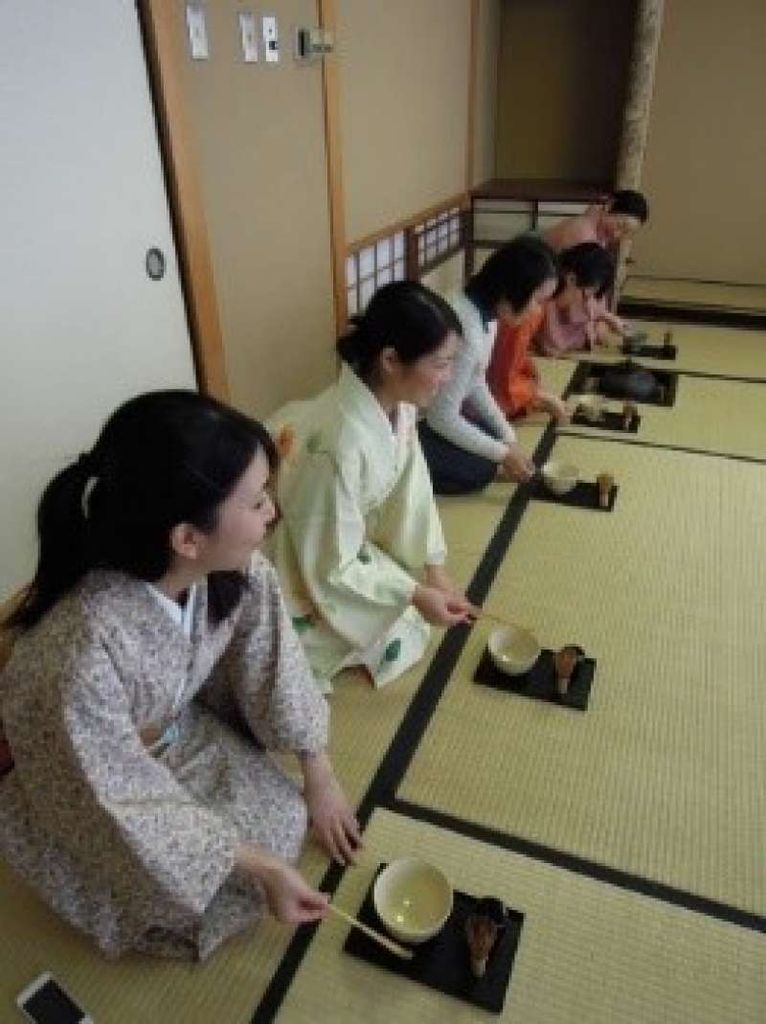 Crafts art of Japan experience such as Sake brewery and Bonsai museum:
1) Bonsai watching: Shunka-en museum located in east end of Tokyo.
One of the Japanese traditional culture and symbol which is well known in the world is Bonsai. The root of Bonsai is from China called Bonkei. It is said that Bonkei appeared in Tang dynasty (China: 618-907). Landscape painted by two dimension is Shan sui (landscape painting), Landscape created by three dimension is garden and landscape planted into tray is Bonkei. Those Bonkei was transferred to Japan at Heian era (794~1185) by China merchant.
Current technology of Bonsai planting in Japan has been originally developed and transferred by Japanese craftsmanship skill.
This museum was built by Kunio Kobayashi who is the master of Bonsai art field. There is a solemn Japanese house inside the garden where lots of Bonsai art are exhibited. Also you can see many various types of pots of bonsai in the garden. The garden seem to be a Japanese traditional garden with pond and trees.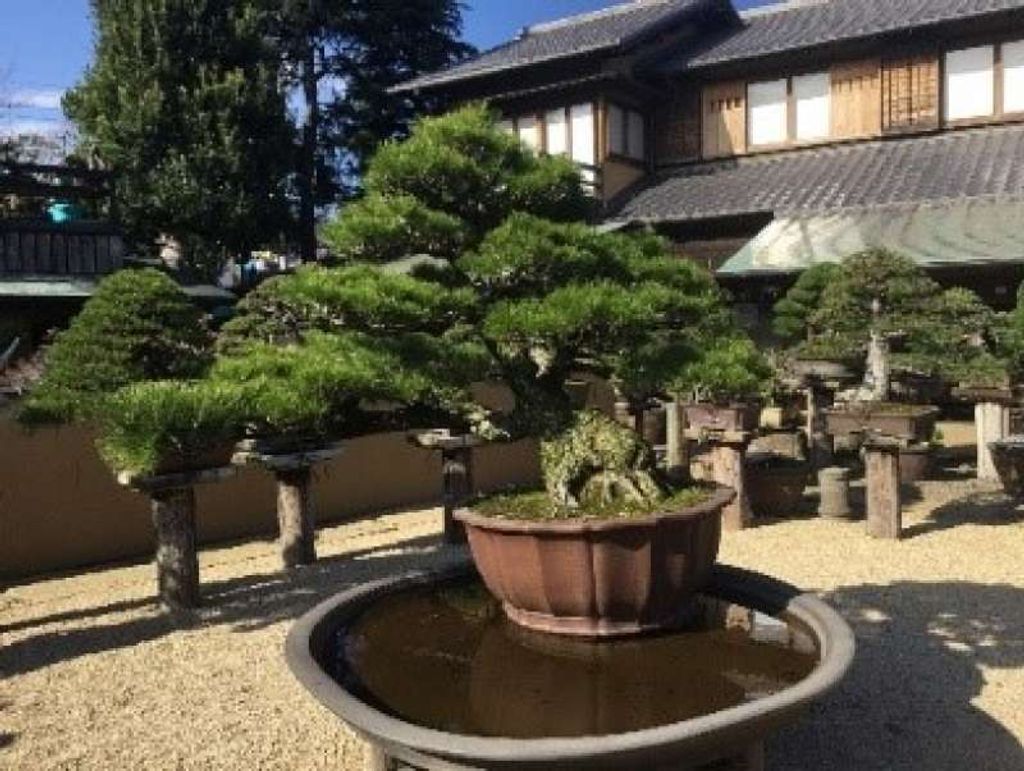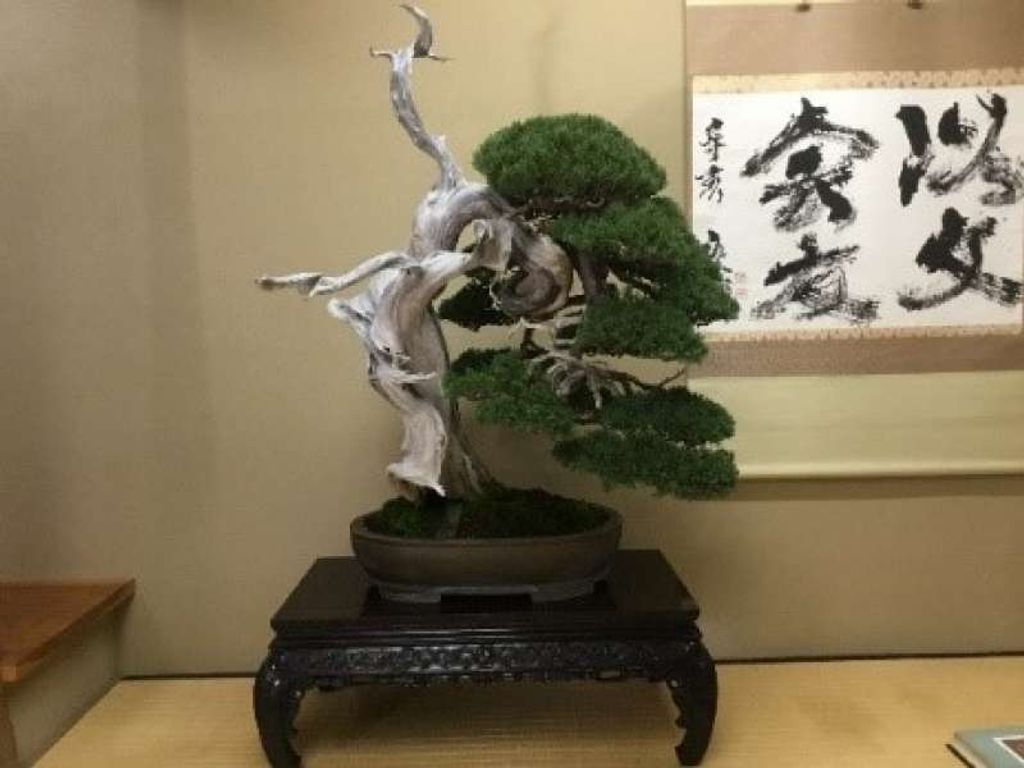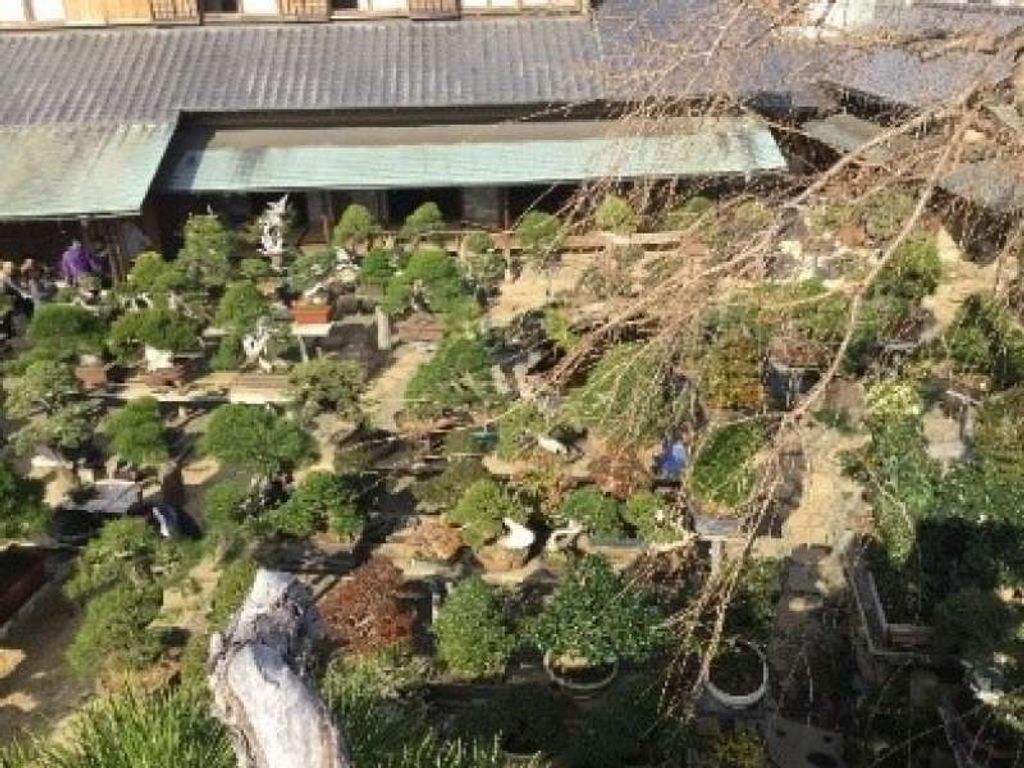 (2) Sake-brewery watching located in Tokyo Oume city which manufactures the Sake named "Sawanoi".
You can experience the Sake brewery study tour with around 1 hour inside the Sake brewery house.
Also, you can see the garden near the house where you can see Tmagawa river and relaxed.
You can learn the knowledge of sake and the process of sake more in depth and taste of sake. You experience the traditional Japanese-style food with sake in the restaurants of the sake-factory.
You enjoy the view of beautiful autumn leaves in the garden of the sake-factory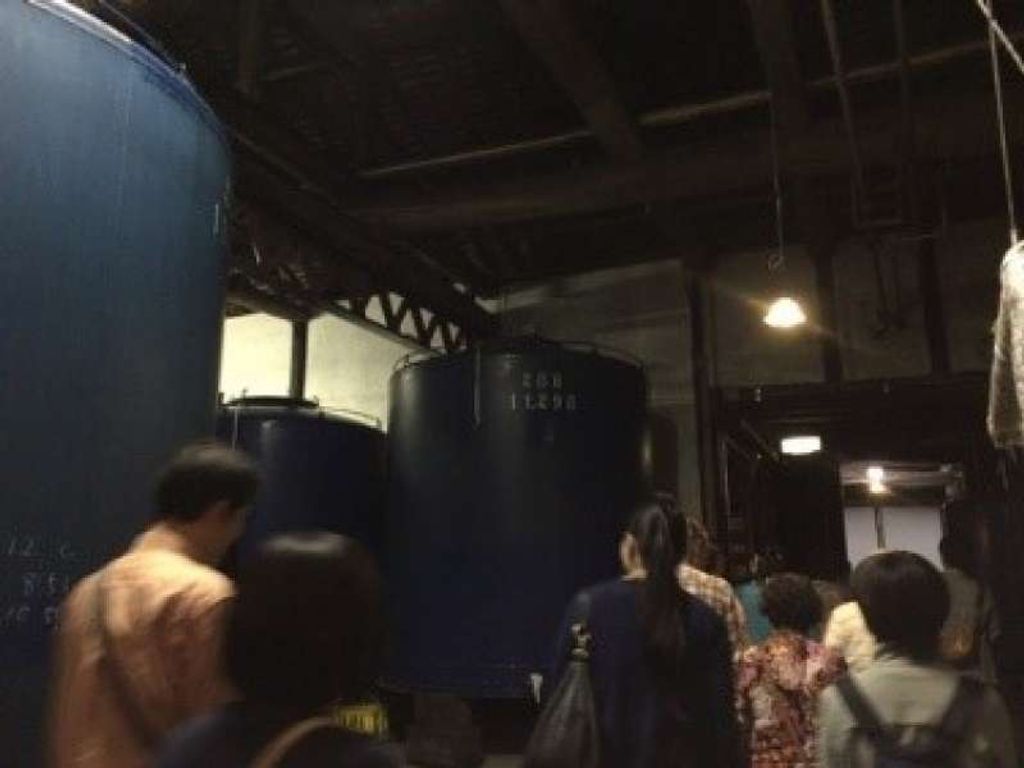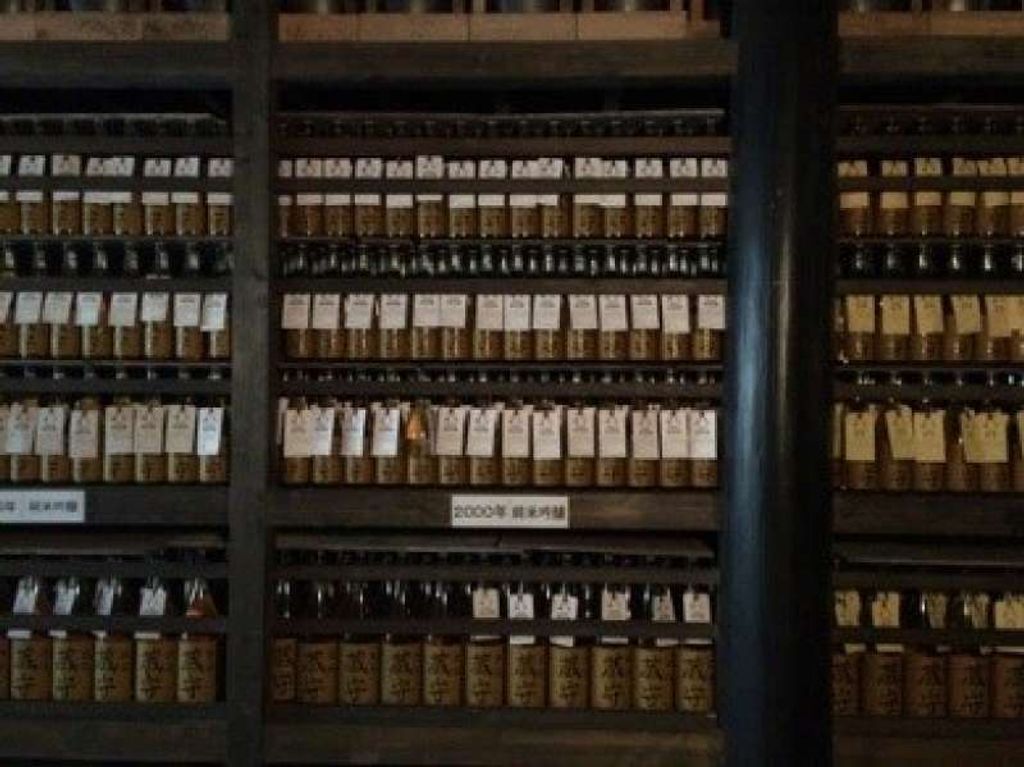 Enjoyment for kids such as Amusement facility, shopping of latest trendy goods, entertainment café and so-on
(1) Harajyuku / Omotesando
Takeshita street : Shops fit to young people are lined up in both side of the Street.
Trendy accessory and cloths can be purchased with reasonable price.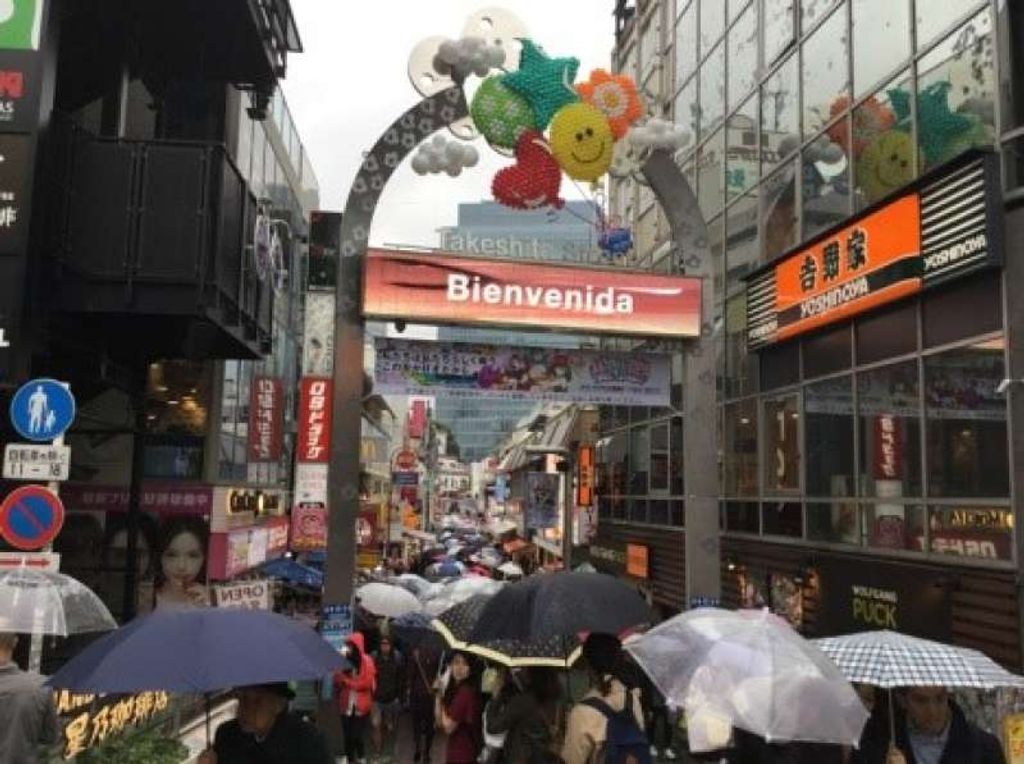 Crepe of popular food in Harajyuku: Harajyuku is famous for the area where the crepe shops started for the first time in Japan.
You can smell sweet scent of the crepe mixed with ice cream and fruits.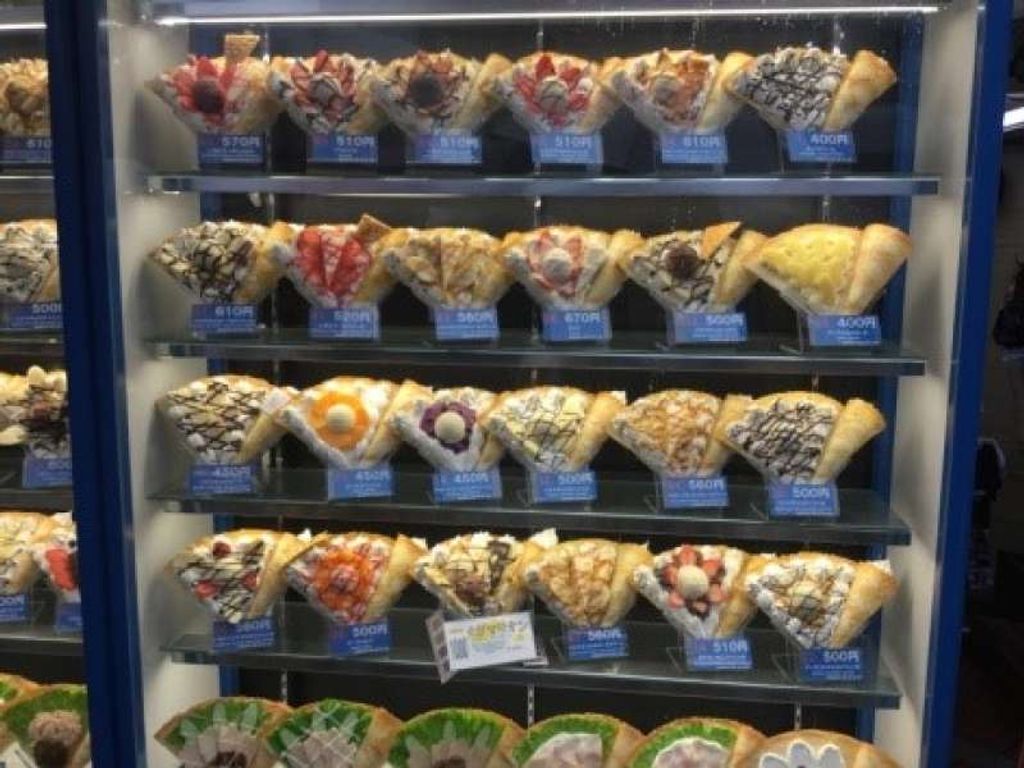 Hello Kitty: sanrio vivitix Harajuku: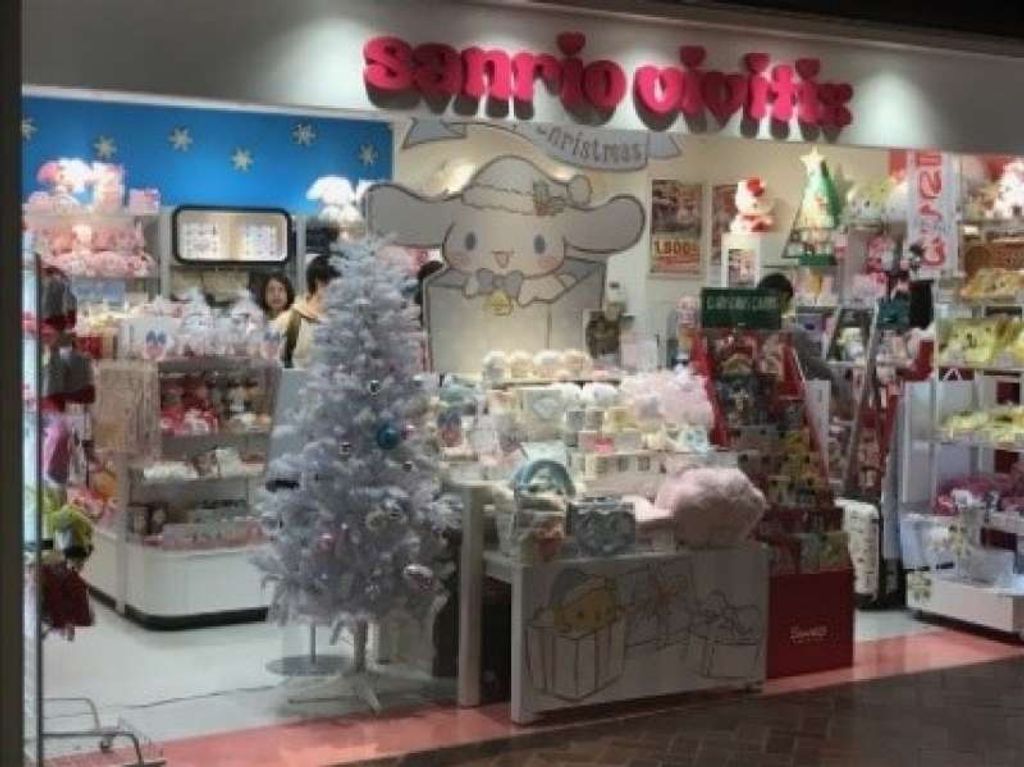 Moooth Squishy: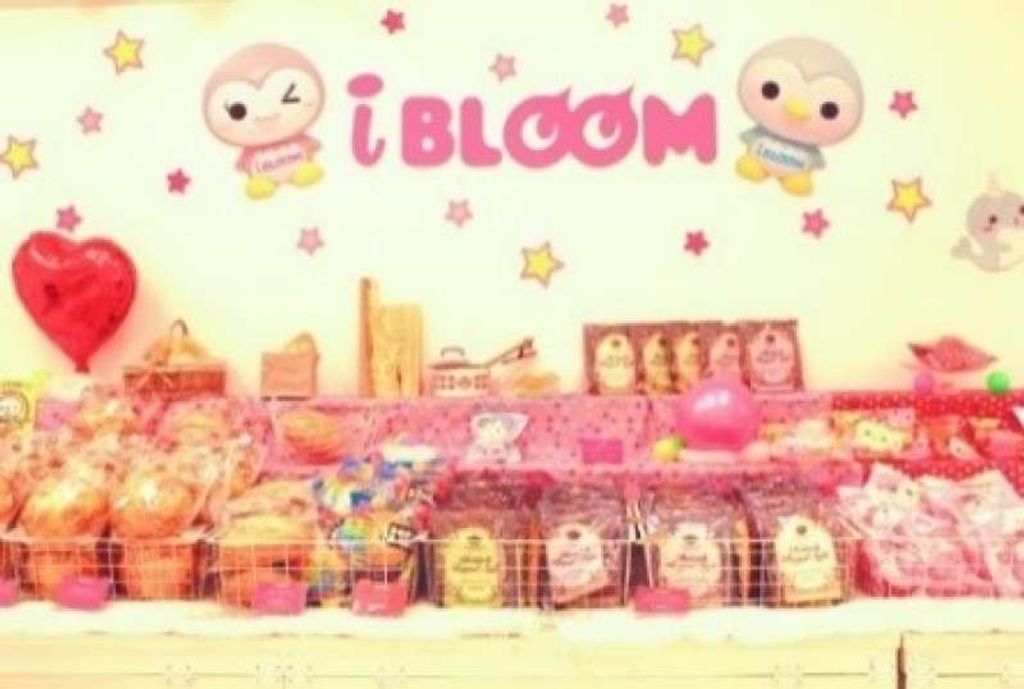 Kawaii Monster Cafe: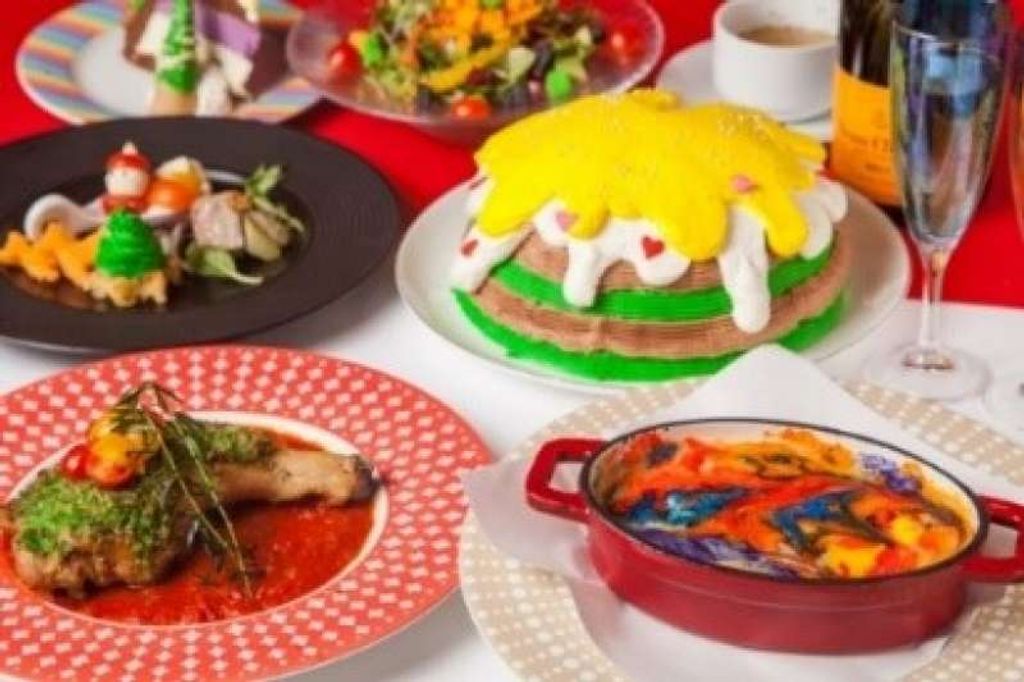 Kiddy land: Many character goods such as Kitty chan, Funassy, Snoppy are sold.
People who like pretty goods will rise up with high tension.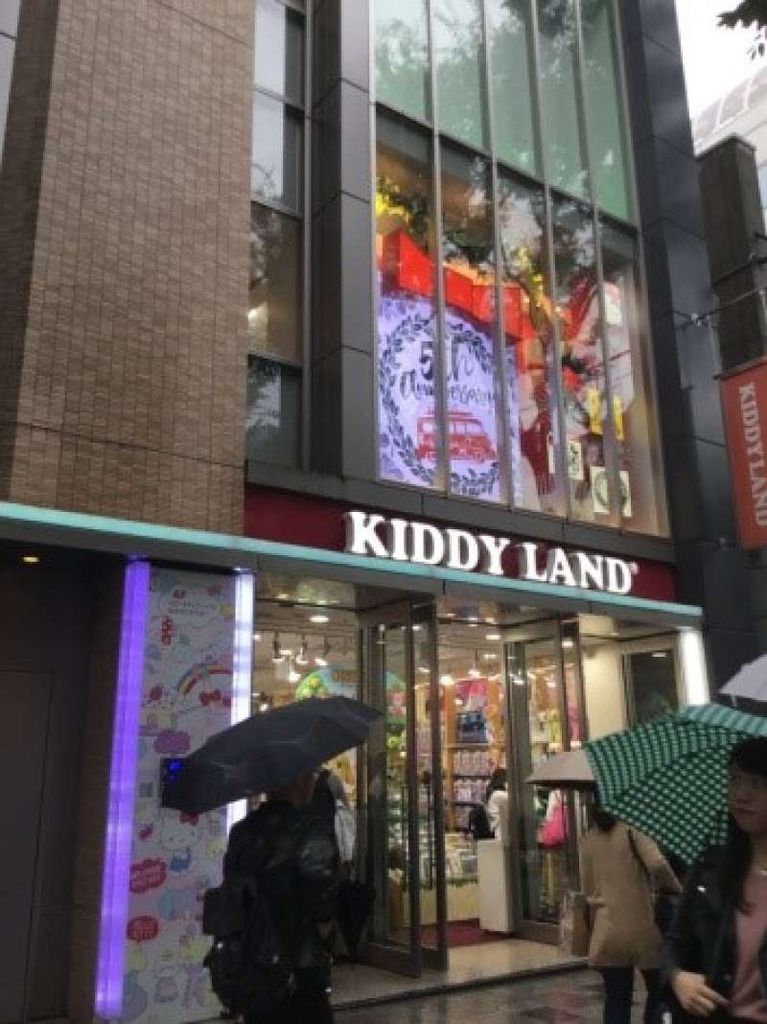 (2) Akihabara: Anime, Games, Comics, and new fashion trend experience:
Akihabara is the town where various culture gathered at one place. This town is famous for not only Electrical town but also the holy place of Otaku culture such as Anime, comic, card game shops, maid cafes, anime products and idol which all the world knows well. The shop filled with many toy vending machine selling capsule toys called "Gasha-pon" which is popular along with the instant photo booth, Pri-Kura. Recently, Akihabara also has been re-developed for trendy shops and facilities which are attracted as one of attention items of this town.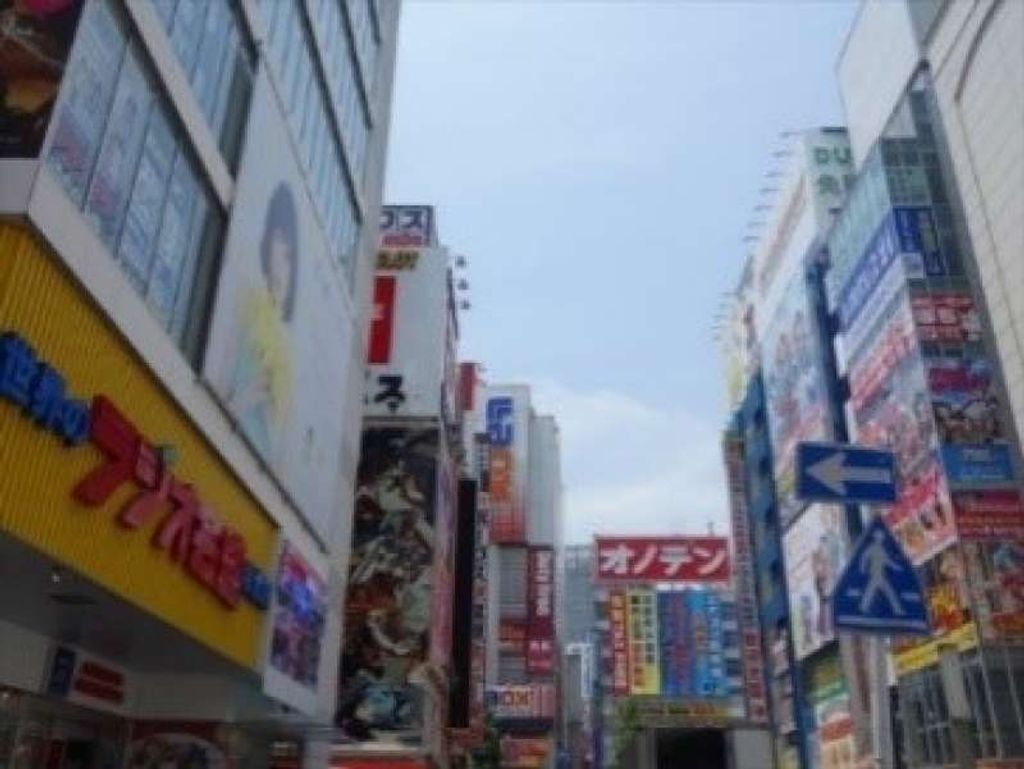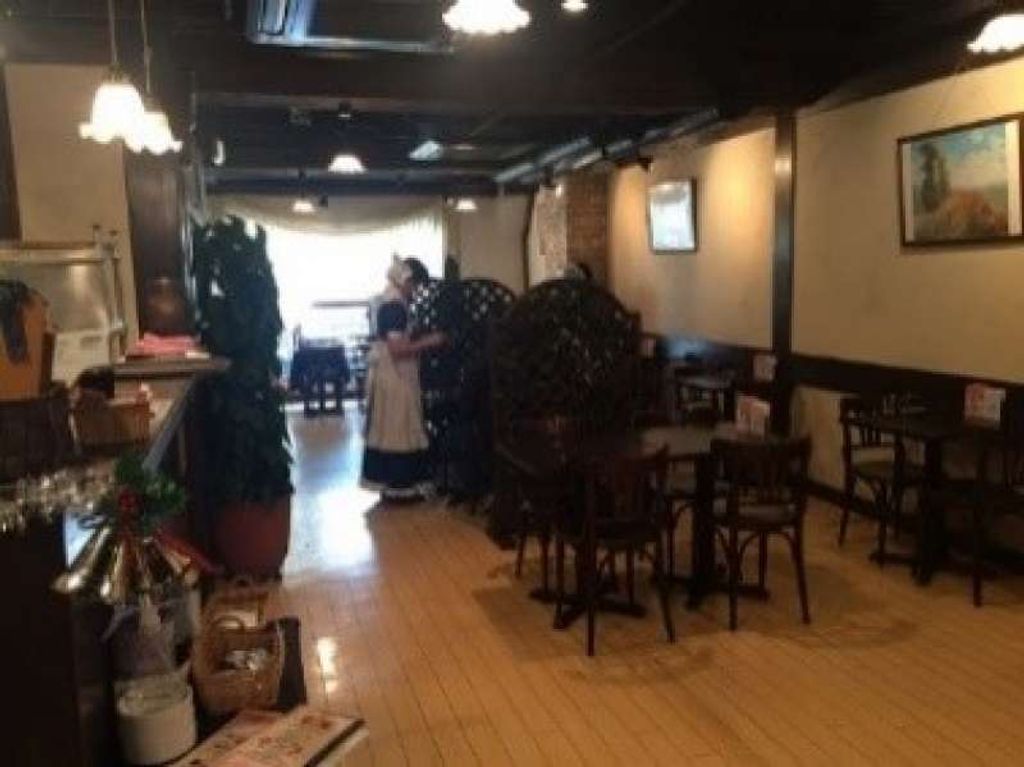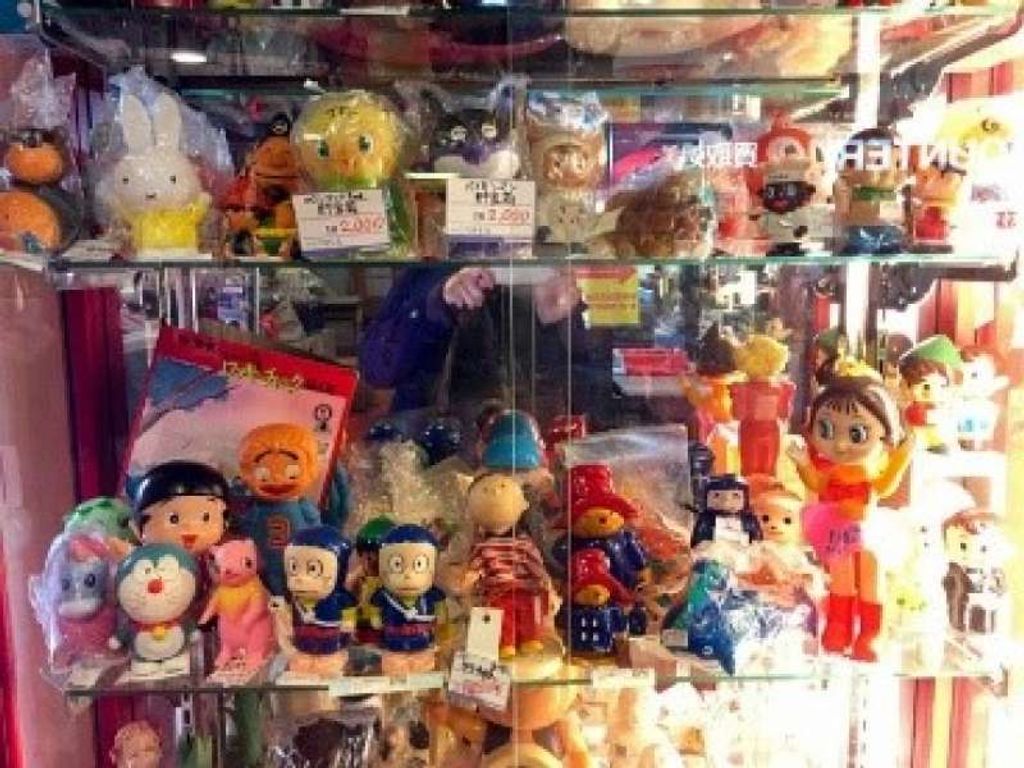 If you would like to visit theses spots, please contact me through below URL which show my tour proposal registered in Triplelights.
Tokyo full enjoyment tour of historical atmosphere and modern advanced entertainment spots
Tokyo full enjoyment tour of historical atmosphere and modern advanced entertainment spots
Tokyo Full Enjoyment Tour of Traditional Town, Buildings and Beautiful Garden

                                         By Kashima