You are making an itinerary for your Tokyo trip, and want to go to Tsukiji Fish Market, but not sure where to next after Tsukiji Market?
I'm here to help out. There are actually many things you can do in the area after Tsukiji Fish Market. What are they?
Find out what to do after Tsukiji Fish Market through this article, itinerary idea, and more recommendations!


Things to do after Tsukiji Fish Market
Where to go or what to do next after a morning spent at Tsukiji Fish Market? Here is a list of ideas for you to choose from:
1. Hit Hamarikyu Gardens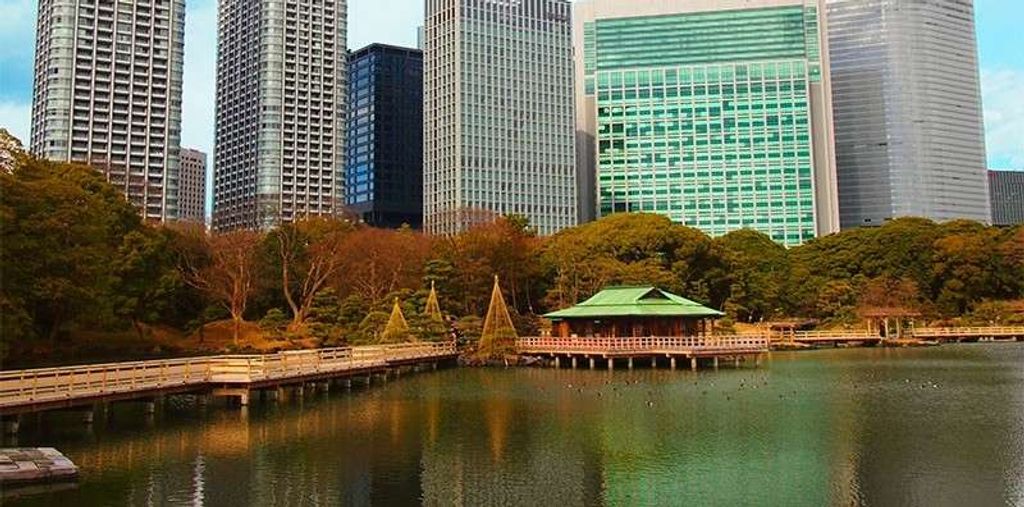 After the busy Tsukiji Market, why don't you go to Hamarikyu Gardens to do some relaxing? This garden was built in 1654, during the Edo period where beautiful gardens were built as second houses for feudal lords. Feudal lords during the time competed to prove that their clan was the best by building the best garden.
In this garden, not only you can enjoy the beautiful nature, but also participate in a Japanese tea ceremony. Only around a 13-minute walk for the Tsukiji Market, this can be included in your itinerary arrangement!
| | |
| --- | --- |
| Business hours | 9:00 am - 4:30 pm |
| Location | 1-1, Hama Rikyu-teien, Chuo-ku, Tokyo 104-0046 (map) |
| Phone | 03-3541-0200 |
| Website | |
2. Visit Tsukiji Hongan-ji Temple
A 3-minute walk from Tsukiji market, you can find a Jodo Shinshu Buddhist temple with a long history. This beautiful temple was originally built in Asakusa in 1657 and was relocated to Tsukiji. This is a well-worth place to go for those interested in Japanese history, architecture, and Buddhism.
| | |
| --- | --- |
| Location | 3-15-1 Tsukiji, Chuo-ku, Tokyo 104-8435 (map) |
| Phone | +81 3-3541-1131 |
| Website | |
3. Head to Ginza for some shopping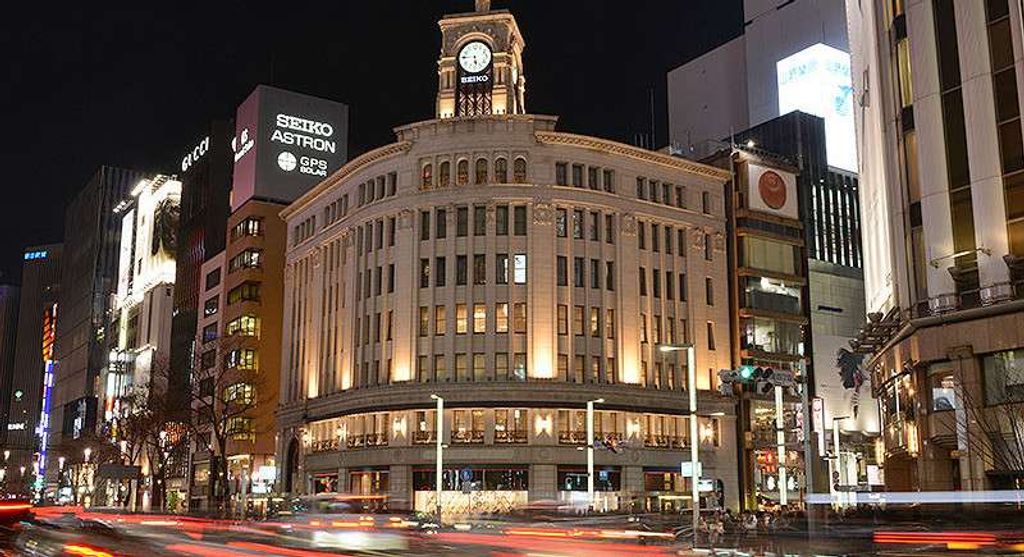 Only around a 12-minute walk for Tsukiji Market, you can head to Ginza for some shopping. However, the shops in Ginza open at around 10 am or 11 am, so don't head out to Ginza too early. So, if you finish from Tsukiji Market quite early, you can go to Hamarikyu Garden first then go to Ginza for some shopping.
4. Look for souvenirs and other unique things at Ichifuji
Hunt for souvenirs to bring back home at Ichifuji, which is only located in the same premises as Tsukiji Fish Market. Find cute chopsticks, handmade homewares, traditional tableware, unique decorations and more things! Perfect for souvenirs and gifts! There are multilingual staff to assist you.
Business hours

5:00 am - 2:00 pm
(The day of Tsukiji outer market closed, 8 am to 2 pm)

Location

4 Chome-14-14 Tsukiji, Chūō-ku, Tōkyō-to 104-0045 (map)

Phone

+81 (0)3-3545-6800

Website
Think that's all? Nope.
5. See a show at Kabukiza Theater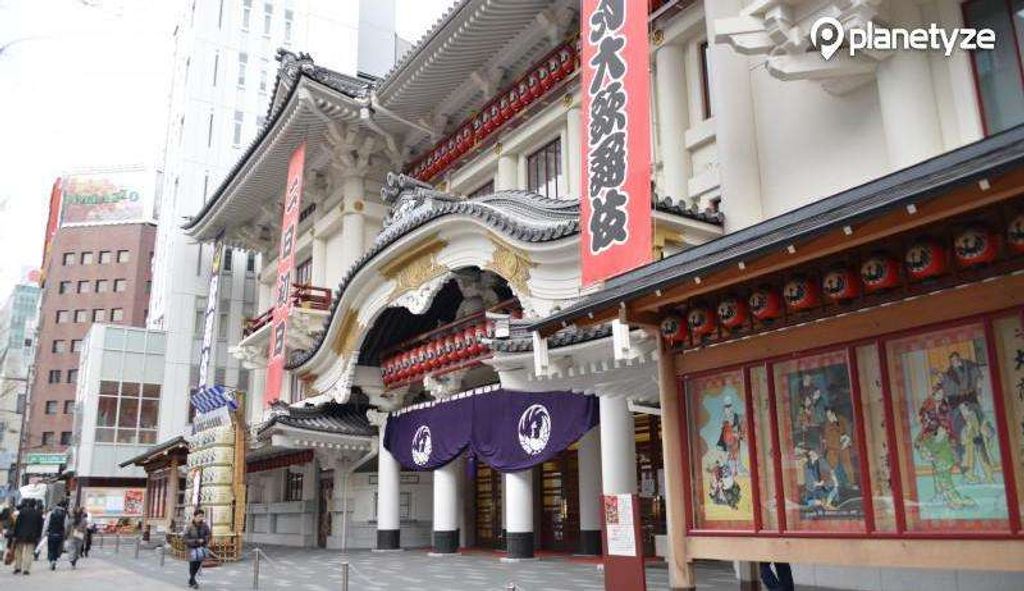 Kabukiza theater is located 7 minutes away from Tsukiji Market. So, after a fast-paced morning at Tsukiji Market, why don't you take the time to relax and enjoy a show at Kabukiza Theater. Kabuki is a traditional Japanese style of performing a classical Japanese dance-drama It is also known for the elaborate makeup worn by the performers. Sit back and enjoy the show!
6. Enjoy the view from Kachidoki Bridge
Located only a few hundred meters from Tsukiji Fish Market, you can walk to this bridge from Tsukiji Fish Market to enjoy the beautiful skyline views of Tokyo. It's perfect to see the morning view, but my recommendation is to come during the sunset after a day of exploring in the Tsukiji area.
7. Visit Namiyoke Inari Shrine
Only a 3-minute walk from Tsukiji Market, Namiyoke Inari Shrine is a great thing to do after a morning at Tsukiji Market. This became an unofficial guardian shrine for the marketplace and the traders, after Tsukiji Market was established. The name of the shrine literally means "protection from waves."
If you visit during June, you can enjoy the local festival called Tsukiji Shishi Matsuri, taking place once every 3 years (2018, 2021, 2024). Enjoy the festivities by not missing the mikoshi (portable shrines) parade and also food and snacks from the stalls during the festival.
| | |
| --- | --- |
| Business hours | 9:00 am - 5:00 pm |
| Location | 6 Chome-20-37 Tsukiji, Chūō, Tokyo 104-0045 (map) |
| Phone | 03-3541-8451 |
| Website | |
Itinerary idea after Tsukiji Fish Market
Here's an itinerary for you to follow after your Tsukiji trip, or activities to add to your itinerary.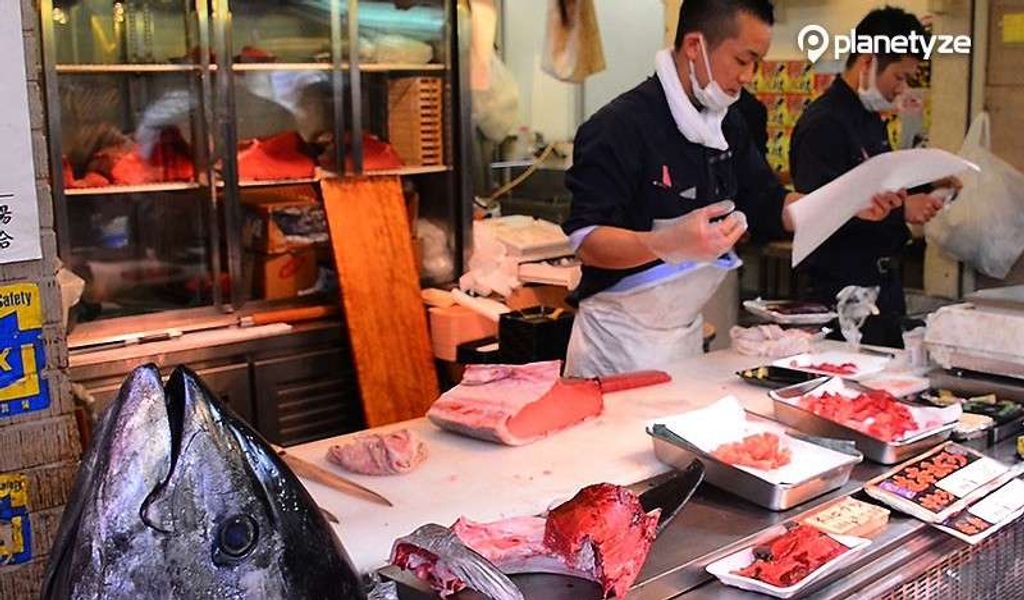 | | |
| --- | --- |
| [-- to 10:00 am] | Tsukiji Fish Market (watch the tuna auction, eat some fresh sushi, taste some great street foods, explore the market) |
| [10:15 am - 11:15 am] | Ichifuji (do some souvenir shopping at Ichifuji) |
| [11:30 am - 1:00 pm] | Hamarikyu Gardens (relax at Hamarikyu gardens after the busy Tsukiji Market and enjoy some matcha tea and sweets through the Japanese tea ceremony) |
| [1:30 pm- 2:30 pm] | Namiyoke Inari Shrine (see this unofficial guardian shrine of Tsukiji Marketplace) |
| [2:45 pm - 4:00 pm] | Lunch |
| [4:00 pm - 6:00 pm] | Kabukiza Theater (Watch a show at the Kabukiza theater, or just enjoy the beautiful building) |
| [6:15 pm - 7:00 pm] | Kachidoki Bridge (enjoy beautiful skyline of Tokyo [and the sunset if you're lucky!]) |
| [7:30 pm - 9:00 pm] | Ginza (shop around, and have dinner at Ginza) |
Or make everything easier! How?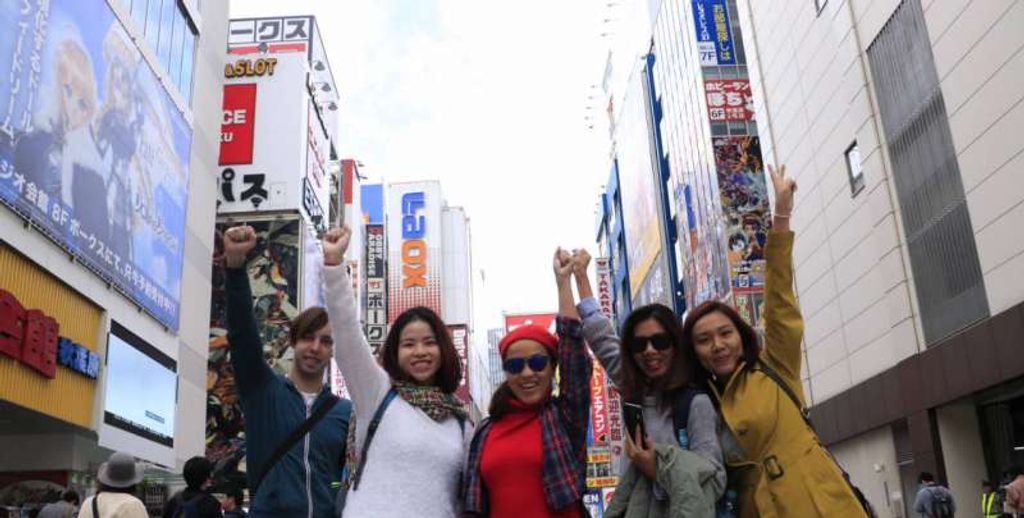 Look:
Planning an itinerary isn't a fun task. And the listed above itinerary isn't necessarily suit your preferences, there's a way to have a great trip to Tsukiji Market and other places after Tsukiji.
What's the way? Go on a private tour with a private guide!
With private tours, you can follow the great set itineraries by the guide or customize them by telling the guide what you want to do or where you want to go and they will create the perfect one for you! No need to plan one on your own!
Where to find private tours and hire private guides?
My recommendation is the TripleLights website. There are many options for great guides in Tokyo and many options for Tsukiji Market tours. Also, it's trustworthy and easy!
Recommended Tours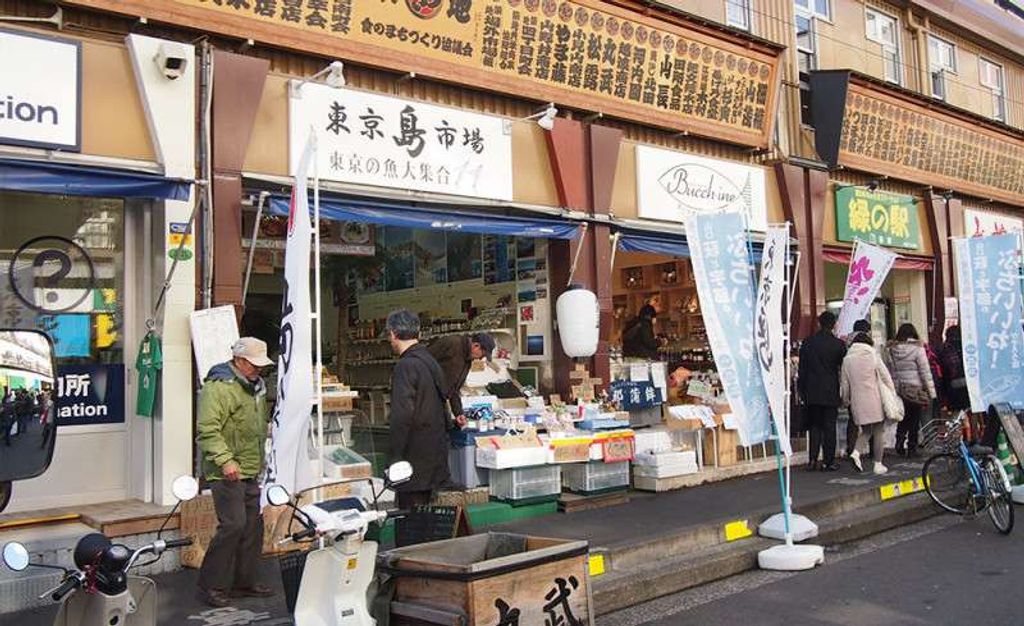 Wonder no more for what should you do after spending the morning at Tsukiji Market and have everything sorted!
Here are some great tours to consider going on:
Tsukiji Fish Market, Hama-rikyu Gardens, Cruising to Asakusa tour and also Delicious and Beautiful Tokyo - Tsukiji,Hamarikyu and Asakusa tour o explore Hamarikyu Garden and Asakusa after Tsukiji Market.
You can also consider Tsukiji Fish Market Walking and Sushi Making Workshop in Ginza tour if you not only want to eat sushi in the Tsukiji Market, but also want to learn to make on on your own!
There are still many more great tours for you to go on related to Tsukiji, click here to check them out.
To check more general Tokyo tours, you can click here.
I hope this article helps provide ideas of things to do after Tsukiji Fish Market, an itinerary idea for you to follow, and tour recommendations. Wishing you a great time exploring Tsukiji!